2023: Russia Suspends Only Remaining Major Nuclear Treaty With US
MOSCOW, Russia — You can learn more about this by visiting the website.
Putin also said in his state-of-the-nation address that Russia should be ready to resume nuclear weapons tests if the U.S. did so. This would end a global ban on nuclear weapons tests that had been in place since the Cold War.
Putin said that the U.S. and its NATO allies have made it clear that they want Russia to lose in Ukraine. This is why he decided to stop Russia's obligations under New START.
"They want to inflict a strategic defeat' on us while also trying to get to our nuclear facilities," he said, announcing Russia's decision to withdraw from the treaty. "In this context, I must announce today that Russia is withdrawing from the Treaty on Strategic Offensive Arms."
The Treaty between the United States of America and the Russian Federation on Measures for the Further Reduction and Limitation of Strategic Offensive Arms is the official name of New START.
U.S. Secretary of State Antony Blinken called Putin's decision "deeply unfortunate and irresponsible," adding, "we'll be watching carefully to see what Russia actually does."
"Of course, we'll make sure that in any event we're postured appropriately for the security of our own country and that of our allies," he said, adding that "we remain ready to talk about strategic arms limitations with Russia at any time, regardless of what else is going on in the world or our relationship."

People Strongly Urge Putin To Reconsider
"I think it's important that we keep acting responsibly in this area," Blinken told reporters during a visit to Greece. "It's also something that the rest of the world anticipates from us."
NATO Secretary-General Jens Stoltenberg also regretted Putin's decision, saying that "the full arms control architecture has been dismantled with today's decision on New START."
"I strongly urge Russia to reconsider its decision and to adhere to existing agreements," he told reporters.
While the U.S. has pushed for the resumption of inspections of Russian nuclear facilities under the treaty, Putin argued that NATO allies had assisted Ukraine in mounting drone attacks on Russian air bases hosting nuclear-capable strategic bombers.
The Russian military said it shot down the Soviet-built drones that attacked two bomber bases deep inside Russia in December, but it also admitted that debris killed several servicemen and damaged some aircraft.
Putin dismissed NATO's statement urging Russia to allow the United States to resume inspections of Russian nuclear weapons sites as "some kind of absurd theatre."
"With NATO's expert assistance, the drones used for it were equipped and modernized," Putin said. "And now they want to inspect our defense facilities? It sounds ridiculous in the context of today's confrontation."

Russia Has Plans To Deploy More Weapons
He stated that he signed a week ago order to deploy new land-based strategic missiles and queried, "Are they also going to poke their noses there?"
The Russian leader also stated that NATO's statement on New START raises the issue of Britain and France's nuclear weapons, which are part of the alliance's nuclear capability but are not included in the US-Russia pact.
"They're also aimed at us. "They are aimed at Russia," he stated. "Before we return to discussing the treaty, we need to understand NATO members Britain and France's aspirations, as well as how we take into account their strategic arsenals, which are part of the alliance's combined strike potential."
Putin emphasized that Russia is suspending its participation in New START but is not completely withdrawing from the treaty.
The New START treaty, signed by U.S. President Obama and Russian President Dmitry Medvedev in 2010, limits each country to 1,550 deployed nuclear warheads and 700 deployed missiles and bombers. The agreement calls for extensive on-site inspections to ensure compliance.
Russia and the United States agreed to extend the treaty for another five years, just days before it expired in February 2021.

Russia and the U.S. have suspended mutual inspections
Since the start of the COVID-19 pandemic, Russia and the U.S. have suspended mutual inspections under New START, but Moscow last fall refused to allow them to resume, raising concerns about the pact's future. Russia also postponed a planned round of treaty consultations indefinitely.
According to the U.S. State Department, Russia's refusal to allow the inspections "prevents the U.S. from exercising important rights under the treaty and jeopardizes the viability of US-Russian nuclear arms control." Nothing prevents Russian inspectors from inspecting U.S. facilities, according to the report.
On Tuesday, Putin disputed the U.S. claim that Washington had denied some Russian requests for visits to specific U.S. facilities.
"Under the treaty, we are not permitted to conduct full-fledged inspections," he explained. "We can't check anything on their end."
He claimed that the United States was developing nuclear weapons and that some in the country were considering plans to resume nuclear tests banned under the global test ban that went into effect after the Cold War ended.
"In this case, Rosatom (Russia's state nuclear corporation) and the Defense Ministry must ensure readiness for Russian nuclear weapon tests," Putin said. "We naturally won't be the first to do it, but if the U.S. conducts tests, we will do it. No one should believe that global strategic parity can be destroyed."
SOURCE – (AP)
Tropical Storm Ophelia Moves Inland Over North Carolina As Coastal Areas Lashed With Wind And Rain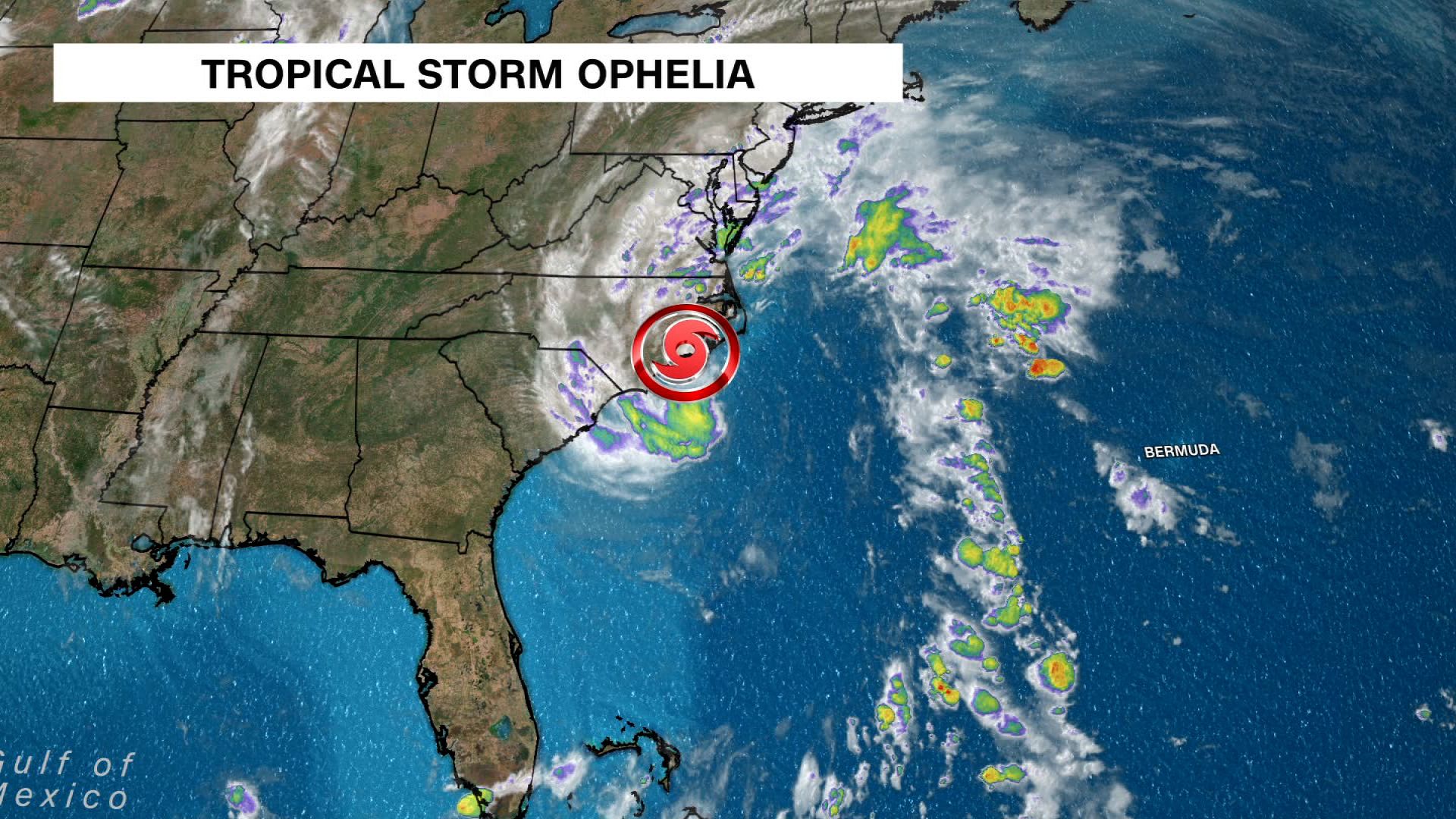 ANNAPOLIS, Maryland — After making landfall near Emerald Isle early Saturday morning, Tropical Storm Ophelia swirled across North Carolina, lashing eastern portions of the state with rain, damaging winds, and hazardous water surges.
The storm landed at 6:15 a.m. with near-hurricane-force winds of 70 mph (110 kph) but was anticipated to weaken as it turned north Saturday and then shifted northeast on Sunday, according to the U.S. National Hurricane Centre.
As of Friday, Ophelia is churning up the East Coast at approximately 13 mph (21 kph), bringing windy conditions and torrential rainfall for the weekend. Through Sunday, portions of North Carolina and Virginia may receive up to 7 inches (18 centimeters) of precipitation, with 2 to 4 inches (5 to 10 centimeters) predicted for the remainder of the mid-Atlantic region.
Philippe Papin, a hurricane expert at the National Hurricane Centre, stated that the primary risk posed by the storm system over the next few days will be the possibility of flooding precipitated by the rain.
"Tropical storm-force winds have been observed, but they are beginning to gradually diminish as the system moves further inland," Papin said in an early Saturday interview. However, in the next 12 to 24 hours, a substantial portion of eastern North Carolina and southern Virginia is at risk for flooding precipitation.
Several eastern North Carolina counties had tens of thousands of residences and businesses without power as of Saturday morning, according to poweroutage.us, which monitors utility reports.

Tropical Storm Ophelia swirled across North Carolina, lashing eastern portions of the state with rain, damaging winds, and hazardous water surges.
Jeff Brooks, a spokesperson for Duke Energy, told WTVD-TV on Saturday, "When you have a slow-moving storm with several inches of rain and a wind gust of 30, 40 miles per hour, that's enough to bring down a tree or limbs." "This has been the case in the majority of areas where we have experienced outages."
From Bogue Inlet, North Carolina, to Chincoteague, Virginia, a storm surge warning was issued indicating the threat of rising ocean water forced inland by Ophelia. In some locations, waves of 4 to 6 feet (1.2 to 1.8 meters) were predicted. The area from Cape Fear, North Carolina, to Fenwick Island, Delaware, was issued a storm warning.
On Friday, each of North Carolina, Virginia, and Maryland governors declared a state of emergency. Several institutions closed early, and several weekend activities were canceled. The Washington Nationals baseball contest scheduled for Saturday was postponed until Sunday. Until conditions improve, the North Carolina Ferry System suspended service on all routes until conditions improve.

Tropical Storm Ophelia swirled across North Carolina, lashing eastern portions of the state with rain, damaging winds, and hazardous water surges.
Nancy Shoemaker and her husband Bob picked up sandbags in a park in Annapolis, the capital of Maryland, on Friday. In October of last year, a storm surge swept away the sandbags they had placed in their yard, which is adjacent to the water.
Nancy Shoemaker stated, "We're hoping that won't happen this time." "If we have a lot of wind and a lot of surge, it can look like the ocean out there, so that's a problem."
Michael Brennan, director of the National Hurricane Centre, stated that it is not unusual for one or two tropical cyclones or hurricanes to form annually off the East Coast.
Brennan stated in a Friday interview, "We're at the height of hurricane season, and storms can form virtually anywhere in the Atlantic basin."
According to scientists, climate change could result in hurricanes expanding their reach into mid-latitude regions more frequently, making cyclones like Hurricane Lee more frequent.
One study simulated tropical cyclone trajectories from the pre-industrial and modern eras and a future with increased emissions. It was discovered that hurricanes would track closer to the coastal, including around Boston, New York, and Virginia, and form more frequently along the Southeast coast.
SOURCE – (AP)
2023: Canada Gets Muted Allied Support After Alleging India May Have Been Involved In Killing Of Canadian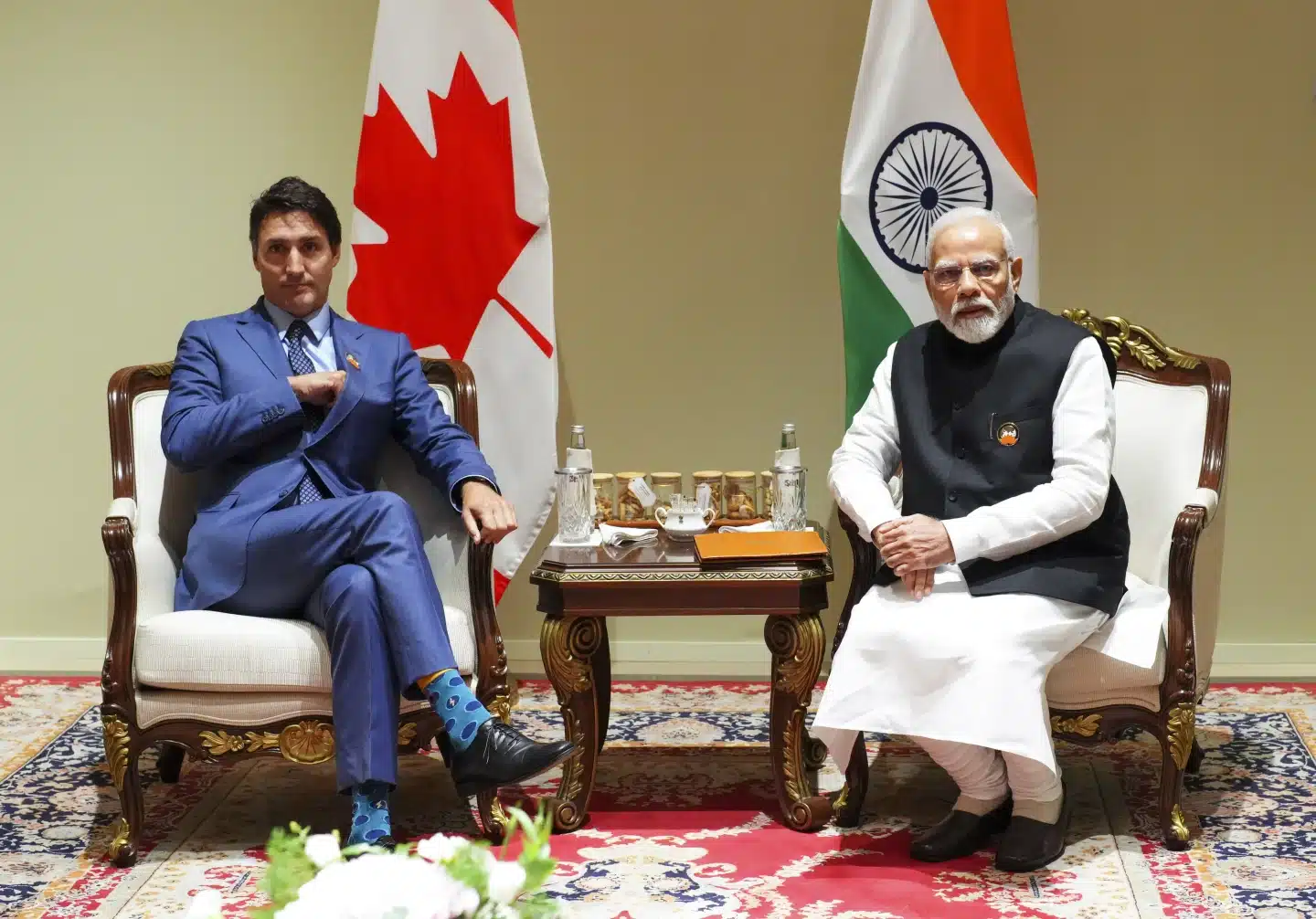 TORONTO, Ontario, Canada — When Prime Minister Justin Trudeau stood up in Parliament and suggested that India was involved in the killing of a Canadian citizen, the international response was quiet.
India appears to be too powerful to be alienated.
None of Canada's most key allies — the United States, the United Kingdom, Australia, and New Zealand, which are all intimately woven together in the "Five Eyes" intelligence-sharing agreement — reiterated Trudeau's charges.
They've expressed their concern. They have demanded thorough investigations. However, none condemned India for its suspected role in assassinating a Sikh separatist, Hardeep Singh Nijjar, on Canadian soil in June.
Why?
There is China, and the objective among allies is to strengthen ties with India as a counterweight to Beijing's expanding influence and aggression.
But it goes beyond that. Many observers estimate that by 2030, modern India's economy will have surpassed Japan and Germany to become the world's third-largest. With over 1.4 billion people and one of the world's largest militaries, it has emerged as a key player in international affairs.

This makes it difficult for Canada's key allies, some of India's main partners, to speak out loudly.
"I think Australia, the United States, and the United Kingdom did about what was expected," said Janice Stein, a political scientist at Toronto's Munk School of Global Affairs.
According to Sushant Singh, a senior scholar at the Centre for Policy Research in New Delhi, "as long as the West needs India to counter China, it is likely to look away."
On Monday, Trudeau claimed there were "credible allegations" of Indian involvement in killing 45-year-old Nijjar outside Vancouver by masked gunmen, whom India had wanted for years. In addition, Canada expelled an Indian diplomat.
A day later, after India escalated the conflict by dismissing a top Canadian envoy, Trudeau softened his approach, telling reporters that Canada was "not looking to provoke or escalate."
"PM tempers criticism as allies decline to condemn India over slain Sikh leader," read the main page of Canada's The Globe and Mail newspaper on Wednesday.

The claims made by the government are especially troubling for the United Kingdom, which is negotiating a free trade agreement with India.
"These are grave allegations." "It is appropriate for Canadian authorities to investigate them," said Max Blain, British Prime Minister Rishi Sunak spokesman.
However, he stated unequivocally that the death will not be discussed during the trade talks, stating that "these are negotiations about a trade deal, and we are not looking to conflate with other issues."
According to Canadian Foreign Minister Mélanie Joly, Trudeau discussed the assassination with Sunak and US Vice President Joe Biden in recent weeks.
If the allies' reactions were subdued, Joly's office and the White House refuted news reports that Canada had lobbied the US and other major allies to denounce the assassination in the days before Trudeau made his claims.
According to White House national security spokesperson John Kirby, any rumors that the United States had rejected Canada were "just flatly false."
"We were deeply concerned by Prime Minister Trudeau's allegations and remain in regular contact with our Canadian partners," Kirby added. "They're investigating, and that should continue unabated."

However, he noted that the US-India partnership "remains vitally important, not only for the South Asia region but, of course, for the Indo Pacific."
Nonetheless, the Biden administration provides more spiritual support than real backing. It may want to keep matters bilateral between Ottawa and New Delhi.
"It's embarrassing" for Washington, according to historian and University of Toronto professor Robert Bothwell. However, "the United States has larger interests."
If Trudeau's allegations are true, it demonstrates that Indian Prime Minister Narendra Modi's government is not "restrained by an innate sense of the rule of law or a commitment to democracy."
"This is the same kind of thing that Putin does," he said, alluding to Russian President Vladimir Putin's adversaries who have been slain in Russia and abroad, including in the United Kingdom.
Najjar, born in India and had worked as a plumber in Canada for many years, was assassinated in the parking lot of a Sikh temple in Surrey, a Vancouver suburb. He was wanted by Indian police, who had long suspected him of having ties to separatist terrorists aiming to establish an independent Sikh republic within India. While advocating for a Sikh nation, Nijjar continually denied any links to terrorism.
Canada has failed to present proof of India's involvement in the murder. However, a US official said Tuesday that the White House interpreted Trudeau's willingness to come out as an indication of the Canadian leader's confidence in what had been discovered. The official, who was not authorized to publicly comment, spoke on the condition of anonymity.

Canada is one of the few countries unapologetically supporting human rights and the international rule of law. It also has no qualms about confronting major powers.
China-Canada ties, for example, took a hit in 2018 after China imprisoned former Canadian diplomat Michael Kovrig and Canadian entrepreneur Michael Spavor. These arrests happened shortly after Canada arrested Meng Wanzhou, the daughter of Huawei's founder and the company's top financial officer. The arrest was done at the request of US officials, who accused Meng of fraud.
Even after a prisoner swap in which China released the Canadians in exchange for Meng in 2021, relations have not improved.
In addition, after Canada's foreign ministry tweeted support for a jailed Saudi activist, the Saudi government removed Canada's ambassador to the kingdom and withdrew its envoy. It took five years for Canada and Saudi Arabia to reestablish full diplomatic relations in May of this year.
Trudeau also clashed with former US President Donald Trump, who pledged to make Canada pay after Trudeau declared that he would not be bullied in trade talks with the US. Trump retaliated by criticizing Trudeau, calling him "meek and mild," which surprised Canadians.
The stakes have risen, and it's uncertain — at least publicly — who Canada can rely on for unwavering support.
"Is Canada alone?" Bothwell wondered. "That is obviously a concern because Canada has always relied on the protection of the British and then the Americans."
SOURCE – (AP)
2 Years Ago, The Taliban Banned Girls From School. It's A Worsening Crisis For All Afghans
ISLAMABAD, Pakistan (AP) — Afghanistan is the only country in the world with limits on female education, two years after the Taliban forbade girls from attending school beyond sixth grade. The rights of Afghan women and children are now on the agenda of the United Nations General Assembly, which meets in New York on Monday.
The United Nations Children's Fund claims the prohibition affects more than 1 million females. However, it estimates that 5 million were out of school before the Taliban takeover owing to a lack of facilities and other factors.
The ban drew international censure and remained the Taliban's most significant impediment to being recognized as Afghanistan's legitimate authority. The Taliban, however, ignored the outcry and went even further, barring women and girls from higher education, public venues such as parks, and most jobs.
Here's a look at the education prohibition for girls:

WHY DID THE TALIBAN KEEP GIRLS OUT OF HIGH SCHOOL?
The Taliban prohibited girls from continuing their education past the sixth grade because it did not conform to their understanding of Islamic law or Sharia. They did not make an exception for boys. In the last two years, they have made little progress in creating the environment necessary for girls to return to school.
According to regional analyst Hassan Abbas, their perspective on females' education stems partially from a certain 19th-century Islamic philosophy school and partly from rural areas where tribalism is ingrained.
"Those who went on to develop the (Taliban) movement opted for ideas that are restrictive, orthodox to the extreme, and tribal," said Abbas, a Taliban expert. According to Abbas, the Taliban leadership thinks that women should not participate in anything social or public, especially schooling.
When the Taliban ruled Afghanistan in the late 1990s, they prohibited girls from attending school.
WHAT ARE THE VIEWS OF MUSLIM-MAJORITY COUNTRIES ON THE BAN?
Outside of Afghanistan, clergy agree that Islam prioritizes female and male education. "The Taliban have no basis or evidence to claim the contrary," Abbas stated. Individual countries and groupings, such as the Organisation of Islamic Cooperation, have failed to persuade the Taliban.
Former Taliban front-line leader Syed Akbar Agha stated that the rebels adopted an Islamic system the day they took Kabul in August 2021.
"They also gave Afghans and the rest of the world the impression that the country would have an Islamic system," Agha remarked. "At the moment, there is no (other) Islamic system in the world." The international community is working hard to bring democracy to Islamic countries and pull them away from the Islamic system."

WHAT IMPACT DOES THE BAN HAVE ON WOMEN?
According to Roza Otunbayeva, special representative for Afghanistan and director of the United Nations mission in Afghanistan, one of the apparent consequences of an education prohibition is a lack of training for aspiring healthcare workers.
Female medical students' studies were interrupted following the Taliban's proclamation prohibiting women from pursuing higher education last December. Afghan women work in hospitals and clinics — one of the few open areas — but the pipeline of qualified candidates will dry up. Afghan women cannot see male doctors. Hence, children will be denied medical care if women are their primary carers.
"If nothing changes in the future, where will the female doctors, midwives, gynaecologists, and nurses come from?" Otunbayeva told The Associated Press in an email. "In a strictly gender segregated society, how will Afghan women be able to get the most basic healthcare services if there are no female professionals to treat them?"

WHAT EFFECT WILL IT HAVE ON AFGHANISTAN'S LARGER POPULATION?
The high school ban is about more than just females' rights. The situation is worse for all Afghans.
Tens of thousands of teachers have been laid off. Support personnel are also out of work. Private educational institutions and businesses that gained financially from girls' education have been impacted. Afghanistan's economy is in shambles, and people's earnings are falling. According to UNICEF, excluding women from the labor force costs the country's GDP billions of dollars.
With their shift towards madrassas, or religious schools, the Taliban prioritize Islamic knowledge over fundamental literacy and arithmetic, paving the way for a generation of students with no modern or secular education to enhance their or the country's economic future.
Other effects for the wider public include public health and child protection.
According to UN data, birth rates are higher among Afghan girls aged 15 to 19 who do not have a secondary or higher education. A woman's education can also influence whether her children receive basic immunizations and if her daughters marry before 18. According to the United Nations, one of the biggest causes of deprivation is a lack of education for women.
According to aid organizations, girls are at a higher risk of child labor and child marriage since they are not in school, despite the mounting problems experienced by families.
WILL THE TALIBAN'S MINDS CHANGE?
The Taliban conducted a decades-long jihad to impose their Sharia-based ideology. They are not going down without a fight. Sanctions, asset freezes, lack of formal recognition, and global denunciation have had little effect.
Countries with ties to the Taliban may be able to exert influence. However, they have distinct agendas, making a united front on girls' education unlikely.
Pakistan is concerned about a rise in insurgent activity. Water resources are a source of contention for Iran and Central Asian countries. China is looking for prospects for investment and resource extraction.
There is a greater possibility of pressure coming from within Afghanistan.
The Taliban's rule today is not the same as it was decades ago. Senior officials, notably chief spokesman Zabihullah Mujahid, use social media to communicate with Afghans at home and abroad.
They point out their success in eliminating narcotics and combating armed groups like the Islamic State. However, increasing security and eliminating poppy crops can only satisfy people.
While Afghans are concerned about losing girls' education, they also have more pressing concerns, such as earning a living, putting food on the table, having a roof over their heads, and surviving droughts and hard winters.
Within Afghanistan, there is a desire for the Taliban to gain international legitimacy, even without recognition, so that the economy can prosper.
According to Abbas, public opinion is considerably more vital and influential today than it was during the Taliban administration in the 1990s. "Internal pressure from ordinary Afghans will eventually force Kandahar into a corner and make a difference."
However, it could take years for the effects of the prohibition to impact Afghan males and spark a wave of protest. Right now, it only impacts girls; most protesters have been women.
According to Agha, Afghans will support the ban if the ultimate goal is to implement hijab the Islamic headscarf and prohibit gender mingling. But they will not if the goal is merely to eliminate females' education completely.
"I think only the nation can lead the way," he remarked.
SOURCE – (AP)