477 Pilot Whales Die After Getting Stranded on New Zealand Beach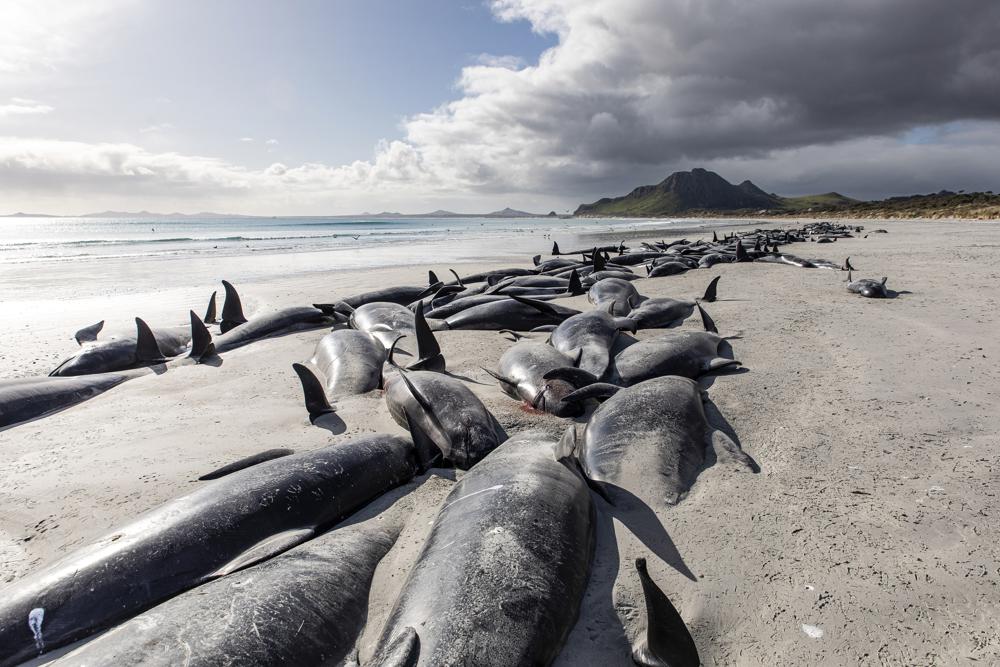 Some 477 pilot whales have died after stranding themselves on two remote New Zealand beaches over recent days, officials say.
None of the stranded whales could be refloated, and all died naturally or were euthanized in a "heartbreaking" loss, Daren Grover, the general manager of Project Jonah, a nonprofit group which helps rescue whales, told VOR News.
The whales beached on the Chatham Islands, home to about 600 people and located about 800 kilometres (500 miles) east of New Zealand's main islands.
The Department of Conservation said 232 whales stranded themselves Friday at Tupuangi Beach and another 245 at Waihere Bay on Monday.
The deaths come two weeks after about 200 pilot whales died in Australia after stranding on a remote Tasmanian beach.
"These events are tough, challenging situations," the Department of Conservation wrote in a Facebook post. "Although they are natural occurrences, they are still sad and difficult for those helping."
Grover said the remote location and presence of sharks in the surrounding waters meant they couldn't mobilize volunteers to try to refloat the whales as they have in past stranding events.
"We do not actively refloat whales on the Chatham Islands due to the risk of shark attack to humans and the whales themselves, so euthanasia was the kindest option," said Dave Lundquist, a technical marine advisor for the conservation department.
Mass strandings of pilot whales are reasonably common in New Zealand, especially during summer. Scientists don't know exactly what causes the whales to strand, although it appears their location systems can get confused by gently sloping sandy beaches.
Grover said there is a lot of food for the whales around the Chatham Islands, and as they swim closer to land, they would quickly find themselves going from very deep to shallow water.
"They rely on their echolocation, yet it doesn't tell them that they are running out of water," Grover said. "They come closer and closer to shore and become disoriented. The tide can drop below them, and they're stranded on the beach before they know it."
Because of the remote location of the beaches, the whale carcasses won't be buried or towed out to sea, as is often the case, but instead will be left to decompose, Grover said.
"Nature is a great recycler, and all the energy stored within the bodies of all the whales will be returned to nature quite quickly," he said.
Source: Associated Press

Indonesia's Marapi Volcano Erupts For The Second Day As 12 Climbers Remain Missing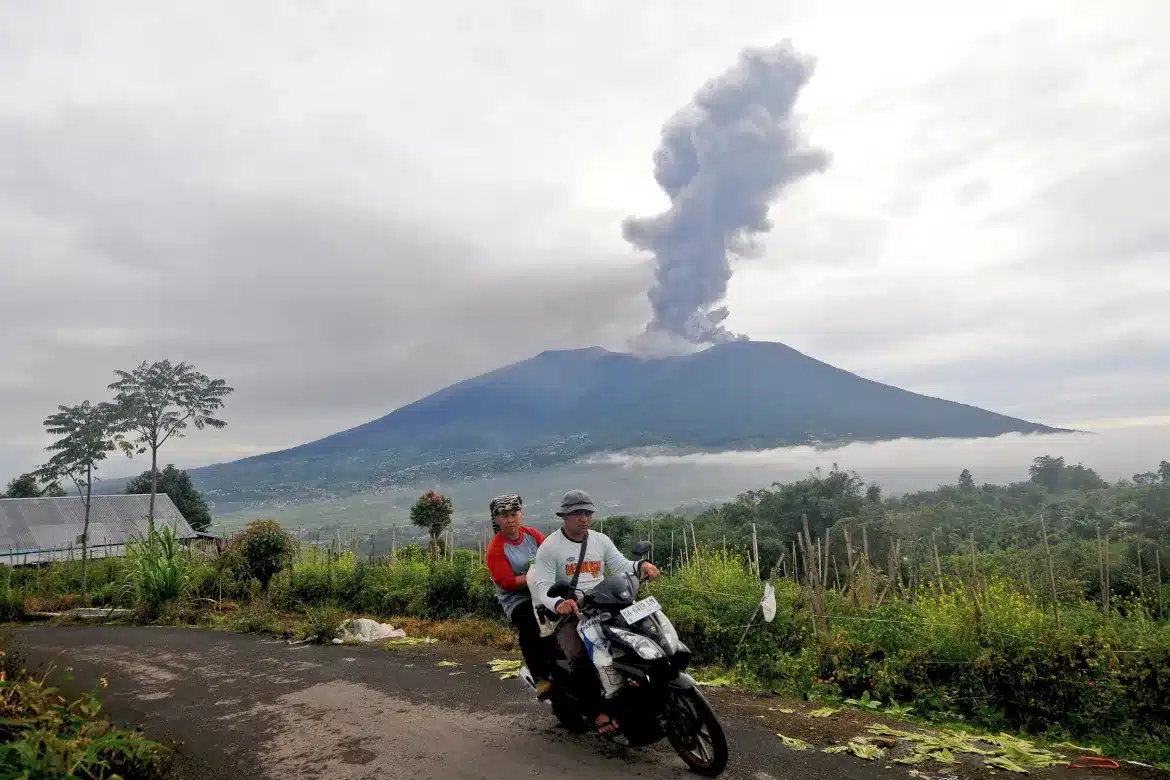 PADANG, Indonesia – Officials in Indonesia paused the search for 12 climbers on Monday when Mount Merapi volcano erupted again, sending a huge burst of scorching ash as high as 800 meters (2,620 feet) into the air.
The deaths of 11 climbers were discovered earlier in the day while searching for the missing, but efforts to locate them were hampered by the resumed activity, according to West Sumatra's Search and Rescue Agency head Abdul Malik. He stated that the search would restart whenever conditions improved.
The agency shared a video of rescuers escorting an injured climber on a stretcher off the mountain and into a waiting ambulance to be brought to the hospital.

On Sunday, Marapi erupted, unleashing clouds of burning ash.
Since 2011, the volcano has remained at the third highest of four alert levels, indicating above-normal volcanic activity, prohibiting climbers and villagers from approaching the peak within 3 kilometers (1.8 miles), according to Hendra Gunawan, the head of the Center for Volcanology and Geological Disaster Mitigation.
"This means there should be no climbing to the peak," Gunawan explained, adding that climbers were only permitted below the danger zone, "but sometimes many of them broke the rules to fulfill their satisfaction to climb further."
On Saturday, over 75 climbers began their ascent of the nearly 2,900-meter (9,480-foot) mountain and became stranded. Rescuers saved 52 people, including three on Monday. According to Hari Agustian, an official with the local Search and Rescue Agency in Padang, the West Sumatra provincial capital, eight of those rescued Sunday were transported to hospital with burns, and one suffered a fractured leg.
Before beginning their ascent, all climbers registered at two command stations or online with West Sumatra's conservation office, according to Agustian. When asked how many individuals may be stranded, he claimed it couldn't be confirmed because some may have taken unauthorized routes up the mountain, and residents may have also been present.
During Sunday's eruption, Marapi erupted thick ash columns as high as 3,000 meters (9,800 feet), and heated ash clouds extended for miles. Tons of volcanic debris buried nearby villages and cities. According to a social media video, volcanic dust and rain covered the faces and hair of evacuated climbers.
Authorities provided masks and urged inhabitants to wear eyeglasses to protect themselves from volcanic ash as falling ash blanketed several communities and obstructed sunlight.

Rubai and Gobah Cumantiang, the nearest villages about 5 to 6 kilometers (3.1 to 3.7 miles) from the peak, are home to approximately 1,400 people.
According to Gunawan, the Sunday eruption was not preceded by a large rise in volcanic earthquakes. Deep volcanic earthquakes were only detected three times between November 16 and Sunday, while the peak's deformation equipment or tiltmeter revealed a horizontal pattern on the radial axis and a small inflation on the tangential axis.
"This shows that the eruption process is taking place quickly and the center of pressure is very shallow, around the peak," the scientist stated.

According to Gunawan, Marapi has erupted on average every 2 to 4 years since 2004.
Gunawan added that this eruption was not the result of magma movement and that marapi eruptions are typically sudden and challenging to detect using equipment because the source is close to the surface.
Marapi has been active since a January eruption that left no one dead. It is among more than 120 active volcanoes in Indonesia, which is vulnerable to seismic activity due to its placement on the Pacific "Ring of Fire," an arc of volcanoes and fault lines encircles the Pacific Basin.
SOURCE – (AP)
Rizz Named Word Of The Year 2023 By Oxford University Press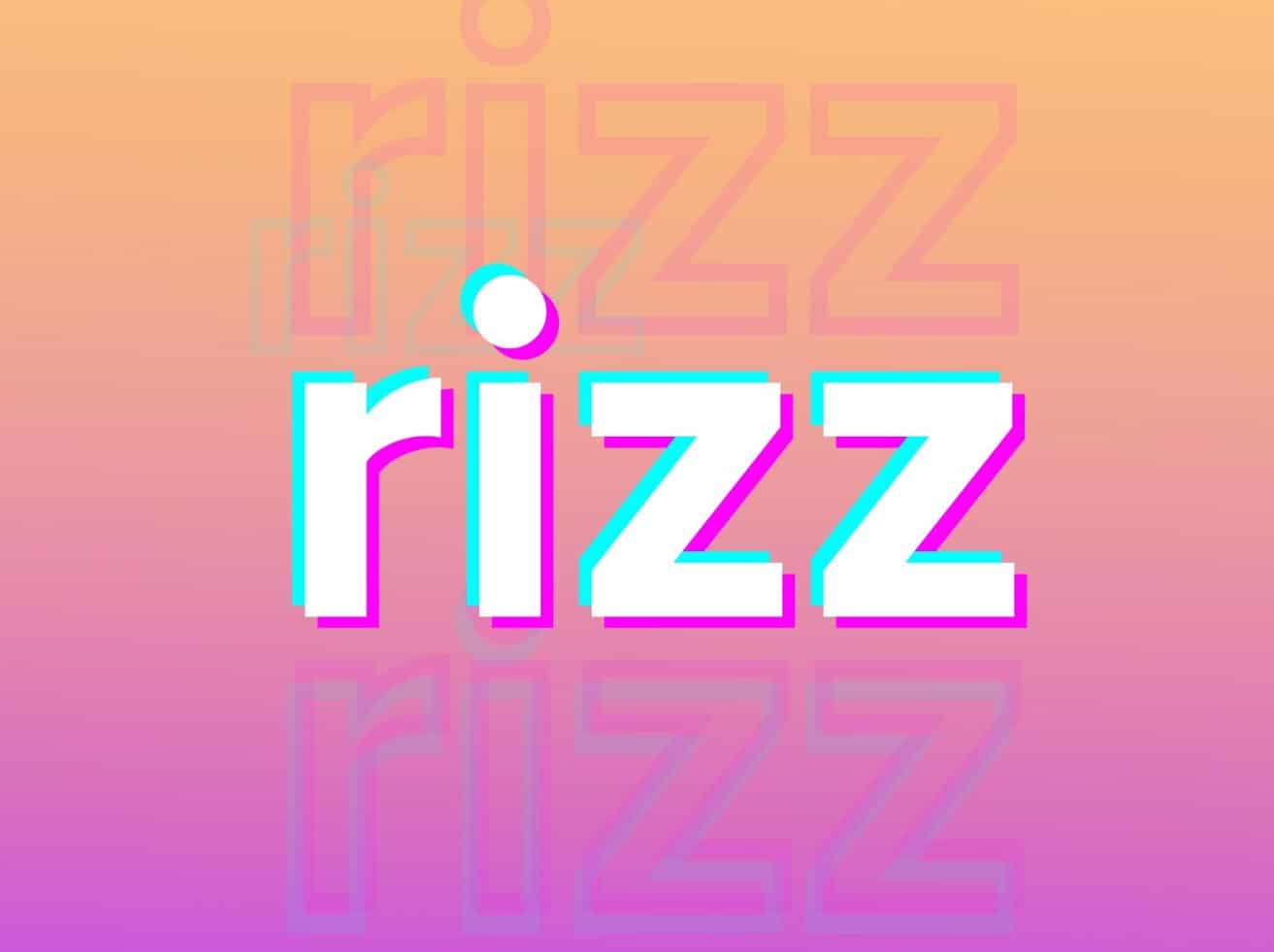 Are you adept at flirting or chatting up possible partners? If this is the case, you may already have rizz and be unaware of it.
Young folks utilize the Oxford word of the year, internet slang for romantic appeal or charm.
It was one of eight words chosen from a shortlist to define the mood, ethos, or preoccupations of 2023.
A public poll was used to narrow down the list before Oxford lexicographers made the ultimate selection.
Swiftie, Beige Flag, and Situationship were among the other contenders.
If you are not a member of Generation Z, the term may be meaningless to you.
However, it is widely utilized online, with billions of views of the hashtag "rizz" on TikTok.

Rizz Named Word Of The Year 2023 By Oxford University Press
It is described as style, charm, or attractiveness, as well as the ability to attract a romantic or sexual partner, by Oxford University Press [OUP], which publishes the Oxford English Dictionary [OED].
The word "charisma" is assumed to be a shorter variant of "charisma."
It can also be used as a verb, as in "to frizz up," which means "to attract, seduce, or chat up someone."
It's essentially a modern version of the "game," described as skill, proficiency, and the capacity to sexually entice people through one's charm.

What do the shorlisted words mean?
Beige flag (n.): a character feature that indicates that a partner or possible partner is boring or lacks creativity; (also) a quality or habit, especially of a partner or potential mate, that is very distinctive but not good or bad. [proposed definition]
A situationship (n.) is a romantic or sexual relationship that is not formal or established.
Swiftie (n.): a devoted follower of Taylor Swift. [proposed definition]
Prompt (n.): a command issued to an artificial intelligence program, algorithm, or the like that affects or influences the content it generates [draft definition]
De-influencing (n.): the activity of deterring individuals from purchasing specific things or pushing people to consume less material goods, particularly through social media [draft definition]
The Oxford University Press emphasized that lexicographers are writing a draft definition "for the Word of the Year campaign" and that terms without draft definitions are already in the OED.

Rizz Named Word Of The Year 2023 By Oxford University Press
The rest of the words will be included in dictionaries "after assessment of their longevity, frequency, and breadth of usage," according to the statement.
Kai Cenat, a Twitch streamer and YouTuber is widely credited with popularizing the term rizz, which he used with his buddies.
The word's popularity has grown this year, and in June, actor Tom Holland was asked by Buzzfeed about the secret to his frizz.
Holland responded, "I have no rizz at all." "I have limited rizz," he says before detailing how he won his fiancée Zendaya over by playing the "long game."

Another slang term characterizing "unapologetically self-indulgent, lazy, slovenly, or greedy" behavior that was last year's Oxford word of the year was "goblin mode."
Casper Grathwohl, president of Oxford Languages, stated that while "goblin mode" was popular following the epidemic, "it's interesting to see a contrasting word like rizz come to the forefront."
He speculated that the word referred to "a prevailing mood of 2023, where more of us are opening up after a challenging few years and finding confidence in who we are."
Mr. Grathwohl said that the increased use of the word frizz demonstrated that words and phrases derived from online culture "are increasingly becoming part of the day-to-day vernacular."
The language specialists at Oxford University Press chose the selection of eight words.
This list was then subjected to a public vote in late November, narrowing the field to four finalists before the experts decided.
Collins Dictionary revealed "artificial intelligence" as the word of 2023 in November.
SOURCE – BBC
Brisbane Mayor Quits 2032 Olympic Organizing Committee, Condemns Stadium Costs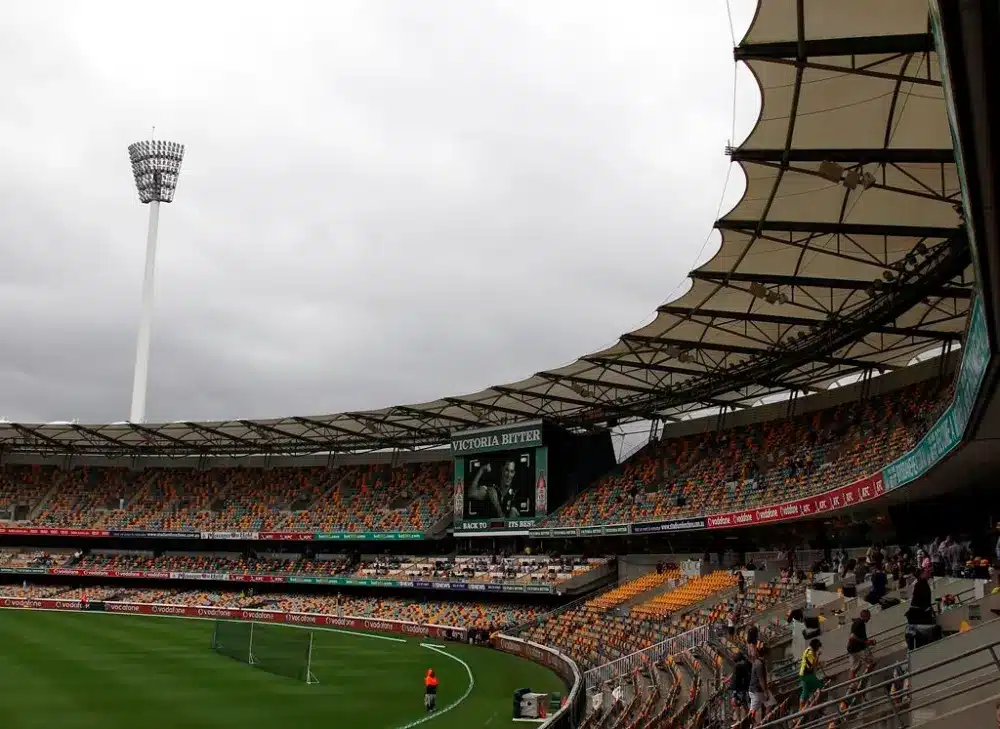 Brisbane Lord Mayor Adrian Schrinner has resigned from the inter-governmental group planning the 2032 Brisbane Olympic Games, describing it as a "pointless talkfest" and a "dysfunctional farce."
It is the first substantial divide for the organizers, whom the International Olympic Committee chose to host the 2032 Summer Olympics in 2021.
The so-called Leaders' Forum, which includes officials from all three levels of government and various organizations, is intended to deliver the Olympics while leaving a legacy for Queensland. Its mandate is to collaborate with Premier Annastacia Palaszczuk's Queensland state government to "progress the significant venues, villages, and transportation infrastructure" for the Games.
However, Schrinner claimed that the committee was meant to "place key stakeholders while the state government made all the real decisions behind closed doors."

Brisbane Mayor Quits 2032 Olympic Organizing Committee, Condemns Stadium Costs
"The truth is that we've always wanted to be team players. On Sunday, Schrinner stated, "The state government wanted to play politics."
He advocated for creating an independent authority, similar to the one that oversaw preparations for the Sydney Olympics in 2000 and the London Olympics in 2012, to bring planning "back on track."
"We don't need overpriced stadiums, we need better transport," Schrinner said. "This week it became very apparent that the Intergovernmental Leaders' Forum is a dysfunctional farce."
According to Schrinner, sports have become "more about overpriced stadiums."
A $2.7 billion US makeover of the existing Gabba stadium in inner-city Brisbane, which would be dismantled and rebuilt, is intended to be the centerpiece of an Olympics with sites around southeast Queensland. However, Schrinner suggested that alternative options be investigated.
He was particularly critical of the state government's proposals for Brisbane City Council to contribute $91 million to upgrade another local stadium, the RNA Showgrounds, to host cricket and Australian Rules football while the Gabba is redeveloped.

Brisbane Mayor Quits 2032 Olympic Organizing Committee, Condemns Stadium Costs
A 20,000-person stadium will be built within the showgrounds for the next five years to house the Brisbane Lions AFL teams and the Brisbane Heat cricket club. Schrinner resigned in response to the state government's request for a financial commitment from the city for a temporary cricket and AFL site.
"The state government's game playing is jeopardizing the games and they are quickly losing the support of the people of Queensland," Schrinner said in a statement. "It's clear that the games have become more about overpriced stadiums rather than the promise of vital transport solutions."
Queensland Sports Minister Stirling Hinchliffe expressed surprise at Schrinner's decision to resign. If he chooses to return, a place will be reserved for him.
Queensland will have council elections in March of next year. Schrinner's conservative Liberal National Party alliance and the opposition Australian Labor Party had previously backed the Gabba renovation.

Brisbane Mayor Quits 2032 Olympic Organizing Committee, Condemns Stadium Costs
The Greens' candidate for mayor of Brisbane, Jonathan Sriranganathan, has stated that if elected, his party would oppose the demolition and rebuilding of the Gabba. He called it a "deplorable waste of money" and a "bad deal for our city."
SOURCE – (CBC)