Yeezy Shoes Still Stuck In Limbo After Adidas Split With Ye
FRANKFURT, Germany — It's been over seven months since Adidas split with Kanye West, and crates of his popular Yeezy trainers are still piling up in warehouses.
The destiny of 1.2 billion euros ($1.3 billion) in unsold Yeezy goods weighs heavily on the German sportswear firm as it attempts to recover from the loss of the profitable sneaker line and the ongoing fallout from its past links to Ye.
Adidas is "getting closer and closer to making a decision" on what to do with the trainers, and the "options are narrowing," according to new CEO Bjorn Gulden in a conference call Friday, following a figure of 400 million euros ($441 million) in lost sales at the start of the year.

However, he said no conclusion had been reached because "so many interested parties" were involved in the conversations.
Adidas is stuck with stacks of its signature Yeezy brand sneakers after severing ties with Ye in October due to his antisemitic and other hateful comments on social media and in interviews.
Gulden, who took over as CEO following the Ye split in January, declined to say whether destroying the shoes had been ruled out but said the firm was "trying to avoid that."
He has previously stated other solutions have drawbacks: selling the trainers would include paying royalties to Ye, restitching them to erase the brand identification would be dishonest, and giving them out to people in need could lead to resale due to their high market value.
Gulden refused to reveal how many pairs of Yeezy shoes Adidas is stuck with "because then the consumer would know how many we have, and that could have an impact on demand."
"Of course, losing the Yeezy brand is hurting us," Gulden stated. According to the Herzogenaurach-based company, if Adidas does not sell the remaining Yeezy stock, earnings will be reduced by 500 million euros this year.

Gulden refused to reveal how many pairs of Yeezy shoes Adidas is stuck with.
According to the corporation, net sales fell 1% in the first quarter to 5.27 billion euros but would have increased 9% with the Yeezy line. It reported a net loss of 24 million euros, compared to a profit of 310 million euros at the same time the previous year.
Operating profit, which includes key factors like taxes, fell to 60 million euros from 437 million euros the previous year.
Gulden stated that Adidas' performance was "a little better than we had expected" as the firm strives to relaunch growth and move past its split with Ye. He described 2023 as a "year of transition" on the road to "a better '24 and a good '25."
The corporation is also dealing with additional issues related to the artist. Investors filed a lawsuit against Adidas in the United States a week ago, arguing that the firm was aware of Ye's hateful words and detrimental behavior years before the breakup and failed to take preventative measures to limit financial losses.
The complaint, filed on behalf of those who purchased Adidas securities between May 3, 2018, and February 21, 2023, cited 2018 comments in which Ye stated slavery was a "choice" and reports of Ye making antisemitic remarks in front of Adidas employees.
Last week, the corporation rejected "these unfounded claims and will take all necessary measures to vigorously defend ourselves against them."
The breakup of the Ye partnership also cost Adidas 600 million euros in missed sales in the last three months of 2022, contributing to the company's net loss of 513 million euros.
According to Adidas, an operating loss of 700 million euros is possible this year, owing mostly to a 500 million-euro damage if the existing Yeezy sneakers are not sold.
SOURCE – (AP)
2023: Taylor Lautner Calls Out Hateful Comments Saying He "Did Not Age Well"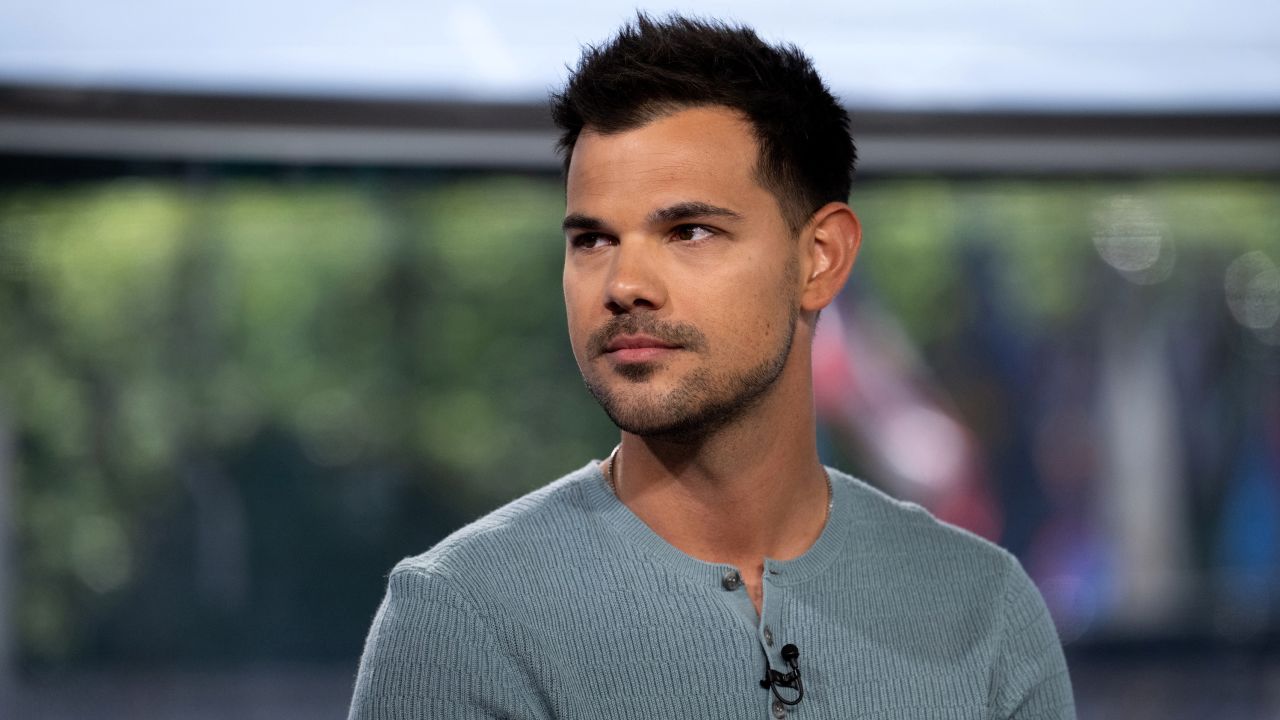 Taylor Lautner is unaffected by negativity.
When confronted with criticism about his appearance that just surfaced on Instagram, the Twilight alum didn't hold back. Taylor even published some cruel comments, including one that said he "did not age well," to start a conversation about mental health.
"If this was 10 years ago, five years ago, maybe even two, three years ago, that would have really gotten under my skin," he remarked in a video posted on May 22. "It would have made me want to hide in a hole rather than go outside."
However, the 31-year-old stated that he is now "in a different place" and is no longer in an "unhealthy position" in which he concentrates on the "wrong things."
"You find value wherever you put it," Taylor says. "And if you base your worth on what other people think of you, that's how you'll feel." But if you place your value in knowing who you are, what matters to you, and what you enjoy, that stuff won't bother you."

Taylor Lautner is unaffected by negativity.
"My biggest point is to think about and remember where you put your value in life and be nice," he continued. It isn't all that difficult. Let's be nice to one another. Let us spread love and happiness. It's as easy as that."
Other harmful remarks Taylor wrote in a report were that he "looks like old broccoli" and has "aged like a sultana."
On the other hand, Taylor received an outpouring of support in the comments area of his post.
"'It doesn't make me question who I am,'" wrote the actor's wife, Taylor Lautner, echoing one of his statements from the video. "God, I love you."
Meanwhile, Clayton Echard of Bachelor Nation, who has been open about his body dysmorphia issue, applauded Taylor for his vulnerability. "People need to realise the weight of their words, and it doesn't help that there's often no accountability when it comes to social media," he wrote. "Your sharing will help others understand the power of their words, and perhaps next time they'll think twice before hitting send."

Taylor Lautner is unaffected by negativity.
Taylor has previously spoken openly about his battles with mental health. On a February edition of his podcast, The Squeeze, the actor discussed how being shirtless in the Twilight film series caused his body image issues.
"When I was in it, when I was 16 through 20 years old, starring in this franchise where my character is known for taking his shirt off every other second," he explained. "I had no idea it was affecting or would affect my body image in the future, but now that I think about it, of course it did, and of course it will."
Taylor recounted being "forced to be in a gym multiple times a day, six days a week" while producing and experiencing criticism over his less muscular body when the franchise concluded in 2012.
"I was filming a movie called Run The Tide, and my character isn't supposed to be a bodybuilder or ripped guy in any way." "I thought I looked okay," he recalled. "They put side-by-sides of me shirtless in the ocean in a scene from that movie compared to me in Eclipse or whatever and being like, 'Wow, he's let it all go.'"
Taylor admitted that the similarities "messed with me" for years but that he now "sees things differently."
"Your body can look incredible, you can be ripped, shredded, whatever you want to lose weight, put on muscle," he continued, "but if you're not mentally healthy, then it's all for naught because that can work against you."
SOURCE – (AP)
Vanderpump Rules' Ariana Madix Finally Leaves Her and Tom Sandoval's $2 Million Home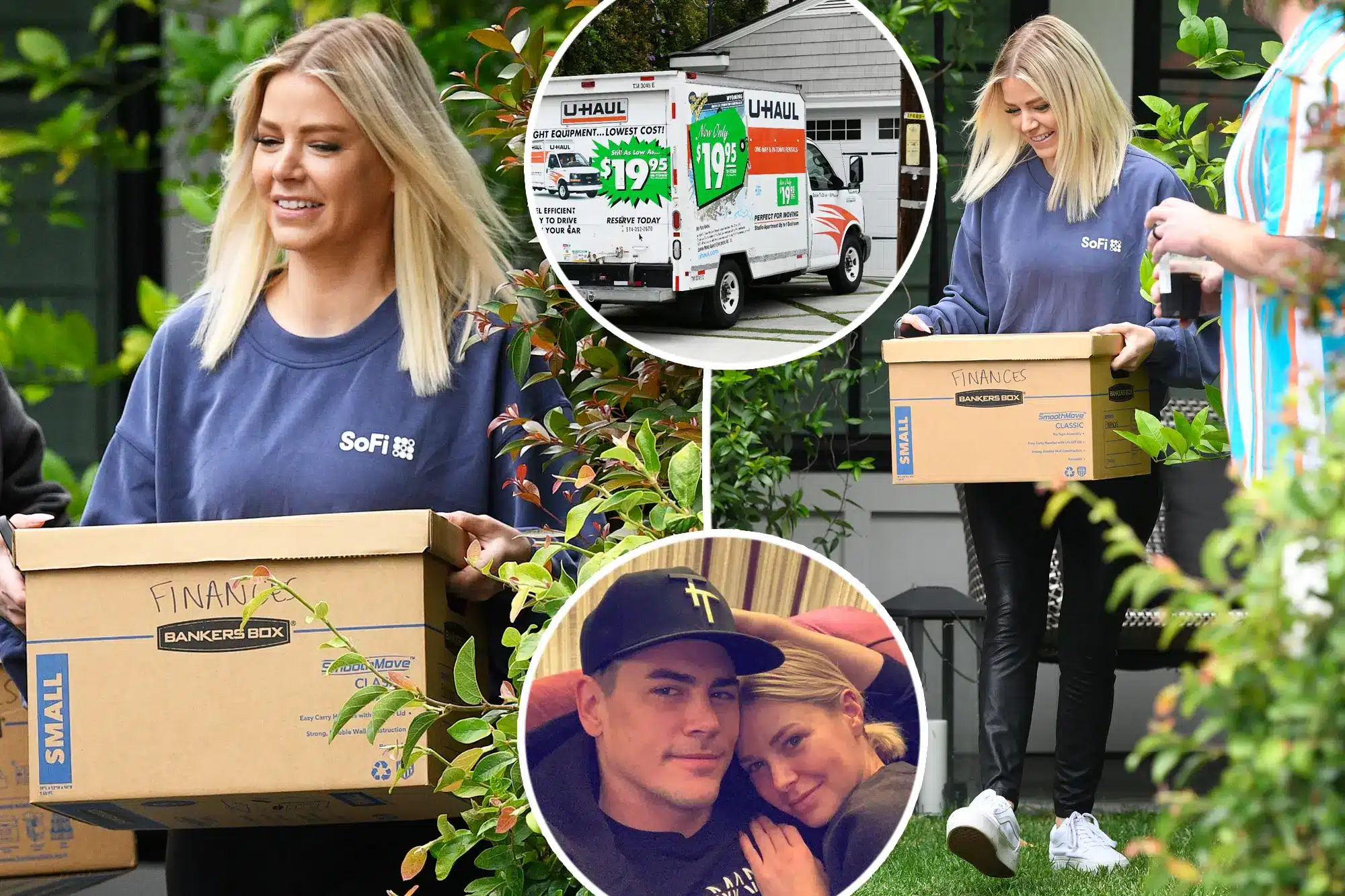 Ariana Madix raises her glasses—and wraps them in bubble wrap.
Two months after her dramatic separation from Tom Sandoval, whose months-long romance with Raquel Leviss has revealed on the Vanderpump Rules season 10 finale, the reality star moved out of their shared Los Angeles home.
The 37-year-old posted a video of herself to Instagram Story on May 22 with several stacked boxes outside her home, along with the caption "Ready to dip out."
The post alluded to remarks Tom, 40, made on a previous episode of Vanderpump Rules in which he used the word "dipped out" to describe how Raquel, 29, had spent the night at his house.
Ariana's move comes nearly a week after she announced plans to sell the home she acquired with Tom for $2 million in 2019.
"I want my money out of that house as soon as possible," she said on Watch What Happens Live on May 17. "I want to move on."
Although Ariana was still living under Tom's roof at the time, she claims the two have no contact and only communicate through their employees as a "go-between."
Ariana Madix raises her glasses—and wraps them in bubble wrap.
Raquel, who entered a mental health counseling facility last month, she said, was "sending letters to my house like four days ago."
"I didn't open it," Ariana explained, noting that the letter was written by Raquel and sent to Tom. "I just brought in the mail, saw it, put it down on the table, and walked away."
Following the adultery incident, which viewers dubbed "Scandoval," Tom and Raquel apologized to Ariana.
"I made mistakes, I was selfish, and I made reckless decisions that hurt somebody I love," Tom wrote on Instagram on March 7. "No one deserves to feel that pain so traumatically and publicly."
"My biggest regret is that I dishonored Ariana," he concluded. I had no intention of disappointing so many people, especially our adoring families and friends."
For her part, Raquel said in a statement on March 8: "There is no excuse, I am not a victim, and I must own my actions, and I deeply regret hurting Ariana."
"I am learning things about myself, such as my patterns of codependency and addiction to being and feeling loved," the former beauty queen continued. "I have sought emotional validation through unhealthy intimate connections, sometimes negatively affecting others and frequently prioritising the intimate connection over my friendships."
SOURCE – (AP)
Martha Stewart Lands Sports Illustrated's Swimsuit Cover At 81
Martha Stewart is putting herself in front of the camera more than ever before.
The 81-year-old was unveiled as one of four cover stars for Sports Illustrated Swimsuit 2023, with her cover appearing on Today on May 15. Martha, who joins Megan Fox, Kim Petras, and Brooke Nader as 2023 swimsuit cover stars, humbly reacted to the cover shot, which portrays the former TV anchor reclining on the beach in a plunging white one-piece suit and billowing gold jacket, and said, "I like that picture."
She then disclosed that she was asked for the job for the first time in November.
"That was a request I'd never had before," Martha explained to hosts Savannah Guthrie and Hoda Kotb. "Being on the cover at my age was a challenge." And I believe I succeeded."
With only a few weeks between the call and the shoot, she went into depth about how she prepared for the big day.
"I didn't starve myself, but I didn't eat any bread or pasta for a couple of months," stated the businesswoman. "I went to Pilates every other day, which was fantastic. I still go to Pilates every other day since it's so beneficial."
"I live a relatively clean lifestyle, with a healthy diet and regular exercise," she continued. "And healthy skincare, and all of that stuff."

Martha Stewart is putting herself in front of the camera more than ever before.
She also attributed her accomplishment to leading a healthy lifestyle and not worrying about aging. "I believe that all of us should consider good living, successful living, and not ageing." "This ageing thing is so boring," she remarked. "You understand what I mean."
And what about the shot itself? "It was kind of fun," Martha replied, smiling. "I mean, they were prodding me, pinching me, and pouring water over my head."
"There's no tricks, actually, no tricks," she continued. "I mean, they say you look okay, which is wonderful. They serve to reaffirm the fact that what you're doing is acceptable."
Savannah highlighted that Martha's swimsuit cover modeling venture is consistent with her overall "yes" attitude, as evidenced by her willingness to open up about her experience with online dating several years ago.
"One of my mottos is, when you're done changing, you're done," Martha responded. "Change is good, evolution is good, just try new things." It's great to be fearless."
"Don't be afraid," she continued. "Don't be afraid of anything."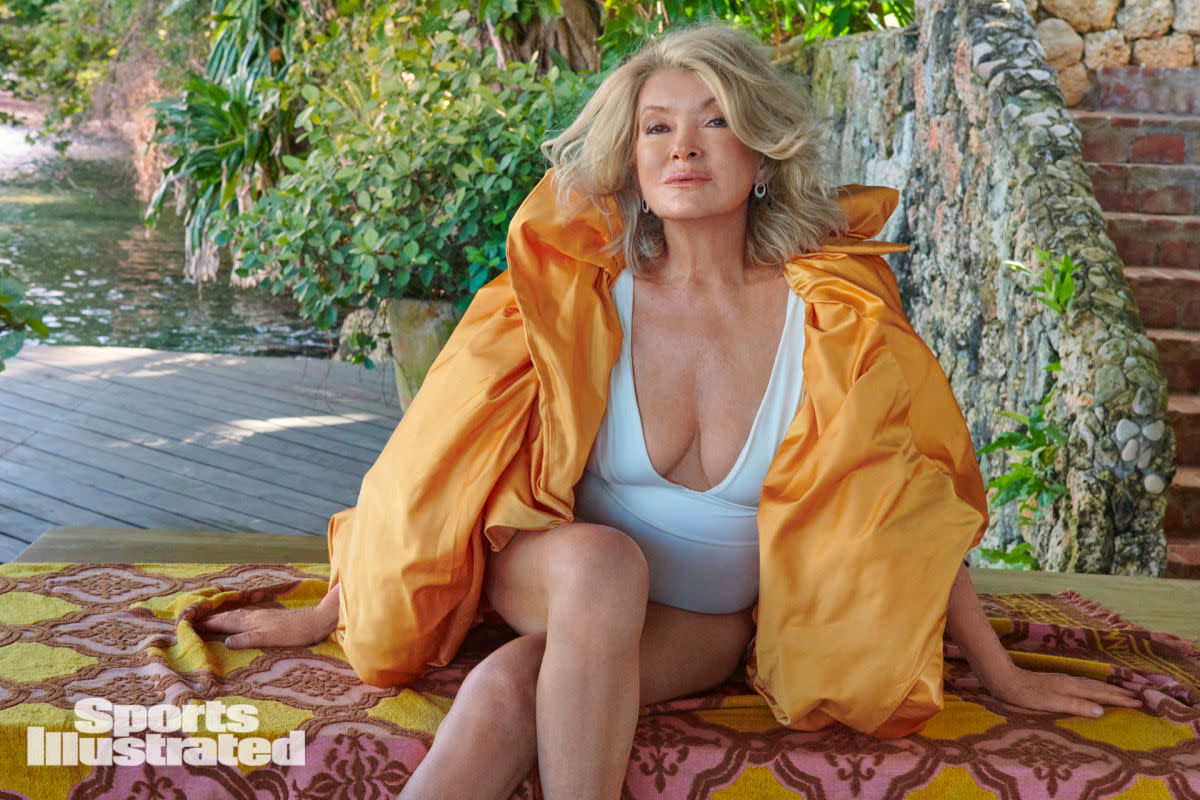 SOURCE – (Enews)