Crypto Exchange FTX Collapses, Files for Bankruptcy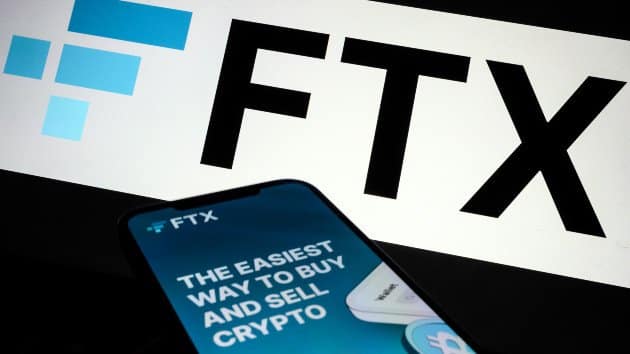 FTX took less than a week to go from the world's third-largest cryptocurrency exchange to bankruptcy. The embattled cryptocurrency exchange sought bankruptcy protection.
On Friday morning, FTX, the hedge fund Alameda Research, and dozens of other affiliated companies filed for bankruptcy in Delaware. FTX US, which was not expected to be part of any financial rescue, was also included in the company's bankruptcy filing.
According to the company, CEO and founder Sam Bankman-Fried has resigned. Bankman-net Fried's worth was recently estimated to be $23 billion, and he has been a major political donor to Democrats. According to Forbes and Bloomberg, which closely track the net worth of the world's richest people, his net worth has vanished.
"I was shocked to see things unravel the way they did earlier this week," Bankman-Fried wrote on Twitter.
The unravelling of FTX is causing ripple effects. Companies that backed FTX are already writing down their investments. Politicians and regulators are increasing their calls for stricter regulation of the cryptocurrency industry.
And the latest crisis has put downward pressure on bitcoin and other digital currency prices. According to CoinMarketCap.com, the total market value of all digital currencies fell by about $150 billion in the last week.
The failure of FTX extends beyond finance. The company also had major sports sponsorships, such as Formula One racing and a deal with Major League Baseball. Miami-Dade County decided to end its relationship with FTX on Friday, which means the venue where the Miami Heat play will no longer be known as FTX Arena.
Mercedes announced that FTX would be removed from its race cars this weekend.
Semafor, the high-profile news startup run by former BuzzFeed editor-in-chief and New York Times columnist Ben Smith, was also an early investor for FTX and Bankman-Fried, as well as his brother.
SEC Investigating FXT
Bankman-Fried also has other issues. According to a person familiar with the situation, the Department of Justice and the Securities and Exchange Commission are investigating FTX to determine whether any criminal activity or securities violations occurred. The person could not speak publicly about the investigations and spoke to The Associated Press on the condition of anonymity.
The inquiry is focused on the possibility that FTX used customer deposits to fund bets at Alameda Research. Brokers in traditional markets are expected to keep client funds separate from other company assets. Regulators have the authority to penalize violations. When MF Global intermingled client assets with its own bets roughly a decade ago, it effectively failed for a similar practice.
FTX listed more than 130 affiliated companies worldwide in its bankruptcy filing. The company estimated its assets to be worth $10 billion to $50 billion and its liabilities to be worth the same amount. The company named John Ray III as its new CEO, a long-time bankruptcy litigator best known for having to clean up the mess left by Enron's demise.
The bankruptcy of FTX will undoubtedly be one of the most complicated bankruptcy cases in recent years. According to bankruptcy lawyers, the company listed more than 100,000 creditors in its filing, and because all of its customers are effectively creditors because they deposited their funds with FTX, determining who is owed what will take months.
Cryptocurrency Not Protected
Cryptocurrencies are not legally protected, and politicians on both sides have issued statements opposing any Lehman Brothers-style bailout for cryptocurrency investors.
"Unlike in a case where there is (security insurance in the case of a brokerage failure) or where the FDIC steps in with a bank failure, these customers are completely exposed," said Daniel Besikof, a partner at Loeb & Loeb LLP, specializes in bankruptcy law.
After experiencing the cryptocurrency equivalent of a bank run, FTX agreed earlier this week to sell itself to larger rival Binance. Customers abandoned the exchange after becoming concerned about FTX's capital.
The cryptocurrency community had hoped that Binance, the world's largest cryptocurrency exchange, would be able to save FTX and its depositors. However, after reviewing FTX's books, Binance concluded that the smaller exchange's problems were too large to solve and backed out of the deal.
FTX is the latest in a string of disasters rocking the crypto industry, which is now under intense pressure from collapsing prices and circling financial regulators. Its failure is already being felt across the cryptocurrency universe.
Sequoia Capital, a venture capital firm, announced Thursday that it is writing down its total investment in FTX of nearly $215 million.
Bitcoin price drop
BlockFi, a cryptocurrency lender, announced late Thursday on Twitter that it is "unable to conduct business as usual" and has paused client withdrawals due to FTX's demise.
BlockFi, bailed out by Bankman-FTX Fried's early last summer, said it was "shocked and dismayed" by the news about FTX and Alameda in a letter posted late Thursday on its Twitter profile.
The company concluded by stating that future updates on its status "will be less frequent than what our clients and other stakeholders are accustomed to."
Bitcoin fell immediately after the letter was published and is now trading below $17,000. Bitcoin, the original cryptocurrency, had been hovering around $20,000 for months before FTX's problems were revealed this week, sending it briefly down to around $15,500.
Shares of Coinbase, a publicly traded cryptocurrency exchange, and Robinhood, an online trading platform, rose nearly 12%.
Meanwhile, institutional investors were already turning against cryptocurrencies before this week. Sam Bankman-FTX.com Fried's abrupt demise may have permanently harmed their chances of inclusion in mainstream portfolios.
While there are still many industry zealots, many professional money managers believe the case for cryptocurrency as a portfolio diversifier or digital gold has been debunked. They claim that the losses are too great and the market structure is too risky.
"It has become clear that it will not find a home in institutional asset allocation," Hani Redha, multi-asset portfolio manager at Pinebridge Investments in London, said. "There was a time when it was regarded as a potential asset class that every investor should include in their strategic asset allocation, and that is no longer the case."
Tiger Global and SoftBank are facing new FTX losses.
The recent explosions and scandals have demolished the key arguments of crypto supporters, effectively erasing the notion of Bitcoin as a safe haven in turbulent times. But none of those events, from the TerraUSD collapse to the Celsius bankruptcy, were as damning as the discovery that even FTX, once considered one of the most reliable names in crypto, was insolvent.
Salman Ahmed, the chief investment strategist at Fidelity International, which manages $646 billion from London, said the FTX collapse is "raising questions about the viability of the crypto ecosystem." "It was always difficult to make a case for including crypto, but the setup has come under increased scrutiny."
In February, his firm launched a Bitcoin exchange-traded product aimed at professional European investors. Since its inception, it has lost approximately 55% of its value.
Only a year ago, cryptomania was at its peak, with Bitcoin reaching $67,000. Bridgewater estimated in January that institutional investors owned 5% of Bitcoin.
Back then, frothy predictions were everywhere. JPMorgan Chase & Co. strategist Nikolaos Panigirtzoglou wrote that Bitcoin could theoretically reach $146,000 in the long run by crowding out gold. According to a PWC survey conducted in April, 42% of crypto hedge funds expect Bitcoin to trade between $75,000 and $100,000 by the end of 2022.
Investors' perspectives are becoming more restrained. In a recent report, Panigirtzoglou predicted that Bitcoin would return to its summer lows of $13,000. On Friday, Bitcoin was trading below $17,000.
"The argument for investing in cryptocurrency for diversification died a long time ago," he said in an interview.
Bitcoin has previously crashed and recovered. Some believers believe market hubris is being flushed out, putting the industry on a path to maturity. According to Mike Cyprys, an analyst at Morgan Stanley, FTX's problems may benefit established companies with a track record of risk management, such as the Nasdaq Stock Market and CBOE Global Markets Inc.
According to Mark Dowding, chief investment officer at BlueBay Asset Management, the case for Bitcoin becoming a digital gold version is bogus. He believes it's only time before more investors flee and crypto prices plummet.
"It should have been obvious that an industry that was producing nothing, burning cash, and promising alluring returns was doomed to fail," he said.
VOR News, Bloomberg, AP
Crackdown Proposed For Illegal Pot Shops In New York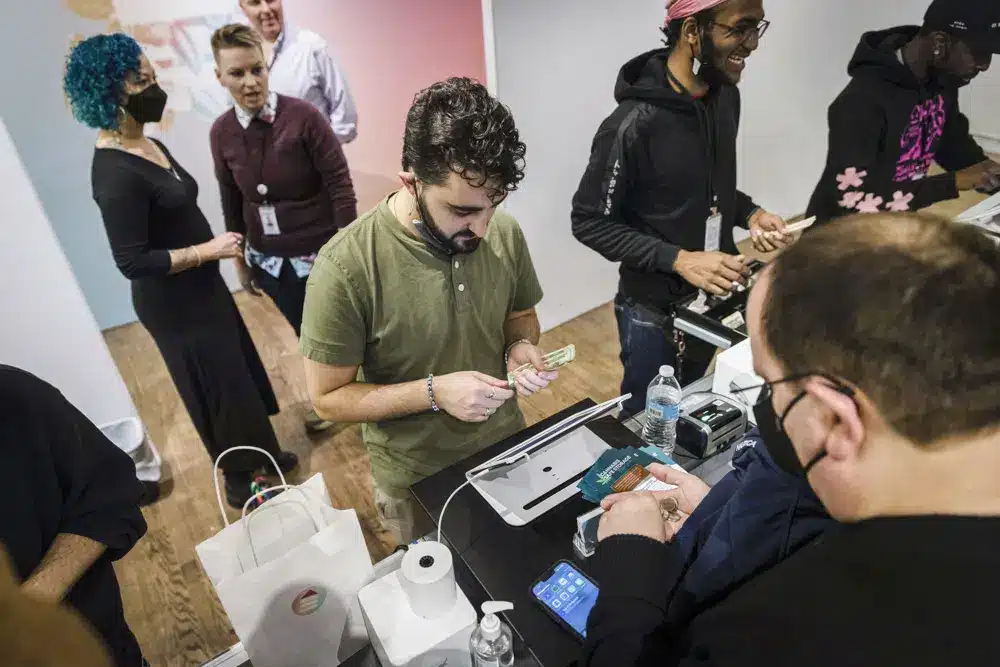 Albany, New York – Under legislation by Governor Kathy Hochul on Wednesday, New York police would have more authority to close down illicit marijuana businesses and impose fines of up to $200,000. Hochul is trying to protect the state's nascent legal recreational marijuana sector.
Although only three stores have opened thus far in New York City and two in upstate New York, the state is working hard to kickstart its potentially enormous adult legal industry. A profusion of unauthorized stores is undermining legal city enterprises.
City officials have already pursued landlords who permitted illegal businesses to run. The new law being considered by the legislature would grant the state Office of Cannabis Management and state tax officials more authority to crack down on illegal operations.
The law would set processes for the government to close down unlicensed enterprises and grant the cannabis office increased ability to seize illegal goods. According to the Hochul administration, violations could result in fines of $200,000 for illegal cannabis plants or goods, and businesses might be punished with $10,000 per day for selling cannabis without a license.
In a prepared statement, Hochul said: "The continuous presence of illegal dispensaries is intolerable, and we need additional enforcement measures to safeguard New Yorkers from harmful goods and promote our equitable objectives.

We need additional enforcement measures to safeguard New York.
Since the recreational use of marijuana was legalized in New York in March 2021, progress has been modest.
New York has reserved its initial retail licenses for charitable organizations, applicants with prior marijuana convictions, and their relatives, in contrast to many other states. The measures are intended to remedy injustices brought on by the nation's drug war.
However, while a legal challenge to the state's selection procedure is being examined, a federal judge has temporarily barred the state from issuing recreational marijuana dispensary licenses in Brooklyn and specific regions of upstate New York. The business Variscite NY One claims that the state's selection procedure disfavors out-of-state residents in violation of the constitutional provisions governing interstate trade.
Veteran cannabis investor Emily Paxhia praises New York for having solid intentions about social fairness but claims the city was blind to the necessity of establishing action against unlawful shops at an early stage. The legalization rollout thus far, according to Paxhia, a co-founder and managing partner of Poseidon Investment Management, is "a disaster" but not a total failure.
Paxhia, a Buffalo native, said: "I'm still hopeful that the New York market turns around.
SOURCE – (AP)
Credit Suisse Rescued By Swiss Rival UBS for $3 Billion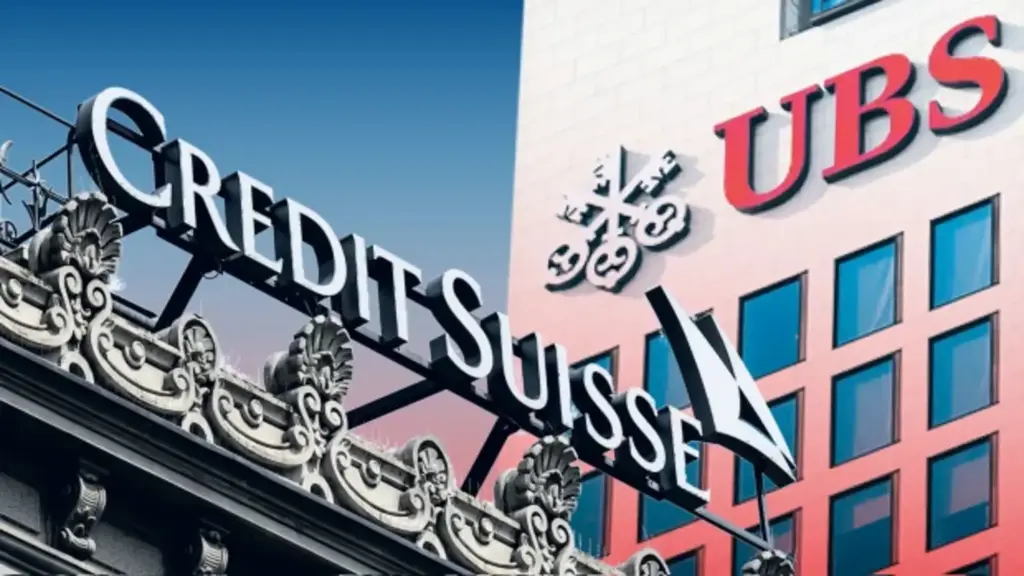 Credit Suisse has been rescued by its Swiss rival UBS in a government-backed deal on Sunday. The announcement came after a weekend of emergency talks between the two banks and Switzerland's financial regulators in Switzerland.
UBS Group AG, founded and headquartered in Switzerland, is a multinational investment bank and financial services firm. According to the Swiss National Bank, the agreement is the best way to restore financial market confidence and manage economic risks.
The Bank of England welcomed the "comprehensive set of actions," the BBC reported.
Credit Suisse shareholders will receive one share in UBS for every 22.48 shares they own, valuing the bank at $3.15 billion (£2.6 billion).
Credit Suisse was valued at around $8 billion (£6.5 billion) at the close of business on Friday.
However, the agreement accomplished what regulators set out to do: secure a result before the financial markets opened on Monday.
In a statement, Switzerland's central bank said, "a solution has been found to secure financial stability and protect the Swiss economy in this exceptional situation".
To mitigate any risks for UBS, the federal government announced a $9.6 billion (£7.9 billion) guarantee against potential losses. The Swiss central bank has also offered up to $110 billion (£90 billion) in liquidity assistance.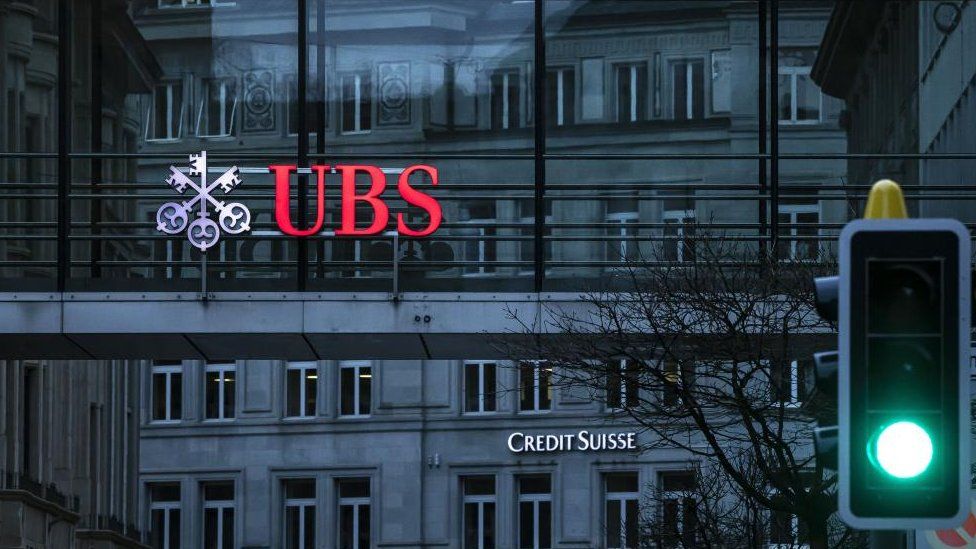 Global financial institutions quickly applauded the transaction between Credit Suisse and UBS.
The Bank of England said it welcomed the "comprehensive set of actions" set out by the Swiss authorities.
"Throughout the preparations for today's announcements, we worked closely with international counterparts and will continue to support their implementation."
It said the UK banking system was "well capitalized and funded and remains safe and sound".
The UK Treasury also said it welcomed the merger and the British government would continue to engage with the Financial Conduct Authority (FCA) and the Bank of England "as is usual".
Because both UBS and Credit Suisse have operations in London, the FCA said on Sunday that it was "minded to approve" the takeover to support financial stability.
"The FCA remains closely engaged with UK and international regulatory partners to monitor market developments," the watchdog said.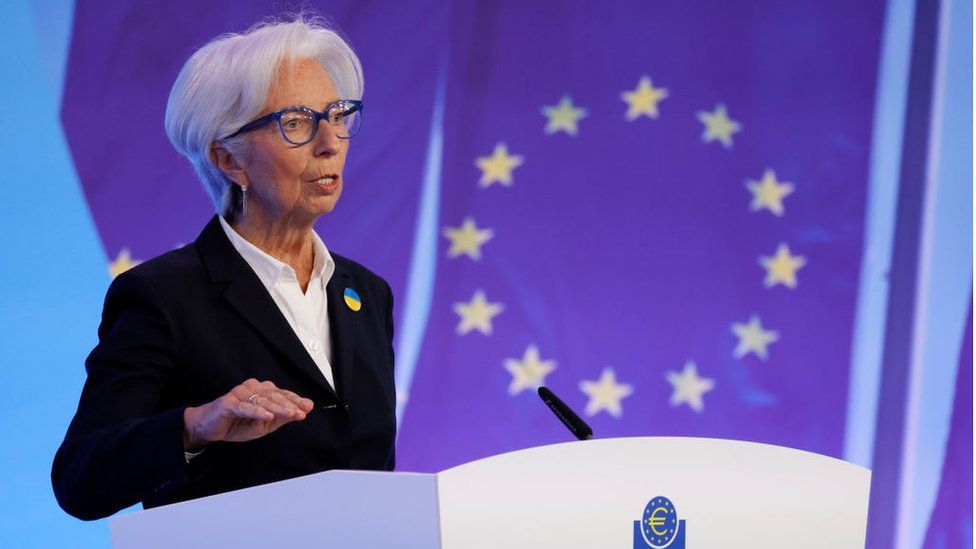 Christine Lagarde, President of the European Central Bank, said she welcomed the "swift action" of the Swiss authorities.
"They are instrumental in restoring orderly market conditions and ensuring financial stability. "The eurozone banking sector is resilient, with strong capital and liquidity positions," stated Ms. Lagarde.
The remarks of the European Central Bank President were echoed in the United States.
Treasury Secretary Janet Yellen and Federal Reserve Board Chairman Jerome Powell said the Swiss authorities' announcement supported "financial stability".
"The US banking system's capital and liquidity positions are strong, and the US financial system is resilient," they said.
Credit Suisse is the latest and most significant casualty of a confidence crisis that has already resulted in the failure of two mid-sized US banks and an emergency industry whip-round for another. But this is not the case. Switzerland's second-largest lender was considered one of the world's top 30 most important banks, so the Swiss authorities rushed through this takeover.
Although the causes of each failure vary slightly, the main factor has been a sharp rise in global interest rates, which has reduced the value of even safe investments in which banks keep some of their money. This has alarmed investors, causing all bank share prices to fall, with the weakest banks suffering the most.
The EU, US, and UK financial authorities have supported this agreement, emphasizing that banks are strong and people's savings and deposits are secure. The acid test for whether this Swiss rescue has calmed financial markets will be when they open on Monday, so completing this on Sunday night was critical.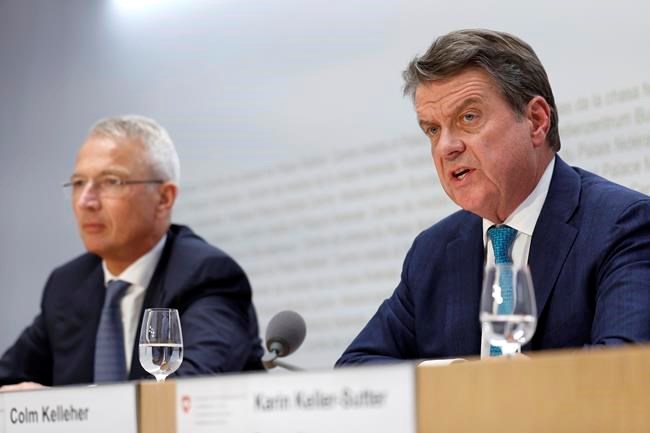 Following the announcement on Sunday night, UBS chairman Colm Kelleher said Credit Suisse was a "very fine asset we are determined to keep" in Bern, Switzerland.
"This acquisition is appealing to UBS shareholders, but let us be clear: this is an emergency rescue for Credit Suisse," he added.
Mr. Kelleher stated that UBS would acquire Credit Suisse's investment banking division.
The chairman of UBS said it was "too early" to predict what would happen to jobs: "We need to do this in a rational and thoughtful way after we've sat down and analyzed what we need to do," he said.
The weekend deal comes after the Swiss National Bank's emergency $54 billion (£44.5 billion) lifeline on Wednesday failed to reassure markets, and Credit Suisse shares fell 24%, sparking a wider sell-off on European markets.
The 167-year-old bank is losing money and has had many problems recently, including allegations of money laundering.
People Also Reading:
Honda Recalling 500,000 Vehicles in the United States and Canada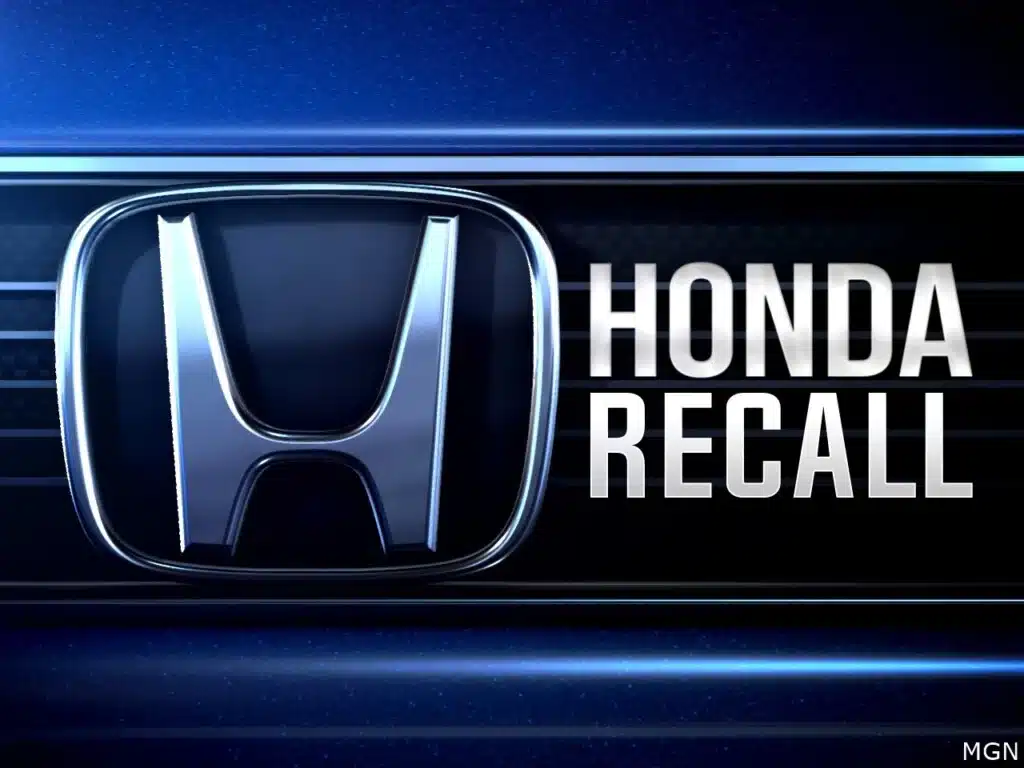 Honda is recalling 500,000 vehicles in the United States and Canada because the front seat belts may not latch properly. The recall affects several of the automaker's best-selling models, including the 2017-2020 CR-V, the 2018 and 2019 Accord, the 2018-2020 Odyssey, and the 2019 Insight. The Acura RDX from the 2019 and 2020 model years is also included.
Honda claims in documents posted by US safety regulators on Wednesday that the surface coating on the buckle channel can deteriorate over time. The release button can shrink against the channel at lower temperatures, increasing friction and preventing the buckle from latching.
If the buckle fails to latch, a driver or passenger may be unrestrained in a collision, increasing the risk of injury.
Honda claims there have been no reports of injuries due to the problem.
Here's what's new for Wednesday, March 15th: The Black Sea drone incident escalates US-Russia tensions; the US Secretary of State visits Ethiopia; the East Coast is battered by heavy snow; and storms bring more flooding to California.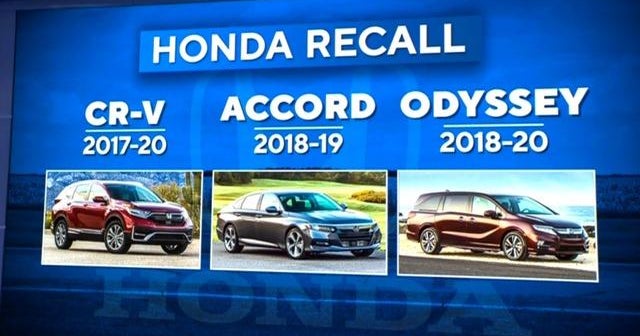 Dealers will replace the front seat belt buckle release buttons or assemblies if necessary. Beginning April 17, owners will be notified by letter.
Honda Motor Co.'s U.S. unit announced on Tuesday that it will shift production of its Accord sedan to Indiana in 2025, after previously assembling the model in Marysville, Ohio, for more than 40 years, as part of its transition to electric vehicle (EV) production. Marysville will be Honda's first U.S. auto plant to convert to EV production.
Honda and South Korea's LG Energy Solution Ltd announced in October that they would build a $4.4 billion joint-venture battery plant near Jeffersonville, Ohio, and broke ground earlier this month.
Honda EV production
The battery plant, expected to be completed by the end of 2024, will cover more than 2 million square feet (185,806 square meters) and have an annual production capacity of approximately 40 Gigawatt hours (GWh).
Honda announced last year that it would invest $700 million to retool three Ohio plants, including Marysville, for electric vehicle production by 2026.
According to the company, Marysville will begin preparing for EV production as early as January by consolidating its two production lines into one, allowing it to begin building the EV infrastructure.
Honda began producing cars in the United States with the Accord in November 1982, making it the first Japanese automaker to do so. Since then, the Ohio plant has produced over 12.5 million Accords.
With 362,700 vehicles sold in 1989, the Accord was the first Japanese model to hold the title of best-selling car in the United States.
In recent years, Americans have shifted away from sedans and toward sport utility and crossover vehicles. Honda sold 154,600 Accords in the United States last year, a 24% decrease from 2021.
Honda announced that Accord production would be moved to its Indiana auto plant, which also produces the Civic Hatchback and CR-V.
According to the company, Honda's transmission plant in Georgia will dedicate one production line to e-axle production, a key EV component, and its Anna, Ohio engine plant will shift production of some engine components to a Honda engine plant in Alabama to prepare for production of battery cases for EV models.
Honda AWV
Honda will demonstrate the latest generation of its prototype Honda Autonomous Work Vehicle (AWV) capabilities to improve construction industry and worksite efficiencies at CONEXPO-CON/AGG 2023 in Las Vegas, March 14-18, 2023. Construction companies interested in learning more about field testing the rugged off-road platform at their sites will be able to do so. Visit https://honda.us/HondaAWV to see a video of the Honda AWV.
"As we continue to advance the Honda AWV platform, we hope to meet with potential business partners and companies interested in field testing the vehicle at their worksite at CONEXPO," said Jason VanBuren, systems engineering manager at American Honda Motor Co., Inc. "We believe the Honda AWV can be a valuable solution to supporting construction teams while also enhancing worksite efficiencies and safety. We hope to address labor shortages and improve environmental performance by leveraging Honda's decades of experience developing reliable, safe, clean mobility technology."
The Honda AWV is a fully programmable all-electric work vehicle that leverages the company's emerging advanced autonomous technology to create a rugged off-road work vehicle designed to support construction-related activities and boost workforce productivity.
The Honda AWV, with its ability to operate autonomously or manually via remote control, could provide a wide range of services to industries that require an autonomous operation or delivery solutions, particularly where workforce constraints make other solutions impractical. The company is also looking into developing attachments and tools that could make the vehicle useful in various work environments.
The second-generation Honda AWV was successfully field tested at a large-scale solar construction site in the Southwest United States. Based on field testing, Honda is now introducing the third-generation Honda AWV, which includes several improvements.
The following are key features of the third-generation Honda AWV:
To operate autonomously, the Honda AWV employs sensors, including GPS for location, radar and lidar for obstacle detection, and cameras for remote monitoring. Previous field tests have also proven that multiple Honda AWVs can transport and deliver construction materials and supplies at precise points along a predetermined route. The vehicle uses common components from Honda's automobiles and other products, leveraging the company's extensive portfolio of mobility technologies.
Third-Generation Honda Autonomous Work Vehicle Specifications
Honda anticipates further advancements in performance and design specifications as the prototype Honda AWV development continues.
Honda is looking for partners to participate in field testing and improve functions and services as the company seeks to commercialize AWV.