UK blocks Microsoft-Activision Gaming Deal, Biggest In Tech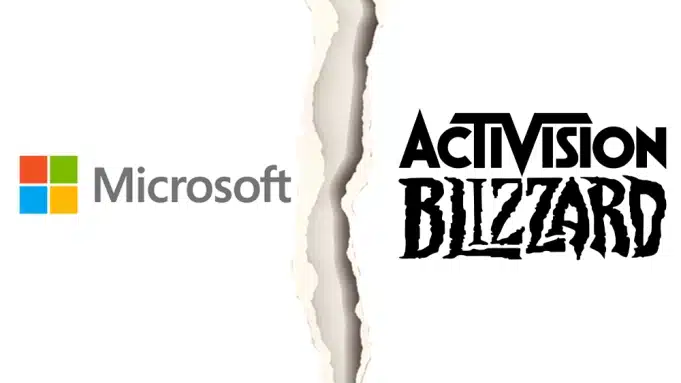 LONDON, England – British antitrust officials halted Microsoft's $69 billion acquisition of video game company Activision Blizzard on Wednesday, delaying the largest technology transaction in history due to concerns that it will hinder competition for popular titles like Call of Duty in the fast-growing cloud gaming industry.
In its final report, the Competition and Markets Authority stated that "the only effective remedy" for the significant loss of competition "is to prohibit the Merger." The firms have promised to file an appeal.
The all-cash deal announced 15 months ago faced stiff opposition from rival Sony, which manufactures the PlayStation gaming system and was also under scrutiny by regulators in the United States and Europe over concerns that it would give Microsoft and its Xbox console control of hit franchises such as Call of Duty and World of Warcraft.
According to Liam Deane, a game industry analyst for research firm Omdia, the UK watchdog's decision "surprised most people" and adds to global doubt over the arrangement.
"It's a big enough market to throw a serious spanner in the works for Microsoft and Activision, but things will get a lot worse if the European Commission makes the wrong decision in a few weeks," he warned.
The UK watchdog was concerned about the deal's impact on cloud gaming, which streams to tablets, phones, and other devices and saves gamers money on expensive consoles and gaming computers. Gamers can continue to play popular Activision products, including mobile games like Candy Crush, on their preferred platforms.

Microsoft secured deals with Nintendo and some cloud gaming companies to license Activision properties, such as Call of Duty.
According to Martin Colman, chair of the Competition and Markets Authority's independent expert panel reviewing the acquisition, cloud gaming can transform the industry by offering gamers more choices over how and where they play.
"This means we must protect competition in this emerging and exciting market," he explained.
The ruling reinforces Europe's position as a global leader in attempts to limit the dominance of Big Tech firms. A day earlier, the government of the United Kingdom proposed draught legislation that would give regulators more authority to safeguard consumers from online fraud and phony reviews while also increasing digital competition.
The verdict in the United Kingdom undermines Microsoft's hopes that a favorable conclusion would help it resolve a lawsuit filed by the United States Federal Trade Commission. The trial before the FTC's in-house judge is scheduled to begin on August 2. Meanwhile, the European Union's decision is scheduled on May 22.
Activision reacted angrily, claiming that the watchdog's decision sends a negative signal to international investors in the United Kingdom when the British economy faces serious issues.
The California-based game developer said it would "work aggressively" with Microsoft to appeal, claiming that the action "contradicts the ambitions of the United Kingdom" to be a desirable location for tech firms.
"We will reconsider our growth plans for the United Kingdom." "Global innovators of all sizes will note that, despite its rhetoric, the United Kingdom is closed for business," Activision stated.

Based in Redmond, Washington, Activision Microsoft indicated it was not ready to quit.
"We remain fully committed to this acquisition and will file an appeal," said President Brad Smith. He says the decision "rejects a pragmatic path to address competition concerns" and hinders tech innovation and investment in the UK.
"We're especially disappointed that this decision reflects a flawed understanding of this market and how the relevant cloud technology works," Smith added.
In a blog post, Activision CEO Bobby Kotick stated that both businesses had begun working on an appeal to the UK's Competition Appeal Tribunal.
This isn't the first time British regulators have stretched their antitrust muscles over a Big Tech transaction. They had earlier banned Facebook parent Meta's acquisition of Giphy because of concerns that it would hinder innovation and competition. The social media behemoth appealed the ruling to the tribunal but was unsuccessful and was obliged to sell the GIF-sharing platform.
Microsoft already has a significant foothold in the broader cloud computing business, and regulators judged that the transaction would strengthen the company's position by giving it control of key gaming titles.
To assuage fears, Microsoft secured deals with Nintendo and some cloud gaming companies to license Activision properties, such as Call of Duty, for ten years while giving the same to Sony.

A request for comment from Sony's European press office still needs to be returned.
The watchdog evaluated Microsoft's remedies "in considerable depth" but determined that they would necessitate its control, whereas stopping the merger would allow cloud gaming to flourish without intervention.
Cloud gaming accounts for a minor portion of the £5 billion ($6.2 billion) video game market in the United Kingdom. However, experts predict that it will grow rapidly in the next years, with user numbers tripling from the beginning of 2021 to the end of 2022. According to authorities, the cloud game market is likely to reach £1 billion by 2026.
They dismissed worries that the arrangement would harm console gaming last month, claiming that making Call of Duty exclusive to Microsoft's Xbox system would be counterproductive.
SOURCE. – (AP)
China Defends Ban On US Chipmaker Micron in 2023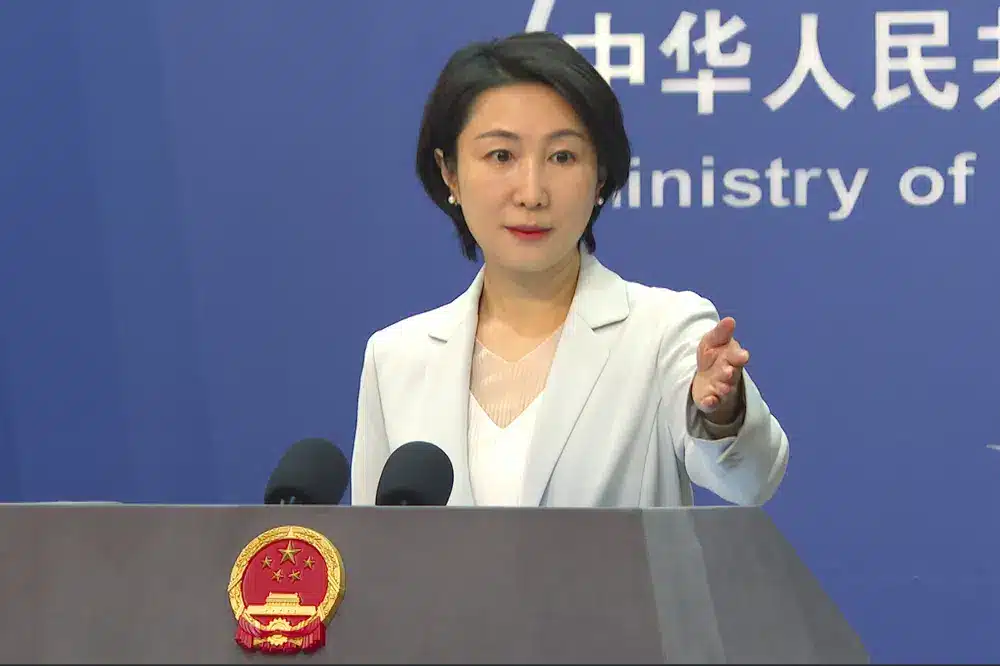 BEIJING, China – The Chinese government defended its restriction on using components from US memory chipmaker Micron Technology Inc. in some computer systems on Wednesday after Washington raised concern, escalating tensions over technology and security.
The security examination of Micron products was "conducted in accordance with the law," according to Mao Ning, a foreign ministry official.
On Sunday, the Chinese Cyberspace Administration stated that Micron goods pose unspecified security threats but provided no further details. It barred them from using computers that handled sensitive data.
This came after the United States, Japan, and the Netherlands barred China's access to advanced processor chip technology on security grounds, at a time when the governing Communist Party is threatening to attack Taiwan and is becoming more belligerent towards its Asian neighbors.
"China's cybersecurity review does not target any specific countries or regions," Mao explained. "We do not exclude technologies and products from any country."
Supply disruptions and missed sales revenue have harmed businesses on both sides.
Washington and its allies' restrictions on access to chips and methods for making them deter China's ambitions to create its semiconductor sector. Potential sales to Chinese smartphone makers, chip foundries, and other clients have cost US vendors billions.

The Chinese government defended its restriction on using components from US memory chipmaker Micron Technology Inc.
Mao said the US had put security limitations on over 1,200 Chinese enterprises "without any factual basis." She accused Washington of exploiting national security to "unreasonably suppress Chinese companies."
"This is economic coercion, and it is unacceptable," Mao declared.
According to State Department spokeswoman Matthew Miller, the US administration is "engaging directly" with Beijing to "make our view clear" on the Micron embargo.
"We have very serious concerns," Miller added. He stated of China, "This action appears inconsistent with the PRC's assertions that it is open for business and committed to a transparent regulatory framework."
According to Micron's chief financial officer, Mark Murphy, the company would work with the Chinese authorities to assess the ban's impact.
"We remain unclear as to what security concerns exist," Murphy said during a JP Morgan technology industry conference call. "We have received no customer complaints about the security of our products."
According to Murphy, Micron expects to lose sales similar to a single-digit percentage of total revenue, but the exact figure will depend on which customers and products are affected.

The Chinese government defended its restriction on using components from US memory chipmaker Micron Technology Inc.
Foreign Minister Qin Gang urged his Dutch counterpart on Tuesday for access to chipmaking technology that has been restricted for security reasons.
China requires a machine that uses ultraviolet light to etch minuscule circuits on next-generation chips and is only available from one Dutch manufacturer, ASML Holding NV. Without it, the ruling party's aspirations to build semiconductors for cellphones, artificial intelligence, and other cutting-edge applications will be hampered.
"China has serious concerns about this," Qin said. "We should work together to jointly protect the normal trade order between us" and "keep global industrial and supply chains stable."
Wopke Hoekstra, the Dutch minister, stated that he "shared our national security concerns" but provided no indication that his government's position had altered.
SOURCE – (AP)
Mommy Blogger Heather Armstrong, Known As Dooce To Fans, Dead At 47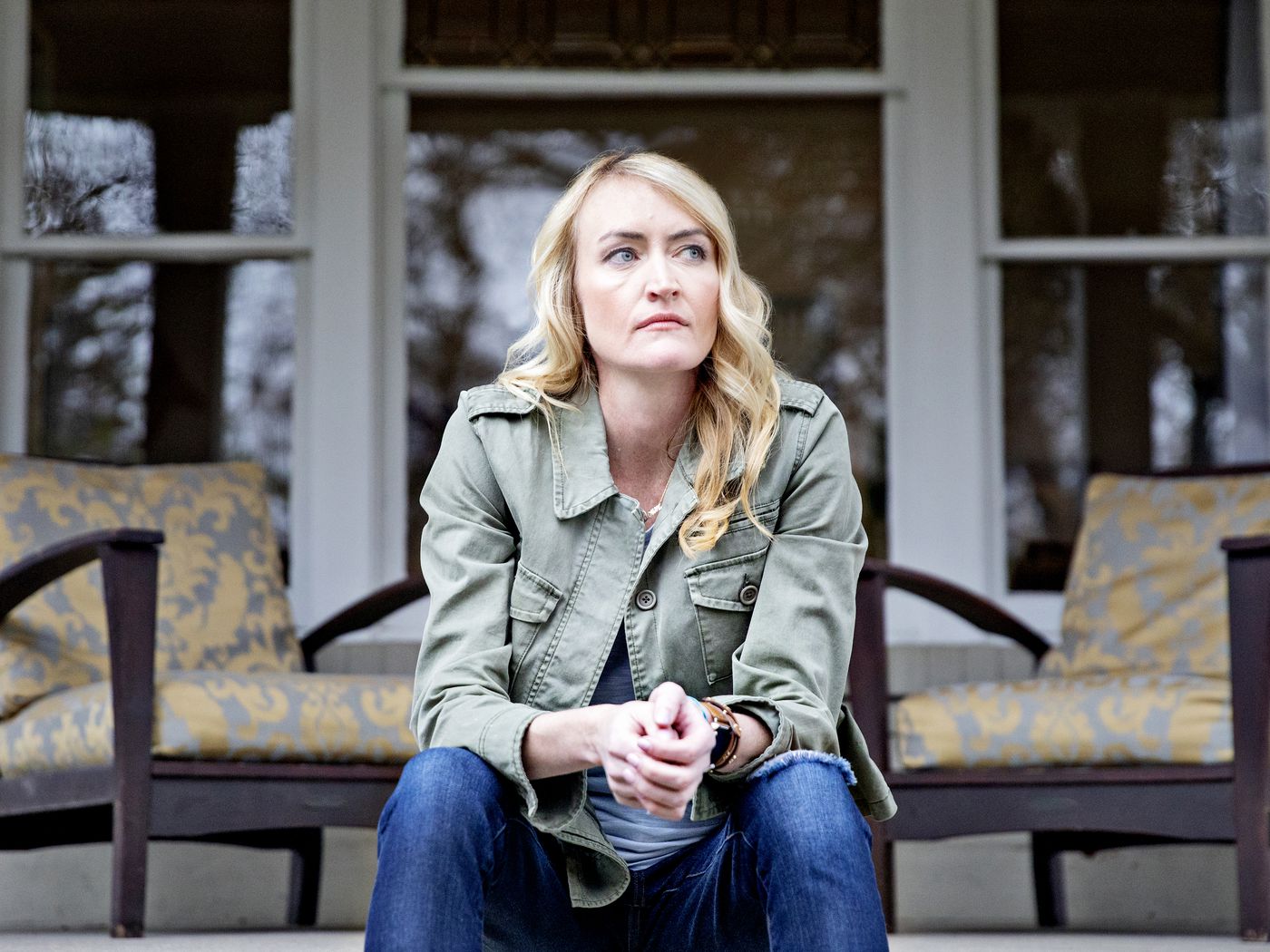 NEW YORK – Heather Armstrong, a pioneering mommy blogger who shared her problems as a mother and her battles with depression and alcoholism on her website Dooce.com and on social media, died at age 47.
According to her boyfriend, Pete Ashdown, Armstrong committed herself, who discovered her Tuesday night at their Salt Lake City home.
According to Ashdown, Armstrong had been sober for almost 18 months but relapsed lately. He didn't go into any greater detail.
Armstrong founded Dooce in 2001 with her ex-husband and business partner, Jon Armstrong, and has grown into a wealthy career. She was one of the first and most prominent mother bloggers, openly discussing her children, relationships, and other issues.
She turned her blog, Instagram, and other accomplishments into book sales, releasing a memoir in 2009 called "It Sucked, and Then I Cried: How I Had a Baby, a Breakdown, and a Much Needed Margarita."
Armstrong was on Oprah and was named one of Forbes' most powerful women in media.
The Armstrongs announced their divorce in 2012. Later that year, they divorced. She started dating Ashdown, a former U.S. senator, approximately six years ago. They shared a home with Armstrong's children, Leta, 19, and Marlo, 13. He has three children from a previous marriage who spent time with them.
Armstrong didn't hold back on Instagram or Dooce, a moniker inspired by her inability to quickly spell "dude" during online talks. Her candid, unapologetic tweets on topics ranging from pregnancy and breastfeeding to homework and carpooling were frequently laced with profanity. As her fame grew, so did the criticism, which accused her of poor parenting.
One of her Dooce postings mentioned a past success against drinking.

Armstrong was on Oprah and was named one of Forbes' most powerful women in media.
"On October 8th, 2021, I celebrated six months of sobriety by myself on the floor next to my bed, feeling as if I were a wounded animal who wanted to be left alone to die," Armstrong wrote. "No one in my life could comprehend how symbolic a victory it was for me, albeit… one fraught with tears and sobbing so violent that I thought my body would split in two at one point." The anguish engulfed me in tidal waves of agony. It was difficult for me to breathe for a few hours."
"Sobriety was not some mystery I had to solve," she continued. It was simply examining my wounds and figuring out how to live with them."
In her memoir, she detailed how her blog began as a method to share her pop culture opinions with distant pals. She wrote that her audience increased from a few acquaintances to thousands of strangers worldwide in a year.
Armstrong explained that she began writing about her personal life and, subsequently, an office job, and "how much I wanted to strangle my boss, often using words and phrases that would embarrass a sailor."
Her boss discovered the website and fired her, she wrote. She pulled it down and restarted it six months later, writing about her new husband, Armstrong, and how unemployment caused them to relocate from Los Angeles to her mother's basement in Utah.
She became pregnant very quickly. She said the pregnancy provided "an endless trove" of information, "but I truly believed that I would give it all up once I had the baby."

She didn't, but she did document her ups and downs as a new mother.
"I don't think I would have survived it had I not offered up my story and reached out to bridge the loneliness," she wrote.
Armstrong was raised in the Church of Jesus Christ of Latter-day Saints but later renounced the faith. Her memoir states she suffered from persistent depression for much of her life. After her marriage fell apart in 2017, the online celebrity called "the queen of the mommy bloggers" by The New York Times Magazine saw her popularity plummet.
According to an interview she gave Vox, her depression worsened, prompting her to register for a clinical trial at the University of Utah's Neuropsychiatric Institute. She was placed in a chemically induced coma for ten sessions for 15 minutes.
"I felt like life was not meant to be lived," Armstrong told Vox. "When you're desperate enough, you'll try anything." I believed my children deserved a happy, healthy mother, and I needed to know that I had exhausted all possibilities to provide it for them."
SOURCE – (AP)
Apple Inc Bets Big On India As It Opens First Flagship Store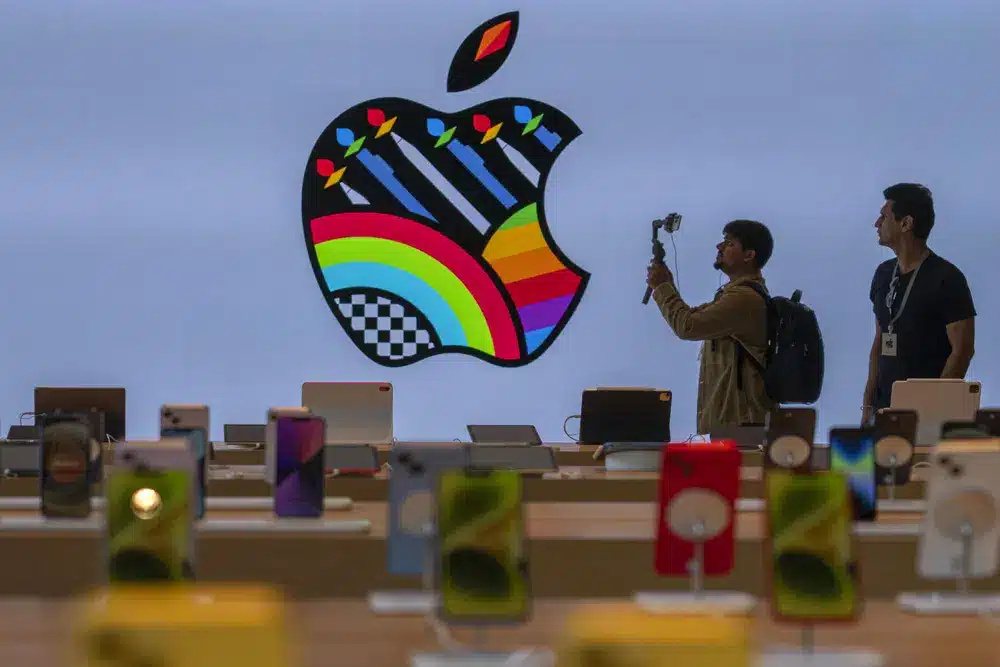 NEW DELHI, India — Apple Inc. launched its first flagship shop in India on Tuesday, highlighting the company's expanding ambitions to expand in the nation, which it also aims to transform into a potential manufacturing hub.
Tim Cook, the company's CEO, posed for selfies with a few of the 100 Apple fans who had gathered outside the vast 20,000-square-foot store in India's financial hub, Mumbai, whose design was inspired by the city's famed black-and-yellow cabs. A second store will open in the national capital of New Delhi on Thursday.
"India has such a beautiful culture and incredible energy, and we're excited to build on our long-standing history," Cook stated.
The IT behemoth has been in India for almost 25 years, distributing its wares through authorized stores and a website launched a few years ago. However, regulatory issues and the epidemic hampered its intentions to construct a flagship store.
According to Jayanth Kolla, an analyst at Convergence Catalyst, the news outlets clearly show the company's determination to invest in India, the world's second-largest smartphone market, where iPhone sales have steadily increased. The outlets demonstrate "how much India matters to the company's present and future," he added.
India's sheer size is especially appealing to the Cupertino, California-based corporation.
Around 600 million of India's 1.4 billion people use cellphones, "which means the market is still under-penetrated and the growth prospect is huge," said Neil Shah, vice president of research at technology market research firm Counterpoint Research.
According to Counterpoint data, the Silicon Valley business increased its share of the country's smartphone market from 2% to 6% between 2020 and 2022.

Nonetheless, the iPhone's high price puts it out of reach for most Indians.
Instead, iPhone sales in India have prospered within a sliver of upper-middle-class and rich Indians with disposable incomes, a group that Shah claims is growing. According to Counterpoint Research, Apple owns 65% of the "premium" smartphone market, with prices starting at 30,000 rupees ($360).
Apple said in September that it would begin manufacturing the iPhone 14 in India. The announcement was welcomed as a victory for Prime Minister Narendra Modi's government, which has advocated for increased domestic manufacturing since his election in 2014.
Apple began manufacturing in India with the iPhone SE in 2017 and has since produced various iPhone models nationwide.
Contractors with facilities in China produce the majority of Apple's smartphones and tablets, but the company began considering transferring some manufacturing to Southeast Asia or other locations after repeated shutdowns to combat COVID-19 affected its worldwide product flow.
"Big companies got a jolt, and they realized they needed a backup strategy outside of China — they couldn't risk another lockdown or any geopolitical rift affecting their business," Kolla explained.

The difficulty for Apple is that raw materials are still coming from outside India.
According to Counterpoint Research, India now produces nearly 13 million iPhones per year, up from fewer than 5 million three years ago. This equates to around 6% of all iPhones produced globally – a pittance compared to China, which still produces around 90%.
Last week, India's Commerce Minister Piyush Goyal stated that the government was in constant contact with Apple to boost their business in India and that the corporation intended to have 25% of its global output come from India within the next five years.
According to Shah of Counterpoint, the difficulty for Apple is that raw materials are still coming from outside India, so the tech company will need to either find a local source or bring their suppliers, who are based in countries like China, Japan, and Taiwan, closer to push up production.
Nonetheless, he is optimistic that this aim can be accomplished, especially given India's lower labor costs and the government's enticing subsidies to stimulate local production.
"Everything is about timing for Apple." They will only enter a market with full force once they are sure of their chances. "They see the opportunity here today — it's a win-win situation," Shah explained.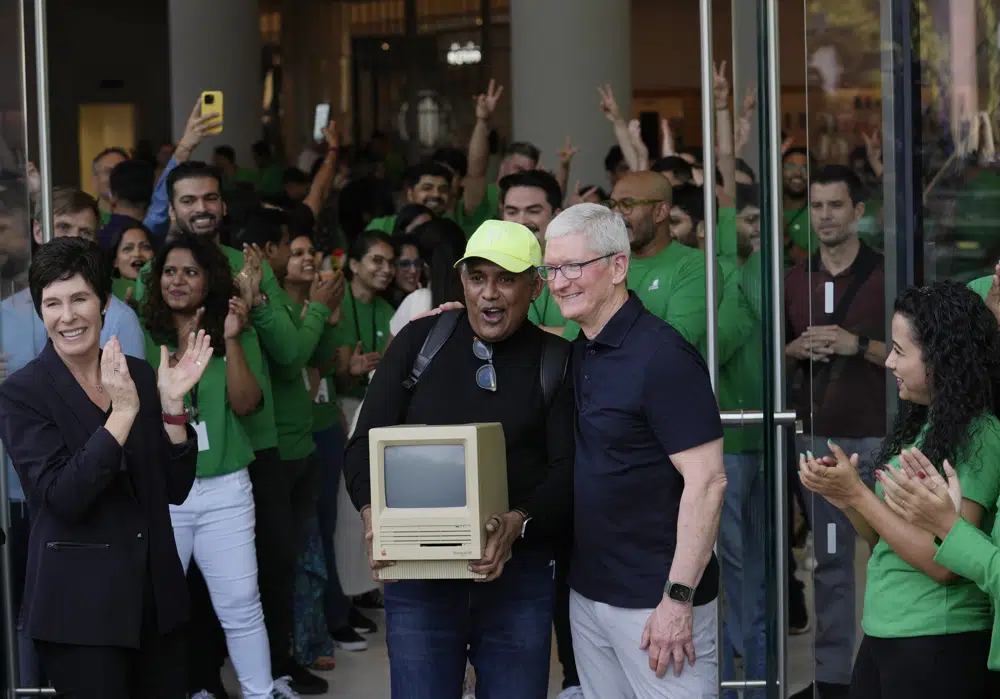 SOURCE – (AP)