Elon Musk Speaking to Putin Worries Washington Neocons
A recent report from The New Yorker sites that that Elon Musk told Pentagon officials during a discussion regarding the satellite internet that SpaceX provides to Ukraine's military that he'd spoken personally with Russian President Vladimir Putin.
According to the magazine, Musk revealed the information during an October meeting with Colin Kahl, then the Pentagon's senior policy official, regarding Ukrainian forces losing access to Space Exploration Technologies Corp.'s Starlink service when they neared territory disputed by Russia.
"My inference was that he was becoming concerned that Starlink's involvement was increasingly seen in Russia as enabling the Ukrainian war effort," Kahl told the New Yorker.
Musk did not respond to an email seeking comment. Kahl, who returned to Stanford University this month, did not reply to demands for comment either.
"We're aware of the coverage and interest in this, and the department does contract with Starlink for services of this type," said Defence Department spokesman Jeff Jurgensen via email. "As we have also stated, due to the critical nature of these systems, we have not released additional details regarding specific capabilities, contracts, or partners – at this time."
Musk, SpaceX's chief executive officer, denied speaking with Putin in October. The billionaire posted on Twitter, the social media platform he's now called X, saying he'd only spoken to Russian President Vladimir Putin about space around 18 months ago.
The magazine piece reignites the dispute that erupted after Musk released what he described as peace plans, which the Kremlin praised and Ukrainian President Volodymyr Zelenskiy criticised. Soon after, Ukrainian forces reported Starlink problems, prompting Musk to threaten to discontinue paying for Ukraine's access to the service.
SpaceX momentarily demanded that the United States and its allies foot a larger portion of the tab for Starlink in Ukraine, only for Musk to flip his position and commit to continue paying the project. The Defence Department announced a contract with the privately held corporation in June.
Elon Musk's sprawling empire makes him a problem for Washington Neocons
Musk now controls five firms spanning the transportation, aerospace, health, telecommunications, and social media sectors after purchasing Twitter in October for $US44 billion. To differing degrees, all of these intersect with government, providing the millionaire unparalleled worldwide clout, Bloomberg reports.
Tesla's electric automobiles back President Joe Biden's climate strategy. SpaceX keeps NASA's goals for manned space exploration aloft, and its Starlink network, which is possibly the world's largest privately owned fleet of satellites, provides a critical communication lifeline to Ukrainian forces fighting Russian invaders.
But it's Musk, the self-styled "chief twit" of Twitter, who gives Biden's crew the most grief.
Musk has destroyed the company's employees and all but abandoned any semblance of content monitoring, allowing disinformation to flourish, sometimes on his own account, with almost 132 million followers. He's also associated himself with Republicans who allege they've been suppressed by Big Tech and Democrats, and he's openly embraced Biden's opponents.
His unconventional leadership has added a new element of volatility to a free-speech venue that is both a human rights lifeline for those living under authoritarian regimes, such as Iran, and an unsuspecting promoter of unfounded conspiracy theories that have provoked violence, such as in the United States.
The US Federal Trade Commission has interviewed at least two former Twitter employees and intends to depose Musk in an investigation into the platform's compliance with a 2011 agreement to protect user privacy, which Musk describes as a "shameful case of weaponization of a government agency for political purposes."
Some top individuals in Biden's administration believe Musk, 51, is untouchable because of his commercial empire, immense money, and political connections. He appears to make unilateral decisions, such as how Ukraine can use the Starlink service, which is unusual for a US defence contractor.
They are also concerned that, due of Tesla's growing presence in China and Musk's reliance on Middle Eastern financing for his Twitter purchase, he may be subject to foreign interference.
One US official, speaking on the condition of anonymity because to the sensitivity of openly discussing Musk, described Tesla as a Chinese firm with an American subsidiary. Last year, the company's Shanghai factory accounted for more over half of its global output. Biden has stated that the entrepreneur's overseas contacts are "worth looking into."
In contrast to US policy, Musk has presented a Russia-friendly plan to end the Ukrainian war as well as a reunion scheme for Taiwan and China that has been officially praised by the Chinese government.
"I don't think there is another American more reliant on the generosity of the Communist Party than Elon Musk," Virginia Neocon Democrat Senator Mark Warner, who chairs the Intelligence Committee, said in October.
When asked about the Biden administration's reservations about him, Musk responded in an email, "I believe in the Constitution." "Are they?"
Several US officials interviewed for this story requested anonymity because discussions about Musk's power and how it may be limited have been kept quiet.
Federal agencies have investigated Musk and his enterprises. He is still at odds with the Securities and Exchange Commission over his tweeting, for example, while the US Justice Department, the SEC, and the National Highway Traffic Safety Administration have all raised concerns about Tesla's automated driving promises.
Some Biden administration officials have hypothesized that the government may need to dismantle Musk's business at some point.
Some in the Biden administration have considered submitting his Twitter purchase to a clandestine panel, the Committee on Foreign Investment in the United States, which has the authority to veto corporate transactions involving foreigners based on national security concerns.
At least three foreign entities contributed to Musk's Twitter acquisition: Saudi Prince Alwaleed bin Talal, Changpeng "CZ" Zhao, founder and CEO of the cryptocurrency exchange Binance, and Qatar's sovereign wealth fund.
Elon Musk favors Republicans
Musk has developed good ties with Republican House Speaker Kevin McCarthy, whose California congressional district includes SpaceX operations. Last year, the millionaire visited McCarthy at a Wyoming resort and personally brought birthday congratulations to the politician's office in January.
"There's no getting around the fact that a handful of super-rich guys have a lot of influence in the American economy," said Connecticut Democrat Senator Chris Murphy. "That is no reason to be afraid of using government tools to ensure that there is no undue foreign influence on US politics."
According to persons familiar with the situation, the Treasury Department has ruled out a review on legal grounds.
Musk wielded enormous power in Washington even before acquiring Twitter.
With roughly $US3 billion in federal work in 2022, SpaceX is a behemoth in US government procurement. But Musk has long deviated from typical CEO behaviours, mostly in amusing ways. He momentarily smoked marijuana on Joe Rogan's live-streamed podcast, which irritated several Tesla investors and SpaceX employees.
He tweeted that he had secured money to take the vehicle private at $US420 per share, a joke referring to a slang term for marijuana that drew an SEC inquiry, a $US20 million punishment (for him), and a shareholder lawsuit.
Musk, CEO of Tesla, surprised shareholders by ingesting marijuana during an interview with podcaster Joe Rogan. WARNING: THE VIDEO CONTAINS DRUG USE.
Musk has stated that he "reluctantly" supported for Biden in 2020, but his public political persona has slowly shifted to the right since the president's election. He urged his millions of Twitter followers to vote for Republicans only days before the November midterm elections.
He then endorsed Florida Governor Ron DeSantis for president in 2024, claiming that the conservative governor, who has flown migrants from Texas to Massachusetts as a political stunt while cracking down on the teaching of sexuality and racism in elementary schools, is "sensible and centrist."
Musk tweeted a plan to end the war in Ukraine in October that included Kyiv permanently surrendering Crimea, the peninsula that Russia illegally annexed in 2014, abandoning its ambition to join NATO, and agreeing to UN-supervised elections in areas occupied by Russia to determine whether Moscow would retain control of the territories.
US intelligence officials were stunned. Putin's allies hailed the plan, which helped popularise the idea that Ukraine should make concessions to Russia in order to stop the war and that the US and its allies should reduce backing for Kyiv's troops. This sentiment has gained traction among some Republican politicians, hindering Biden's and Republican leaders like Senator Mitch McConnell's efforts to continue US military assistance for Ukraine's war effort.
On March 13, DeSantis delivered a statement in which he stated that Ukraine's defence is not a "vital" US interest and referred to the conflict as a "territorial dispute."
Musk has threatened to cut off Ukraine's free access to the Starlink network, which US officials see as a crucial advantage for Kyiv since it allows the country's military authorities to maintain command and control of its forces without relying on more susceptible radio and phone systems.
After an uproar from Ukrainian authorities and supporters, the billionaire backed down, but he has continued to grumble about the cost of the service and announced last month that Kyiv will not be permitted to use Starlink to target drone attacks on Russian forces. That has elicited rebukes both abroad and at home.
"I certainly hope we put pressure on Musk to join with the family of civilised nations in opposing Putin and doing everything we can to defeat him," said Senator Dick Durbin, the No. 2 Senate Democrat.
Musk is a concern for the Biden administration because of their interdependence. The aims of his ventures fit with major components of the president's programme, such as boosting the percentage of electric vehicles on the road. At times, this has resulted in an unsettling marriage of convenience, one that has grown more contentious as Musk begins to mix his uplifting rhetoric about humanity's future with bare-knuckle politics.
On January 27, White House officials met with Musk and other Tesla executives at the company's Washington headquarters to discuss how the carmaker could help the Biden administration meet its climate goals, including by extending its network of charging stations to competitors' vehicles.
"They have a big footprint," Mitch Landrieu, Biden's senior adviser, remarked.
Keywords: Elon musk twitter, Elon musk wikipedia, Elon musk age
Canadian Mother And Twins Charged With Pretending To Be Inuit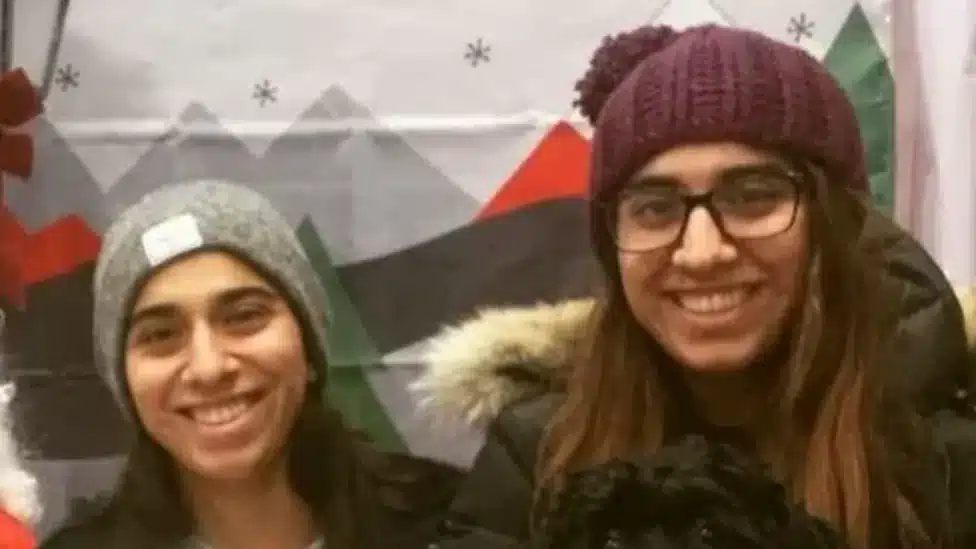 Three Canadian women have been charged with impersonating Inuit to receive benefits from indigenous organizations.
Two sisters, aged 25, allegedly committed fraud by posing as adopted Inuit children.
The two sisters and their 59-year-old mother face two counts of fraud. One Inuit group described the alleged deception as "shocking."
On October 30, the defendants are scheduled to appear in court in Iqaluit.
The Royal Canadian Mounted Police (RCMP) stated in a statement that Amira and Nadya Gill, along with their mother Karima Manji, defrauded two local organizations of "funds that are only available to Inuit beneficiaries by obtaining grants and scholarships" between October 2016 and September 2022.
As part of the Nunavut Agreement, a 1993 indigenous land claim settlement, members of Canada's Inuit community in the sparsely populated northern territory are eligible for grants and scholarships.
Nunavut Tunngavik Inc., or NTI, which represents Inuits in the territory, oversees the registration of indigenous classification.
NTI stated in a March statement that it had become "aware of possible fraudulent enrollment" of the Gill sisters after Ms. Manji claimed they were adopted and identified an Inuk woman as their birth mother.

Three Canadian women have been charged with impersonating Inuit to receive benefits from indigenous organizations.
They stated that the instance was a "first of its kind" in the organization's enrollment program's history.
The three Ontario residents were removed from the NTI's list of beneficiaries, and the matter was referred to the RCMP following an investigation.
Kitty Noah, the woman identified by the Gills as their birth mother, stated before her demise in July that she was unrelated to the twins.
In 2021, the sisters Gill, both Ontario's Queen's University graduates, launched an online business selling facial masks with designs by indigenous artists.
In an interview with Canadian broadcaster CBC, NTI President Aluki Kotierk stated that the Gill sisters and their mother should "at a minimum" refund the money they received from Inuit organizations.
HE ADDED THAT the NTI will conduct additional training for enrollment committees in the future.
Mr. Kotierk described the alleged fraud as "another form of colonization" and part of a larger trend of non-indigenous Canadians claiming indigenous ancestry.
He stated, "You wanted to take our language from us." "You intended to strip us of our culture. Are you now attempting to assume our identity? It is simply astounding."
In a statement, the NTI referred to the incident as "isolated" and stated that it was fortifying enrollment requirements by requiring applicants to submit a copy of their long-form birth certificate.

Three Canadian women have been charged with impersonating Inuit to receive benefits from indigenous organizations.
In addition to the funds provided by the Kakivak Association and the Qikiqtani Inuit Association, claiming indigenous status enabled the siblings to receive scholarships from Indspire, a Canadian indigenous charity, Hydro One, and the Royal Bank of Canada.
Before 2021, scholarship applicants could self-identify as indigenous, according to a Royal Bank of Canada spokesperson, but the requirements have since been updated.
The BBC has sought comment from Indspire and Hydro One.
Some Canadians have used "pretendians" to refer those who fraudulently claim indigenous ancestry.
Jean Teillet, a member of the Métis indigenous community, told Global News that the term "sounds harmless" minimizes the gravity of the issue.
"I prefer to call it fraud because the definition of fraud is intentional deception to obtain a material gain, and that's what we're talking about here."
The three accused women were not readily accessible for comment.
SOURCE – (BBC)
US Child Dies From Fentanyl Kept Under Nursery Nap Mat In Daycare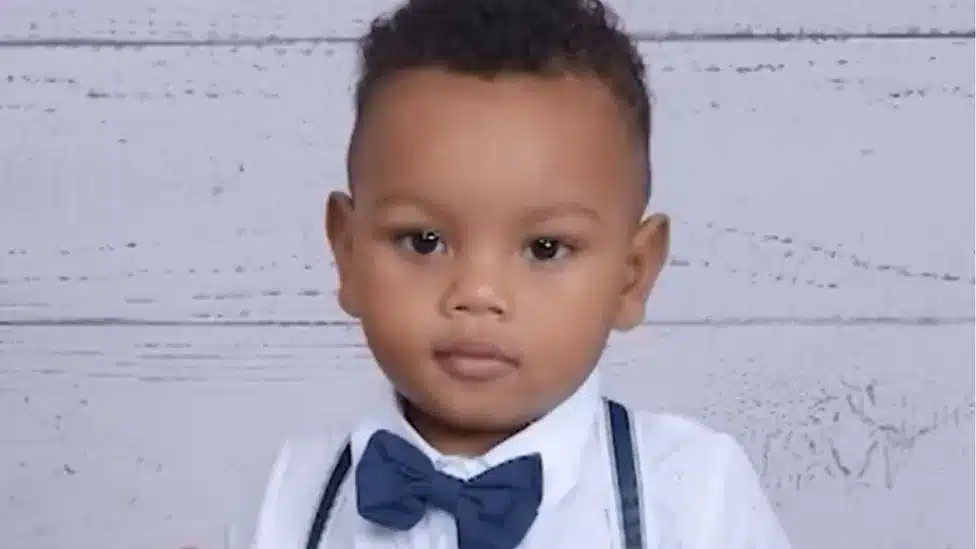 Police say that the fentanyl that killed a one-year-old child in a New York City nursery was concealed under a mat in the nap room while the child slept.
On Friday, Nicholas Dominici, who had only worked at the nursery for a week, died of a suspected narcotic overdose.
Three additional children were hospitalized after exposure to the potent narcotic at the Bronx creche.
Two individuals have been indicted on drug conspiracy and murder allegations.
The children, aged eight months to two years, are believed to have inhaled fentanyl at the creche.
Three minors were administered Narcan, a drug used to reverse opioid overdoses.
ABC quoted Dominici's father, Otoniel Feliz, saying he is still processing his small child's death.

"I love him, I miss him, and I want him back," stated Mr. Feliz. However, there is nothing that will return my son to me.
A nursery search uncovered one kilogram of fentanyl "under a mat where the children had been sleeping earlier," according to NYPD Chief Detective Joseph Kenny.
Additionally, investigators allegedly found three presses used to compact kilograms of drugs.
Federal prosecutors have charged the owner of the Divino Nio nursery in the Bronx, Grei Mendez, 36, and her tenant, Carlisto Acevedo Brito, 41, with narcotics possession "with intent to distribute resulting in death" and conspiracy to distribute narcotics resulting in death.
"We allege that the defendants poisoned four infants and killed one of them because they were operating a drug operation out of a creche," Manhattan US Attorney Damien Williams said on Tuesday.
"A nursery – a place where children should be kept safe, not surrounded by a drug that can kill them in an instant."
The narcotics recovered from the nursery, according to the police, could have killed 500,000 people.
After discovering that her children were ill, Ms. Mendez called her spouse multiple times before dialing 911, as evidenced by surveillance footage and phone records. According to officials, her husband arrived and removed several full shopping bags from the nursery.
According to prosecutors, Ms. Mendez purged approximately 20,000 text messages from her phone before her arrest. Eventually, authorities were able to recover them.
The fourth surge of the fentanyl epidemic sweeps the United States.
Authorities are still searching for her spouse, who has been identified as a co-conspirator in court documents. According to the police, he was captured on camera fleeing the site of the incident.
A lawyer for Ms. Mendez stated that his client denied the charges and was oblivious that illegal substances were stored in the nursery.
According to ABC News, her attorney, Andres Aranda, stated, "Her only crime was renting a room to someone with a kilogramme."

Police say that the fentanyl that killed a one-year-old child in a New York City nursery was concealed under a mat in the nap room while the child slept.
There is no evidence that she provided improper care for these infants.
It is unknown whether Mr. Brito, the cousin of Ms. Mendez's spouse, has an attorney.
Authorities have classified both suspects as flight risks and hold them without bond. If convicted, they each face life in prison.
On September 6, city health examiners conducted a surprise inspection of the nursery, but no violations were found, according to City Health Commissioner Ashwin Vasan.
"I apologise, but my childcare inspectors are not trained to search for fentanyl. But perhaps they should," he said at a Monday news conference.
At the same news conference, Mayor Eric Adams demanded a "full national assault" against the substance, emphasizing its potency.
A tenth of the measure of a fingernail is sufficient to kill an adult. Imagine what it could do to a child," he said, holding up a photograph comparing a lethal dosage to a penny.
According to recent research, fentanyl has reached virtually every part of the United States, from Hawaii to Rhode Island and Alaska.
Less than 40,000 Americans died of drug overdoses in 2010, and less than 10% of those fatalities were attributable to fentanyl.
By 2021, more than 100,000 people per year had perished from drug overdoses, with an estimated 66% of those deaths attributable to fentanyl.
SOURCE – (BBC)
Tropical Storm Ophelia Moves Inland Over North Carolina As Coastal Areas Lashed With Wind And Rain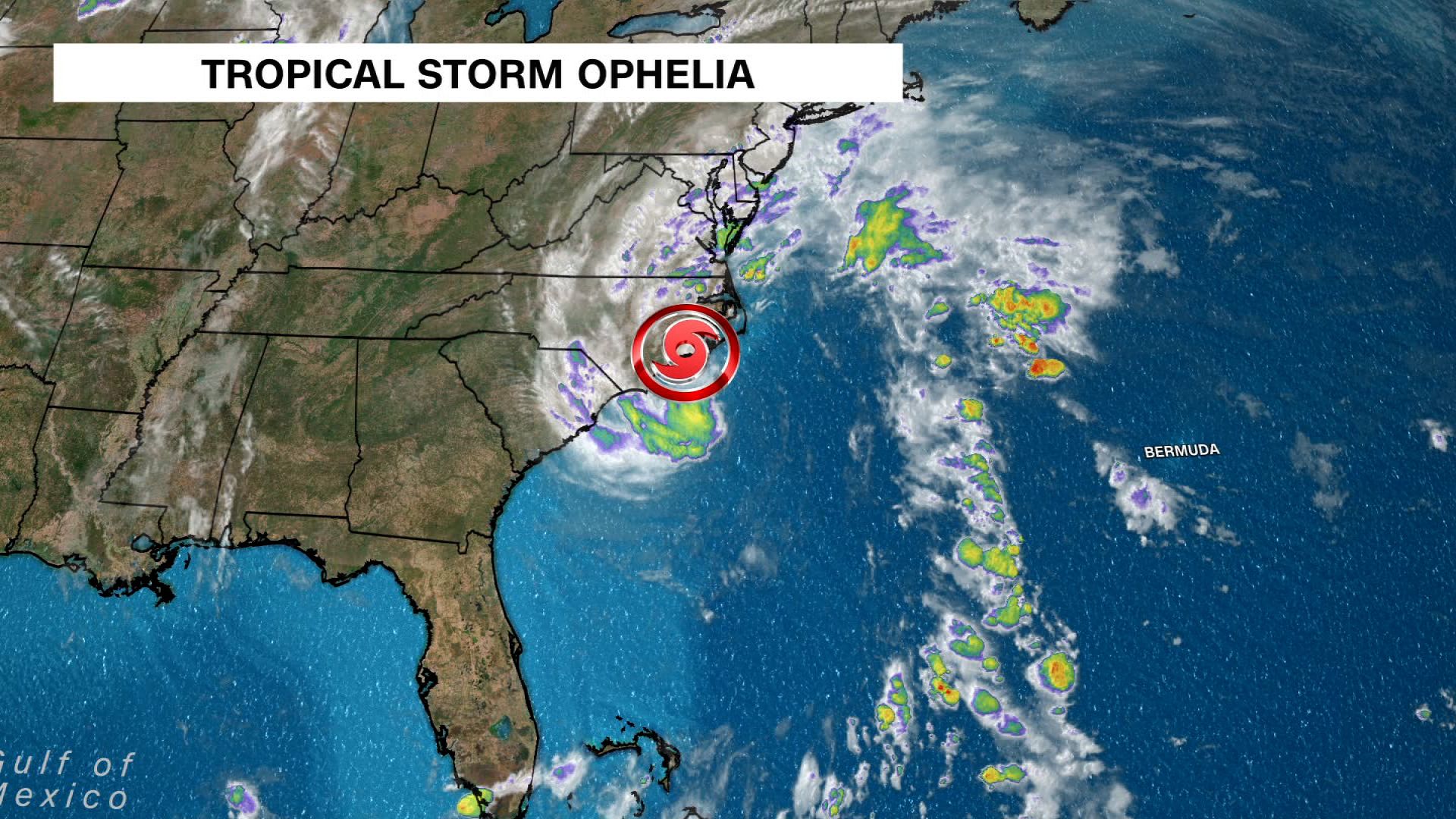 ANNAPOLIS, Maryland — After making landfall near Emerald Isle early Saturday morning, Tropical Storm Ophelia swirled across North Carolina, lashing eastern portions of the state with rain, damaging winds, and hazardous water surges.
The storm landed at 6:15 a.m. with near-hurricane-force winds of 70 mph (110 kph) but was anticipated to weaken as it turned north Saturday and then shifted northeast on Sunday, according to the U.S. National Hurricane Centre.
As of Friday, Ophelia is churning up the East Coast at approximately 13 mph (21 kph), bringing windy conditions and torrential rainfall for the weekend. Through Sunday, portions of North Carolina and Virginia may receive up to 7 inches (18 centimeters) of precipitation, with 2 to 4 inches (5 to 10 centimeters) predicted for the remainder of the mid-Atlantic region.
Philippe Papin, a hurricane expert at the National Hurricane Centre, stated that the primary risk posed by the storm system over the next few days will be the possibility of flooding precipitated by the rain.
"Tropical storm-force winds have been observed, but they are beginning to gradually diminish as the system moves further inland," Papin said in an early Saturday interview. However, in the next 12 to 24 hours, a substantial portion of eastern North Carolina and southern Virginia is at risk for flooding precipitation.
Several eastern North Carolina counties had tens of thousands of residences and businesses without power as of Saturday morning, according to poweroutage.us, which monitors utility reports.

Tropical Storm Ophelia swirled across North Carolina, lashing eastern portions of the state with rain, damaging winds, and hazardous water surges.
Jeff Brooks, a spokesperson for Duke Energy, told WTVD-TV on Saturday, "When you have a slow-moving storm with several inches of rain and a wind gust of 30, 40 miles per hour, that's enough to bring down a tree or limbs." "This has been the case in the majority of areas where we have experienced outages."
From Bogue Inlet, North Carolina, to Chincoteague, Virginia, a storm surge warning was issued indicating the threat of rising ocean water forced inland by Ophelia. In some locations, waves of 4 to 6 feet (1.2 to 1.8 meters) were predicted. The area from Cape Fear, North Carolina, to Fenwick Island, Delaware, was issued a storm warning.
On Friday, each of North Carolina, Virginia, and Maryland governors declared a state of emergency. Several institutions closed early, and several weekend activities were canceled. The Washington Nationals baseball contest scheduled for Saturday was postponed until Sunday. Until conditions improve, the North Carolina Ferry System suspended service on all routes until conditions improve.

Tropical Storm Ophelia swirled across North Carolina, lashing eastern portions of the state with rain, damaging winds, and hazardous water surges.
Nancy Shoemaker and her husband Bob picked up sandbags in a park in Annapolis, the capital of Maryland, on Friday. In October of last year, a storm surge swept away the sandbags they had placed in their yard, which is adjacent to the water.
Nancy Shoemaker stated, "We're hoping that won't happen this time." "If we have a lot of wind and a lot of surge, it can look like the ocean out there, so that's a problem."
Michael Brennan, director of the National Hurricane Centre, stated that it is not unusual for one or two tropical cyclones or hurricanes to form annually off the East Coast.
Brennan stated in a Friday interview, "We're at the height of hurricane season, and storms can form virtually anywhere in the Atlantic basin."
According to scientists, climate change could result in hurricanes expanding their reach into mid-latitude regions more frequently, making cyclones like Hurricane Lee more frequent.
One study simulated tropical cyclone trajectories from the pre-industrial and modern eras and a future with increased emissions. It was discovered that hurricanes would track closer to the coastal, including around Boston, New York, and Virginia, and form more frequently along the Southeast coast.
SOURCE – (AP)