Excitement Builds For Nolan's 'Oppenheimer' At CinemaCon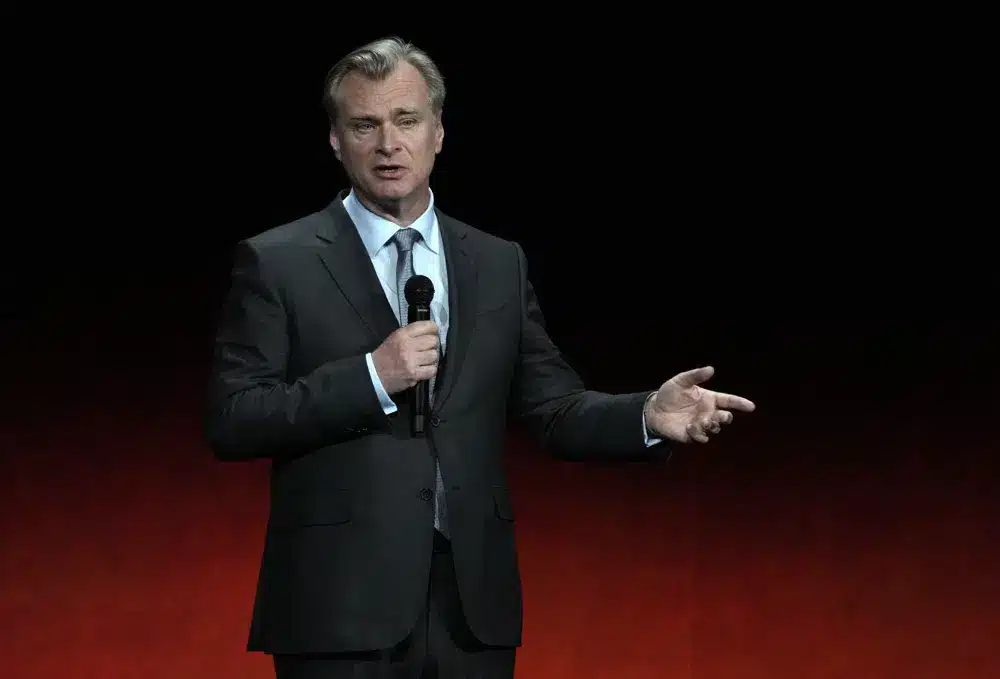 LAS VEGAS, Nevada — The big one kicked off Universal's CinemaCon presentation: new footage from Christopher Nolan's "Oppenheimer."
"I know of no more dramatic tale, with higher stakes, twists and turns, paradoxes," Nolan told a group of theatre owners in Las Vegas on Wednesday. "After hearing that story, I wanted to be in that room and experience what it must have been like."
"Oppenheimer," which opens in theatres on July 21, is the story of J. Robert Oppenheimer, a bright, charismatic physicist who, with his colleagues at Los Alamos, invented the atomic bomb and altered the world. Cillian Murphy, a frequent Nolan collaborator dating to "Batman Begins," plays the lead role with Matt Damon, Emily Blunt, and others.
"Whether you like it or not, he is the most important person ever." He shaped our world, for better or worse. "You have to see his story to believe it," Nolan remarked. "His story is both a dream and a nightmare." Oppenheimer
Nolan shot the film in both color and black and white on large format IMAX film, but "not too much black and white, don't worry," he remarked.
"Oppenheimer" represents Nolan's first collaboration with Universal, following his departure from his longtime Warner Bros. amid the studio's controversial transition to streaming for its 2022 releases.
The filmmaker has always been a staunch supporter of movie theatres, and "Oppenheimer" will be no exception, with 70mm IMAX, 35mm, Dolby Vision, and other premium large-format screen formats accessible worldwide.

"Oppenheimer," which opens in theatres on July 21.
Nolan also stated that he could neither confirm nor deny that a full-length trailer will be shown before "Guardians of the Galaxy Vol. 3," released on May 5.
The Universal team, led by filmed entertainment group chairman Donna Langley, gathered in Las Vegas for the annual conference just days after news broke that NBCUniversal CEO Jeff Shell, a well-known figure in the media industry, was leaving the company following an investigation into inappropriate behavior.
Shell was in charge of a large portfolio of assets, including the motion picture corporation. He was previously head of NBCUniversal Film and Entertainment. As of Wednesday, Comcast had yet to name a replacement.
The film studio crew has celebrated the recent box office triumph of Illumination's "The Super Mario Bros. Movie," earning over $900 million worldwide. Oppenheimer It will be the first film to gross $1 billion in 2023, a milestone it will reach this week, according to Langley.
"Mario" followed smashes like "Cocaine Bear" and "M3GAN," which, according to Universal's domestic distribution head Jim Orr, dominated cultural debate from memes to late-night fodder.
"We bet on audiences," said Orr. "We believe that our best days are ahead of us, not behind us."
"The comedy is crazier, the horror is more terrifying, the drama is more powerful," Orr said of their 2023 slate. And 'Fast X' is faster and more furious than anything you've seen.
Will Ferrell was on stage with a puppy named Sophie to discuss his R-rated comedy "Strays" (June 9), in which he and Jamie Foxx portray foul-mouthed puppies. Sophie, according to Ferrell, plays his character Reggie in the film.
"She's not that cute; you don't have to keep cutting to her," Ferrell pointed out. "Hey, cameraman, let's try to keep it even." "One of her and one of me."
"I have three Emmys and a Mark Twain Prize, and you regularly (expletive) on the sidewalk," he said.
Later, Ferrell apologized to Sophie. The gag had the audience in stitches.
Justin Timberlake and Anna Kendrick also added enthusiasm to the room as they discussed "Trolls Band Together," which will be released on November 17.
"Hello, A-Ken. "Ak-Attack," Timberlake exclaimed. "I'm on a high."

"Oppenheimer," which opens in theatres on July 21.
He quickly explained that he wasn't. According to Kendrick, the characters in this film have left "the friend zone."
"Get ready to rock and trooooollll," Kendrick exclaimed before telling her straight-man counterpart, "Joy is a choice."
DreamWorks Animation has announced "Ruby Gillman Teenage Kraken," which will be released on June 30 and stars Lana Condor as a Kraken struggling to survive high school.
"We believe it has the potential to be the summer's girl power movie," said DreamWorks Animation president Margie Cohn.
Jason Blum and David Gordon Green, who collaborated on the "Halloween" reboots, also offered a first look at "The Exorcist Believer," a new modern-day "Exorcist" film in which two youngsters become possessed. It's the first of a planned trilogy starring Ellen Burstyn, and it hits theatres on October 13.
Universal also ended on a high note. The first film, "Fast X," featured Jordan Brewster, Michelle Rodriguez, Tyrese Gibson, and Sung Kang quickly recapping the first nine films before calling Vin Diesel to the stage and exiting stage left.
"I like this room better than the Oscars," Diesel exclaimed, drawing applause. "And you know I mean that."
Then, stunt performers from Eighty-Seven North performed as the opening act for Emily Blunt and Ryan Gosling to tease 'Fall Guy' before closing with a first look at 'Wicked', which Langley assured will 'dazzle your screens'.
SOURCE – (AP)
Tommy Prine, 27, Doesn't Dodge His Father's Legacy But Makes His Own Way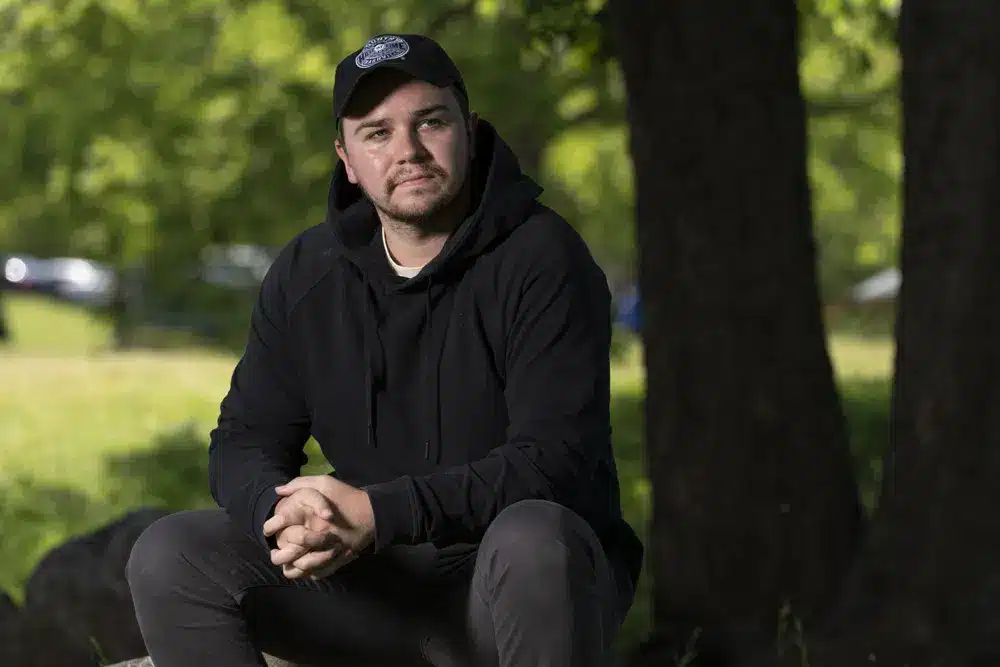 NASHVILLE, Tenn. Tommy Prine spoke about his father's passing in front of a crowded audience in The Basement, one of Nashville's most intimate music venues.
During a recent sold-out performance, he observed, "It stinks to lose a parent at any age — in my case, when he was the world's greatest songwriter."
Singer-songwriter John Prine, Prine's father, passed away in April 2020 at 73 due to coronavirus complications. Even for a period when grieving had grown commonplace, his death sparked a flood of global mourning.
In the music industry, the heartbreak was especially severe. The bonds John Prine formed with his music were only strengthened by his generosity to budding musicians. Many others tried to digest the unthinkable by expressing their sadness through memorial songs.
It turns out that Prine's own family was experiencing a similar situation.
Last year, Tommy Prine published "Ships in the Harbour," a song about his father that is as heartfelt and open-hearted as ever. It resists the urge to curl up in the fetal position rather than flee from what he lost. It gets the closest of any song to properly expressing the immense weight of grief brought on by the pandemic.
Tommy Prine, now 27 years old, is set to release a whole album of songs that deal with growing up, love, and grief. The film "This Far South," which will be released on June 23, is daring in how it faces his father's passing head-on and how the son of a legend handles the inevitable concerns that arise from working in the same field.

Tommy Prine keeps going and works hard on a risky project. He created a unique album, and it is captivating.
According to Prine, "honestly, even if my Dad wasn't who he was, I feel like I would've made the same record," he stated in an interview with The Associated Press. Because of who he is, "I didn't include these songs, but I also didn't shy away from them."
Writing songs enabled Prine to process everything he had lost. His father's legendary position feels almost incidental to the intimacy of that journey.
"I'm Tommy Prine, and I lost my Dad in the pandemic, and that's going to be the focal point of what I'm trying to get across," he said. And while I am aware that it was a fairly public event and that most people will be aware of the background, I believe that they are optional.
I believe people may just listen to it from the viewpoint of a young man who lost his father unexpectedly.
The few allusions, such as the card games and talks they avoid, are vivid without ever becoming cloying. In a lovely song called "By the Way," he discusses the singular sensation of occasionally hearing his father's voice.
Prine sings, "I don't want to talk about the day you slipped away." The tunes we used to sing still make it difficult to hear your voice.
But Tommy also has other weaknesses and is more or less influenced by those who aren't his biological father. For instance, the anthemic flourishes and introspective lyrics on the album show co-producer Ruston Kelly's influence. The song "Reach the Sun" begins with a manic episode in the middle of the night but eventually soars to resemble Kelly's best work, including the excellent album he recently published.
In an interview conducted after Kelly's performance with Prine at The Basement, Sufjan Stevens was named another artist who influenced both. Prine heard a sound that matched the wistful desperation he wanted to express while listening to Stevens' "Carrie & Lowell" album, which Kelly had directed him towards.

Tommy spoke about his father's passing in front of a crowded audience in The Basement, one of Nashville's most intimate music venues.
It was "probably the last thing I wanted to do for the rest of my life," according to Prine, but it ended up being a "saving grace" for him as he dealt with the hardship of losing his father.
Listeners would do well to consider how they would react if they weren't aware that this album was produced by the legendary John Prine's son, given the darkness that hangs over anyone named Prine who dares to try his hand at making original music. Social media and other modern methods of music distribution make it plausible, if not probable, that Prine's music will reach a brand-new audience. His father may not be well-known to some listeners his age or younger, but these songs will draw comparisons on their own.
But everyone who pays attention will hear the promise of a creative person who bravely followed his heart. Fans of John Prine may recognize elements of the album's disarming honesty, but they will also hear a new voice presenting intense music that crackles.
Tommy claims that although having considered it, he rarely worries about the legacy issue. But that's simply another thing he has arranged in its appropriate position.
"I'm just making the music I want to make, and music that is a representation of who I am as a person," he stated. I have my tale to share because I had quite different childhood experiences than my father.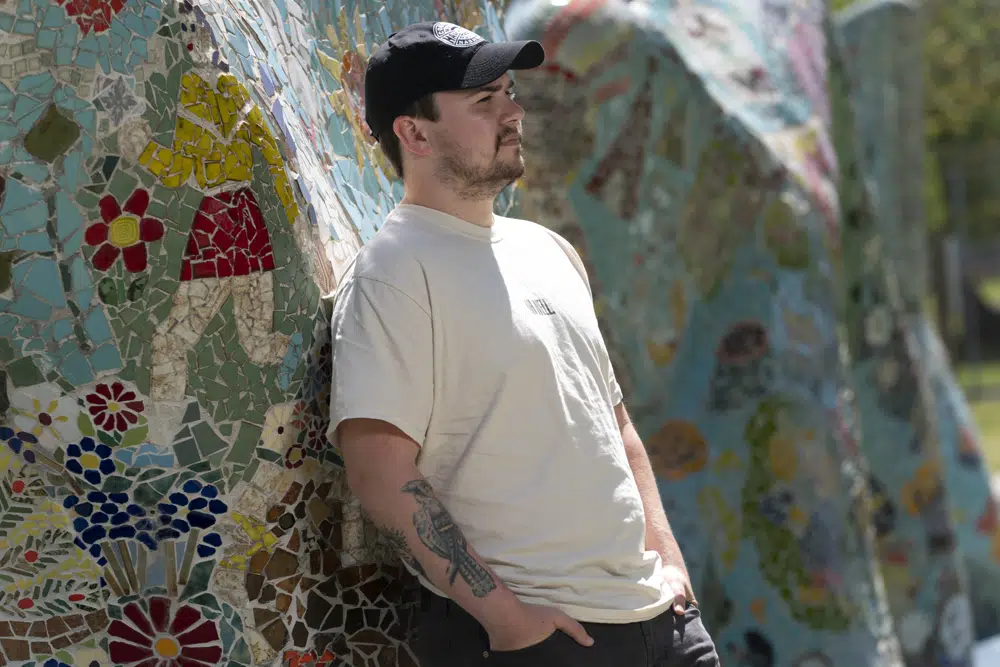 SOURCE – (AP)
2023: Why Chrishell Stause Isn't Wearing Wedding Ring After Marrying G-Flip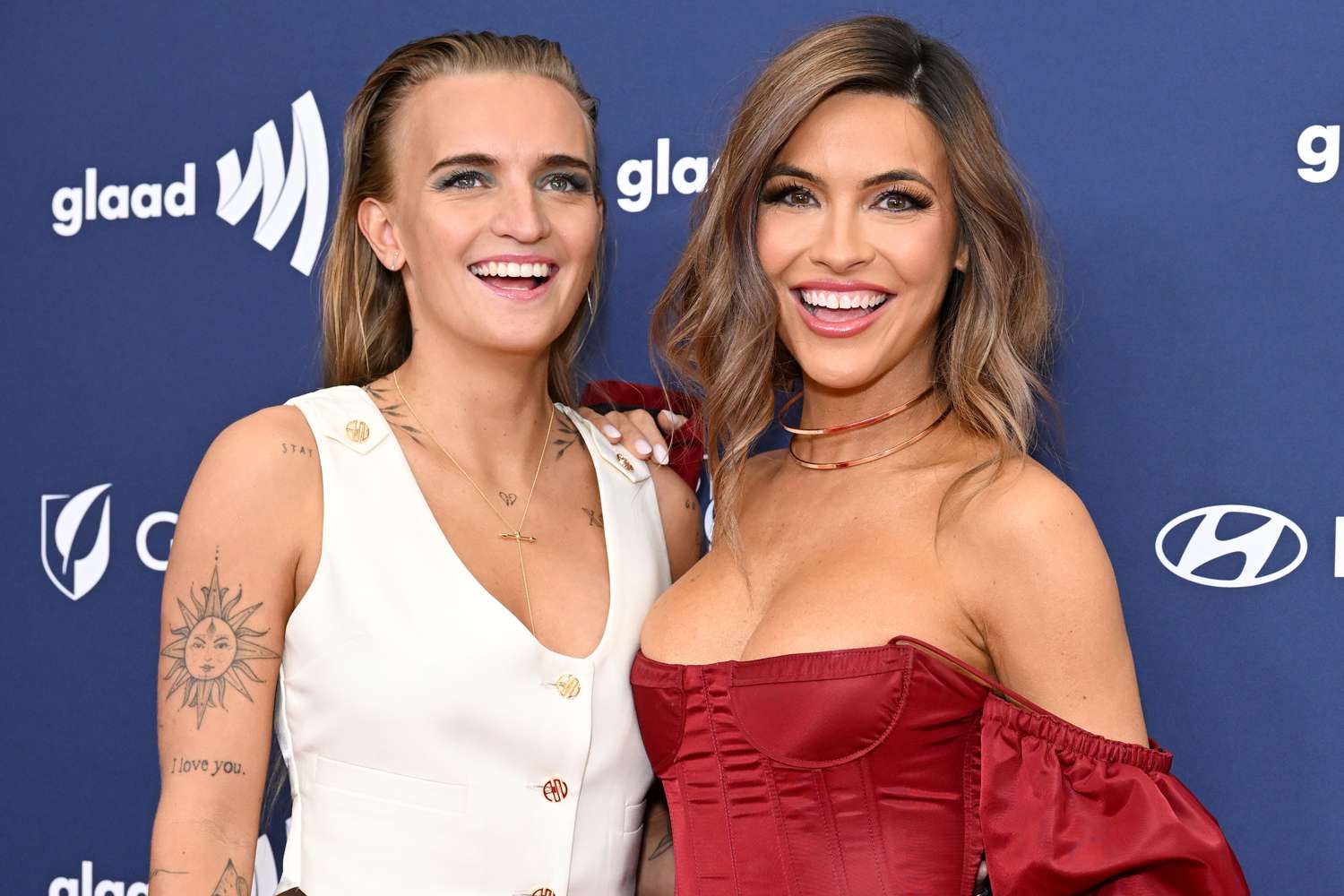 Sunset Newlywed for sale Chrishell Stause Discusses Her Marriage and Her New Season.
A significant piece of jewelry that Chrishell Stause recently married G Flip is gone.
The Selling Sunset has been seen sans a wedding band despite getting married to the musician. Chrishell, though, has a justification.
In a video posted on her Instagram Stories on May 30, she declared, "I'm happily married, very happy." But due to my weight increase, I'm not wearing my ring. And that's okay with me. I CAN MAKE A REAL RING WITHOUT REVEALING ANYTHING until I have it adjusted or until we think everyone is aware.
I'm living my best life, and that's why, Chrishell added. "Anyways, long story short, if you see me without my ring, listen, that's why."
The reality star wed G Flip on May 10 by posting an Instagram video showing the couple holding hands at the altar. After dating for over a year, the pair married in Las Vegas.
Recently, the couple discussed their wedding ceremony and answered questions about whether they were now legally married.

A significant piece of jewelry that Chrishell Stause recently married G Flip is gone.
On the May 27 episode of SiriusXM Hits 1 LA with Tony Fly and Symon, Chrishell remarked, "If you don't believe it, I don't care and that's the best part." "I don't require your consent."
Additionally, don't anticipate seeing the couple's nuptials on Selling Sunset.
"I think that it's a balance thing on a show like this, of what to share and what not to share, and I think that it's important that we are open and we shine a light on a love that I think is so beautiful," Chrishell stated on E! News on May 17. But even so, it's essential to preserve some items for us.
The real estate agent also talked about how they were married unusually. We should have done the customary engagement, she remarked. "We avoided the entire situation, the paperwork, all the worries that people have, all this stuff."
It's been a dream come true for Chrishell.
She continued, even if their union is the least conventional regarding how things should work out. It has been the most significant and vital aspect of my life. Therefore, each person has a unique method of doing things. It was so erratically flawless.
SOURCE – (ENEWS)
Jewish Groups And City Officials Protest Against Roger Waters Concert In Frankfurt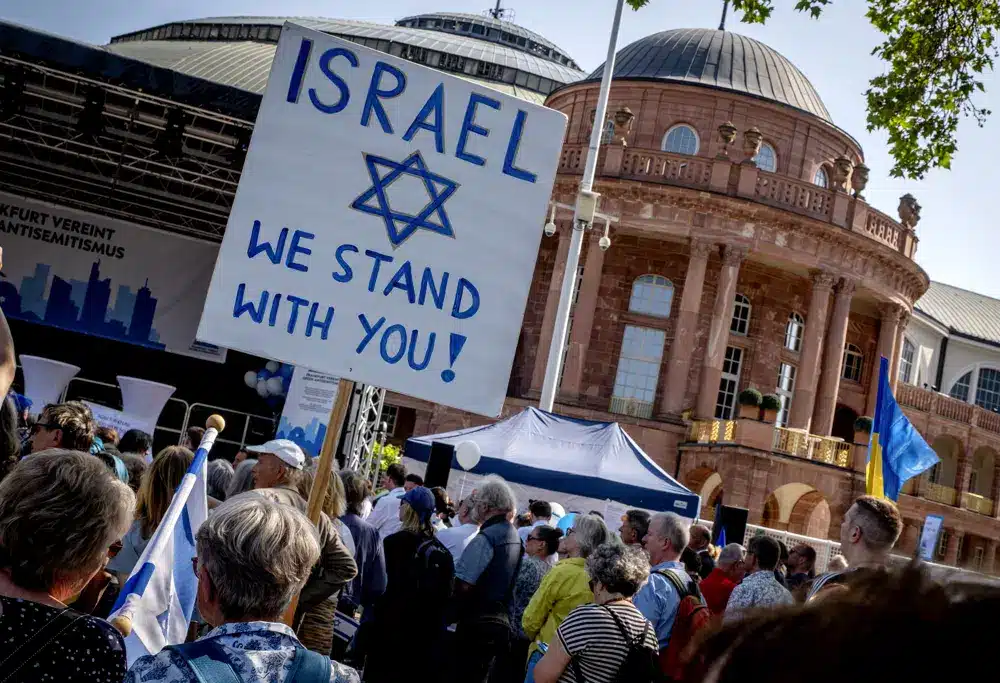 FRANKFURT — Several Jewish organizations, lawmakers, and a coalition of civil society groups gathered in Frankfurt Sunday evening for a mourning service and protest rally in opposition to Roger Waters' concert.
The co-founder of Pink Floyd has been accused of antisemitism, which he strongly refutes.
They are upset with Waters because he backs the BDS movement, which promotes economic and cultural boycotts against Israel.
At first, Frankfurt officials tried to stop Waters from performing, but he contested the decision in court and won.
The Nazis picked up more than three thousand Jews, assaulted and humiliated them, and deported them to concentration camps in the city's Festhalle in November 1938.
"Against this historical background, the concert should not have taken place under any circumstances," said Sacha Stawski, a member of the Frankfurt Jewish community and the head of the group Honestly Concerned, which helped organize the demonstrations.
Elio Adler, the head of the Jewish organization WerteInitiative, which supports the protest, told The Associated Press, "It's very frustrating" that the performance is going ahead as scheduled despite the efforts of the Frankfurt government and many others to prevent it.
"His words and imagery spread Jew-hatred and are part of a trend: to normalise Israel-hatred under the protection of freedom of speech or art," Adler continued.

Several Jewish organizations, lawmakers, and a coalition of civil society groups gathered in Frankfurt Sunday evening for a mourning service and protest rally in opposition to Roger Waters' concert.
Police in Berlin announced last week that they had initiated an investigation on Waters on suspicion of incitement related to a costume he wore during a performance earlier this month in the German city.
Photos of Waters firing an imitation machine gun while wearing a long black coat and a red armband circulated online. The police have stated that an investigation was initiated due to concerns that the costume's setting could be interpreted as a justification, approval, or glorification of Nazi tyranny.
In a Facebook and Instagram post, Waters denied the allegations, writing, "the elements of my performance that have been questioned are quite clearly a statement in opposition to fascism, injustice, and bigotry in all their forms."
He said, "Attempts to portray those elements as something else are disingenuous and politically motivated."
Protesters on Sunday read aloud the names of 600 Jews who were rounded up at the Festhalle on November 9, 1939, the so-called Kristallnacht, or "Night of Broken Glass," when Nazis terrorized Jews throughout Germany and Austria. This took place in front of the Frankfurt concert venue before Waters' concert was set to begin.
A prayer service attended by Jews and Christians was also held in Frankfurt in memory of those who perished at the hands of the Nazis. At the rally, the mayor and the Jewish community leader gave speeches.
According to the German news agency DPA, Frankfurt Mayor Mike Josef has condemned antisemitism citywide. A person's faith is not a valid excuse to despise, insult, or assault him.

Several Jewish organizations, lawmakers, and a coalition of civil society groups gathered in Frankfurt Sunday evening for a mourning service and protest rally in opposition to Roger Waters' concert.
About 400 protesters gathered before the show to wave Israeli flags and distribute leaflets to audience members. Banners reading "Israel, we stand with you" and "Roger Waters, wish you were not here" were also seen, with the latter a reference to Pink Floyd's "Wish You Were Here," as reported by dpa.
Protesters in Munich gathered last month to oppose a jewish Roger Waters concert after the municipal council claimed it had considered canceling the show but ultimately decided against it since revoking the organizer's contract would be illegal.
Due to Waters' apparent sympathy for Russia in its war against Ukraine, the Polish city of Krakow canceled his concerts there last year.
SOURCE – (AP)