22-Year-Old Shoots and Kills 5, Injures 18 at Gay Club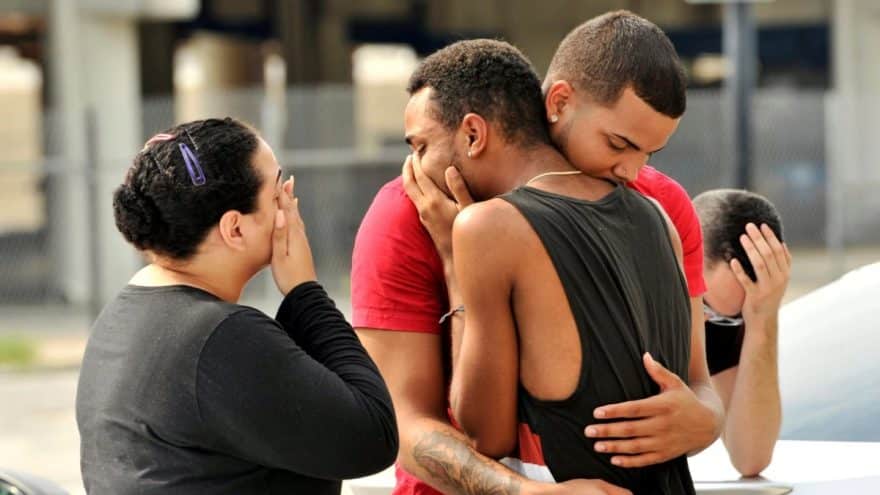 A 22-year-old man opened fire at a gay club in Colorado Springs, killing five people and injuring 18 others before being stopped by "heroic" Club Q patrons.
The shooting brought back memories of the 2016 massacre at Orlando's Pulse nightclub, which killed 49 people and remained the second-deadliest mass shooting in modern U.S. history.
According to police, at least two firearms, including a "long rifle" used during the shooting, were discovered at Club Q following the Saturday night attack.
The club described it as a "hate attack" on its Facebook page. El Paso County District Attorney Michael Allen said investigators were still determining a motive and whether to charge it as a hate crime. The suspect's charges "will almost certainly include first-degree murder," he said.
Anderson Lee Aldrich, the gunman, was arrested and treated for his injuries, according to police.
Authorities said a man with that name was arrested in 2021 after his mother reported that he threatened her with a homemade bomb and other weapons. They declined to comment further on the arrest.
Shots Fired Club Q Gay Club
Authorities stated at the time that no explosives were discovered, and The Gazette in Colorado Springs reported that prosecutors did not pursue any charges and that records were sealed.
The first officer arrived at Club Q gay club at midnight after authorities were called at 11:57 p.m. Saturday with a shooting report.
Joshua Thurman said he was dancing in the club with about a dozen other people when the shots started. He initially mistook it for music until he heard another shot and saw the flash of a gun muzzle.
Thurman, 34, claimed he and another person dashed to a dressing room where someone was already hiding. They locked the door, turned off the lights, and sat on the floor, but he added they could hear the gunman being beaten up.
"What could I have lost my life for?" "What was the point?" he wondered, tears streaming down his cheeks. "We were just having a good time." We weren't out to hurt anyone. We were in our space, community, and home, having fun like everyone else."
Gay Club Patrons fought the gunman.
According to Police Chief Adrian Vasquez, the gunman was confronted by "at least two heroic people" who fought and subdued the suspect.
"We owe them a tremendous debt of gratitude," he added. According to Vasquez, detectives were also looking into whether anyone had assisted Aldrich before the attack.
Police did not provide additional information about the other guns discovered at the scene.
Authorities reported that seven of the 25 injured were in critical condition. Some were injured while fleeing, and it was unclear whether all of the victims were shot, according to a police spokesperson.
The shooting brought back memories of the 2016 massacre at Orlando's Pulse gay nightclub, which killed 49 people. Colorado has seen several mass shootings, including one at Columbine High School in 1999, another at a movie theatre in suburban Denver in 2012, and another at a Boulder supermarket last year.
It was the sixth mass killing this month, and it came just a year after the deaths of 21 people in a school shooting in Uvalde, Texas.
According to its website, Club Q Gay Club is a gay and lesbian nightclub with a Saturday drag show. According to the Gay Club's Facebook page, planned entertainment includes a "punk and alternative show" before a birthday dance party and a Sunday all-ages drag brunch.
Drag events have recently become a focal point of anti-LGBTQ rhetoric and protests, with opponents, including politicians, proposing banning children from attending, falsely claiming they are used to "groom" children.
The FBI assisted police with their investigation, and Attorney General Merrick Garland was briefed on the shooting.
While the motive for the shootings was not immediately clear, President Joe Biden stated, "we know that the LGBTQI+ community has been subjected to horrific hate violence in recent years."
Hate Can not Be Tolerated.
"Places that should be safe havens of acceptance and celebration should never be turned into havens of terror and violence," he said. "Hate cannot and must not be tolerated."
Colorado Gov. Jared Polis, the first openly gay man elected governor in the United States, called the shooting "sickening."
"My heart breaks for the families and friends of those who have died, been injured, or have been traumatized," Polis said. "As we mourn, Colorado stands with our LGTBQ community and everyone affected by this tragedy."
A makeshift memorial appeared near the club on Sunday, with flowers, a stuffed animal, candles, and a sign that read "Love over hate" next to a rainbow-coloured heart.
Seth Stang was on his way to buy flowers for the memorial when he learned that two of the deceased were his friends. The 34-year-old transgender man described it as "having a bucket of hot water dumped on you." I'm just tired of running out of safe places to live."
Ryan Johnson, who lived nearby and was there last month, said it was one of only two LGBTQ nightspots in conservative-leaning Colorado Springs. "It's kind of the go-to for pride," the 26-year-old said of the gay club, hidden behind a bowling alley and a sandwich shop.
Colorado Springs, a city of approximately 480,000 people located 70 miles (112 kilometres) south of Denver, is home to the United States Air Force Academy, the United States Olympic Training Center, and Focus on the Family, a prominent evangelical Christian ministry that opposes LGBTQ rights. The shooting, according to the group, "exposes the evil and wickedness inside the human heart."
Three people were killed, and eight were injured at a Planned Parenthood clinic in the city in November 2015, when authorities say a gunman targeted the clinic because it performed abortions.
"The senseless attack on our community has devastated Club Q," the club said on Facebook. "We appreciate the quick actions of heroic customers who subdued the gunman and brought this hate attack to an end."
Kevin Jennings of Lambda Legal, the CEO of a national LGBTQ-rights organization, has called for stricter gun laws.
"America's toxic mix of bigotry and absurdly easy access to firearms means that such events are all too common, and LGBTQ+ people, BIPOC communities, the Jewish community, and other vulnerable populations pay the price for our political leadership's failure to act time and time again," he said in a statement.
The shooting occurred during Transgender Awareness Week, just before Sunday's International Transgender Day of Remembrance, when events are held worldwide to mourn and remember transgender people who have died due to violence.
In June, 31 members of the neo-Nazi group Patriot Front were arrested and charged with conspiracy to riot at a Pride event in Coeur d'Alene, Idaho. Experts have warned that anti-gay rhetoric could be interpreted as a call to action by extremist groups.
A fundamentalist Idaho pastor told his small Boise congregation the previous month that gay, lesbian, and transgender people should be executed by the government, echoing similar sermons from a Texas fundamentalist pastor.
According to The Associated Press/USA Today database on mass killings in the United States, there have been 523 and 2,727 deaths since 2006.
Below is a list of other recent high-profile mass shootings:
– RALEIGH – Oct. 13, 2022 – In North Carolina, a 15-year-old shot and killed five people and was apprehended after a manhunt.
– HIGHLAND PARK – July 4, 2022 – In Illinois, a man perched on a rooftop during a Fourth of July parade and killed seven people and wounded dozens more.
– UVALDE, May 25, 2022 – A gunman opened fire at an elementary school in a South Texas town, killing 19 students and two teachers. Police from several agencies gathered outside the classroom and waited more than an hour before a U.S. Border Patrol team entered the classroom and shot the suspect dead.
– LAGUNA WOODS, May 15 – A gunman killed a doctor and wounded five other people at a Taiwanese American church banquet in California in what officials called a methodically planned attack because the shooter was upset over Chinese-Taiwanese tensions.
– BUFFALO, May 14, 2022 – A white gunman killed 10 Black people inside a supermarket in a racially motivated attack. He was charged and remained in jail without bail.
– NEW YORK CITY, April 12, 2022 – In one of the most violent attacks in the history of New York's transit system, 23 people were wounded when a 62-year-old man activated a smoke bomb and opened fire in a subway. He was taken into custody the next day.
– OXFORD, Nov. 30, 2021 – Four students were killed, and seven others were wounded after a teenager opened fire at a high school in Oxford, Michigan.
– INDIANAPOLIS, April 16, 2021 – A former FedEx employee who had been under psychiatric care shot eight people dead and injured several others at an Indiana facility of the shipping company before taking his own life.
– LOS ANGELES, March 31, 2021 – Four people were killed, one of them a child, in a shooting at an office building in suburban Los Angeles before the suspect was taken into custody.
– BOULDER, March 22, 2021 – A mass shooting at a supermarket in Boulder, Colorado, killed 10 people, including a police officer.
– ATLANTA, March 16, 2021 – Eight people, including six women of Asian descent, was shot dead in a string of attacks at day spas in and around Atlanta. A male suspect was arrested.
– MILWAUKEE, Feb. 26, 2020 – A gunman opened fire at the Molson Coors Beverage Co brewing complex in Milwaukee, killing five co-workers before he committed suicide.
– DAYTON, Aug. 4, 2019 – A gunman dressed in body armour opened fire in downtown Dayton, Ohio, killing nine people, including his sister. Police killed the shooter.
– EL PASO, Aug. 3, 2019 – A man fatally shot 22 people at a Walmart store in El Paso, Texas. A statement believed to have been written by the suspect called the attack "a response to the Hispanic invasion of Texas." Authorities arrested the shooter.
– VIRGINIA BEACH, May 31, 2019 – A disgruntled public utility employee opened fire on co-workers at a municipal building in Virginia, killing 12 people before police fatally shot him.
– AURORA, Feb. 15, 2019 – A man opened fire at an Illinois factory after being fired, killing five workers before being slain by police.
– THOUSAND OAKS, Nov. 7, 2018 – A former Marine combat veteran killed 12 people in a bar in Thousand Oaks, California, a suburb of Los Angeles. He then killed himself.
– PITTSBURGH, Oct. 27, 2018 – A gunman burst into the Tree of Life synagogue near Pittsburgh and fired on congregants gathered for a Sabbath service, killing 11.
– SANTA FE, May 18, 2018 – A 17-year-old student opened fire at his high school outside Houston, Texas, killing nine students and a teacher before surrendering to officers.
– PARKLAND, Feb. 14, 2018 – A former student at Marjory Stoneman Douglas High School in Parkland, Florida, killed 17 students and educators.
– SUTHERLAND SPRINGS, Nov. 5, 2017 – A man thrown out of the U.S. Air Force for beating his wife and child shot 26 people fatally at a rural Texas church where his in-laws worshipped before killing himself.
– LAS VEGAS, Oct. 1, 2017 – A gunman opened fire on a country music festival from a 32nd-floor hotel suite, killing 60 people before taking his own life.
– ORLANDO, June 12, 2016 – A gunman fatally shot 49 people at Pulse, a gay nightclub, before he was shot dead by police.
– SAN BERNARDINO, Dec. 2, 2015 – A husband and wife killed 14 people at a workplace holiday party in San Bernardino in Southern California before dying in a shootout with police.
– ROSEBURG, Oct 1, 2015 – A gunman stalked onto an Oregon college campus and opened fire, killing nine people before police shot him to death.
– CHARLESTON, June 17, 2015 – A white supremacist killed nine Black churchgoers at a church in Charleston, South Carolina. He was sentenced to death.
– WASHINGTON, Sept. 16, 2013 – A former Navy reservist working as a government contractor killed 12 people at the Washington Navy Yard. He was shot dead by police.
– NEWTOWN, Dec. 14, 2012 – A gunman killed 26 people, including 20 children from five- to 10 years old, in a rampage at Sandy Hook Elementary School in Connecticut.
– AURORA, July 20, 2012 – A masked gunman killed 12 people at a cinema in Aurora, Colorado. He received multiple life sentences.
– FORT HOOD, Nov. 5, 2009 – An army major and psychiatrist opened fire at Fort Hood, a U.S. Army base in Texas, killing 13 people.
Sloane Stephens Leads 4 American Women Into 2nd Round Of French Open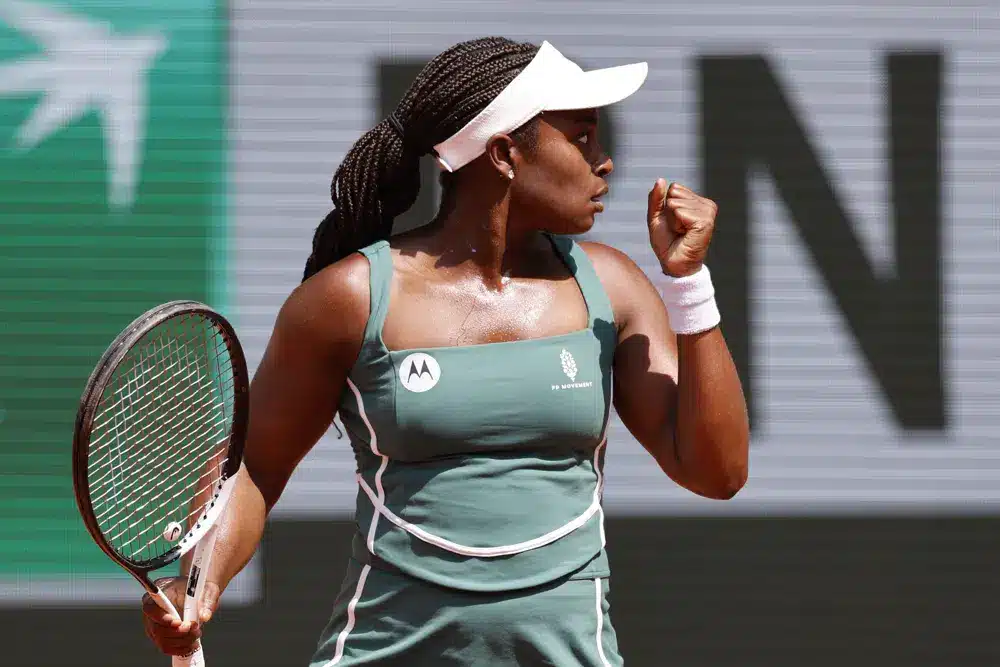 FRANCE — Returning to her "favorite court in the world," Sloane Stephens defeated Karolina Pliskova, a veteran of two Grand Slam finals, 6-0, 6-4 in her first match at the French Open.
While the 2017 U.S. Open was Stephens' sole Grand Slam victory to date, she has enjoyed considerable success on the red clay courts of Paris, including a runner-up finish to Simona Halep in 2018 and two quarterfinal appearances.
"This is my favourite court in the world, so I'm super happy to be back," Stephens told the audience on Court Philippe Chatrier. It's amazing to begin a Slam on the court or surface you enjoy playing on.
After getting off to a 1-4 start on Sunday, with the lone U.S. victory coming in a match involving two players from the country (Jessica Pegula beating Danielle Collins), she helped the American women get off to a 4-0 start during the first few hours of play on Day 2.
As of Monday, Madison Keys' record in the first round of majors stands at 35-5. Keys was the runner-up to Stephens in New York six years ago and reached the semifinals at Roland Garros 2018. Keys defeated Kaia Kanepi 6-1, 3-6, 6-1.

Returning to her "favorite court in the world," Sloane Stephens defeated Karolina Pliskova, a veteran of two Grand Slam finals, 6-0, 6-4 in her first match at the French Open.
Kayla Day, a qualifier from the United States, will play next for Keys after she defeated Kristina Mladenovic, a wild card entrant from France, 7-5, 6-1.
American Bernarda Pera, of Croatian descent, defeated world number two Anett Kontaveit 7-6 (6), 6-2.
The 2021 French Open runner-up Anastasia Pavlyuchenkova defeated the Czech teenager Linda Fruhvirtova in straight sets (6-2, 6-2), while the 22nd-seeded Donna Vekic prevailed over the qualifier Dayana Yastremska (6-2, 7-5).
Stephens trailed Pliskova by a break in the second set but returned to win the final three games to take the match.

Returning to her "favorite court in the world," Sloane Stephens defeated Karolina Pliskova, a veteran of two Grand Slam finals, 6-0, 6-4 in her first match at the French Open.
With a 19-16 advantage in aces and only 10 unforced errors to Pliskova's 31, Stephens defeated the 2016 U.S. Open and 2021 Wimbledon finalist.
This court has a few challenges. Stephens advises extensive practice to learn how and when the wind is blowing on it. Playing with it will help you learn how it works. But the court system could be clearer. But that's part of the wonder of it.
After playing only three matches in larger clay events in Madrid and Rome, Stephens won a local tournament on clay courts in Saint-Malo, France, at the beginning of the month and reached the Morocco Open's semifinals last week.
"Last year, my clay season wasn't great, but I played amazing at Roland Garros last year," Stephens said. "And this year, I really wanted to get matches and play a lot and see where that got me."
SOURCE – (AP)
Nick Cannon Reveals Which Of His 12 Children He Spends The Most Time With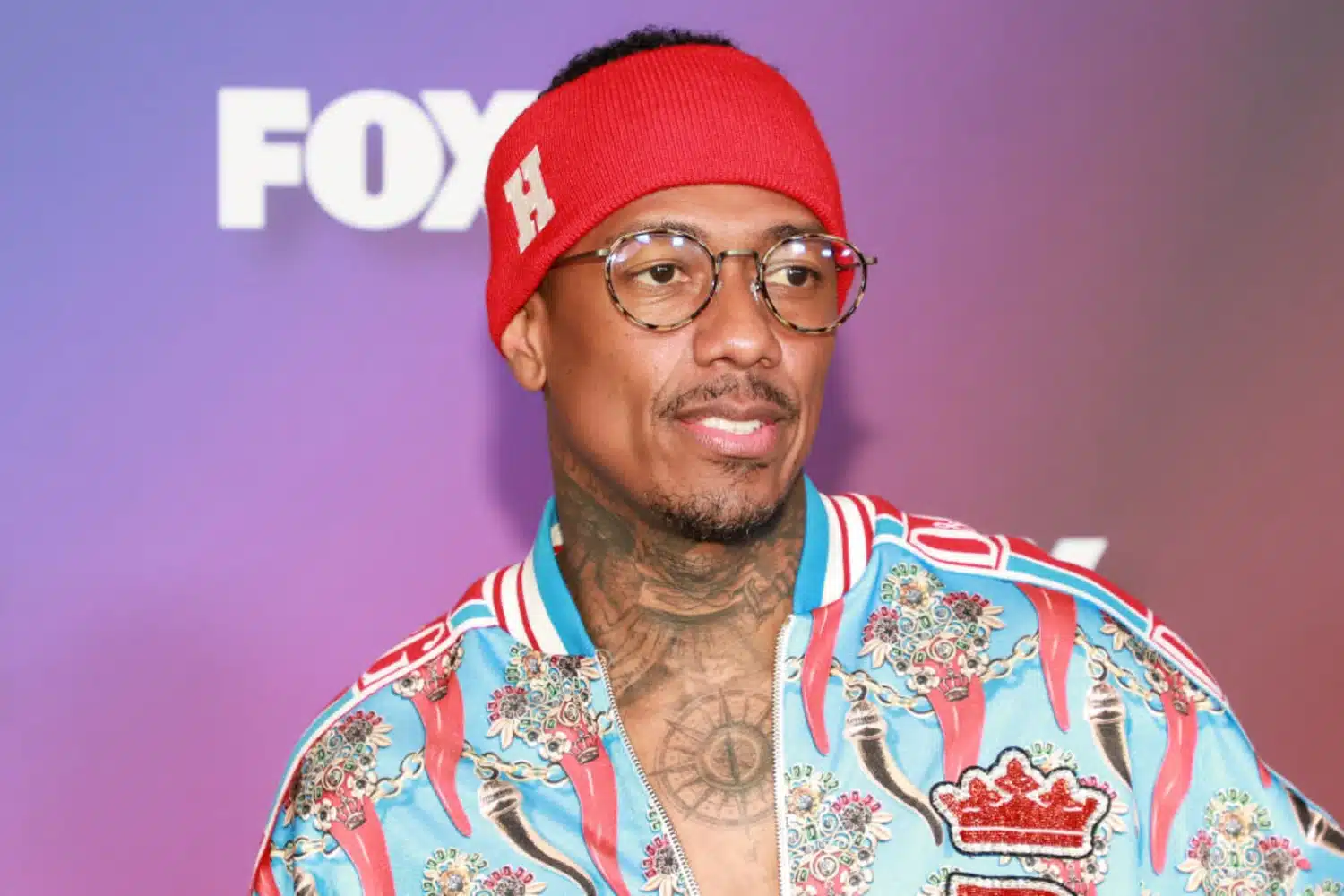 Nick Cannon has provided further details about his life as a father, which has frequently been under question.
The Wild N' Out host, who fathered 12 children with six different women, stated last week that he spends the most time with one of his daughters, 8-month-old Onyx Ice Cole Cannon, whom he shares with LaNisha Cole.
"My beautiful daughter Onyx, that's probably the child I spend the most time with, really," Nick told Jason Lee on the Jason Lee Podcast. "I spend at least three full days a week with her."
"LaNisha and I have a super strong understanding, and our co-parenting operation is solid," the Masked Singer host stated. My daughter is right next to me if you see me on Mondays, Wednesdays, or Fridays."
Nick, 42, also claimed to have a nursery in his office. He also stated that his time with Onyx does not interfere with his time with his other children because "they're in school, they're babies."
"I appreciate that LaNisha respects me enough to allow me to have her, really, as much time as she does," the TV personality continued.

Nick Cannon has provided further details about his life as a father, which has frequently been under question.
During an interview with Howard Stern, Nick made his remarks about her and Onyx more than a month after omitting the youngster from his list of children. On The Jason Lee Show, he admitted he "f–ked up" but also indicated that Howard Stern confused him by interrupting him when naming the children.
In addition to Onyx, Nick has ex-wife Mariah Carey's twins Moroccan Cannon and Monroe Cannon, 11, sons Golden Cannon, 6, and Rise Messiah Cannon, 7 months, and daughter Powerful Queen Cannon, 2, with Brittany Bell, twin sons Zion Mixolydian Cannon and Zillion Heir Cannon, 23 months, and daughter Beautiful Zeppelin Cannon, 6 months, with Abby De La Rosa, son Legendary Love Cannon, 10 months,
Zen Cannon, the model and Nick's first child died of brain cancer at 5 months in 2021.
Nick responded to critics of his lifestyle earlier this month, claiming that he can emotionally and financially support his children.
"I've been villainized," he told the Los Angeles Times in a May 7 interview. "I often hear, 'You can't be present for all those children.' As a result, I've earned the moniker "deadbeat dad."
"It's not about what I do for you or what I say to you; it's about how you feel when I'm with you," he continued. What will resound is if you feel loved when you see your father."
SOURCE – (Enews)
2023: As NBA Coaching Changes Mount, Some Lament The Lack Of Job Security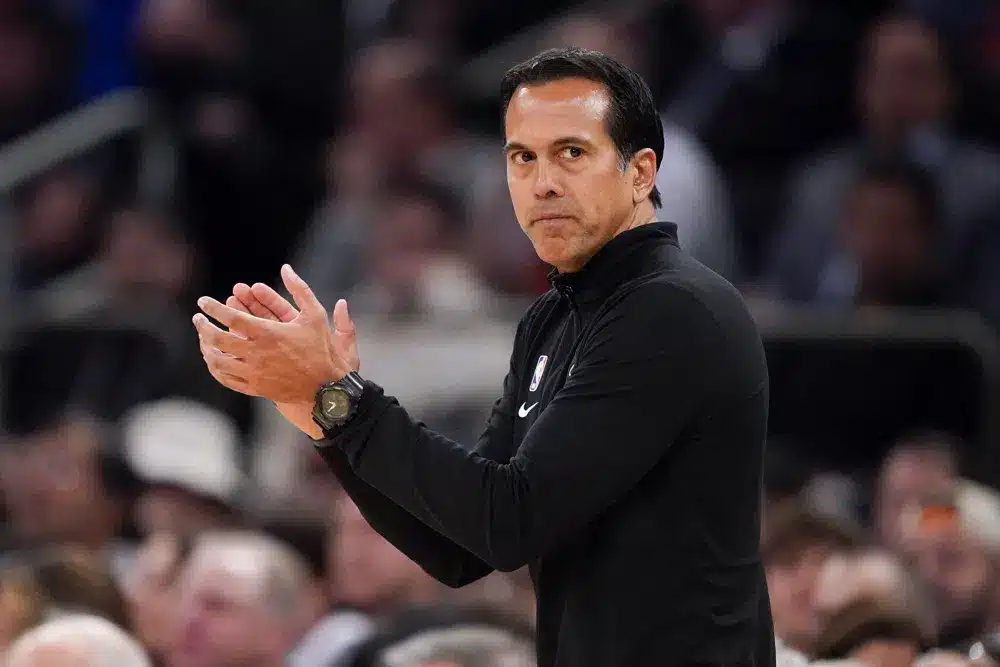 MIAMI, Fla.: Erik Spoelstra of Miami and Michael Malone of Denver are two of the four NBA coaches that have stayed at least eight years with their present team.
They understand how uncommon that is, especially as the league's coaching changes grow.
Championship-winning or title-contending coaches are no longer safe in the NBA. 2019 NBA champion Nick Nurse, 2021 champion Mike Budenholzer, 2021 Western Conference champion and 2022 coach of the year Monty Williams, and most recently, 2008 NBA winner Doc Rivers have all been sacked recently. Toronto dismissed nurse, Budenholzer was fired by Milwaukee, Williams by Phoenix, and Rivers was sacked by Philadelphia.
"It's disturbing," remarked Spoelstra. "Doc is a Hall of Famer." There are only a limited number of teams that can proceed. It's just a tremendously difficult thing to do. Yeah, hearing about some extremely unexpected firings has been a terrible couple of weeks."
It makes no sense to Spoelstra or, most likely, many other coaches. Spoelstra currently has the NBA's second-longest stay with a single team. Gregg Popovich has led the Spurs since 1996, Spoelstra took over the Heat in 2008, Steve Kerr took over in Golden State in 2014, and Malone took over in Denver in 2015.
"I understand this business," said Malone, who will lead Denver into the Western Conference finals against the Los Angeles Lakers beginning Tuesday. "If you look around the coaching landscape, coaching is not the one to get into if you want a secure career." I should have worked as a TV reporter."
Only two of the previous nine coaches to lead a team to the NBA Finals — Kerr and Spoelstra — are still with the team that advanced to the championship round.

Spoelstra currently has the NBA's second-longest stay with a single team.
Three of the last four championship-winning coaches — Budenholzer in 2021, Frank Vogel of the Los Angeles Lakers in 2020, and Nurse in 2019 — have been sacked by their respective teams. Ime Udoka in Boston, Cleveland's David Blatt and later Tyronn Lue, and now Williams by the Suns are no longer with their clubs for various reasons following recent runs to the finals.
Budenholzer's firing shocked Kerr, who acknowledged earlier last month that all coaches know their vulnerability.
"My first reaction is a disappointment, not shock, because Bud is a fantastic coach," Kerr said. "He recently won a championship and has had a wildly successful coaching career." But this is our line of work. Every year, the expectations for each team are quite high, and only one team can win. It's bad news for the coaching industry."
Phoenix, Milwaukee, Toronto, Detroit, and now Philadelphia NBA are all looking for new coaches for next season, while Houston has hired Udoka to replace Stephen Silas. In-season moves included Brooklyn's Jacque Vaughn, who the Nets recruited in November, and Atlanta's Quin Snyder, who the Hawks hired in February. And two coaches in the conference finals are in their first seasons: the Lakers' Darvin Ham and the Celtics' Joe Mazzulla, who was forced to take over in Boston last autumn after Udoka was suspended for inappropriate contact with a Celtics employee.
Mazzulla will face Spoelstra and the Miami Heat in the Eastern Conference finals, which begin on Wednesday. Spoelstra has played Boston three times in four years for the East title, facing three different coaches — Brad Stevens in the NBA bubble restart in 2020, Udoka last year, and now Mazzulla — and thinks that while coaches change, organizational consistency persists and is critical.
"Joe was within the bubble… "He's been on some really good teams," remarked Spoelstra. "That has an effect." You're probably looking for some organisational stability between the NBA front office and coaching staff more than anything else in this league right now."

At the very least, 13 of the NBA's 30 teams will begin next season with a coach who has only been in charge for one season.
Right now, there are few examples of it in the league. At the very least, 13 of the NBA's 30 teams will begin next season with a coach who has only been in charge for one season.
Rivers stated on Sunday that he intends to remain with the 76ers. "No one is safe in our company." "I understand," Rivers remarked.
He was fired two days later as further confirmation of that.
"It's just the business of basketball," said Miami guard Kyle Lowry. "And one thing about our industry is that it can be a little cutthroat at times."
Spoelstra has long stated that consistency is one of Miami's strengths. Managing general partner Micky Arison, CEO Nick Arison, team president Pat Riley, general manager Andy Elisburg, and others have been with the Heat for decades — and, in Elisburg's case, since the franchise's inception.
Spoelstra has also worked with the organization for over half his life; he started in the video room when he was 24 and is now 52.
"It takes so much time and energy to restart something," stated Spoelstra. "And I believe that's one of the reasons we've been able to reboot so many times, over and over again." We're not establishing a new culture and attempting to teach everyone to have someone else do the same thing two years later. But, especially, having proven veteran players (fired), it's been surprising. It's been very upsetting."
SOURCE – (AP)