Biden Taking Heat Over Student Debt Relief Promise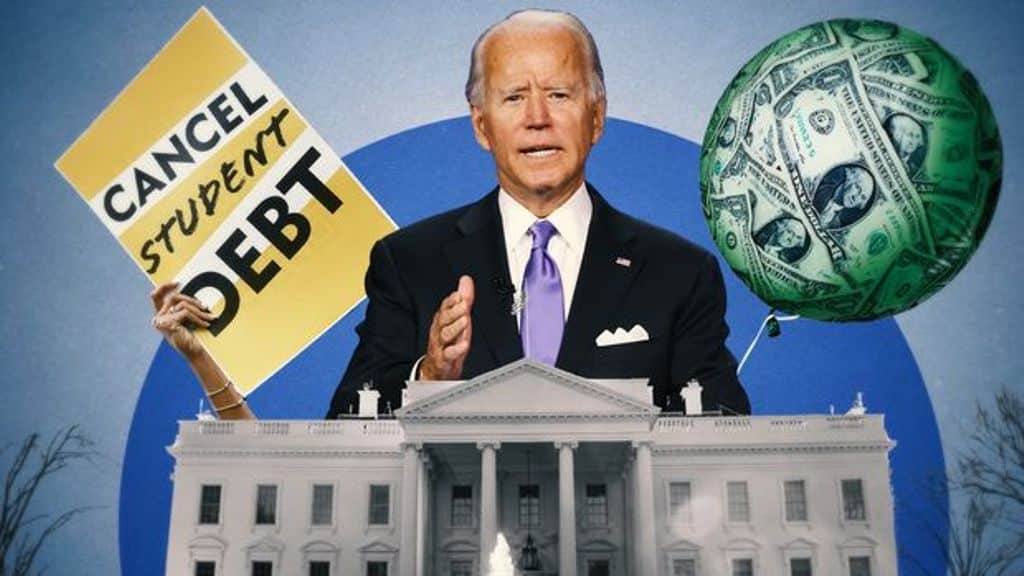 President Joe Biden touted his plan to cancel billions of dollars in student debt in the days and weeks leading up to the midterm elections as he rallied young people to support Democrats.
However, the entire initiative is now in jeopardy due to legal challenges that could mean no one receives a single dollar of debt relief. The saga is quickly becoming a headache for the administration rather than an example of how the president keeps his promises to voters.
Even though two federal courts have blocked the program's implementation, the White House remains confident that it will prevail. However, the setbacks have alarmed supporters, who are concerned that more than 40 million Americans who expected relief will instead be billed for their student debt in January when a pandemic-era payment moratorium is set to expire.
"You can't ask people to start repaying on a debt that shouldn't exist," said Melissa Byrne, a loan cancellation advocate. "We bear no responsibility for this broken system."
The impasse has put the White House in a bind over whether to extend the moratorium if the legal battle drags on, even though Biden has stated that the pandemic, which was the original reason for the payment pause, "is over."

Student Loan Plan Nightmare
According to the Government Accountability Office, the freeze has already cost the federal government more than $100 billion in lost revenue. Critics such as the Committee for a Responsible Federal Budget are concerned that another extension will worsen inflation and increase the risk of a recession.
Republicans oppose the cancellation as an unfair handout to the wealthy, arguing that Americans who did not attend college will also bear the cost. Conservatives have launched a legal barrage against Biden's student loan plan, claiming it exceeds the president's authority.
Meanwhile, borrowers across the country are once again facing uncertainty. Biden's plan would cancel $10,000 in student loan debt for those earning less than $125,000 or households earning less than $250,000. An estimated 20 million people were eligible to have their federal student debt cancelled entirely. Those who receive Pell Grants, typically given to those with lower incomes, would be eligible for an additional $10,000 in debt forgiveness.
Now, it's unclear whether borrowers will be expected to make debt payments when the pause ends, and the political risks are increasing. Support from 43 million borrowers who have been promised at least some debt relief is at stake, including millions of younger Americans, a demographic that helped Democrats won key victories last week.
Anger directed at the Biden administration
Adwoa Asante, eligible for a $20,000 cancellation, stated that her payments would be "destabilizing" if they resumed in January. The Dallas lawyer, 33, owes $163,000 in law school debt, with monthly bills of up to $2,000.
Asante supported Biden but criticized him for reaping the benefits of his plan during the midterm elections while leaving borrowers out in the cold.
"To be honest, there's a lot of anger directed at the Biden administration." "I think they expected legal challenges to the student loan cancellation," she said, calling the court challenges "to be expected."
Cedric Richmond, a former White House official now a senior adviser to the Democratic National Committee, believes Biden will face no political consequences if the program is ultimately blocked.
If the program is eventually halted, "the blowback should go exactly where it deserves, and that's with this rogue Supreme Court," he said.
According to an AP VoteCast poll of more than 94,000 voters, roughly 6 in 10 voters under 45 approve of Biden's handling of student debt. Voters were nearly evenly divided on the issue, with Democrats far more likely to approve than Republicans.

The legality of mass student loan forgiveness
Out of an estimated 43 million eligible people, nearly 26 million have already applied for debt relief. The Education Department ceased accepting new applications on Friday after a federal judge in Texas ruled against the plan.
On November 3, in New Mexico, Biden stated that he was on solid legal ground.
"We're going to court," he explained. We're not going to let them get away with it."
According to advocates, many borrowers will likely default on their student loans without the promised relief. According to a report released Tuesday, nearly half of borrowers polled by the Student Debt Crisis Center believe they cannot afford student debt payments within six months.
"Borrowers do not believe the pandemic is over, nor do they believe the economic consequences are over," said Natalia Abrams, president of the centre. "We must put payments on hold until all legal issues are resolved."
From the start, the legality of mass student debt forgiveness was questioned. After being elected, Biden stated that it would be preferable if the legislation came from Congress. Soon before leaving office, the Trump administration issued a memo concluding that the White House lacks broad cancellation authority.
White House erred in its Legal Reasoning.
Supporters believe Biden's plan will survive, despite predictions that it will be heard by a Supreme Court that has shifted to the right and limited Biden's authority in other cases. They claim that the Higher Education Act, a massive federal statute, already gives the president broad authority to cancel federal student debt.
Some groups believe Biden should use other legal means to fulfill his promise. The Debt Collective, a borrowers' union, urges Biden to cancel debt immediately by invoking the Higher Education Act, the same legal authority first suggested by supporters such as Massachusetts Senator Elizabeth Warren.
"He has an ace up his sleeve that he hasn't used," said Braxton Brewington, a collective spokesperson. "The Biden administration should avoid these lawsuits entirely."
Some legal experts believe Biden should abandon his current strategy and start over. Jed Shugerman, a law professor at New York's Fordham University, believes the White House erred in its legal reasoning.
"The Biden administration has run into predictable trouble," he said. "They should start from scratch."
Even though it would take time, Shugerman believes waiting for a Supreme Court decision is preferable. He claimed that the White House is "sticking to a sure loser" rather than "changing tracks to something that has a better chance."
Sloane Stephens Leads 4 American Women Into 2nd Round Of French Open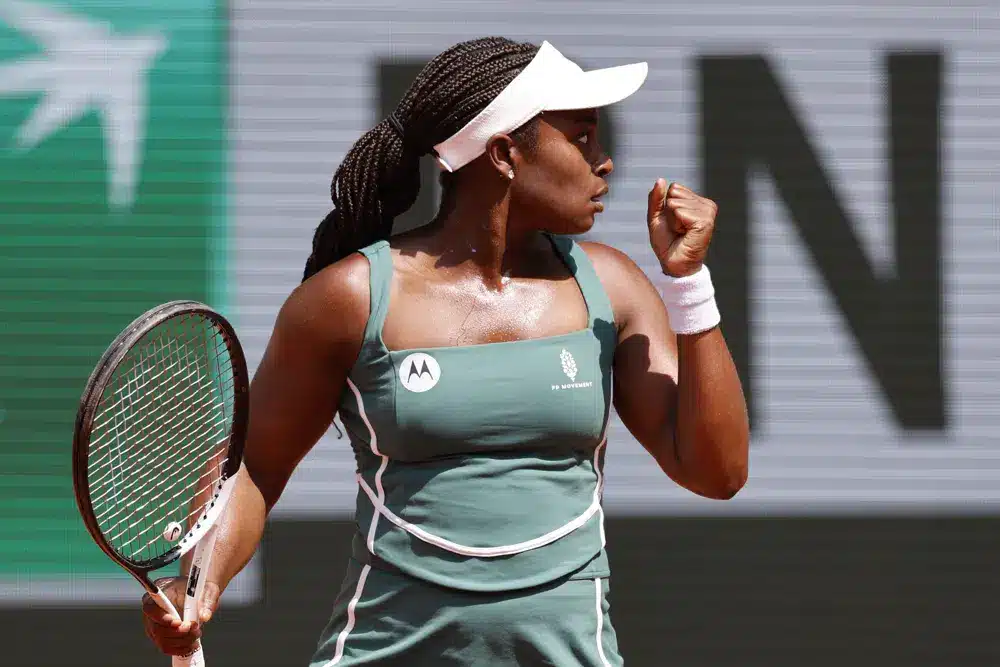 FRANCE — Returning to her "favorite court in the world," Sloane Stephens defeated Karolina Pliskova, a veteran of two Grand Slam finals, 6-0, 6-4 in her first match at the French Open.
While the 2017 U.S. Open was Stephens' sole Grand Slam victory to date, she has enjoyed considerable success on the red clay courts of Paris, including a runner-up finish to Simona Halep in 2018 and two quarterfinal appearances.
"This is my favourite court in the world, so I'm super happy to be back," Stephens told the audience on Court Philippe Chatrier. It's amazing to begin a Slam on the court or surface you enjoy playing on.
After getting off to a 1-4 start on Sunday, with the lone U.S. victory coming in a match involving two players from the country (Jessica Pegula beating Danielle Collins), she helped the American women get off to a 4-0 start during the first few hours of play on Day 2.
As of Monday, Madison Keys' record in the first round of majors stands at 35-5. Keys was the runner-up to Stephens in New York six years ago and reached the semifinals at Roland Garros 2018. Keys defeated Kaia Kanepi 6-1, 3-6, 6-1.

Returning to her "favorite court in the world," Sloane Stephens defeated Karolina Pliskova, a veteran of two Grand Slam finals, 6-0, 6-4 in her first match at the French Open.
Kayla Day, a qualifier from the United States, will play next for Keys after she defeated Kristina Mladenovic, a wild card entrant from France, 7-5, 6-1.
American Bernarda Pera, of Croatian descent, defeated world number two Anett Kontaveit 7-6 (6), 6-2.
The 2021 French Open runner-up Anastasia Pavlyuchenkova defeated the Czech teenager Linda Fruhvirtova in straight sets (6-2, 6-2), while the 22nd-seeded Donna Vekic prevailed over the qualifier Dayana Yastremska (6-2, 7-5).
Stephens trailed Pliskova by a break in the second set but returned to win the final three games to take the match.

Returning to her "favorite court in the world," Sloane Stephens defeated Karolina Pliskova, a veteran of two Grand Slam finals, 6-0, 6-4 in her first match at the French Open.
With a 19-16 advantage in aces and only 10 unforced errors to Pliskova's 31, Stephens defeated the 2016 U.S. Open and 2021 Wimbledon finalist.
This court has a few challenges. Stephens advises extensive practice to learn how and when the wind is blowing on it. Playing with it will help you learn how it works. But the court system could be clearer. But that's part of the wonder of it.
After playing only three matches in larger clay events in Madrid and Rome, Stephens won a local tournament on clay courts in Saint-Malo, France, at the beginning of the month and reached the Morocco Open's semifinals last week.
"Last year, my clay season wasn't great, but I played amazing at Roland Garros last year," Stephens said. "And this year, I really wanted to get matches and play a lot and see where that got me."
SOURCE – (AP)
Nick Cannon Reveals Which Of His 12 Children He Spends The Most Time With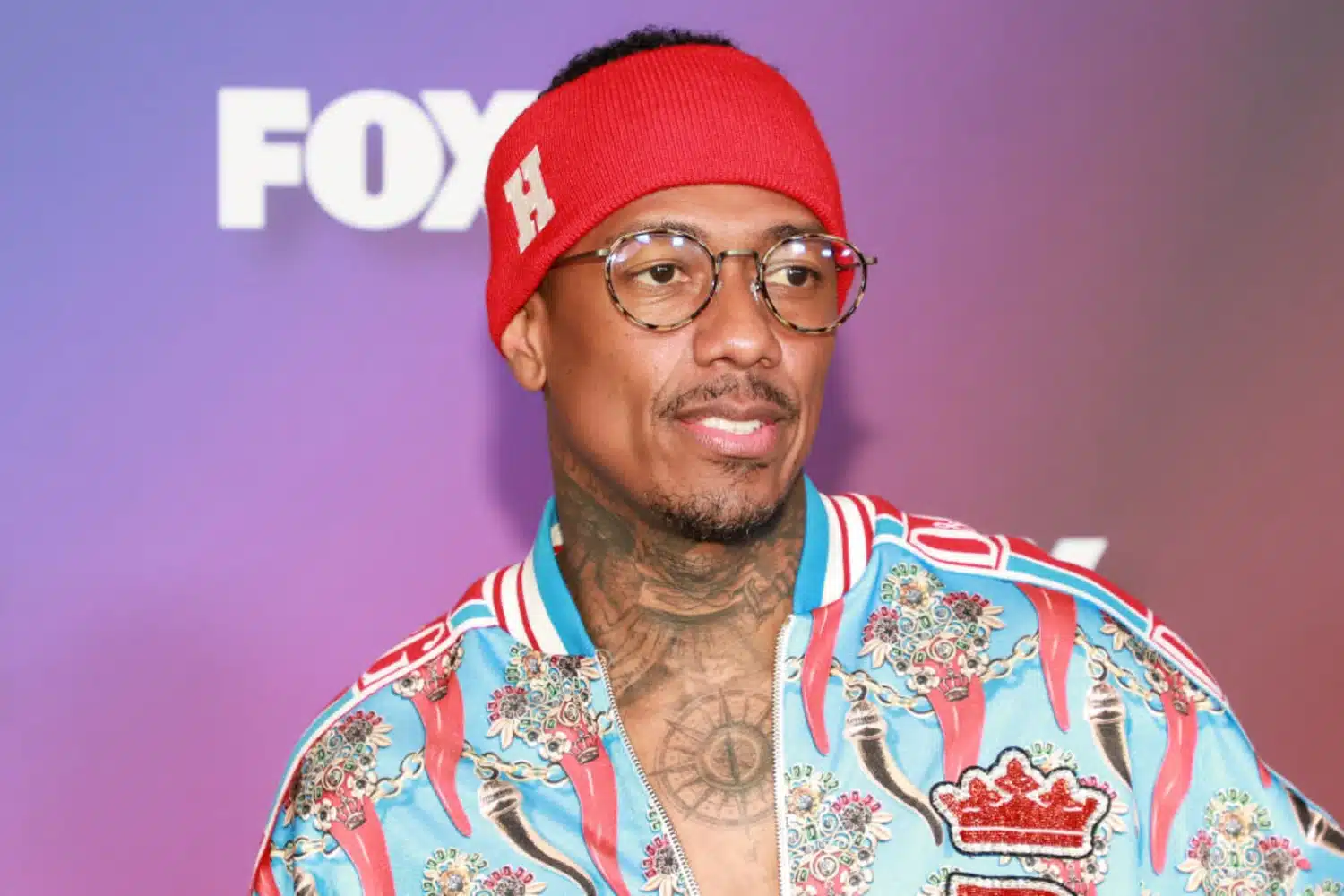 Nick Cannon has provided further details about his life as a father, which has frequently been under question.
The Wild N' Out host, who fathered 12 children with six different women, stated last week that he spends the most time with one of his daughters, 8-month-old Onyx Ice Cole Cannon, whom he shares with LaNisha Cole.
"My beautiful daughter Onyx, that's probably the child I spend the most time with, really," Nick told Jason Lee on the Jason Lee Podcast. "I spend at least three full days a week with her."
"LaNisha and I have a super strong understanding, and our co-parenting operation is solid," the Masked Singer host stated. My daughter is right next to me if you see me on Mondays, Wednesdays, or Fridays."
Nick, 42, also claimed to have a nursery in his office. He also stated that his time with Onyx does not interfere with his time with his other children because "they're in school, they're babies."
"I appreciate that LaNisha respects me enough to allow me to have her, really, as much time as she does," the TV personality continued.

Nick Cannon has provided further details about his life as a father, which has frequently been under question.
During an interview with Howard Stern, Nick made his remarks about her and Onyx more than a month after omitting the youngster from his list of children. On The Jason Lee Show, he admitted he "f–ked up" but also indicated that Howard Stern confused him by interrupting him when naming the children.
In addition to Onyx, Nick has ex-wife Mariah Carey's twins Moroccan Cannon and Monroe Cannon, 11, sons Golden Cannon, 6, and Rise Messiah Cannon, 7 months, and daughter Powerful Queen Cannon, 2, with Brittany Bell, twin sons Zion Mixolydian Cannon and Zillion Heir Cannon, 23 months, and daughter Beautiful Zeppelin Cannon, 6 months, with Abby De La Rosa, son Legendary Love Cannon, 10 months,
Zen Cannon, the model and Nick's first child died of brain cancer at 5 months in 2021.
Nick responded to critics of his lifestyle earlier this month, claiming that he can emotionally and financially support his children.
"I've been villainized," he told the Los Angeles Times in a May 7 interview. "I often hear, 'You can't be present for all those children.' As a result, I've earned the moniker "deadbeat dad."
"It's not about what I do for you or what I say to you; it's about how you feel when I'm with you," he continued. What will resound is if you feel loved when you see your father."
SOURCE – (Enews)
2023: As NBA Coaching Changes Mount, Some Lament The Lack Of Job Security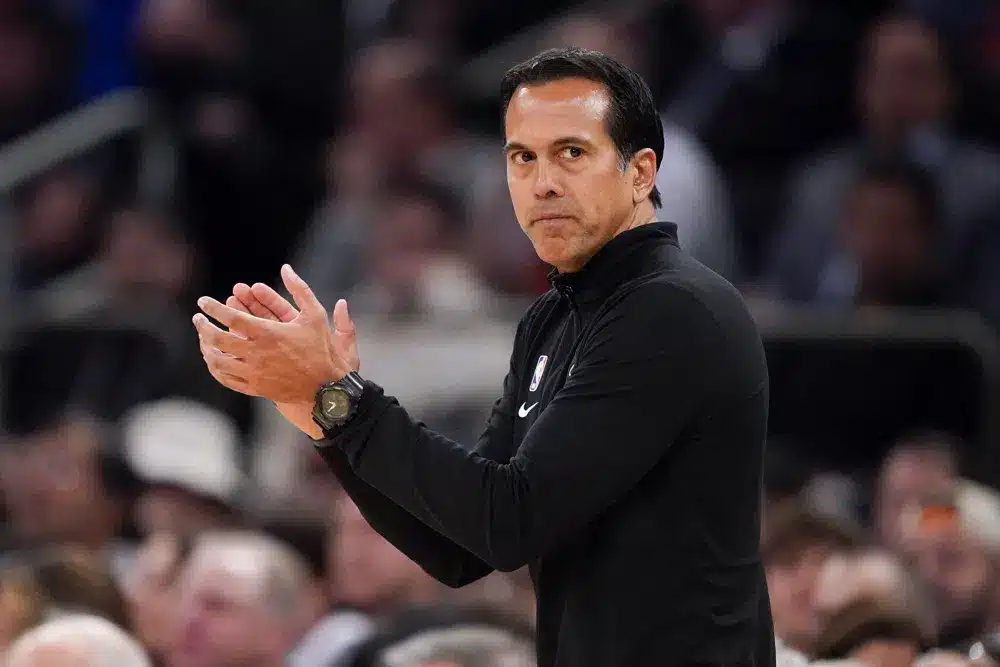 MIAMI, Fla.: Erik Spoelstra of Miami and Michael Malone of Denver are two of the four NBA coaches that have stayed at least eight years with their present team.
They understand how uncommon that is, especially as the league's coaching changes grow.
Championship-winning or title-contending coaches are no longer safe in the NBA. 2019 NBA champion Nick Nurse, 2021 champion Mike Budenholzer, 2021 Western Conference champion and 2022 coach of the year Monty Williams, and most recently, 2008 NBA winner Doc Rivers have all been sacked recently. Toronto dismissed nurse, Budenholzer was fired by Milwaukee, Williams by Phoenix, and Rivers was sacked by Philadelphia.
"It's disturbing," remarked Spoelstra. "Doc is a Hall of Famer." There are only a limited number of teams that can proceed. It's just a tremendously difficult thing to do. Yeah, hearing about some extremely unexpected firings has been a terrible couple of weeks."
It makes no sense to Spoelstra or, most likely, many other coaches. Spoelstra currently has the NBA's second-longest stay with a single team. Gregg Popovich has led the Spurs since 1996, Spoelstra took over the Heat in 2008, Steve Kerr took over in Golden State in 2014, and Malone took over in Denver in 2015.
"I understand this business," said Malone, who will lead Denver into the Western Conference finals against the Los Angeles Lakers beginning Tuesday. "If you look around the coaching landscape, coaching is not the one to get into if you want a secure career." I should have worked as a TV reporter."
Only two of the previous nine coaches to lead a team to the NBA Finals — Kerr and Spoelstra — are still with the team that advanced to the championship round.

Spoelstra currently has the NBA's second-longest stay with a single team.
Three of the last four championship-winning coaches — Budenholzer in 2021, Frank Vogel of the Los Angeles Lakers in 2020, and Nurse in 2019 — have been sacked by their respective teams. Ime Udoka in Boston, Cleveland's David Blatt and later Tyronn Lue, and now Williams by the Suns are no longer with their clubs for various reasons following recent runs to the finals.
Budenholzer's firing shocked Kerr, who acknowledged earlier last month that all coaches know their vulnerability.
"My first reaction is a disappointment, not shock, because Bud is a fantastic coach," Kerr said. "He recently won a championship and has had a wildly successful coaching career." But this is our line of work. Every year, the expectations for each team are quite high, and only one team can win. It's bad news for the coaching industry."
Phoenix, Milwaukee, Toronto, Detroit, and now Philadelphia NBA are all looking for new coaches for next season, while Houston has hired Udoka to replace Stephen Silas. In-season moves included Brooklyn's Jacque Vaughn, who the Nets recruited in November, and Atlanta's Quin Snyder, who the Hawks hired in February. And two coaches in the conference finals are in their first seasons: the Lakers' Darvin Ham and the Celtics' Joe Mazzulla, who was forced to take over in Boston last autumn after Udoka was suspended for inappropriate contact with a Celtics employee.
Mazzulla will face Spoelstra and the Miami Heat in the Eastern Conference finals, which begin on Wednesday. Spoelstra has played Boston three times in four years for the East title, facing three different coaches — Brad Stevens in the NBA bubble restart in 2020, Udoka last year, and now Mazzulla — and thinks that while coaches change, organizational consistency persists and is critical.
"Joe was within the bubble… "He's been on some really good teams," remarked Spoelstra. "That has an effect." You're probably looking for some organisational stability between the NBA front office and coaching staff more than anything else in this league right now."

At the very least, 13 of the NBA's 30 teams will begin next season with a coach who has only been in charge for one season.
Right now, there are few examples of it in the league. At the very least, 13 of the NBA's 30 teams will begin next season with a coach who has only been in charge for one season.
Rivers stated on Sunday that he intends to remain with the 76ers. "No one is safe in our company." "I understand," Rivers remarked.
He was fired two days later as further confirmation of that.
"It's just the business of basketball," said Miami guard Kyle Lowry. "And one thing about our industry is that it can be a little cutthroat at times."
Spoelstra has long stated that consistency is one of Miami's strengths. Managing general partner Micky Arison, CEO Nick Arison, team president Pat Riley, general manager Andy Elisburg, and others have been with the Heat for decades — and, in Elisburg's case, since the franchise's inception.
Spoelstra has also worked with the organization for over half his life; he started in the video room when he was 24 and is now 52.
"It takes so much time and energy to restart something," stated Spoelstra. "And I believe that's one of the reasons we've been able to reboot so many times, over and over again." We're not establishing a new culture and attempting to teach everyone to have someone else do the same thing two years later. But, especially, having proven veteran players (fired), it's been surprising. It's been very upsetting."
SOURCE – (AP)