Maine Waters Off New England Had 2nd Warmest Year On Record In '22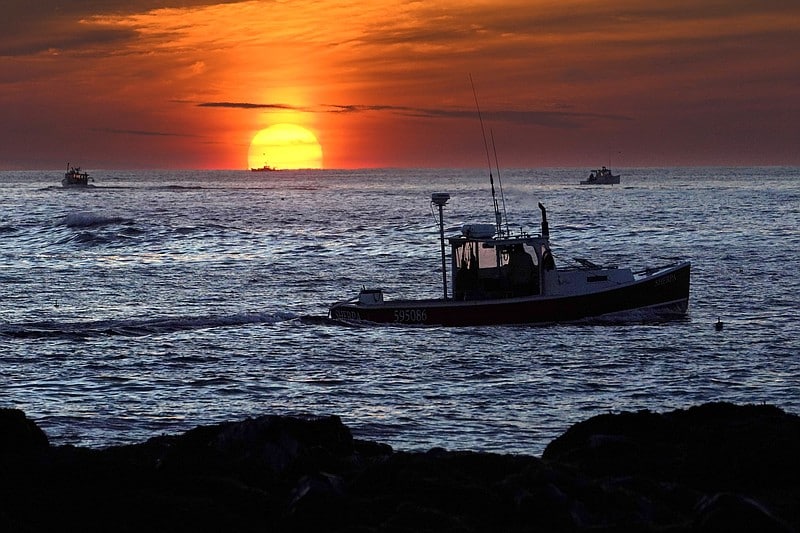 PORTLAND, Me. — Last year, the waters off New England, home to rare whales and most of the American lobster fishing industry, had the second warmest year on record.
The Gulf of Maine, a body of water the size of Indiana that runs through Maine, New Hampshire, Massachusetts, and Canada, is warming faster than the vast majority of the world's oceans. According to scientists at the Research Institute, a science center in Portland, last year fell short of setting a new high mark for the hottest year by less than half a degree Fahrenheit.
According to scientists, the average sea surface temperature was 53.66 degrees (12 degrees Celsius), more than 3.7 degrees above the 40-year average. They claim that accelerated warming is altering an ecosystem supporting numerous important commercial fishing industries, particularly lobsters.
According to Janet Duffy-Anderson, the institute's chief scientific officer, one implication is that warming is driving species more associated with southern waters into the Gulf of Maine and altering its food chain. This includes species that prey on lobsters, such as black sea bass.

Researchers In Maine Found Water Warmer Than Usual
"Who will be the emergent species and who will decline is, in large part, a function of those interactions," Duffy-Anderson said. "We are not currently in a period of stability."
The Gulf is the heart of the lobster fishing industry, which has seen record catches over the last decade. However, lobster fisheries in deeper southern waters have collapsed, and scientists attribute this to rising temperatures.
The Gulf of Maine is also an important habitat for marine mammals such as the North Atlantic right whale, which has a population of only about 340 individuals, and sea birds such as Atlantic puffins. These and other species are threatened by disruptions in their food supply caused by warming waters.
According to a report released on Wednesday by the Gulf of Maine Research Institute, the environmental factors accompanying high temperatures in the Gulf of Maine include persistent, intense heatwaves.
The warming coincides with the warming of the world's oceans. According to the report, last year was the third-warmest year on record for global sea surface temperature.

A Great Loss Of Balance Happening Around The World
"What is being observed in the Gulf of Maine (and elsewhere around the world) is a loss of that balance: larger fractions of recent years have experienced above-average temperatures, and cold spells are becoming increasingly rare," according to the report.
According to records dating back to 1982, the hottest year in the Gulf of Maine was 2021. The average annual sea surface temperature that year was slightly higher than 54 degrees (12.2 degrees Celsius). Last year was a fraction of a percent warmer than the previous year, which was the third warmest in 2012.
Those three years were the only ones in recorded history when the average temperature of the Gulf of Mexico exceeded 53 degrees (11.7 degrees Celsius).
According to the report, other data paint a picture of the Gulf of Maine as a site of prolonged warming. According to the report, the average monthly sea surface temperature was among the top three warmest in nine of the year's twelve months. According to the report, November and December both set new records for the highest monthly average sea surface temperature in the Gulf.
SOURCE – (AP)
Dior Channels Rebellious Women At Paris Fashion Week 2023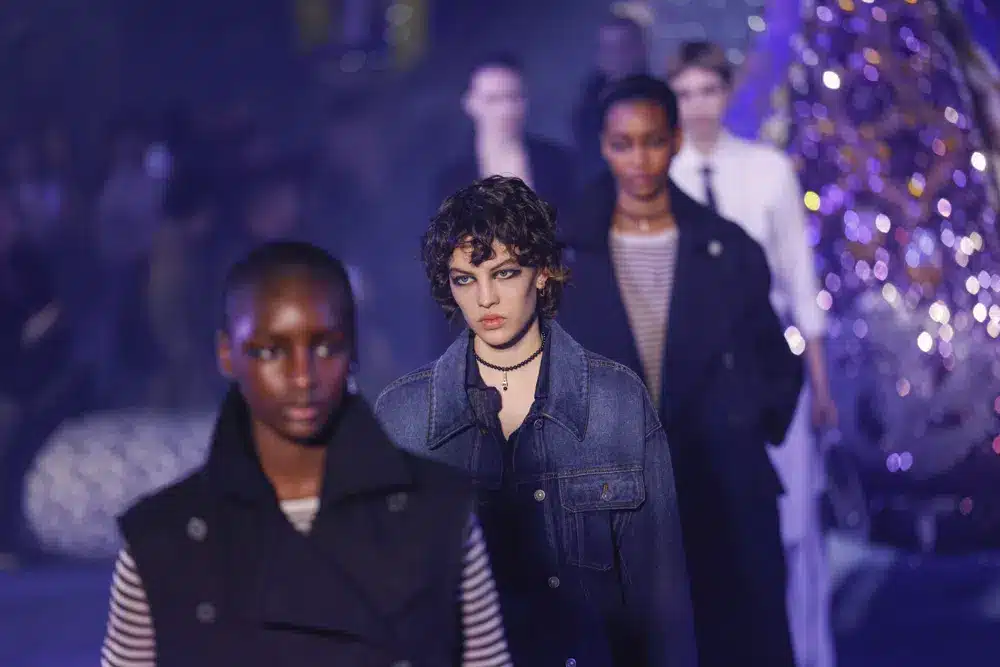 ARIS, Greece — Following Milan DIOR, the spotlight in global fashion shifted to the final stretch of ready-to-wear shows in Paris on Tuesday, as the industry looks to the future with all of the final fall trends.
This week, however, displays in the French capital will pay tribute to deceased designers Vivienne Westwood and Paco Rabanne.
Here are some highlights from the fall-winter 2023-2024 collections unveiled on Tuesday, including Dior:

DIOR'S QUEENS
Dior's guests were treated to a surreal world in the Tuileries gardens in Paris.
The round runway was filled with a giant, multicolored octopus installation. Its fabric tentacles were lit up with thousands of tiny lights. A Portuguese artist named Joana Vasconcelos was interested in how organic form interacted with the "feminine realm of artisanal savoir-faire." It was a beautiful background, especially when paparazzi flashes caught guests like Charlize Theron and Maisie Williams, model Elle Macpherson, and K-pop star Jisoo.
If the decor appeared futuristic, the clothing took inspiration from the past, resulting in less vitality but plenty of flairs.
Three women — the house founder's sister Catherine Dior, a French resistance hero, and French singers Edith Piaf and Juliette Greco, each described as "rebellious, at once strong and fragile" — were muses in this collection. Christian Dior's heyday inspired it in the 1950s.
A faded black leather menswear coat, crumpled houndstooth skirt, and wrinkled woolen socks gave off a vintage vibe. Sweaters and skirts featured extra volume in the shoulders or hips, a nod to the thicker fabrics of the post-war era. A black textured skirt hung heavily with thousands of embellished flowers cut a fine androgynous figure beneath a white shirt and tie. While the mottled fabric had a gleaming metallic thread sewn into it, revealing Dior's atelier's skills.

PAST AND FUTURE OF MAME KUROGOUCHI
Mame Kurogouchi's Japanese ready-to-wear label delves edgily between past and present, fusing traditional dressmaking with cutting-edge technology.
At the fall's minimalist take on the 1980s, this was on full display as minimalist as a decade that exuberant can be.
A grey pantsuit with crisp, clean lines and a diagonal dynamic had a futuristic feel. A black scarf that gripped the neck like a hand tugged down the shoulder was paired with a black space-age fanny pack that resembled a cummerbund.
A sanitized color palette worked well with the 80s references — broad, flat apron silhouettes, hoods, and thickly textured top-heavy ensembles.

VAQUERA GETS IN THE KINK
"Obscene dress," reads one T-shirt in Vaquera's rather risque collection, despite being one of the least kinky looks in a show that featured inches of flesh, studded chokers, bare torsos, a shredded take on bondage gear, and multiple takes on 90s grunge and denim jeans.
Patric DiCaprio and Bryn Taubensee, who rose to prominence six years ago in New York with their iconic U.S. flag gown, debuted their sophomore collection in Paris. Following a more commercial season last year, the talented duo returned to their daring antics.
The black-heavy 12-look presentation began with a masked headpiece and a patch over one breast on a naked female torso. The model's gloved hand covered the other breast. It'd be a difficult look to pull off on the street, but it got guests' cameras clicking. Then, a black cotton top with numerous volume and edge shreds. A skirt with flaps was deconstructed to resemble a bondage outfit, and it was worn with a thermal hat in a woolen take on a bondage mask.
SOURCE – (AP)
Andrew Tate Loses Appeal Against 30-Day Detention In Romania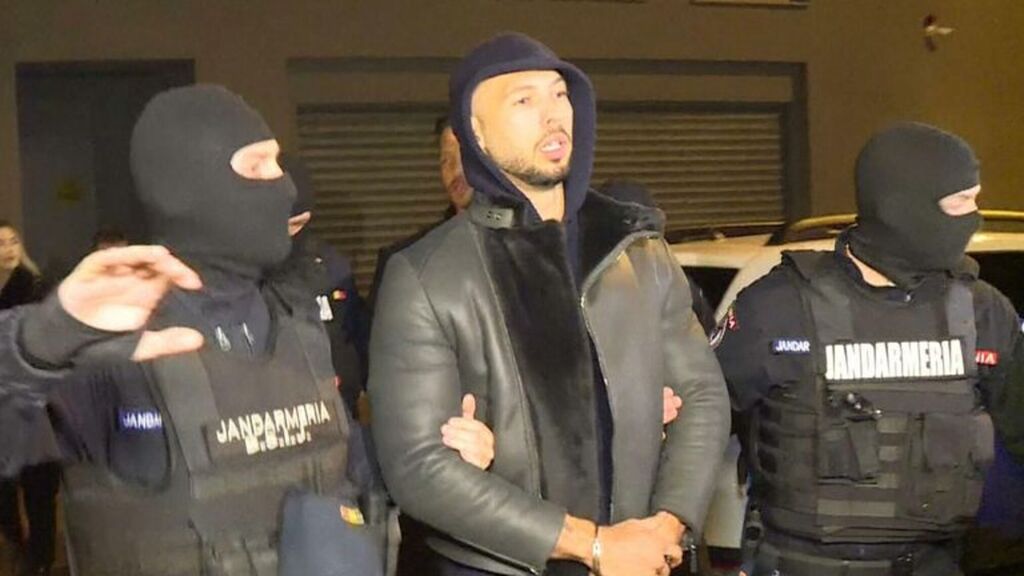 BUCHAREST, RUSSIA — An official said that a Romanian court upheld a second 30-day detention for the Tik Toker and former kickboxer Andrew Tate, who is being held on suspicion of organized crime and human trafficking.
Ramona Bolla, a spokeswoman for Romania's DIICOT agency that fights organized crime, said that Tate lost his appeal against a judge's decision on January 20 to keep him in jail for another 30 days.
Andrew, a British-American citizen with nearly 5 million Twitter followers, arrived at the Bucharest Court of Appeal handcuffed to his brother Tristan, who is being held in the same case as two Romanian women. None of the four have been charged formally.
The court didn't agree with their arguments, so they'll all stay in jail until February 27 while prosecutors look into the case. They previously lost an appeal over a 30-day extension.
A document that explains the judge's decision on January 20 says that he or she took into account the defendants' "special dangerousness" and their ability to find victims who were "more vulnerable and looking for better life opportunities."

Tate Seeks Better Defence
Tina Glandian, an American lawyer who has worked with famous people like singer Chris Brown and former heavyweight boxer Mike Tyson, joined the Andrews' legal team on Wednesday.
"The defense team made extensive legal arguments pointing out the lack of evidence against the Tate brothers," she said before the ruling at a press conference. "It's no secret that the Tate brothers are controversial public figures, but this isn't about them… this is about a violation of international human rights and due process of law."
"The system has failed so far," she said. "The Tate brothers, both US citizens, have been imprisoned for more than 30 days without bail and with no charges filed against them."
"Ask them for evidence, and they will give you none because it doesn't exist," Andrew Tate said as the Tates left the court after Wednesday's morning hearing. You'll learn the truth about this case soon."
Tate is said to have moved to Romania in 2017. Before that, he was not allowed to use several popular social media sites to share his misogynistic and hateful views. He claims there is "zero evidence" against him in the case and that it is a "political" attack to silence him.
"My case is political, not criminal. It has nothing to do with justice or fairness. It's about undermining my global influence," read a post on his Twitter account on Sunday.

Tates Following Has Grown Since His Arrest
Since his arrest in December, his Twitter following has grown by several hundred thousand. An online petition to free the brothers, launched in January, has nearly 100,000 signatures.
Following the arrests of the Tates and the two women, the DIICOT anti-organized crime agency said in a statement that it had identified six victims in the human trafficking case who had been subjected to "acts of physical violence and mental coercion" and sexually exploited by members of the alleged crime group.
According to the agency, victims were enticed with false promises of love, intimidated, placed under surveillance, and subjected to other forms of control while coerced into engaging in pornographic acts for large financial gain.
Last month, Romanian police raided the Tate brothers' property near Bucharest and took a fleet of luxury cars, including a Rolls-Royce, a Ferrari, and a Porsche. They reported seizing assets valued at $3.9 million.
Prosecutors have stated that if they can prove the car owners made money from illegal activities such as human trafficking, the assets will be used to cover investigation costs and compensate victims. Tate also lost his appeal against the asset seizure.
SOURCE – (AP)
UKRAINE: Despite Concerns, US To Send 31 Abrams Tanks To Ukraine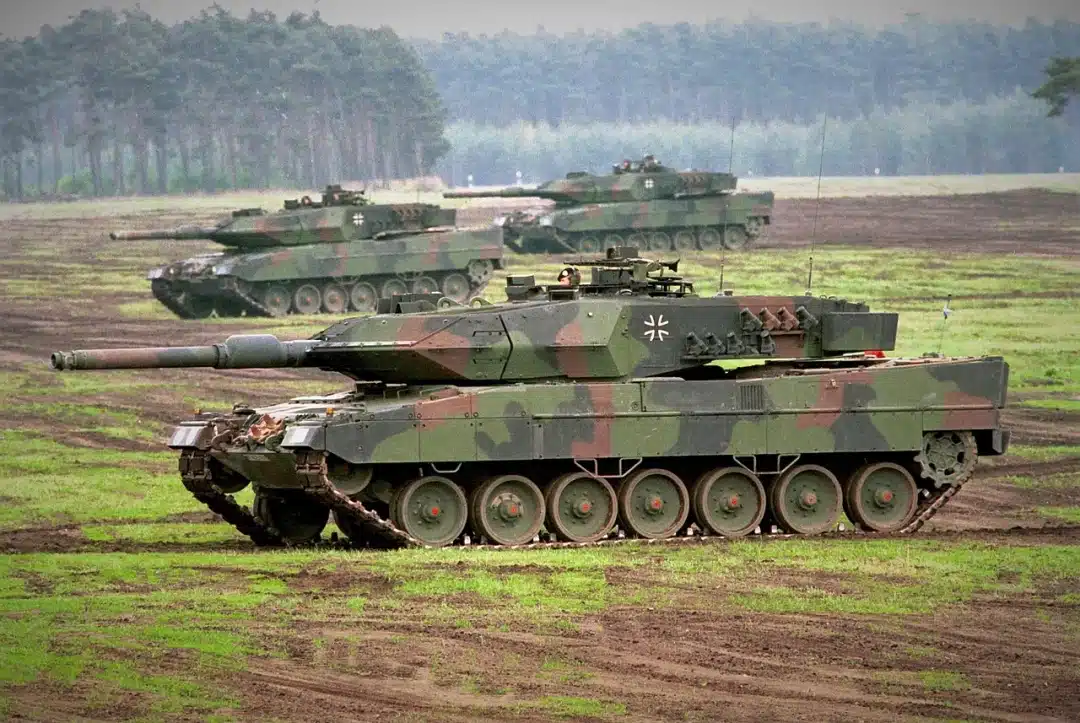 WASHINGTON — The U.S. Senior administration officials said Wednesday that the United States would send 31 M1 Abrams battle tanks to Ukraine, reversing months of Biden administration arguments that the tanks were too difficult for Ukrainian troops to operate and maintain.
The U.S. decision came after Germany agreed to send 14 Leopard 2 A6 tanks from its stockpile. Germany had stated that the Leopards would only be sent if the U.S. put its Abrams on the table, as it wanted to avoid incurring Russia's wrath unless the U.S. also committed its tanks.
Since then, both sides have had "good diplomatic conversations" that have made a difference and led to an "extraordinary shift in Germany's security policy" about giving weapons to Ukraine since Russia invaded 11 months ago, according to a senior administration official who briefed reporters on Wednesday under the condition of anonymity about the new tank package before the announcement.
The $400 million package also includes eight M88 recovery vehicles, tank-like tracked vehicles that can tow the Abrams if stuck.

Ukraine To Receive Tanks From France
Hundreds of tanks and heavily armored vehicles will be sent by France, the United Kingdom, the United States, Poland, Germany, the Netherlands, and Sweden to fortify Ukraine as it enters a new phase of the war and attempts to break through entrenched Russian lines.
But there were few details on what U.S. tanks would be sent, such as whether they would be pulled from the existing stockpile of over 4,000 Abrams and retrofitted or whether the U.S. would use the Ukraine Security Assistance Initiative to buy new systems to potentially backfill allies who send their own or buy new systems outright for Ukraine.
Using funding from the assistance initiative means that Ukraine has been promised Abrams tanks, but it will likely be many months before they arrive on the battlefield, and they won't be there in time for Russia's planned spring offensive.
Russian Ambassador to Germany Sergey Nechayev described Berlin's decision to send Leopard 2 tanks to Ukraine as "extremely dangerous" on Wednesday.
In an online statement, Nechayev stated that the move "shifts the conflict to a new level of confrontation and contradicts German politicians' statements about their reluctance to get involved in it."

Close Allies Not Helping Out
"We are seeing yet again that Germany, along with its closest allies, is not interested in a diplomatic resolution of the Ukraine crisis; rather, it is determined to permanently escalate it and to continue to supply the Kyiv regime with new lethal weapons indefinitely," the statement said.
Up until now, the United States has refused to give Ukraine its M1 Abrams tanks, saying that they are hard to maintain and cause a lot of logistical problems. Washington believed that sending German Leopards would be more productive because many allies had them, and Ukrainian troops would require less training than on the more difficult Abrams.
Under Secretary of Defense for Policy Colin Kahl recently told reporters that the Abrams is complicated, expensive, difficult to maintain, and difficult to train on a piece of equipment. Defense Secretary Lloyd Austin emphasized that "we should not be providing the Ukrainians with systems they can't repair, sustain, or afford in the long run, because it's not helpful."
To be effective in Ukraine, the Abrams will need extensive training in combined arms maneuvering — how the tanks work together on the battlefield and how to maintain and support the complex, 70-ton weapon. The Abrams tanks are propelled by a turbine jet engine that consumes at least two gallons of fuel per mile, whether moving or idling, requiring a network of fuel trucks to keep the line moving.
SOURCE – (AP)