Wall Street May Get Much Worse In 2023 Before Getting Better
NEW YORK — The worst may yet befall the stock market.
Since mid-October, Wall Street has recovered some of the index's sharp losses from the year's first ten months. It closed Monday just under 4,000, up more than 10% from its low two months earlier.
Many analysts predict that stocks will end 2023 in this range, if not slightly higher, after the Federal Reserve finally stops raising interest rates to bring high inflation under control. But, before we get there, much of Wall Street expects stock prices to fall sharply in the interim.

Morgan Stanley To Drop Lower Than The Previous Record
Consider Morgan Stanley's prediction that the S& P 500 will fall to between 3,000 and 3,300 during the first three months of the new year. That means it could lose up to a quarter of its value from Monday's close. The low end of that range would also be 37.5% lower than the early 2022 record.
The bank's pessimism stems from its strategists forecasting much lower corporate profits than the rest of Wall Street. Businesses are feeling revenue pressure as manufacturing, and other sectors of the economy weaken. At the same time, Morgan Stanley predicts that profits will be squeezed on the other end due to higher wage costs as businesses increase their workforce.
Wall Street Profits Set To Fall To Record Levels
Corporate profits are expected to fall below record levels beginning in 2022, allowing companies to return more cash to investors through dividends and stock buybacks.
To be sure, strategists led by Michael Wilson believe the S& P 500 could end 2023 at 3,900, not far from its current level.
Goldman Sachs strategists predict a trough in the year's first half, possibly at 3,600. That represents a nearly 10% drop from Monday's close, based on Goldman Sachs' belief that the economy can avoid a recession.
If the economy does contract, as many Wall Street analysts predict, Goldman strategists led by David Kostin believe the S&P 500 could fall to 3,100.
Strategists at Deutsche Bank predict that the United States will enter a recession in the second half of 2023. The S&P 500 could fall to 3,250 before bottoming out about halfway through the recession, which the German bank expects to last until the end of the year. The S&P 500 could then end the year as high as 4,500 if stocks follow their usual playbook during recessions, according to strategists led by Binky Chadha.
SOURCE – (AP)
WALL STREET: Asian Shares Edge Higher, Tracking Wall Street Rally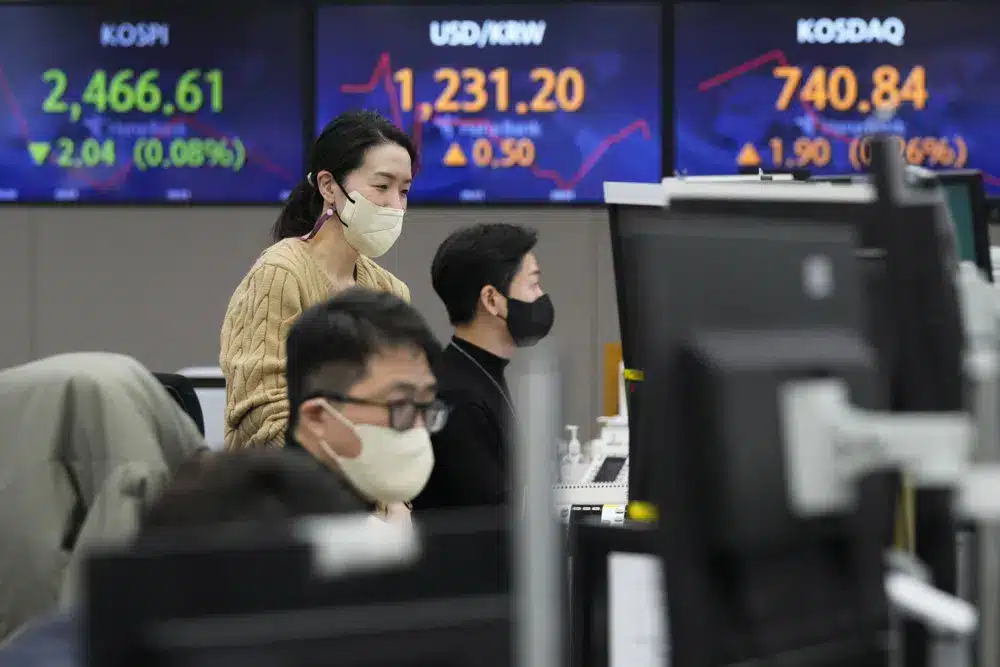 TOKYO, Japan — Asian stocks rose Friday, tracking a Wall Street rally fueled by reports that the economy and corporate profits may be doing better than expected.
In Tokyo, the core consumer price index rose 4.3%, slightly higher than the 4.2% expected and higher than the Bank of Japan's 2% target.
"This seeks to challenge the central bank's eventual policy shift, though the government's energy subsidies next month could be used to delay any changes for the time being," said Yeap Jun Rong, a market analyst at I.G., in a commentary.
The Nikkei 225 index in Japan rose nearly 0.1% in morning trading to 27,380.11. The S&P/ASX 200 index in Australia rose 0.5% to 7,503.50. The Kospi in South Korea rose 1.2% to 2,497.05. The Hang Seng Index in Hong Kong was unchanged at 22,571.58.
Shanghai's markets remained closed for the Lunar New Year holiday.
Wall Street stocks went up to their highest level in almost eight weeks after the Commerce Department said that the U.S. economy grew at a 2.9% annual rate in the fourth quarter. This suggests that the economy will still be growing at the end of 2022, even though interest rates are going up and many people are worried about a recession. This exceeded economists' expectations of a 2.3% increase.

Wall Street Getting A lot Of Earnings And Economic Reports
The S&P 500 rose 1.1% to 4,060.43, its highest finish since December 2. The Dow rose 0.6% to 33,949.41, while the Nasdaq rose 1.8% to 11,512.41.
Wall Street is getting a lot of earnings and economic reports, which could lead to more volatility. Markets have recently swung up and down as fears of a severe recession and a drop in profits compete with hopes that the economy can manage a soft landing and that the Federal Reserve will lower interest rates.
Other information On Thursday, factory orders for durable goods went up more than expected in December, and less people than expected applied for unemployment benefits the week before.
Strong data show that the economy can handle the Fed's avalanche of rate hikes last year and at least one more expected next week without crashing into a deep recession. Higher interest rates are designed to slow the economy by making it more expensive to borrow money to buy a house, a car, or anything else on credit. They also cause stock and other investment prices to fall.
But if the economy is stronger than expected, especially in the job market, the Fed may have to keep rates high for longer to make sure inflation is really crushed. The Fed has repeatedly stated that it intends to do so until the end of the year, though many investors do not appear to believe it.

The Report Shows Good News
The 10-year Treasury yield, which helps set rates for mortgages and other important loans for the economy, increased to 3.49% from 3.45% late Wednesday. The two-year yield, which tends to track expectations for Fed interest rate actions more closely, increased to 4.18% from 4.13%.
At first glance, Thursday's economic report seemed to be good news. However, it also showed some worrying signs of a slowdown. According to Megan Horneman, chief investment officer at Verdence Capital Advisors, it is also backward-looking.
"The first half of this year is going to be tough," she predicted, citing recent weakness in the economy's manufacturing and services sectors.
On the earnings front, news from some big tech companies gave people more reason to be optimistic a day after Microsoft's forecasts made people worry.
Tesla went up 11% after the company that makes electric cars said that its profit for the last quarter was higher than expected. Seagate Technology rose 10.9% after reporting higher-than-expected revenue and earnings.
Steelmaker Nucor was also among the top-performing stocks in the S&P 500, rising 8.4% after exceeding profit and revenue forecasts by Wall Street.

Sherwin Williams Was On The Wrong Side Of Wall Street
Chevron rose 4.9% after raising its dividend and approving a stock repurchase program worth up to $75 billion. Both moves put money directly into shareholders' pockets, which drew criticism from Washington. Instead, according to White House spokesman Abdullah Hasan, oil companies should "use their record profits to increase supply."
Sherwin Williams was on the wrong side of Wall Street. It fell 8.9% after reporting lower-than-expected revenue for the most recent quarter. It also provided a profit forecast for the coming year that fell far short of analysts' expectations, as a weak housing market weighs on demand for paint.
Despite reporting profit and revenue that met Wall Street's expectations, IBM fell 4.5%. Analysts pointed to some lower-than-expected numbers in terms of cash generation.
Southwest Airlines lost more money than expected in its most recent quarter, which was hurt by the fact that more than 16,700 flights had to be canceled last month. It also stated that it expects to lose money in the first three months of 2023.
On the New York Mercantile Exchange, benchmark U.S. crude rose 21 cents to $81.22 per barrel in electronic trading. On Thursday, it fell 14 cents to $81.01.
Brent crude, the international benchmark, rose 17 cents to $87.64 per barrel in London.
The U.S. dollar fell to 129.83 Japanese yen from 130.23 yen in currency trading. The euro is now worth $1.0877, down from $1.0890.
SOURCE – (AP)
Pressure Mounts on the US Fed as Inflation Worsens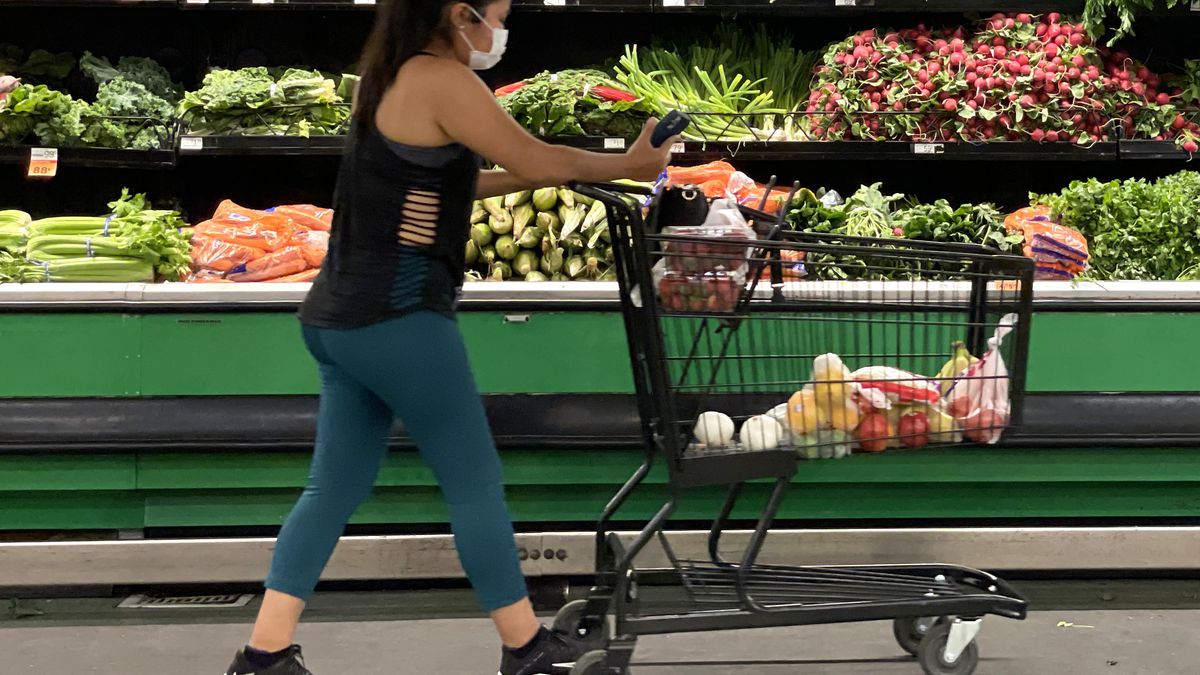 The cost of housing and other essentials increased pressure on American households in September, erasing wage gains and ensuring the Federal Reserve will continue to rapidly raise interest rates.
Excluding volatile food and energy expenses, consumer prices rose 6.6% in September compared to the same month a year prior – the quickest rate in four decades. And on a month-to-month basis, these "core" prices rose 0.6% for the second consecutive month, confounding forecasts for a decrease and indicating that the Fed's many rate hikes have yet to alleviate inflationary pressures. Typically, core prices provide a more accurate depiction of underlying price patterns.
The government announced Thursday in its monthly inflation report that prices grew 8.2% year-over-year in September, a modest decrease from August.
However, prices grew 0.4% from August to September, which was greater than the increase from July to August. Although lower gasoline contributed to a decline in the broadest measure of inflation, higher prices for food, medical care, and housing indicate widespread price pressures throughout the economy.
"We still see no evidence that inflation is decelerating," Deutsche Bank analyst Matthew Luzzetti said. To say nothing of the clear and persuasive evidence that the Fed is seeking.
In early trade, the stock market suffered a severe decline but recovered and went higher. The Dow Jones increased 560 points, or 1.9%, by midday.
The report released on Thursday represents the penultimate U.S. inflation figures before the midterm elections on November 8, following a campaign season in which rising prices increased public worry, with many Republicans blaming President Joe Biden and congressional Democrats.
In a Thursday speech in Los Angeles, President Biden acknowledged the pain inflation is causing many people, but he also said that the most recent figures indicate "some progress."
"The cost of living is squeezing Americans," the president stated. "It's been the case for years, so people don't need a report to inform them they're being squeezed. This daily struggle was crucial to my decision to run for president."
Despite significant price increases, September statistics revealed that prices fell last month for various tangible products, including clothing, used automobiles, furniture, and appliances.
A crucial factor is that supply chain bottlenecks have alleviated, and many large retailers, including Wal-Mart and Target, have discounted some items to clear out surplus inventory.
However, the price declines were not as dramatic as many economists had predicted, and they were more than offset by substantial price rises in services, such as health care, vehicle repair, and housing.
In September, housing costs increased by 0.8%, the highest increase in 32 years. The Fed's rate hikes have resulted in significantly higher mortgage rates — an average of about 7% for a 30-year fixed mortgage — which has prompted a decline in home sales and prices.
However, it will take time for falling home prices to influence the government's measure.
The cost of health insurance increased by 2.1% between August and September and more than 28% over the last year — a record annual increase. In September, the cost of auto repairs increased by 15% year-over-year, also a record high. Many automobile component supply lines are still interrupted.
According to Eric Winograd, U.S. economist at AB, the fundamental driver of inflation has shifted from goods prices to services. "Since wages primarily impact services inflation, taming inflation will need a significant contraction of the labour market."
Inflation in the services sector is also being driven by consistent consumer demand. Even if there are indications that lower-income Americans are reducing their spending, higher-income households continue to be prepared to spend on travel, restaurant meals, and services such as veterinary care.
This week, for example, Delta and American Airlines reported good revenue increases due to rising traveller demand. From August to September, airfare increased by 0.8%.
Service companies are rapidly increasing wages to recruit the labour force they require. These increased labour costs are frequently passed on to customers through higher prices.
Inflation has increased grocery bills, rentals, and utility rates, among other family expenses, generating challenges for many and spreading pessimism about the economy despite good job growth and record-low unemployment.
Kasondra Mathews is one of those experiencing pressure. Near Denver, 50-year-old Mathews has been working overtime as a nursing assistant to pay her rent and grocery expenditures. Over the past several years, her rent has climbed approximately 5% annually, reducing her budget for other purchases.
Mathews has found means for her daughter, a senior in high school who will soon be attending college, to apply to her selected institutions for free. She is also avoiding college visits to save money on transportation.
"We were unable to do college trips due to financial constraints," she explained. "I could not do the things you may like to do for your elderly loved one."
According to a recent study by The Associated Press-NORC Center for Public Affairs Research, Americans' financial outlook is becoming increasingly negative as the midterm elections approach. Up from 37% in March, almost 46% of Americans now regard their personal financial status as poor. This significant decline contrasts with the generally stable results throughout the pandemic.
The September inflation data ensure that the Fed will raise its main short-term rate by three-quarters of a percentage point for the fourth consecutive time when it meets in early November.
Since March, the Fed has already increased its benchmark short-term rate by three percentage points, the quickest pace of increases since the early 1980s. These hikes aim to increase the cost of borrowing for mortgages, auto loans, and business loans and reduce inflation by slowing the economy.
At their last meeting in late September, Fed officials estimated they would raise their benchmark rate to approximately 4.5% by the beginning of the next year, which would be the highest level in 14 years.
To combat what appears to be an entrenched bout of inflation, several economists believe that the Fed will need to raise interest rates even further. There is a risk that such increased borrowing costs might cause a recession.
According to the minutes of the Fed's most recent meeting, policymakers stated at the September meeting that inflation showed "no sign so far of abating."
The price of used automobiles decreased by 1.1% from August to September, the third consecutive dip. However, dealers have avoided passing on these losses to consumers, significantly increasing profits.
The vice chair of the Federal Reserve, Lael Brainard, remarked this week that merchants have likewise reported excellent profit margins, having hiked prices more than salaries.
"The recovery of retail (profit) margins to more typical levels could significantly aid in reducing inflationary pressures in certain consumer items," said Brainard.
Several major retailers have begun to reduce prices. However, it is unclear what impact this will have on inflation in the coming months. Walmart has announced that it will give hefty discounts on toys, home goods, electronics, and beauty products. This month, Target began promoting Christmas sales.
However, after increasing rates over the past 18 months, businesses are reluctant to change direction. Economists predict that prices for many goods will likely remain high until consumer demand slows more and forces more businesses to compete on price.
According to Eric Swanson, a former Fed economist who is now a professor at the University of California, Irvine, "there is a saying in economics that prices rise like rockets and fall like feathers." You're beginning to see this somewhat.
The Associated Press
The Secret to Your Company's Financial Health is Very Important
Find people with high expectations and a low tolerance for excuses. They'll have higher expectations for you than you have for yourself. Don't flatter yourself that this has much to do with you – this is just who they are. Don't look for "nice" in these relationships. Look for trust.
Be fearless in front of them with your ideas as many times as they'll let you
Beauty Dust is very pretty to look at and it tastes like nothing, which is great. Here is what it's supposed to do: This ancient empiric formula expands beauty through alchemizing elements legendary for their youth preserving, fortifying and tonifying qualities. Glowing supple skin, lustrous shiny hair and twinkling bright eyes are holistically bestowed from the inside out.
I actually first read this as alkalizing meaning effecting pH level, and I was like, OK I guess I understand how that could positively effect your body, but alchemizing means turning elements to gold basically through magic. That lead me to research each ingredient because I know alchemy is not actually happening in my body when I eat this, since alchemy is not real.
In addition to loving beauty and taking care of myself, I also love opening people minds to other paths of self-care, and good marketing and I can honestly say that I use and personally love this product but I'm not sure for which reason.
I think it made me think about it more and really consider why I was choosing to add this to my routine
It poses an interesting question for me on the wellness category – will people be willing to buy in, or does eating something change your "sniff" test on the believe-ability of the claims?
The color is very long lasting and they have an interesting texture that's like a powder and a cream but neither really. They're made with pure pigments and oils and will never melt with the warmth of your skin because they don't contain any waxes. You can literally use them for anything – obviously as eye shadow and liner, but the light shade is a great highlighter, and the red can be used for lip or blush with a little balm.
There's also a little pouch to store the rollerballs, and a card with different inspirations as to how to blend them on your skin – but it's foolproof. You can't make a mess if you mix them all up.
Badger Beard Balm is perfect for the bearded gents in your life (is this everyone? beards are so trending). It is filled with good things such as vitamins A, D, E & F to keep his beard healthy, thicker and cleaner, as well as helping to relieve itchiness as it soothes the skin under the hair.
If you're looking to get rid of this beard, maybe this is not the right angle for your gifting
Further, no one wants to cuddle with a dirty beard – who knows, maybe you already are and are dying for a nice way to help this problem of yours his. Beard Wash made by Beard Buddy. Started in 2011 in California, all Beard Buddy products are hand crafted by beards for beards. Both founders have large beards of their own to tame, and wanted to do this with organic products – kudos, and cuddles, to them.