Taylor Swift Fans Want Ticketmaster Cancelled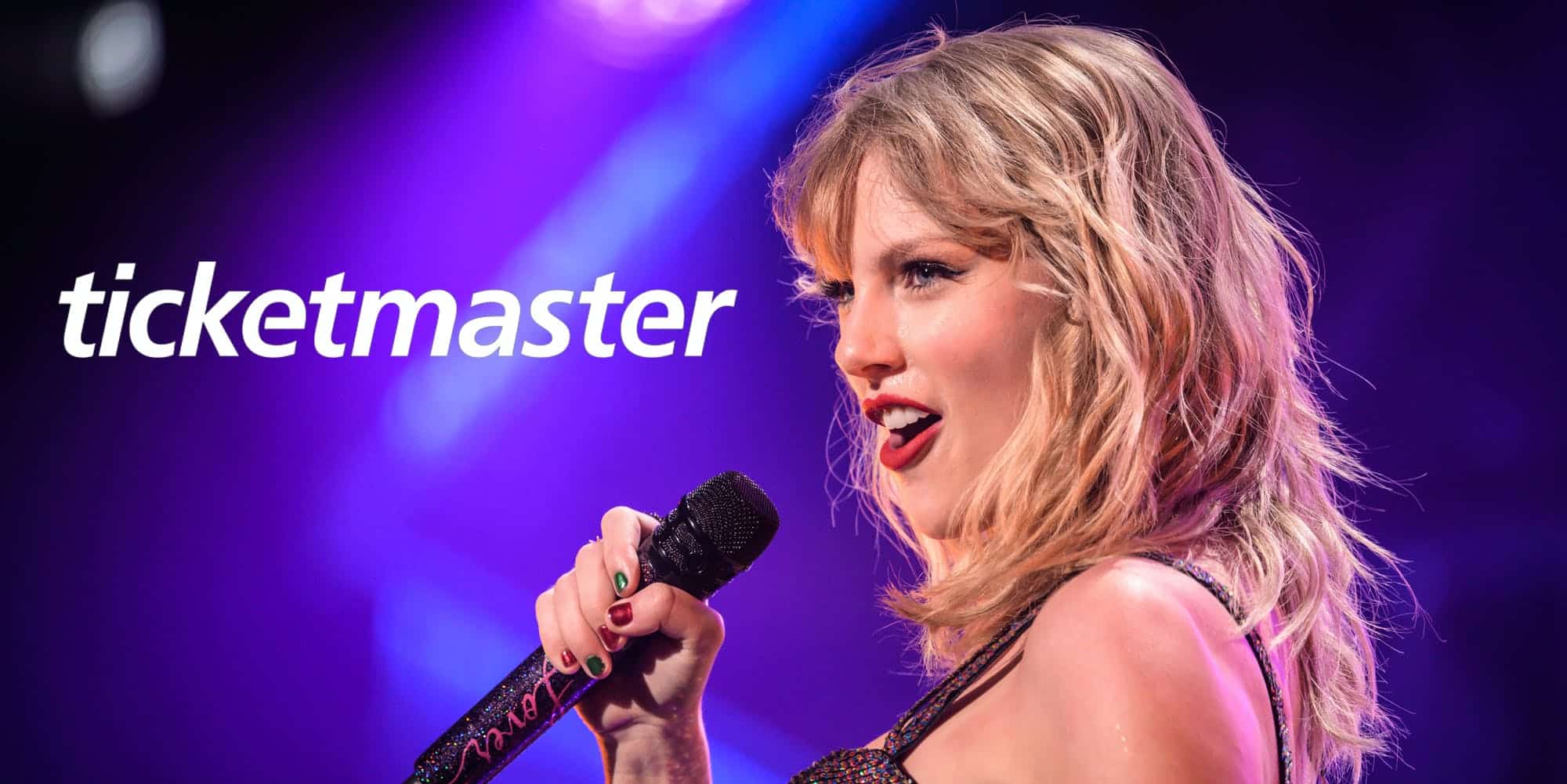 Taylor Swift's next US concert tour tickets have yet to go on sale to the general public, but many fans hoping to see her in concert have already been disappointed by Ticketmaster.
Nancy Abulmagd, a mother of an 11-year-old daughter and friends, spent hours in a virtual line with thousands of other people, hoping to secure seats for her daughter and friends, only to have the website crash repeatedly and eventually turn her away empty-handed.
And Nancy was one of the lucky ones; she had won a lottery that allowed "verified fans" to participate in a four-day pre-sale before the general public.
"I got so close three or four times, and the website broke; it was agony," the 41-year-old New Jersey resident says. "It was a deflating experience that messed with your emotions and sucked up your entire day."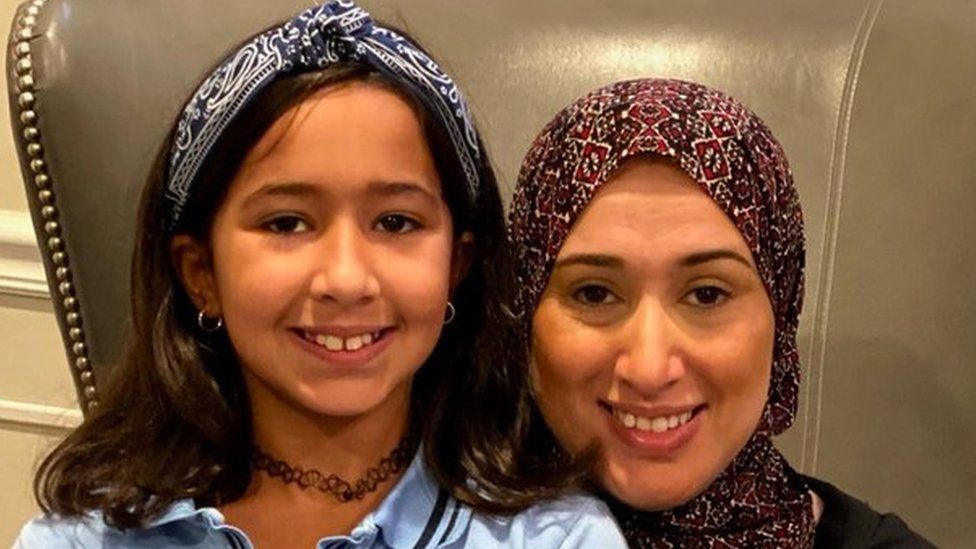 Nancy hoped to obtain Taylor Swift tickets for her 11-year-old daughter and friends.
The company selling the tickets, Ticketmaster, has stated that the issues are due to "historically unprecedented demand" for the singer, who first appeared on the scene in 2006 and has provided a steady stream of hits exploring fame and romantic entanglements.
Midnights, her most recent album, has topped the charts worldwide.
Millions of Swifties, as her fans are known, competed for tickets to her 52-city US tour during the pre-sale, with hundreds of thousands securing seats, according to Ticketmaster.
The company claims that the pre-sale system will help prevent ticket touts – known as scalpers in the United States – and bots from scooping up seats.
However, the process flaws have reignited rage against the company, which has long been accused of abusing its clout in the industry.
In an episode earlier this year, comedian John Oliver called it "one of the most hated companies on the planet," blaming it for the exorbitant prices, fees, and scarcity of tickets for concerts and other events.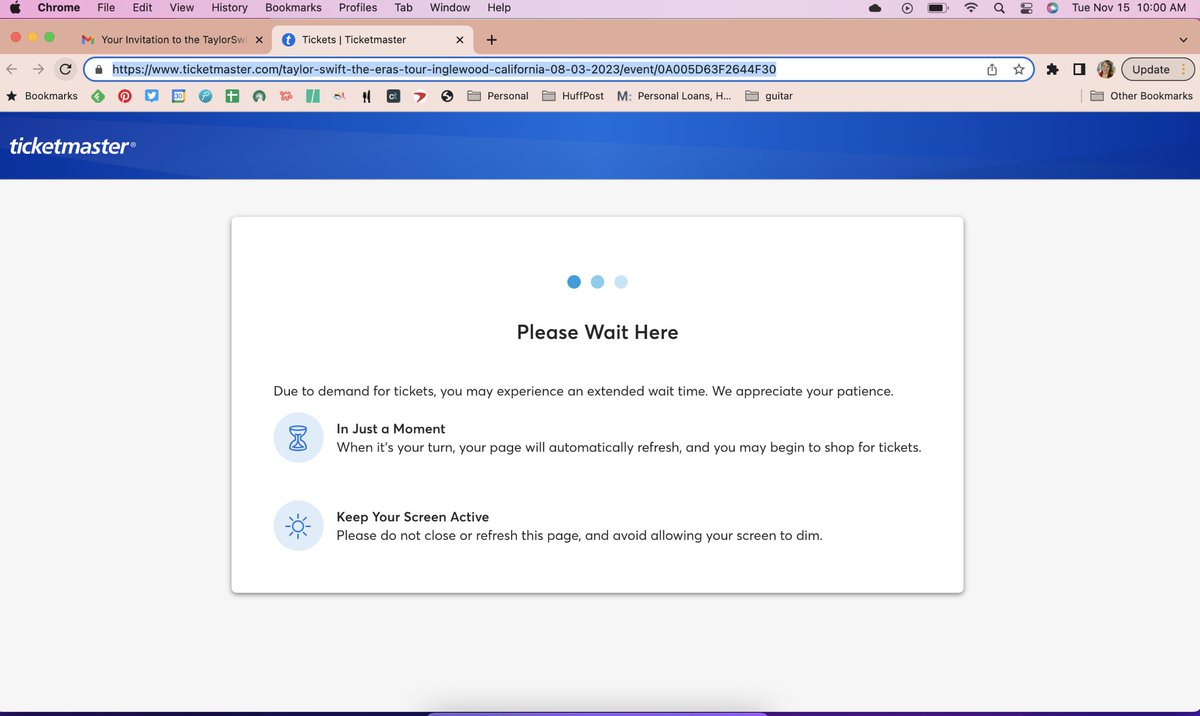 "You're kind of at their mercy," Nancy said, adding that Ticketmaster could have better organized the sales given the anticipated high demand for Taylor Swift tickets.
In the 1990s, Pearl Jam expressed concerns about Ticketmaster's role as the primary ticket seller.
Since then, the company's power has only grown. It purchased Live Nation in 2010, which operates many of the country's event venues and has an artist management division.
Democratic lawmakers in the United States, who have called for the merger to be reversed, chimed in again amid the chaos of Taylor Swift's pre-sale.
"Ticketmaster's excessive wait times and fees are completely unacceptable, as seen with today's @taylorswift13 tickets, and are a symptom of a larger problem," wrote House Competition and Antitrust Committee Chairman David Cicilline. "It's no secret that Live Nation-Ticketmaster is a monopoly unchecked."
"Daily reminder that Ticketmaster is a monopoly, that its merger with LiveNation should never have been approved, and that they need to be reigned in," wrote left-wing congresswoman Alexandria Ocasio-Cortez. "Split them up."
On Wednesday, the Department of Justice did not respond to a request for comment on the Taylor Swift scandal.
Ticketmaster is already subject to government oversight, which was imposed when the LiveNation acquisition was approved.
After regulators discovered that the firm had violated the terms of the agreement, the oversight was extended a few years ago.
Last month, US President Joe Biden, who has expressed concern that monopolies are becoming more common in the economy, stated that his administration would investigate concert ticket fees.
Krista Brown, the senior policy analyst at the American Economic Liberties Project, is part of a coalition of artists and others who called on the government to break up Ticketmaster last month.
She hoped that the outpouring of rage from Taylor Swift's massive fan base would pressure the administration to act.
"If there were healthy competition in this space, [these issues] would simply not exist, and customers or fans would have other services to turn to," she said. "You probably wouldn't have sites crashing… This is what happens when you only have one supplier."
But whether that will be of any comfort to fans hoping to catch a glimpse of Taylor Swift in concert remains to be seen.
Before the general public can try again, the company is restricting purchases to people who have credit cards from Capital One, the company that is sponsoring Taylor Swift's tour.
Ticketmaster did not respond to a BBC inquiry about how many tickets were expected to be available.
Swift has added 25 shows to her tour in response to overwhelming demand and has occasionally picked fights with corporate behemoths, and has remained silent on the matter thus far.
Nancy plans to try again as a member of the general public on Friday. However, she is not optimistic.
Christine McVie of Fleetwood Mac Dead at Age 79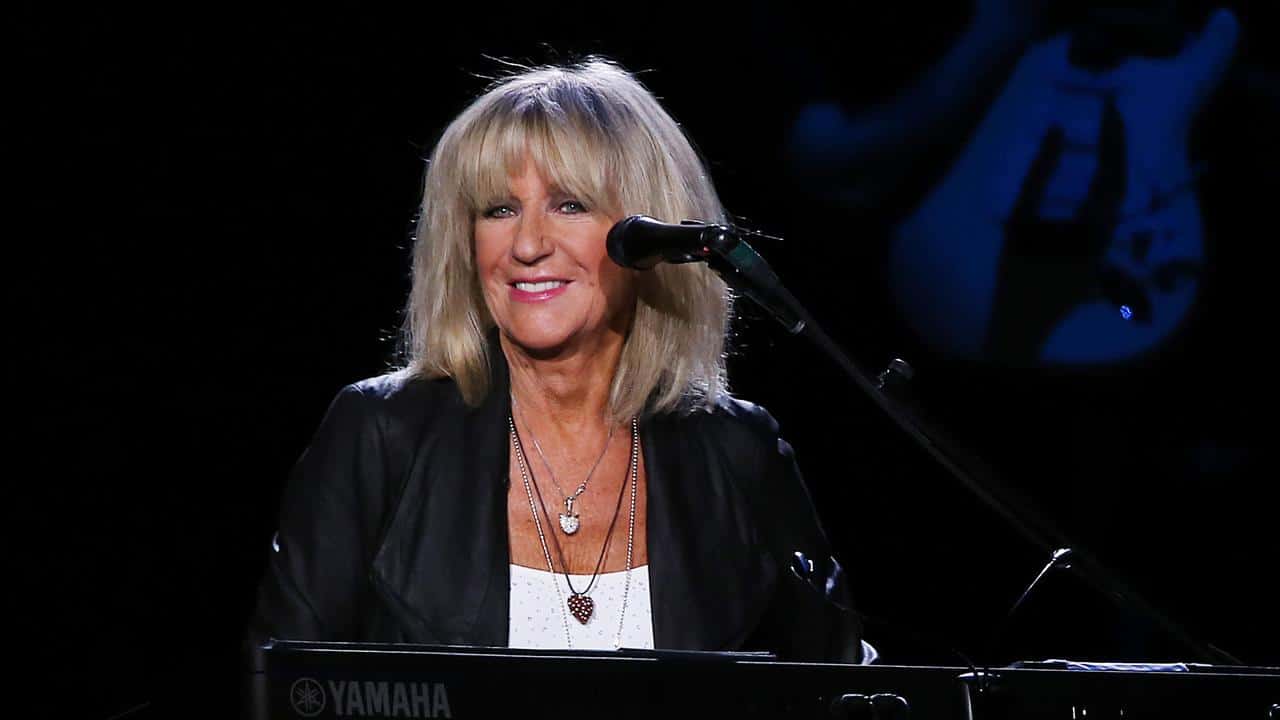 Christine McVie, the British-born Fleetwood Mac vocalist, songwriter, and keyboardist whose cool, soulful contralto helped define hits like "You Make Loving Fun," "Everywhere," and "Don't Stop," died on Wednesday at the age of 79.
Her passing was announced on the band's social media pages. There was no immediate word on the cause of death or other details, but a family statement said she "passed away peacefully at the hospital this morning" with family by her side after a "short illness."
"I was told a few hours ago that my best friend in the entire world since the first day of 1975 had passed away," bandmate Stevie Nicks said in a handwritten note on Instagram.
She went on to say that one song has been "swirling around" in her head since learning of McVie's illness, quoting the lyrics to HAIM's "Hallelujah": "I had a best friend/But she has passed."
McVie was a consistent presence and personality in a band known for frequent lineup changes and volatile personalities, most notably fellow singer-songwriters Nicks and Lindsey Buckingham.
Christine's death is the first among Fleetwood Mac's most famous incarnations of McVie, Nicks, Buckingham, drummer Mick Fleetwood, and ex-husband, bassist John McVie. The band has toured without Buckingham in recent years after he was fired in 2018 and replaced on stage by Mike Campbell and Neil Finn.
Fleetwood Mac began in the 1960s as a London blues band and evolved into one of the defining makers of 1970s California pop-rock, with McVie, Nicks, and Buckingham anchoring the rhythm section of Fleetwood and John McVie.
From 1975 to 1980, the band sold millions of records and captivated fans by transforming personal battles into melodic, compelling songs. The McVies' breakup and Nicks and Buckingham's were famously documented on the 1977 album "Rumours," which became one of the best-selling albums of all time.
Fleetwood and John McVie formed a deep and bluesy groove, Buckingham was the resident mad genius and perfectionist, Nicks was the charismatic dramatist and idol to countless young women, and Christine McVie was the grounded counterpoint, her economy as a singer and player well suited to her birth surname: Perfect.
"I was supposedly like Mother Teresa, hanging out with everyone or just trying to (keep) everything nice and cool and relaxed," she told Rolling Stone earlier this year. "But they were wonderful people and wonderful friends."
When Fleetwood Mac was inducted into the Rock and Roll Hall of Fame in 1998, they performed McVie's "Say You Love Me." Other hit singles by the group included Nicks' "Dreams," Buckingham's "Go Your Way," and McVie's "Little Lies." The thoughtful ballad "Songbird," one of McVie's most beloved works, was a showcase for her in concert and was covered by Willie Nelson, among others.
The midtempo rocker "Don't Stop," inspired by her divorce, would gain unexpected political relevance when Bill Clinton adopted the song — and its refrain "Don't stop thinking about tomorrow" — as a theme for his 1992 presidential campaign. The band, which had essentially stopped making albums then, reformed for his inauguration gala performance.
McVie's two marriages, to John McVie and Eduardo Quintela, were both annulled. Dennis Wilson of the Beach Boys was one of her boyfriends, and she wrote "Only Over You" about him.
Christine Anne Perfect McVie was born in Bouth, Lancashire, into a musical family. Her father was a violinist and music teacher, and her grandfather was a Westminster Abbey organist. She had been studying the piano since childhood, but she abandoned her classical studies after hearing early rock records by Fats Domino and others.
She befriended various members of Britain's emerging blues scene while studying at the Moseley School of Art, and in her twenties, she joined the band Chicken Shack as a singer and pianist. Among the rival bands she admired was Fleetwood Mac, which featured blues guitarist Peter Green and the rhythm section of Fleetwood and John McVie at the time. She had joined the group and married John McVie by 1970.
Against all odds, few bands have done as well as Fleetwood Mac, which has sold over 100 million records. Green was one of many performers who left the band, and Fleetwood Mac appeared to be on the verge of disbanding or fading away at various points. It was saved by unexpected returns, interventions, and one of rock's most fortunate and profitable hunches.
Fleetwood Mac was reduced to three members in the mid-1970s: Fleetwood and the two McVies. While in Los Angeles, Fleetwood became aware of a young California duo, Buckingham and Nicks, who had recorded the little-known album "Buckingham Nicks." Impressed by their sound, he planned to invite only Buckingham, but the guitarist insisted on including Nicks, his girlfriend.
The new lineup was almost immediately magical. Nicks and Christine McVie formed a lifelong friendship, agreeing that as two of rock's few female rock stars, they would always be there for each other. And the harmonies and music of Nicks, Buckingham, and Christine McVie ensured that albums like "Fleetwood Mac," "Rumours," and "Mirage" had an enviable level of quality and variety of songwriting and vocal styles.
However, the group's overwhelming success inevitably resulted in conflicts and a desire for solo work. Nicks rose to prominence in the decades that followed. McVie released solo albums such as "Christine McVie" and "Christine Perfect," as well as "Lindsey Buckingham/Christine McVie," a 2017 collaboration with Buckingham.
Taylor Swift Concert Ticket Sale Cancelled by Ticketmaster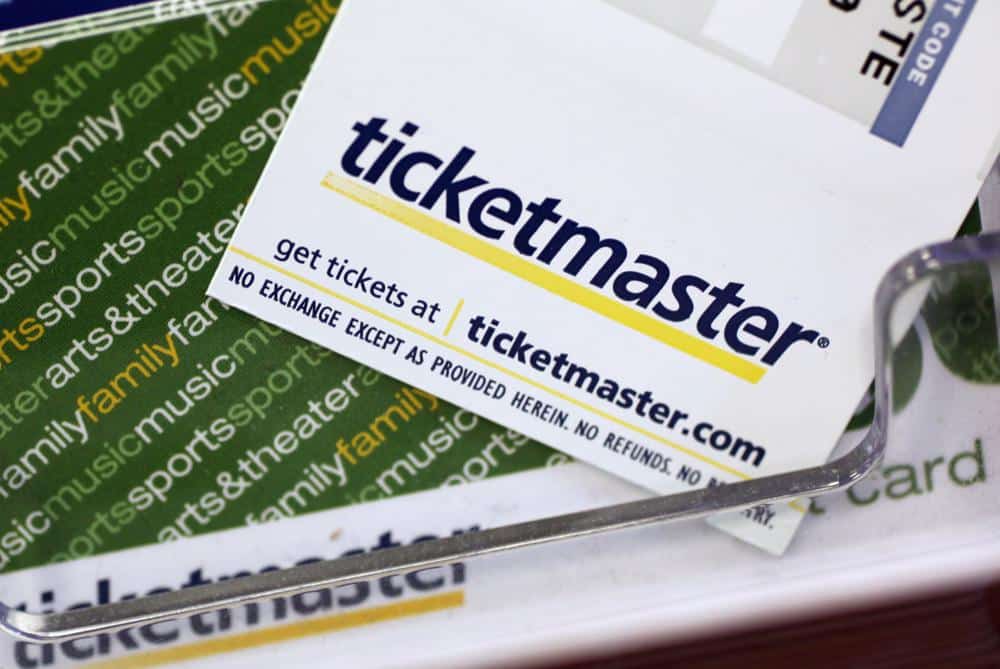 Ticketmaster has announced that it will cancel Friday's planned general public sale for Taylor Swift's upcoming stadium tour due to a lack of tickets.
The decision was made two days after a presale event crashed the site, leaving many fans without tickets. According to the Associated Press, the ticketing company, two million tickets for The Eras tour next year were sold during presales on Tuesday. The most tickets ever sold on the platform in a single day.
Ticketmaster cancelled Friday's sale due to "extraordinarily high demands on ticketing systems and insufficient remaining ticket inventory to meet that demand."
There are still questions about how and how many remaining Taylor Swift tickets will be sold. However, Ticketmaster stated that approximately 1.5 million fans who went through an early verification process known as Verified Fan were invited to purchase tickets, while the remaining 2 million were placed on a waiting list.
According to a company representative, Ticketmaster is not involved in ticket resales for Swift's concerts.
Swift has had a record-breaking year, having released her latest album "Midnights," which also set a Billboard record.
The 52-date Eras Tour begins March 17 in Glendale, Arizona, and concludes August 9 with five shows in Los Angeles. International dates will also be announced. Swift is embarking on her first tour since 2018.
However, Taylor Swift fans and families across the country battled long lines and error messages to be the first to reach the checkout cart.
According to Ticketmaster, the site was overwhelmed by both human and bot attacks, resulting in unprecedented traffic. According to the statement, approximately 15% of interactions with the site had issues, including errors that caused people to lose Taylor Swift tickets after waiting in an online queue.
"While it's impossible for everyone to get tickets to these shows," the company stated, "we know we can do more to improve the experience, and that's what we're focused on."
Dolly Parton Inducted into the 2022 Rock and Roll Hall of Fame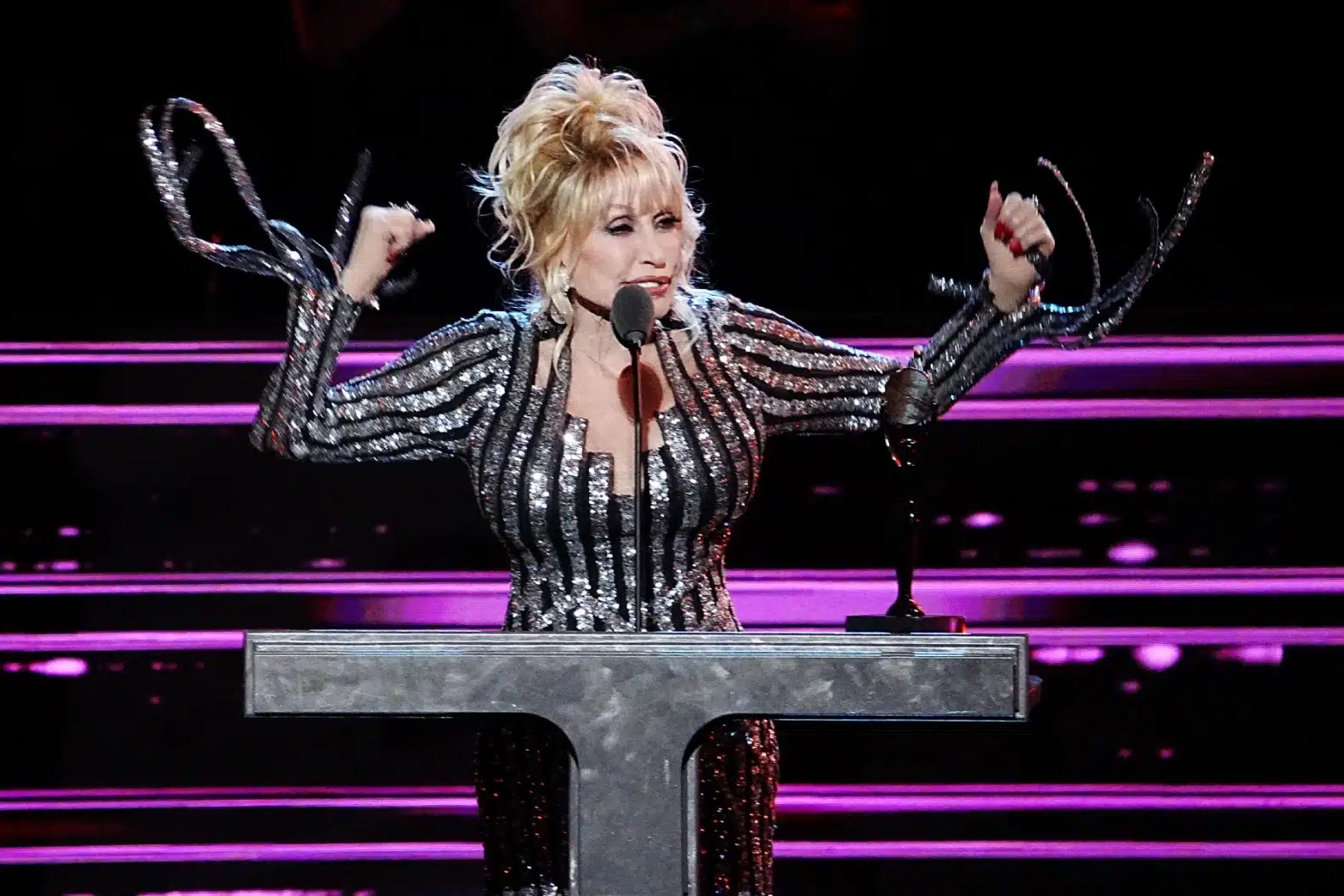 Dolly Parton was officially inducted into the Rock and Roll Hall of Fame on Saturday night in Los Angeles."I'm suddenly a rock star!" Dolly Parton stated, "This is an extremely special night for me.
" I'm sure many of you were aware that when they announced my induction into the Rock and Roll Hall of Fame, I didn't believe I had done enough to merit it. And I didn't realize it was about more than that at the time. But I'm incredibly honoured and proud to be here tonight."
Pink praised Dolly Parton in her acceptance speech, and she later sang "Jolene" alongside Pink, Brandi Carlile, and other inductees Pat Benatar, Simon LeBon of Duran Duran, Rob Halford of Judas Priest, and Annie Lennox and Dave Stewart.
Parton also performed a new song, "Rockin'," with her house band for the night, the Zac Brown Band. "I'm going to have to earn my way into the Rock and Roll Hall of Fame," she declared, dressed in a black leather costume with red jewels and playing a blues-rock riff on a matching heavy-metal Superstrat. "And you thought I couldn't do it."
In addition to Dolly Parton, Eminem, Duran Duran, Lionel Richie, Pat Benatar, Eurythmics, and Carly Simon were among the 2022 entrants. Highlights from the ceremony, which took place at the Microsoft Theater in Los Angeles, will appear on HBO on November 19 and will be available to watch on HBO Max.

Duran Duran Stumbles at Rock and Roll Hall of Fame
Lionel Richie took off. Pat Benatar yelled. Duran Duran faltered but remained elegant. Eminem was just Eminem.
The four performers celebrated very differently on Saturday night, but they are all now Rock and Roll Hall of Famers. Carly Simon, Eurythmics, Harry Belafonte, Judas Priest, and Dolly Parton are among those who enthusiastically accepted the prize after initially declining it.
Duran Duran entered the stage and began their 1981 breakthrough song "Girls on Film" as the first act inducted at the Microsoft Theater in Los Angeles, following a stunning address from a shaved-headed Robert Downey Jr.
The raucous audience was there for it, but the music wasn't. Except for singer Simon Le Bon, whose singing was a cappella, the band was nearly inaudible.
It was joyful, if unlucky, start to a mainly smooth and often victorious evening.
"The glorious spontaneous world of rock 'n' roll!" exclaimed Le Bon, 64, as the band halted for a retake.
They returned to full loudness, playing a set that featured "Hungry Like the Wolf" and "Ordinary World," rapidly reverting to what Downey saw as their core quality: "CSF stands for cool, sophisticated fun."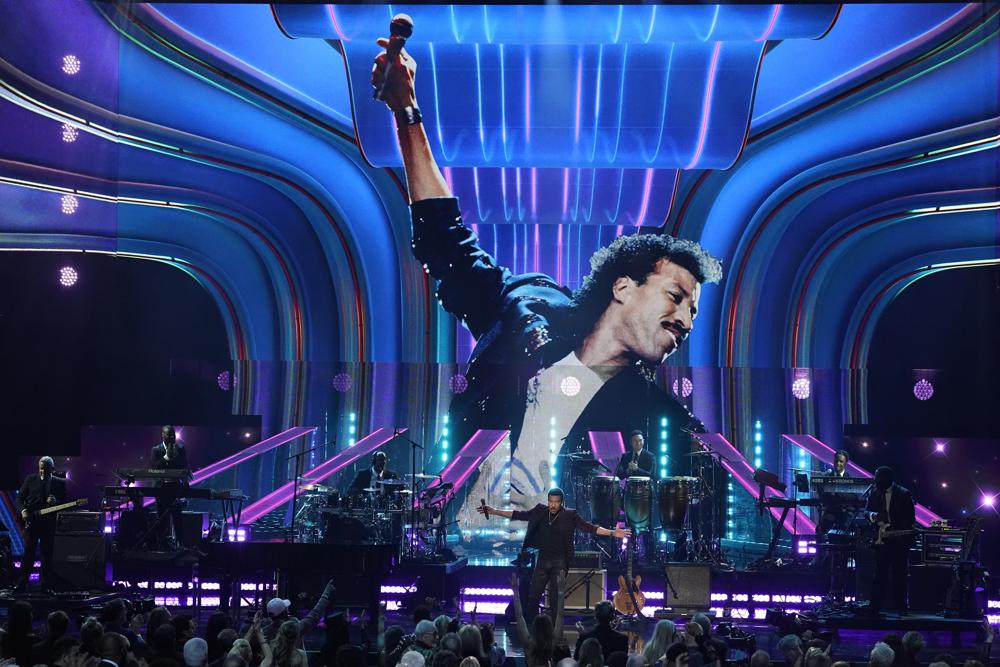 Hours later, Lionel Richie brought both chill and warmth to the room, opening his concert with a sparse rendition of his ballad "Hello" that seemed to make him nearly collapse from the weight of the situation.
"His songs are the soundtrack of my life, your life, everyone's life," Lenny Kravitz remarked during Richie's induction.
Richie followed "Hello" with "Easy," his 1977 smash with the Commodores. When Foo Fighters frontman Dave Grohl made a surprise appearance to play a guitar solo and swap vocals with Richie, the mood changed from slick to triumphant. This was followed by a singalong, jubilant rendition of 1983′s "All Night Long," which elicited the most applause of the night.
During his victory speech, Richie slammed critics who accused him of moving too far from his Black origins.
"Rock and roll isn't a hue," he explained. "It's just a sensation." It's a feeling. And if we let that attitude permeate the room, it will grow and grow and expand."
The Eurythmics hit the stage next, performing a soulful, danceable rendition of "Missionary Man" from 1986.
"Well, I was born an original sinner. I was born from original sin," singer Annie Lennox yelled four hours into the event, bringing the audience to its feet and clapping. It was followed by a spirited performance of their biggest song, "Sweet Dreams."
Her musical partner, Dave Stewart, later described Lennox as "one of the finest performers, vocalists, and songwriters of all time."
"Thank you, Dave, for this wonderful trip," a sobbing Lennox replied.
Eminem was the outlier, as he has been throughout his career. He was the only hip-hop musician among the inductees, the only one whose heyday occurred after the 1980s, and he added an edge to the evening that was otherwise lacking outside of Judas Priest's heavy metal stylings.
He also pushed the guest star game to new heights. He brought on Aerosmith's Steven Tyler to sing the chorus of "Dream On" for 2003's "Sing for the Moment," which samples the Aerosmith classic, after opening briefly with 1999's "My Name Is." Then he brought Ed Sheeran to sing his verse from Eminem's 2017 hit "River" as rain fell on the stage.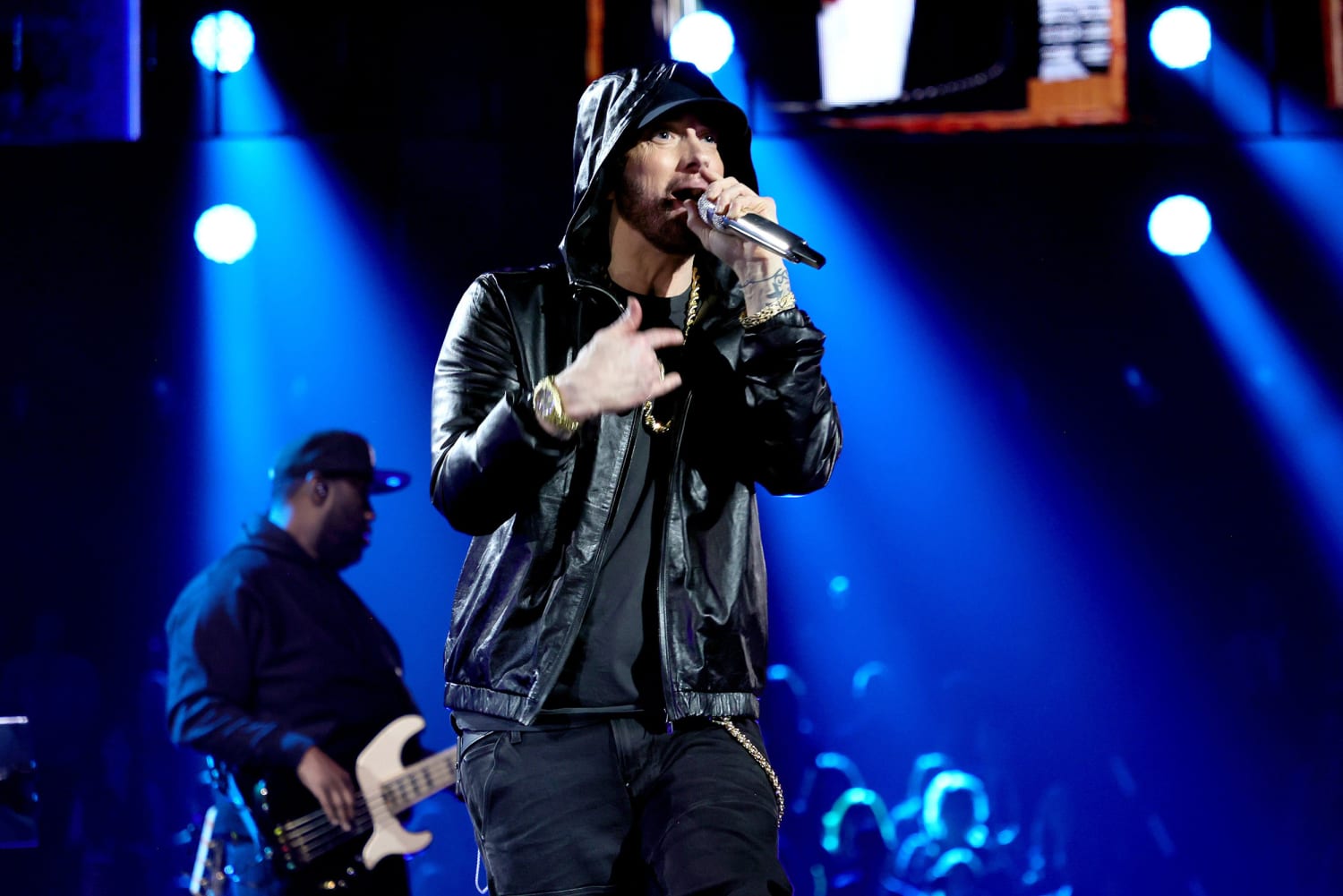 "I'm probably not supposed to be here tonight for a couple of reasons," Eminem remarked as he accepted the award, wearing a black hoodie. "I know one. I'm a rapper, and here is the Rock and Roll Hall of Fame."
He is only the 10th hip-hop musician in the Hall of Fame, with over 300 members.
He was inducted by Dr. Dre, his producer and mentor, whom he credits with saving his life.
The night, however, was defined by 1980s hitmakers.
In her induction speech, Sheryl Crow observed, "Pat always dug into the deepest part of herself and came roaring out of the speakers."
Benatar, recognized alongside her longtime musical collaborator and husband Neil Giraldo, took the stage with him and immediately demonstrated her power.
"We are young!" exclaimed the 69-year-old as she soared through a rendition of 1983's "Love is a Battlefield."
Inductees who did not attend the ceremony included Duran Duran guitarist Andy Taylor, who has been battling advanced prostate cancer for four years, the 95-year-old Belafonte, and Simon, who lost sisters Joanna Simon and Lucy Simon, both vocalists, to cancer on back-to-back days last month.
Carly Simon was nominated for the first time this year, more than 25 years after becoming eligible. Olivia Rodrigo, 60 years Simon's junior and by far the night's youngest performer, played "You're So Vain," Simon's hallmark tune.
Janet Jackson emerged in a black costume with a large mound of hair atop her head, duplicating the cover of her breakout album "Control," as she inducted writer-producers Jimmy Jam and Terry Lewis, who worked on that and many other recordings with her.
When the candidates were released in May, Parton "respectfully" rejected them, stating that it didn't seem appropriate for her to take a slot as a true country artist. She was persuaded otherwise and ended up being the headliner on Saturday night.
"I'm a rock star now!" she said as she took her award. "This is going to be a very, very, very special night."
Parton stated that she would have to earn her seat retrospectively.
She vanished and reappeared moments later, dressed in black leather, holding an electric guitar and performing a song she had made just for the occasion.
"I've been rockin' rockin' rockin' rockin' rockin' rockin' rockin' rockin' rockin' rockin' rockin' rockin' rockin' rockin' rockin' rockin' rockin' rockin' rockin' rockin' rockin' rockin' rockin' rock
On her country hit "Jolene," she capped the night by leading an all-star jam with her fellow inductees. Le Bon, Benatar, and even Judas Priest's Rob Halford all sang a stanza.
"This is a star-studded stage," Parton stated. "In the city, I feel like a hillbilly."
Source: Rolling Stone, AP, VOR News
Keywords: rock and roll hall of fame 2022, rock and roll hall of fame Eminem, rock and roll hall of fame eligibility, rock and roll hall of fame inductees by year, rock and roll hall of fame snubs, rock and roll hall of fame tickets, rock and roll hall of fame 2021