Taylor Swift Fans Want Ticketmaster Cancelled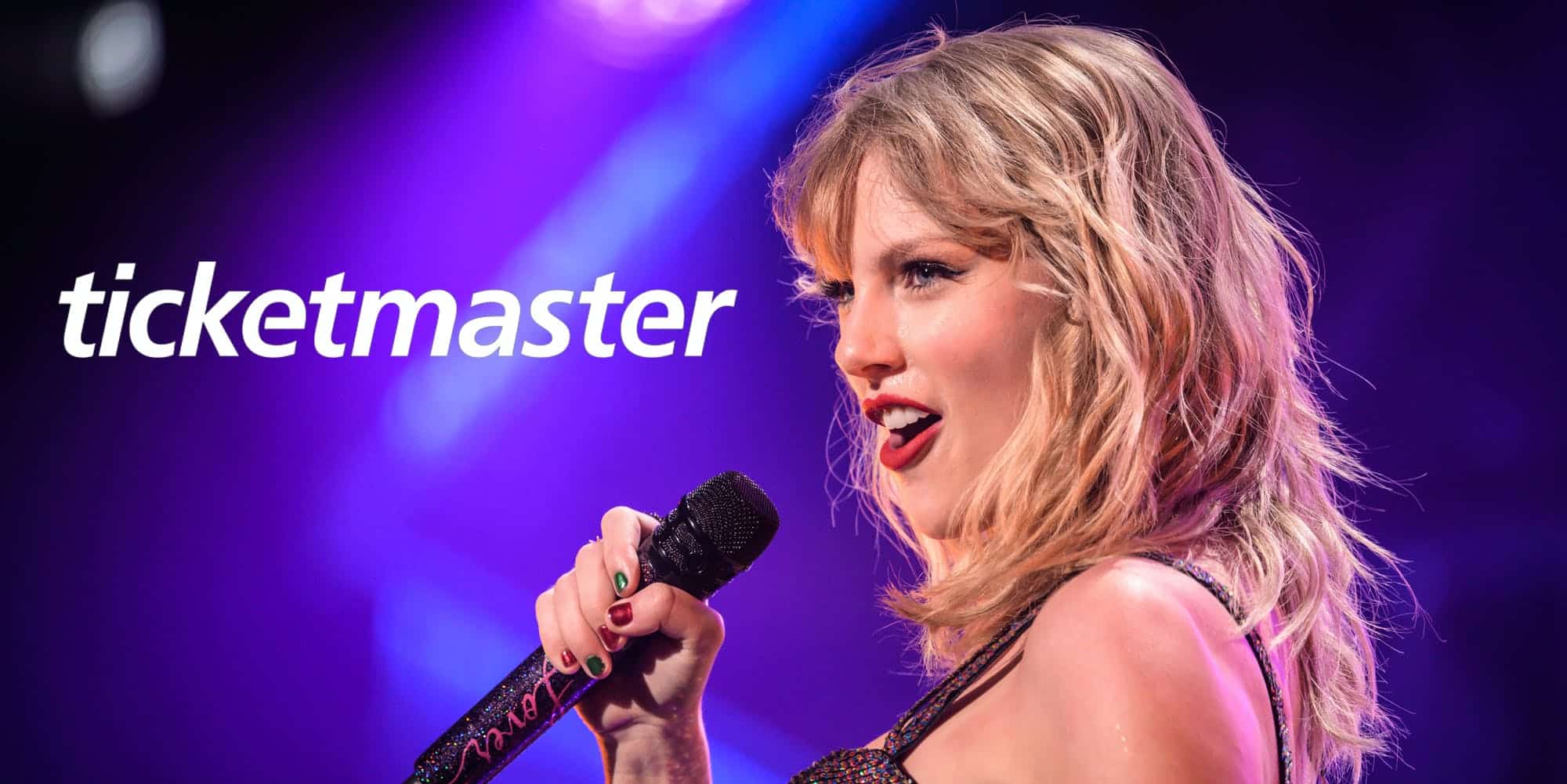 Taylor Swift's next US concert tour tickets have yet to go on sale to the general public, but many fans hoping to see her in concert have already been disappointed by Ticketmaster.
Nancy Abulmagd, a mother of an 11-year-old daughter and friends, spent hours in a virtual line with thousands of other people, hoping to secure seats for her daughter and friends, only to have the website crash repeatedly and eventually turn her away empty-handed.
And Nancy was one of the lucky ones; she had won a lottery that allowed "verified fans" to participate in a four-day pre-sale before the general public.
"I got so close three or four times, and the website broke; it was agony," the 41-year-old New Jersey resident says. "It was a deflating experience that messed with your emotions and sucked up your entire day."
Nancy hoped to obtain Taylor Swift tickets for her 11-year-old daughter and friends.
The company selling the tickets, Ticketmaster, has stated that the issues are due to "historically unprecedented demand" for the singer, who first appeared on the scene in 2006 and has provided a steady stream of hits exploring fame and romantic entanglements.
Midnights, her most recent album, has topped the charts worldwide.
Millions of Swifties, as her fans are known, competed for tickets to her 52-city US tour during the pre-sale, with hundreds of thousands securing seats, according to Ticketmaster.
The company claims that the pre-sale system will help prevent ticket touts – known as scalpers in the United States – and bots from scooping up seats.
However, the process flaws have reignited rage against the company, which has long been accused of abusing its clout in the industry.
In an episode earlier this year, comedian John Oliver called it "one of the most hated companies on the planet," blaming it for the exorbitant prices, fees, and scarcity of tickets for concerts and other events.
"You're kind of at their mercy," Nancy said, adding that Ticketmaster could have better organized the sales given the anticipated high demand for Taylor Swift tickets.
In the 1990s, Pearl Jam expressed concerns about Ticketmaster's role as the primary ticket seller.
Since then, the company's power has only grown. It purchased Live Nation in 2010, which operates many of the country's event venues and has an artist management division.
Democratic lawmakers in the United States, who have called for the merger to be reversed, chimed in again amid the chaos of Taylor Swift's pre-sale.
"Ticketmaster's excessive wait times and fees are completely unacceptable, as seen with today's @taylorswift13 tickets, and are a symptom of a larger problem," wrote House Competition and Antitrust Committee Chairman David Cicilline. "It's no secret that Live Nation-Ticketmaster is a monopoly unchecked."
"Daily reminder that Ticketmaster is a monopoly, that its merger with LiveNation should never have been approved, and that they need to be reigned in," wrote left-wing congresswoman Alexandria Ocasio-Cortez. "Split them up."
On Wednesday, the Department of Justice did not respond to a request for comment on the Taylor Swift scandal.
Ticketmaster is already subject to government oversight, which was imposed when the LiveNation acquisition was approved.
After regulators discovered that the firm had violated the terms of the agreement, the oversight was extended a few years ago.
Last month, US President Joe Biden, who has expressed concern that monopolies are becoming more common in the economy, stated that his administration would investigate concert ticket fees.
Krista Brown, the senior policy analyst at the American Economic Liberties Project, is part of a coalition of artists and others who called on the government to break up Ticketmaster last month.
She hoped that the outpouring of rage from Taylor Swift's massive fan base would pressure the administration to act.
"If there were healthy competition in this space, [these issues] would simply not exist, and customers or fans would have other services to turn to," she said. "You probably wouldn't have sites crashing… This is what happens when you only have one supplier."
But whether that will be of any comfort to fans hoping to catch a glimpse of Taylor Swift in concert remains to be seen.
Before the general public can try again, the company is restricting purchases to people who have credit cards from Capital One, the company that is sponsoring Taylor Swift's tour.
Ticketmaster did not respond to a BBC inquiry about how many tickets were expected to be available.
Swift has added 25 shows to her tour in response to overwhelming demand and has occasionally picked fights with corporate behemoths, and has remained silent on the matter thus far.
Nancy plans to try again as a member of the general public on Friday. However, she is not optimistic.
2023: Texas Grand Jury Indicts Patrick Clark In Fatal Shooting Of Rapper Takeoff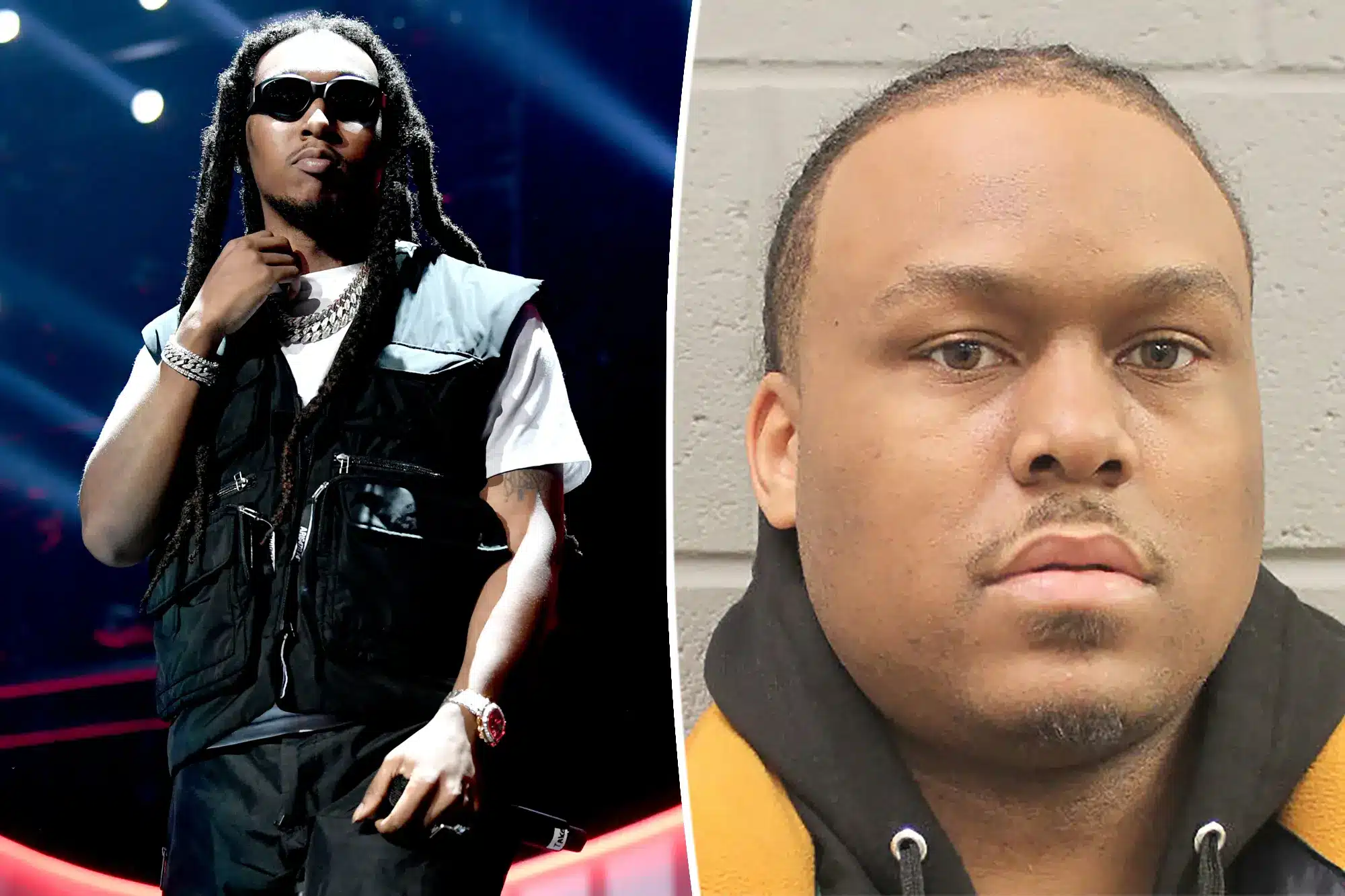 HOUSTON — According to court documents, the guy accused of murdering Migos artist Takeoff last year at a Houston bowling alley has been indicted.
When a grand jury in Houston indicted him on Thursday, Patrick Xavier Clark was out on $1 million bail.
One of Clark's lawyers, Letitia Quinones-Hollins, stated that the charge was no surprise to her client.
"When we get inside a courtroom and in front of a jury, where we will be able to put on our evidence and cross-examine the state's witnesses… we expect the jury will come back with a verdict of not guilty," Quinones-Hollins said in a statement on Thursday.
When more than 30 people were leaving a private party at the bowling alley at 2:30 a.m. on November 1, Takeoff was shot in the head and back. The shooting, according to authorities in Houston, was sparked by a dispute over a "lucrative" game of dice outside the bowling alley, but the rapper, who was only 28 years old at the time, was not participating and was "an innocent bystander."

DJ and club promoter Patrick, 33, was taken into custody on December 1.
Officials claim CCTV footage proves Clark had a wine bottle in his hand when he fired his weapon. His identity was established through fingerprints discovered on the bottle. In addition, authorities said that FBI informants placed Clark at the shooting scene.
After Clark's arrest, prosecutors claimed he had researched how to use bogus airline tickets to get an expedited passport online in an attempt to leave the country.

After the incident, Quinones-Hollins said Clark had no intention of leaving the country.
Takeoff joined his uncle Quavo, and cousin Offset to form the Grammy-nominated rap group Migos. Takeoff was born Kirsnick Khari Ball.
The next court date for Clark is August 23.
SOURCE – (AP)
Tina Turner, 'Queen Of Rock 'n' Roll' , Dies At 83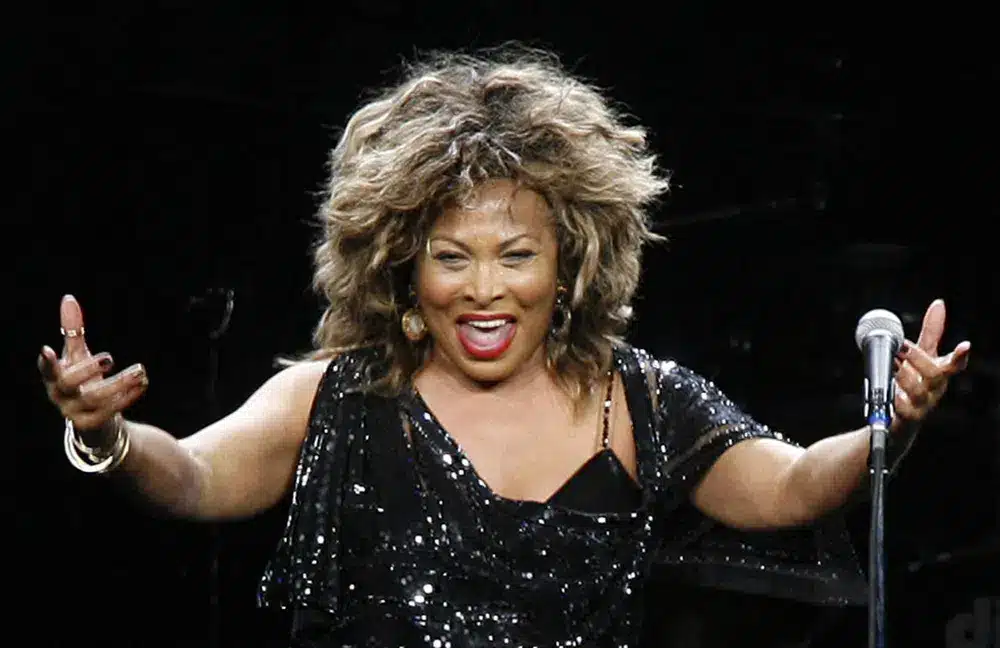 NEW YORK – Tina Turner, the irresistible singer and stage performer who paired with her husband Ike Turner for a spectacular run of smash singles and live shows in the 1960s and '70s, and who survived her horrific marriage to triumph in middle life with the chart-topping "What's Love Got to Do With It," has died at the age of 83.
According to her management, Turner died Wednesday at her home in Küsnacht, near Zurich, following a protracted illness. She gained Swiss citizenship a decade ago.
Few celebrities have traveled as far and overcome as much as Anna Mae Bullock, born in a segregated Tennessee hospital and lived her latter years on a 260,000 square foot house on Lake Zurich. She became a superstar on her own in her 40s, when most of her peers were on their way down, despite being physically beaten, emotionally traumatized, and financially destroyed by her 20-year relationship with Ike Turner, and remained a top concert draw for years following.
"How do we say goodbye to a woman who took ownership of her pain and trauma and used it to help change the world?" According to Angela Bassett, who played Turner in the 1993 biopic "What's Love Got to Do With It,"
On September 2, 1984, Tina Turner sang her current hit song "What's Love Got to Do With It" in Los Angeles. (Photo by AP/Phil Ramey/File)
"Through her bravery in telling her story, her commitment to staying the course in her life, no matter the cost, and her determination to carve out a space in rock and roll for herself and others who look like her, Tina Turner demonstrated to those who lived in fear what a beautiful future filled with love, compassion, and freedom should look like."

Turner died Wednesday at her home in Küsnacht, near Zurich, following a protracted illness.
The "Queen of Rock 'n' Roll" was one of the world's most popular entertainers, with fans ranging from Mick Jagger to Beyoncé to Mariah Carey. She was known for a core of pop, rock, and rhythm and blues favorites: "Proud Mary," "Nutbush City Limits," "River Deep, Mountain High," and the hits she had in the '80s, including "What's Love Got to Do with It," "
Her rumbling contralto that could smolder or burst, striking smile and prominent cheekbones, a palette of wigs, and muscular, quick-stepping legs were all hallmarks. She sold over 150 million records worldwide, won 12 Grammys, was inducted into the Rock and Roll Hall of Fame alongside Ike in 1991 (and on her own in 2021), and was honored at the Kennedy Centre in 2005 with Beyoncé and Oprah Winfrey among those honoring her. In 2021, her life became the subject of a film, a Broadway musical, and an HBO documentary, which she dubbed her public farewell.
Turner has two sons: Craig, who he had with saxophonist Raymond Hill, and Ronald, who he had with Ike Turner. (Craig Turner was discovered dead in an apparent suicide in 2018). Tina Turner announced in her memoir "Tina Turner: My Love Story," published later that year, that she had gotten a kidney transplant from her second husband, former EMI record executive Erwin Bach.
Turner's life appeared to be an argument against marriage, but her life with Bach was a love tale Tina would not have imagined possible when she was younger. He picked her up at the airport when she traveled to Germany for record promotion in the mid-1980s. He was a decade her junior — "the prettiest face," she claimed of him in the HBO documentary — and the desire was reciprocal. She married Bach in a civil ceremony in Switzerland in 2013.
"It's that happiness that people talk about," Turner said at the time, "when you wish for nothing, when you can finally take a deep breath and say, 'Everything is good.'"
SOURCE – (AP)
Garth Brooks Extends Sold-Out Las Vegas Residency With 2024 Dates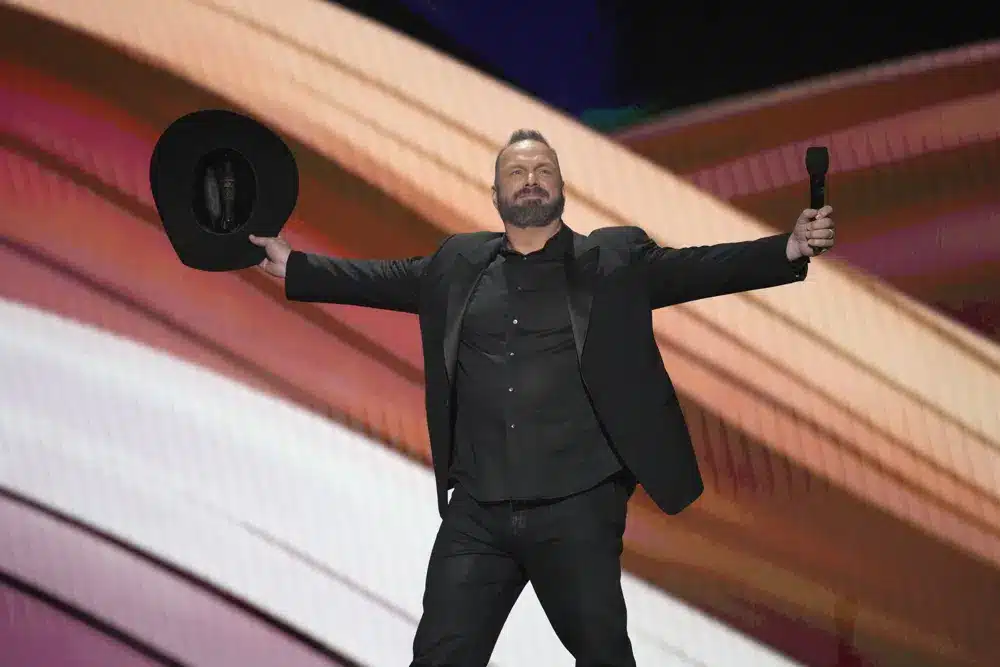 LAS VEGAS, Nevada — Garth Brooks, the country music legend, vows that no two shows in his new Las Vegas residency, which begins Thursday night, will be the same.
From the occasional special guest to a rotating cast of band members, Brooks promised fans in an interview hours before his inaugural show at Caesars Palace's Colosseum that they would hear new songs for the first — and last — time at "Garth Brooks/Plus One."
"We're going to do stuff tonight that they'll never hear again because it just didn't work or we never finished it," Brooks said with a grin to The Associated Press. "We're going to get very personal tonight, so if you don't want to get some mud on you, don't come." It's going to become a little messy."
Brooks also announced earlier that Caesars Palace had extended his residency with 18 more dates next year after tickets sold out rapidly when they went on sale in late 2022.
"When the 2023 shows went on sale, I felt extremely fortunate and blessed," Brooks stated in a statement released early this morning. "Just the thought of doing this for another year makes me happier than words can express."
Fans who missed out on tickets this year will have first access to the 2024 dates during a presale before they go on sale to the general public on May 31. The 2024 performances will take place between April and July.

Garth Brooks' second Las Vegas residency follows a five-year tenure at the Wynn hotel-casino's Encore Theatre.
Early 2000s construction of the Colosseum, which drew inspiration from ancient Roman architecture, served as the site of Celine Dion's record-breaking residency. Some have regarded it as the home of the world's best entertainers.
On Thursday, Brooks called it an honor to join a long list of musicians who have resided there, including Madonna, Cher, Mariah Carey, Elton John, and Adele. The theatre contains approximately 4,100 seats.
"A chance to play a residency is not something you pass up, especially in a place like this," said the Country Music Hall of Fame singer and songwriter, who has two Grammys and is a seven-time Country Music Association "entertainer of the year."
Brooks' second Las Vegas residency follows a five-year tenure at the Wynn hotel-casino's Encore Theatre, where he performed more than 180 events between 2009 and 2014.
According to him, the live band for "Garth Brooks/Plus One" distinguishes the new show from his Wynn residency, which included acoustic performances.
"This is pretty much dessert for an entertainer right here," Brooks explained, "because you get to choose whatever song you want to sing and how you present it."
Brooks recently finished his global Stadium Tour, which began in Indiana in 2018 and ended with a sold-out event in Dublin, Ireland, last September.
SOURCE – (AP)