Benjamin Netanyahu Returns to Power in Israel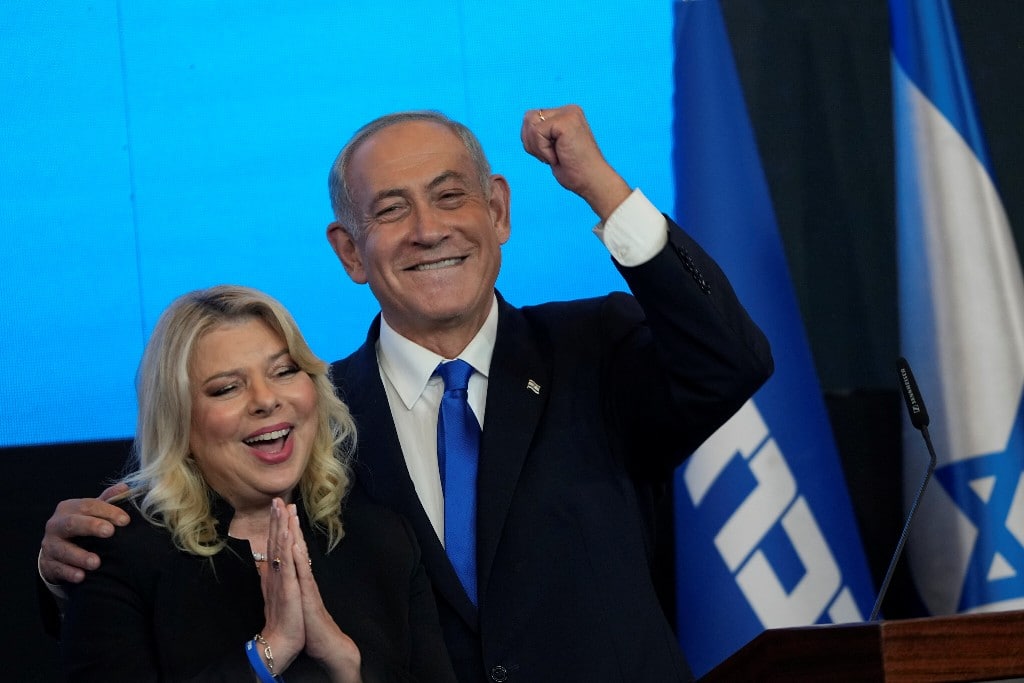 Yair Lapid, Israel's Prime Minister, congratulated Benjamin Netanyahu on his election victory on Thursday, as final results confirmed the former premier's successful return at the helm of a staunchly right-wing alliance.
After 5 elections in less than 4 years, Netanyahu's triumph will end a historic impasse in Israel.
This time, Netanyahu, the dominating Israeli politician of his generation, gained a parliamentary majority with the support of ultranationalist and religious groups.
The centrist Lapid and his uncommon coalition of conservatives, liberals, and Arab MPs were ousted from power on Tuesday after 18 months of making diplomatic breakthroughs with Turkey and Lebanon and keeping the economy humming.
With the conflict with the Palestinians resuming and Jewish-Arab tensions escalating within Israel, Netanyahu's rightist Likud and related parties won 64 of the Knesset's 120 seats.
After 85 percent of the votes were tabulated on Wednesday, Netanyahu told supporters that they were "on the verge of a very significant win" and promised a "stable, national administration."
His opponents in the current government, led by centrist Prime Minister Yair Lapid, won 51 seats, with the rest held by a small, unaffiliated Arab party.
According to his office, Lapid thanked Netanyahu and directed his team to plan an orderly transition of power.
"Any political consideration comes after the State of Israel," Lapid stated. "For the sake of the Israeli people and the State of Israel, I wish Netanyahu prosperity."
According to the results, Netanyahu, on trial for corruption, will be invited by Israeli President Isaac Herzog to form a cabinet, which is expected to begin next week.
Netanyahu will have 28 days to build the most right-wing Israeli cabinet in history.
Meanwhile, the president has yet to officially charge Netanyahu with establishing a government, which may take weeks.
"It is now necessary to enforce order here. The moment has come to have a landlord, "Likud's potential senior partner, Itamar Ben-Gvir of the far-right Religious Zionism party, tweeted.
He was reacting to a stabbing reported by police in Jerusalem.
According to doctors, in a separate incident in Israel's West Bank, troops killed an Islamic Jihad militant and a 45-year-old civilian. When asked about the latter's death, the army said it opened fire after Palestinians attacked it with rocks and petrol bombs.
Later that evening, air attack sirens sounded in southern Israel when terrorists in Gaza launched a rocket that was presumably intercepted by missile defences, according to the military.
Ben-Gvir, a West Bank settler and former member of Kach, a Jewish militant group on Israel's and the United States terrorist watchlists, aspires to become police minister.
According to Israeli media quoting political sources, the new government could be formed by mid-month. Previous coalitions have had narrower legislative majorities in recent years, making them vulnerable to no-confidence moves.
With coalition-building talks yet to commence, it was unclear what role Ben-Gvir may play in a future government. Both he and Netanyahu have sworn to serve all citizens since their election.
However, Ben-rise Gvir has alarmed the 21% Arab minority and center-left Jews, particularly Palestinians whose US-sponsored statehood discussions with Israel broke down in 2014.
While Washington has publicly reserved judgment before the formation of the new Israeli government, a State Department spokeswoman on Wednesday emphasized the countries' "common ideals."
"We hope that all Israeli government officials will continue to embrace the ideals of an open, democratic society, such as tolerance and respect for all in civil society, particularly minority groups," said the spokeswoman.
US Ambassador to Israel Thomas Nides stated that he spoke with Netanyahu and expressed his desire to "work together to sustain the unbreakable link."
Danny Masterson Rape Case Ends in Mistrial After Jury Deadlock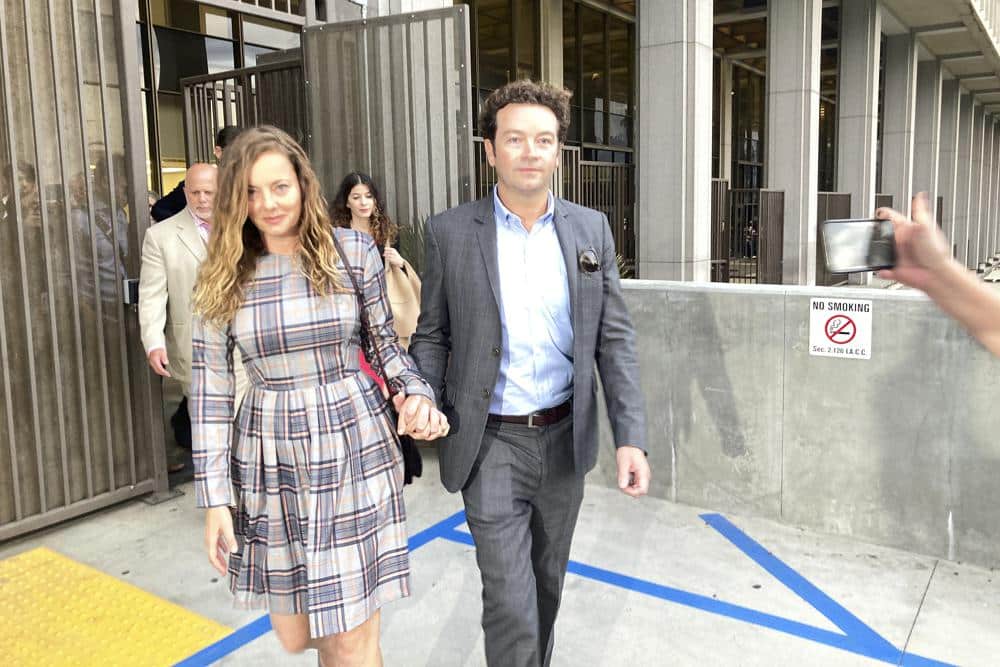 A judge declared a mistrial in the rape trial of "That '70s Show" actor Danny Masterson on Wednesday after jurors deadlocked following the monthlong trial in which the Church of Scientology played a supporting role.
Prosecutors allege that Masterson raped three women, including a former girlfriend, in his Hollywood Hills home between 2001 and 2003 and that the church kept them quiet for years. Masterson, 46, pleaded not guilty, and his lawyer stated that all acts were consensual.
"I find the jurors hopelessly deadlocked," Judge Charlaine Olmedo declared after the jury foreman stated that the court could do nothing to move them closer to a unanimous decision. She scheduled a retrial in Los Angeles Superior Court for March.
Olmedo had ordered jurors to take Thanksgiving week off and continue deliberating after they said they couldn't reach an agreement on Nov. 18. A jury of six women and six men resumed deliberations on Monday after two jurors were diagnosed with COVID-19 during the break.
According to the foreman, the jury voted seven times on Tuesday and Wednesday without deciding on any of the three counts. Two jurors supported conviction on the first count, four on the second count, and five on the third count.
As a result, prosecutors and the three women who said they were seeking long-overdue justice and gave emotional and graphic testimony over several days suffered a significant setback.
"Masterson has evaded criminal accountability for his deplorable acts," two of the alleged victims in the case said in a statement. However, we are determined to continue our fight for justice."
At the time, all three women were church members, and Danny Masterson is still one.
Two of the women and one of their husbands are suing Masterson, the Church of Scientology, its leader, David Miscavige, and others for allegedly stalking, harassing, and intimidating them after they attempted to expose Masterson.
Masterson walked out of the courtroom with his wife, actress and model Bijou Phillips, without speaking to reporters. Members of his showbiz family, his sisters-in-law, actor Mackenzie Phillips, singer and actress Chynna Phillips, and her husband, actor William Baldwin, accompanied him to court for several days.
The proceedings took place amid a flurry of #MeToo-related cases on both coasts, including Harvey Weinstein's trial in Los Angeles, just down the hall from Masterson's. In New York, Kevin Spacey won a sexual misconduct lawsuit brought by actor Anthony Rapp, and in a civil case there, a jury ordered director and screenwriter Paul Haggis to pay $10 million.
But, as with the Haggis trial, the specter of Scientology overshadowed the #MeToo implications, despite the judge's insistence that the church not become a de facto defendant.
According to Deputy District Attorney Reinhold Mueller, the church attempted to silence the women, which is why the case took two decades to reach trial.
Masterson's lawyer, Philip Cohen, claims the church was mentioned 700 times during the trial and claims it became an excuse for the prosecution's failure to build a credible case against Masterson, a prominent Scientologist.
According to Karin Pouw, a church spokesperson, Mueller misrepresented church doctrine and beliefs, and Jane Does make false claims about Scientology.
"There is absolutely no truth to any of the testimony that the church harassed or stalked the Jane Does," Pouw said.
Cohen stated that he would file a motion to dismiss the case based on the jury's decision. He stated that jurors provided additional beneficial insights after the mistrial ruling, but he refused to discuss what they told him.
"As a lawyer, you always wonder if what you're doing in court every day is making any inroads… with the jury," Cohen explained. "We made inroads."
The district attorney's office expressed disappointment with the outcome and said it would consider its next steps. It praised the women for "stepping forward bravely and recounting their harrowing experiences."
Jurors were led out of the courtroom without speaking to reporters.
Masterson did not appear in court. Cohen did not present any defense testimony, instead focusing on inconsistencies in the accounts of the three accusers, whom he claimed changed their stories over time and spoke with each other before going to the police.
During closing arguments, Cohen stated, "The key to this case was not when they reported it." "That's what they said when it was reported, what they said after reporting it. And what they said in court."
Masterson, according to Mueller, was a man "for whom 'no' never meant 'no.'"
Masterson allegedly served two women drinks, causing them to become woozy or pass out before being violently raped. One woman said she thought she would die as Masterson covered her face with a pillow.
An ex-girlfriend claimed she awoke to find Masterson having sex with her against her will. According to the defense, her claims were undermined because she later had sex with him after they split up.
Cohen told jurors that if they believed Masterson "actually and reasonably believed" the women consented to have sex, they could acquit him.
Mueller countered that no one would believe the acts described were consensual, reminding jurors that one woman told him "no," pulled his hair, and tried to get out from under him repeatedly.
Mueller warned jurors not to be swayed by defense speculation and said contradictions in the victims' testimony were signs of authenticity rather than scripted accounts.
The charges stem from when Masterson was at the pinnacle of his career, starring as Steven Hyde on Fox's "That '70s Show" from 1998 to 2006. The show, which made Ashton Kutcher, Mila Kunis, and Topher Grace stars, is getting a Netflix reboot with "That '90s Show."
Masterson re-joined Kutcher on the Netflix comedy "The Ranch" but was fired when an LAPD investigation was revealed in December 2017.
Thousands in Hawaii Flock to Watch Lava Ooze from Volcano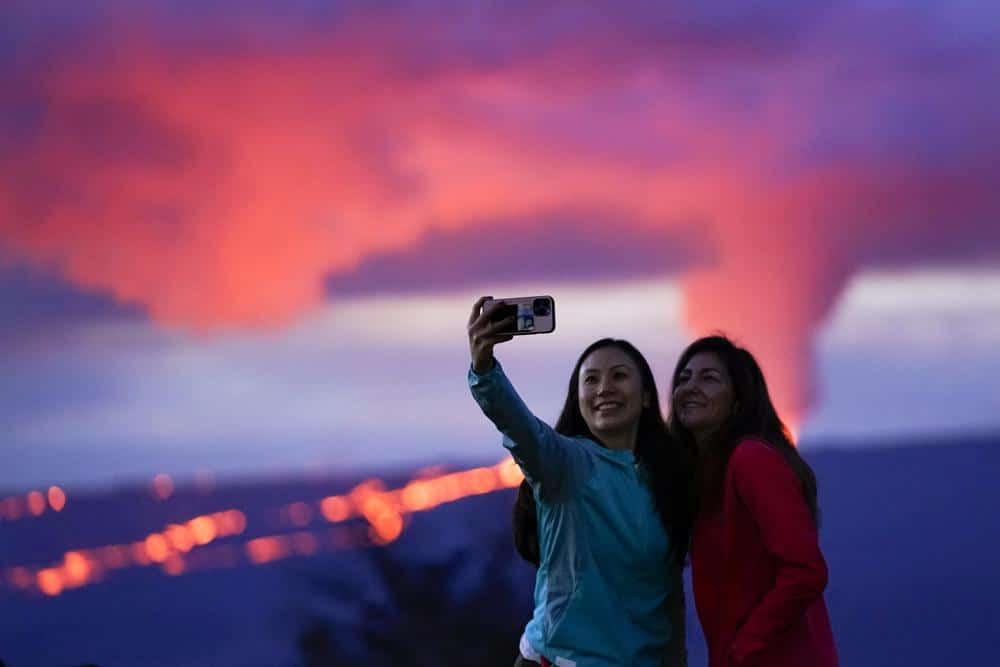 The world's largest volcano in Hawaii erupted with rivers of glowing lava on Wednesday, attracting thousands of awestruck onlookers who clogged a highway that the flow could soon bury.
Mauna Loa awoke from its 38-year slumber on Sunday, sending volcanic ash and debris into the sky. A major highway connecting towns on the Big Island's east and west coasts became an impromptu viewing point, with thousands of cars jamming the highway near Volcanoes National Park.
Anne Andersen left her overnight shift as a nurse on Wednesday to witness the spectacle, fearing that the road would soon be closed.
"It's Mother Nature showing us her face," she said as the horizon was filled with gas from the volcano. "It's quite exciting."
Gordon Brown, a visitor from Loomis, California, could see the bright orange lava from his rental house's bedroom. So he went out with his wife to get a better look.
"We just wanted to get as close to this as possible." "And it's so bright that it blows my mind," Brown explained.

The lava was tumbling down the slope slowly and was about 6 miles (10 kilometers) from the Saddle Road highway. It was unclear when or if the road, which runs through old lava flows, would be covered.
The road cuts the island in half and connects Hilo and Kailua-Kona. If Saddle Road becomes impassable, people traveling between them would have to take a longer coastal road, adding several hours to their drive time.
According to Ken Hon, chief scientist at the Hawaiian Volcano Observatory, at the current flow rate, the lava could reach the road in two days, but it will most likely take longer.
"As the lava flow spreads out, it will most likely obstruct its progress," Hon predicted.
Kathryn Tarananda, 66, of Waimea, set two alarms to ensure she didn't oversleep and miss the sunrise against Mauna Loa's eruptions.
"It's exciting," she said. "We're in the middle of nowhere. Incredibly, we live in this place. "I consider myself extremely fortunate to be an islander."
Mauna Loa erupted last in 1984. The current eruption is the 34th recorded since written records began in 1843. Because Kilauea, its smaller neighbor, has been erupting since September 2021, visitors to the national park were treated to the rare sight of two concurrent eruptive events: the glow from Kilauea's lava lake and lava from a Mauna Loa fissure.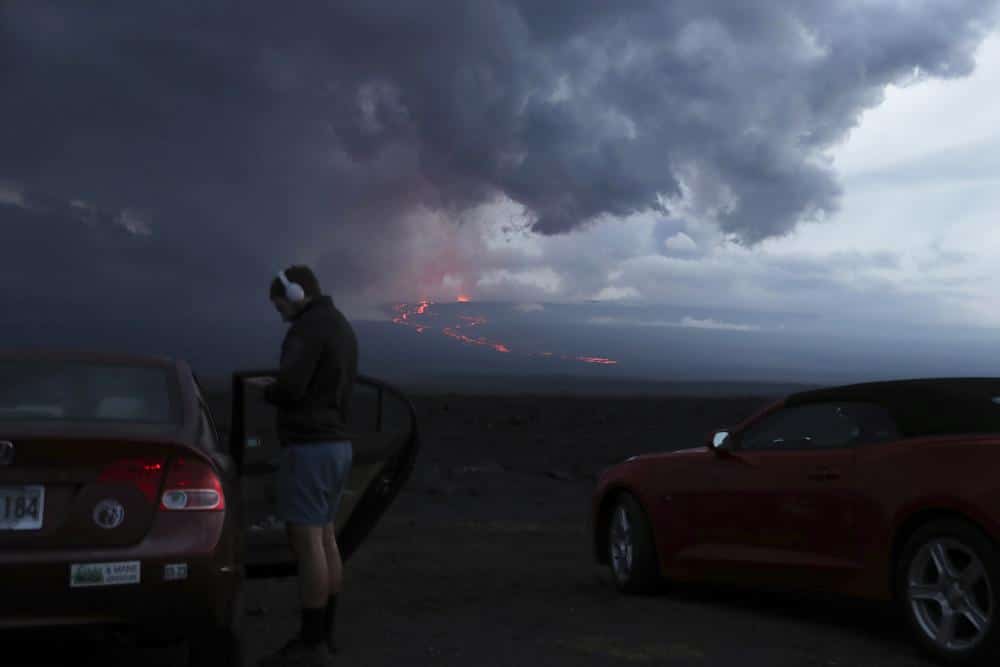 The natural forces on display impressed Abel Brown, a visitor from Las Vegas. Later in the day, he intended to take a close-up helicopter tour — but not too close.
"If you get close to it, there's a lot of fear and trepidation," Brown said. "The closer you get, the more powerful and frightening it becomes."
Officials were initially concerned that lava flowing down Mauna Loa would threaten the South Kona community, but scientists later assured the public that the eruption had migrated to a rift zone on the volcano's northeast flank and was no longer a threat.
Along Saddle Road, where people were watching the wide stream of lava creep closer, the smell of volcanic gases and sulfur was strong.
Gov. David Ige issued an emergency proclamation to allow responders to arrive quickly and, if necessary, to limit access.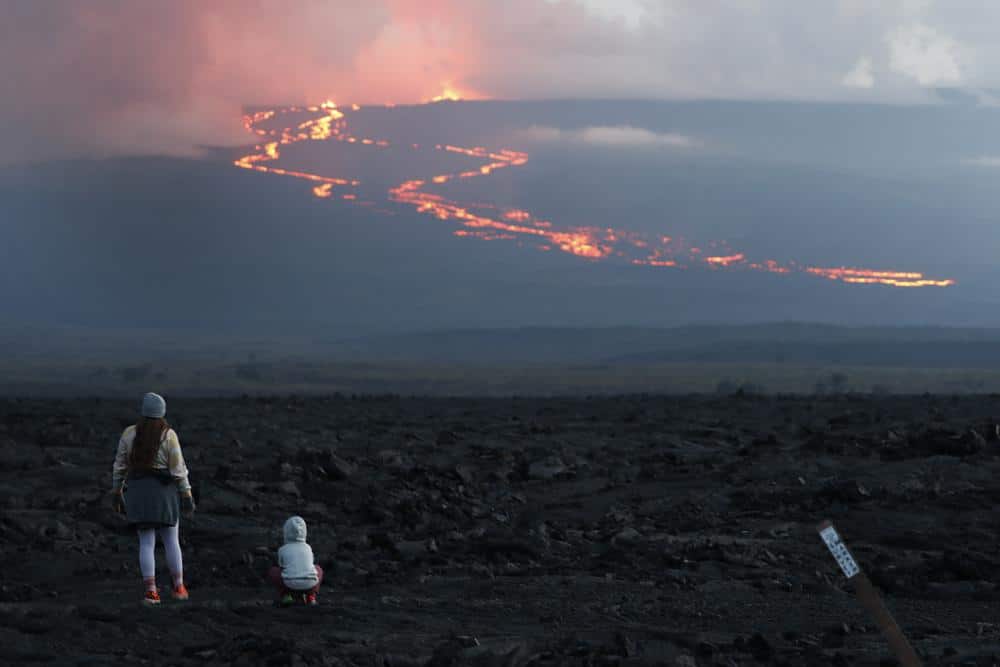 Ige, who has dealt with numerous volcano eruptions during his eight years as governor, believes it is impossible to divert Mauna Loa's molten rock away from the highway.
"There is no physical or technological way to change the path of the lava," Ige said at a press conference. He recalls wishing he could do that in 2018 when Kilauea erupted and poured lava across homes, farms, and roads.
"But, as we saw in that event, Mother Nature's and Madam Pele's power overwhelms anything we can do," Ige said, referring to the Hawaiian deity of volcanoes and fire.
Ige stated that if lava does cross the highway, the Hawaii National Guard could assist in planning alternatives and attempting to establish bypass routes.
According to Hon, lava crossed the Mauna Loa Observatory access road Monday night and cut power to the facility. It is the world's most advanced station for measuring heat-trapping atmospheric carbon dioxide.
The federal government is looking for a temporary alternate location on the Hawaiian island and is considering flying a generator to the observatory to restore power so that measurements can be taken again.
Meanwhile, scientists are attempting to quantify the gas emitted by the eruption.
Prince and Princess of Wales Arrive in US, Meghan Markle Outed in New Book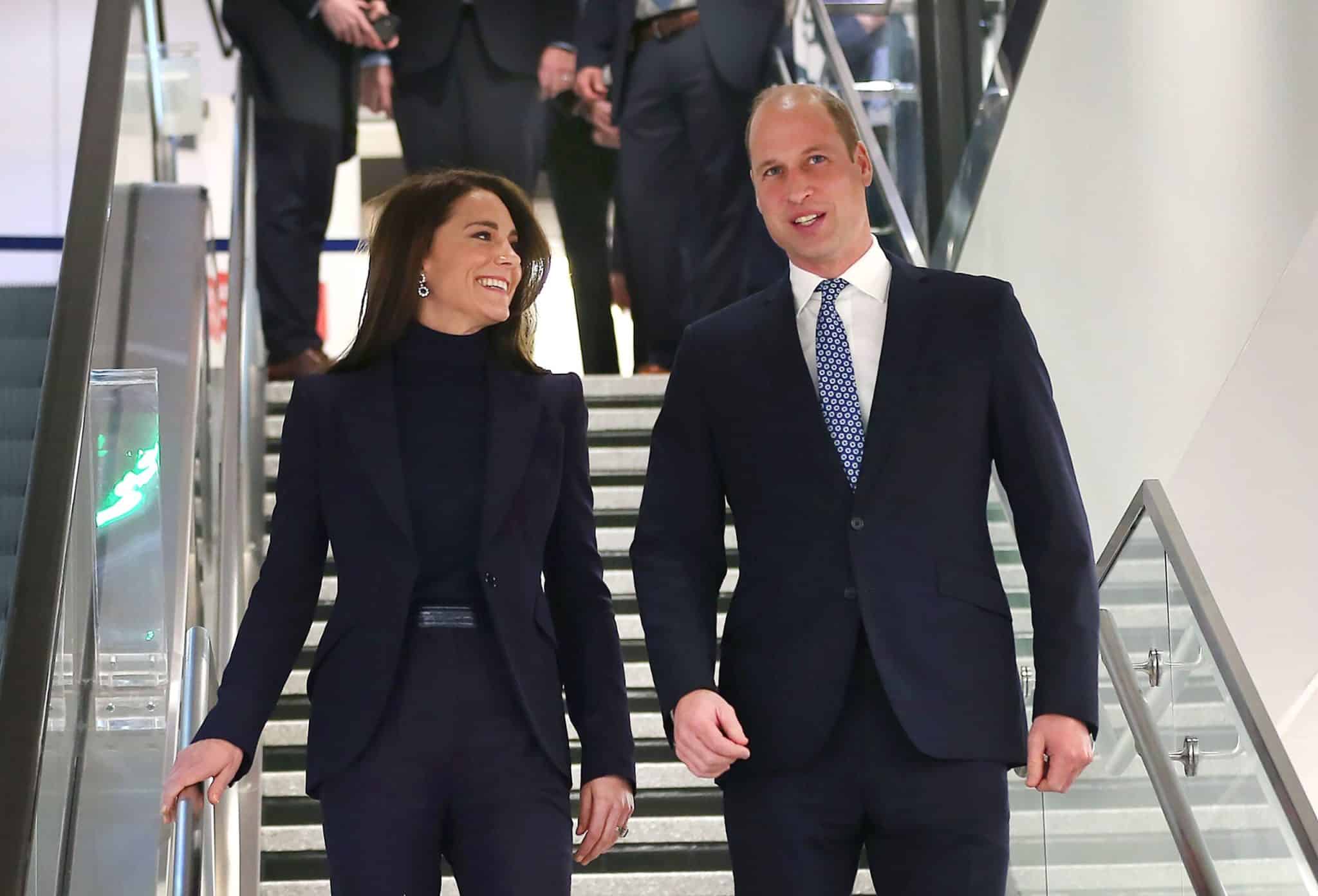 On Wednesday, the Prince and Princess of Wales arrived in the United States for the first time in eight years. Their arrival comes as Meghan Markle is outed as a "merciless opportunist" in a new book.
Their arrival comes days after Prince William's godmother, who was also the late Queen Elizabeth's lady-in-waiting, resigned after making racist and "unacceptable" remarks to a Black visitor at Buckingham Palace.
However, the start of the visit was overshadowed by the resignation and apology of 83-year-old Lady Susan Hussey, one of William's six godmothers, following racism claims from William's brother Harry and mixed-race sister-in-law, Meghan.
"Racism has no place in our society," the royal couple's spokesman told reporters in Boston.
"These comments were unacceptable, and it is appropriate that the individual resigned with immediate effect."
William was not involved in the decision but "believes it is the correct course of action," according to the spokesman.
Massachusetts Governor Charlie Baker greeted the heir to the British throne and Kate as they stepped off the plane.
They were then scheduled to meet at Boston City Hall with Boston Mayor Michelle Wu, US Climate Envoy John Kerry, and America's Ambassador to Australia, Caroline Kennedy.
The royal couple's first trip abroad since William, 40, became heir to the throne in September, when his father succeeded Queen Elizabeth II to become King Charles III.
They last visited the United States in 2014, when they visited New York and Washington and attended a White House reception with then-President Barack Obama and his deputy, Joe Biden.
According to the White House, Biden will meet with the royal couple on Friday.
"Kate and I are overjoyed to be back in America," William said shortly after arriving.
It's also their first trip to the United States since Harry and Meghan abruptly left the royal family in early 2020. There has been no announcement of a meeting between the estranged brothers.
The visit will conclude with a star-studded ceremony for William's Earthshot Prize initiative to combat climate change on Friday evening.
The awards ceremony, dubbed "William's Superbowl moment" by royal insiders, is now in its second year and awards five innovators pound sterling 1 million (US$1.2 million).
Several celebrities are set to perform at Boston's MGM Music Hall, including Billie Eilish and Annie Lennox, sisters Chloe x Halle, and actor Rami Malek.
They will also visit charities working with disadvantaged youth and a laboratory specializing in green technologies.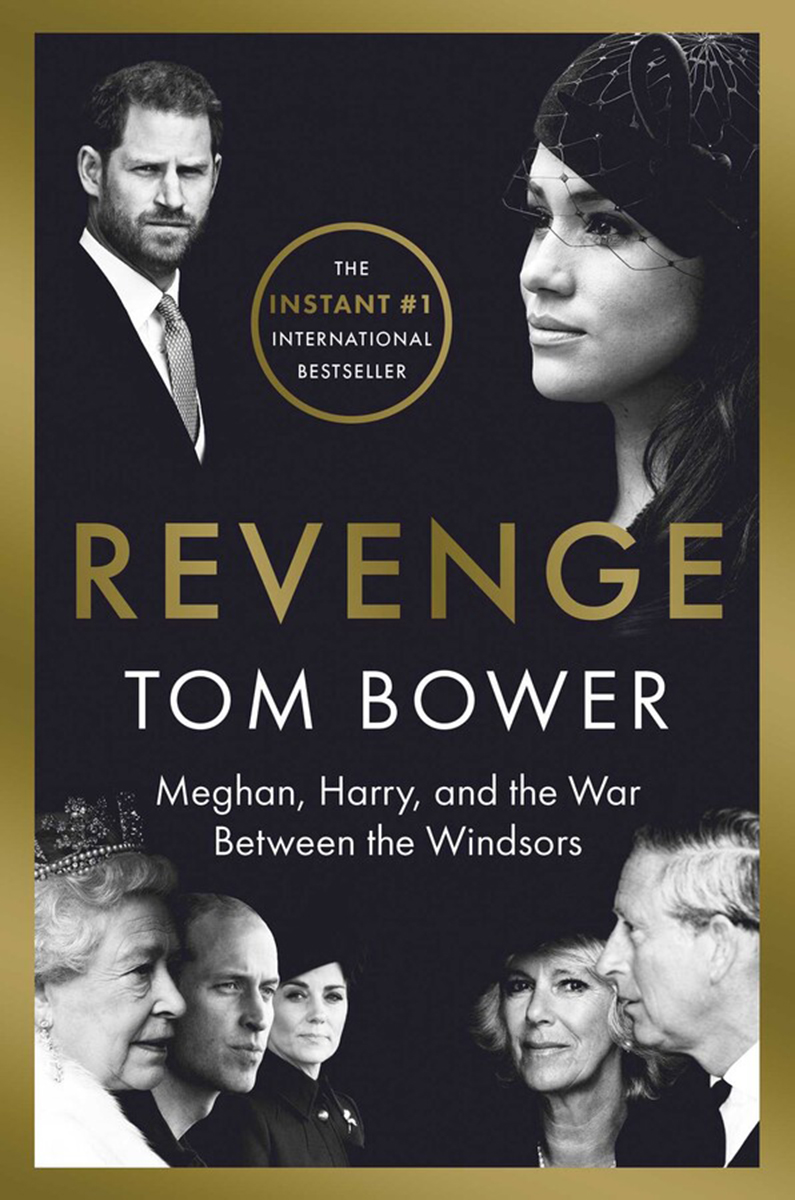 New book Outs Meghan Markle as "Merciless Opportunist."
Meghan Markle and Prince Harry's story began as a fairytale romance. However, it devolved into heated debates and family feuds somewhere along the way.
Tom Bower's New Book Revenge delves into the gruesome details.
He, too, believes he knows who is to blame. Although the book's full title is Revenge: Meghan, Harry, and the War Between the Windsors, Markle is the true subject of the book.
Markle's beginnings did not foreshadow the international drama that was to follow. She was born in 1981 in Los Angeles to Thomas Markle, 37, and Doria, 24. Thomas was a white TV lighting director. Doria was Black, a free spirit attempting to make a name for herself as a designer.
The marriage ended in divorce. But Thomas adored his new daughter, whom he referred to as "his whole life, his little princess," according to Tom Jr, his son from a previous marriage.
Meghan Markle and Prince Harry's story began as a fairytale romance. However, it devolved into heated debates and family feuds somewhere along the way.
When Doria started traveling for her fashion business, Thomas took full custody. Meghan was nine years old.
She was already used to being in the spotlight. "Meghan was videoed sitting on a red blanket, wearing a gold crown at a friend's birthday party," Bower writes.
"She had been influenced after watching a tape of Princess Diana's fairytale wedding and directed the other girls to bow and intone to her 'Your Royal Highness.'"
Her father catered to her need for attention by paying for acting classes, ballet classes, and lighting for her school plays. He also paid for her college education – $45,000 per year to study drama at Northwestern – and assisted her in getting her place and a used car after graduation. He even covered the cost of the gas.
Father corrected Meghan's Story.
Years later, he was astounded when Markle delivered speeches to working-class college students, claiming to understand their financial difficulties. "I'm sorry," her father told the press, "but that is completely false." "I paid her tuition in full, and I have the bank statements to prove it."
Markle went on a slew of Hollywood auditions after graduating from college. Few were successful. She was one of the Deals or No Deal hosts.
Working Actress is an anonymous blog where she complains about having to "kiss actors with smelly breath." She fell in love with and married a young producer.
Bower refers to marriage as a "starter marriage." However, Markle had already landed a role on Suits. As her profile grew, she began pursuing endorsement deals and speaking engagements. She also began to drift away from her father and her past. Friends who attempted to maintain contact noticed a shift.
"The tone of her voice, her mannerisms, and the way she laughed no longer seemed real to me," one said. "It was like a light went out."
With the success of Suits, she landed some Canadian TV commercials, including one for a Christian charity. Then, in the summer of 2016, during a Suits junket in London, Markle met a fashion publicist who was a childhood friend of Harry's.
According to Bower, Markle asked the publicist if she could set up the actress with the prince.

The honeymoon period with the media was brief.
A meeting was eventually set up at a private London club. The woman wasn't surprised when Markle breathlessly told her agent. "I could see where she was coming from," the agent explained. "Her desire to marry a prince was even documented in one of her old blogs."
The date went well, and Markle and Harry began seeing each other regularly. The Sunday Express broke the news four months after the couple's first date. "The British media was ecstatic," writes Bower. 'He's happier than he's been in many years,' according to The Times."
British tabloids began looking into Markle's American ancestors. The reporting grew snobbish, even racist. According to the press, her father lived in a run-down Hollywood apartment. They claimed her mother was from the ghetto. They referred to Markle's estranged half-sister as "a social climber with a soft spot for gingers."
Following the formal announcement of Prince Harry and Meghan Markle's engagement, there was a second burst of positive press coverage.
A still-adoring Harry invited Markle to spend the weekend in the country with his friends. It went differently than planned. She was a mixed-race, liberal, feminist Yankee. They were white, wealthy, conservative British men who enjoyed hunting, horseback riding, drinking, and making politically incorrect jokes.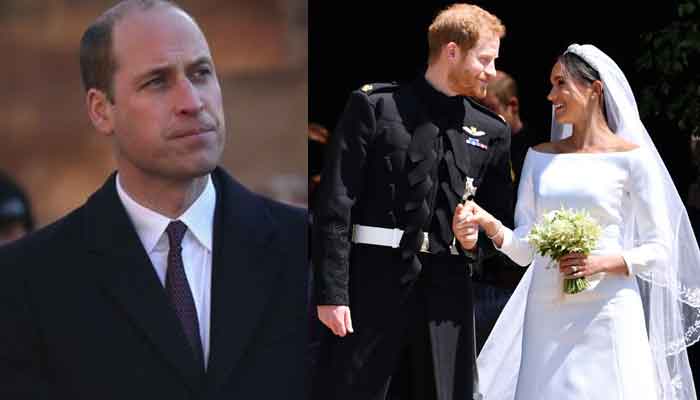 Markle was irritated and let them know.
Harry's friends quickly texted each other after the party ended. "Wait, what about HER?" "A complete nightmare."
As previously stated, Harry proposed, and she accepted. Following the formal announcement, there was a second burst of positive press coverage.
However, the family remained cautious. Diana's brother, Harry's Uncle Charles, advised him not to rush. William, his older brother, advised him to "get to know the girl." Harry didn't pay attention.
Meghan Markle's mother was the only relative who attended her wedding. According to a spokesperson, her father was too ill to travel.
The wedding plans were carried out. The friction increased as well. Staff at the palace complained that Markle was rude and demanding. Her half-sister had already dubbed her "Princess Pushy."
There were disagreements about the wedding menu, music, and guest list. A conversation with Markle's soon-to-be-sister-in-law, Kate Middleton, reportedly ended in Kate's tears as the two argued over the dress Kate's 3-year-old was to wear.
Throughout, Harry stood up for his fiancée. "What Meghan wants, Meghan gets!" he exclaimed finally.
His grandmother, the Queen, then summoned him for a private meeting. "He was firmly put in his place," according to the Times.
Over 17 million people watched the wedding. Attendees included George Clooney, Oprah Winfrey, and Serena Williams. Her mother was the only member of Markle's family to attend.
According to a spokesperson, her father was too ill to travel. The spokesperson did not say whether the father and daughter were still speaking.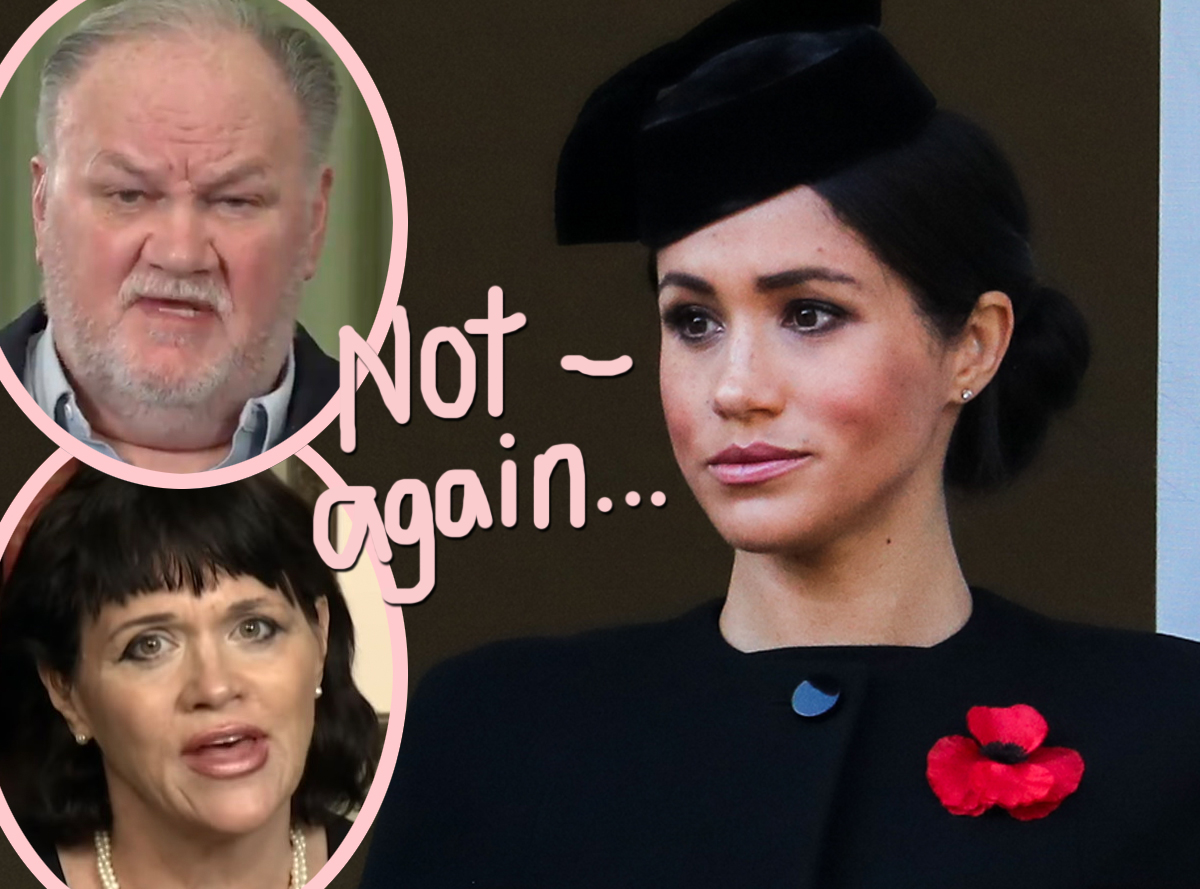 Markle Always Needed to be a Celebrity
The wedding itself went off without a hitch. But what happened next? Traditionally, the new bride would be expected to step back and play a supporting role at this point.
But Markle had always wanted to be a celebrity. She wanted to handle her publicity and pursue new charitable or commercial opportunities.
"The Royal Family had embraced a media junkie determined to capitalize on her newfound celebrity," Bower claims.
"She had never intended to give up her career and become a devoted family member."
Journalists began comparing the two young royal couples, and the younger pair were found wanting. This only fueled Markle's rage. "She despised the comparisons to uncomplaining Kate," Bower observes. The gap between the two brothers widened.
When Harry suggested they be more respectful of Meghan, William reacted angrily, citing her willful ignorance of protocol and rudeness to her staff. "Meghan's behavior," Bower reports, "was unacceptable to him."
Harry was furious. Markle was heartbroken. There were dark days ahead, and she later admitted to having suicidal thoughts. In 2020, the couple decided that the only thing to do was to abandon everything. They would relinquish any role as "working royals," Harry stated.
The couple has since relocated to California, where they focus on multi-media business ventures, a charitable foundation, and their two young children.
What did they leave behind in England? Only bad feelings, Bower insists. He describes Markle as a "merciless opportunist."