Trudeau Puts Canada "Elbow Deep" into Helping Haiti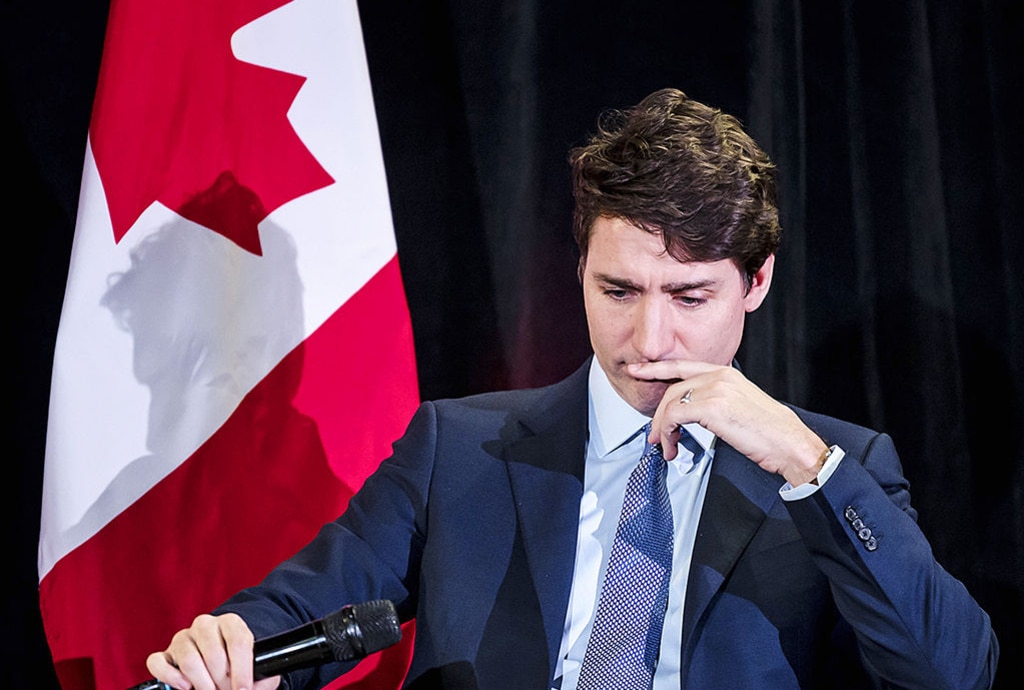 Canada's Prime Minister Justin Trudeau avoided direct questions about whether Canada has been asked to lead a military intervention in Haiti. He stated that Canada's response in Haiti is guided by lessons and "difficult experiences" from previous interventions and missions.
Canada is sticking to its plan to help Haiti by boosting its support for the Haitian National Police.
"Canada is elbow deep in attempting to assist," Justin Trudeau said in Nassau, Bahamas. "The best thing we can do to assist is to allow Haitian leadership and the patient people to drive their path out of this crisis."
According to Trudeau, Canada will send two navy vessels to the Haitian coast as part of a surveillance and intelligence operation.
The announcement is the latest in Canada's piecemeal response, which falls short of acting Prime Minister Ariel Henry's request for military intervention.
Trudeau stated that the navy vessels are deployed to deter gangs from using waterways as "an extra sphere of influence." He added that they would not be present to intercept migrants.
"They are there to help the Haitian National Police control gang activity in Port-au-Prince and along the coast," Trudeau told reporters after two days of meetings with Caribbean Community (CARICOM) leaders.
Haiti and climate change dominated the leaders' agendas.
Along with the two Canadian coastal defense ships, Canada will airlift three MRAPS (mine-resistant light armored personnel carriers) purchased by the Haitian National Police to the country "in the coming days."
The Canadian prime minister stated that his government's priority is to intervene in an "atrocious situation" by strengthening Haiti's National Police. "What is happening in Haiti is heartbreaking — and we must do everything we can to help."
For months, the White House and the Canadian government have emphasized the importance of finding a Haitian-led solution to keep the country from devolving further into lawlessness.
According to State Department spokesperson Ned Price, discussions with Canada and other hemispheric partners, the Organization of American States, and the United Nations about what can bring stability and security to Haiti are ongoing.
A Haitian-led response has yet to emerge, and the country's enduring intertwined humanitarian, political, and security crises risk further devastation.
Trudeau Imposes Sanctions
Canada has used sanctions to stifle financial flows to Haitian elites and gangs linked to violence in the country, a strategy that saw the addition of two names to a list of 17 sanctioned individuals last week.
Trudeau said on Thursday that Canadian-supplied Mine-Resistant Ambush Protected light tactical vehicles (MRAP) would arrive in Haiti "in the coming days" and that the government would deploy Navy vehicles off Haiti's coast. He stopped short of proposing the kind of military force its de facto prime minister requested, as experts urge him to stop growing talk of foreign intervention.
Trudeau announced at a meeting of 20 Caribbean Community leaders that Canada would provide $12.3 million in new humanitarian aid to the crisis-stricken country and $10 million to the International Organization for Migration to assist migrants in the region.
Following surveillance flyovers earlier this year and an existing plan to send more armored vehicles, Trudeau promised to send Royal Canadian Navy vessels to the Haitian coast.
The HMCS Glace Bay and HMCS Moncton will be redeployed from West Africa, along with their 90 sailors, according to the Defence Department. They will conduct "presence patrols" in the waters surrounding Port-au-Prince.
Trudeau said this morning that he had a "constructive" conversation with Haitian de facto leader Ariel Henry, who is acting as the country's prime minister but was not elected. Jody Thomas, Canada's national security adviser, was present and taking notes, as were Bob Rae, Canada's ambassador to the United Nations, and Sebastien Carriere, the country's ambassador to Haiti.
During brief remarks to the media, he insisted to Trudeau, speaking in French, that the country must work toward transparent elections despite the deteriorating security situation.
Gang activity has slowed Haiti's economy and hastened the spread of cholera. Last week, a United Nations report detailed "indiscriminate shootings, executions, and rapes." The police have been unable to stop the widespread violence.
North Korea Test-Fires 2 More Missiles As US Sends Carrier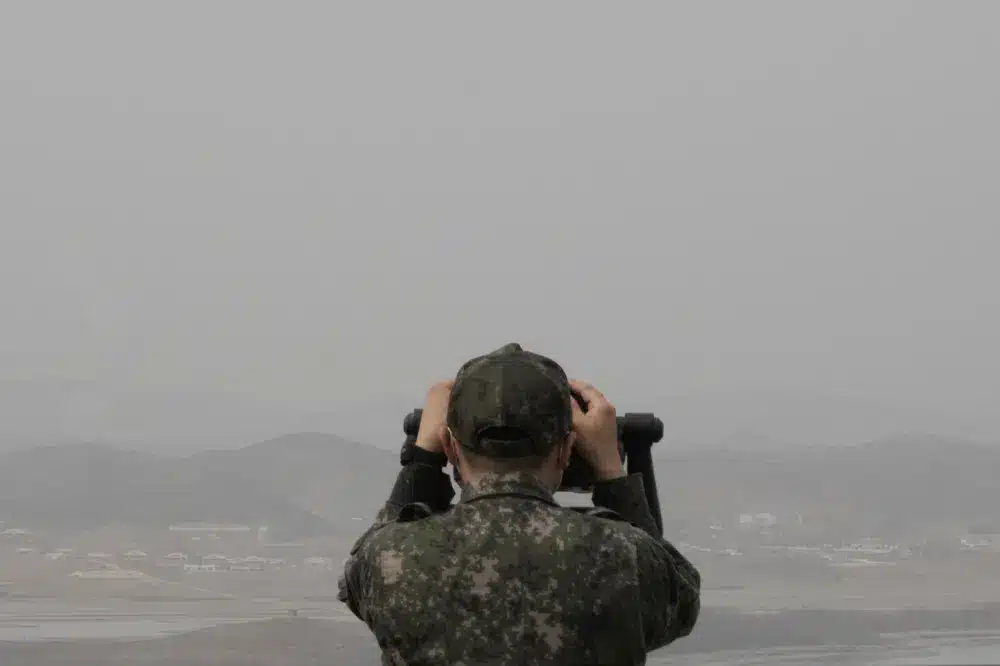 South Korea's SEOUL — On Monday, the nuclear-powered USS Nimitz and her battle group began operations with South Korean warships, hours after North Korea fired two short-range ballistic missiles in apparent protest of the allies' growing maneuvers.
This month's seventh missile test heightened regional tensions as the North's weapons tests and joint military exercises between the United States and South Korea intensified in a cycle of tit-for-tat.
The launches could have been timed to coincide with the arrival of the USS Nimitz and its strike group, which included a guided missile cruiser and two destroyers and participated in air defense exercises and other maneuvers with South Korean vessels waters around Jeju Island.
South Korean navy spokesperson Jang Do Young said the drills were aimed at honing joint operational capabilities and proving the U.S. resolve to defend its ally with all available options, including nuclear, in the wake of the North's "escalating nuclear and missile threats."
On Tuesday, the Nimitz strike group was scheduled to arrive in Busan's South Korean mainland port.
"The United States has deployable strategic assets at the ready every day," said Carrier Strike Group Eleven leader Rear Adm. Christopher Sweeney. "We can and will continue to deploy those assets."

The two North Korean missiles were launched from a western inland area
The two North Korean missiles were launched from a western inland area south of Pyongyang between 7:47 a.m. and 8 a.m. and traveled approximately 370 kilometers (229 miles) before falling at sea, according to South Korea's Joint Chiefs of Staff. The missiles, which landed beyond Japan's exclusive economic zone, traveled on an erratic trajectory and reached a maximum altitude of 50 kilometers, according to Japan's military. (31 miles).
Previously, Japan used similar wording to describe a North Korean solid-fuel missile that appears to be modeled after Russia's Iskander mobile ballistic weapon, which is supposed to be maneuverable in low-altitude flight to better elude South Korean missile defenses. North Korea also has another short-range system similar to the MGM-140 Army Tactical Missile System used by the United States.
Hirokazu Matsuno, Japan's Chief Cabinet Secretary, stated that North Korea might increase its testing activity by launching additional missiles or conducting its first nuclear test since September 2017.
The South Korean and Japanese militaries condemned the new launches as a severe provocation endangering regional peace and stated that they were cooperating with the U.S. to further evaluate the missiles. The U.S. Indo-Pacific Command stated that while the launches did not constitute an imminent threat to the U.S. or its allies, they underscore North Korea's "destabilizing impact" of its illicit nuclear and missile programs.
North Korea, subject to U.N. Security Council sanctions for its nuclear program since 2016
North Korea, subject to U.N. Security Council sanctions for its nuclear program since 2016, did not immediately respond to the launches.
Last week, the U.S. and South Korea concluded their largest springtime drills in years, including computer simulations and live-fire field exercises. However, the allies have continued their field training as a show of force against the mounting dangers from the North.
North Korea also launched a short-range missile when the USS Ronald Reagan and its battle group arrived in September for joint drills with South Korea, the last time the U.S. sent an aircraft carrier to waters near the Korean Peninsula.
North Korea has launched more than 20 ballistic and cruise missiles this year to push the U.S. to accept its nuclear status and negotiate sanctions relief from a position of strength.
This month's tests included an intercontinental ballistic missile and a series of short-range missiles designed to overwhelm South Korean defenses as North Korea attempts to demonstrate its ability to undertake nuclear strikes on South Korea and the United States mainland.
The North conducted a three-day practice last week that claimed to simulate nuclear assaults on South Korean targets.
The country's leader, Kim Jong Un, has called the joint military exercises between the United States and South Korea "invasion rehearsals." According to the allies, the exercises are defensive.

The tests included a rumored nuclear-capable underwater drone.
The tests included a rumored nuclear-capable underwater drone, which the North said could unleash a massive "radioactive tsunami" and destroy navy vessels and ports. Analysts questioned whether such a device posed a significant new danger, and Seoul's Joint Chiefs of Staff warned in a statement Monday that the North Korean allegations were likely "exaggerated and fabricated."
Following some of its ballistic and cruise missile tests earlier this month, North Korea claimed that those missiles were tipped with dummy nuclear warheads that detonated 600 to 800 meters (1,960 to 2,600 feet) above their sea targets, presenting them as maximum damage heights.
North Korea has already had a record year of weapons testing, launching more than 70 missiles in 2022. It had enacted an escalator nuclear strategy that allows for pre-emptive nuclear strikes in a wide range of scenarios in which it perceives its leadership to be under threat.
"It appears North Korea is practicing, or signaling that it is practicing, the use of nuclear strikes, both preemptive and retaliatory, in various scenarios authorized in its nuclear doctrine," said Duyeon Kim, a senior analyst at the Center for a New American Security.
"The problem is that continued testing allows Pyongyang to perfect its technology, strengthen its nuclear weapons capability, threaten South Korea and Japan, increase the possibility of miscalculation, which could lead to inadvertent conflict, and accumulate political leverage ahead of future diplomatic talks with Washington."
Following the North's confirmation of the drone test on Friday, South Korea's air force disclosed information about a five-day joint practice with the U.S. last week, which included live-fire displays of air-to-air and air-to-ground weaponry.
According to the air force, the exercise aimed to test precision strike capabilities and reaffirm the credibility of Seoul's "three-axis" strategy against North Korean nuclear threats. This strategy includes striking potential targets ahead of time, stopping incoming missiles, and taking out the North's leadership and key military facilities.
SOURCE – (AP)
Lyft To Pick Up New CEO Amid Deepening Post-Pandemic Losses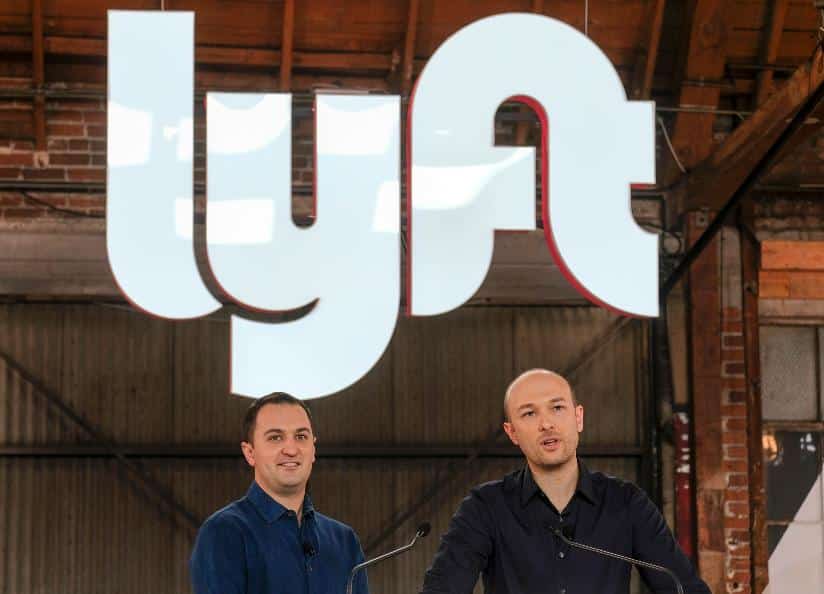 Logan Green and John Zimmer, co-founders of Lyft, are stepping down to make room for a former Amazon executive as the ride-hailing service battles to recover from the pandemic while long-time rival Uber has been regaining pace.
According to the revised order released Monday, Green will stand down as Lyft's CEO on April 17, and Zimmer will step down as the San Francisco company's president at the end of June.
Green will be succeeded as CEO by David Risher, who helped turn Amazon into an e-commerce behemoth. Green will remain Lyft's non-executive chairman, while Zimmer will become vice chairman after leaving management.
The reorganization comes roughly a month after Lyft announced a $588 million loss for the final three months of last year, more than doubling from the same period in 2021, and issued a bleak prediction for 2023. This exacerbated Lyft's stock decline, which had dropped its shares below $10, a roughly 80% loss from their price at the end of 2019, only a few months before the announcement of a global epidemic halted demand for ride-hailing services.

The reorganization comes roughly a month after Lyft announced a $588 million loss.
While Uber's ridership has returned to pre-pandemic levels, Lyft has failed to find a means to recover, leading its losses to rise and investors to flee the shares. Uber expanded its operations to include food delivery, a popular choice amid government lockdowns that kept people opening the Uber app.
Wedbush Securities analyst Daniel Ives called Lyft's last six months a "train wreck" that necessitated a change in leadership. He stated that Risher had so much work ahead of him that Lyft would consider selling him. An acquisition would be less expensive than it would have been a few years ago, as Lyft's current market valuation has dropped to $4 billion, down from around $14 billion at the end of 2019.
Risher said in a prepared statement that he was "gobsmacked" when asked about becoming Lyft's CEO and that he is now "prepared to take this business to new levels of success."
Risher was hired as Amazon's 37th employee and proved so valuable to the Seattle company that when he departed, its founder, Jeff Bezos, issued a thank you statement thanking Risher for helping to develop a company that "is all about working hard, having fun, and making history."
With consumers reducing their e-commerce purchases due to the epidemic, Amazon has announced 27,000 layoffs since late last year.
Risker founded Worldreader, a San Francisco organization that teaches young children to read.
Uber, also based in San Francisco, experienced a considerably more traumatic leadership transition in 2017 when its co-founder Travis Kalanick was forced out in a high-profile power struggle that was depicted last year in a Showtime TV series. Dara Khosrowshahi, the company's new CEO, has been attempting to transform Uber into the transportation equivalent of Amazon.
SOURCE – (AP)
Strike Over Pay Paralyzes Rail, Air Travel In Germany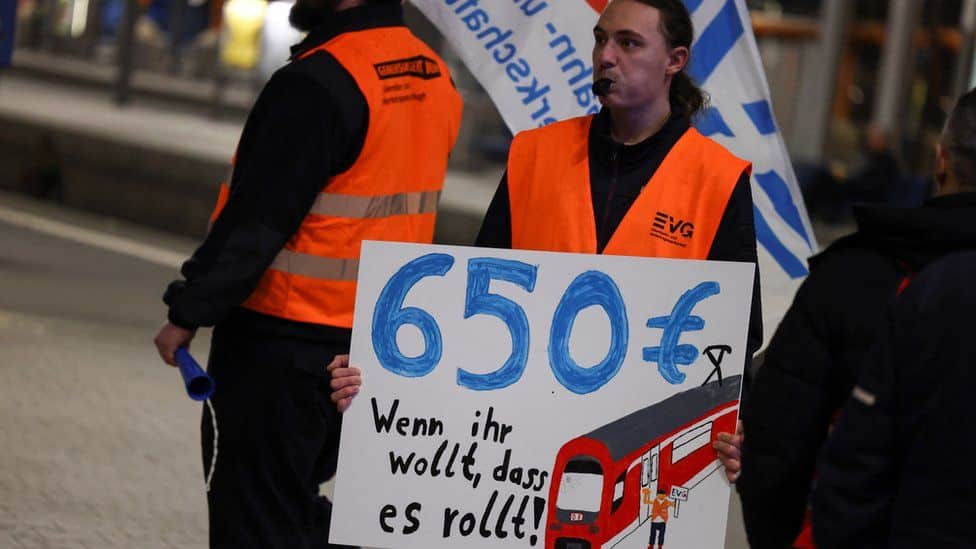 BERLIN — Trains, aircraft, and public transportation systems were grounded across most of Germany on Monday as labor unions launched a big one-day strike over pay to obtain inflation-busting raises for their members.
The 24-hour strike, one of the country's largest in decades, also impacted cargo movement by train and ship as workers at the country's ports and waterways joined the strike.
Many commuters chose to travel to work, generating some traffic delays, while those who could work from home did so.
Unions are seeking a 10.5% pay increase and have rejected employer offers of approximately 5% over two years plus one-time bonuses.
According to Ulrich Silberbach of the Civil Service Federation, high inflation observed everywhere last year affected many workers hard.
"We have seen a drop in real wages, which needs to be balanced," he told reporters in Berlin, adding that some of his union's members in major cities must request public assistance to pay their rent.
Silberbach expressed hope that employers will raise their offer in the next discussions or that unions would be forced to consider an open-ended strike.
Three days of talks are scheduled between the two sides.
His EVG train union colleague Martin Burkert noted that workers' salaries are a fraction of some senior executives' salaries.
However, Deutsche Bahn dismissed the union's proposals as overblown and warned that millions of commuters would be affected.
"Thousands of companies that normally send or receive goods by rail will also suffer," said Achim Strauss, a spokesman for Deutsche Bahn. "In the end, the environment and the climate will suffer." The oil companies are today's winners."
He said that train tickets that couldn't be used because of the disruption would remain valid, and travelers should check the company's website for updates.

The strike caused inconvenience and delays Sunday.
Three days of talks are scheduled between the two sides. Interior Minister Nancy Faeser, representing the federal government in the talks, said her side would be "tough but fair and constructive" in the discussions.
Faeser expressed confidence that a satisfactory solution may be found.
Labor strikes are common in Germany, and they usually conclude with a compromise agreement reached between unions and employers.
The strike caused inconvenience and delays Sunday as travelers hurried to reach their destinations early.
SOURCE – (AP)