Kevin McCarthy Suffers 11th Ballot Defeat for Speaker of the House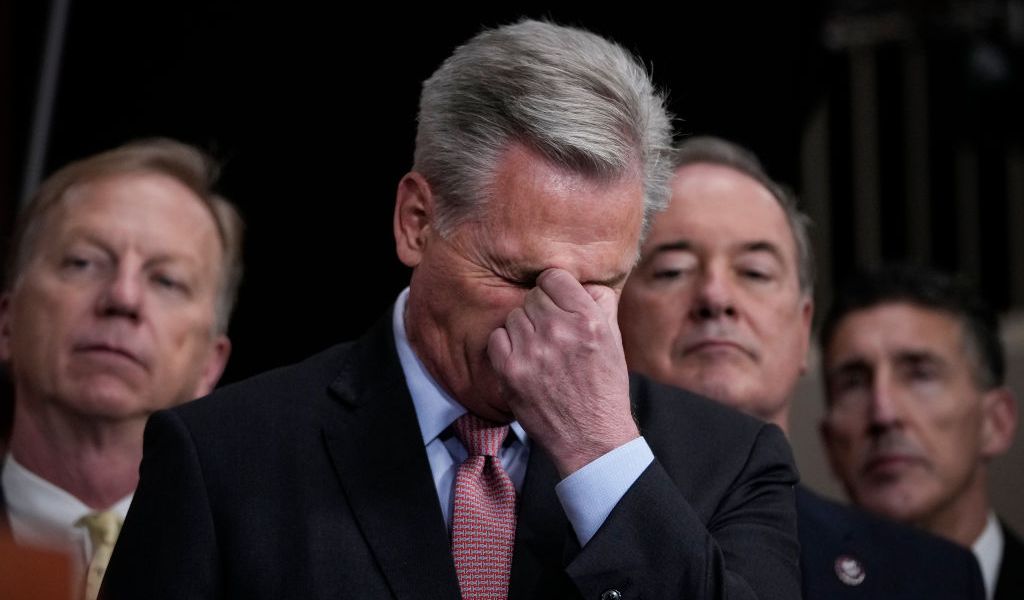 The race for the next Speaker of the United States House of Representatives will continue for a fourth day after lawmakers voted to adjourn proceedings on Thursday evening following a historic 11th ballot loss for Republican Kevin McCarthy amid a tense impasse in Washington.
Despite McCarthy's last-ditch efforts to subdue opposition and secure the votes he needs to be elected House Speaker, 20 Republicans repeatedly voted against him, denying him the simple majority he needed to win the gavel.
The protracted stalemate revealed long-simmering tensions within the Republican party and prompted speculation about how lawmakers might chart a way forward. McCarthy has resisted calls for him to step down in favor of another Republican, and Democrats have declined suggestions that they might support McCarthy or collaborate with Republicans to select a new Speaker.
Late Thursday night, a slim majority of lawmakers agreed to adjourn, setting the stage for a new round of voting on Friday at noon. The House began voting on Tuesday, but no consensus has been reached.
The House of Representatives is required by the Constitution to select a Speaker before it can move on to legislative business.
Kevin McCarthy Needs 218 Votes
McCarthy made history by becoming the first candidate for Speaker in a century to require multiple rounds of voting. In 1923, there were nine voting rounds. Some of the rebels have personal grievances with McCarthy, while others have demanded rule changes that would facilitate McCarthy's ouster.
After months of negotiations, it appeared on Thursday that McCarthy had agreed to change the rules so that only one member of the House could request a vote of no confidence. However, the changes did little to move the dial and bring him closer to the 218 votes needed for a simple majority in the chamber.
The Republicans regained control of the House of Representatives in the midterm elections of November. McCarthy is in a difficult position because the "red wave" he predicted did not materialize and Republicans hold a razor-thin majority in the chamber, leaving him dependent on a small number of rebels.
The Club for Growth, an ultra-low-tax organization, and the Congressional Leadership Fund, a McCarthy-aligned fundraising organization, announced late Wednesday that they had reached an agreement whereby the latter would not spend money on open Republican primaries in safe seats.
Trump VOTE FOR KEVIN
The agreement was viewed as a victory for conservative Republicans who had previously objected to McCarthy's efforts to support more centrist candidates. McCarthy received an apparent boost earlier on Wednesday when former US president Donald Trump issued a ringing endorsement of his candidacy, declaring:
"It's now time for all our GREAT Republican House members to VOTE FOR KEVIN, CLOSE THE DEAL, TAKE THE VICTORY!"
Trump's efforts failed to sway the dissenters, which is the latest indication that his influence within the party is waning. One of the Republican rebels, Lauren Boebert, referred to Trump as her "favorite president" but said he should be urging McCarthy to withdraw.
Some of McCarthy's allies have also urged the California congressman to step down in favor of a consensus candidate who could unite the party's warring factions. Steve Scalise, a congressman from Louisiana and McCarthy's deputy, has been proposed as an alternative by a number of members, both publicly and privately.
Despite suggestions that Democrats and a group of Republicans could band together to support an alternative Speaker candidate, Democratic leaders have shown little willingness to help break the impasse. Instead, Democrats voted unanimously in favor of Hakeem Jeffries, who took over as party leader in the House after Nancy Pelosi announced her intention to step down.
Source: FT, VOR News
Biden's DOJ Criminally Charges Former President Donald Trump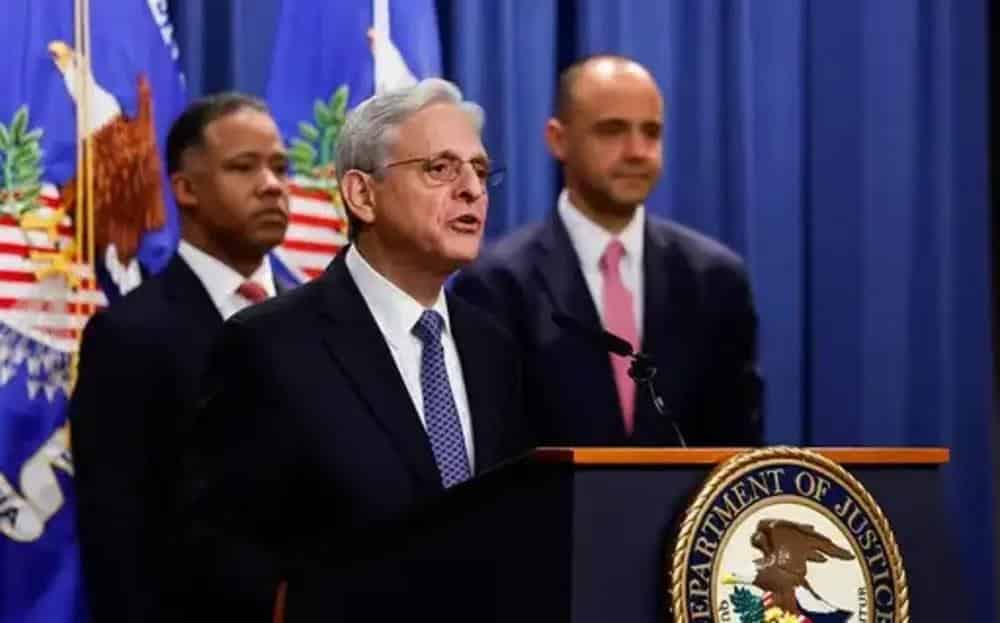 Former President Donald Trump has been charged with federal crimes as a result of Special Counsel Jack Smith's months-long investigation. Trump is charged with at least seven felony offences, including document tampering and obstruction of justice. He has been summoned to federal court in Miami on Tuesday.
Trump announced the indictment on his Truth Social social media site. According to sources, federal prosecutors told Trump's attorneys of the charge shortly before he publicized it.
Trump stated that he has "been summoned to appear at the Federal Courthouse in Miami on Tuesday, at 3 PM."
Trump has been indicted for the second time this year. Trump pleaded not guilty in April after Manhattan District Attorney Alvin Bragg charged him with 34 counts of falsifying business documents in the first degree.
Smith was appointed in November 2022 by Attorney General Merrick Garland to examine Trump's suspected inappropriate retention of secret records at his Mar-a-Lago estate.
Trump home raided
In February 2022, NARA informed Congress that Trump had taken 15 boxes of presidential records to his personal property in Florida. The 15 boxes were seized from Mar-a-Lago by NARA, who "identified items marked as classified national security information within the boxes." NARA sent the case to the Justice Department.
These boxes purportedly held "classified national security information," as well as official correspondence between Trump and foreign heads of state.
Among the classified materials seized by the FBI during the August raid were a letter from former President Obama to Trump, a letter from Kim Jong Un, a birthday dinner menu and a cocktail serviette.
Last year, Trump claimed that the National Archives did not "find" the records, but that they were "given, upon request." According to sources close to the former president, he was cooperating and there was "no need" for the raid.
The FBI inquiry "established that documents bearing classification markings, which appear to contain National Defence Information (NDI), were among the materials contained" in the 15 boxes Trump first gave over to the NARA, according to the affidavit.
"A preliminary triage of the documents with classification markings revealed the following approximate numbers: 184 unique documents bearing classification markings, including 67 documents marked CONFIDENTIAL, 92 documents marked SECRET, and 25 documents marked TOP SECRET," according to the affidavit.
According to the unsealed and heavily redacted affidavit used to justify the raid, the FBI stated that it had "probable cause to believe" that additional records containing classified information, including National Defence Information, would be discovered on the premises of the Mar-a-Lago home, in addition to what he had previously turned over to the NARA.
According to the property receipt from the FBI raid on August 8, 2022, agents took around 20 boxes of things from the premises, including one set of documents labelled "Various classified/TS/SCI documents," which refers to top secret/sensitive compartmented information.
Top secret papers
Records protected by that government classification level may contain human intelligence and information that, if exposed, could jeopardise relations between the United States and other countries, as well as the lives of intelligence operations abroad. However, the classification also includes national security material pertaining to the president of the United States' daily operations.
The property receipt also said that FBI agents collected four sets of top secret papers, three sets of secret documents, and three sets of confidential documents, however the document contains no information about any of those data.
The search was performed by the government in response to what it perceived to be a breach of federal laws: Gathering, transferring, or losing defence information is a violation of 18 USC 793; concealment, removal, or mutilation is a violation of 18 USC 2071; and destruction, alteration, or fabrication of data in federal investigations is a violation of 18 USC 1519.
The charge of "gathering, transmitting, or losing defence information" is a violation of the Espionage Act.
The charge follows the discovery of confidential materials in President Biden's office at the Penn Biden Centre last year. Those records came from his time as vice president during the Obama administration, as well as his stint in the United States Senate.
Investigation into the Capitol riot
Garland initially chose U.S. Attorney John Lausch to conduct an investigation into sensitive data discovered at the Penn Biden Centre. More classified data were discovered at Biden's Wilmington, Delaware residence in December, but the revelations were not made public until this year.
Garland later hired Special Counsel Robert Hur to investigate Biden's unlawful retention of confidential records. Hur took up the Department of Justice probe from Lausch.
Meanwhile, secret documents were discovered at the home of former Vice President Mike Pence in Indiana.
On January 6, 2021, Smith also took over the Justice Department's investigation into the Capitol riot. In that capacity, he investigated whether Trump or other officials hampered the peaceful transition of power following the 2020 presidential election, including the certification of the Electoral College result on that day.
The Biden White House did not respond to Fox News' request for comment.
Last Monday, Fox News reported that the Justice Department had completed its investigation and that Pence would not be indicted.
CNN Ousts CEO Chris Licht After A Brief, Tumultuous Tenure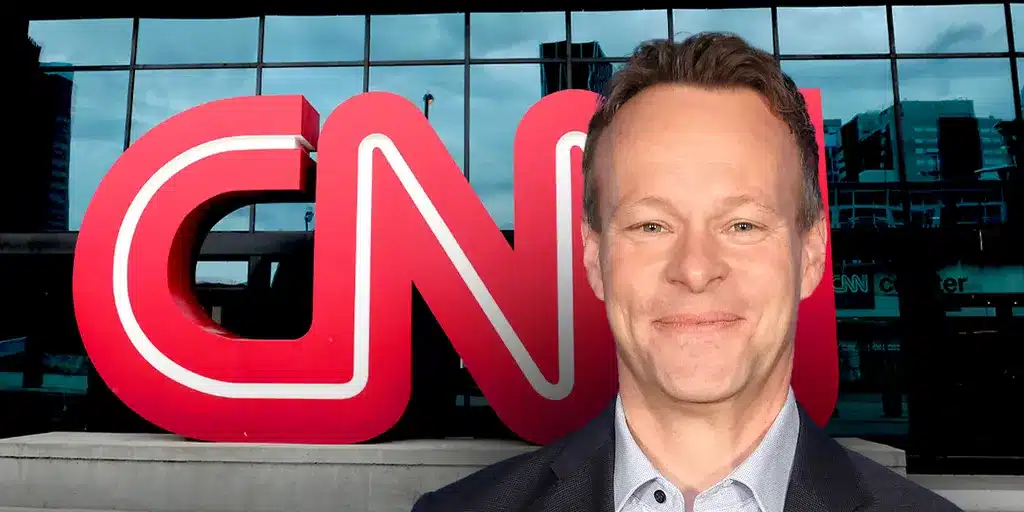 THE NEW YORK CNN fired Chief Executive Chris Licht, After a turbulent year in charge of the faltering news organization, culminating in a stinging magazine feature and the growing realization that he'd lost the trust of the network's journalists, CNN fired Chief Executive Chris Licht.
Just two days after Licht declared he would "fight like hell" to earn the respect of those around him, the change was revealed at CNN's editorial meeting on Wednesday morning.
In addition to appointing a four-person interim leadership team, Warner Bros. Discovery CEO David Zaslav announced during the editorial meeting that he would conduct a comprehensive search for Licht's replacement.
Republicans had grown increasingly wary of the network due to frequent attacks by the late President Donald Trump. Thus, Licht was mandated to try and make CNN more appealing to both sides of the country's political spectrum.
However, several network employees viewed Licht's call for change as a rejection of their prior efforts, and a live town hall interview with Trump last month generated strong opposition.
Don Lemon was fired from the network's morning show earlier this year after Licht tried to modernize it, but it was unsuccessful. Creating a new prime-time lineup was protracted, as Kaitlan Collins was only recently chosen to host the 9 p.m. hour, which has been without a permanent host since Chris Cuomo was let go in December 2021.

CNN fired Chief Executive Chris Licht.
Just over a year ago, Zaslav appointed Licht to succeed Jeff Zucker, a well-liked predecessor who had created shows like MSNBC's "Morning Joe," CBS' morning news program, and Stephen Colbert's late-night show. Zucker was let go for failing to disclose a mutually beneficial relationship with another CNN executive.
The position "was never going to be easy, especially at a time of great disruption and transformation," Zaslav wrote in a memo to CNN employees.
He remarked, "Chris put his heart and soul into it. It has been clear throughout his tenure that he has a great affection for journalism and this industry. Unfortunately, things did not turn out as we had intended, and in the end, I was responsible.

An inquiry for comment from Licht has yet to receive a response.
"Inside the Meltdown at CNN," a lengthy profile of Licht that appeared in Atlantic magazine on Friday, proved embarrassing and probably sealed his demise. Before he arrived, Licht criticized some of CNN's COVID coverage, which infuriated some journalists.
According to a Wall Street Journal piece published Tuesday night, Jake Tapper, Anderson Cooper, and Erin Burnett, three of CNN's top anchors, reportedly privately voiced their disapproval of Licht's management.
In the meantime, viewers were leaving. With 494,000 viewers in May, CNN's prime-time audience was down 16% from April and fell short of MSNBC, its nearest competitor in the news market.
Amy Entelis, Virginia Moseley, Eric Sherling, and David Leavy, four current CNN executives, were chosen by Zaslav to lead the network while a replacement is sought.
In the message, Zaslav stated, "We are in good hands, allowing us to take the time we need to run a thoughtful and thorough search for a new leader."
SOURCE – (AP)
Boris Johnson's WhatsApp Messages And Why People In Britain Talking About Them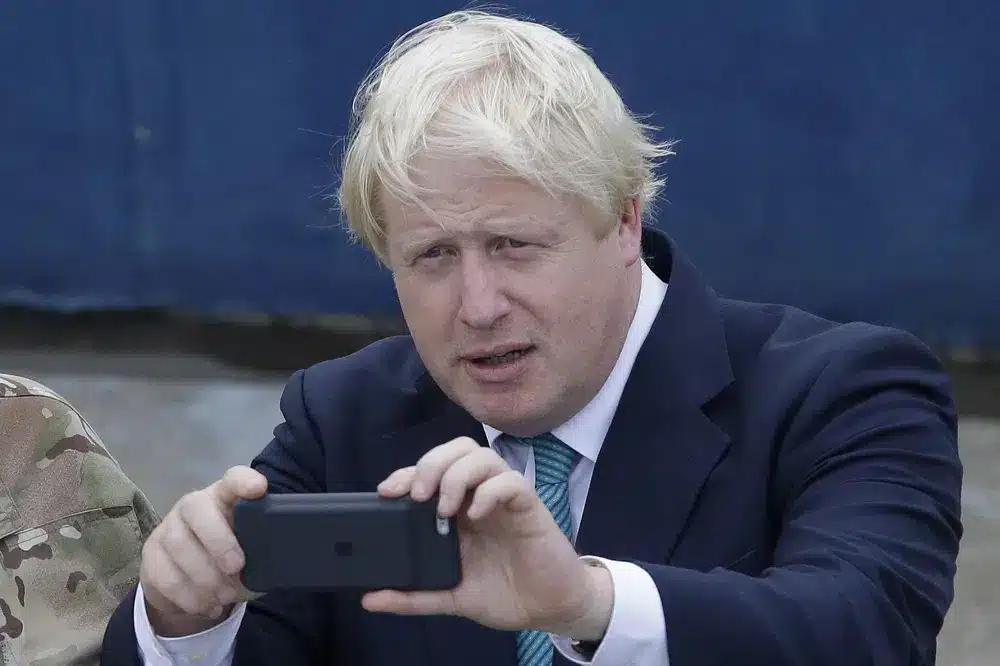 LONDON — Because WhatsApp is popular among lawmakers and government employees, detractors claim the British government runs "government by WhatsApp."
Therefore, it only makes sense that the main focus of Britain's official investigation into how the nation handled the COVID-19 outbreak is a dispute over WhatsApp communications.
The investigation run by retired judge Heather Hallett included a lot of communications between then-Prime Minister Boris Johnson and cabinet members, advisors, and officials during the pandemic. Since some of the messages are private and unrelated to the investigation, the Conservative administration, currently under the leadership of Prime Minister Rishi Sunak, wants the ability to modify them before turning them over. It has challenged Hallett's directive to turn over the unredacted messages in court.
What is the investigation looking into?
One of the greatest death rates in Europe, more than 200,000 people have died in Britain after testing positive for COVID-19, and Johnson's government's choices have been hotly contested. Johnson gave in to pressure from bereaved families in late 2021 and decided to launch an investigation.
The scope of Hallett's investigation will focus on the United Kingdom's pandemic preparedness, the government's response, and whether or not the "level of loss was inevitable or whether things could have been done better."
The former prime minister and many other top government officials are expected to testify during public hearings starting on June 13 and going through 2026.

WHY IS WHATSAPP Johnson OFF?
The texting service, owned by Meta, has grown to be a favorite among British government officials and the journalists who cover them. Users may feel secure knowing their conversations will remain private because of its end-to-end encryption and ease of use for solo and group chats.
This confidence has occasionally shown to be misplaced. Tens of thousands of his texts were given to a writer who was assisting Matt Hancock, a former health secretary who helped lead Britain's response to the epidemic, in writing a memoir. The journalist gave them to a newspaper, which ran a series of front-page pieces with unpleasant details.
Johnson's correspondence with more than thirty scientists and government representatives over two years beginning in early 2020 has been requested by Hallett. She also requests access to Johnson's contemporaneous journals and notebooks.
WHAT IS THE POSITION OF THE GOVERNMENT?
According to the Sunak administration, some texts that took over after Johnson resigned amid scandals in the middle of 2022 are "unambiguously irrelevant" to the COVID-19 investigation. According to the statement, making them public would violate the public's "legitimate expectations of privacy and protection of their personal information" and other areas of government activity.
The government's Cabinet Office challenged Hallett's request for the documents in court papers filed on Thursday. In the upcoming weeks, a hearing in the High Court will be the next step.
Hallett has the authority to call witnesses and subpoena them to testify per the investigation's rules established at the outset with the government's consent.
The former head of the government legal service Jonathan Jones stated, "The government has an uphill task," in a blog post for the Institute for Government. The court will likely rule that the inquiry chair should choose how to proceed and what materials she needs to review.

WHAT SUGGESTS BORIS JOHNSON?
Johnson and his successor Sunak have a history of conflict; Sunak's resignation from the administration in July 2022 assisted in Johnson's overthrow.
Johnson has stated that he is happy to turn over his texts, separating himself from the government's position. He claimed to have sent Hallett's inquiry the WhatsApp exchanges on Friday.
However, they only cover a portion of the requested time period in another twist. There are no communications from Johnson that date back before April 2021. That period covers the early stages of the pandemic, during which the government made crucial decisions that are still debated today, three periods of the national lockdown, and the dates of the unlawful parties that took place in government buildings and resulted in a large number of people, including Johnson, receiving fines from the police.
Johnson claims that the messages are on a phone that he has been told not to use after the media discovered that his number had been listed online for 15 years.
According to Johnson, the security services ordered him to stop using the phone and never switch it on again. On Friday, he informed Hallett that he had "requested the Cabinet Office for assistance turning it on securely so I could search it for all pertinent documents. I suggest sending you all of this information directly.
SOURCE – (AP)