Putin Will Speak With Leaders Of China And India In His 1st Summit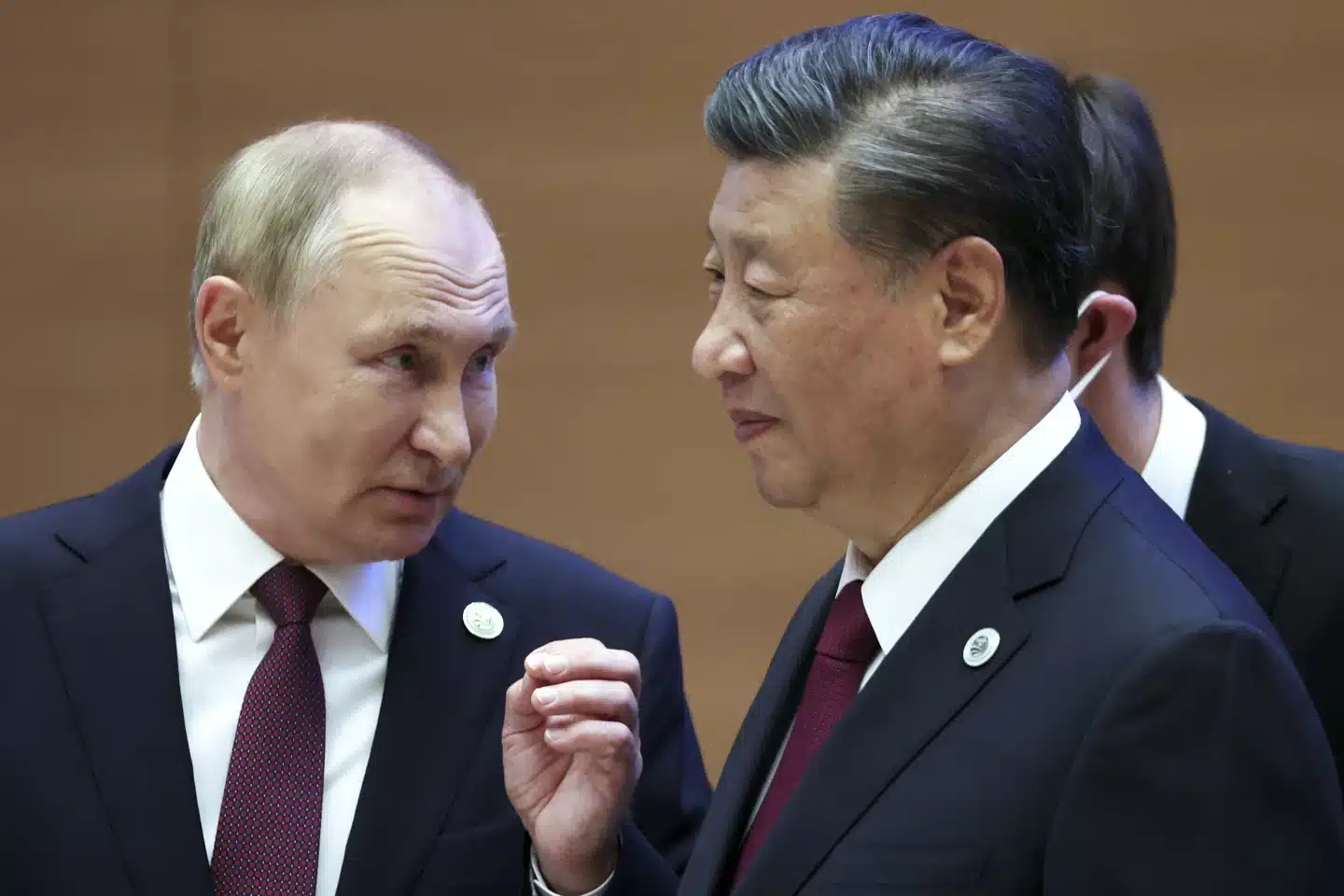 NEW DELHI, India — President Vladimir Putin will attend his first multilateral meeting since an armed uprising shook Russia this week as part of a rare international grouping in which his country still has backing.
Leaders will virtually meet on Tuesday for the Shanghai Cooperation Organisation conference, a security organization formed by Russia and China to oppose Western alliances from East Asia to the Indian Ocean.
India, who joined the organization in 2017, is hosting this year's event. It's the latest opportunity for Prime Minister Narendra Modi to highlight India's growing global clout.
So far, the Group has concentrated on strengthening security and economic cooperation, combating terrorism and drug trafficking, addressing climate change, and preparing for the Taliban's takeover of Afghanistan in 2021. When the foreign ministers convened in India last month, Russia's assault on Ukraine was rarely mentioned in public, but analysts believe the consequences for developing countries on food and fuel security are still a concern for the Group.
For Moscow, the meeting is more essential than ever, as it seeks to demonstrate that the West has failed to isolate it. In an area dominated by Russia, the Group includes the four Central Asian republics of Kazakhstan, Kyrgyzstan, Tajikistan, and Uzbekistan. Others are Pakistan, which joined in 2017, and Iran, expected to join on Tuesday. Belarus is also a candidate for membership.
"This SCO meeting is really one of the few opportunities that Putin will have globally to project strength and credibility," said Michael Kugelman, director of the Wilson Center's South Asia Institute.
None of the member countries have criticized Russia in UN resolutions, instead choosing to abstain. China has dispatched an envoy to negotiate between Russia and Ukraine, while India has consistently appealed for the issue to be resolved peacefully.
The conference allowed Putin to demonstrate his authority following a brief insurgency led by Wagner mercenary head Yevgeny Prigozhin.

President Vladimir Putin will attend his first multilateral meeting since an armed uprising shook Russia this week.
"Putin will want to reassure his partners that he is still very much in charge, and leave no doubt that the challenges to his government have been crushed," Tanvi Madan, a senior scholar at the Brookings Institution, said.
In May, India revealed that the summit would be held electronically rather than in person, as last year in Samarkand, Uzbekistan, where Putin posed for photos and dined with other leaders.
The optics of having Putin and China's leader Xi Jinping just two weeks after Modi was honored with a pomp-filled state visit by US President Joe Biden would be better, at least for New Delhi.
"It would have been too soon (for India) to be welcoming Chinese and Russian leaders," Kugelman added, referring to the attention Modi received from American officials during his recent visit.
Throughout the war, India's relationship with Moscow has remained solid; it has purchased record volumes of Russian crude and relies on Moscow for 60% of its defensive weapons. Simultaneously, the United States and its allies have aggressively courted India, which they regard as a counterweight to China's expanding ambitions.
With the country hosting the Group of 20 major economies' summit in September, India's objective in the forum is to balance its ties with the West and the East. It also serves as a venue for New Delhi to deepen its engagement with Central Asia.
"India glorifies this type of foreign policy where it's wheeling and dealing with everybody at the same time," said Derek Grossman, an Indo-Pacific specialist at the RAND Corporation.

President Vladimir Putin will attend his first multilateral meeting since an armed uprising shook Russia this week.
According to analysts, New Delhi would aim to safeguard its interests during the summit. It will almost certainly emphasize the need to battle "cross-border terrorism," a jab at Pakistan, which India accuses of supporting and training insurgents fighting for the independence of Indian-controlled Kashmir or its incorporation into Pakistan, a charge Islamabad denies.
It may also emphasize the importance of territorial integrity and sovereignty, a criticism frequently leveled at its main opponent, China. India and China have been at odds for three years, with thousands of soldiers stationed along their disputed border in eastern Ladakh.
According to analysts, China is becoming a prominent participant in forums such as the SCO, where nations such as Myanmar, Turkey, and Afghanistan have expressed interest in full membership in recent years.
"The SCO's limitation is that China and Russia are trying to turn it into an anti-Western grouping, which does not fit with India's independent foreign policy," Madan explained.
In the long run, the SCO might challenge Washington and its allies.
"For countries uneasy with the West and its foreign policies, the SCO is a welcome alternative, primarily due to the roles Russia and China play… I think that highlights just how relevant and concerning this Group could be for a number of Western capitals, especially if it continues to expand," Kugelman said.
SOURCE – (AP)
Joe Burrow Starts For Bengals Vs. Rams After Being Questionable With Calf Injury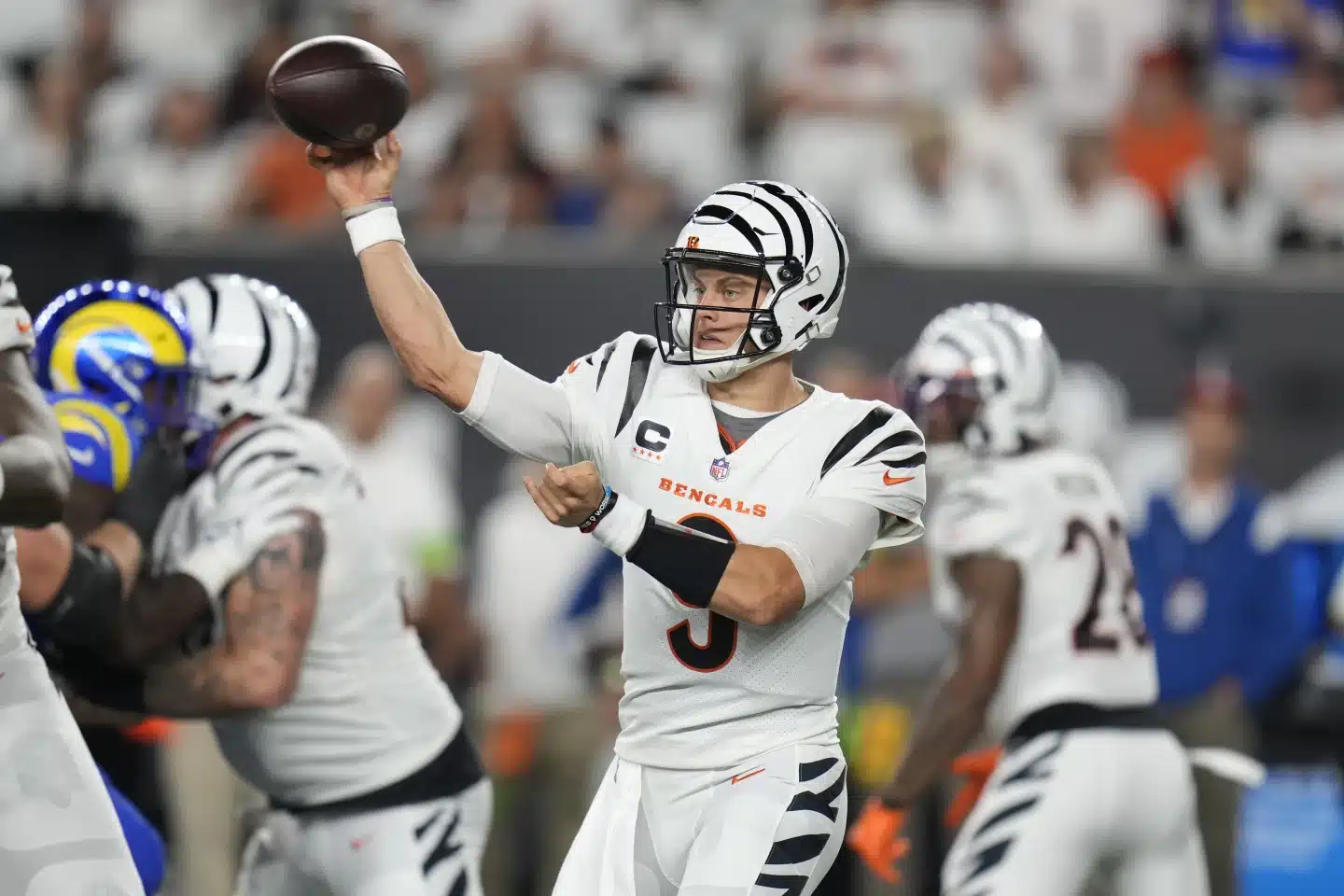 CINCINNATI — Joe Burrow started for the Cincinnati Bengals against the Los Angeles Rams on Monday night.
The Bengals' starting quarterback has been coping with a calf injury, but he was a full participant in warmups and played in the first offensive series.
Burrow's participation was still being determined shortly before the game. The injury occurred early in training camp and was aggravated late in last week's Bengals loss to Baltimore.

Burrow returned to limited practice on Thursday, and the team listed him as questionable on Saturday.
Irv Smith Jr., Trenton Irwin, Chris Evans, Jay Tufele, Jackson Carman, Trey Hill, and DJ Ivey were inactive for the Bengals.
For the Rams, Zach Evans, Kevin Dotson, Warren McClendon, and Earnest Brown IV were inactive.
The Rams activated running back Royce Freeman and wide receiver Austin Trammell.
In a victory over Tampa Bay, Jalen Hurts threw a touchdown pass, rushed for another, and led an unblemished Philadelphia drive that lasted more than nine minutes.
Hurts has gone 20-1 in his last 21 regular-season contests. He tossed a 34-yard TD pass to Olamide Zaccheaus that helped Philly establish a 13-3 halftime lead, and his 1-yard scoring run gave the Eagles a 17-point advantage early in the second half.

On Monday night, Joe Burrow started for the Cincinnati Bengals against the Los Angeles Rams.
The Eagles, one of three unbeaten teams in the NFL, led 25-3 when the Bucs scored on a 1-yard touchdown pass from Baker Mayfield to Mike Evans. With 9:22 remaining, a 2-point conversion cut Philadelphia's lead to 14 but Hurts and the Eagles never gave Tampa Bay the ball back.
The Buccaneers (2-1) suffered their first loss with Mayfield at quarterback, and Tampa Bay's typically dependable defense allowed 201 rushing yards.
D'Andre Swift gained 130 yards on 16 carries for Philadelphia, which is 3-0 for the first time in consecutive seasons since 1992-93. Hurts completed 23 of 37 passes for 277 yards while throwing two interceptions.
Mayfield completed 15 passes out of 25 attempts for 146 yards, one touchdown, and one interception. Five receptions by Evans gave him 700 for his career.
SOURCE – (AP)
India, At UN, Is Mum About Dispute With Canada Over Sikh Separatist Leader's Killing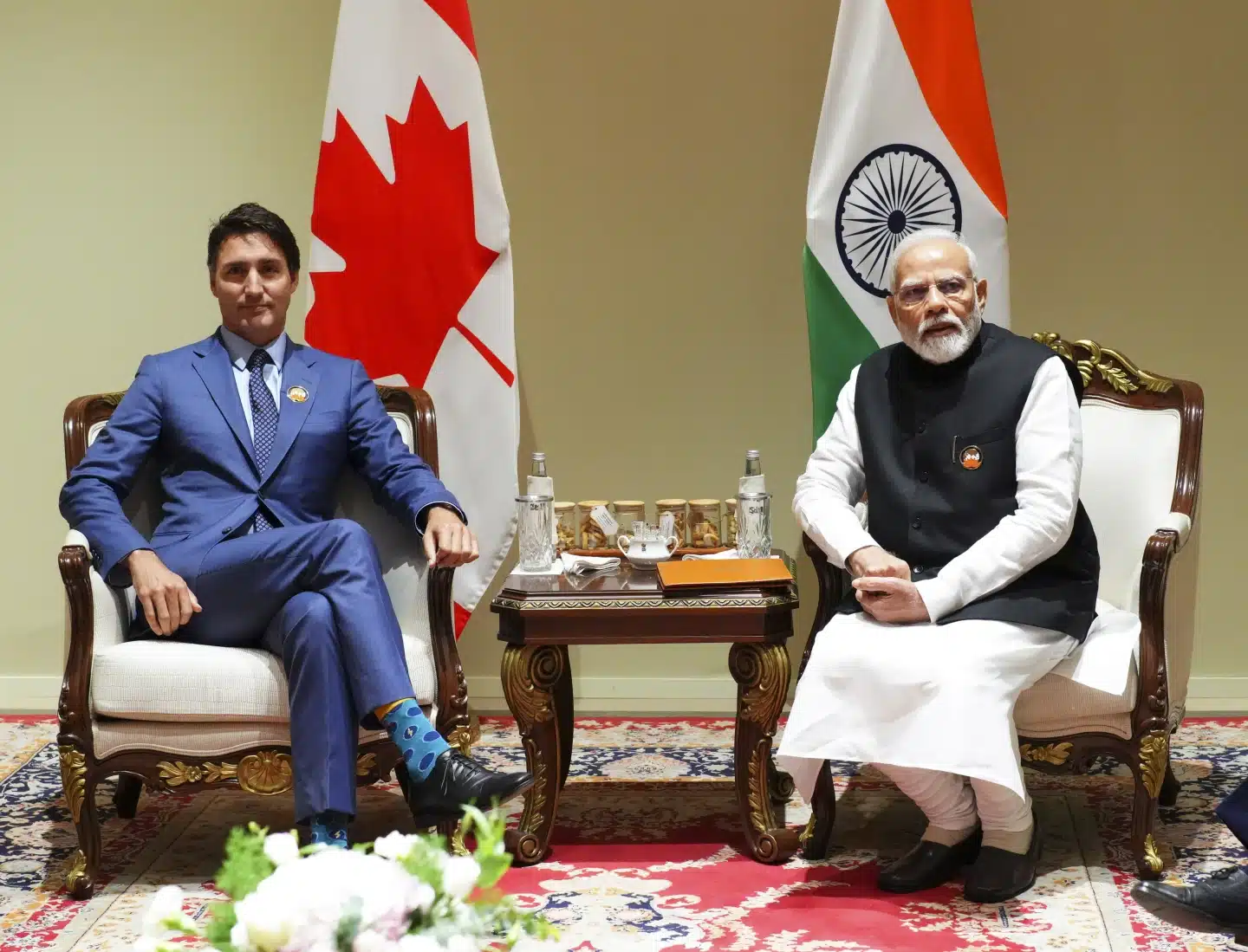 UNITED NATIONS — As he addressed world leaders at the United Nations General Assembly on Tuesday, India's top diplomat avoided addressing his country's dispute with Canada over the assassination of a Sikh separatist leader. However, he indirectly criticized how other nations respond to "terrorism."
Foreign Minister Subrahmanyam Jaishankar devoted most of his speech to praising India's rising global stature and aspirations for leadership, highlighting its recent tenure as chair of the Group of 20 industrialized nations and presiding over a substantial summit meeting last month.
However, he also stated that the international community must not "allow political expediency to determine responses to terrorism, extremism, and violence."
India has frequently attacked Pakistan at the United Nations over what New Delhi perceives as Pakistan's sponsorship of terrorism. This time, however, the remark could be interpreted as an attack on Canada, whose representative is scheduled to speak at the United Nations later on Tuesday.
As a result of Canadian Prime Minister Justin Trudeau's statement last week that India may have been involved in the June murder of a Canadian citizen in a Vancouver suburb, relations between the two countries have reached their lowest point in years.
Hardeep Singh Nijjar, 45, was murdered by masked assailants, but Canada has not yet provided any public evidence of Indian involvement in the murder. India had designated him as a terrorist because he led the remnants of a once-powerful movement to establish an independent Sikh homeland, Khalistan.

India's top diplomat avoided addressing his country's dispute with Canada over the assassination of a Sikh separatist leader.
The Indian Ministry of Foreign Affairs dismissed the allegation as "absurd" and accused Canada of harboring "terrorists and extremists." It also asserted that the allegations were politically motivated, indicating that Trudeau sought domestic support from the Sikh diaspora.
"Such unsubstantiated allegations seek to divert attention away from Khalistani terrorists and extremists, who have found refuge in Canada and continue to threaten India's sovereignty and territorial integrity," the ministry said in a statement released last week.
However, they have long accused Canada of allowing Sikh separatists, including Nijjar, unfettered reign.
Even though the active insurgency ended decades ago, the Modi administration has warned that Sikh separatists are attempting a comeback. New Delhi has urged nations such as Canada, where Sikhs account for more than 2% of the population, to do more to prevent a separatist revival.
After the G20 summit, Canada's allegation obscured India's diplomatic moment. Jaishankar sought to refocus attention on his country's ambitions in the international arena, noting that India is the world's most populous nation and a growing economic superpower.
"When we aspire to be a leading power, it is not for self-promotion, but to assume more responsibility and make more contributions," he explained. "The goals we have set for ourselves will distinguish us from those who rose before us."
SOURCE – (AP)
Messina Denaro: Notorious Italian Mafia Boss Dies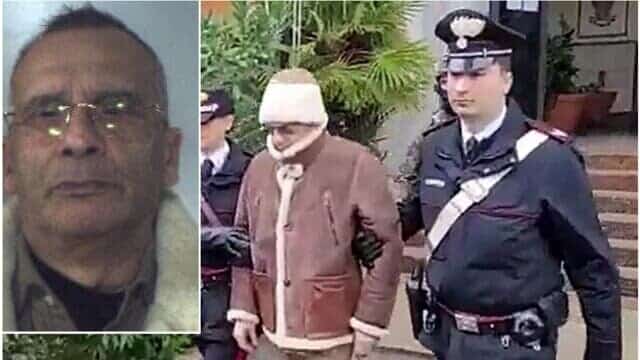 Matteo Messina Denaro, one of Italy's most wanted persons until his capture earlier this year, has passed away.
The 61-year-old man was believed to be a leader of the infamous Cosa Nostra Mafia for 30 years before his capture in January.
At his arrest, he was being treated for cancer and transferred from prison to a hospital last month.
Denaro was believed to be guilty of multiple murders.
In 2002, he was tried and sentenced to life in absentia for offenses, including his role in the 1992 murders of anti-Mafia prosecutors Giovanni Falcone and Paolo Borsellino. He once boasted that he could "fill a cemetery" with his victims.
In addition, he supervised racketeering, illegal waste disposal, money laundering, and drug trafficking on behalf of the Cosa Nostra organized crime syndicate.
Even though he had been on the run since 1993, it was believed that Messina Denaro was still issuing orders to his subordinates from various covert locations.
According to local media, he lapsed into an irreversible coma on Friday at a hospital in L'Aquila, central Italy, after requesting no aggressive medical treatment.

Matteo Messina Denaro, one of Italy's most wanted persons until his capture earlier this year, has passed away.
In recent months, he had undergone surgery for cancer-related concerns but reportedly had not recovered from the most recent operation.
L'Aquila Mayor Pierluigi Biondi confirmed Denaro's demise by writing on X (previously Twitter) that it was "the epilogue of an existence lived without remorse or regret, a painful chapter of recent history that we cannot erase."
In addition to his crimes, Denaro was believed to be Cosa Nostra's final "secret keeper." Numerous informants and prosecutors believe he possessed all the information and names of those involved in several of the Mafia's most notorious crimes.
More than one hundred members of the armed forces participated in his January detention, which occurred at a private clinic in Palermo, the capital of Sicily, where he was receiving chemotherapy.

Matteo Messina Denaro, one of Italy's most wanted persons until his capture earlier this year, has passed away.
He had been a symbol of the state's impotence to reach the highest levels of organized crime syndicates for many years.
Italian investigators frequently came near to apprehending Denaro by observing his closest associates. This led to the 2013 detention of his sister, Patrizia, and a number of his associates.
Police also seized valuable businesses associated with him, isolating him further.
Police had to rely on digital composites to reconstruct his appearance in the decades following his escape from justice. His voice recording was not published until 2021.
A Formula 1 fan from Liverpool was detained at gunpoint in a restaurant in the Netherlands in September 2021 after being misidentified as Denaro.
SOURCE – (BBC)