Chinese Government Halts Visas For Japan, South Korea In COVID-19 Fight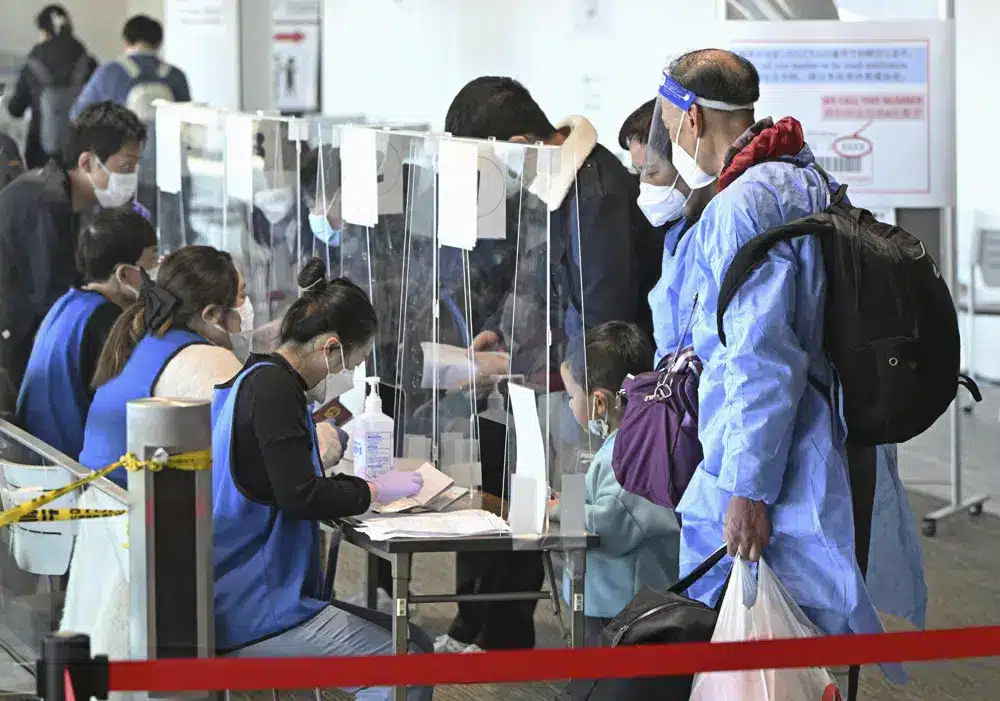 BEIJING, China – Tuesday, Chinese embassies stopped giving out new visas to South Koreans and Japanese, ostensibly as a way to get back at those countries for putting restrictions on COVID-19 testing for Chinese travelers.
The Tokyo and Seoul embassies made short announcements on the Internet about the bans.
According to the Seoul notification, which was put on the embassy's WeChat social media account, the ban would remain in effect until South Korea lifted its "discriminatory entrance restrictions" against China. The notification included information on tourist, business, and other visas.
Last week, China's Foreign Ministry warned against actions against countries that announced increased virus testing requirements for Chinese passengers. At least ten countries in Europe, North America, and Asia have done this recently. Officials in China are worried about the lack of information they have about viruses that spread quickly.

Unclear Why Certain Countries Singled Out
It wasn't clear why South Korea and Japan were singled out, or if the restrictions would apply to other countries that required Chinese travelers to get tested for viruses.
The Chinese embassy in Tokyo stated that visa issuance had been halted. The statements appeared to apply only to new applicants without mentioning existing visa holders.
In a statement, South Korea's Foreign Ministry said that "our government's move to increase anti-virus measures on travelers arriving from China is based on scientific and factual data." "We have talked with the Chinese side in advance and transparently supplied information to the world community."
It would be "regrettable," according to a Japanese Foreign Ministry official if limitations were implemented.
Withholding visas from South Korean or Japanese entrepreneurs might stall a hoped-for resurgence of economic activity and potential new investment in the aftermath of China's surprise easing of anti-virus regulations last month.
Could Effect Chinese and Foreign Business
Business groups have previously warned that global businesses were diverting investment plans away from China because the epidemic regulations made it difficult for international executives to visit. Over the last three years, a few international auto and other executives have visited China, but many companies have depended on Chinese staff or management already in the country to oversee their operations.
According to the owner of a South Korean restaurant in Beijing, the statement pushed friends to cancel their plans to visit China. He talked on the condition of anonymity because he was concerned about the impact on his firm. He also stated that he is ready to renew his Chinese work visa and is unsure if this would be affected.
Chinese Foreign Minister Qin Gang "raised worry" about South Korea's measures to his counterpart, Foreign Minister Park Jin, in a phone call on Monday before the visa ban was announced. "I hope the South Korean side would maintain an objective and scientific attitude," Qin stated.
China did what it did because it wanted its people to be treated the same as people from other countries. A dozen countries have followed the United States in requiring either a negative test before leaving China, a viral test upon arrival at the airport or both.
"Unfortunately, a handful of countries have insisted on pursuing discriminatory entry restriction measures targeting China, notwithstanding science and facts and domestic reality," said Chinese Foreign Ministry spokesperson Wang Wenbin on Tuesday. "China strongly rejected this and responded in kind."
When asked if new visas for South Koreans and Japanese had been banned, he only said that he had "made it very plain."

Chinese Officials Accused by WHO
China has been accused by the World Health Organization and numerous nations of suppressing data on its outbreak. On Tuesday, a WHO official said that the Chinese outbreak doesn't pose an immediate threat to Europe, but that more information is needed.
According to China's ambassador to Australia, the response of those countries to China's COVID-19 outbreak was neither proportionate nor productive.
Xiao Qian told reporters in Canberra that China's focus moved from avoiding infections to preventing serious cases late last year. Countries, he said, should apply a science-based approach.
"If they're aimed against China, entry restrictions are pointless," the ambassador told reporters.
South Korea's once-cordial relations with Chinese ambassadors, its largest trading partner, deteriorated after Beijing targeted businesses, sports teams, and even K-pop groups to protest the deployment of an advanced US anti-missile system in South Korea.
China fought alongside North Korea during the 1950-1953 Korean War and has remained a staunch supporter of the North despite its missile launches and nuclear tests, as well as its opposition to more sanctions against Kim Jong Un's regime.
Last month, China dramatically changed its tight pandemic containment measures in response to what it claims was a changing nature of the outbreak. This followed three years of lockdowns, quarantines, and mass testing, which caused rare politically charged street protests in Beijing and other large cities.

Consumer Activity to Return to Normal Soon
According to the most optimistic projections, China's business and consumer activity might resume as soon as the first quarter of this year. But, until that happens, entrepreneurs and families are feeling the pinch of a viral outbreak that has left employers short of healthy staff and kept customers away from shopping malls, restaurants, hair salons, and gyms.
Forecasters say Xi's government's decision to lift curbs that had shut down factories and kept millions of Chinese citizens at home will hasten economic recovery, but it may disrupt activity this year as businesses scurry to adjust.
With the commencement of the Lunar New Year travel rush, which is anticipated to increase in the coming days, China is now facing a rise in cases and hospitalizations in major cities and is bracing for a further spread into less developed areas. While international flights remain curtailed, authorities predict that domestic train and air travel will more than treble compared to the same period last year.
SOURCE – (AP)
CLIMATE: India, France, UAE To Work On Climate Change, Biodiversity COP28
NEW DELHI, India — On Saturday, India, France, and the United Arab Emirates signed a trilateral agreement to pursue energy projects focusing on solar and nuclear sources, combat climate change, and protect biodiversity, particularly in the Indian Ocean region.
The countries will hold trilateral events in conjunction with India's presidency of the Group of 20 rich and developing countries and the UAE's hosting of the COP28 climate negotiations this year, according to a statement from India's External Affairs Ministry.
Climate Change Affects Us All
During a phone call, the three countries' foreign ministers agreed to make a plan for carrying out the initiative. The call followed their September meeting at the United Nations General Assembly on the New York sidelines.
They will deepen their collaboration climate through initiatives such as the UAE-led Mangrove Alliance for Climate and the India-France-led Indo-Pacific Parks Partnership. According to the statement, the three countries agreed to focus on key issues such as single-use plastic pollution, desertification, and food security in the International Year of Millets.
They agreed to look into collaborating with the Indian Ocean Rim Association on projects involving clean energy, the environment, and biodiversity.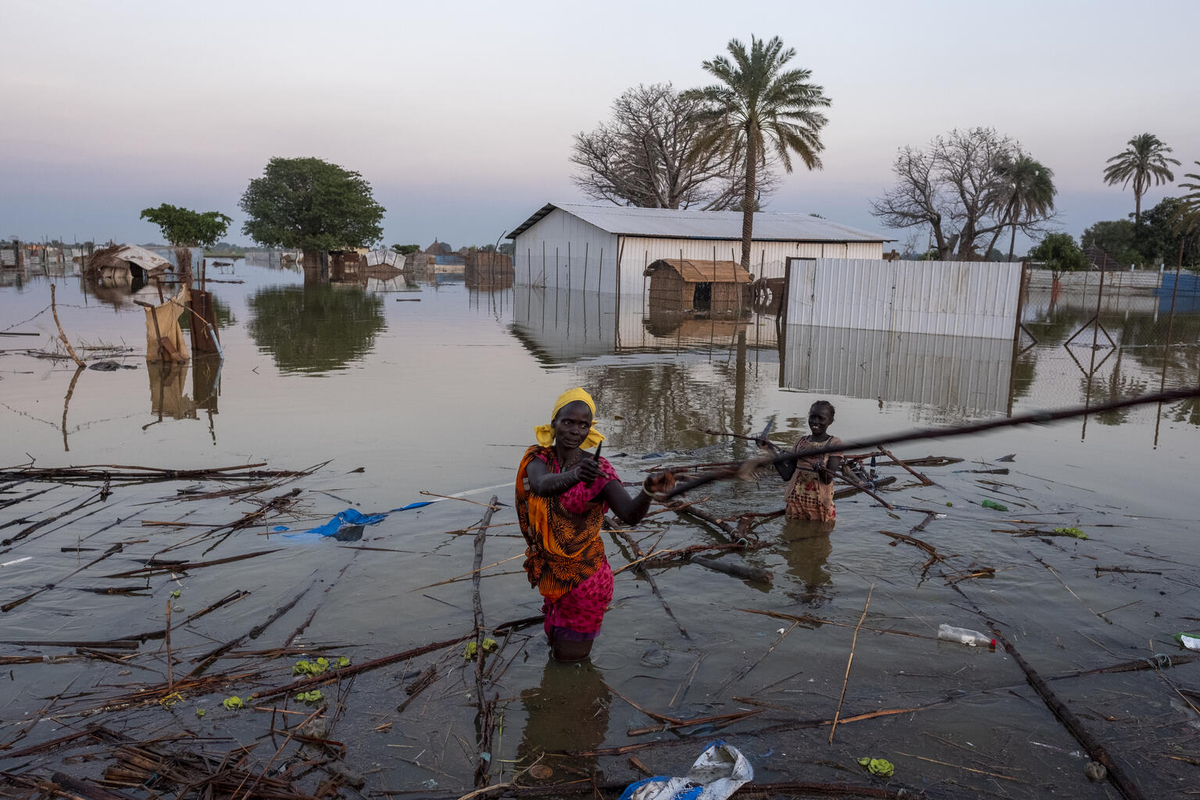 We Can Do More To Protect The Climate
The association is a regional forum that brings together government, business, and climate academic representatives from South Africa, India, Mauritius, Australia, Indonesia, Sri Lanka, Malaysia, Tanzania, and other countries.
According to the statement, they will work to make sure that their economic, technological, and social policies are more in line with the goals of the 2015 Paris Agreement to fight climate change and speed up the actions and investments needed for a low-carbon, sustainable future.
SOURCE – (AP)
1st Small Modular Nuclear Reactor Certified For Use In US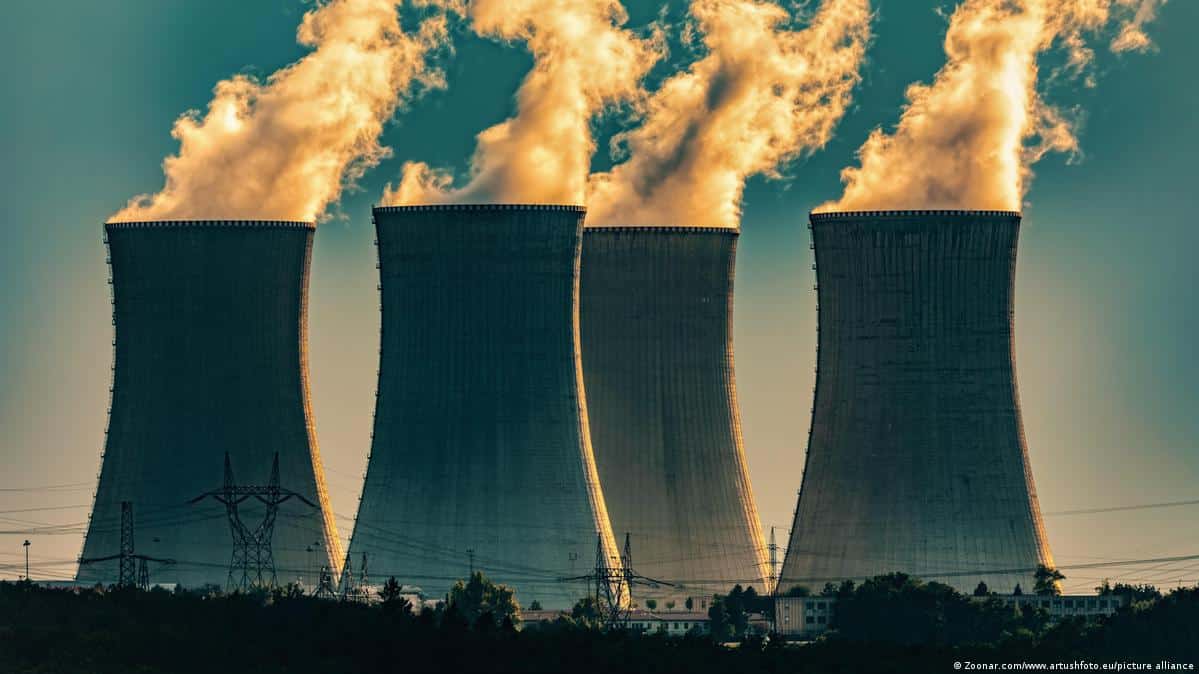 The design for the first small modular nuclear reactor in the United States has been approved by the Nuclear Regulatory Commission.
The rule that certifies the design was published in the Federal Register on Thursday. Companies that want to build and run a nuclear power plant can choose NuScale Power's design for a 50-megawatt advanced light-water small modular nuclear reactor and apply for a license from the NRC.
NRC spokesperson Scott Burnell said Friday that the design cannot be legally challenged during the licensing process when someone wants to build and run a nuclear power plant. This is because it is the final decision on whether or not the design can be used. The rule goes into effect in late February.
The US Energy Department says that the newly approved design "equips the nation with a new clean power source to help drive down" greenhouse gas emissions.
It is the seventh nuclear reactor design approved in the United States. The remainder is for conventional, large, light-water reactors.

This Is A Big Step Towards Clean Energy
Diane Hughes, vice president of marketing and communications at NuScale, says that the design certification is a big step toward a future with clean energy and makes the company's VOYGR power plant a solution that customers can use soon. Hughes also said that the first application package for the design of a small reactor had more than 2 million pages of supporting materials. the first small modular reactor design application package included over 2 million pages of supporting materials.
However, David Schlissel of the Institute for Energy Economics and Financial Analysis in Ohio expressed reservations about the costs. Schlissel, who has studied the history of the nuclear power industry and the NuScale project's finances, believes they will continue to rise, potentially limiting the number of NuScale reactors built. He believes they need to be more price competitive with renewables and battery storage.
Hughes stated that energy projects ranging from wind and solar to hydrogen and nuclear had seen cost increases due to changing financial market dynamics, interest rate hikes, and inflationary pressures on the sector's supply chain not seen in decades. She said that NuScale's VOYGR power plant is still a cost-effective source of reliable, affordable, and carbon-free energy.

Nuclear Is A way To Distance itself From Coal, Oil And Natual Gas
Nuclear Power is emerging as an answer for many as states and countries transition away from coal, oil, and natural gas to reduce greenhouse gas emissions and avoid the worst effects of global warming.
Around 40 serious concepts for the next generation of advanced nuclear reactors are being developed globally. China was the first to connect a next-generation reactor to its grid, producing approximately 200 megawatts of Power. In 2021, a high-temperature, gas-cooled reactor went into operation.
Since 2014, the US Energy Department has contributed more than $600 million to the design, and siting of NuScale's VOYGR small modular reactor power plant. At the Idaho National Laboratory, the department collaborates with Utah Associated Municipal Power Systems to demonstrate a six-module NuScale VOYGR plant. The first module should be operational by 2029.
NuScale has signed 19 agreements in the United States and worldwide to deploy its small reactor technology. According to Assistant Secretary for Nuclear Energy Kathryn Huff, small modular reactors are no longer an abstract concept.
NuScale has also applied to the NRC for approval of a larger design, with a capacity of 77 megawatts per module, and the agency is checking the application for completeness before beginning a full review, according to Burnell.
SOURCE – (AP)
Tornado hits Selma, Alabama; 8 deaths reported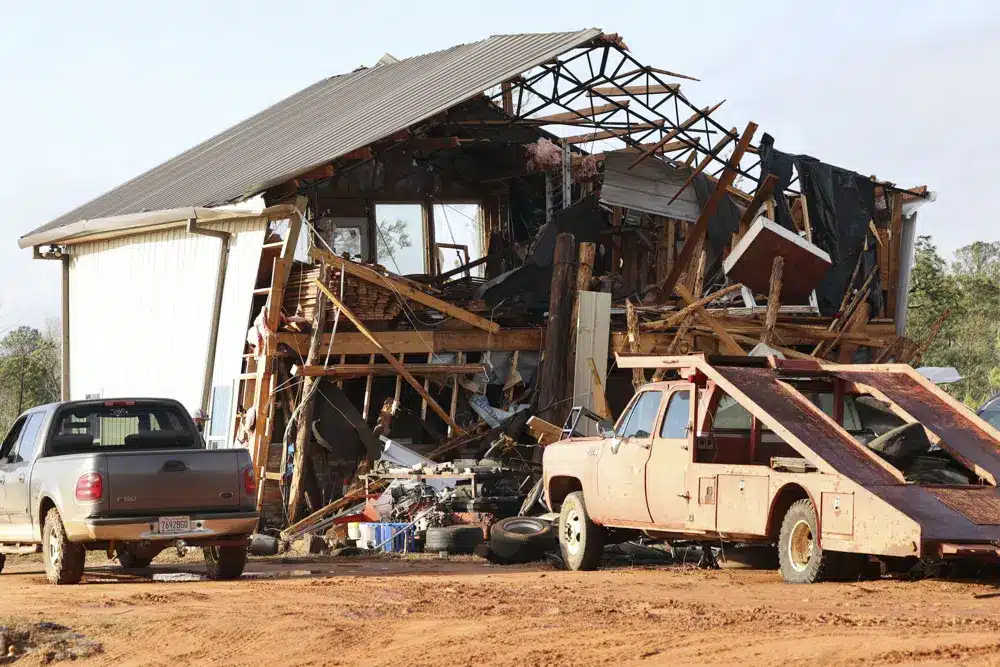 SELMA, Ala. Crews worked through the night searching for those stranded after a catastrophic storm unleashed tornadoes throughout the United States South sections, killing at least eight people and causing significant damage in Selma, Alabama.
Before the worst storms passed across Georgia on a track south of Atlanta, one tornado carved a 20-mile (32-kilometer) path through two rural Alabama villages.
According to Autauga County Coroner Buster Barber, searchers discovered a body after sunrise Friday while exploring an area near a home that was heavily damaged Thursday when the hurricane slammed central Alabama. Seven people have died in that part of the county, 64 kilometers northeast of Selma.
According to Butts County Coroner Lacey Prue, a passenger died in Georgia after a tree fell on a vehicle in Jackson. Officials said the storm looked to have thrown a freight train off its rails in the same area.
According to Ernie Baggett, Autauga County's emergency management director, at least 12 individuals were seriously injured and brought to hospitals as rescuers cut through downed trees looking for more needy people.

Tornado Flings Mobile Homes Into The Air
According to him, over 40 residences were demolished or severely damaged, including numerous mobile homes that were catapulted into the air. "They weren't just blown away. They were blown a long way."
Authorities predicted a full picture of the destruction would emerge Friday as they search for more victims. The National Weather Service reported possible tornado damage in at least 14 Alabama counties and five Georgia counties late Thursday.
In Selma, the city council declared a state of emergency on a sidewalk using smartphone lights.
The hurricane hit Griffin, south of Atlanta, as mourners gathered at Peterson's Funeral Home for a wake. When a large tree fell on the structure, about 20 individuals inside the building scrambled for cover in a lavatory and an office.
"We were in absolute shock when we came out," said Sha-Meeka Peterson-Smith, the funeral home's chief operating officer. "We heard everything, but we had no idea how horrible it was."

Storms, Winds, And Tornadoes Wreak Havoc On The Southern States.
On Thursday, a powerful storm system churning up high winds and generating tornadoes ripped across the United States South, killing at least seven people in Georgia and Alabama. (January 13)
According to her, the uprooted tree smashed straight through the front of the business, demolishing a viewing room, a lounge, and a front office. No one was injured.
Griffin officials told local news sources that several individuals were trapped inside an apartment building after trees crashed. A Hobby Lobby store suffered roof damage, and firemen freed a man pinned for hours under a tree that had fallen on his house from 10 p.m. Thursday to 6 a.m. Friday, the city imposed a curfew.
On Thursday, the weather service got reports of more than 40 tornadoes from all over the country. Mississippi, Alabama, Georgia, Tennessee, Kentucky, South Carolina, and North Carolina were all warned about tornadoes. Reports of tornadoes still need to be checked out, and some of the damage may turn out to be caused by wind.

Tornado Created Wide Path In Downtown Selma
The tornado that slammed into Selma carved a wide path across the downtown area, destroying brick buildings, uprooting oak trees, flipping cars, and leaving electricity lines dangling. Plumes of dense, black smoke from a fire ascended over the city; it was unclear whether the storm started the fire.
Selma's mayor, James Perkins, says that no one has died, but that a lot of people have been seriously hurt. Friday morning, officials planned to gain an overhead glimpse of the city.
"There are a lot of downed power lines," he explained. "The streets are really dangerous."
Mattie Moore was among the Selma citizens who picked up boxed meals from a downtown charity.
"Thank God we're still alive. "It's like something out of a movie," Moore said of the devastation.
Selma is an Alabama city with about 18,000 people. It is about 50 miles (80 kilometers) west of Montgomery, the state capital. On March 7, 1965, state troopers severely beat Black protesters marching for voting rights across the Edmund Pettus Bridge as part of the civil rights struggle.

Storm Got Darker And Darker
Malesha McVay captured video of the massive twister, which became dark as it swept away home after home.
A natural La Nina weather cycle, warming of the Gulf of Mexico likely due to climate change, and a decades-long eastward shift in tornado activity — combined to make Thursday's tornado outbreak unusual and damaging, according to Victor Gensini, a tornado researcher at Northern Illinois University.
La Nina, a cooling of regions of the Pacific that affects weather around the world, played a factor in creating a wavy jet stream that brought a cold front through, according to Gensini. However, this is insufficient to cause a tornado outbreak. Moisture is the other component.
The air in the Southeast is normally rather dry this time of year, but the dew point was twice the average, presumably due to exceptionally warm water in the Gulf of Mexico, which is likely influenced by climate change, according to Gensini. That moisture met the cold front, resulting in devastating storms.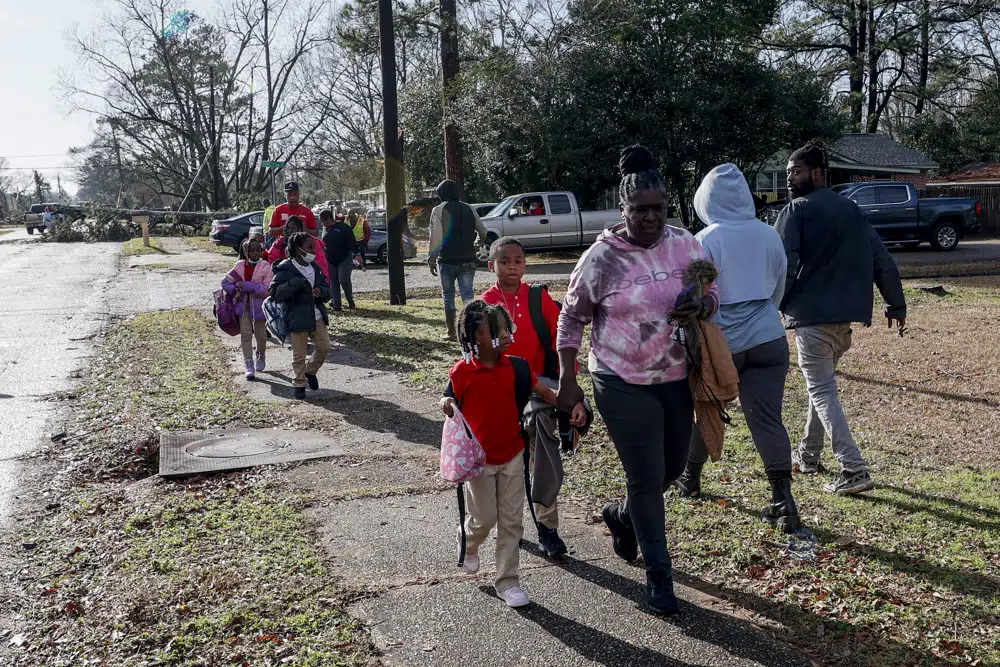 School Canceled For 90,000 Children
According to PowerOutage.us, which records outages nationwide, approximately 22,000 people in Alabama were without power early Friday. After the storm system ripped a path across a tier of counties immediately south of Atlanta, approximately 23,000 people in Georgia were still without power.
On Friday, school was canceled for 90,000 kids in at least six Georgia counties.
The meteorological office in Kentucky verified that an EF-1 tornado struck Mercer County and that personnel was evaluating the damage in a few more counties.
SOURCE – (AP)