NBA, Players Reach Deal For A New Labor Agreement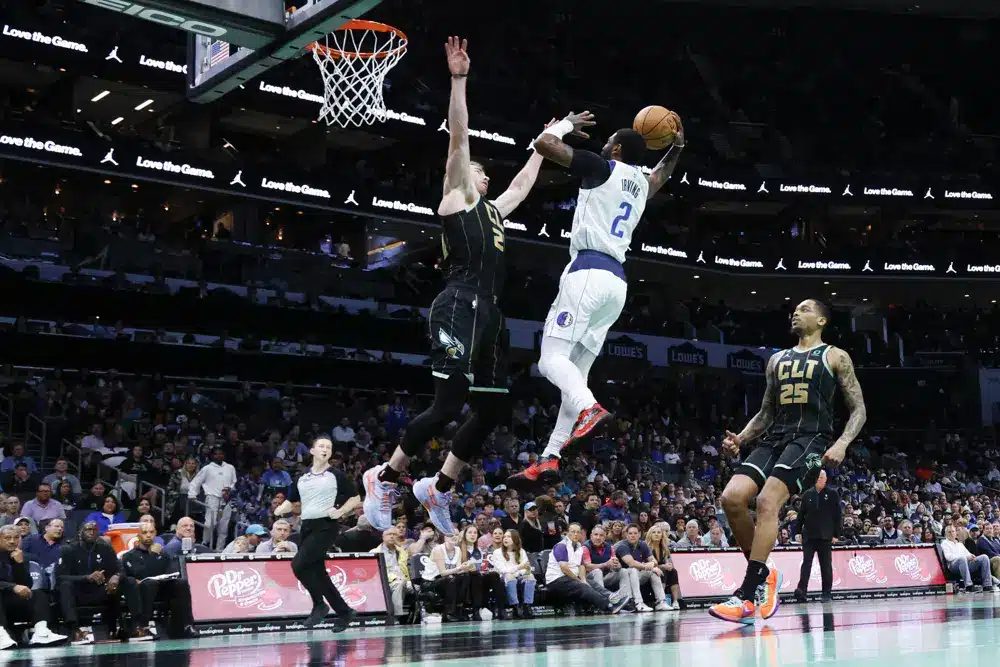 The NBA's most profitable period will continue for at least six more years, thanks to a tentative deal between the league and its players on a new Collective Bargaining deal that will take effect this summer.
It took more than a year of bargaining, with the intensity and expectation increasing in recent days, and the handshake agreement was reached in the early hours of Saturday morning — shortly after the league intended to notify the NBAPA of its intention to opt out of the current CBA on June 30.
Instead, an agreement was reached, at least in theory. "The NBA and the National Basketball Players Association have reached a tentative agreement on a new Collective Bargaining Agreement, which is subject to ratification by players and team governors," the league said shortly before 3 a.m. Eastern.
Technically, it will be a seven-year agreement, but either party can opt out a year early, meaning labor peace will last only until the 2028-29 season. It will also usher in the age of an in-season tournament, which Commissioner Adam Silver has long desired.
Teams will be issued an 80-game schedule for next season in August unless something changes. Among those 80 games will be four "tournament" games that will score in regular-season standings. All teams will ultimately have two more games added to their schedule to complete the full 82-game slate; the two teams that reach the tournament final will play an 83rd game that will not count in the standings.

The NBA and the National Basketball Players Association have reached a tentative agreement.
According to a person familiar with the negotiations who spoke to The Associated Press, among other details:
Players will generally have to appear in at least 65 games to be eligible for top individual awards such as Most Valuable Player.

The maximum value of contract extensions will increase.

Teams will now have access to a third two-way contract, potentially increasing roster sizes from 17 to 18.
The individual spoke anonymously because neither the league nor the National Basketball Players Association made any public statements.
Once achieved, a second luxury tax level will prevent teams from using their midlevel exception to sign players, according to the CBA. Given how some teams wanted the so-called "upper spending limit," which would have essentially installed an absolute ceiling on what can be spent each season and helped balance the playing field between teams willing to pay massive tax bills — such as the reigning NBA champion Golden State Warriors — and those who aren't, that was a clear compromise.
"Once again, the players fail… "Teams in the middle and lower tiers don't spend because they don't want to," Golden State's Draymond Green said on Twitter. "They want to fail. To increase their spending power to grow it. They keep removing the center. And this is why we hurried into a deal?"
CJ McCollum, a guard for the New Orleans Pelicans, said he welcomes feedback from all players but added, "You can't make everyone happy." That is not feasible.
"You have to be able to do what's best for the collective," McCollum said following the Pelicans' victory over the Los Angeles Clippers on Saturday night. "There are 450 players and 450 different points of view, including mine."… It comes down to having a happy medium in certain areas."

The new CBA will not reinstate the policy that allowed high school players to join the NBA draft.
The new CBA will not reinstate the policy that allowed high school players to join the NBA draft. It's been discussed and on the agenda for months, but the regulation isn't going away anytime soon — at least not for the next CBA.
"We also appreciate that there is a lot of benefit to having veterans who can bring those 18-year-olds along," NBPA executive director Tamika Tremaglio said during an NBPA news conference during All-Star weekend in February. "And so, to be quite honest, anything that we would even consider would have to include a component that would allow veterans to be a part of it as well."
Silver stated after a Wednesday two-day Board of Governors meeting that he was optimistic about reaching an agreement by the weekend — a clear positive sign. The current CBA, which went into effect on July 1, 2017, included a mutual choice for either the NBA or the NBPA to opt out after six seasons or on June 30, 2018.
The agreement reached on Saturday does not end the process, but it is a significant move forward.
The owners must decide what the negotiators have hammered out, and the players must vote to accept the deal. The document is then written — the most current CBA/NBA was around 600 pages long, with nearly 5,000 paragraphs and 200,000 words. Much of it will be the same, and much of it will need to be revised.
And, even though these talks lasted more than a year, this is the second straight CBA that has been negotiated without the dysfunction that preceded the talks in 2011 — when the league ended up locking out players for 161 days and had to shorten the 2011-12 season from 82 to 66 games.
There was no appetite for a strike, not after the NBA's revenue surpassed $10 billion for the first time and basketball-related income surpassed $8.9 billion, another milestone. According to Silver, the NBA is on track to sell out more games than ever before this season.
SOURCE – (AP)
Spencer Carbery Hired As Capitals Coach After 2 Seasons As Maple Leafs Assistant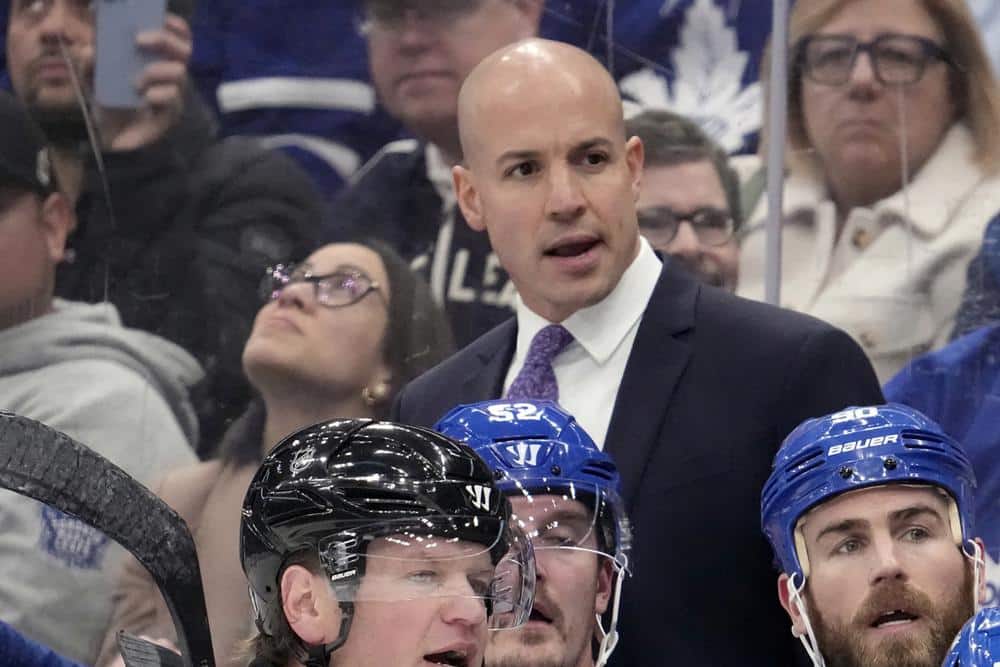 The Washington Capitals have appointed Spencer Carbery as their next head coach, reuniting the team with a fan favorite who had long been tipped for the position.
On Tuesday, the team revealed that they had re-signed Carbery after he had spent the previous two years as an assistant coach for the Toronto Maple Leafs.
Before then, Carbery's success with Washington's top minor league club had made many believe he would succeed Peter Laviolette as head coach of the Capitals. From 2018 to 2020, Carbery coached the Hershey Bears of the American Hockey League for three years before landing his first NHL job on Sheldon Keefe's staff in Toronto.
General manager Brian MacLellan commented, "Spencer is one of the best young coaches in the game who has had success at every level in which he has coached." To quote the hiring letter: "We feel his leadership, communication skills, ability to develop players, and familiarity with our organisation will be tremendous assets as he makes this next step in his coaching career."

The Washington Capitals have appointed Spencer Carbery as their next head coach.
Carbery, now 41 years old, was a homegrown talent for the Capitals who got his start with the team's ECHL affiliate in South Carolina. He went through many interviews this spring, including one with the San Jose Sharks for their open position from last year.
Before a rival team could pick him up, the Capitals got him back into the role they had envisioned for him. The former captain turned Tampa Bay assistant, Jeff Halpern, Philadelphia associate coach Brad Shaw and others with more experience were all passed over in favor of Carbery.
Carbery thanked the Capitals organization for allowing him to serve as team captain. I'm excited to get to know and develop chemistry with such talented players. To the Toronto Maple Leaf organization, I appreciate all the help you've given me over the past two seasons.
Carbery's job is to get Washington back into the playoffs after an eight-year drought. He inherits a squad led by the aging Alex Ovechkin, who led the playoffs in scoring in 2018 and is now attempting to break Wayne Gretzky's record for most goals scored by a player in franchise history.
The organization's purpose, from owner Ted Leonsis to general manager Brian MacLellan, is to remain competitive for as long as Russian superstar Alexander Ovechkin is under contract. Since Ovechkin is under contract for another three years, that is the most likely time frame before the team begins a reconstruction.
SOURCE – (AP)
Heat Still Lead East finals, But Celtics Roaring Back With Eye On History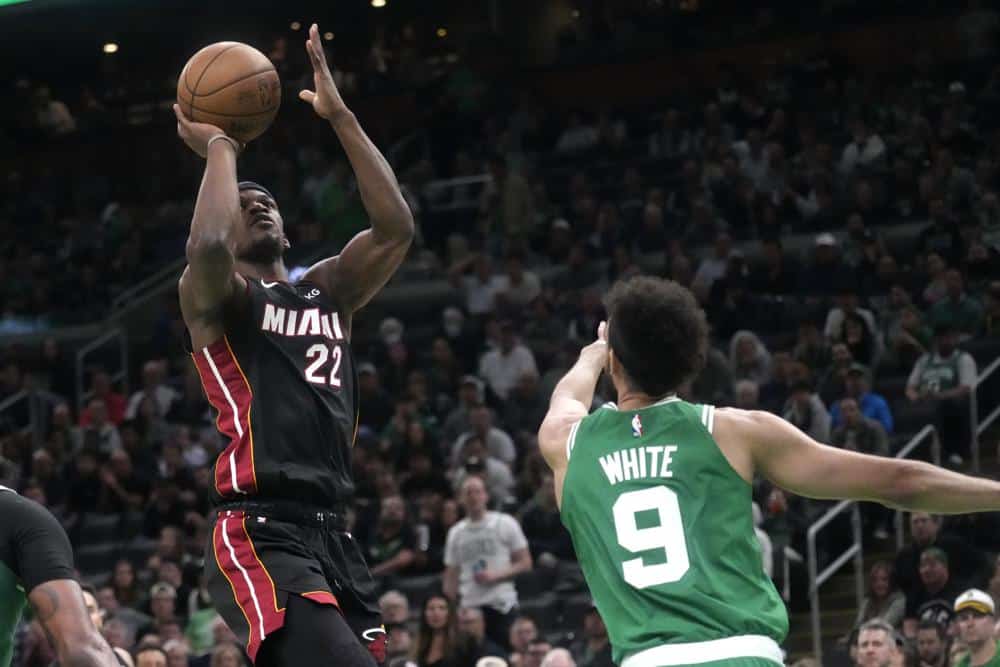 MIAMI HEAT Possibly, Kevin Garnett is correct. As he exclaimed in jubilation after Boston won the NBA title in 2008, anything is possible.
Including the unthinkable.
The Celtics have earned their way into an exclusive club by being halfway to immortality. Only 14 out of the first 150 teams in NBA history to go behind 3-0 in a best-of-seven series went on to force a decisive Game 6. This percentage is just 9.3 percent. There has never been a series winner among them; by this point, most of them have been booted.
It's not the Celtics. They are now down 3-2 in the Eastern Conference Finals against the Miami Heat, but they hold the upper hand heading into Saturday night's Game 6 in Miami.
Jaylen Brown, a forward for the Celtics, says, "When adversity hits, you get to see what a team is made of." The squad was stunned to find themselves down 3-0. Being down 3-0 seemed like the worst possible situation, yet we didn't panic or split up. As a group, we kept putting. We doubled down on our defensive strengths and can now win the series.
The Celtics can become the fourth team to return from a 3-0 deficit and force a game seven if they win on Saturday. A victory on Saturday would put Boston in a position to force the series to a decisive Game 7 on Monday at TD Garden, where it would host the series for the first time.

Down 3-2 in the Eastern Conference Finals against the Miami Heat.
After a rough week, Celtics head coach Joe Mazzulla reminded his team that the season is still nine months away. Sometimes you have a lousy week on the job. We didn't choose the finest moment to have a poor week, but we did, and now we're all pulling together and doing our hardest to keep it going.
The Denver Nuggets currently need a game. If Boston prevails, the NBA Finals will begin with the Nuggets facing the Celtics in Game 1. For Game 1, if Miami wins the East, the Heat will travel to Denver. The first episode of the titular series will air on June 1st.
Coach Michael Malone of the Nuggets stated as much on Friday, following the team's first full practice since clinching the Western Conference title with a four-game sweep of the Los Angeles Lakers. But keeping in sync is tough when you're not actively participating in NBA games.
In Game 4, the Heat led by nine points in the third quarter and looked like they would be able to complete a series sweep. Two and a half minutes later, the Celtics had taken the lead for good. Boston took control of Game 4 with an 18-0 run, ended any remaining uncertainty with a 12-0 run in the second half, and opened Game 5 with a 20-5 run.
All told, in the 27 minutes between the beginning of the Celtics' third-quarter outburst in Game 4 and the end of their early-game run in Game 5, the Celtics outscored the Heat 84-43.
These past two performances do not represent us. It was just a coincidence, Heat forward Jimmy Butler said. We stopped defending in the middle of the game because we weren't making the shots we needed to win. However, that can be fixed quickly. It would help if you came out swinging a lot harder. It will be nothing but sunshine and consistency from here on out because we know we will win the next game, as I've said before.

At least one's self-assurance is growing. The rest of it is.
Miami Heat head coach Erik Spoelstra said frankly, "There are no excuses" for the team's poor performance in Game 5. Even though the locker room is currently as chaotic as a scrum for a dropped ball under the basket, "not at all," he insisted. With injuries to Tyler Herro and Victor Oladipo at shooting guard, as well as the absence of starting guard Gabe Vincent for Game 5 and the sight of Kyle Lowry playing through some hand ailment, the Heat have been shorthanded in the backcourt throughout the rest of the playoffs.
Game 5 was a disaster for Miami's starting unit, as they were outscored by their bench players 95-44. Ever since Boston's comeback-sparking run began in Game 4, the Heat have been outscored 75-33 from 3-point range, have given up 54% field goal and 44% 3-point shooting to the Celtics, and have turned the ball over 26 times to Boston's 12.
Select a random number from the list. Only the series score of 3-2 is positive for the Heat, as it means that Miami is still one win away from completing their incredible journey as a No. 8 seed that reached the NBA Finals.
Spoelstra acknowledged that this series would be intensely contested. You know the conference finals will be tough because they always are. There is no connection between games. We won Game 3 by a wide margin. It's really beside the point. It's all about working together to plan and execute a spectacular performance. On Saturday, we'll play at a much higher level. That's all we can do is concentrate on at the moment.
SOURCE – (AP)
NFL Expects Fewer Kickoff Returns With New Fair Catch Rule Inside 25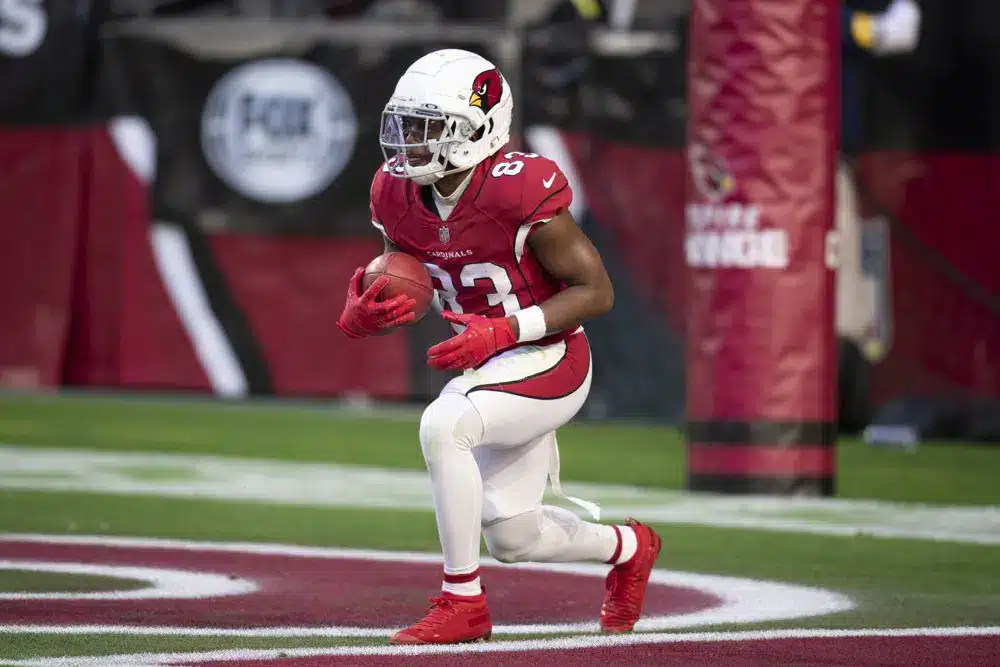 EAGAN, Minnesota – With a focus on player safety, the NFL has driven the kickoff return even further into obscurity.
The existence of the kickoff itself is still being investigated.
The league's owners voted Tuesday to test an upgraded touchback rule for one year, giving the receiving team the ball at its own 25 with a fair catch of a kickoff anyplace behind that yard line.
"There'll be a lot more work to be done about how we can continue to evolve going forward," Commissioner Roger Goodell said. "Can we keep this play exciting but, more importantly, safe?" There will be a great deal of work to be done."
The plan was approved despite strong opposition from coaches and players across the league, who said the alteration would result in uglier plays with squib and corner kicks, making fair receptions hard.
"I've been doing this a long time." "I've seen these types of health and safety discussions," Atlanta Falcons CEO Rich McKay, head of the competition committee, said. "We tend to get ourselves to the right place, but it's never that comfortable."
According to the NFL's statistical projections, the return rate for kickoffs in 2023 will drop from 38% to 31% under the new rule, and the rate of concussions on the sport's most dangerous play will be cut by 15%. Concussions on kickoffs occur more than twice as frequently as on plays from scrimmage, and the percentage has increased dramatically in the last two years, according to McKay.

With a focus on player safety, the NFL has driven the kickoff return even further into obscurity.
One possible explanation for the recent rise in head injuries? Kickers' improved ability to tactically hang the ball longer and higher in front of the goal line gives coverage more time to make a tackle and keeps the opponent's drive starting deeper than the 25 for an end-zone touchback.
"We understand that there will be injuries in professional football and football at all levels." "We're just trying to mitigate those risks," said Tennessee coach Mike Vrabel, a member of the competition committee that recommended the regulation be approved.
The NFL duplicated a regulation that had just been implemented in college football.
"Not to say there won't be some unintended consequences, but sitting still and doing nothing was unacceptable," said Jeff Miller, executive vice president of communications, public affairs, and policy for the NFL. "There may be more to come because both kickoff and punt continue to have higher injury rates than run or pass plays — and sometimes by a significant margin." We need to keep an eye on those plays."
McKay admitted there is no certainty that the kickoff will always be a game feature. The NFL will continue investigating alternatives, like those utilized in spring leagues. The XFL has only 5 yards between the kicking and returning teams, with movement prohibited until the returner has fielded the ball.
"You don't want this play to be taken out of the game because special teams has been a really good part of our game and a really good part of the careers of a lot of players and coaches," McKay said. "It's popular. We just need to figure out how to make the plays safer."

With a focus on player safety, the NFL has driven the kickoff return even further into obscurity.
In 2016, the league relocated touchbacks from the 20-yard line to the 25-yard line. Only 53 kickoff returns have resulted in touchdowns in the last 12 seasons since kickoff tees were moved up to the 35-yard line from the 30. Before the modification, there were 20 kickoff return touchdowns in 2010.
"I'm sure it's like a good NFL rule." "They always have their reasons for putting stuff in," said Green Bay's Keisean Nixon, who recorded one of the four kickoff return touchdowns in the 2022 season. "I ain't never fair caught anything, so I don't know."
Coach Matt Eberflus of Chicago projected a tactical change towards squib, drop, and drive kicks.
"I suspect you'll see more returns rather than less," Eberflus said. "That's just what I'm thinking right now," she says, "but we'll see what happens."

GROWTH ON A GLOBAL SCALE
Goodell showed openness to teams spending more time overseas, with the Jacksonville Jaguars scheduled to play consecutive games in London this year.
"We'll see how it affects the Jaguars," Goodell stated. "Can we try three at some point?" Possibly."
The NFL has expanded its global marketing program to include two additional clubs and four other nations, bringing the totals to 21 and 14, respectively. The New Orleans Saints were awarded the rights to France. Ireland and Northern Ireland were acquired by the Pittsburgh Steelers, who also acquired Mexico last year. Ireland also joined the Jaguars. The Atlanta Falcons are the fifth team to sign Germany. Austria and Switzerland were granted rights to the Kansas City Chiefs, New England Patriots, and Tampa Bay Buccaneers.
The program was created to assist individual teams in developing their brands outside their home markets through commercial activities and fan engagement comparable to what they do at home. The league grants rights for at least five years.
SOURCE – (AP)