Final 4 NFL Teams All Have Offensive-Minded Head Coaches
SANTA CLARA, Calif. – Chris Foerster had been an NFL assistant for nearly two decades when he first met Kyle Shanahan, long before he became one of the league's most accomplished play-callers.
Shanahan was in his third year as an NFL offensive coordinator when Foerster joined head coach Mike Shanahan's staff in Washington as offensive line coach in 2010. He was immediately impressed by Shanahan's knowledge, creativity, and teaching ability.
That has only grown over their four years together in Washington and the last four in San Francisco, where Foerster has worked as an assistant on Shanahan's staff.
"I've been amazed since working with him, and I won't stop," Foerster said. "It's just how he does it and his understanding of what he's doing."

Productive Offenses Without Elite Quarterback Play
Shanahan's success in San Francisco overseeing productive offenses without elite quarterback play is one of the reasons why so many teams look for the next trendy, play-calling offensive coach to take over their teams every January.
All four conference championship game head coaches have an offensive background, with Andy Reid of Kansas City and Zac Taylor of Cincinnati calling plays like Shanahan, while Philadelphia's Nick Sirianni delegated that duty during his first season.
"Plays are just played," said Shanahan. "It's how you connect them, how you hide them, how you do things around them, and how you coach them."
Shanahan and Reid are two of the best at it, and their coaching styles have had a big impact on modern offenses. Almost half of the NFL teams run offenses that were inspired by their ideas.
Shanahan's offense is built around the running game, with his dedication leading to opportunities with play-action passes downfield.

The Niners Disguise Their Intentions
"He's not just copying other people's plays," said 49ers defensive coordinator DeMeco Ryans. "He has that very creative mind, and he's always putting his players in position to make plays. That is what distinguishes him from the other coordinators in the league."
The Niners disguise their intentions with frequent motion and different formations, and Shanahan has designed a nearly position-less offense that allows him to move playmakers like Christian McCaffrey, Deebo Samuel, George Kittle, and fullback Kyle Juszczyk all over the field to create mismatches.
"He pays attention to every detail," said 49ers rookie quarterback Brock Purdy. "Every day, he's the one installing the plays, which is pretty cool to have your head ball coach teach you what you're running."
Shanahan has updated his father's offense when Denver went to the Super Bowl twice in the 1990s.

Big Plays In-Store This Season
He has amassed a comprehensive knowledge of his system, allowing him to adapt plays from his past to his current team.
According to Foerster, Shanahan also has the uncanny ability to see how a defense is playing the Niners during a game and pull out a play they didn't even practice that week.
This has already resulted in several big plays this season.
"He's just looking for that dagger," Foerster explained. "Where is that play that I believe will put them over the top on this one?"
Reid takes a different approach, relying much more on the passing game in his career with an offense that peaked when Patrick Mahomes took over as quarterback in Kansas City.
Reid also enjoys using gadget plays, whether it's a 1949 Rose Bowl nfl play he used against s in the Super Bowl three years ago or the "ring-around-the-Rosie" Snow Globe play against the Raiders in Week 18.

Not All Head Coaches Call The Plays
"You want to have fun, but you also want to score," Reid explained. "It's not fun not to be doing that."
Since Mahomes took over in 2018, the Chiefs have averaged a league-best 30.1 points per game, 3.6 more than No. 2 Tampa Bay and a larger gap between the Buccaneers and the 16th-place team.
"With Coach Reid, he can get anyone (open)," tight end Travis Kelce nfl explained. "He can get my dad open if he was out there. So I've been extremely fortunate to be under his direction, programmed the way he is because I genuinely believe he does it correctly."
Not all head coaches still alive in the playoffs call the plays, with Sirianni delegating those duties to coordinator Shane Steichen during his first year in Philadelphia in 2021.
Instead of constantly looking at his play sheet for the next play to call, Sirianni said this has allowed him to better manage the game and deal with defensive coordinator Jonathan Gannon and special teams coordinator Michael Clay.
"My head coach's job is to manage the game. "I understand that everyone does it a little differently, and what works best for us is that I do it this way," he said. "We like the way things are going. We're always trying to improve it, but I've got great coaches I can rely on, and Shane is doing an excellent job calling it."
SOURCE – (AP)
Dan Snyder's Future In 2023 A Hot Topic At NFL Owners Meetings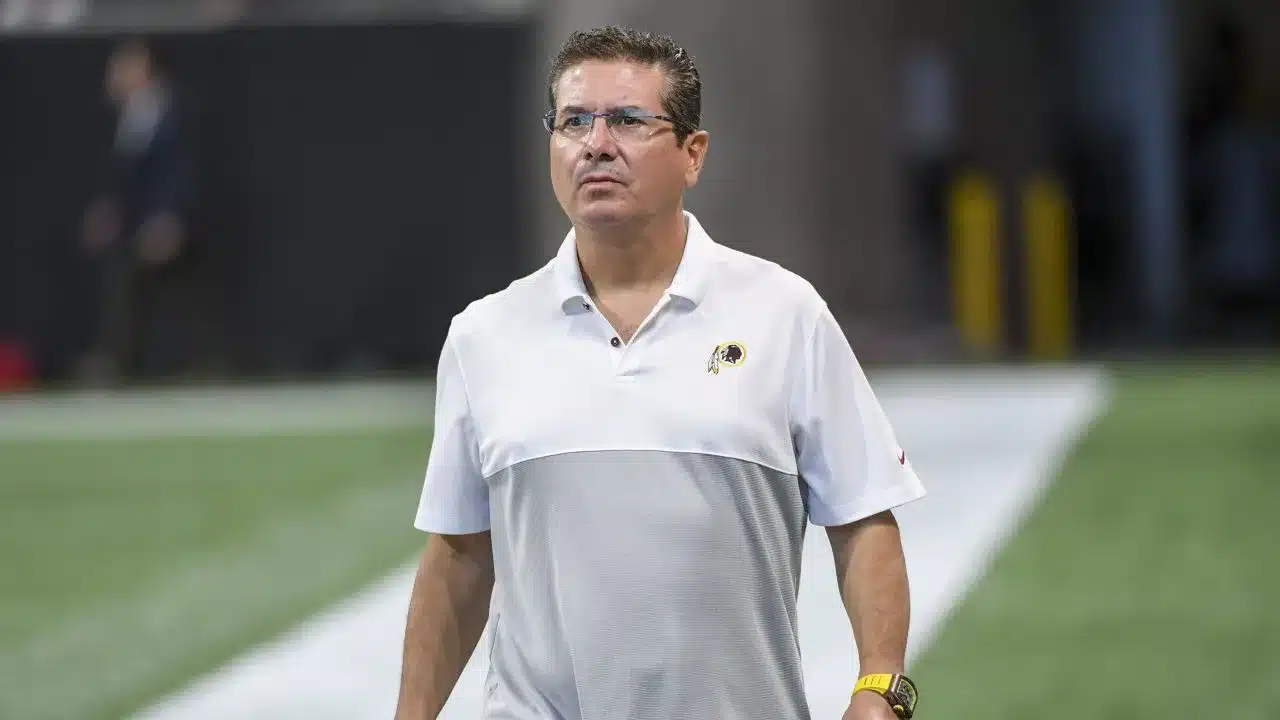 PHOENIX — Dan Snyder's future in the NFL as the owner of the Washington Commanders is uncertain as his peers gathered at a luxurious resort for the league's annual meetings and waited for word on the likely sale of the team.
Three people familiar with the details told The Associated Press on Monday that a conversation about Snyder is off the formal schedule this week. Despite his absence, Snyder remained a popular topic of discussion, even as quarterback Lamar Jackson's trade request dominated headlines.
"I believe he has put the team up for sale." "I believe something is on the verge of happening," stated New England Patriots owner Robert Kraft. "I don't know for sure." We'll have to wait and see what happens."
Canadian millionaire Steve Apostolopoulos recently entered bids for the Commanders led by Josh Harris and Tilman Fertitta. When Snyder accepts an offer, he must submit the bidder's name to the NFL for approval. That has yet to happen, according to an AP source.
With various investigations into the team's working culture, finances, and Snyder himself ongoing, he and his wife Tanya hired a consultancy last fall to "consider possible transactions." Tanya is still representing the team at league competitions.

There is "merit to remove" Snyder as the owner of the Commanders.
Jim Irsay, the owner of the Indianapolis Colts, has stated that there is "merit to remove" Snyder as the owner of the Commanders. That would necessitate an extraordinary vote of 24 of the other 31 team owners.
According to the Associated Press, Snyder and his attorneys have demanded that NFL owners and the league cover him against future legal liabilities and costs if he sells the club. Two owners expressed outrage at Snyder's demand for indemnification but told the Associated Press that they wanted to see the sale process through before taking action.
According to Dallas Cowboys owner Jerry Jones, Snyder's condition has altered their relationship.
"I think it's a little more formal," Jones said, "but that's because of the various issues involved here." "It isn't 'lovey-dovey,' but it isn't strained in any way."
Snyder and the team are still under investigation by former U.S. Attorney Mary Jo White, who was hired by the league to investigate various aspects of the organization following a congressional investigation into workplace misconduct, which included a referral to the Federal Trade Commission for potential business improprieties.
When asked if Snyder had refused to talk with White, a spokeswoman said it was a private matter between the team and the league.

Snyder is the subject of several civil cases and investigations.
The District of Columbia Attorney General filed two civil lawsuits against the Commanders late last year: one for a scheme to defraud fans of ticket money and another accusing Snyder, Commissioner Roger Goodell, and the league of conspiring to mislead fans about an investigation into the team's workplace culture that resulted in a $10 million fine and no written report. The Commanders reached an agreement with the state of Maryland, agreeing to repay security deposits and pay a $250,000 fine.
An inquiry begun in October 2021 by the U.S. House Committee on Oversight and Reform, which included evidence from Snyder, Goodell, and others, concluded that the team produced a poisonous workplace atmosphere.
Other developments from Monday's discussions included:
The NFL has created The Smart Heart Sports Coalition, a collaboration of numerous groups campaigning to adopt evidence-based policies to prevent high school kids from dying from sudden cardiac arrest.
"The NFL has a history of addressing difficult issues," league official Anna Isaacson said. "The life of Damar Hamlin was saved." More lives must be saved."
The NFL, NBA, MLB, MLS, NHL, NCAA, American Heart Association, American Red Cross, Korey Stringer Institute, National Athletic Trainers' Association, and Damar Hamlin's Chasing M's Foundation are all part of the coalition.
According to League president Jeff Miller, schools need to have rules in place to provide good CPR and fast access to AEDs.
"A lot of the most tragic situations that unfortunately happen may be avoided if a school has an emergency action plan in place if they have someone trained in CPR and access to an AED."

HOSTS OF THE FUTURE
According to league official Peter O'Reilly, a vote on Super Bowl 2026 and NFL draft 2025 host cities will not occur this week. According to O'Reilly, it will likely be on the agenda for the May sessions.
The Super Bowl will be held in Las Vegas next year, with New Orleans hosting the following year. The NFL draft will be held in Kansas City next month, and Detroit will host the following year. O'Reilly stated that the reinvented Pro Bowl, which includes a week of activities and competition culminating in flag football, is here to stay. According to him, 100% of the gamers polled support the new format.
SOURCE – (AP)
Lamar Jackson Says He Has Requested Trade From Ravens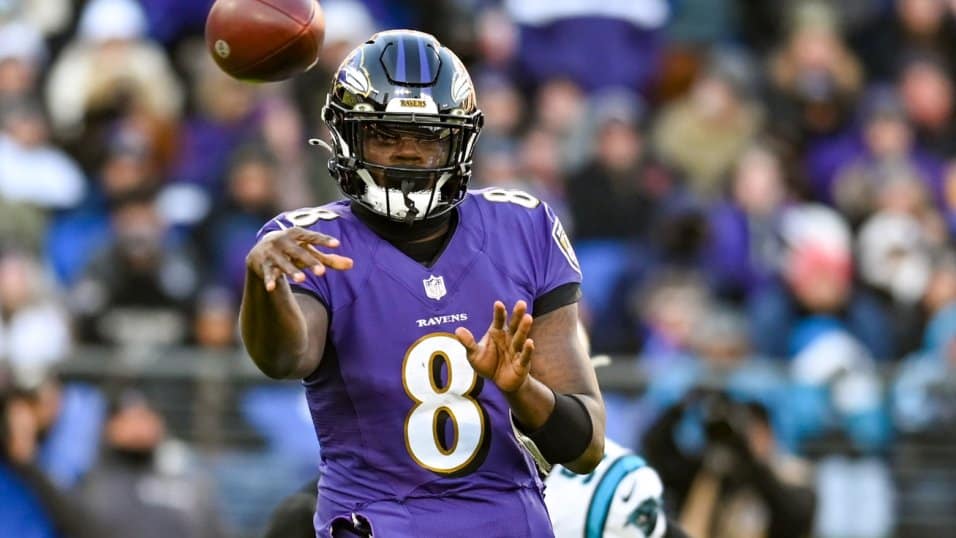 On Monday, Lamar Jackson requested a trade from the Baltimore Ravens, saying the team "has not been interested in meeting my value."
In a series of tweets, the star quarterback stated that he had sought a trade as of March 2. On March 7, the Ravens placed the nonexclusive franchise tag on Jackson and stated they were still hopeful of reaching a long-term agreement with him.
"As of March 2, I requested a trade from the Ravens organization, and the Ravens have not been interested in meeting my value," Jackson tweeted. "Anyone who has met or been around me knows I love football, and my dream is to help a team win the Super Bowl."
Jackson may not need to be traded to join a new team. He can deal with other teams because he has a nonexclusive franchise tag. It also allows Baltimore to match whatever arrangement he makes. The decision to make the trade request public could be a move to discourage the Ravens from matching another team's offer — or it could be an attempt to pique the interest of other clubs by proclaiming his desire to leave Baltimore.
If Jackson strikes a deal with another team and the Ravens do not match, the opposing team will owe Baltimore two first-round picks.

Lamar may not need to be traded to join a new team.
On Monday, Ravens coach John Harbaugh addressed Jackson extensively at the league's owners' meetings in Phoenix.
"I didn't see the tweet." "That is a continuous process," Harbaugh added. "Like everyone else here, I'm watching it closely and hoping for a resolution." I'm excited because I'm constantly thinking about Lamar being our quarterback. That is the foundation of our offense."
Jackson was named NFL MVP in 2019. His passing and running abilities make him one of the game's most prominent players. At 25, he is one of just six quarterbacks in NFL history to have accumulated 10,000 yards passing and 4,000 yards rushing.
Lamar has been injured at the end of the previous two seasons, and the Ravens have yet to reach the AFC title game without him. If he stays in Baltimore, he'll have a new offensive coordinator. The Ravens hired Todd Monken of Georgia for that role at the end of last season.
Harbaugh stated that he expects Lamar to start at quarterback for the Ravens next season.

"However, I'm very excited about Lamar Jackson.
"You've got to plan for every contingency," Harbaugh added. "However, I'm very excited about Lamar Jackson." Lamar Jackson, for example, is a fantastic player. Last year, Lamar returned to form. He's pumped to play. That's the Lamar I'm interested in seeing. I can't wait to go out on the grass and back to work, which will likely happen.
Harbaugh attempted to remain optimistic about Jackson's return. If Jackson returns to the field this season on Baltimore's $32.4 million franchise tag, it will undoubtedly be a difficult situation, and the coach will have his work cut out for him to ease tensions.
"Nothing has changed regarding relationships, how we feel about Lamar, and how we want to build our team," Harbaugh explained.
An agent does not represent Jackson. The NFL management council stated in a statement given to teams last week and obtained by The Associated Press that a person who is not an NFLPA-certified agent may be contacting clubs and seeking to urge them to talk with Jackson. The message reminded teams that if a player is representing himself, an offer sheet can only be discussed with that player under the collective bargaining agreement.
Jackson stated on Twitter that the individual in question never attempted to negotiate for him.
SOURCE – (AP)
World Baseball Classic Keeps Growing Despite Injury Risks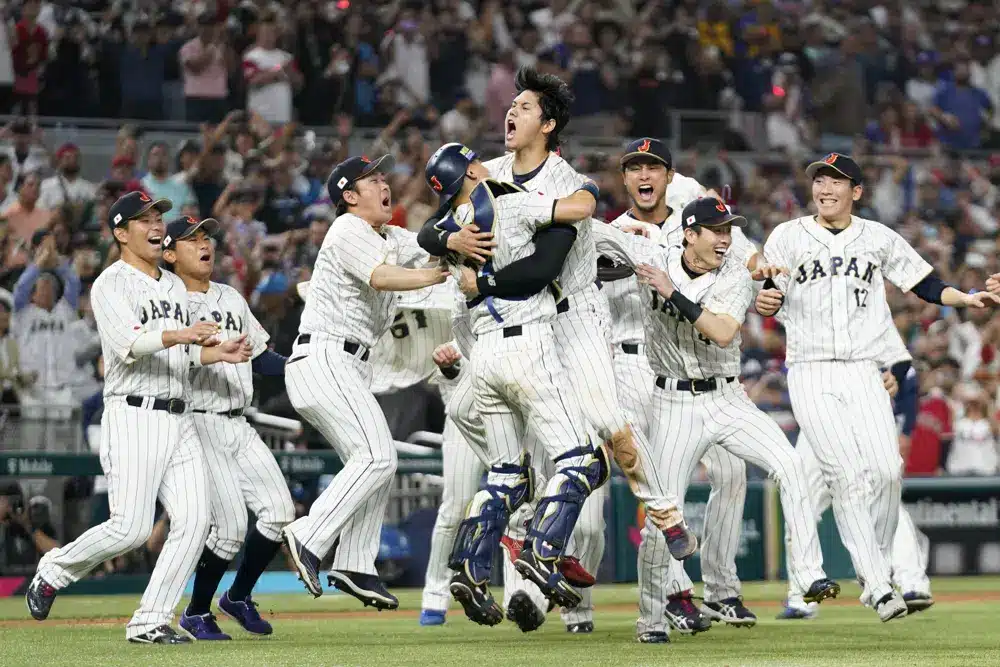 MIAMI — There will be endless replays of Shohei Ohtani's strikeout of Mike Trout, Trea Turner's game-winning grand slam against Venezuela in the eighth inning, Japan's walk-off semifinal victory, and Mexico's comeback from a four-run hole against Puerto Rico.
People will talk about Jose Altuve's fractured finger and Edwin Dáz's season-ending knee injury all year.
The 47 games played over two weeks during this year's World Baseball Classic left fans with long-lasting memories and increased the sport's global presence while restoring Japan's dominance and reiterating Ohtani's unrivaled talent.
Even if it is not a worldwide obsession like the World Cup of soccer, the event has expanded throughout its five editions since its debut in 2006.
"In a way, this is like our Olympics. Before the Americans were defeated by Japan 3-2 in Tuesday night's championship game, Kyle Schwarber remarked, "We don't have that opportunity to play wherever the Olympics are at. Ohtani fanned Trout to secure Japan's first championship since 2009 and third overall. When baseball was briefly reinstated at the previous Games, Samurai Japan defeated an American team loaded with minor league players to win the gold medal. Baseball is no longer a permanent Olympic sport.
The star-studded WBC, held in Miami, Phoenix, Tokyo, and Taiwan, is expected to generate between $90 million and $100 million in revenue. The tournament's top attendance of 1,306,414 was 20% more than the 1,086,720 for 40 games in 2017.
This year's semifinals on FS1 and Fox Deportes averaged 2.4 million viewers, a 96% increase over the semifinals on MLB Network and ESPN Deportes in 2017.
Fox stepping up to broadcast the games was "one of the things that were important this time around," according to baseball commissioner Rob Manfred. Nobody supports the MLB Network more than I do, but it's a big deal when one of the main broadcasters shows interest in covering the event.

Since the start of the tournament, player health has been a source of concern.
Since the start of the tournament, player health has been a source of concern. Since they wanted them to focus on getting ready for the start of the season, many MLB organizations prohibited pitchers from taking part. Dáz and Altuve's injuries heightened their worries.
However, the likelihood of injury risks slowing the WBC's expansion seems remote given that MLB generates cash and international attention from the competition and that players are eager to represent their home nations.
Dáz's teammate on Team Puerto Rico and the New York Mets, Francisco Lindor, told reporters, "We all care for each other, and no one wants to get hurt." "But we all adore our nations and want to stand up for them. We get the chance to speak on behalf of our nations and gain knowledge from one another. It's incredible.
Going into the title match, Japan had drawn three of the four most viewed WBC games ever at home, with ratings of 48.7 for the quarterfinal versus Italy, 44.4 for the matchup against South Korea, and 42.5 for the semifinal versus Mexico. The numbers show the proportion of television households that watched a particular broadcast.
Back home, there was a widespread celebration after the team's victory. The most widely read newspaper in the nation, Yomiuri, published a special Wednesday afternoon edition for commuters. This publication is often saved for important national news, election-related breaking stories, or, as it happened last year, the killing of former Prime Minister Shinzo Abe. The headline in Japanese read, "Japan, the World's No. 1."
Mexico expected that reaching the final four would draw more attention to the sport in a country where soccer is the most popular.

Britain, the Czech Republic, and Nicaragua first made it to the baseball tournament.
Manager Benji Gil predicted that the upcoming two weeks would draw many young players from Mexico and Mexicans who reside overseas.
Britain, the Czech Republic, and Nicaragua first made it to the baseball tournament after it went from 16 to 20 countries. All were unable to get past the group stage.
The mercy rule resulted in the mercy ending two games for China, one for Israel, and one for each Britain and Canada.
Due to a mathematical tiebreaker based on runs allowed divided by outs, Cuba and Italy advanced over the Netherlands, Taiwan, and Panama in Group A despite all five nations finishing tied at two points each in baseball.
Baseball is becoming more and more popular around the world, according to U.S. manager Mark DeRosa. "I figured Colombia, man, the arms they were running out there, they weren't name guys, but everyone was sitting 92 to 95 (mph) and had pretty decent stuff," the speaker said.
After striking out All-Stars Juan Soto, Julio Rodriguez, and Rafael Devers in one spectacular inning baseball, Nicaraguan pitcher Duque Hebbert signed a minor league deal with the Detroit Tigers.
The MLB Players Association and the next World Baseball Classic in March 2026 are committed. Manfred stated it is too early to predict whether the format would change.
If you can participate in an event that mixes nationalism and sport, you must, according to him, since he believes that the combination is potent.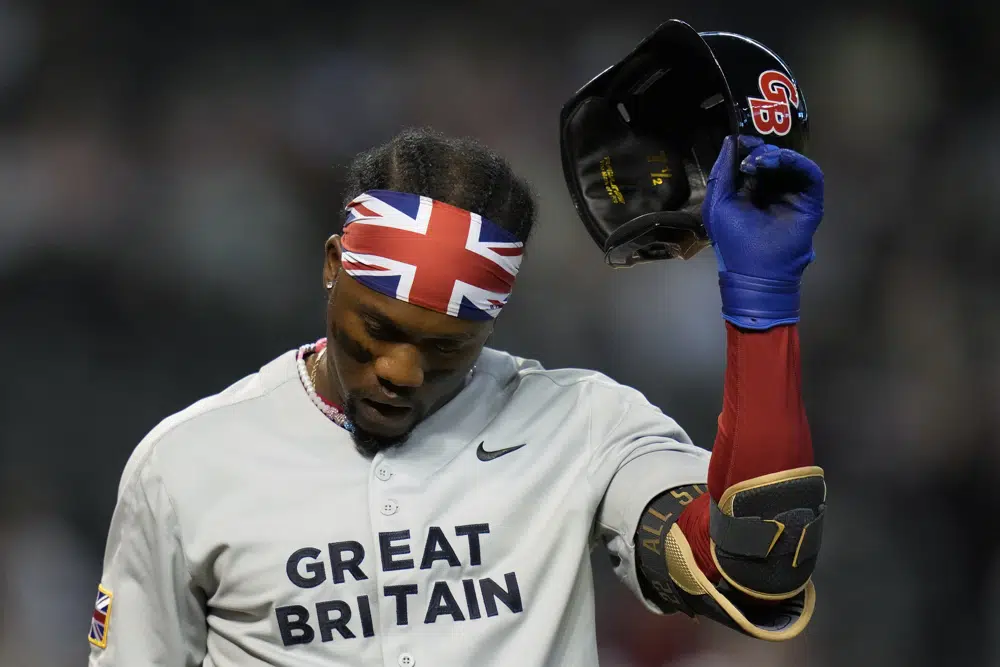 SOURCE – (AP)