OLYMPICS: Ukraine Pushes To Exclude Russia From 2024 Paris Olympics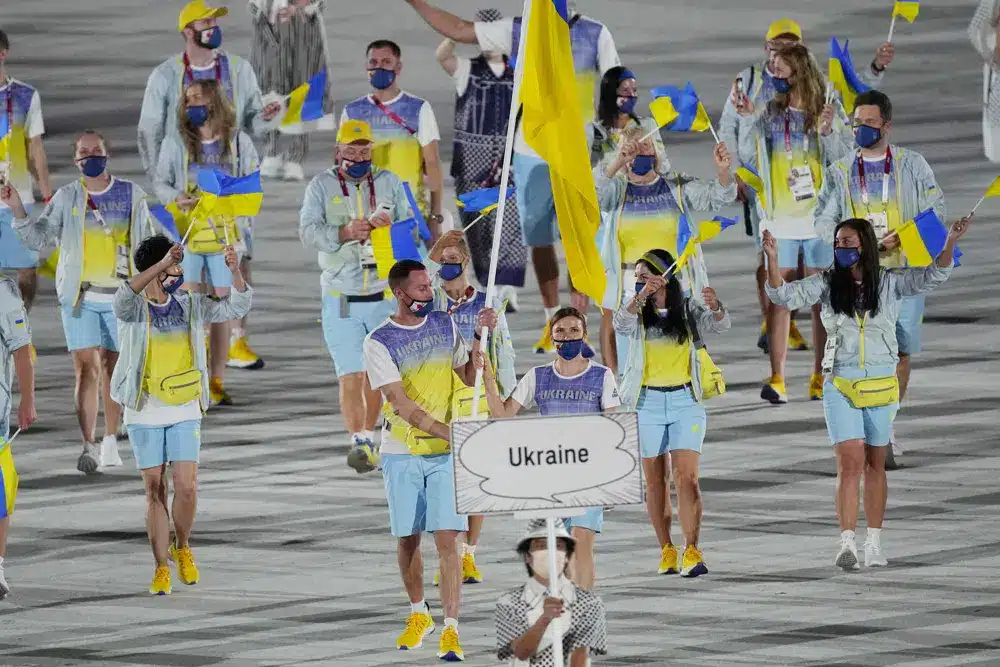 KYIV, Ukraine — With the Olympics in Paris next year looming and Russia's invasion appearing to be a protracted conflict, Ukraine's sports minister renewed a threat to boycott the games if Russia and Belarus are allowed to compete, said Kyiv would lobby other countries to join.
Such a move could cause the greatest schism in the Olympic movement since the Cold War.
No country has declared a boycott of the 2024 Summer Olympics. However, Ukraine received backing from Poland, the Baltic countries, and Denmark, who opposed an International Olympic Committee plan to allow delegations from Russia and its ally Belarus to compete in Paris as "neutral athletes" without flags or anthems.
"We cannot compromise on the admission of Russian and Belarusian athletes," said Ukrainian Sports Minister Vadym Huttsait, who also chairs the country's national Olympic committee, citing attacks on his country, athlete deaths, and the destruction of sports facilities.

Ukraine Will Boycott The Olympics
His committee meeting didn't decide to boycott, but they agreed to try to convince sports officials worldwide over the next two months, including talking about a possible boycott.
"As a last resort, but please keep in mind that this is my personal opinion," Huttsait added, "if we do not succeed, we will have to boycott the Olympic Games."
Paris will be the final Olympics under outgoing IOC President Thomas Bach, who is looking to leave a legacy after a tenure marked by disagreements over Russia's status — first over widespread doping scandals and now over the Ukraine war.
Bach's views were formed while he was an Olympic gold medallist in fencing, and his country, West Germany, boycotted the 1980 Olympics in Moscow in protest of the Soviet invasion of Afghanistan. He has since condemned that decision.
Russia has cautiously welcomed the IOC's decision to grant it a path to the Olympics but has demanded that it drop a condition that would exclude athletes deemed to be "actively supporting the war in Ukraine."

Russia Says Teams Will Compete
The head of the Russian Olympic Committee, Stanislav Pozdnyakov, who was on Huttsait's team at the 1992 Olympics, thought that was unfair. The IOC once said that Russia and Belarus shouldn't be allowed to compete in world sports for safety reasons. It now says that it can't treat them differently just because of where they live.
The leaders of Estonia, Latvia, and Lithuania urged the IOC to ban Russia and warned of a boycott.
"I believe our efforts should be focused on persuading our other friends and allies that the participation of Russian and Belarussian athletes is simply wrong," Estonian Prime Minister Kaja Kallas said. "The next step is to boycott. "I believe people will understand why this is required."
"This threat of a boycott only leads to further escalation of the situation, not only in sport but also in the broader context," the IOC said in a statement. Regrettably, politicians use athletes and sports as tools to achieve their political goals."
"Why punish athletes from your country for the Russian government starting the war?" it asked bluntly.
In a statement next week, Poland's sports minister, Kamil Bortniczuk, said that up to 40 countries could condemn Russian and Belarussian participation in Paris but that a boycott threat could be avoided. He told the state news agency PAP that the IOC was "naive" and should reconsider its stance.

Denmark Also Wants Athletes To Stay Home
Denmark wants Russian athletes barred from participating in "all international sports as long as their attacks on Ukraine continue," according to Danish Culture Minister Jakob Engel-Schmidt.
"We must not waver in our approach to Russia. The government's position is unequivocal. "Russia must be prohibited," he stated. "This also applies to Russian athletes competing under neutral flags. It is incomprehensible that the IOC appears to have reservations about the line."
When asked about the boycott threats and the IOC plan, Paris 2024 organizing committee head Tony Estanguet said he couldn't comment "on political decisions."
"My job is to ensure that all athletes who want to participate are provided with the best security conditions and that they have the opportunity to live their dream," he said in Marseille.
Last year, Ukraine boycotted some sporting events rather than compete against Russians.
Huttsait said a boycott would be very tough, saying it was "very important for us that our flag is at the Olympic Games; it is very important for us that our athletes are on the podium. So that we can demonstrate that our Ukraine was, is, and will be."

Athletes Prepared For A Boycott
Marta Fedina, a 21-year-old Olympic bronze medallist in artistic swimming, declared in Kyiv that she was "prepared for a boycott."
"How will I explain to our defenders that I am even on the same sports field as these people?" she asked, referring to Russian athletes. She noted that the war had destroyed her swimming pool in Kharkiv, where she lived when Moscow invaded.
Speakers at the Ukrainian Olympic Committee's assembly meeting expressed concern about Moscow's use of Paris for propaganda, and some athletes have close ties to the Russian military.
If athletes from the two countries compete, "it should be absolutely clear that they are not representing the Russian or Belarusian states," White House press secretary Karine Jean-Pierre said Thursday. The Olympics will be held in Los Angeles in 2028.
If the IOC's proposal is implemented, it will be the fourth consecutive Olympics in which Russian athletes compete without the national flag or anthem. After a series of doping scandals, the Russian teams at the Winter Olympics in 2018 and 2022 and the Summer Olympics in 2021 were all in trouble.
The last time many countries boycotted an Olympics was in 1988, when North Korea and others refused to attend the Summer Games in South Korea. Fears about the coronavirus pandemic kept the North Korean team from going to the Tokyo Games in 2021. As a result, the IOC barred it from the following Winter Games in Beijing, claiming that teams had a duty to attend every Olympics.

Belurussian Athletes Under The Same Scrutiny
Although the IOC set the tone of the debate by publishing advice on how to help Russia and Belarus compete, decisions for the governing bodies of individual sports that organize events on the 32-sport Paris program must be made.
These organizations, many of which are based in Lausanne, Switzerland, where the IOC is based, run their qualifying and Olympic competitions and decide who can compete and who can't.
Before the IOC's Olympic qualifying events, the International Cycling Union agreed to allow Russian and Belarussian athletes to compete as "neutrals."
Most sports, including track and field World Athletics and soccer FIFA, excluded Russian athletes and teams within days of the war's start. Tennis and cycling have allowed many Russians and Belarusians to compete as neutrals. Other governing bodies are more closely aligned with the IOC or have historically had close commercial and political ties with Russia.
The umbrella group of Summer Games sports, ASOIF, may hold a key meeting on March 3 in Lausanne. It is chaired by Francesco Ricci Bitti, a member of the IOC when he led the International Tennis Federation, and includes World Athletics president Sebastian Coe.
The ASOIF declined to comment on Friday but stated this week that "it is critical to respect the specificity of each federation and their particular qualification process" for Paris.
SOURCE – (AP)
World Baseball Classic Keeps Growing Despite Injury Risks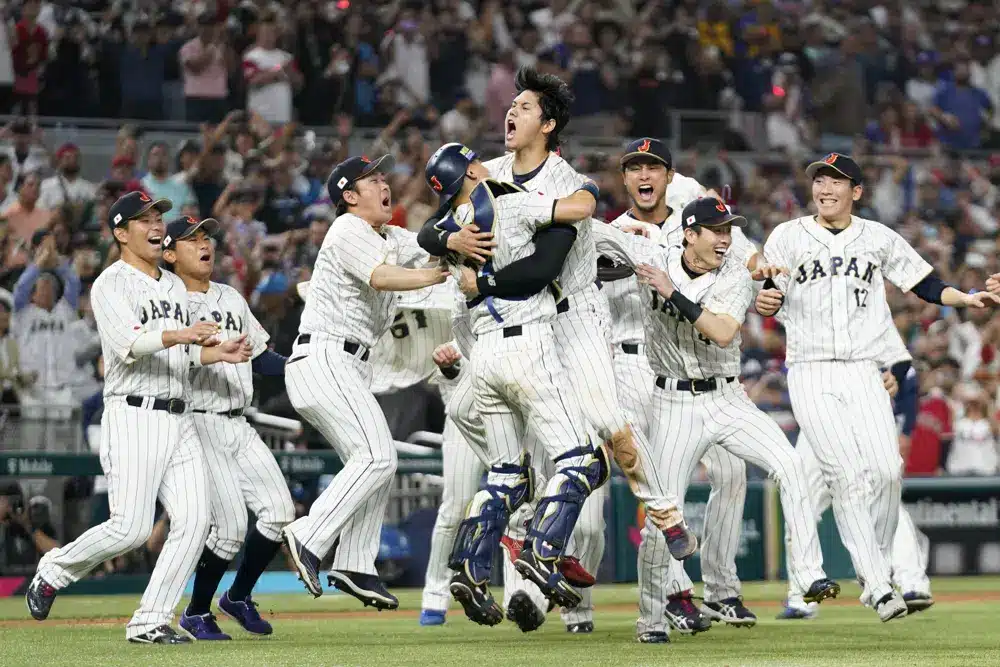 MIAMI — There will be endless replays of Shohei Ohtani's strikeout of Mike Trout, Trea Turner's game-winning grand slam against Venezuela in the eighth inning, Japan's walk-off semifinal victory, and Mexico's comeback from a four-run hole against Puerto Rico.
People will talk about Jose Altuve's fractured finger and Edwin Dáz's season-ending knee injury all year.
The 47 games played over two weeks during this year's World Baseball Classic left fans with long-lasting memories and increased the sport's global presence while restoring Japan's dominance and reiterating Ohtani's unrivaled talent.
Even if it is not a worldwide obsession like the World Cup of soccer, the event has expanded throughout its five editions since its debut in 2006.
"In a way, this is like our Olympics. Before the Americans were defeated by Japan 3-2 in Tuesday night's championship game, Kyle Schwarber remarked, "We don't have that opportunity to play wherever the Olympics are at. Ohtani fanned Trout to secure Japan's first championship since 2009 and third overall. When baseball was briefly reinstated at the previous Games, Samurai Japan defeated an American team loaded with minor league players to win the gold medal. Baseball is no longer a permanent Olympic sport.
The star-studded WBC, held in Miami, Phoenix, Tokyo, and Taiwan, is expected to generate between $90 million and $100 million in revenue. The tournament's top attendance of 1,306,414 was 20% more than the 1,086,720 for 40 games in 2017.
This year's semifinals on FS1 and Fox Deportes averaged 2.4 million viewers, a 96% increase over the semifinals on MLB Network and ESPN Deportes in 2017.
Fox stepping up to broadcast the games was "one of the things that were important this time around," according to baseball commissioner Rob Manfred. Nobody supports the MLB Network more than I do, but it's a big deal when one of the main broadcasters shows interest in covering the event.

Since the start of the tournament, player health has been a source of concern.
Since the start of the tournament, player health has been a source of concern. Since they wanted them to focus on getting ready for the start of the season, many MLB organizations prohibited pitchers from taking part. Dáz and Altuve's injuries heightened their worries.
However, the likelihood of injury risks slowing the WBC's expansion seems remote given that MLB generates cash and international attention from the competition and that players are eager to represent their home nations.
Dáz's teammate on Team Puerto Rico and the New York Mets, Francisco Lindor, told reporters, "We all care for each other, and no one wants to get hurt." "But we all adore our nations and want to stand up for them. We get the chance to speak on behalf of our nations and gain knowledge from one another. It's incredible.
Going into the title match, Japan had drawn three of the four most viewed WBC games ever at home, with ratings of 48.7 for the quarterfinal versus Italy, 44.4 for the matchup against South Korea, and 42.5 for the semifinal versus Mexico. The numbers show the proportion of television households that watched a particular broadcast.
Back home, there was a widespread celebration after the team's victory. The most widely read newspaper in the nation, Yomiuri, published a special Wednesday afternoon edition for commuters. This publication is often saved for important national news, election-related breaking stories, or, as it happened last year, the killing of former Prime Minister Shinzo Abe. The headline in Japanese read, "Japan, the World's No. 1."
Mexico expected that reaching the final four would draw more attention to the sport in a country where soccer is the most popular.

Britain, the Czech Republic, and Nicaragua first made it to the baseball tournament.
Manager Benji Gil predicted that the upcoming two weeks would draw many young players from Mexico and Mexicans who reside overseas.
Britain, the Czech Republic, and Nicaragua first made it to the baseball tournament after it went from 16 to 20 countries. All were unable to get past the group stage.
The mercy rule resulted in the mercy ending two games for China, one for Israel, and one for each Britain and Canada.
Due to a mathematical tiebreaker based on runs allowed divided by outs, Cuba and Italy advanced over the Netherlands, Taiwan, and Panama in Group A despite all five nations finishing tied at two points each in baseball.
Baseball is becoming more and more popular around the world, according to U.S. manager Mark DeRosa. "I figured Colombia, man, the arms they were running out there, they weren't name guys, but everyone was sitting 92 to 95 (mph) and had pretty decent stuff," the speaker said.
After striking out All-Stars Juan Soto, Julio Rodriguez, and Rafael Devers in one spectacular inning baseball, Nicaraguan pitcher Duque Hebbert signed a minor league deal with the Detroit Tigers.
The MLB Players Association and the next World Baseball Classic in March 2026 are committed. Manfred stated it is too early to predict whether the format would change.
If you can participate in an event that mixes nationalism and sport, you must, according to him, since he believes that the combination is potent.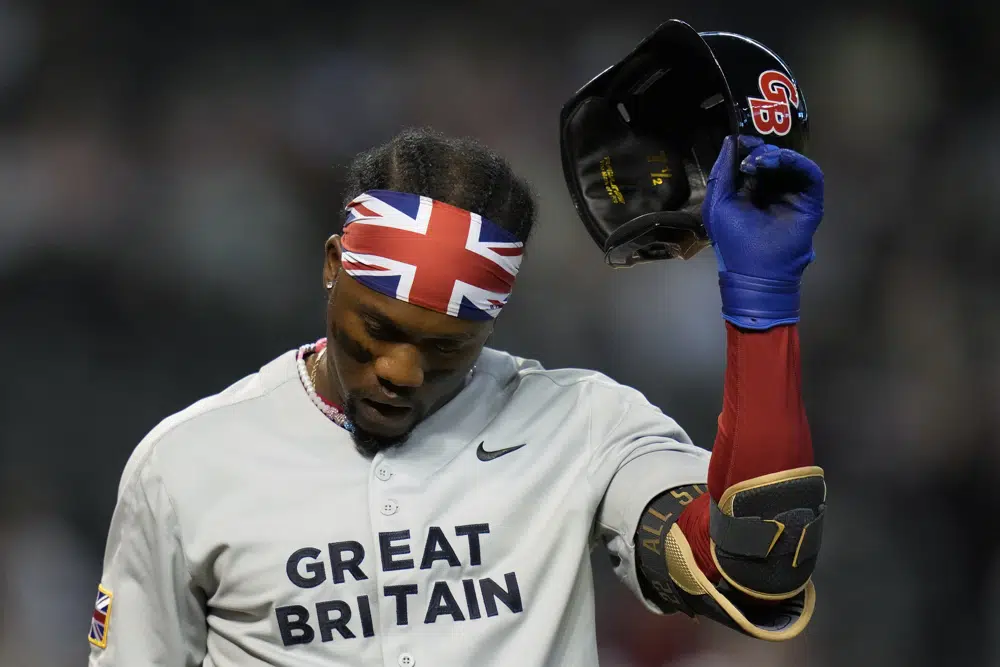 SOURCE – (AP)
US Players Welcome Gio Reyna After World Cup Flap, Ream Says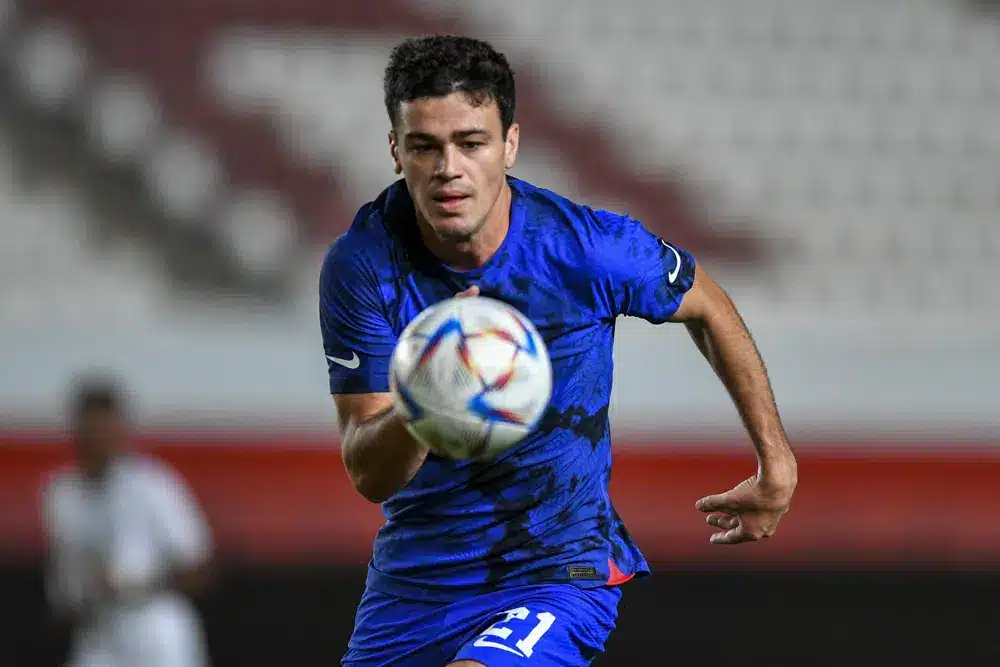 FLORIDA'S DAVENPORT — Tim Ream, one of the team's more experienced players, has welcomed Gio Reyna back after the teenage midfielder's family sparked a spat with Gregg Berhalter that cast doubt on the coach's job security.
Reyna's parents, former U.S. captain Claudio Reyna and former women's player Danielle Egan Reyna informed the U.S. Soccer Federation of a 1992 domestic violence incident involving Berhalter and the woman he later married—Danielle Egan's former college roommate—after Berhalter used Reyna sparingly at the World Cup.
After Berhalter's contract expired on December 31, the USSF hired a law firm to investigate and named Anthony Hudson interim coach. The USSF postponed making a coaching choice until when a new sporting director is chosen, which is likely to happen this summer after the law firm declared there was no legal barrier to retaining Berhalter, who is still a candidate.
Ahead of the CONCACAF Nations League matches against El Salvador on Monday in Orlando and Grenada on Friday, Gio Reyna is one of 24 players in camp.
The 35-year-old Ream stated on Tuesday, "The most important thing is making sure that everyone knows we're here for a reason and that we moved on from that as players. What has happened with Gio in the past is in the past, and what happened at the World Cup is in the past.

Tim Ream is one of the team's more experienced players.
Ream added, "I think the key thing for us as leaders and for the men in camp is to see that he's working hard, training hard, that he wants to be here, and up to this point, it's been nothing but positive. "Having chats with other guys, everyone knows what he can provide and how talented he is. And for all the guys to see him come in with that mentality, that work ethic, and the desire to fit in and go back on equal footing with everyone without unduly addressing it.
Reyna differed from the four athletes the USSF made available to the media during Zoom meetings on Monday and Tuesday. Reyna won't be made available this week, the USSF said in response to an email.
Reyna played 52 minutes overall as a substitute during the World Cup players, and Berhalter said in a news conference that he nearly sent a player home for lack of hustle, comments that Reyna later acknowledged were directed at him.
"I've spoken to him on a one-on-one basis. These will remain private between us because it's crucial to have a channel of trust and communication open between players, teammates, and groups, Ream added. "I think it's vital to keep what he's experiencing, seeing, and worrying about between him and me so that he can get over everything that's happened. And everyone must be able to get past that and cooperate well.

After the United States was denied entry to the World Cup that year.
After the United States was denied entry to the World Cup that year, Berhalter was recruited in December. He stated last week that he is still looking for a job.
Ream emphasized, "the togetherness that he brought to the team after it was very much sporadic and fractured when he first came in," that "bringing him back is a familiarity."
Ream added, "He put and laid excellent foundations for the team. We will continue to work for him if they bring him back, and we will continue to work for someone else if they don't. And that's how gamers operate by nature. That is how the sport is. There is continuity and change occasionally, and we will go with the flow.
Ream claimed that Berhalter and the present group of leaders had put a stop to a time when there was discord between players in Major League Soccer and those playing for European clubs.
She claimed there was undoubtedly a sense of unease between the two players when Ream first entered the program during her early MLS years.
SOURCE – (AP)
Cuba Beats Australia, Reaches 1st WBC Semifinal Since 2006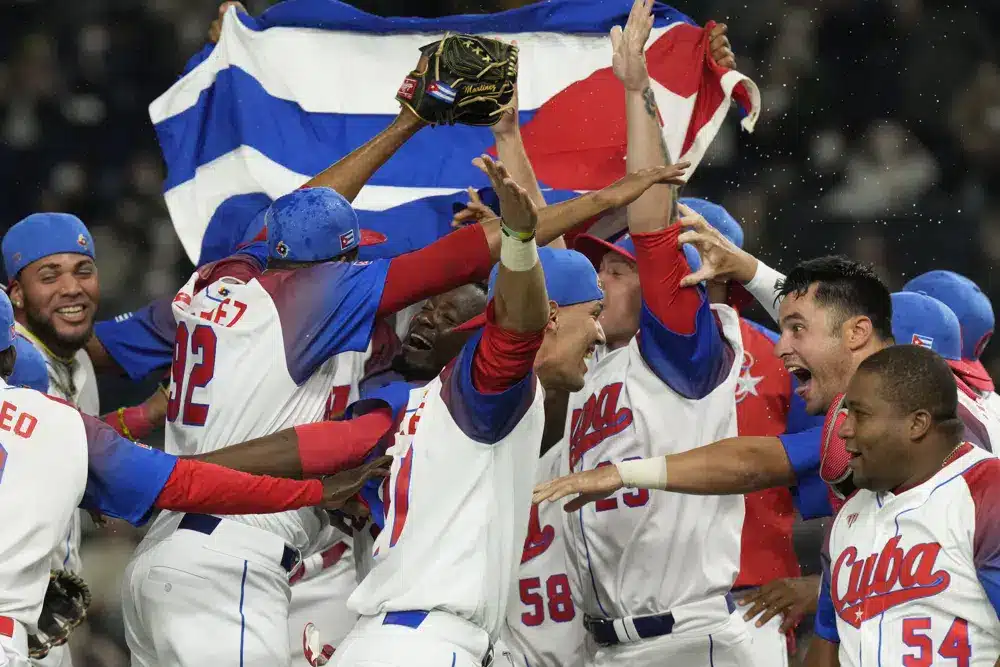 Japan WBC — For the first time since 2006, Cuba was awarded a 7,500-mile journey to Miami and a place in the World Baseball Classic semifinals.
"Baseball fans in Cuba are currently acting quite emotional. They are waiting for a very long time," manager Armando Johnson remarked following Wednesday night's 4-3 victory over Australia. This is a new chapter and page.
Yoelkis Guibert singled home two runs in the three-run fifth inning, and Alfredo Despaigne delivered a game-tying sacrifice fly.
Cuba plays on Sunday in Marlins Park against the winner of a quarterfinal between Venezuela and the second-place team from Group C: Canada, Colombia, Mexico, or the United States, using current big league players for the first time in the WBC.
Rixon Wingrove, a former Philadelphia Phillies prospect, blasted a game-winning RBI single in the second inning and a two-run home run off Chicago Cubs pitcher Roenis Elias in the sixth inning to lead Australia in RBIs with seven. Later in the sixth inning, Australia had two runners on before Elas retired Milwaukee Brewers prospect Alex Hall on a flyout.

Cuba, which fell to Japan in the 2006 World Baseball Classic championship, had exited the previous three WBCs
Liván Moinelo overcame two walks in a hitless eighth inning by striking out Ulrich Bojarski and retiring Tim Kennelly on an inning-ending flyout after Elas pitched a flawless seventh. Darryl George was struck out on the eighth pitch of the at-bat by Raidel Martinez, who pitched a 1-2-3 ninth inning to earn the save.
Luis Robert leveled the game for Cuba with a run-scoring groundout in the third inning in front of 35,061 spectators at the Tokyo Dome.
Cuba, which fell to Japan in the 2006 World Baseball Classic championship, had exited the previous three WBCs in the second round. After losing their first two games in this tournament, the Cubans have now won three in a row.
For the first time, Australia moved past the group stage.
In essence, this tour is redefining Australian baseball at home, and George hoped it would alter the debate. People don't have high expectations of us.

Yoán Moncada of the Chicago White Sox is hitting and has two hits and two walks WCB.
5 RBIs on 421 hits. Mitch Neunborn, who had walked Roel Santos to start the third, was the culprit as Moncada led off with a double with one out.
Miguel Romero, the second of five Cuban pitchers to win the game, gave up just one hit in 1 2/3 scoreless innings.
Santos singled to start the fifth as Moncada was being walked by loser Josh Guyer. Sam Holland walked Robert, and Cuba advanced thanks to Despaigne's sacrifice fly while he was hitting. 412 (7 for 17) with four RBIs and seven home runs, which leads the WBC career list. After spending parts of five seasons with the Pacific League's Chiba Lotte Marines (2014–16) and Fukuoka SoftBank Hawks (2017–18), the 36-year-old outfielder and designated hitter are a fan favorite in Japan.
Yoenis Céspedes, a former major leaguer, abandoned the club before the game WBC for unnamed personal reasons, according to the Cuban Baseball Federation.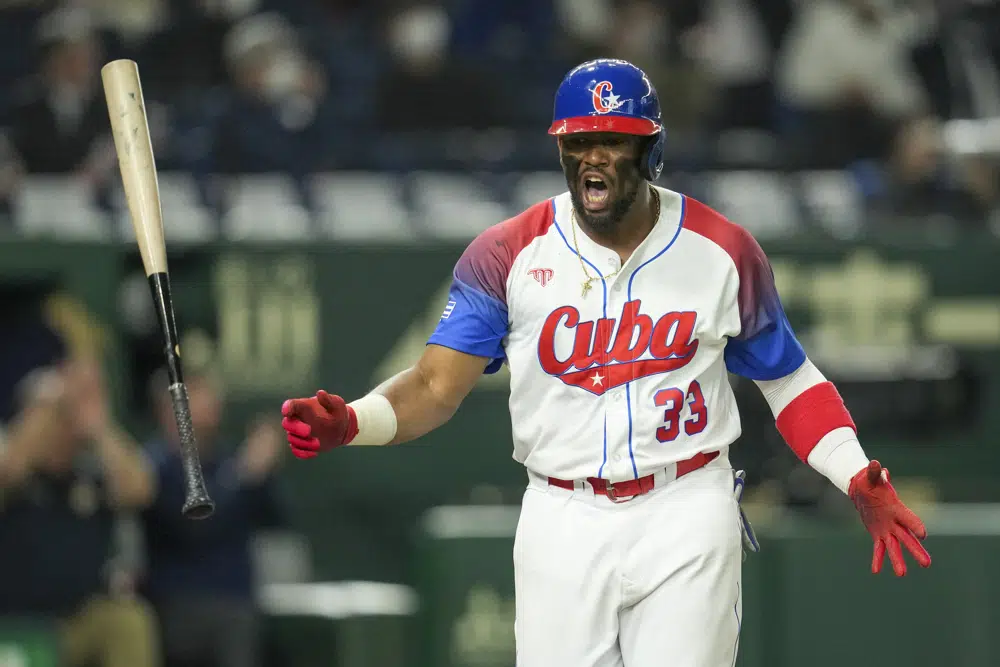 SOURCE – (AP)