Trump Supporters Donate Over $4.8 Million on Mugshot Day
Former President Donald Trump's campaign spokesman stated on Saturday that Trump had raised about $20 million in the last three weeks, roughly coinciding with his indictment in federal and state lawsuits related to his bogus allegations that the 2020 election was stolen from him.
Since appearing in court on Thursday to have his mugshot taken in a racketeering and fraud case in Atlanta, Georgia, Trump has earned $7.1 million, according to Trump spokesman Steven Cheung on X, the site formerly known as Twitter.
According to Cheung, Trump earned $4.18 million on Friday alone, making it the highest-earning day of his campaign thus far.
Trump, who was elected president in 2016 but defeated by Democrat Joe Biden in 2020, is running for President of the Republican Party again.
Trump is currently facing four indictments connected to his false allegations that the election was stolen and the Jan. 6, 2021 attack on the United States Capitol in Washington, D.C. by his supporters.
On August 15, Trump was indicted by a Georgia grand jury following a probe into his efforts to overturn his state's 2020 election loss to Biden by Fulton County District Attorney Fani Willis.
On Aug. 3, he pleaded not guilty in federal court in Washington to accusations presented by Special Counsel Jack Smith that he conspired to defraud the United States by blocking Congress from certifying Biden's 2020 election victory over him and depriving voters of their right to a fair election.
He has also pleaded not guilty to allegations of improperly storing classified documents after leaving office and falsifying business records in a New York lawsuit involving the payment of "hush money" to porn star Stormy Daniels prior to the 2016 presidential election.

House Republicans Probe Fulton County's Trump Indictments
Meanwhile, Republicans on the House Judiciary Committee demanded on Thursday that Fulton County District Attorney Fani Willis offer explanations regarding her indictment of former President Donald Trump and his associates.
"Your indictment and prosecution involve significant federal interests, and the circumstances surrounding your actions raise serious concerns about whether they are politically motivated," according to the letter.
Willis stated last week that her office would charge Trump and 18 of his aides with conspiracy to "conspire and endeavour  to conduct and participate in criminal enterprise" in order to reverse the outcome of the 2020 election. The phoney 98-page indictment includes several acts Willis claims contributed to the "furtherance" of the alleged conspiracy, such as tweets from Trump encouraging people to watch Georgia legislative oversight hearings on TV and a text message from former White House Chief of Staff Mark Meadows asking for phone numbers.
Republicans on the House Judiciary Committee questioned the Fulton County DA's reasoning for pursuing Trump and his aides in a letter to Willis, citing many incidents that show her prosecution of the former president is "politically motivated." Among them is Willis' claimed establishment of a new campaign fundraising site "that highlighted [her] investigation into President Trump" just days before her office indicted the former commander-in-chief.
Also included are public remarks by Emily Kohrs, the forewoman of Willis' special grand jury, who publicly boasted during appearances with regime-approved media "about her excitement at the prospect of subpoenaing President Trump and getting to swear him in." The letter also cited Fulton County's superior court clerk's decision to reveal "a list of criminal charges against President Trump reportedly hours before the vote of the grand jury."
While the court clerk's office initially stated the paperwork containing the allegations against Trump was "fictitious," the clerk later claimed it was a "mishap" and that "when [she] hit save, it went to the press queue."
House Republicans cited Willis' claimed attempt to "use state criminal law to regulate the conduct of federal officers acting in their official capacities," such as Trump and Meadows, in explaining their argument for federal oversight of the Georgia-based indictments. The letter also questioned the involvement of DOJ Special Counsel Jack Smith, as well as whether Willis' office "coordinated" with Smith "during the course of [her] investigation."
"News outlets have reported that your office and Mr. Smith 'interviewed many of the same witnesses and reviewed much of the same evidence' in reaching your decision to indict President Trump," according to the letter. "The House Judiciary Committee (Committee) may thus investigate whether federal law enforcement agencies or officials were involved in your investigation or indictment."
As a result, House Republicans have demanded that Willis turn over by September 7 any and all documents related to her office's "receipt and use of federal funds," communications with Smith and the DOJ, and communications between her office and any federal agency regarding her investigation into Trump and his associates.
Canadian Mother And Twins Charged With Pretending To Be Inuit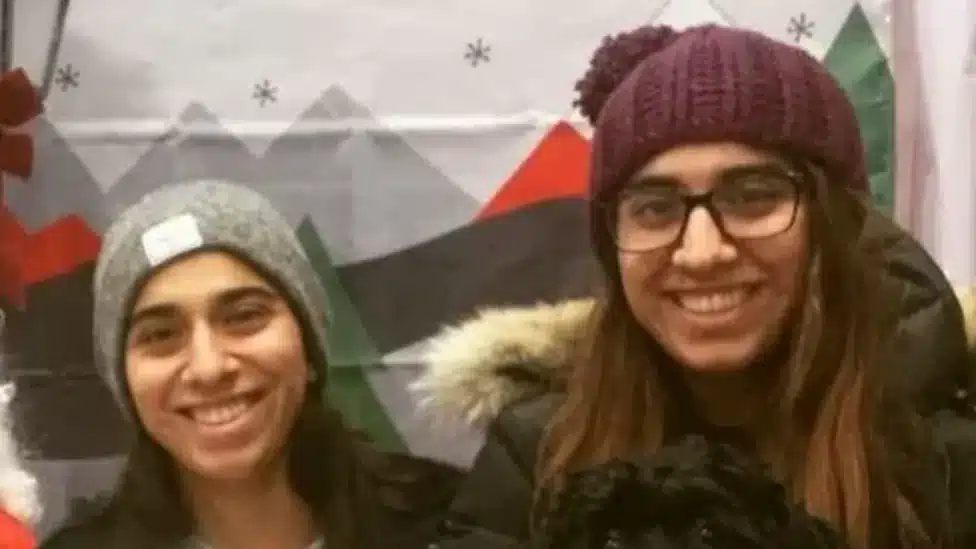 Three Canadian women have been charged with impersonating Inuit to receive benefits from indigenous organizations.
Two sisters, aged 25, allegedly committed fraud by posing as adopted Inuit children.
The two sisters and their 59-year-old mother face two counts of fraud. One Inuit group described the alleged deception as "shocking."
On October 30, the defendants are scheduled to appear in court in Iqaluit.
The Royal Canadian Mounted Police (RCMP) stated in a statement that Amira and Nadya Gill, along with their mother Karima Manji, defrauded two local organizations of "funds that are only available to Inuit beneficiaries by obtaining grants and scholarships" between October 2016 and September 2022.
As part of the Nunavut Agreement, a 1993 indigenous land claim settlement, members of Canada's Inuit community in the sparsely populated northern territory are eligible for grants and scholarships.
Nunavut Tunngavik Inc., or NTI, which represents Inuits in the territory, oversees the registration of indigenous classification.
NTI stated in a March statement that it had become "aware of possible fraudulent enrollment" of the Gill sisters after Ms. Manji claimed they were adopted and identified an Inuk woman as their birth mother.

Three Canadian women have been charged with impersonating Inuit to receive benefits from indigenous organizations.
They stated that the instance was a "first of its kind" in the organization's enrollment program's history.
The three Ontario residents were removed from the NTI's list of beneficiaries, and the matter was referred to the RCMP following an investigation.
Kitty Noah, the woman identified by the Gills as their birth mother, stated before her demise in July that she was unrelated to the twins.
In 2021, the sisters Gill, both Ontario's Queen's University graduates, launched an online business selling facial masks with designs by indigenous artists.
In an interview with Canadian broadcaster CBC, NTI President Aluki Kotierk stated that the Gill sisters and their mother should "at a minimum" refund the money they received from Inuit organizations.
HE ADDED THAT the NTI will conduct additional training for enrollment committees in the future.
Mr. Kotierk described the alleged fraud as "another form of colonization" and part of a larger trend of non-indigenous Canadians claiming indigenous ancestry.
He stated, "You wanted to take our language from us." "You intended to strip us of our culture. Are you now attempting to assume our identity? It is simply astounding."
In a statement, the NTI referred to the incident as "isolated" and stated that it was fortifying enrollment requirements by requiring applicants to submit a copy of their long-form birth certificate.

Three Canadian women have been charged with impersonating Inuit to receive benefits from indigenous organizations.
In addition to the funds provided by the Kakivak Association and the Qikiqtani Inuit Association, claiming indigenous status enabled the siblings to receive scholarships from Indspire, a Canadian indigenous charity, Hydro One, and the Royal Bank of Canada.
Before 2021, scholarship applicants could self-identify as indigenous, according to a Royal Bank of Canada spokesperson, but the requirements have since been updated.
The BBC has sought comment from Indspire and Hydro One.
Some Canadians have used "pretendians" to refer those who fraudulently claim indigenous ancestry.
Jean Teillet, a member of the Métis indigenous community, told Global News that the term "sounds harmless" minimizes the gravity of the issue.
"I prefer to call it fraud because the definition of fraud is intentional deception to obtain a material gain, and that's what we're talking about here."
The three accused women were not readily accessible for comment.
SOURCE – (BBC)
US Child Dies From Fentanyl Kept Under Nursery Nap Mat In Daycare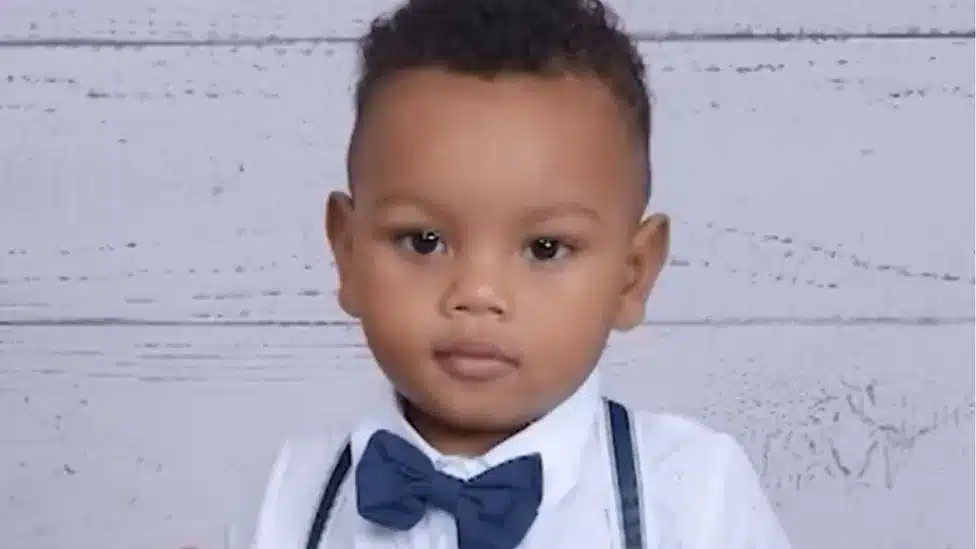 Police say that the fentanyl that killed a one-year-old child in a New York City nursery was concealed under a mat in the nap room while the child slept.
On Friday, Nicholas Dominici, who had only worked at the nursery for a week, died of a suspected narcotic overdose.
Three additional children were hospitalized after exposure to the potent narcotic at the Bronx creche.
Two individuals have been indicted on drug conspiracy and murder allegations.
The children, aged eight months to two years, are believed to have inhaled fentanyl at the creche.
Three minors were administered Narcan, a drug used to reverse opioid overdoses.
ABC quoted Dominici's father, Otoniel Feliz, saying he is still processing his small child's death.

"I love him, I miss him, and I want him back," stated Mr. Feliz. However, there is nothing that will return my son to me.
A nursery search uncovered one kilogram of fentanyl "under a mat where the children had been sleeping earlier," according to NYPD Chief Detective Joseph Kenny.
Additionally, investigators allegedly found three presses used to compact kilograms of drugs.
Federal prosecutors have charged the owner of the Divino Nio nursery in the Bronx, Grei Mendez, 36, and her tenant, Carlisto Acevedo Brito, 41, with narcotics possession "with intent to distribute resulting in death" and conspiracy to distribute narcotics resulting in death.
"We allege that the defendants poisoned four infants and killed one of them because they were operating a drug operation out of a creche," Manhattan US Attorney Damien Williams said on Tuesday.
"A nursery – a place where children should be kept safe, not surrounded by a drug that can kill them in an instant."
The narcotics recovered from the nursery, according to the police, could have killed 500,000 people.
After discovering that her children were ill, Ms. Mendez called her spouse multiple times before dialing 911, as evidenced by surveillance footage and phone records. According to officials, her husband arrived and removed several full shopping bags from the nursery.
According to prosecutors, Ms. Mendez purged approximately 20,000 text messages from her phone before her arrest. Eventually, authorities were able to recover them.
The fourth surge of the fentanyl epidemic sweeps the United States.
Authorities are still searching for her spouse, who has been identified as a co-conspirator in court documents. According to the police, he was captured on camera fleeing the site of the incident.
A lawyer for Ms. Mendez stated that his client denied the charges and was oblivious that illegal substances were stored in the nursery.
According to ABC News, her attorney, Andres Aranda, stated, "Her only crime was renting a room to someone with a kilogramme."

Police say that the fentanyl that killed a one-year-old child in a New York City nursery was concealed under a mat in the nap room while the child slept.
There is no evidence that she provided improper care for these infants.
It is unknown whether Mr. Brito, the cousin of Ms. Mendez's spouse, has an attorney.
Authorities have classified both suspects as flight risks and hold them without bond. If convicted, they each face life in prison.
On September 6, city health examiners conducted a surprise inspection of the nursery, but no violations were found, according to City Health Commissioner Ashwin Vasan.
"I apologise, but my childcare inspectors are not trained to search for fentanyl. But perhaps they should," he said at a Monday news conference.
At the same news conference, Mayor Eric Adams demanded a "full national assault" against the substance, emphasizing its potency.
A tenth of the measure of a fingernail is sufficient to kill an adult. Imagine what it could do to a child," he said, holding up a photograph comparing a lethal dosage to a penny.
According to recent research, fentanyl has reached virtually every part of the United States, from Hawaii to Rhode Island and Alaska.
Less than 40,000 Americans died of drug overdoses in 2010, and less than 10% of those fatalities were attributable to fentanyl.
By 2021, more than 100,000 people per year had perished from drug overdoses, with an estimated 66% of those deaths attributable to fentanyl.
SOURCE – (BBC)
The US Intervenes in the Justin Trudeau–Sikh Conflict with India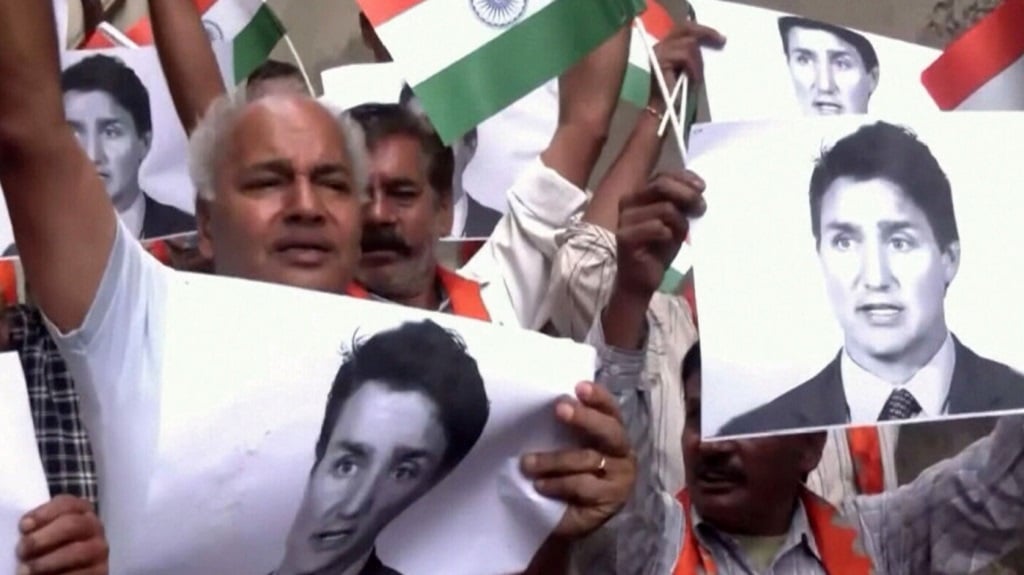 In the midst of a widening diplomatic crisis between two important US partners, the US has encouraged India to cooperate with Canada's probe into the killing of a Sikh leader, which Prime Minister Justin Trudeau claims was carried out by India's government.
US Secretary of State Antony Blinken said it was critical that the inquiry into the death of Hardeep Singh Nijjar, who was shot dead in a Vancouver neighbourhood in late June, proceed unhindered.
"We've been consulting throughout, very closely, with our Canadian colleagues — not just consulting, but coordinating," Blinken said at a press conference in New York.
"We are extremely concerned about any allegations of transnational repression — it is something we take very seriously."
On Monday, Justin Trudeau stated that Canada has "credible allegations" that Indian spies were involved in Nijjar's death. India called the claims "absurd" and accused Canada of harboring Sikh radicals and terrorists seeking to establish a separate Sikh state.
Canada dismissed an Indian diplomat who was allegedly a spy for India's external intelligence service. India has also fired a Canadian diplomat and suspended visa services for Canadians planning to visit India.
New Delhi has condemned the "deteriorating security environment in Canada" as well as threats against Indian diplomats there.
Justin Trudeau renewed his request on India to take part in the investigation on Friday.
"Canada has shared the credible allegations that I discussed with India on Monday," he said at a news conference with Ukrainian President Volodymyr Zelensky, who was in Ottawa.
"We did that some weeks ago. We are here India to work constructively with them, and we hope that they will cooperate with us so that we can get to the bottom of this very serious situation."
President Joe Biden is in an unenviable position as a result of the diplomatic conflict. In recent years, he has courted Indian Prime Minister Narendra Modi as part of a bigger Indo-Pacific plan to compete with China.
However, Washington maintains close trading and political relations with its northern neighbour, which is a member of the Group of Seven and a member of the so-called Five Eyes intelligence-sharing agreement, along with Australia, the United Kingdom, and New Zealand.
According to VORNews in Canada, David Cohen, the US ambassador to Canada, revealed that "shared intelligence among Five Eyes partners" alerted Trudeau about the suspected participation of Indian agents in the death.
"I'll say it was a matter of shared intelligence data." There was a lot of discussion about this between Canada and the United States, and I believe that's as far as I'm comfortable going," Cohen said in an interview that will air on Sunday.
Blinken would not say whether the United States had exchanged intelligence with Canada. He also declined to go into depth about the US's negotiations with Canada or its engagement with India on the matter.
For its part, India hinted on Saturday that it would not relent in its campaign against Sikh separatism, declaring that it had confiscated the properties of an alleged Khalistani insurgent.
The National Investigation Agency stated in a statement that the seizure of a house and land owned by Gurpatwant Singh Pannu in Punjab "comes as a big boost to the country's crackdown on the terror and secessionist network operating from various countries, including Canada."