Australia Plans Major Overhaul Of Defenses As China Rises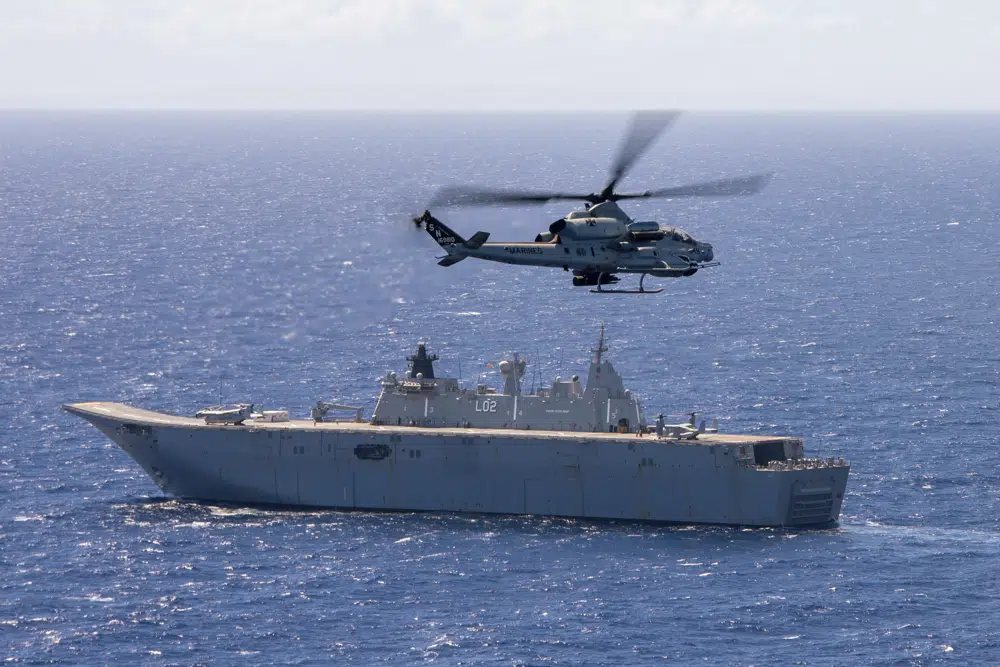 CANBERRA, Australia – According to a government-commissioned research issued Monday, Australia has to spend more on defense, manufacture its weapons, and acquire the ability to strike longer-range targets as China's military growth threatens regional security.
The Defense Strategic Review backs the AUKUS collaboration of Australia, the United States, and the United Kingdom, which announced an agreement to build an Australian fleet of eight submarines powered by US nuclear technology in March.
According to Prime Minister Anthony Albanese, the assessment was commissioned to determine if Australia has the appropriate defense capabilities, posture, and preparedness to defend itself in the current geopolitical environment.
"We support the review's strategic direction and key findings, which will strengthen our national security and prepare us for future challenges," Albanese added.
He said that the assessment was Australia's most important since World War II and was extensive in scope. "It shows that in a world where threats to our national security are constantly evolving, we cannot rely on old assumptions," Albanese added.
The public version of the classified evaluation proposed that Australia's government spend more on defense than the existing 2% of GDP, increase the ability of the Australian Defense Force to precisely hit targets at greater ranges, and manufacture weapons locally.
Other proposals include increasing the force's ability to operate from Australia's northern bases and strengthening defense partnerships with major Indo-Pacific countries such as India and Japan.
According to the evaluation, China's military expansion "is now the largest and most ambitious of any country" since World War II's end. It "occurs without transparency or reassurance of China's strategic intent to the Indo-Pacific region," it stated.
According to the report, the strategic circumstances during the present assessment were "radically different" from those in the past. Former Australian Defense Force Chief Angus Houston and former Defense Minister Stephen Smith wrote it.
IT ADDED THAT the US, Australia's most important military treaty partner, was "no longer the unipolar leader of the Indo-Pacific," a region where major-power strategic competition had returned.
"As a result, for the first time in 80 years, we must return to fundamentals to manage and seek to avoid the highest level of strategic risk we now face as a nation: the prospect of major conflict in the region that directly threatens our national interest," the review stated.

The government intends to postpone or cancel 7.8 billion Australian dollars ($5.2 billion) in defense investment to reflect changed priorities.
According to Defense Industry Minister Pat Conroy, an order for infantry fighting vehicles has been lowered from 450 to 129 as part of the revised priorities. The savings from those vehicles and the cancellation of a second regiment of self-propelled howitzers will be used to accelerate the acquisition of HIMARS rocket systems from the United States, which have proven effective in the Ukraine war.
Conroy stated that the army's maximum range would be increased from 40 kilometers (25 miles) to over 300 kilometers (185 miles) and, with the procurement of precision-strike missiles, to over 500 kilometers (310 miles).
"This is about giving the Australian army the firepower and mobility it needs to face whatever it needs to face in the future," Conroy explained.
When asked about Australia's new military strategy, Chinese Foreign Ministry spokesman Mao Ning stated that Beijing's military expansion is "defensive in nature."
"We are committed to preserving peace and stability in the Asia-Pacific region and worldwide," she said. "We do not pose a threat to any country." We hope relevant countries do not exaggerate the so-called China threat narrative."
During the past five decades, Australia's military policy has been oriented towards preventing and responding to potential low-level threats from small- or middle-power neighbors. "This approach is no longer fit for purpose," according to the evaluation.
According to the report, Australia's army, air force, and navy must focus on "delivering timely and relevant capability" rather than "pursuing the perfect solution or process" in their procurements.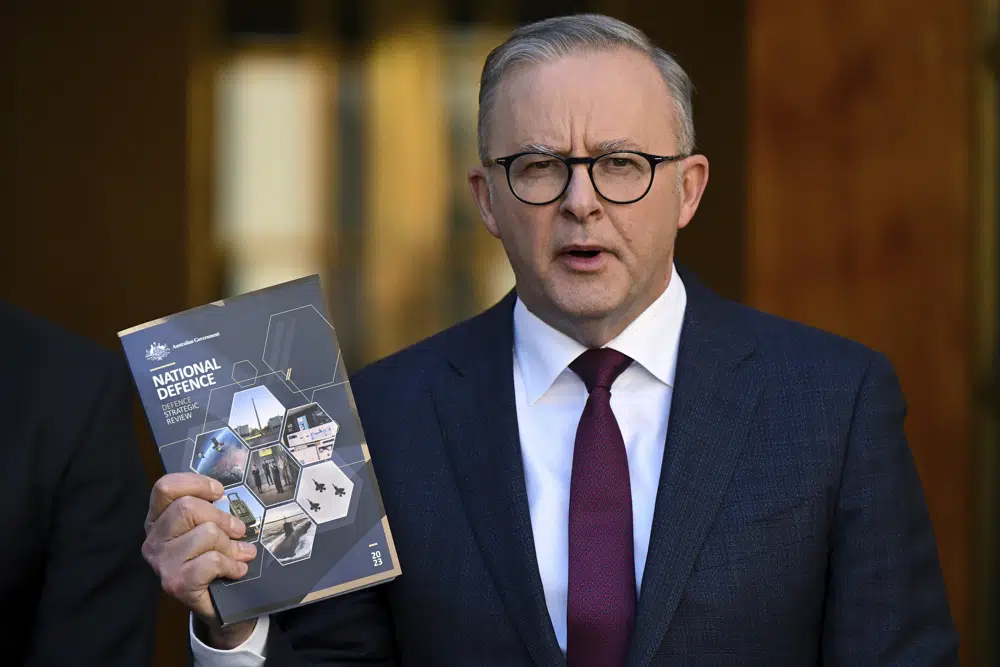 SOURCE – (AP)
Boris Johnson's WhatsApp Messages And Why People In Britain Talking About Them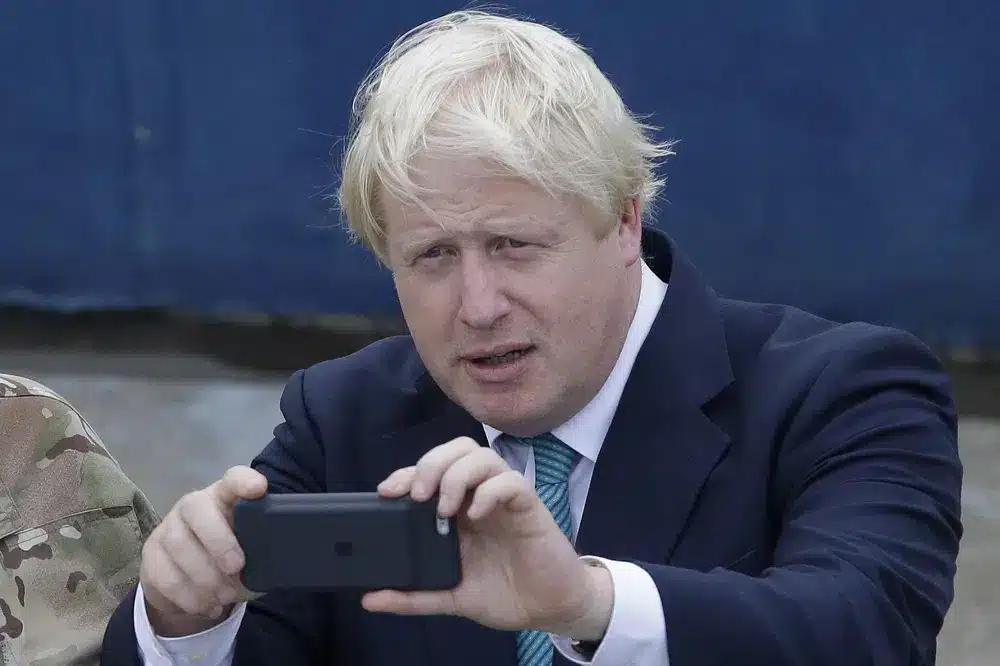 LONDON — Because WhatsApp is popular among lawmakers and government employees, detractors claim the British government runs "government by WhatsApp."
Therefore, it only makes sense that the main focus of Britain's official investigation into how the nation handled the COVID-19 outbreak is a dispute over WhatsApp communications.
The investigation run by retired judge Heather Hallett included a lot of communications between then-Prime Minister Boris Johnson and cabinet members, advisors, and officials during the pandemic. Since some of the messages are private and unrelated to the investigation, the Conservative administration, currently under the leadership of Prime Minister Rishi Sunak, wants the ability to modify them before turning them over. It has challenged Hallett's directive to turn over the unredacted messages in court.
What is the investigation looking into?
One of the greatest death rates in Europe, more than 200,000 people have died in Britain after testing positive for COVID-19, and Johnson's government's choices have been hotly contested. Johnson gave in to pressure from bereaved families in late 2021 and decided to launch an investigation.
The scope of Hallett's investigation will focus on the United Kingdom's pandemic preparedness, the government's response, and whether or not the "level of loss was inevitable or whether things could have been done better."
The former prime minister and many other top government officials are expected to testify during public hearings starting on June 13 and going through 2026.

WHY IS WHATSAPP Johnson OFF?
The texting service, owned by Meta, has grown to be a favorite among British government officials and the journalists who cover them. Users may feel secure knowing their conversations will remain private because of its end-to-end encryption and ease of use for solo and group chats.
This confidence has occasionally shown to be misplaced. Tens of thousands of his texts were given to a writer who was assisting Matt Hancock, a former health secretary who helped lead Britain's response to the epidemic, in writing a memoir. The journalist gave them to a newspaper, which ran a series of front-page pieces with unpleasant details.
Johnson's correspondence with more than thirty scientists and government representatives over two years beginning in early 2020 has been requested by Hallett. She also requests access to Johnson's contemporaneous journals and notebooks.
WHAT IS THE POSITION OF THE GOVERNMENT?
According to the Sunak administration, some texts that took over after Johnson resigned amid scandals in the middle of 2022 are "unambiguously irrelevant" to the COVID-19 investigation. According to the statement, making them public would violate the public's "legitimate expectations of privacy and protection of their personal information" and other areas of government activity.
The government's Cabinet Office challenged Hallett's request for the documents in court papers filed on Thursday. In the upcoming weeks, a hearing in the High Court will be the next step.
Hallett has the authority to call witnesses and subpoena them to testify per the investigation's rules established at the outset with the government's consent.
The former head of the government legal service Jonathan Jones stated, "The government has an uphill task," in a blog post for the Institute for Government. The court will likely rule that the inquiry chair should choose how to proceed and what materials she needs to review.

WHAT SUGGESTS BORIS JOHNSON?
Johnson and his successor Sunak have a history of conflict; Sunak's resignation from the administration in July 2022 assisted in Johnson's overthrow.
Johnson has stated that he is happy to turn over his texts, separating himself from the government's position. He claimed to have sent Hallett's inquiry the WhatsApp exchanges on Friday.
However, they only cover a portion of the requested time period in another twist. There are no communications from Johnson that date back before April 2021. That period covers the early stages of the pandemic, during which the government made crucial decisions that are still debated today, three periods of the national lockdown, and the dates of the unlawful parties that took place in government buildings and resulted in a large number of people, including Johnson, receiving fines from the police.
Johnson claims that the messages are on a phone that he has been told not to use after the media discovered that his number had been listed online for 15 years.
According to Johnson, the security services ordered him to stop using the phone and never switch it on again. On Friday, he informed Hallett that he had "requested the Cabinet Office for assistance turning it on securely so I could search it for all pertinent documents. I suggest sending you all of this information directly.
SOURCE – (AP)
Passenger Train Derails In India, Killing At Least 50, Trapping Many Others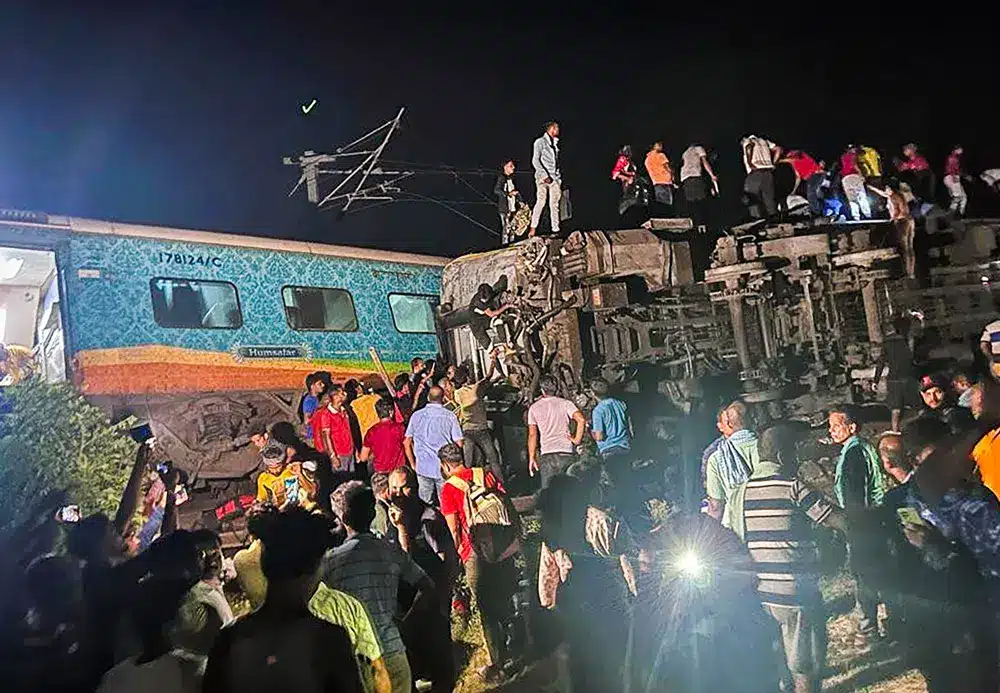 NEW DELHI — At least 50 people were killed, and hundreds more were trapped inside more than a dozen damaged rail cars when two passenger trains in India crashed on Friday, according to officials.
According to officials, the disaster occurred in eastern India, around 220 kilometers (137 miles) southwest of Kolkata, and about 400 people were sent to hospitals. The cause was being looked into.
Amitabh Sharma, a spokesman for the railway ministry, reported that ten to twelve coaches of one train derailed, and pieces of some of the damaged coaches fell onto an adjacent track.
According to Sharma, a passenger train traveling the other way struck the debris, and up to three coaches of the second train also derailed.
According to the Press Trust of India news agency, a third goods train was reportedly apparently involved, but there was no immediate confirmation from railway authorities.
Television photos from the aftermath showed rescuers scaling the rubble to pry open doors and windows and use cutting torches to free trapped survivors.

A passenger train traveling the other way struck the debris, and up to three coaches of the second train also derailed.
Vandana Kaleda, a passenger, said to the New Delhi Television news station that she "found people falling on each other" as her carriage shook erratically and deviated from the lines. She claimed that her survival was fortuitous.
Another survivor, who wished to remain anonymous, claimed that the impact woke him up while he was asleep. He claimed to have observed other people with damaged faces and shattered limbs.
At least 50 persons were reported dead, according to Balasore district's senior administrator Dattatraya Bhausaheb Shinde. At least 70 people had died, according to The Press Trust.
According to Pradeep Jena, the state's chief executive officer of Odisha, there were close to 500 police officers and rescue personnel at the scene, along with 75 ambulances and buses.

Rescuers were working to release 200 individuals who were thought to be trapped in the rubble, according to Shinde.
The Coromandel Express, which derailed, was traveling from Howrah in West Bengal state to Chennai, the state capital of southern Tamil Nadu, according to The Press Trust.
Narendra Modi, the prime minister of India, expressed sympathy for the deceased families.
Having spoken with the railway minister, Modi tweeted, "May the injured recover soon," adding that "all possible assistance" was being provided.
Several hundred incidents happen annually on India's railways, the world's largest train network with single management, despite government efforts to increase rail safety.
The deadliest train catastrophe in Indian history occurred in August 1995 when two trains crashed close to New Delhi, killing 358 people.
Human mistakes or out-of-date signaling equipment are the main causes of trains accidents.
Every day, 14,000 trains carrying more than 12 million passengers traverse India's 64,000 kilometers (40,000 miles) of railway.
SOURCE – (AP)
2023: Decorated Australian War Veteran Unlawfully Killed Prisoners In Afghanistan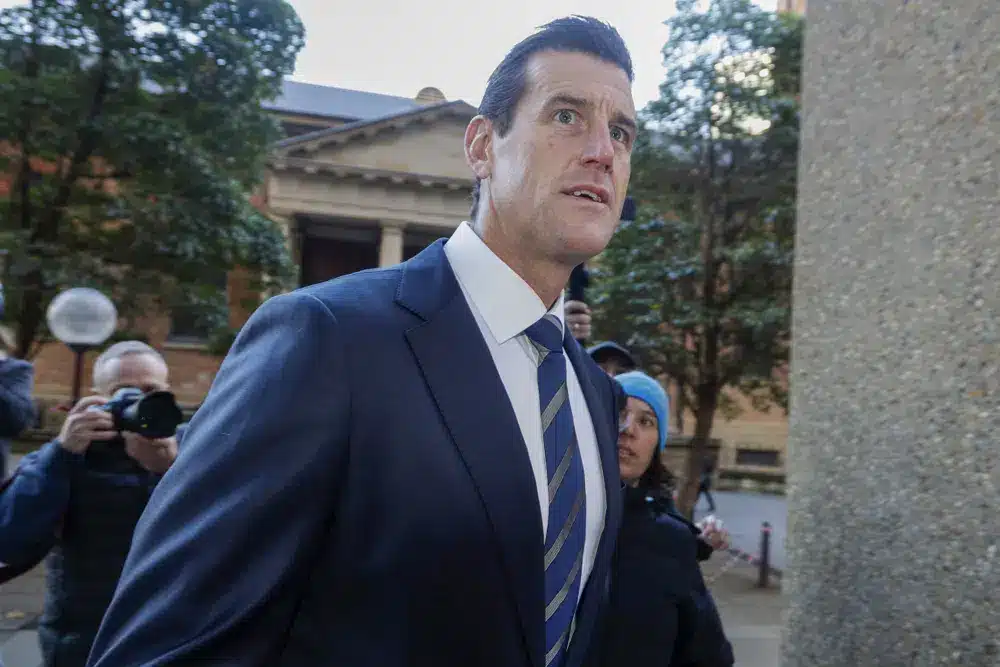 Melbourne — Australian Ben Roberts-Smith, the recipient of the Victoria Cross, claimed that the media falsely accused him, but a judge concluded on Thursday that he unlawfully killed captives and committed other war crimes in Afghanistan.
Roberts-Smith, a former Special Air Service Regiment corporal who is currently a media firm executive, is accused of committing a series of war crimes, according to publications published in 2018. Federal Court Justice Anthony Besanko determined that these articles were essentially factual.
Besanko concluded that Roberts-Smith, who received the Medal of Gallantry for his contributions during the Afghanistan War, had "broken the moral and legal rules of military engagement" and had dishonored Australia with his actions.
The decision, which came after a contentious trial that lasted 110 court hearing days and is estimated to have cost more than 25 million Australian dollars ($16 million) in legal bills, is viewed as a landmark victory for press freedom against Australia's draconian defamation rules.
A machine gun was allegedly used by Roberts-Smith, a judge's son, to shoot a detainee wearing a prosthetic leg in the rear in 2009 in a Taliban base in the province of Uruzgan known as Whisky 108. He retained the man's prosthetic to use as a fun beer mug.
The man was one of two unarmed Afghans taken from a tunnel by Roberts-Smith's patrol. To "blood the rookie," Roberts-Smith forced a "newly deployed and inexperienced" soldier to murder the second, more seasoned warrior.

The decision came after a contentious trial that lasted 110 court hearing days and is estimated to have cost more than 25 million Australian dollars ($16 million) in legal bills.
In addition, it was established that in the Afghan hamlet of Darwan in 2012, Roberts-Smith kicked an unarmed, handcuffed farmer named Ali Jan off a cliff and into a riverbed before killing him. Then Roberts-Smith ordered one of his soldiers to shoot Jan to death.
Allegations that Roberts-Smith, who is 2.02 meters (6 feet, 7 inches) tall, intimidated soldiers and abused Afghan villagers were also proven genuine.
The judge determined that two of the six unlawful killings Roberts-Smith was alleged to have participated in were not proven by the civil court standard of the balance of probabilities.
Additionally, it was determined that the allegations of domestic violence against Roberts-Smith were false and defamatory. The judge concluded that the unfounded charges would not further harm the veteran's reputation.
Such claims of war crimes would have required proof beyond a reasonable doubt if they had been made in a criminal court.
The 44-year-old Roberts-Smith has denied any misconduct. His attorneys attributed his termination to "corrosive jealousy" on the part of "bitter people" within the SAS who had waged a "poisonous campaign against him."
Because of their stories, the Sydney Morning Herald, The Age, and The Canberra Times were accused of defaming each other in the civil lawsuit.
One of the journalists, Nick McKenzie, who wrote the divisive articles, commended the SAS veterans who had testified against the national hero.
The day of justice is today. It's a day of justice for those courageous SAS members who came out and exposed Ben Roberts-Smith for the war criminal, bully, and liar that he is, McKenzie told reporters outside court.

The Australian Federal Police is investigating Roberts-Smith and other Australian military members for possible war crimes in Afghanistan.
"Those SAS members are a proud representation of Australia. The bulk of the SAS stood up for what was right, and their actions were rewarded, said McKenzie.
Arthur Moses, the attorney for Roberts-Smith, requested an additional 42 days to contemplate filing an appeal with the Federal Court's Full Bench.
Billionaire Kerry Stokes, executive chair of Seven West Media, where Roberts-Smith works, has agreed to pay the case's legal expenses.
Stokes's statement in support of Roberts-Smith was, "The judgment does not accord with the man I know."
Ben has always maintained his innocence, so I know this will be difficult for him, Stokes said.
Roberts-Smith had been there each day of his trial but did not show up in Sydney for the verdict. On Wednesday, media outlets published a picture of him relaxing by a pool in Bali, an Indonesian tourist destination.
The Australian Federal Police is investigating Roberts-Smith and other Australian military members for possible war crimes in Afghanistan.
The first criminal accusation about an alleged illegal killing in Afghanistan was brought in March. Oliver Schulz, a former SAS trooper, was accused of committing a war crime by killing an Afghan in a wheat field in Uruzgan province in 2012.

The Australian Federal Police is investigating Roberts-Smith and other Australian military members for possible war crimes in Afghanistan.
The decision was a "very disappointing day" for the elite unit, according to Martin Hamilton-Smith, chair of the Australian Special Air Service Association. He said that charges against more veterans should be brought immediately if they were tried for war crimes.
According to Hamilton-Smith, the only way to learn the real truth about this is to bring it before a criminal court, where both sides of the story may be presented, and the facts can be proven beyond a reasonable doubt.
When Roberts-Smith received the Victoria Cross in 2011, Australia's highest honor for valor in the face of an enemy, he was elevated to a national hero. As a famous Australian, he had multiple meetings with Queen Elizabeth II.
He received the medal 2010 for taking out a machine gun nest at Tizak, Kandahar, during combat. Two machine gunners and an enemy preparing to throw a rocket grenade were killed thanks to Roberts-Smith. No allegations of war crimes related to that conflict.
SOURCE – (AP)