King Charles to Bestow Title Duchess of Edinburgh on Princess Charlotte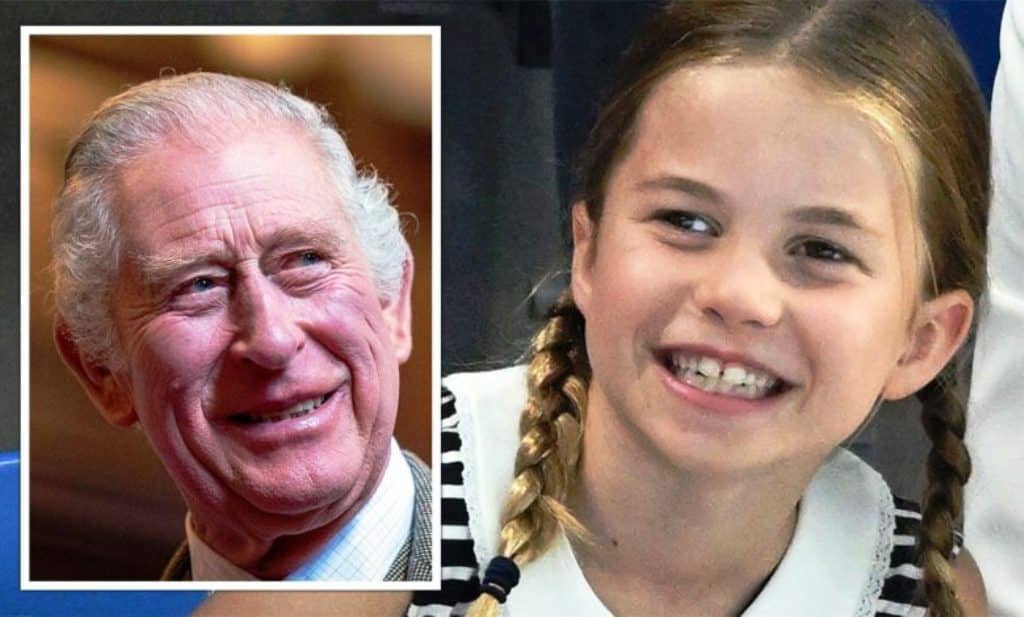 After months of deliberation, it appears that King Charles III has decided to bestow the title of Duchess of Edinburgh on Princess Charlotte, who is the third in line to the throne.
King Charles III has decided to bestow the title on Charlotte as a way of "honouring the line of succession," a subtle nod to the late Queen Elizabeth, who previously held that title from 1947 to 1952 before ascending to the throne.
"Discussions are ongoing," a source told the Daily Mail, "but the King's preferred outcome is that this title should go to Princess Charlotte." It would be a fitting tribute to the Queen, who had the title Duchess of Edinburgh, and a way for His Majesty to honour the line of succession."
Princess Charlotte is third in line to the throne after King Charles, her father, Prince William, and her older brother, Prince George.
Now comes the historic part: after her mother, Kate Middleton, became pregnant with her, the Windsor family changed the rules regarding girls having the same rights as boys.
This means that when her younger brother was born, Charlotte's position did not change, and she remained in line for the throne.
But, returning to the title, the late Queen was not the only one who held it. The title of Duchess of Edinburgh is one of the most senior in the Royal Family, and only four women have ever held it.
Princess Augusta of Saxe-Gotha was the first to be given the title in the 18th century, followed by Grand Duchess Maria Alexandrovna of Russia. Then came Queen Elizabeth, followed by Camila, now known as the Queen Consort.
Charlotte appears to be the fifth woman to hold this title. Her late great-grandmother would be so proud!

Harry, Meghan's Bullying Accusation a Complete 'Fabrication'
Prince Harry and Meghan Markle have been chastised for spreading fabricated allegations' about the bullying investigation.
Sarah Vine, a royal commentator and author, responded in her piece for the Mail on Sunday.
"Vehemently denied by the Prince of Wales and repudiated in typical diplomatic fashion by the late Queen -' recollections may vary' – it's never been entirely clear what form this so-called racism was supposed to have taken," she wrote.
"The Sussexes have never provided any concrete evidence." Indeed, scratch the surface, and all the data indicates that the exact opposite of what they say is true – especially if you believe that actions speak louder than words."
"Take a look at the late Queen's dedication to the Commonwealth and its people." Take, for example, the King's Prince's Trust, which has assisted countless disadvantaged children, many of whom come from minority backgrounds."
"One of those helped even handed out a Pride of Britain Prince's Trust Award last month to a young RAF pilot with Asperger's syndrome named Alex Anderson, in recognition of the opportunities provided by the Trust." Idris Elba is his name."
"And who can forget Charles' pride and dignity as he walked Meghan down the aisle?" Or her mother's warm reception at the wedding?"
"After all the work the King – and other Royals – have done to promote tolerance and diversity, the notion that the family is 'institutionally racist' is nothing short of absurd."
"However, the Sussexes have cleverly engineered this idea." All to create a narrative that serves their purpose: to boost their image – and bank account – at the expense of the Royal Family."
"It insults Harry's grandmother's work and exposes the Royal Family to the vilest accusations and abuse."
Teen Getting 10 Years For Fire That Killed 5 From Senegal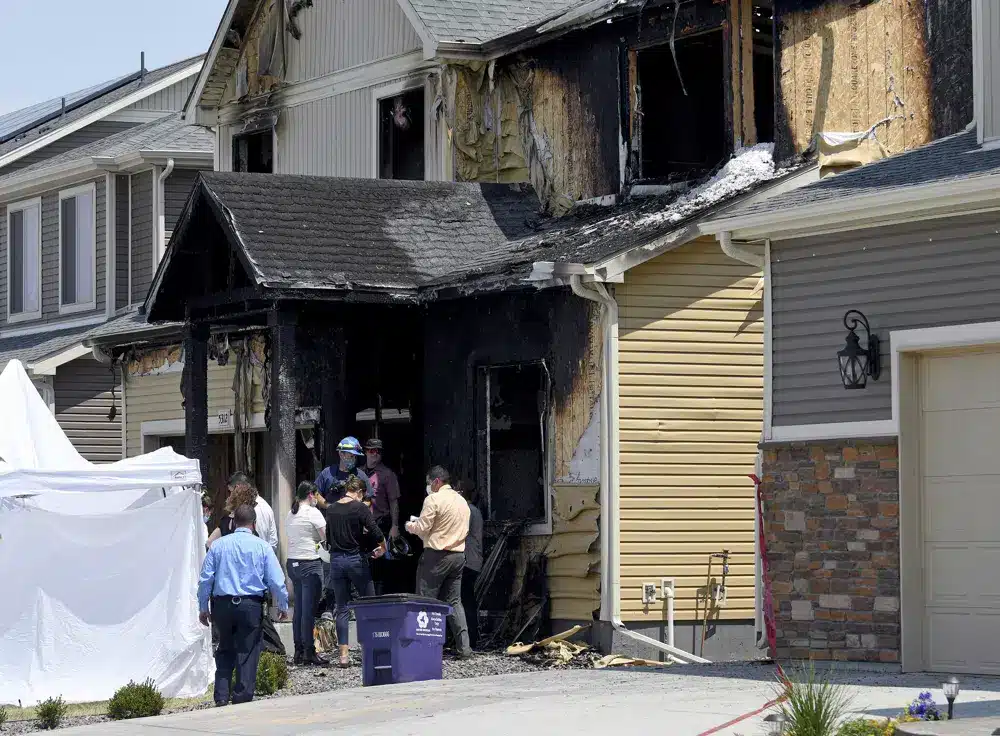 DENVER, Colo. — A surveillance camera captured three people outside in full face masks and hoodies looking around the home's backyard where members of three families of Senegalese immigrants lived minutes before a major house fire erupted and killed five people in 2020.
The investigation into the Aug. 5, 2020 fire dragged on for months amid fears that it was a hate crime, but authorities eventually accused three teens of setting fire to the house in retaliation for a stolen iPhone, which one of them mistakenly traced to the home in a neighborhood near Denver's airport.
Screams could be heard, and a husband, wife, and their 12-year-old daughter escaped by jumping out an upstairs window, but five people were found dead inside the home after the fire in 2020.
Despite the objections of victims' families and representatives of the city's Senegalese community, the youngest of the teens charged in the case, Dillon Siebert, 14 at the time and now 17, was sentenced to seven years in prison him to serve three years in juvenile detention. Siebert, who was charged as a juvenile, pleaded guilty to second-degree murder in adult court in a deal that prosecutors and the defense said balanced his lesser role in the fire's planning, his remorse, and interest in rehabilitation with the horror of the crime.
The cases against the other two teenagers, including the alleged teen ringleader, Kevin Bui, and Gavin Seymour, both of whom were 16 at the time of the fire, are still pending in adult court, where they face charges of first-degree murder, attempted murder, arson, and burglary.

The Teen Tried to Immigrate
Amadou Beye, who lost his wife, Hassan Diol, and their infant daughter, Hawa, in the fire, called Siebert a "monster" and claimed that he killed not only five people but also himself and many others connected to them. Beye, whose wife was allowed to immigrate to the United States before him, claims he considers suicide every day and requires medication to sleep.
"My life no longer makes sense," Beye said, wearing a sweatshirt with a large photo of his wife and baby and the words, "Why my wife? "Why, my daughter?" Judge Martin Egelhoff asked.
Hassan Diol's brother Djibril, his wife Adja Diol, and their 22-month-old daughter Khadija were also killed. Their bodies were discovered on the first floor, near the front door. Teen Senegal's president, Macky Sall, expressed condolences for their deaths, and as months passed with no suspects identified, many Senegalese immigrants installed surveillance cameras in their homes.
Others talked about the hole that was left by the death of Djibril Diol, an engineer who was working on a major rebuild of Interstate 70 in the city and who wanted to build roads in Senegal. He teen helped other immigrants and was a devout Muslim, they said, rising early for morning prayers.
Abou Diol, Djibril Diol's brother, said he lost the person he relied on for sound advice and that their father has "lost his mind" since the fire.

The Man Says "Black Lives Dont Matter"
Ousman Ba, a friend and community leader, said 10 years was insufficient punishment for such a crime and wondered what would have happened if five members of a white family had been murdered in this manner.
"However, Black lives do not matter," he said.
Siebert looked at family and friends of the teen as they addressed Egelhoff, but he showed no emotion. When asked to speak, he apologized for what he had done to them and their families, mentioning how upset he was when his grandmother died shortly before the fire and could not see her due to coronavirus restrictions.
"I'm lucky I still have people who love me," Siebert said, describing himself as a "people pleaser" who was bullied over a speech delay and became friends with Bui and Seymour amid the pandemic's isolation.
Bui, who was identified as a suspect alongside the others after police asked the Google company to release the name of the person who searched for the home's address within 15 days of the fire, allegedly told investigators he was robbed a month before the fire while trying to buy a gun and traced his Samsung phone to the home using an app. He admitted to starting the fire, only to learn the next day through news coverage that the victims were not the people who robbed him.
Lawyers for Bui and Seymour are challenging police use of Google keyword search results, describing it as a "digital dragnet" that swept up searches from billions of people worldwide.
Last year, Egelhoff denied a request to have the Google search teen evidence thrown out, but defense attorneys have now asked the Colorado Supreme Court to hear the case. It is expected to hear arguments in May.
SOURCE – (AP)
FRENCH: Unions Buoyant As 1.27 Million French Protest Pension Reform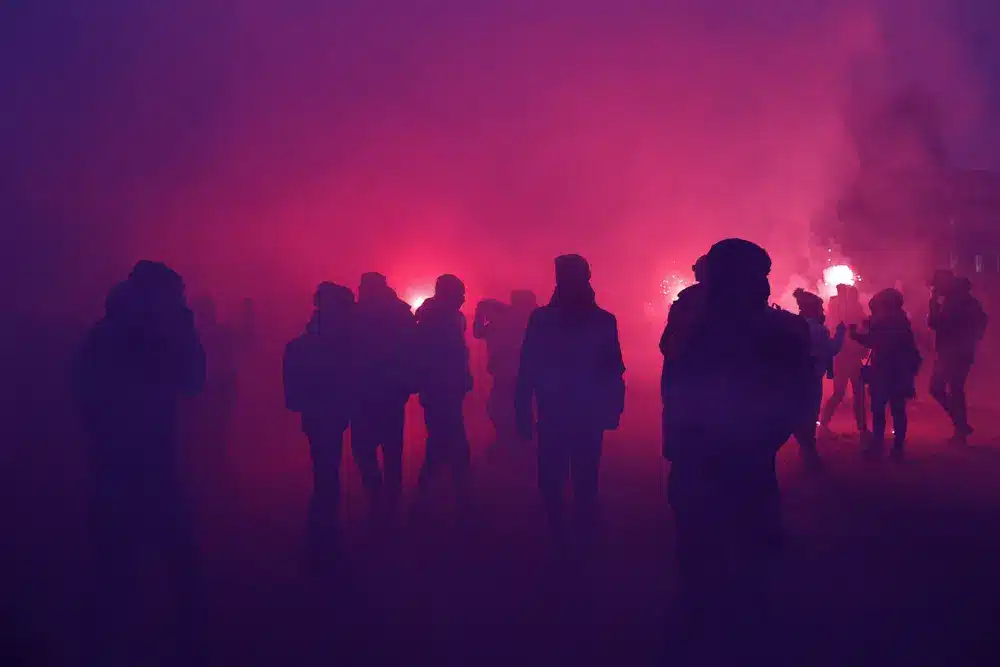 PARIS, France — According to the Interior Ministry, an estimated 1.27 million people took to the streets of French cities, towns, and villages on Tuesday in massive protests against President Emmanuel Macron's plans to raise the retirement age by two years.
In a big win for labor unions, more people showed up than at the last round of strikes and protests against the proposed pension system changes. Prime Minister Elisabeth Borne had to say that her government "hears" the "questions and doubts" raised by reforms that would raise the retirement age from 62 to 64.
The eight unions that organized the protests announced new demonstrations for February 7 and 11.
"In the face of widespread opposition, the government must pull back on its reform," said Patricia Drevon of the Workers' Force union, who stood with other union members in a rare public show of unity.
According to the powerful CGT union, 2.8 million protesters marched in french on Tuesday.

The Franch Love To Strike
National strikes and protests were a litmus test for Macron and his opponents. The government has said that it is determined to keep Macron's promise to change French pension system, which he made during the election. But a lot of people will be against the bill, which will help labor unions and left-leaning lawmakers stop it.
Later Tuesday, Prime Minister Borne extended a tentative olive branch to protesters and unions, tweeting: "The retirement reform raises questions and doubts. We can hear them."
This means that changes are possible, but not necessarily a full withdrawal, which is what protesters have been calling for. According to her tweet, the upcoming debate in parliament "will allow us… to enrich our project with a goal" of ensuring the future of France's pension system. "We bear responsibility."
Borne recently stated that raising the retirement age to 64 is "no longer negotiable." On Monday, Macron defended the reform as "vital."
According to police, 87,000 people took to the streets in the capital, up from 80,000 in the first major pension protest on Jan. 19, when authorities claimed 1 million people demonstrated nationwide. Estimates from the union had more than doubled that figure.

Radicals And Riot Police Clash
The otherwise peaceful Paris march was marred by sporadic clashes between a small group of black-clad radicals and riot police, who fired tear gas near Les Invalides, the site of Napoleon's tomb, where the march ended. There were 30 arrests there and along the route, according to police.
11,000 police officers were on duty for an estimated 250 protests across the country.
"The government is currently backed into a corner. "It only needs to withdraw its reform," Erik Meyer of the Sud Rail union, one of eight unions that organized the march, told BFM TV.
Veteran left-wing leader Jean-Luc Mélenchon praised the protests as "historic" and predicted Macron's defeat.
"We don't see such a mass mobilization very often," he said in the southern city of Marseille. "It's a type of citizen insurgency."
The demonstrations were not limited to France's major cities. On Ouessant, a tiny western isle of about 800 people off the coast of Brittany, about 100 protesters gathered outside Mayor Denis Palluel's office and marched, he said.

Retiring At A Reasonable Age Is Important To The French People
The prospect of having to work longer hours alarmed mariners on the island with difficult ocean-going jobs, according to Palluel.
"It's important to retire at a reasonable age because life expectancy isn't very long," he says.
Protests by people of all ages were loud and colorful, with sirens, bullhorns, and smoke bombs, continuing a long tradition of taking democracy to the streets in France.
Strikes disrupted services across France on Tuesday, in addition to the protests.
According to SNCF, most train services in Paris, other regions, and France's flagship high-speed network connecting cities and major towns have been disrupted. Station closures and cancellations also impacted the Paris Metro.
Power workers in key positions, who are not allowed to go on strike, showed their support for protesters by temporarily cutting electricity supplies without causing blackouts, according to the company that makes the electricity, EDF.

Local Striking Impacted Schools
Civil servant Jamila Sariac, 60, believes the pension system should be left alone.
"Social protection is a milestone of our society, a milestone that the government wishes to break," she said, adding that strikes would put more pressure on the government than protests. "We owe it to our forefathers who contributed to France's wealth."
Said Belaiba, who works in construction, was one of the people whose train from Paris to Lyon in the morning was canceled, so he had to wait. Nonetheless, the 62-year-old said he was opposed to the proposed reform.
"My job is physically demanding," he admitted. "You can't keep going past 64."
Strikes also impacted schools, with the Education Ministry reporting that roughly one-quarter of teachers remained absent from work — fewer than in the previous round of protests.
Walkouts in oil refineries were also reported in French media. Because of the strike, radio station France Inter played music instead of its usual morning talk shows and apologized to its listeners.
SOURCE – (AP)
Russians Left Ukraine village, Fear And Hardship Remain
KALYNIVSKE, Ukraine – When night falls in Tatiana Trofimenko's village in southern Ukraine, she fills a jar with sunflower oil donated by aid organizations and seals it with a wick-fitted lid. The make-do candle is lit with a flick of a match.
"This is our power," Trofimenko, 68, says.
It's been more than 11 weeks since Ukraine troops freed her village in the province of Kherson from Russian control. But the people of Kalynivske, both those who have returned and those who have never left, are still having a hard time. In the dead of winter, a remote area near an active front line is without power or water. The sounds of war can never be far away.
Russian forces left the western side of the Dnieper River, which ran through the middle of the province, but they kept control of the eastern side. A near-constant barrage of fire from only a few kilometers away, combined with the danger of unexploded mines, has made normalcy a distant dream and put a damper on their military's strategic victory.
Residents have gradually returned to Kalynivske, preferring to live without basic services, reliant on humanitarian aid, and under constant threat of bombardment rather than as displaced people elsewhere in their country. They say that staying is a way to show that they don't care about the constant Russian attacks that are meant to make the area unlivable.

Some Fled The Ukraine Village Some Stayed And Hid
"This area has been liberated. "I have a feeling," Trofimenko says. "There were no people on the streets before. They were both empty. Some people fled, while others hid in their homes."
"When you walk down the street now, you see happy people," she says.
On Saturday, the Press followed a United Nations humanitarian aid convoy into the village, where blankets, solar lamps, jerrycans, bed linens, and warm clothes were delivered to a distribution center's local warehouse.
In the early days of the war, Russian forces captured Kherson province. Most of Kalynivske's nearly 1,000 residents remained in their homes throughout the occupation. Most were too frail or ill to flee, and others lacked the means to do so.
Gennadiy Shaposhnikov is lying on a sofa in a dark room with plates piled up beside him.
The 83-year-advanced old's cancer makes it difficult for him to speak. When a mortar hit the back of his house, his neighbors rushed to his aid, patching it up with tarps. They continue to visit daily to ensure that he is fed and cared for.
"Please return soon," is all he can say to them.

Missles Destroyed The Womens Home, Shrapnel In The Front Yard
When the missiles destroyed her small house near the Ukraine village center, Oleksandra Hryhoryna, 75, moved in with a neighbor. Her frail frame covers the shells and shrapnel that litter her front yard. She struggles up the strewn-together bricks that serve as the stairwell to her front door.
She rode her bike to the aid distribution center and left with a bag full of tinned food, her primary source of nutrition these days.
But, as Hryhoryna explains, the main issue is a lack of electricity. "We survive by using handmade candles with oil," she says.
The main road leading to her house is littered with war relics, an eerie museum of what once was and what everyone here hopes will never return. Rusted-out Russian tanks rust in the fields. Anti-tank missiles gleam as they are embedded in grassy patches. Occasionally, the tail end of a cluster munitions is discovered lodged in the ground.
Passers-by are warned not to get too close by bright red signs with a skull.

Russians Left Empty Ammo Everywhere
During their quick retreat, the Russians left empty ammunition boxes, trenches, and tarp-covered tents. A jacket and men's underwear hanging from the bare branches some kilometers away. And because the Russians are still attacking Kherson to get back the land they lost, scared people may find it hard to believe that the occupying forces ever left.
"I'm terrified," Trofimenko says. "I'm even screaming at times. I'm scared to death. And I'm concerned that we'll be shelled again, and the fighting will resume. This is the worst thing that exists."
The Ukraine village's deprivation is mirrored throughout Kherson, from the provincial capital of the same name to the constellation of villages separated by tracts of farmland surrounding it. After a major counteroffensive led to a Russian troop withdrawal, Ukrainian troops reclaimed territory west of the Dnieper River in November, hailed as one of the greatest Ukrainian victories of the war, which is now in its 12th month.
The United Nations increased its assistance, providing cash assistance to 133,000 people in Kherson and food to 150,000 others. Many Kalynivske villagers claim that food aid is the only reason they have something to eat.
"One of the most difficult challenges is that those who are present are the most vulnerable. ""It's primarily the elderly, many of whom have disabilities, people who are unable to leave the area and are completely reliant on aid organizations and local authorities working around the clock," says Saviano Abreu, a UN Office for the Coordination of Humanitarian Affairs spokesperson.

The Shelling Is Continuous.
The Ukraine Defense Ministry says that rocket, artillery, and mortar attacks happen almost every day in Kherson and the nearby villages. Most people live closer to the river banks and the front lines, but that doesn't make those who live further away feel any safer. On Friday, a missile struck the village of Kochubeivka, north of Kalynivske, killing one person.
"Kherson was able to get most of the essential services back up and running, but the fighting is still making it hard to keep them going," Abreu says. "It's been getting worse and worse since December. There is an increase in the number of attacks and hostilities."
There is only one way to pump piped drinking water with electricity. Residents in Ukraine complain that many people queue to get well water, but many more are required to perform daily tasks.
Many people forage for firewood around the village to stay warm, a dangerous task post-occupation.
Nina Zvarech's story is well known in Kalynivske. She went to the nearby forest to look for firewood and was killed when she stepped on a mine.
Her body was left there for over a month because her family was too afraid to look for her.
SOURCE – (AP)