UK Says Falklands Are British As Argentina Seeks New Talks in 2023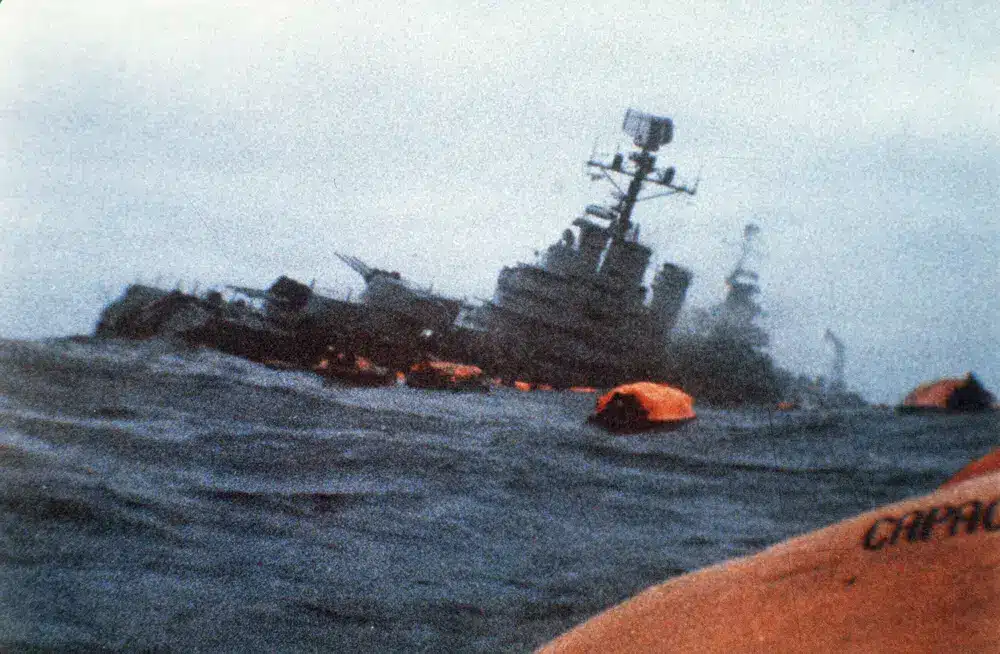 THE HAGUE, Netherlands — After Argentina withdrew from a cooperation agreement and demanded new talks over the South Atlantic territory that triggered a war between the two countries in 1982, Britain reasserted its sovereignty over the Falkland Islands.
British Foreign Secretary James Cleverly was informed of Argentina's decision last week during a meeting on the sidelines of the Group of 20 summits in India, where Foreign Minister Santiago Cafiero made the announcement, according to a tweet from Cafiero.
The Falkland Islands are British, Cleverly tweeted late on Friday. The Islands' people have exercised their right to self-determination by voting to maintain their self-governing U.K. Overseas Territory status.
According to Cafiero, he informed Cleverly earlier that Argentina would not be honoring its commitments under a 2016 agreement. Although the agreement aimed to increase cooperation in the South Atlantic, both countries maintained their claims to the Falkland Islands (or Islas Malvinas as they are known in Argentina).

Ending a two-month war that claimed the lives of 649 Argentines,
Cafiero added that he proposed new talks by a 1965 United Nations General Assembly resolution urging Britain and Argentina to find a peaceful solution to their dispute over the islands.
The islands are about 300 miles (480 kilometers) from South America and are home to about 3,500 people, but the country has long claimed sovereignty over them.
They claim that it was wrongfully deprived of the islands in 1833. Britain, which had claimed the islands' territory since 1765, dispatched a warship there in 1833 to drive out Argentine forces who had invaded to claim it for themselves.
In 1982, Argentins invaded the islands, ending a two-month war that claimed the lives of 649 Argentines, 255 Britons, and three islanders. Eventually, Argentine forces were driven out, and British authority was reinstated.
Most residents voted in 2013 to keep their status as a British overseas territory.
British minister for the Americas, David Rutley, was dismayed by Argentina's decision.
Rutley, who recently visited Buenos Aires, expressed his disappointment in Argentina's decision to withdraw from the agreement on Twitter. This agreement benefited the United Kingdom, Argentina, and the Falkland Islands.
SOURCE – (AP)
Strike Over Pay Paralyzes Rail, Air Travel In Germany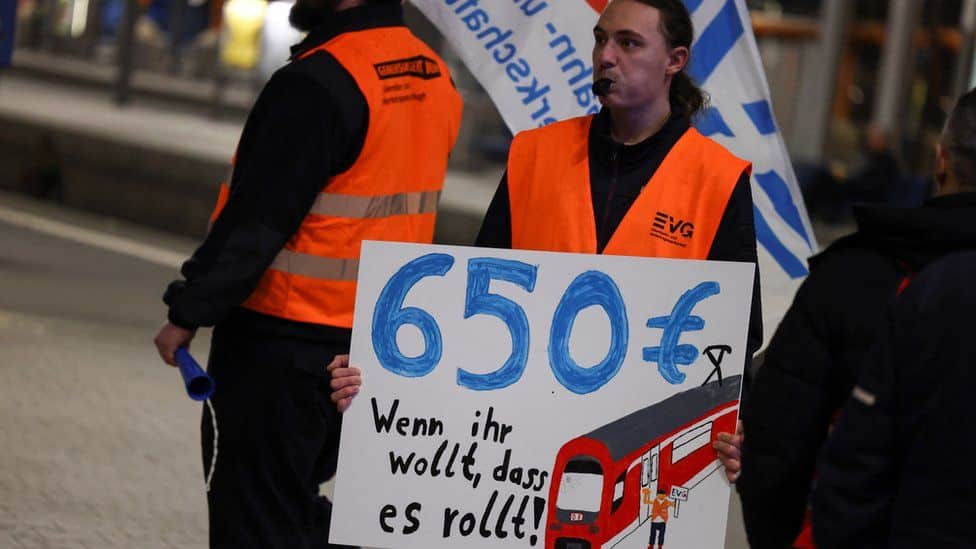 BERLIN — Trains, aircraft, and public transportation systems were grounded across most of Germany on Monday as labor unions launched a big one-day strike over pay to obtain inflation-busting raises for their members.
The 24-hour strike, one of the country's largest in decades, also impacted cargo movement by train and ship as workers at the country's ports and waterways joined the strike.
Many commuters chose to travel to work, generating some traffic delays, while those who could work from home did so.
Unions are seeking a 10.5% pay increase and have rejected employer offers of approximately 5% over two years plus one-time bonuses.
According to Ulrich Silberbach of the Civil Service Federation, high inflation observed everywhere last year affected many workers hard.
"We have seen a drop in real wages, which needs to be balanced," he told reporters in Berlin, adding that some of his union's members in major cities must request public assistance to pay their rent.
Silberbach expressed hope that employers will raise their offer in the next discussions or that unions would be forced to consider an open-ended strike.
Three days of talks are scheduled between the two sides.
His EVG train union colleague Martin Burkert noted that workers' salaries are a fraction of some senior executives' salaries.
However, Deutsche Bahn dismissed the union's proposals as overblown and warned that millions of commuters would be affected.
"Thousands of companies that normally send or receive goods by rail will also suffer," said Achim Strauss, a spokesman for Deutsche Bahn. "In the end, the environment and the climate will suffer." The oil companies are today's winners."
He said that train tickets that couldn't be used because of the disruption would remain valid, and travelers should check the company's website for updates.

The strike caused inconvenience and delays Sunday.
Three days of talks are scheduled between the two sides. Interior Minister Nancy Faeser, representing the federal government in the talks, said her side would be "tough but fair and constructive" in the discussions.
Faeser expressed confidence that a satisfactory solution may be found.
Labor strikes are common in Germany, and they usually conclude with a compromise agreement reached between unions and employers.
The strike caused inconvenience and delays Sunday as travelers hurried to reach their destinations early.
SOURCE – (AP)
UN Head Says Survival Depends On How People Manage Water In 2023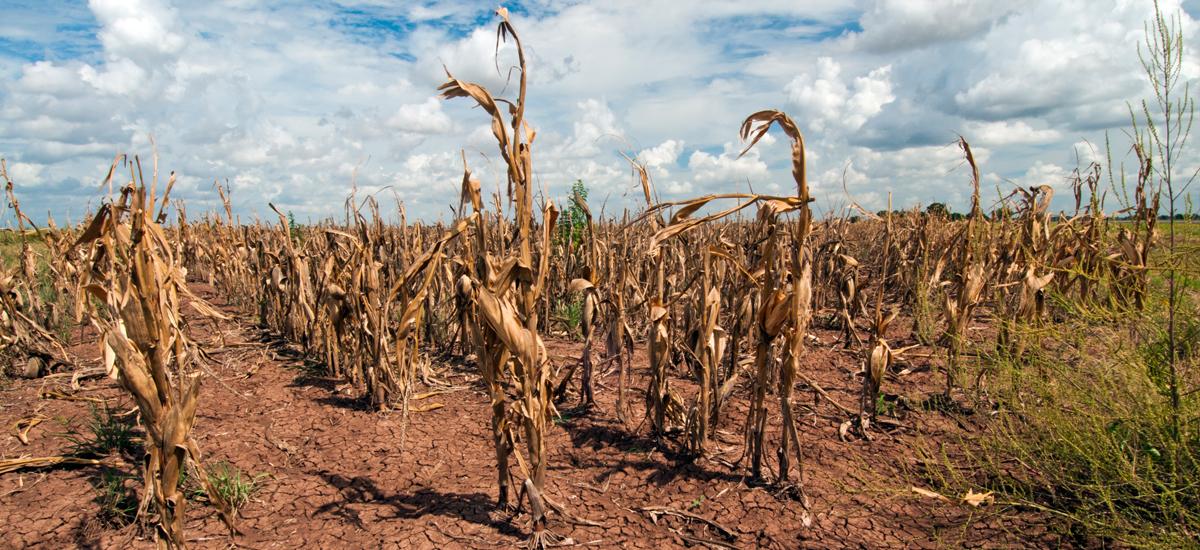 WATER The United Nations Humanity's survival depends on how people manage water, said United Nations Secretary-General Antonio Guterres on Friday at the close of a three-day conference on global water resources, during which developing countries made urgent requests for assistance with cleaner drinking water and better sanitation.
In his final remarks, Guterres stated, "All of humanity's hopes for the future depend, in some way, on charting a new course to sustainably manage and conserve water."
He stated that water "needs to be at the center of the global political agenda" and that this implies more aggressive action against climate change.
According to the United Nations World Water Development Report, released on the eve of the conference, 26% of the world's population—2 billion people — lacks access to safe drinking water, while 46% — 3.6 billion people — lack access to basic sanitation. According to UN studies, nearly half the world's population will face acute water stress by 2030.
Many rhetorical pledges to enhance water supply were made at the conference, but there needed to be more precise commitments to translate aspirations into better daily lives for regular people.

Throughout the meeting, water-stressed states, particularly those in the developing world
"We have such lovely, ambitious initiatives," said Lina Taing, senior researcher at the global think tank United Nations University.
"We know that we are completely off track," she stated, regarding providing them with clean water and sanitation. Taing stated that the world's actions must be increased "fourfold."
Throughout the meeting, water-stressed states, particularly those in the developing world, told U.N. members of their need for international aid to provide their people with drinking water and sanitation facilities.
"Waging a war on two fronts at the same time to address water issues and climate change is no easy task, especially for a small island nation like Kiribati, which has very limited resources at its disposal," said Teburoro Tito, the United Nations representative for the Pacific island nation of fewer than 200,000 people. He claimed that Kiribati was particularly unprepared to deal with natural calamities.
SOURCE – (AP)
1 Million March In France, Unions Call New Pension Protests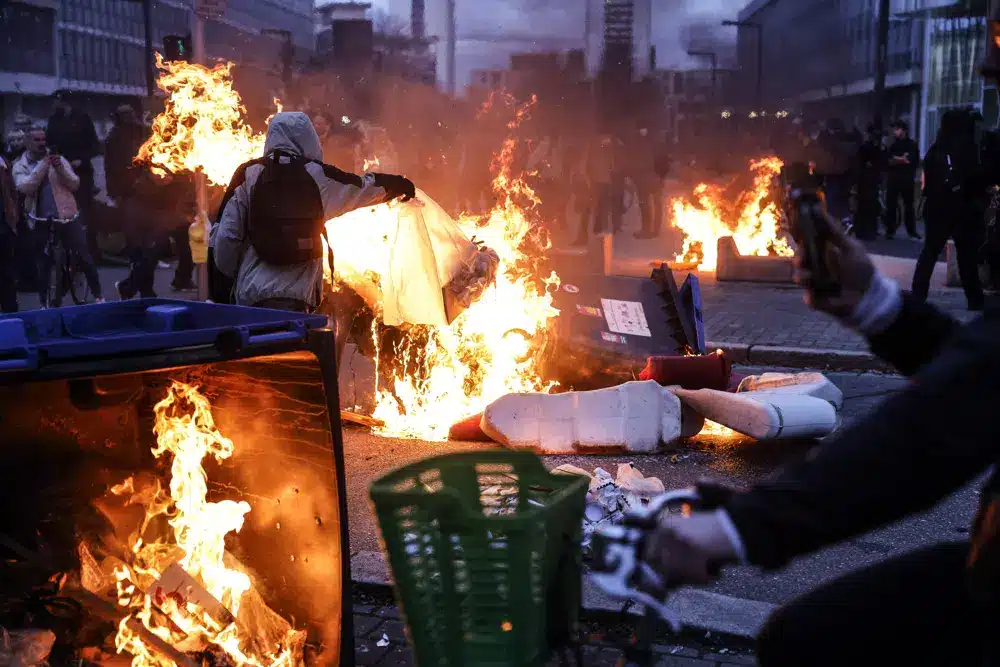 PARIS MARCH — After more than a million people rallied across France on Thursday against unpopular pension reforms, French unions called for further statewide strikes and protests the following week, coinciding with King Charles III's anticipated visit to France.
According to the Interior Ministry, the march in Paris attracted 119,000 participants, setting a record for the city's capital during the pension demonstrations. However, as were many other marches, the march was plagued by violence. According to polls, most French people are against President Emmanuel Macron's proposal to raise the retirement age from 62 to 64, which he claims is vital to maintain the system.
The unions quickly announced fresh demonstrations and strikes for Tuesday, the day the British king is expected to visit Bordeaux as part of his trip to France, building on the significant turnout. According to the Sud Ouest newspaper, on Thursday night, participants in an unofficial demonstration set fire to and completely demolished the heavy wooden entrance of the Bordeaux City Hall.
According to the ministry, in cities and towns around the nation on Thursday, more than a million people participated in protest marches.
Gerald Darmanin, the interior minister, went to the police headquarters on Thursday night march as fires were still raging in some Parisian neighborhoods hours after the march had concluded.
The protests were conducted the day after Macron infuriated his detractors even more by refusing to back down on the retirement bill that his administration rushed through parliament without a vote.
The eight unions organizing the protests march stated that "while the (president) tries to turn the page, this social and union movement… confirms the determination of the world of workers and youth to obtain the withdrawal of the reform." On Tuesday, further nationwide strikes and protests were called for in addition to localized action this weekend.

Thursday night march as fires were still raging in some Parisian neighborhoods
Strikes disrupted travel as demonstrators surrounded ports, refineries, and Charles de Gaulle Airport in Paris.
In Paris, clashes between police and groups wearing black masks that attacked at least two fast food establishments, a supermarket, and a bank reflected the violence's escalation and diverted attention from the tens of thousands of nonviolent demonstrators.
Police charged repeatedly and fired tear gas to disperse the protestors after being attacked with objects and pyrotechnics. After the march, protesters gathered at the Place de l'Opera, partially obscured by a tear gas haze. The "radical elements," according to the police, number around 1,000 persons.
Other marches were plagued by violence, particularly in Lyon in the southeast and the western cities of Nantes, Rennes, and Lorient, where an administrative building was stormed, its courtyard set ablaze, and its windows destroyed.
The nine union-organized rallies around the country on Thursday were the ninth to occur since January, when opponents of Macron's proposal to raise the retirement age still hoped that parliament would reject it. However, the administration used a unique constitutional provision to force it through.
In a French interview on Wednesday, Macron remained steadfast in his belief that new legislation is required to maintain retirement funds. Other suggestions made by opponents included raising taxes on the affluent or businesses, which according to Macron, would harm the economy. He maintained that by the end of the year, the government's law to raise the retirement age must be implemented.
The proposal now has to be approved by the Constitutional Council. But the opposition won't give up.

The strikes on Thursday caused the Eiffel Tower and the Versailles Palace.
The chief of the moderate CFDT labor union, Laurent Berger, "We are trying to say before the law is enacted… that we have to find a way out and we continue to say that the way out is the withdrawal of the law."
Public transportation networks in other significant cities, the Paris metro, and high-speed and regional trains were all affected. At Paris Orly Airport, almost 30% of scheduled flights were canceled.
The strikes on Thursday caused the Eiffel Tower and the Versailles Palace, where the British monarch will dine with Macron, to be shuttered.
Violence, a regular problem during demonstrations, has been worse recently. 12,000 security personnel, including 5,000 in Paris, would be on French streets on Thursday, according to Gerald Darmanin.
In a statement, the Education Ministry stated that 15% of instructors in high schools and roughly 24% of primary and intermediate school teachers took a sick day on Thursday.
Several hundred strikers wielding flares and yelling, "Macron, go away," marched on the Paris Gare de Lyon train station rails to stop trains from moving. They were carrying flares.
Maxime Monin, 46, expressed concern that his and other public transportation workers' holidays this year might be less enjoyable. He emphasized that such workers are not paid on strike days. But the price was worthwhile.
A bus depot in Pantin, in the northern suburbs of Paris, was blocked by several dozen union members during rush hour, preventing 200 vehicles from leaving.
A 48-year-old bus driver involved in the protest, Nadia Belhoum, condemned Macron's choice to push through the higher retirement age.
She declared, "The president of the Republic is not a monarch, and he should listen to his people.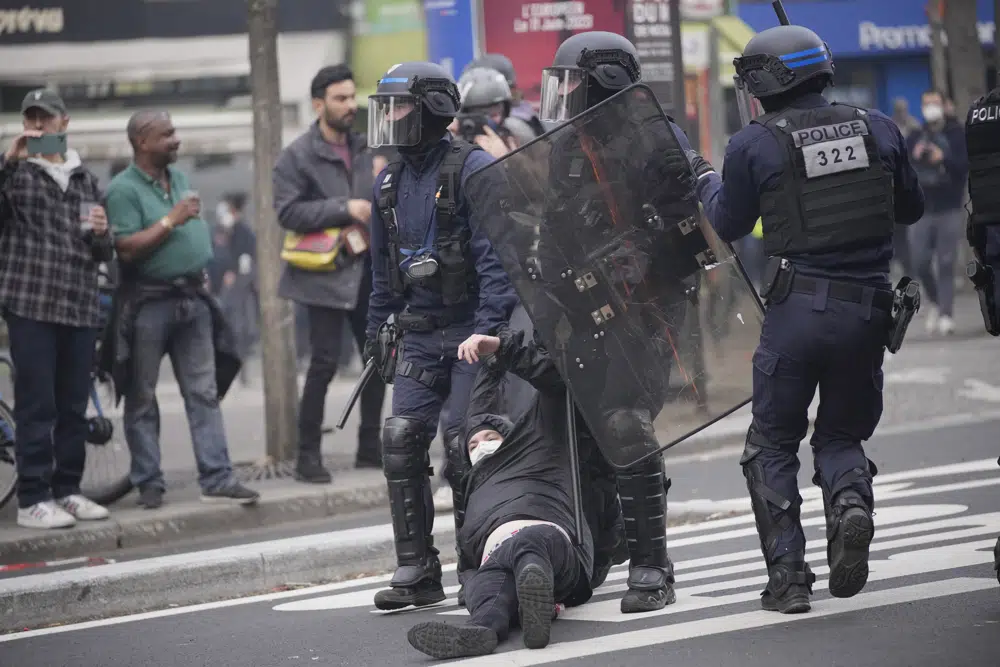 SOURCE – (AP)