477 Pilot Whales Die After Getting Stranded on New Zealand Beach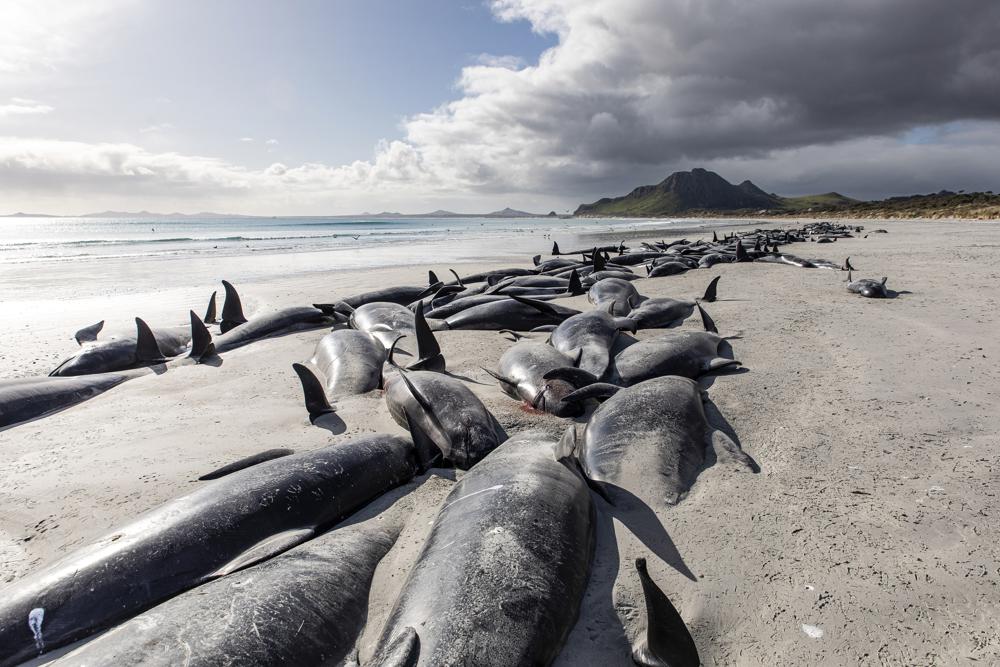 Some 477 pilot whales have died after stranding themselves on two remote New Zealand beaches over recent days, officials say.
None of the stranded whales could be refloated, and all died naturally or were euthanized in a "heartbreaking" loss, Daren Grover, the general manager of Project Jonah, a nonprofit group which helps rescue whales, told VOR News.
The whales beached on the Chatham Islands, home to about 600 people and located about 800 kilometres (500 miles) east of New Zealand's main islands.
The Department of Conservation said 232 whales stranded themselves Friday at Tupuangi Beach and another 245 at Waihere Bay on Monday.
The deaths come two weeks after about 200 pilot whales died in Australia after stranding on a remote Tasmanian beach.
"These events are tough, challenging situations," the Department of Conservation wrote in a Facebook post. "Although they are natural occurrences, they are still sad and difficult for those helping."
Grover said the remote location and presence of sharks in the surrounding waters meant they couldn't mobilize volunteers to try to refloat the whales as they have in past stranding events.
"We do not actively refloat whales on the Chatham Islands due to the risk of shark attack to humans and the whales themselves, so euthanasia was the kindest option," said Dave Lundquist, a technical marine advisor for the conservation department.
Mass strandings of pilot whales are reasonably common in New Zealand, especially during summer. Scientists don't know exactly what causes the whales to strand, although it appears their location systems can get confused by gently sloping sandy beaches.
Grover said there is a lot of food for the whales around the Chatham Islands, and as they swim closer to land, they would quickly find themselves going from very deep to shallow water.
"They rely on their echolocation, yet it doesn't tell them that they are running out of water," Grover said. "They come closer and closer to shore and become disoriented. The tide can drop below them, and they're stranded on the beach before they know it."
Because of the remote location of the beaches, the whale carcasses won't be buried or towed out to sea, as is often the case, but instead will be left to decompose, Grover said.
"Nature is a great recycler, and all the energy stored within the bodies of all the whales will be returned to nature quite quickly," he said.
Source: Associated Press

Canada Extradites Former Soldier to Thailand to Face Murder Charge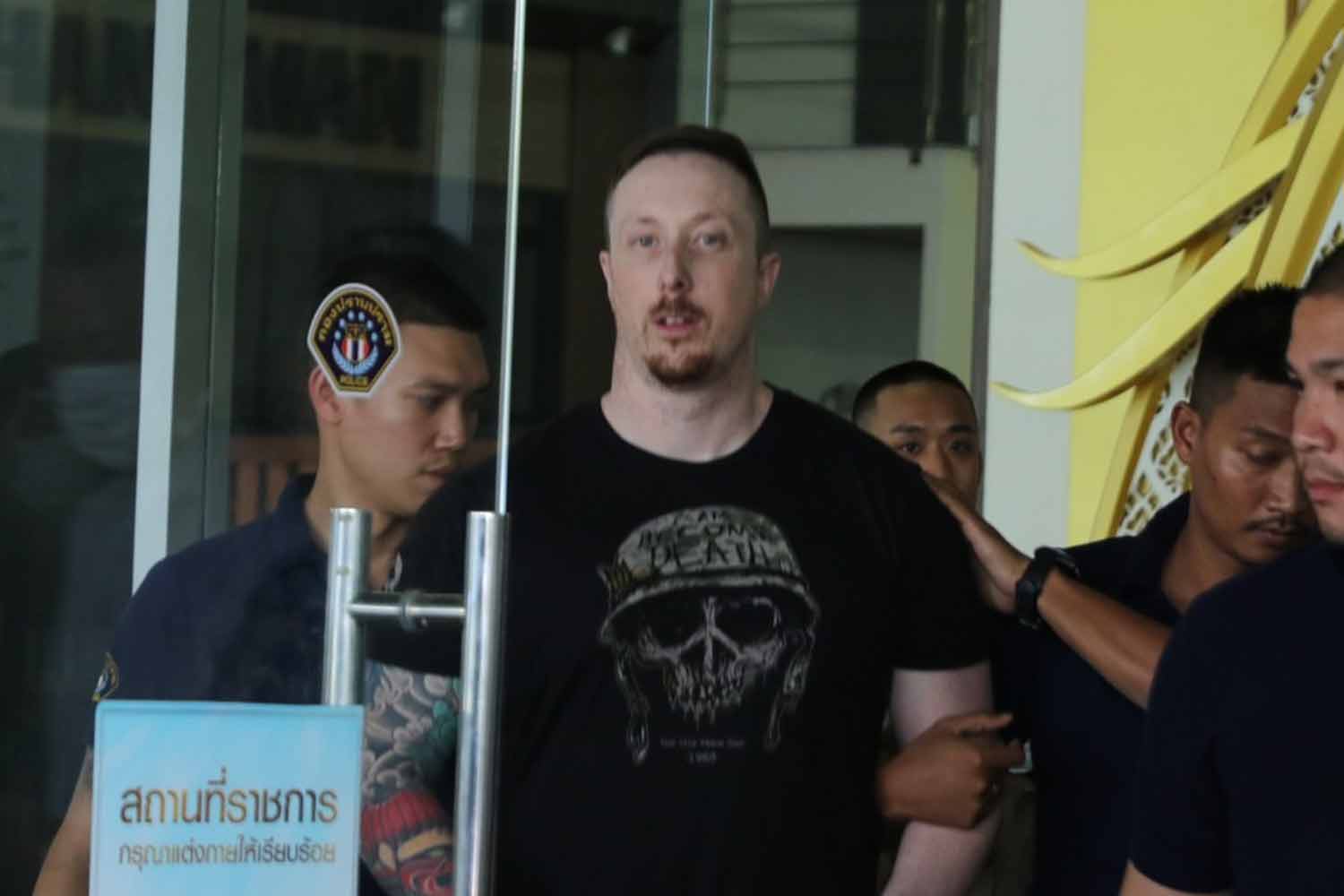 An Alleged contract killer and former Canadian soldier Matthew Dupre has been discreetly deported from Canada to Thailand to face a murder charge for the shooting of Canadian criminal Jimi Sandhu in Phuket on February 4, 2022.
Last week, a special Airbus A340 flight carrying 10 members of the CSD's Hanuman special weapons and tactics unit led by Pol Col Wichak Tarom, a deputy CSD commander, and 30 members of a Royal Thai Air Force special operations unit took off from Don Mueang airport for Vancouver, Canada, to bring Dupre back to Thailand.
The special flight, which included Dupre, returned to Thailand and landed at Don Mueang airport's Wing 6 terminal at 11 p.m. on Sunday. The airport was closed temporarily due to strict security. Around 30 other Hanuman unit members and RTAF ground security met the flight.
The suspect was driven from the airport to CSD headquarters in a motorcade. His incarceration is now being monitored by the Central Investigation Bureau.
On February 4, 2022, at approximately 10.30 p.m., two foreign men shot Canadian gangster Jimi Singh (Slice) Sandhu dead in the parking area of his rented beachfront villa on Rawai beach in Phuket's Muang district. A security camera captured the killers entering the villa.
Matthew Dupre was recognised as a suspect by Phuket and CSD police investigations.
On February 11, 2022, the Phuket Court issued a warrant for the arrest of Dupre and his accused accomplice on counts of premeditated murder, illegally possessing guns and ammunition, and carrying and using the guns in public.
According to a police investigation, the two suspects departed Thailand for Canada on February 6th.
On February 15, the Royal Thai Police international affairs section issued a letter to the Attorney General's Office, along with the arrest warrants. Under the Extradition Act of 2008, the OAG was asked to cooperate with Canada for Dupre's extradition.
The OAG then took the desired measure.
The Alberta Provincial Court in Canada issued an arrest warrant for Matthew Dupre at the request of the Alberta Attorney General's Office.The Royal Canadian Mounted Police apprehended Dupre on February 20, 2022, at his house in Sylvan Lake, Alberta, near Red Deer.
The Court of Alberta in Edmonton later approved Dupre's extradition to Thailand under Canada's Extradition Act of 1999. Gene Lahrkamp, the second wanted suspect in the investigation, died in a tiny plane crash in Canada in May 2022.
The Extradition Act of Canada
The Extradition Act of Canada is a law that governs the process of extraditing individuals from Canada to foreign countries, as well as from foreign countries to Canada. The current version of the Extradition Act was enacted in 1999 and has undergone subsequent amendments.
The purpose of the Extradition Act is to establish a legal framework for extradition, which is the formal process by which one country requests the surrender of an individual located in another country for the purpose of facing criminal charges or serving a sentence.
Here are some key features of Canada's Extradition Act:
1. Dual Criminality: Extradition can only be granted if the alleged conduct for which extradition is sought is considered a criminal offense in both Canada and the requesting country. This principle ensures that a person cannot be extradited for an act that is not considered a crime in Canada.
2. Extraditable Offenses: The Act provides a list of offenses that are considered extraditable, which includes a wide range of serious crimes such as murder, terrorism, drug trafficking, and fraud. The list can be expanded through bilateral treaties or multilateral agreements.
3. Extradition Process: The Act outlines the steps involved in the extradition process, including the submission of an extradition request, judicial review of the request, and the surrender of the individual if the extradition is granted.
4. Judicial Involvement: The Act emphasizes the role of the judiciary in the extradition process. Courts are responsible for reviewing the evidence presented by the requesting country to determine whether there is sufficient evidence to justify extradition. The courts also consider factors such as human rights and the possibility of the death penalty or cruel and unusual punishment.
5. Ministerial Discretion: The Minister of Justice in Canada has the final authority to make the decision on whether to surrender the person for extradition after the judicial process is complete. The Minister can refuse extradition in certain circumstances, such as if there are concerns about the person's safety or if the request is politically motivated.
6. Appeal Process: The Act allows for an appeal process, where the person sought for extradition can challenge the decision through the Canadian courts, up to the Supreme Court of Canada in some cases.
It's important to note that the Extradition Act is subject to international treaties and agreements, which may modify or supplement its provisions in specific cases. The Act provides a legal framework to ensure that extradition requests are handled in a fair and transparent manner while protecting the rights of the individuals involved.
2023: New York City Makes It Illegal To Discriminate Against Weight And Height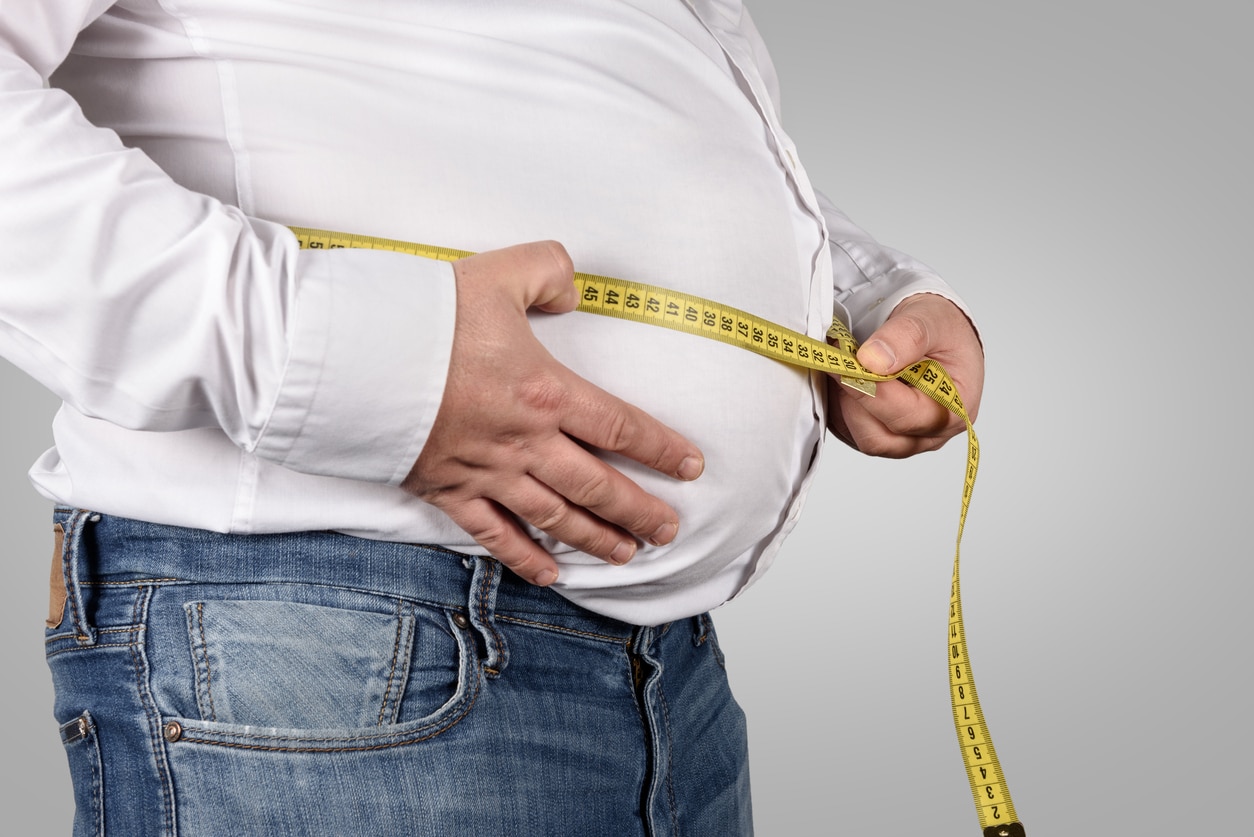 BRAND NEW YORK — Weight and height were added to the list of protected groups such as race, sex, and religion by New York City Mayor Eric Adams on Friday, making them off-limits to discrimination.
At a bill-signing ceremony held in City Hall, the mayor and other elected officials and weight-acceptance campaigners argued that people of all sizes should be afforded equal access to employment, housing, and public accommodations.
Adams, a Democrat who wrote a book on how he reversed his diabetes with a plant-based diet, praised the rule, saying it "will help level the playing field for all New Yorkers, create more inclusive workplaces and living environments, and protect against discrimination."
This month, the city council passed an ordinance that makes exceptions for those whose height or weight would make it impossible for them to do their jobs.
When the council considered the bill, some business leaders spoke out against it, saying that complying would be too much of a hassle.

At a bill-signing ceremony held in City Hall, the mayor and other elected officials and weight-acceptance.
"The extent of the impact and cost of this legislation has not been fully considered," said Kathy Wylde, president and CEO of the Partnership for New York City.
San Francisco, Washington, DC, and Madison, Wisconsin, are just a few U.S. cities that have passed anti-discrimination measures protecting residents based on weight weight and physical appearance. New Jersey and Massachusetts are just two states where lawmakers have proposed size and height discrimination bans.
The president of the National Association to Advance Fat Acceptance, Tigress Osborn, has stated that the anti-discrimination ordinance passed in New York City should serve as an example for the rest of the country and the world.
According to Osborn, the city's decision to pass the new rule "will ripple across the globe" and prove that "discrimination against people based on their body size is wrong and is something that we can change."
The ordinance's effective date is November 22nd, 180 days from now.
SOURCE – (AP)
2023: Texas Grand Jury Indicts Patrick Clark In Fatal Shooting Of Rapper Takeoff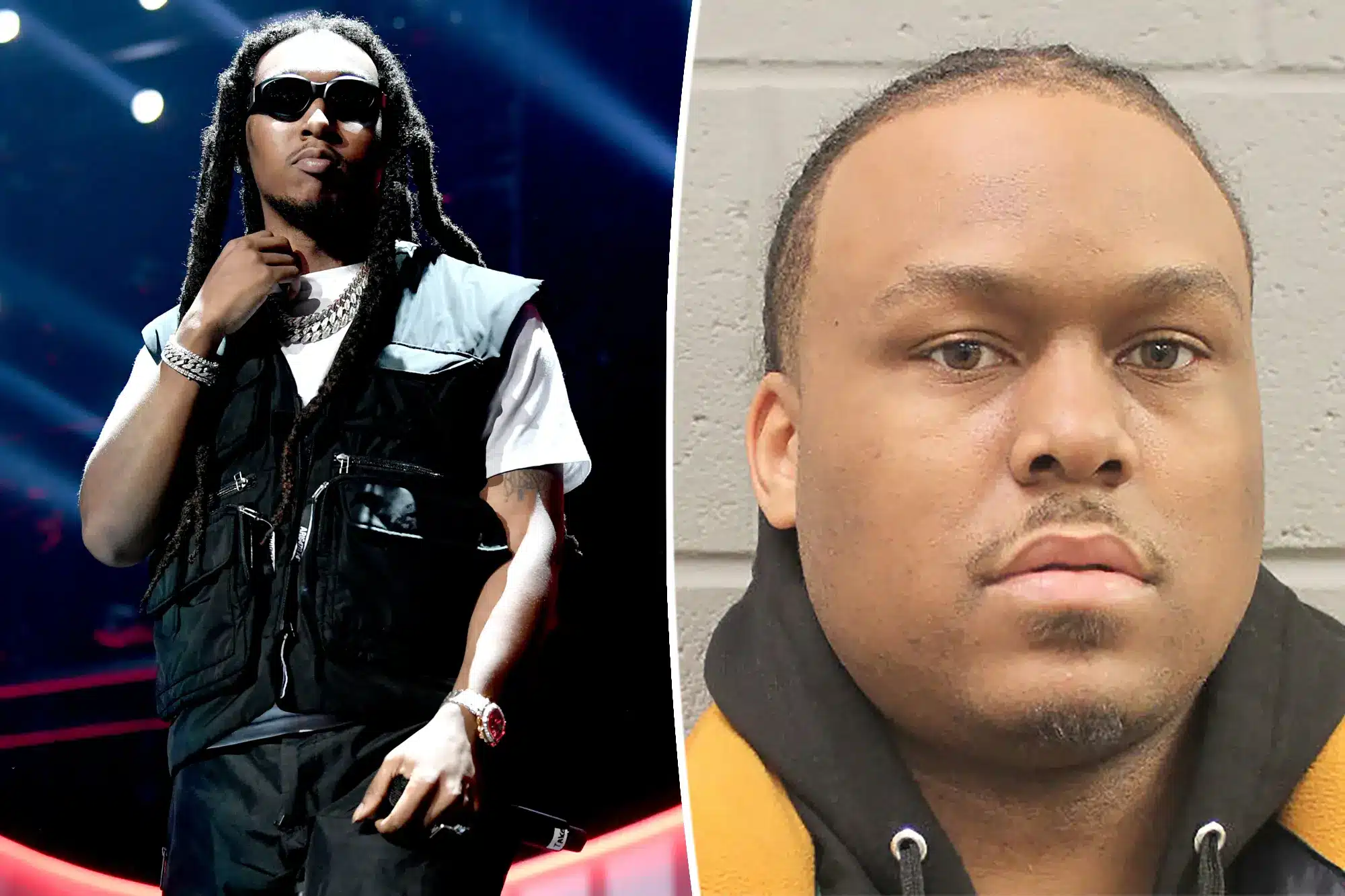 HOUSTON — According to court documents, the guy accused of murdering Migos artist Takeoff last year at a Houston bowling alley has been indicted.
When a grand jury in Houston indicted him on Thursday, Patrick Xavier Clark was out on $1 million bail.
One of Clark's lawyers, Letitia Quinones-Hollins, stated that the charge was no surprise to her client.
"When we get inside a courtroom and in front of a jury, where we will be able to put on our evidence and cross-examine the state's witnesses… we expect the jury will come back with a verdict of not guilty," Quinones-Hollins said in a statement on Thursday.
When more than 30 people were leaving a private party at the bowling alley at 2:30 a.m. on November 1, Takeoff was shot in the head and back. The shooting, according to authorities in Houston, was sparked by a dispute over a "lucrative" game of dice outside the bowling alley, but the rapper, who was only 28 years old at the time, was not participating and was "an innocent bystander."

DJ and club promoter Patrick, 33, was taken into custody on December 1.
Officials claim CCTV footage proves Clark had a wine bottle in his hand when he fired his weapon. His identity was established through fingerprints discovered on the bottle. In addition, authorities said that FBI informants placed Clark at the shooting scene.
After Clark's arrest, prosecutors claimed he had researched how to use bogus airline tickets to get an expedited passport online in an attempt to leave the country.

After the incident, Quinones-Hollins said Clark had no intention of leaving the country.
Takeoff joined his uncle Quavo, and cousin Offset to form the Grammy-nominated rap group Migos. Takeoff was born Kirsnick Khari Ball.
The next court date for Clark is August 23.
SOURCE – (AP)