Brazil Deluge Kills 36; Search Continues For Dozens Missing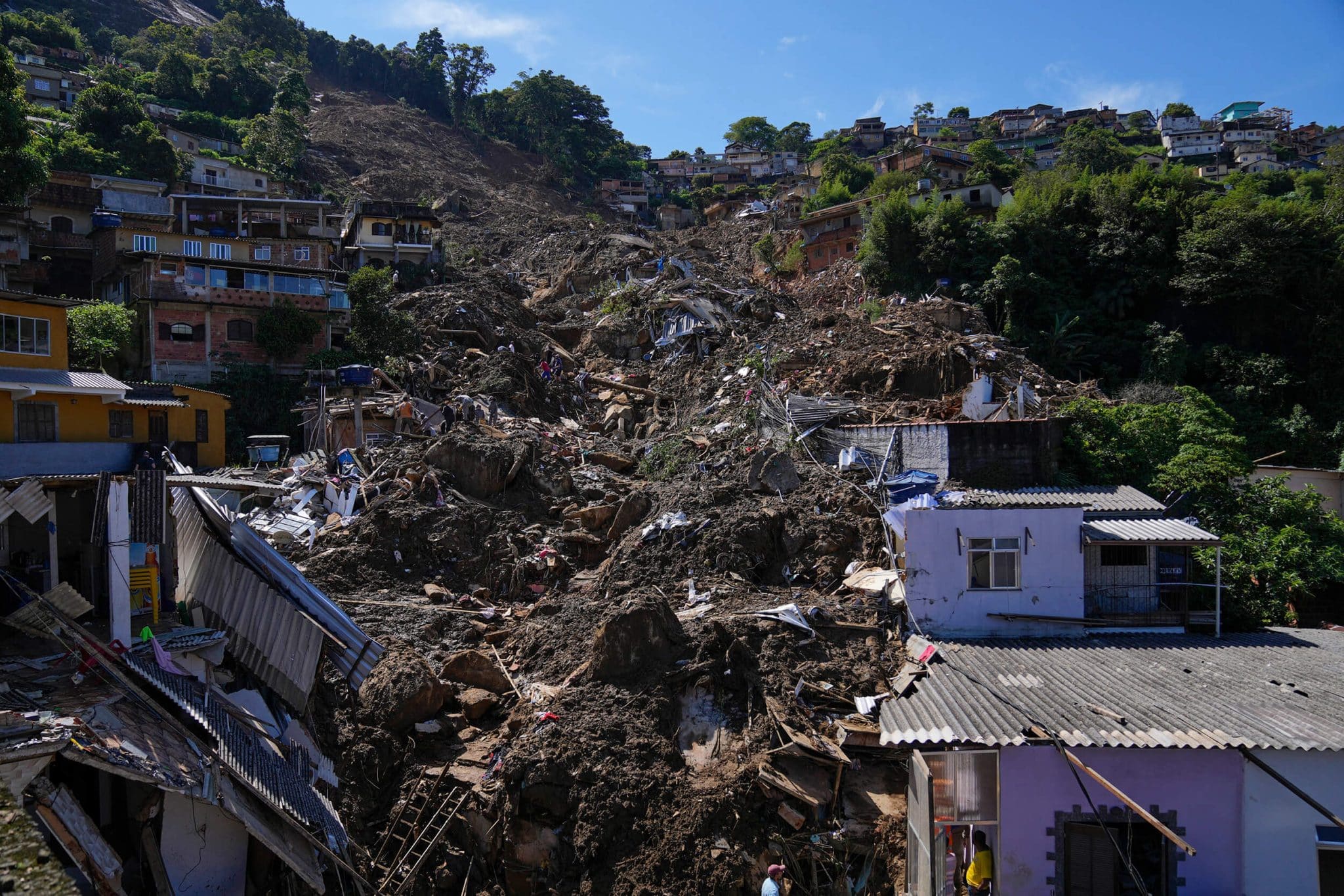 SAO SEBASTIAO, Brazil – Hundreds of rescuers searched for survivors Monday of landslides and flooding that killed at least 36 people along the coast of Brazil's southern Sao Paulo after a massive weekend downpour.
Sao Sebastiao was the hardest hit, with at least 35 people killed. A 7-year-old girl was killed in nearby Ubatuba. The disaster, which occurred in an area known for its beaches flanked by mountains, caused many cities to cancel Carnival celebrations, which were already underway elsewhere in the country.
Governor Tarcisio de Freitas told the Globo television network that 40 more people were missing. According to his state government, nearly 800 people were homeless, and 1,730 were displaced.
Flooded homes were shown on television with only their roofs visible. Residents used small boats to transport items and people to higher ground.
Mailsa, a woman who only gave her first name, said she and her husband, daughter, and grandson barely escaped when a landslide destroyed her house in Sao Sebastiao's Juquehy municipality. The house had been partially submerged, parts had fallen away, and the rest was precariously on the edge of a hill.
"It was lightning fast. "You either run or you die," she said. "There is nothing you can take, only your life, which is the most important thing."

After Flooding Caused Deadly Landslides In Brazil
Armed forces personnel assisted in the search and rescue efforts, hampered by poor access to many areas due to landslides in the region's highlands and floods that washed away chunks of pavement in low-lying and oceanfront areas.
"Our rescue teams are unable to reach several locations. "It's a chaotic situation," Sao Sebastiao Mayor Felipe Augusto said late Sunday night on social media.
According to Augusto, approximately 50 houses in the city collapsed due to the landslides, and he posted several videos of destruction and search efforts, including one of a baby being rescued by locals lined up on a flooded street.
Landslides and floodwaters blocked the highway connecting Rio de Janeiro state to Sao Paulo's port city of Santos. According to Gov. de Freitas, the damage was so severe that the highway may no longer exist.
Precipitation in Sao Sebastiao exceeded 600 millimeters (23.6 inches) Brazil in 24 hours over the weekend, one of the largest downpours in Brazil in such a short period.
Brazil's President Luiz Inácio Lula da Silva visited the region on Monday. He observed the damage in Sao Sebastiao from a helicopter and met with Gov. de Freitas at the theatre, where search operations were being coordinated.

600 Millimeters Of Rain In 24 Hours
According to Lula, people living on the hillside should be relocated to safer areas. "Now and then, nature surprises us, but many times, we defy nature," Lula told reporters in Sao Sebastiao.
De Freitas declared a state of emergency for the worst-affected cities, including Sao Sebastiao, Ubatuba, Ilhabela, and Bertioga, allowing for the expedited allocation of relief funds. He stated that 7 million reais ($1.35 million) had already been released. The governor also declared three days of official mourning throughout Sao Paulo on Monday.
According to a state government statement, the heavy rain disrupted water, electricity, and phone services, and a video of 30,000 liters of water being transported to Sao Sebastiao, Brazil, was posted on Twitter. In addition, hygiene kits, blankets, sleeping bags, mattresses, and medical supplies have been delivered.
Waldez Góes, Minister of Integration and Regional Development, stated on Twitter that experts are already looking into reconstruction plans. "In the coming days, we will work on rebuilding bridges, public buildings, housing units, and all affected public infrastructure," Góes said.
The affected area, on the northern coast of Sao Paulo, is a popular Carnival destination for wealthy tourists who prefer to avoid the massive street parties of big cities.
SOURCE – (AP)
North Korea Test-Fires 2 More Missiles As US Sends Carrier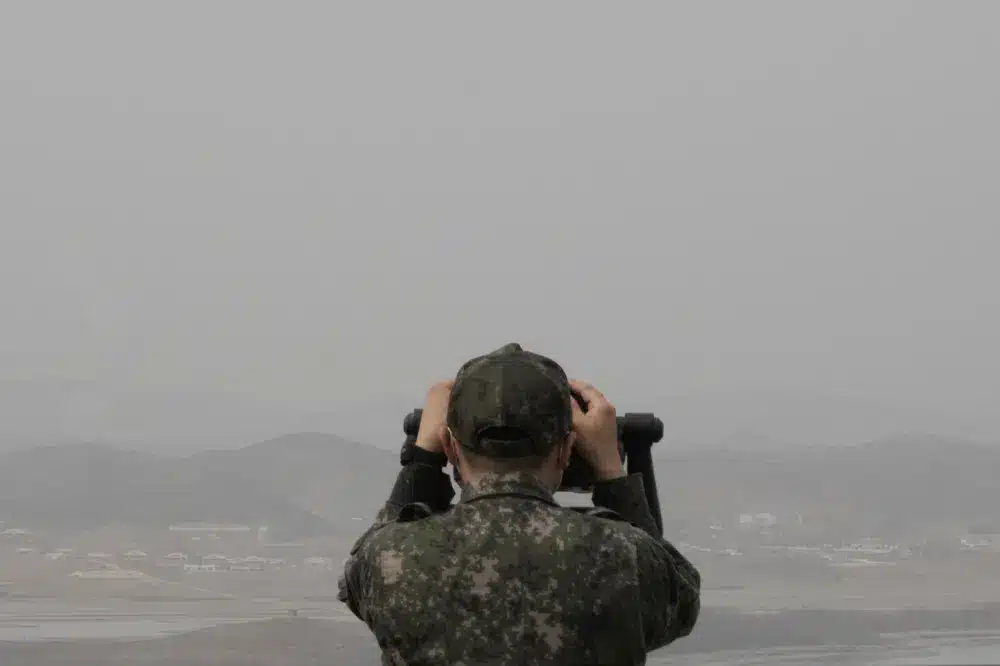 South Korea's SEOUL — On Monday, the nuclear-powered USS Nimitz and her battle group began operations with South Korean warships, hours after North Korea fired two short-range ballistic missiles in apparent protest of the allies' growing maneuvers.
This month's seventh missile test heightened regional tensions as the North's weapons tests and joint military exercises between the United States and South Korea intensified in a cycle of tit-for-tat.
The launches could have been timed to coincide with the arrival of the USS Nimitz and its strike group, which included a guided missile cruiser and two destroyers and participated in air defense exercises and other maneuvers with South Korean vessels waters around Jeju Island.
South Korean navy spokesperson Jang Do Young said the drills were aimed at honing joint operational capabilities and proving the U.S. resolve to defend its ally with all available options, including nuclear, in the wake of the North's "escalating nuclear and missile threats."
On Tuesday, the Nimitz strike group was scheduled to arrive in Busan's South Korean mainland port.
"The United States has deployable strategic assets at the ready every day," said Carrier Strike Group Eleven leader Rear Adm. Christopher Sweeney. "We can and will continue to deploy those assets."

The two North Korean missiles were launched from a western inland area
The two North Korean missiles were launched from a western inland area south of Pyongyang between 7:47 a.m. and 8 a.m. and traveled approximately 370 kilometers (229 miles) before falling at sea, according to South Korea's Joint Chiefs of Staff. The missiles, which landed beyond Japan's exclusive economic zone, traveled on an erratic trajectory and reached a maximum altitude of 50 kilometers, according to Japan's military. (31 miles).
Previously, Japan used similar wording to describe a North Korean solid-fuel missile that appears to be modeled after Russia's Iskander mobile ballistic weapon, which is supposed to be maneuverable in low-altitude flight to better elude South Korean missile defenses. North Korea also has another short-range system similar to the MGM-140 Army Tactical Missile System used by the United States.
Hirokazu Matsuno, Japan's Chief Cabinet Secretary, stated that North Korea might increase its testing activity by launching additional missiles or conducting its first nuclear test since September 2017.
The South Korean and Japanese militaries condemned the new launches as a severe provocation endangering regional peace and stated that they were cooperating with the U.S. to further evaluate the missiles. The U.S. Indo-Pacific Command stated that while the launches did not constitute an imminent threat to the U.S. or its allies, they underscore North Korea's "destabilizing impact" of its illicit nuclear and missile programs.
North Korea, subject to U.N. Security Council sanctions for its nuclear program since 2016
North Korea, subject to U.N. Security Council sanctions for its nuclear program since 2016, did not immediately respond to the launches.
Last week, the U.S. and South Korea concluded their largest springtime drills in years, including computer simulations and live-fire field exercises. However, the allies have continued their field training as a show of force against the mounting dangers from the North.
North Korea also launched a short-range missile when the USS Ronald Reagan and its battle group arrived in September for joint drills with South Korea, the last time the U.S. sent an aircraft carrier to waters near the Korean Peninsula.
North Korea has launched more than 20 ballistic and cruise missiles this year to push the U.S. to accept its nuclear status and negotiate sanctions relief from a position of strength.
This month's tests included an intercontinental ballistic missile and a series of short-range missiles designed to overwhelm South Korean defenses as North Korea attempts to demonstrate its ability to undertake nuclear strikes on South Korea and the United States mainland.
The North conducted a three-day practice last week that claimed to simulate nuclear assaults on South Korean targets.
The country's leader, Kim Jong Un, has called the joint military exercises between the United States and South Korea "invasion rehearsals." According to the allies, the exercises are defensive.

The tests included a rumored nuclear-capable underwater drone.
The tests included a rumored nuclear-capable underwater drone, which the North said could unleash a massive "radioactive tsunami" and destroy navy vessels and ports. Analysts questioned whether such a device posed a significant new danger, and Seoul's Joint Chiefs of Staff warned in a statement Monday that the North Korean allegations were likely "exaggerated and fabricated."
Following some of its ballistic and cruise missile tests earlier this month, North Korea claimed that those missiles were tipped with dummy nuclear warheads that detonated 600 to 800 meters (1,960 to 2,600 feet) above their sea targets, presenting them as maximum damage heights.
North Korea has already had a record year of weapons testing, launching more than 70 missiles in 2022. It had enacted an escalator nuclear strategy that allows for pre-emptive nuclear strikes in a wide range of scenarios in which it perceives its leadership to be under threat.
"It appears North Korea is practicing, or signaling that it is practicing, the use of nuclear strikes, both preemptive and retaliatory, in various scenarios authorized in its nuclear doctrine," said Duyeon Kim, a senior analyst at the Center for a New American Security.
"The problem is that continued testing allows Pyongyang to perfect its technology, strengthen its nuclear weapons capability, threaten South Korea and Japan, increase the possibility of miscalculation, which could lead to inadvertent conflict, and accumulate political leverage ahead of future diplomatic talks with Washington."
Following the North's confirmation of the drone test on Friday, South Korea's air force disclosed information about a five-day joint practice with the U.S. last week, which included live-fire displays of air-to-air and air-to-ground weaponry.
According to the air force, the exercise aimed to test precision strike capabilities and reaffirm the credibility of Seoul's "three-axis" strategy against North Korean nuclear threats. This strategy includes striking potential targets ahead of time, stopping incoming missiles, and taking out the North's leadership and key military facilities.
SOURCE – (AP)
Strike Over Pay Paralyzes Rail, Air Travel In Germany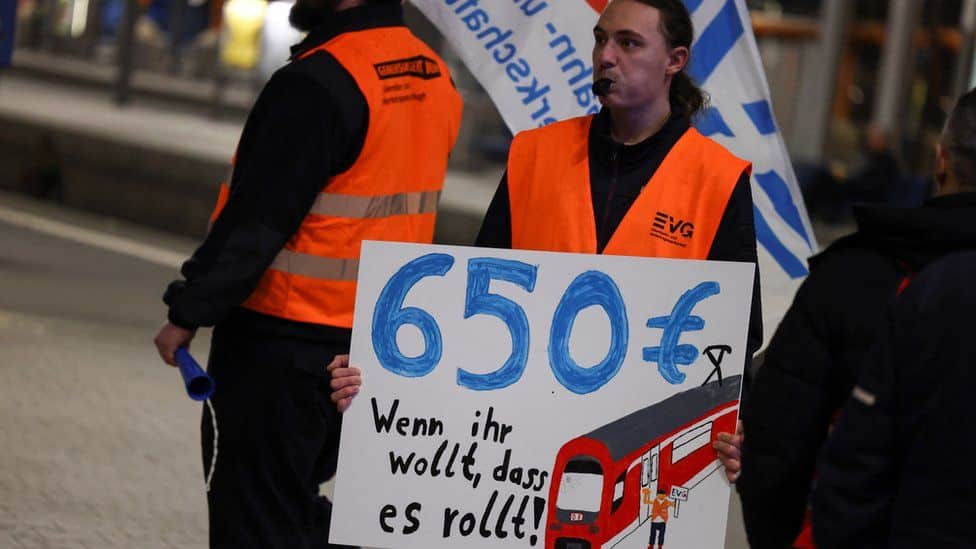 BERLIN — Trains, aircraft, and public transportation systems were grounded across most of Germany on Monday as labor unions launched a big one-day strike over pay to obtain inflation-busting raises for their members.
The 24-hour strike, one of the country's largest in decades, also impacted cargo movement by train and ship as workers at the country's ports and waterways joined the strike.
Many commuters chose to travel to work, generating some traffic delays, while those who could work from home did so.
Unions are seeking a 10.5% pay increase and have rejected employer offers of approximately 5% over two years plus one-time bonuses.
According to Ulrich Silberbach of the Civil Service Federation, high inflation observed everywhere last year affected many workers hard.
"We have seen a drop in real wages, which needs to be balanced," he told reporters in Berlin, adding that some of his union's members in major cities must request public assistance to pay their rent.
Silberbach expressed hope that employers will raise their offer in the next discussions or that unions would be forced to consider an open-ended strike.
Three days of talks are scheduled between the two sides.
His EVG train union colleague Martin Burkert noted that workers' salaries are a fraction of some senior executives' salaries.
However, Deutsche Bahn dismissed the union's proposals as overblown and warned that millions of commuters would be affected.
"Thousands of companies that normally send or receive goods by rail will also suffer," said Achim Strauss, a spokesman for Deutsche Bahn. "In the end, the environment and the climate will suffer." The oil companies are today's winners."
He said that train tickets that couldn't be used because of the disruption would remain valid, and travelers should check the company's website for updates.

The strike caused inconvenience and delays Sunday.
Three days of talks are scheduled between the two sides. Interior Minister Nancy Faeser, representing the federal government in the talks, said her side would be "tough but fair and constructive" in the discussions.
Faeser expressed confidence that a satisfactory solution may be found.
Labor strikes are common in Germany, and they usually conclude with a compromise agreement reached between unions and employers.
The strike caused inconvenience and delays Sunday as travelers hurried to reach their destinations early.
SOURCE – (AP)
Minnesota Suit Against E-Cigarette Maker Juul Goes To Trial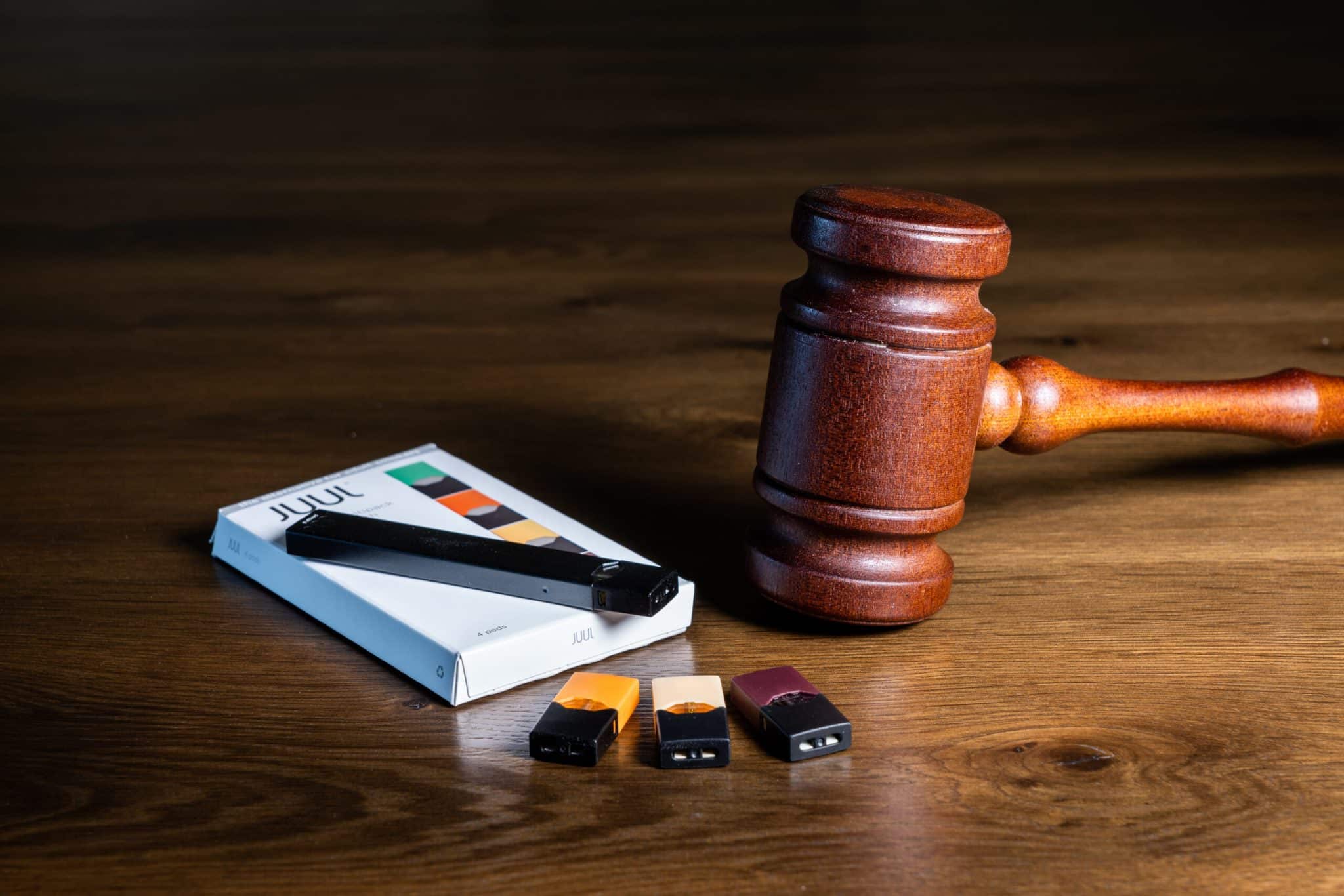 (MINNEAPOLIS) — Minnesota Attorney General Keith Ellison is set to make the opening statement in his state's lawsuit against Juul Labs on Tuesday, marking the first time any of the thousands of cases against the e-cigarette maker over its alleged marketing to minors will be heard in a courtroom.
In 2019, Minnesota filed a lawsuit against Juul, claiming the San Francisco-based firm illegally targeted young people with its products to make a new generation addicted to nicotine. Ellison has refused to specify how much money the state seeks in damages and civil penalties. However, upon announcing the action, he said it might be in the ballpark of Minnesota's historic $7.1 billion settlement with the cigarette industry in 1998.
Juul has faced thousands of lawsuits nationwide, but most have settled, including 39 with other states and U.S. territories. In 2020, Minnesota added tobacco industry behemoth Altria, which previously owned a minority stake in Juul, as a co-defendant. Altria completed its divestment earlier this month and claimed to have lost its $12.8 billion investment. Altria announced a $2.75 billion investment in rival electronic cigarette firm NJOY a few days later.
"We will demonstrate how Juul and Altria misled and hooked a generation of Minnesota youth on their products, causing both great harms to the public and great expense to the State to remedy that harm," Ellison said.
The jury trial will run three weeks before Hennepin County District Judge Laurie Miller. The landmark 1998 lawsuit by the state and Blue Cross and Blue Shield of Minnesota against the big cigarette companies took roughly four months.

Juul has faced thousands of lawsuits nationwide, but most have settled in Minnesota
This lawsuit resulted in the release of millions of pages of previously secret industry papers and a $7.1 billion settlement soon before the state's closing statements. Part of the money was used to fund anti-smoking programs, but Juul and Altria pointed out in court filings that lawmakers chose to spend most of the money on state government.
Ellison wants to deliver part of the state's opening statement personally before passing it off to attorneys from two outside law firms handling the case for Minnesota. Consumer fraud, public nuisance, unjust enrichment, and conspiracy are all alleged in the case. A brief submitted last week provides a taste of the state's claims.
"Defendant JUUL, in a conspiracy with Altria, preyed on and enticed Minnesota's children to buy a product that may sentence them to a lifetime of nicotine addiction and other destructive behaviors," state attorneys stated. "the company launched a design and marketing campaign aimed at enticing children, focusing on attracting 'cool kids,' creating a nicotine' buzz,' and utilizing social media and celebrities as 'pushers' of its addictive products." Defendants allege their actions were in the name of assisting "aging smokers" to quit smoking. That claim is false; it is a ruse."
According to Juul, Minnesota rejected settlement offers identical to those it received from other states, which gave "hundreds of millions of dollars to further combat underage use and develop cessation programs in those states."
Effective interventions to address underage use of all tobacco products in Minnesota
"Effective interventions to address underage use of all tobacco products in Minnesota, including vapor, rely on evidence-based policies, programs, and enforcement, not headline-driven trials," the statement said. "This is the approach Juul Labs supports and has helped to implement."
The creator of Marlboro cigarettes and other tobacco products, Altria Group, formerly Phillip Morris Cos., is downplaying its role. In a court filing last week, it stated that it purchased a 35% investment in Juul Labs in 2018 after its own vaping devices failed to find popularity, and only after Juul informed Altria "and announced to the world" that it had made "meaningful changes" to its marketing methods.
sAltria, based in Richmond, Virginia, said the services it offered to Juul lasted slightly over a year and ended in March 2020, including offering key counter space in retailers, mailing a Juul ad, and offering discounts to adult smokers. And it contends that its sponsorship did not materially raise sales of Juul products in Minnesota nor the use of e-cigarettes by minors in the state.
Juul, which debuted in 2015, quickly gained the market leader in the United States due to the appeal of flavors such as mango, mint, and creme brulee. Its popularity was boosted among teens, some of whom became addicted to Juul's high-nicotine pods. In response to the backlash, Juul discontinued all U.S. advertising and its flavors in 2019. Juul's appeal with teenagers has now declined, and its share of the multibillion-dollar market has decreased to around 33% from a high of 75%.
In June, the Food and Drug Administration rejected Juul's proposal to keep its products on the market as a smoking substitute for adults, though that decision is under appeal. In September, Juul agreed to pay roughly $440 million to settle a two-year probe by 33 states into its marketing of high-nicotine products.
States still suing Juul include New York, California, Massachusetts, New Mexico, Alaska, Illinois, West Virginia, and the District of Columbia.
SOURCE – (AP)