2023: Cardinal Blasts Vendettas, 'Plots Against Me' In Vatican Financial Trial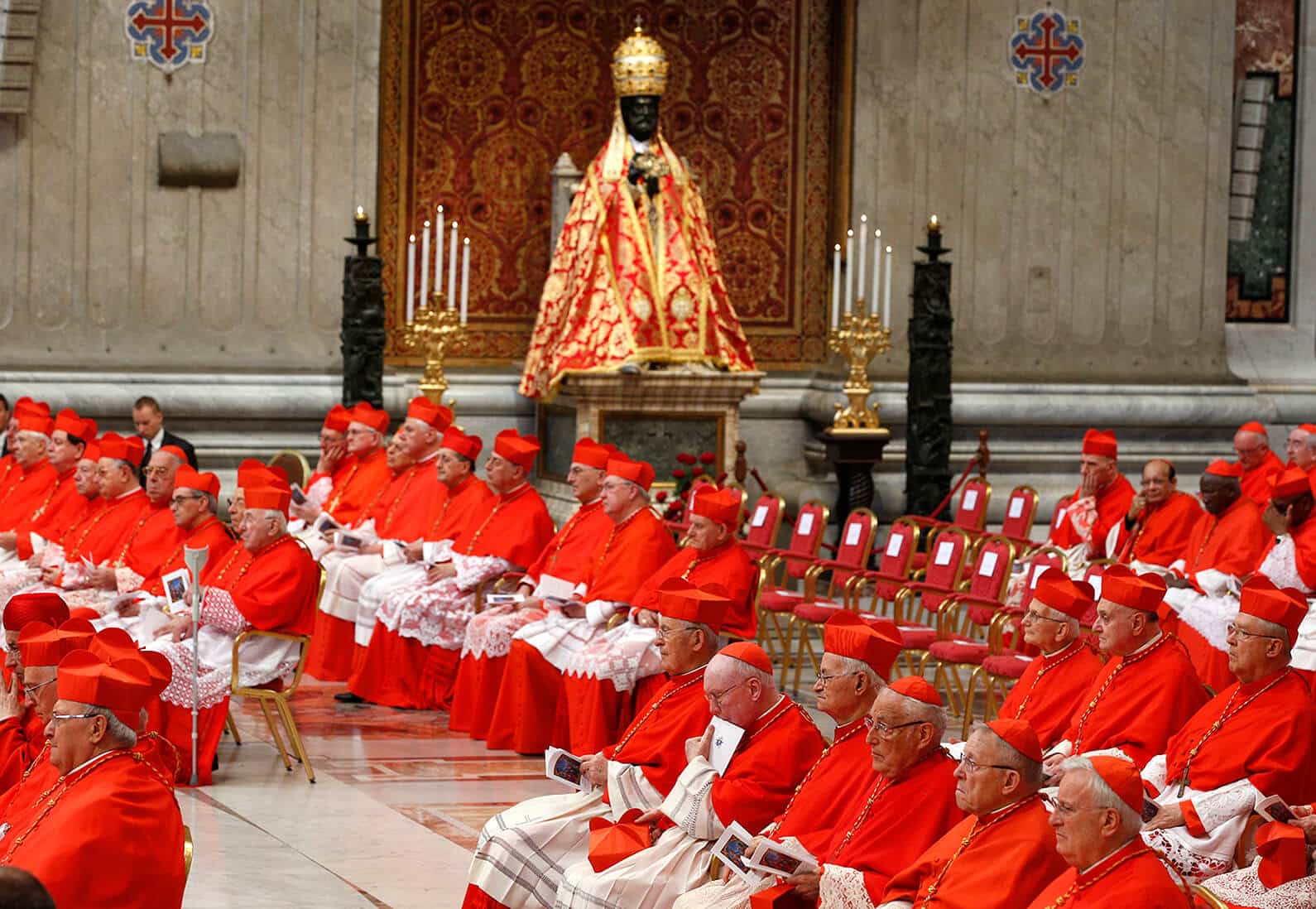 CITY OF THE VATICAN — On Friday, a cardinal on trial in the Holy See's massive financial crimes investigation said he feels helpless in the face of "the nightmare of these accusations" because prosecutors have suppressed evidence they believe will prove his innocence.
The cardinal addressed the court after Cardinal Angelo Becciu's lawyers had their last request for access to the information denied by Judge Giuseppe Pignatone. Pignatone concurred with prosecutors in a decree read aloud on Friday, agreeing that the redacted interrogation transcripts and WhatsApp discussions are now part of another investigation and must be kept secret.
Despite being "bitter" and "perplexed" by the judge's judgment, Becciu, a former one of the most important Vatican cardinals and a close assistant to Pope Francis, said he still had faith in the Vatican tribunal.
He told the judge that the defense had been "demeaned" since, without all the evidence, it couldn't properly defend itself.
Becciu is one of ten people on trial for various offenses related to the Vatican's 350 million euro investment in a London property, including embezzlement for giving Vatican funds to a charity operated by Becciu's brother. Becciu, like the other defendants, has denied any wrongdoing.
Defense attorneys have long argued that the Vatican City State's legal framework unfairly denies their clients the protections that are standard practice in the rest of the modern world. Lawyers for the accused have pointed to Pope Francis' involvement in the case as proof that their clients cannot receive a fair trial in an absolute monarchy where the pope has supreme legislative, executive, and judicial power.

Trial for various offenses related to the Vatican's 350 million euro investment in a London property
Every time they've gone before Pignatone, he's ruled against them and let the trial continue.
Prosecutors have concealed key prosecution witness Monsignor Alberto Perlasca's full interview transcript and 126 related WhatsApp exchanges. During the early stages of the investigation, Perlasca was the most prominent suspect since he was the Vatican official with the most direct involvement in the London property purchase. In August 2020, however, he altered his tale and testified against Becciu, his former boss, becoming the prosecution's star witness.
The conversations were introduced as evidence in November of last year when Perlasca testified that he began collaborating with prosecutors after receiving threats and advice from a lady, Francesca Chaouqui, known to have an axe to grind against the cardinal.
A red herring was introduced into the investigation when it was suggested that Chaouqui may have encouraged Perlasca to flip on Becciu to get even with him.
Chaouqui and a friend of the Perlasca family exchanged texts in a WhatsApp conversation. The attorneys representing Becciu wanted to see them because they might provide evidence that Perlasca was coerced into making false accusations against the cardinal.
Alessandro Diddi, the prosecutor, submitted the 126 texts into evidence but blacked out 119. As the investigation is ongoing, Pignatone agreed on Friday that they should remain redacted, citing the prosecutors' "unquestionable" right.
The fact that Perlasca, Chaouqui, and the family friend were all set free while Becciu was on trial "suffering for three years, under the nightmare of these accusations" infuriated him, and he expressed as much. He said that they had "plotted against me" and enlisted the pope's aid in getting rid of Becciu and bringing him to trial as part of their vendetta.
Becciu warned that using the Holy Father for an evil plan of retribution was not an option.
SOURCE – (AP)
Passenger Train Derails In India, Killing At Least 50, Trapping Many Others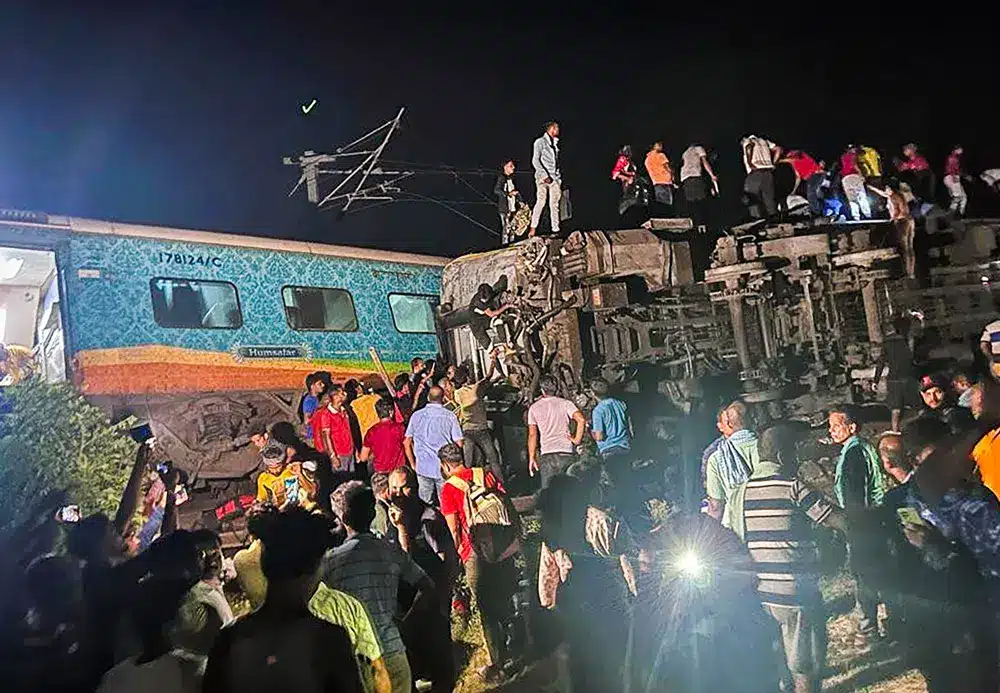 NEW DELHI — At least 50 people were killed, and hundreds more were trapped inside more than a dozen damaged rail cars when two passenger trains in India crashed on Friday, according to officials.
According to officials, the disaster occurred in eastern India, around 220 kilometers (137 miles) southwest of Kolkata, and about 400 people were sent to hospitals. The cause was being looked into.
Amitabh Sharma, a spokesman for the railway ministry, reported that ten to twelve coaches of one train derailed, and pieces of some of the damaged coaches fell onto an adjacent track.
According to Sharma, a passenger train traveling the other way struck the debris, and up to three coaches of the second train also derailed.
According to the Press Trust of India news agency, a third goods train was reportedly apparently involved, but there was no immediate confirmation from railway authorities.
Television photos from the aftermath showed rescuers scaling the rubble to pry open doors and windows and use cutting torches to free trapped survivors.

A passenger train traveling the other way struck the debris, and up to three coaches of the second train also derailed.
Vandana Kaleda, a passenger, said to the New Delhi Television news station that she "found people falling on each other" as her carriage shook erratically and deviated from the lines. She claimed that her survival was fortuitous.
Another survivor, who wished to remain anonymous, claimed that the impact woke him up while he was asleep. He claimed to have observed other people with damaged faces and shattered limbs.
At least 50 persons were reported dead, according to Balasore district's senior administrator Dattatraya Bhausaheb Shinde. At least 70 people had died, according to The Press Trust.
According to Pradeep Jena, the state's chief executive officer of Odisha, there were close to 500 police officers and rescue personnel at the scene, along with 75 ambulances and buses.

Rescuers were working to release 200 individuals who were thought to be trapped in the rubble, according to Shinde.
The Coromandel Express, which derailed, was traveling from Howrah in West Bengal state to Chennai, the state capital of southern Tamil Nadu, according to The Press Trust.
Narendra Modi, the prime minister of India, expressed sympathy for the deceased families.
Having spoken with the railway minister, Modi tweeted, "May the injured recover soon," adding that "all possible assistance" was being provided.
Several hundred incidents happen annually on India's railways, the world's largest train network with single management, despite government efforts to increase rail safety.
The deadliest train catastrophe in Indian history occurred in August 1995 when two trains crashed close to New Delhi, killing 358 people.
Human mistakes or out-of-date signaling equipment are the main causes of trains accidents.
Every day, 14,000 trains carrying more than 12 million passengers traverse India's 64,000 kilometers (40,000 miles) of railway.
SOURCE – (AP)
Toyota Debuts Hydrogen-Fueled Corolla Race Car As Auto Racing Begins Shift Away From Gas In 2023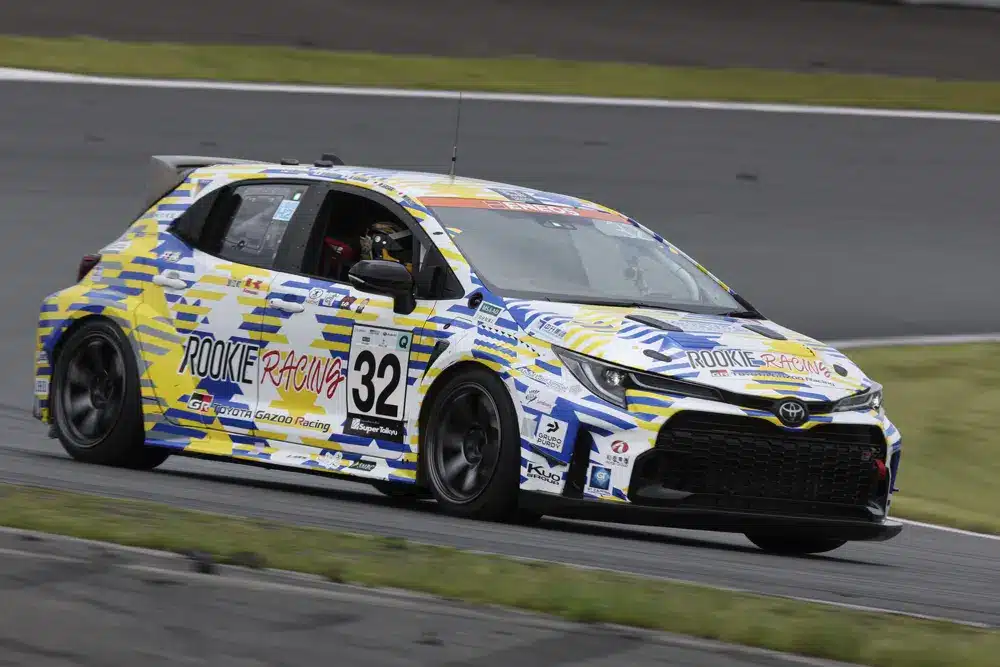 Japan's Oyama — A little Corolla powered by liquid hydrogen debuted in a vast circuit close to Mount Fuji as part of an initiative to introduce cutting-edge technology into the racing scene and showed Toyota's commitment to creating eco-friendly cars.
Akio Toyoda, chairman of Toyota, was beaming as he prepared to drive the hydrogen-fueled Corolla around the track while clad in a fire-resistant racing costume.
"Racing using a liquid hydrogen automobile is a first for the world. In the effort to combat global warming, we hope it will present an additional choice. I want to run one lap, even one second further, to make everyone happy, declared Toyoda, a former Toyota CEO, the company's founder's grandson, and a licensed racer himself.
It will be soon that the hydrogen-powered Corolla race vehicle appears at your dealer. According to Toyota representatives, the Super Taikyu 24-hour race at Fuji Speedway was only a test for the technology.
Unlike electric vehicles, it has a combustion engine, but it burns liquid hydrogen rather than petrol.
Toyota Motor Corp., a Japanese carmaker that sells roughly 10 million vehicles annually, has lagged in the global transition to battery-powered electric vehicles (EVs), but it has long viewed hydrogen as a potentially carbon-neutral alternative.
Experts claim that hydrogen has enormous potential. However, most hydrogen produced to date has been used using fossil fuels like natural gas, including the hydrogen used to power the Corolla racing vehicle.
The need for alternative energy sources has become more urgent due to rising fuel prices and worries about global warming, particularly in Japan, where nearly all of its oil is imported.
Auto racing has been eschewing its gas-guzzling, snarling machines. Honda Motor Co., a rival of Toyota, has said it would resume competing in Formula One, citing the opportunity presented by the new regulations for developing new technology. General Motors Co. and other automakers have made comparable commitments.

Akio Toyoda, chairman of Toyota, was beaming as he prepared to drive the hydrogen-fueled Corolla around the track while clad in a fire-resistant racing costume.
The 24 Hours of Le Mans, the most prestigious endurance race in the world, will be available to hydrogen-powered vehicles utilizing both fuel cells and combustion engines beginning in 2026, according to an announcement made last week by Pierre Fillon, president of the Automobile Club de l'Ouest, the organization that puts on Le Mans.
For me, hydrogen is a very intriguing future solution, Fillon told reporters. "To achieve zero emissions, we must move. This is crucial for the environment and our future generations.
Toyota CEO Koji Sato stated that he planned to announce Toyota's involvement in Le Mans soon.
John Heywood, an MIT professor emeritus and authority on automobile engines, noted that the conversation about green energy solutions has barely begun and that EVs also have disadvantages, such as the requirement for crucial minerals that are sometimes obtained in unethical or environmentally harmful ways.
There is nothing 'ungreen' about internal combustion engines. The fuel it utilizes is what counts, according to Heywood.
The hydrogen for Toyota's race car is produced at an Australian coal gasification facility and distributed by the Japanese energy business Iwatani Corp. as part of a project supported by the Japanese government to encourage the use of hydrogen for various sectors, including those using fossil fuels.
Green hydrogen is produced when water is electrolyzed to separate its hydrogen and oxygen molecules. This happens when renewable energy sources drive an electrical current through water. The technique does not result in greenhouse gas carbon dioxide. However, the IEA estimates that fewer than 0.1% of the hydrogen produced globally is now produced this way.
According to critics, it could be preferable to use that renewable energy instead of converting it to hydrogen. However, proponents of hydrogen claim that when carbon emissions are captured and stored underground, even those created from natural gas can be environmentally good.
Sato recognized the difficulty.
"First, we must establish a setting conducive to employing hydrogen. "It's important that the cycle of that system is working in all steps, including transporting it and making it, for hydrogen use to become widely used, and that environment must be stable," he told reporters on the sidelines of the race.

In addition to the credentials of hydrogen's greenness, there are other problems.
On the Formula One Grand Prix and other events test run at the Suzuka circuit in March, a Toyota vehicle powered by liquid hydrogen caught fire.
A leak sensor that was correctly functioning stopped the hydrogen leak in less than a tenth of a second from a pipe that had become loose due to the vehicle's vibrations. According to Toyota, nobody was harmed, the cabin was secured, and the fire was put out.
Toyota's No. 32 Corolla, one of the dozens of vehicles competing in the 24-hour race at Fuji Speedway, was doomed to fall short. Refueling and pit checks—important to racing—took several minutes in a race where competitors are battling for seconds.
However, according to Tomoya Takahashi, president of Toyota's Gazoo Racing Co., introducing liquid hydrogen into racing may be a modest step in the right direction.
"We're constructing for the future in this. He argued that the internal combustion engine has potential and is not the only solution.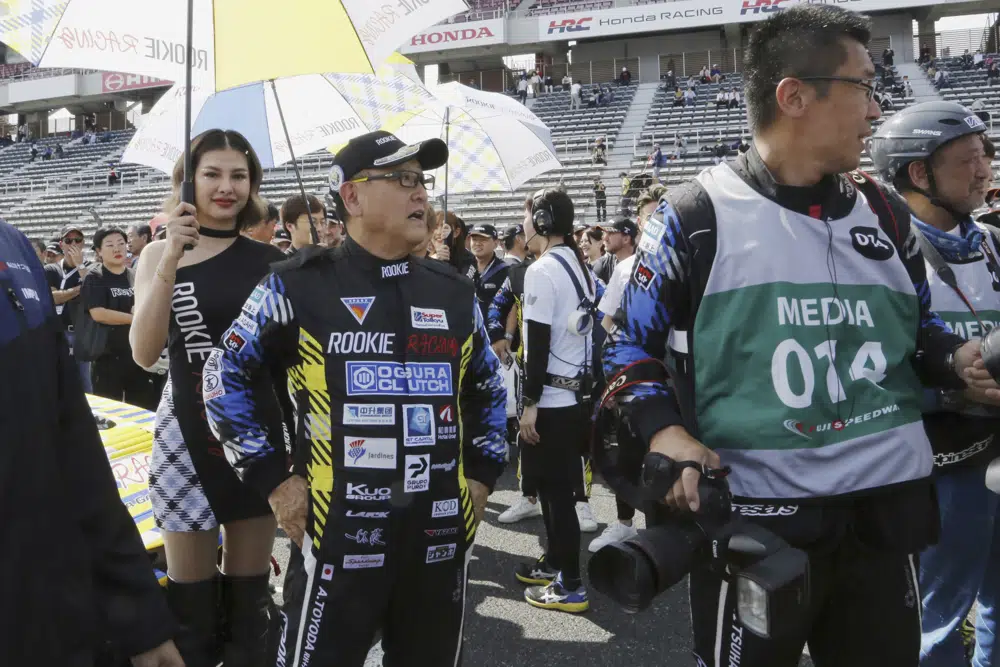 SOURCE – (AP)
2023: Decorated Australian War Veteran Unlawfully Killed Prisoners In Afghanistan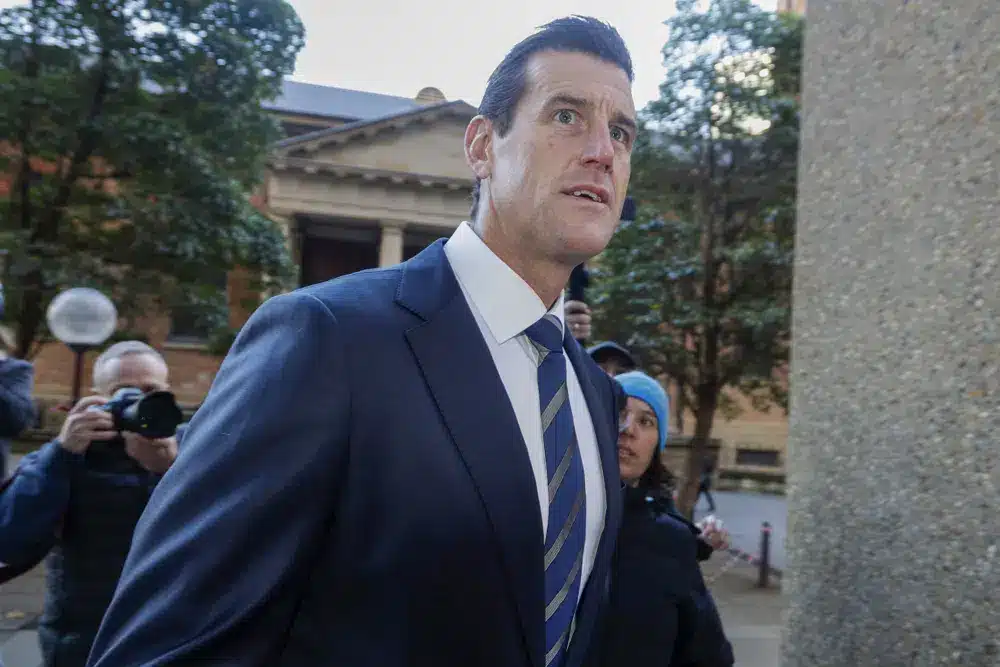 Melbourne — Australian Ben Roberts-Smith, the recipient of the Victoria Cross, claimed that the media falsely accused him, but a judge concluded on Thursday that he unlawfully killed captives and committed other war crimes in Afghanistan.
Roberts-Smith, a former Special Air Service Regiment corporal who is currently a media firm executive, is accused of committing a series of war crimes, according to publications published in 2018. Federal Court Justice Anthony Besanko determined that these articles were essentially factual.
Besanko concluded that Roberts-Smith, who received the Medal of Gallantry for his contributions during the Afghanistan War, had "broken the moral and legal rules of military engagement" and had dishonored Australia with his actions.
The decision, which came after a contentious trial that lasted 110 court hearing days and is estimated to have cost more than 25 million Australian dollars ($16 million) in legal bills, is viewed as a landmark victory for press freedom against Australia's draconian defamation rules.
A machine gun was allegedly used by Roberts-Smith, a judge's son, to shoot a detainee wearing a prosthetic leg in the rear in 2009 in a Taliban base in the province of Uruzgan known as Whisky 108. He retained the man's prosthetic to use as a fun beer mug.
The man was one of two unarmed Afghans taken from a tunnel by Roberts-Smith's patrol. To "blood the rookie," Roberts-Smith forced a "newly deployed and inexperienced" soldier to murder the second, more seasoned warrior.

The decision came after a contentious trial that lasted 110 court hearing days and is estimated to have cost more than 25 million Australian dollars ($16 million) in legal bills.
In addition, it was established that in the Afghan hamlet of Darwan in 2012, Roberts-Smith kicked an unarmed, handcuffed farmer named Ali Jan off a cliff and into a riverbed before killing him. Then Roberts-Smith ordered one of his soldiers to shoot Jan to death.
Allegations that Roberts-Smith, who is 2.02 meters (6 feet, 7 inches) tall, intimidated soldiers and abused Afghan villagers were also proven genuine.
The judge determined that two of the six unlawful killings Roberts-Smith was alleged to have participated in were not proven by the civil court standard of the balance of probabilities.
Additionally, it was determined that the allegations of domestic violence against Roberts-Smith were false and defamatory. The judge concluded that the unfounded charges would not further harm the veteran's reputation.
Such claims of war crimes would have required proof beyond a reasonable doubt if they had been made in a criminal court.
The 44-year-old Roberts-Smith has denied any misconduct. His attorneys attributed his termination to "corrosive jealousy" on the part of "bitter people" within the SAS who had waged a "poisonous campaign against him."
Because of their stories, the Sydney Morning Herald, The Age, and The Canberra Times were accused of defaming each other in the civil lawsuit.
One of the journalists, Nick McKenzie, who wrote the divisive articles, commended the SAS veterans who had testified against the national hero.
The day of justice is today. It's a day of justice for those courageous SAS members who came out and exposed Ben Roberts-Smith for the war criminal, bully, and liar that he is, McKenzie told reporters outside court.

The Australian Federal Police is investigating Roberts-Smith and other Australian military members for possible war crimes in Afghanistan.
"Those SAS members are a proud representation of Australia. The bulk of the SAS stood up for what was right, and their actions were rewarded, said McKenzie.
Arthur Moses, the attorney for Roberts-Smith, requested an additional 42 days to contemplate filing an appeal with the Federal Court's Full Bench.
Billionaire Kerry Stokes, executive chair of Seven West Media, where Roberts-Smith works, has agreed to pay the case's legal expenses.
Stokes's statement in support of Roberts-Smith was, "The judgment does not accord with the man I know."
Ben has always maintained his innocence, so I know this will be difficult for him, Stokes said.
Roberts-Smith had been there each day of his trial but did not show up in Sydney for the verdict. On Wednesday, media outlets published a picture of him relaxing by a pool in Bali, an Indonesian tourist destination.
The Australian Federal Police is investigating Roberts-Smith and other Australian military members for possible war crimes in Afghanistan.
The first criminal accusation about an alleged illegal killing in Afghanistan was brought in March. Oliver Schulz, a former SAS trooper, was accused of committing a war crime by killing an Afghan in a wheat field in Uruzgan province in 2012.

The Australian Federal Police is investigating Roberts-Smith and other Australian military members for possible war crimes in Afghanistan.
The decision was a "very disappointing day" for the elite unit, according to Martin Hamilton-Smith, chair of the Australian Special Air Service Association. He said that charges against more veterans should be brought immediately if they were tried for war crimes.
According to Hamilton-Smith, the only way to learn the real truth about this is to bring it before a criminal court, where both sides of the story may be presented, and the facts can be proven beyond a reasonable doubt.
When Roberts-Smith received the Victoria Cross in 2011, Australia's highest honor for valor in the face of an enemy, he was elevated to a national hero. As a famous Australian, he had multiple meetings with Queen Elizabeth II.
He received the medal 2010 for taking out a machine gun nest at Tizak, Kandahar, during combat. Two machine gunners and an enemy preparing to throw a rocket grenade were killed thanks to Roberts-Smith. No allegations of war crimes related to that conflict.
SOURCE – (AP)