Military Blogger Killed In Russian Cafe Explosion
On Sunday, an explosion ripped through a cafe in Russia's second-largest city, killing a well-known military blogger and outspoken supporter of the Ukrainian conflict. According to some accounts, a bomb was planted in a bust of the blogger that was presented to him as a gift.
According to Russian authorities, Vladlen Tatarsky was killed while leading a debate at a cafe on the Neva River's bank in the historic heart of St. Petersburg. The blast injured 30 individuals, according to Russia's Health Ministry.
According to Russian media and military bloggers, Tatarsky was meeting with members of the public when a lady presented him with a box containing a blown-up bust of him. A patriotic Russian group that organized the event claimed to have taken security measures but acknowledged that they were "insufficient."
A witness said on video that a woman named Nastya asked Tatarsky questions and commented back and forth during the discussion.
Alisa Smotrova, a witness, cited Nastya as saying she had made a bust of the blogger, but that guard asked her to leave it at the door because they suspected it was a bomb. Nastya and Tatarsky chuckled and joked. She then went to the entrance, took the bust, and gave it to Tatarsky.
He allegedly placed the bust on a neighboring table, prompting the explosion. Smotrova reported people fleeing in terror, some injured by shattered glass and covered in blood.
Russia's Interfax news agency says that a woman from St. Petersburg named Darya Tryopova was taken into custody on suspicion of being involved in the bombing. It stated that she had previously been detained for participating in anti-war protests.

After the explosion, the cafe was shown in a video shared on Russian messaging app channels.
After the explosion, the cafe was shown in a video shared on Russian messaging app channels. Blood stained the tables and chairs, and pieces of glass littered the floor.
According to Russian media, detectives are looking into the bust as a potential explosion source, but they have not ruled out the possibility that an explosive device was placed in the cafe before the event.
The Investigative Committee of Russia, the country's top criminal investigation body, has launched an investigation into murder charges.
Although no one officially claimed responsibility, military bloggers and patriotic commentators instantly blamed Ukraine and compared the bombing to the killing of Darya Dugina, a nationalist TV commentator, last August. She was killed when a remotely controlled explosive device in her SUV exploded while traveling on Moscow's outskirts.
Russia's military intelligence was blamed for Dugina's death, but Ukraine denied participation.
In response to the latest incident, Russian Foreign Ministry spokeswoman Maria Zakharova said Tatarsky's activities "have earned him the hatred of the Kyiv regime," adding that he and other Russian military bloggers have long faced threats from Ukraine.
Tatarsky was hailed as an "immortal" hero who died to save the Russian people by Dugina's father, Alexander Dugin, a nationalist philosopher and political theorist who firmly supported the invasion of Ukraine.
"There must be no other discussions with the terrorists than about their unconditional surrender," Dugin said. "A victory parade in Kyiv is required."
Ukrainian authorities have refrained from claiming responsibility for different fires, explosions, and apparent assassinations in Russia since the fighting started on February 24, 2022. Simultaneously, officials in Kyiv have greeted such events with joy, insisting on Ukraine's right to initiate attacks on Russia.

A senior Ukrainian government official blamed the explosion that murdered blogger Tatarsky on internal strife.
"In a jar, spiders are eating each other," Ukrainian presidential advisor Mykhailo Podolyak tweeted in English. "It was only a matter of time before domestic terrorism became an instrument of internal political struggle."
Tatarsky, who regularly reported from Ukraine, was the pen name of Maxim Fomin, who had over 560,000 subscribers on his Telegram messaging app channel.
Tatarsky, born in the Donbas, Ukraine's industrial heartland, worked as a coal miner before starting a furniture company. When he fell into financial difficulties, he robbed a bank and received a prison sentence. He escaped from custody after a separatist uprising backed by Russia engulfed the Donbas in 2014, just weeks after Moscow annexed Ukraine's Crimean Peninsula. He then joined separatist rebels and battled on the front lines before transitioning to blogging.
Tatarsky was well-known for his bold statements and zealous pro-war rhetoric.
Following the Kremlin's illegal annexation of four Ukrainian regions last year, blogger Tatarsky uploaded a video where he vowed: "That's it. We'll defeat everyone, murder everyone, and rob everyone we can. Everything will be just the way we want it. God bless you."
Military bloggers have become more well-known and powerful when spreading news about Russia's invasion of Ukraine. They have almost always agreed with the campaign's goals but sometimes criticized Russian military strategy and tactics.
Simultaneously, the Kremlin has muzzled alternative voices opposing the conflict by shutting down news outlets, restricting public access to information, and imprisoning critics.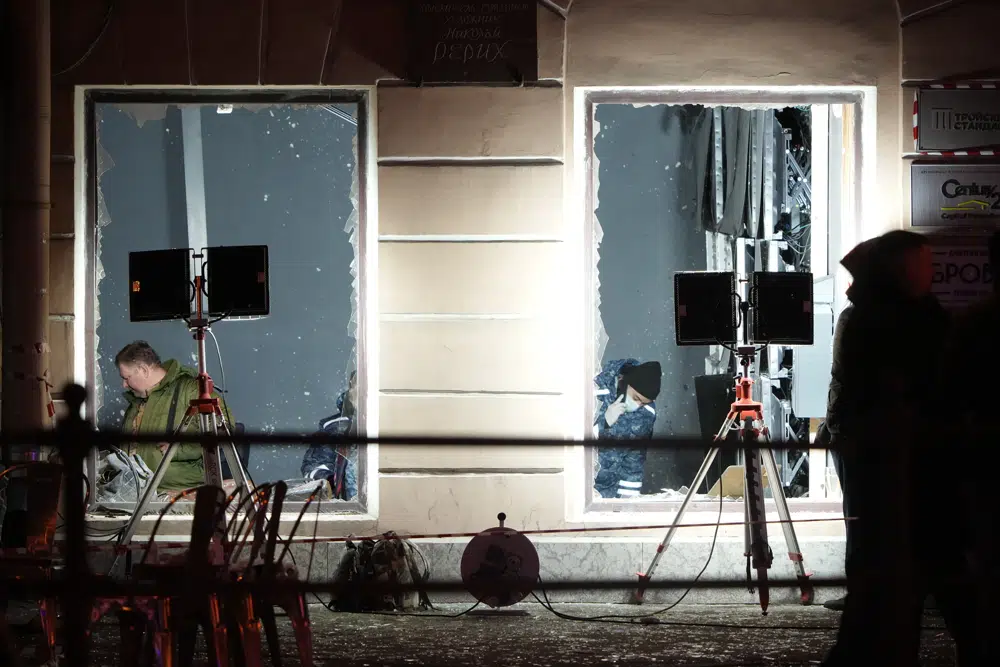 SOURCE – (AP)
Family Of Marine Killed In Afghanistan Fails To Win Lawsuit Against Alec Baldwin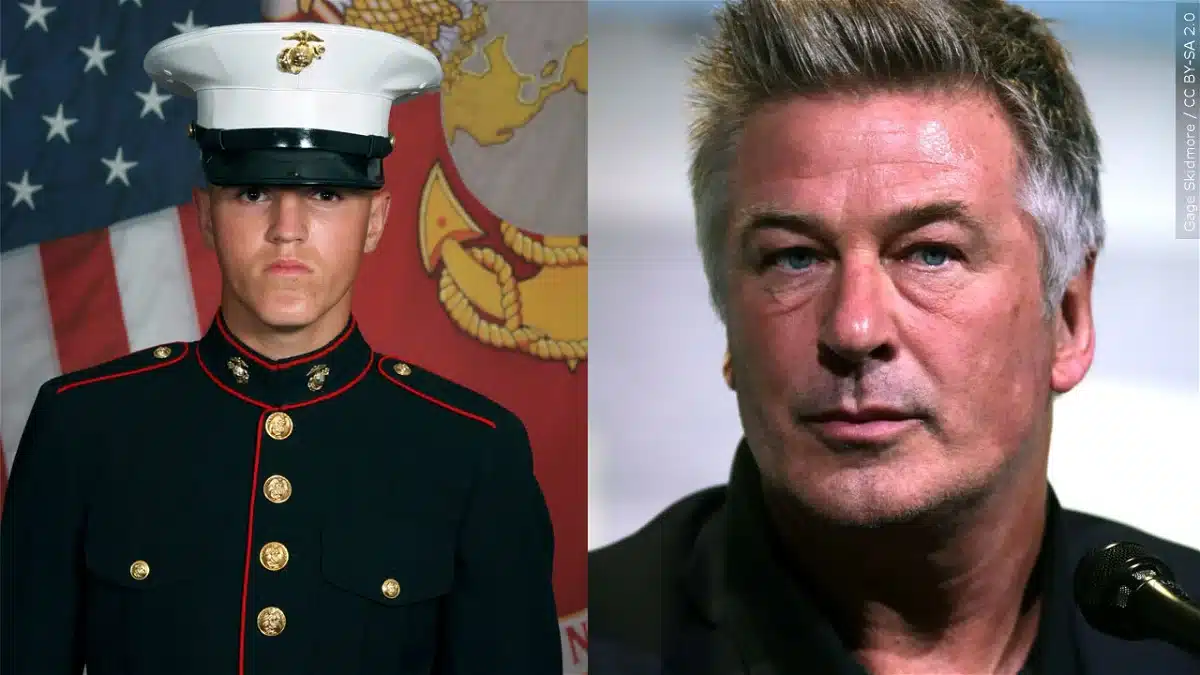 CHEYENNE, Wyo. — According to Baldwin 's counsel, the actor did not have to pay anything to settle a $25 million lawsuit filed by family relatives of a Marine slain in Afghanistan after the actor reprimanded them on social media about the Jan. 6, 2021, insurgency at the United States Capitol.
The wife and sisters of Lance Cpl. Rylee McCollum of Jackson, Wyoming, filed a case with Judge Edgardo Ramos of the United States District Court for the Southern District of New York in August. When the McCollum family did not file an amended lawsuit by the September deadline, as Ramos requested, the case was closed in October.
Alec paid nothing to settle the dispute, his attorney Luke Nikas said in an email to The Associated Press on Wednesday.
According to court filings, there has been no activity in the matter since. When contacted via email Thursday, lawyers for both parties, including McCollum family attorney Dennis Postiglione, declined to comment further on the issue. Postiglione, reached by email Wednesday, declined to speak and claimed the McCollum family would not comment.

Family Of Marine Killed In Afghanistan Fails To Win Lawsuit Against Alec Baldwin
Rylee McCollum and 12 other Marines were killed in a suicide attack at Kabul International Airport during the final days of the United States' war in Afghanistan in 2021. Baldwin sent the family a $5,000 check to assist them.
The lawsuit, filed in Wyoming and then New York, claimed Baldwin exposed the family to a flood of social media hatred in 2022 when she claimed on Instagram that Roice McCollum was an "insurrectionist" for attending former President Donald Trump's Jan. 6, 2021, rally in Washington, D.C., which preceded the insurgency that day.
According to the lawsuit, Roice McCollum protested peacefully and legally, was not among those who stormed the U.S. Capitol and was never arrested or charged after being examined by the FBI.
Nonetheless, Ramos decided to reject the claim that she was a "limited public figure" under the law since she spoke about her brother's death in the news and spoke with Baldwin, a well-known celebrity, on social media.

Family Of Marine Killed In Afghanistan Fails To Win Lawsuit Against Alec Baldwin
McCollum needed to show that Baldwin acted maliciously toward her to make her case as a limited public figure. Ramos decided that Baldwin's statements were protected by his free speech rights because she did not.
Baldwin filed the complaint as he faced legal ramifications for the murder of a cinematographer on a New Mexico film set in 2021. Baldwin was pointing a gun at Halyna Hutchins when it went off, killing her and injuring director Joel Souza.
Special prosecutors first dropped an involuntary manslaughter allegation against Baldwin, but after presenting fresh evidence to a grand jury, they are seeking to recharge him.
SOURCE – (AP)
Former US Secretary Of State Henry Kissinger Dies Aged 100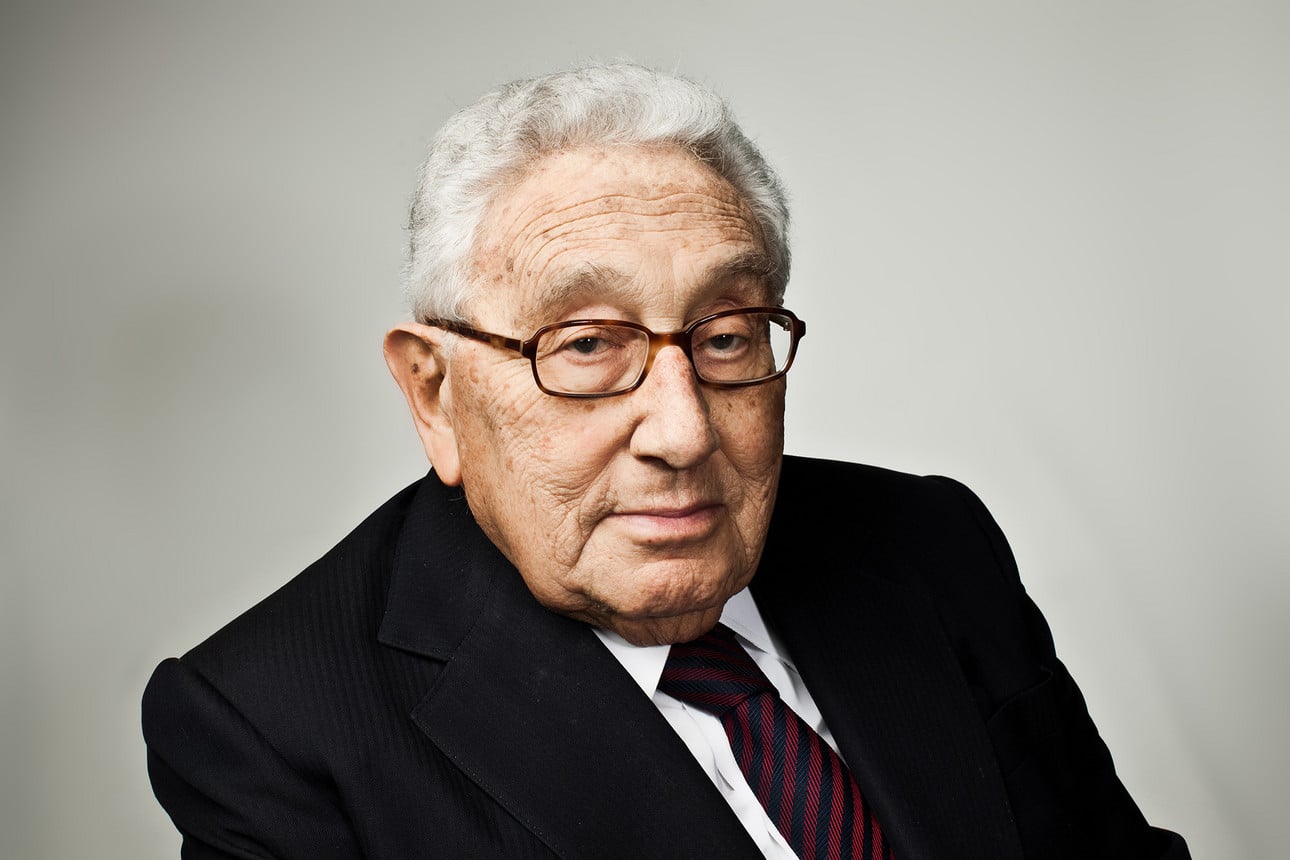 Former US Secretary of State Henry Kissinger, who played a pivotal and polarising role in US foreign policy during the Cold War, has died at the age of 100.
He served as America's top diplomat and national security adviser during the Nixon and Ford administrations.
Despite leaving office in the mid-1970s, he continued to be consulted by generations of leaders for decades.
The German-born former diplomat died at his home in Connecticut.
Kissinger's Realpolitik style made him a controversial figure, with critics accusing him of war crimes when he and President Richard Nixon conducted a bombing campaign against Vietnamese communists in Cambodia.
And over the years, he was subject to scathing criticism from those who accused him of prioritising rivalry with the Soviet Union over human rights and supporting repressive regimes across the world, including that of Augusto Pinochet in Chile.
Former US President George W Bush led tributes, saying the US had "lost one of the most dependable and distinctive voices on foreign affairs."

Former US Secretary Of State Henry Kissinger Dies Aged 100
Meanwhile, former UK Prime Minister Tony Blair described him as an artist of diplomacy, saying Kissinger was motivated by "a genuine love of the free world and the need to protect it".
President Richard Nixon's daughters, Tricia Nixon Cox and Julie Nixon Eisenhower, said that Kissinger's life story was "so unique and so thoroughly American."
"Henry Kissinger will long be remembered for his many achievements in advancing the cause of peace," the statement said. "But it was his character that we will never forget."
Born in Germany in 1923, the school teacher's son first came to the US in 1938 when his family fled the Nazis. He never quite lost his native Bavarian accent.
He became a US citizen in 1943 and went on to serve three years in the US Army and later in the Counter Intelligence Corps.
After earning bachelor's and master's degrees and a PhD, he taught international relations at Harvard.
In 1969, then-President Nixon appointed him national security adviser, a position that gave him enormous sway over US foreign policy.

Former US Secretary Of State Henry Kissinger Dies Aged 100
His eight years as both national security adviser and secretary of state between 1969-77 saw the US finally end its involvement in the Vietnam War. It also opened up relations with China and brought about a cessation of hostilities in the 1973 Yom Kippur War in the Middle East between Egypt and Syria on the one hand, and Israel on the other.
It was an effort that created the whole idea of shuttle diplomacy – when a mediator travels between disputing parties, to help them reach an agreement.
Isaac Herzog, the president of Israel, which is currently at war with Hamas, paid tribute to Kissinger's work on the peace agreement with Egypt, posting on social media that "the entire family of nations is blessed to this day by the fruits of the historic processes he led".
In China – where Kissinger enjoyed enduring popularity – news of his death was soon trending on Weibo, a social media platform.
China News' obituary referred to him as "an old friend of the Chinese people" and China Central Television called him "a legendary diplomat" who had played an important role in US-China relations.
Kissinger left government service in 1977, but he continued to be a prolific commentator on public affairs. His counsel was sought by a dozen US presidents – from John F Kennedy to Joe Biden – as well as by lawmakers.

Former US Secretary Of State Henry Kissinger Dies Aged 100
Notably, Kissinger is also the only American to have dealt directly with every Chinese leader from Mao Zedong to Xi Jinping.
He also served on the boards of various companies and was a fixture of foreign policy and security forums, as well as penning 21 books.
Even after turning 100, Kissinger kept up an active life, including a surprise visit this July to Beijing to meet Chinese President Xi Jinping, where the aged statesman was feted despite a chill in relations between China and the US.
The visit irked the White House and prompted National Security Council spokesman John Kirby to lament that "it's unfortunate that a private citizen" had access to Chinese leaders while the US government did not.
During an interview with ABC on a book tour in July 2022 – when he was 99 – Kissinger was asked whether he would take back any of his decisions.
"I've been thinking about these problems all my life. It's my hobby as well as my occupation," he said. "And so the recommendations I made were the best of which I was then capable."
Nancy Maginnes Kissinger, his wife of almost 50 years, as well as their two children from a previous marriage, Elizabeth and David, and five grandchildren all survive him.
SOURCE – (BBC)
US Air Force Osprey Crashes Off Japan During Training, Killing At Least 1 Of The Eight On Board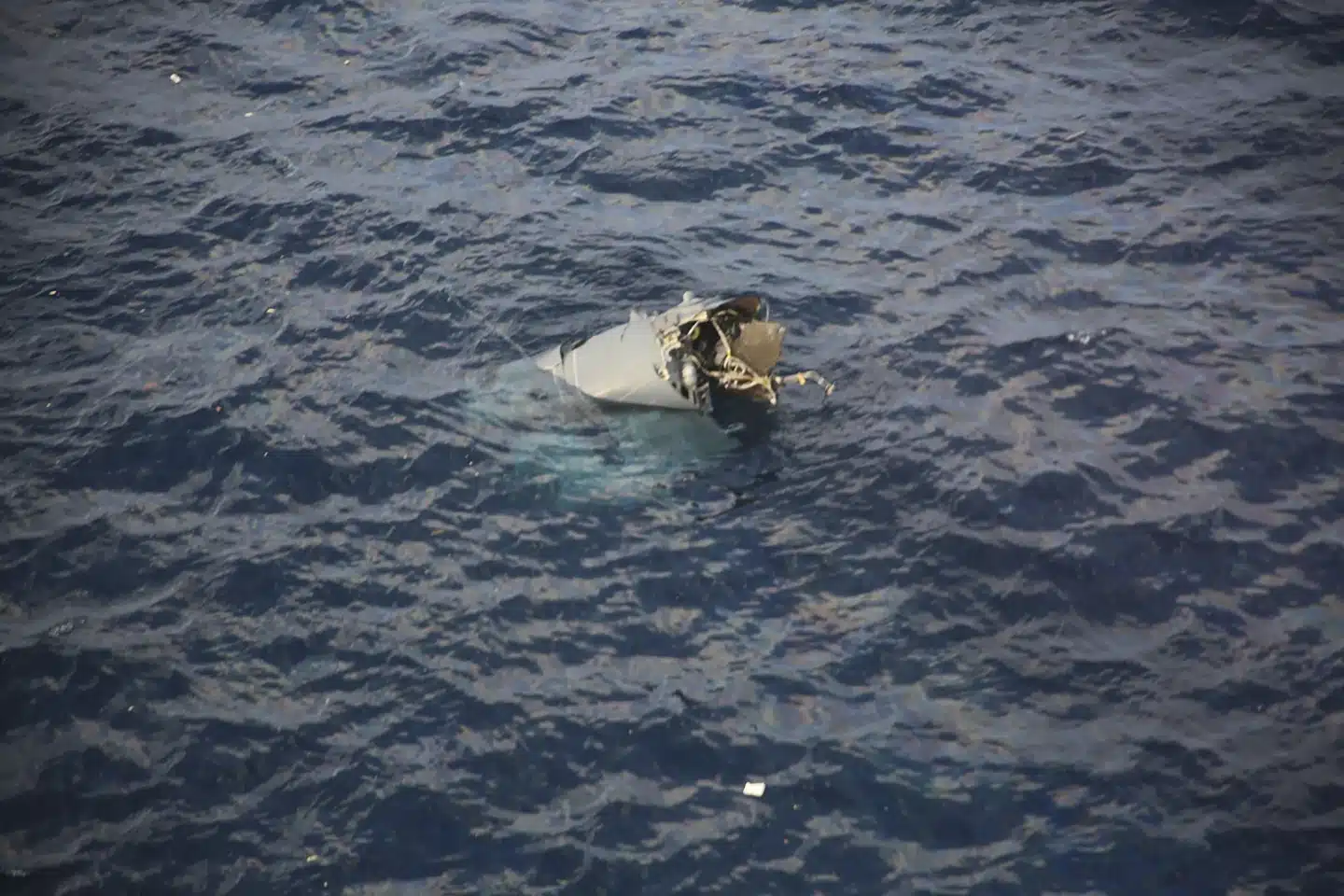 TOKYO, Japan – A U.S. Air Force Osprey based in Japan crashed during a training flight off the country's southern coast on Wednesday, killing at least one of the eight crew members, according to the Japanese coast guard.
According to Japanese coast guard spokes Kazuo Ogawa, the cause of the disaster and the condition of the seven other people on board were not immediately known.
The Osprey is a hybrid aircraft that can take off and land like a helicopter but can rotate its propellers forward and travel much faster, like an airplane, during flight.
Ospreys have been involved in several mishaps, especially in Japan, where they are stationed at U.S. and Japanese military sites. Gov. Denny Tamaki of Okinawa, where almost half of the 50,000 American troops are stationed, told reporters Wednesday that he will ask the U.S. military to cease all Osprey flights in Japan.
Ogawa stated that the coast guard received an emergency contact from a fishing boat near the disaster scene off Yakushima, an island south of Kagoshima on Kyushu's southern main island.

US Air Force Osprey Crashes Off Japan During Training, Killing At Least One Of The Eight On Board
Ogawa said Coast Guard aircraft and patrol boats discovered one male crew member, who was later confirmed dead by a doctor at a neighboring port. He said that they discovered gray debris thought to be from the aircraft as well as an empty inflatable life raft in a region around 1 kilometer (0.6 miles) off the eastern shore of Yakushima.
The Coast Guard said it expected to search throughout the night.
According to Japanese Chief Cabinet Secretary Hirokazu Matsuno, the Osprey vanished from radar moments before the Coast Guard received the emergency call. The plane sought an emergency landing at Yakushima airport about five minutes before it vanished from radar, according to NHK public television and other news sites.
According to NHK, a Yakushima resident observed the plane turning upside down, with fire emerging from its engines and an explosion before it crashed into the sea.
Prime Minister Fumio Kishida said he would seek more information from the U.S. military, but he did not specify whether he would seek a temporary halt to Osprey operations in Japan.
According to the U.S. Air Force Special Operations Command, the CV-22B Osprey was assigned to the 353rd Special Operations Wing at Yokota Air Base.

US Air Force Osprey Crashes Off Japan During Training, Killing At Least One Of The Eight On Board
According to Ogawa, the plane took off from the US Marine Corps Air Station Iwakuni in Yamaguchi prefecture and crashed on its route to Okinawa's Kadena Air Base.
Hiroyuki Miyazawa, Japan's Vice Defense Minister, said it tried an emergency sea landing and quoted the U.S. military as saying its pilot "did everything possible until the last minute."
U.S. Forces Japan and the Fifth Air Force are based at Yokota Air Base. Six CV-22 Ospreys, including the one that crashed, were stationed at Yokota.
While the US Marine Corps flies most of the Ospreys stationed in Japan, the Air Force also has some.
Following back-to-back safety incidents where the Osprey clutch slid, creating an unequal power distribution to the rotors, the Air Force Special Operations Command ordered a temporary standdown of its Osprey fleet last year.

US Air Force Osprey Crashes Off Japan During Training, Killing At Least One Of The Eight On Board
Although the Marine Corps and Navy have reported similar clutch slips, and each service has sought to remedy the issue in their aircraft, clutch failure was also blamed in a deadly U.S. Marine Corps Osprey crash in 2022 that killed five people.
According to the collision investigation, "dual hard clutch engagement" caused engine failure.
Separately, in August, a US Marine Corps Osprey carrying 23 Marines crashed on a northern Australian island, killing three and badly injuring at least five others aboard during a multinational training exercise.
SOURCE – (AP)