Ford To Build $3.5B Electric Vehicle Battery Plant In Michigan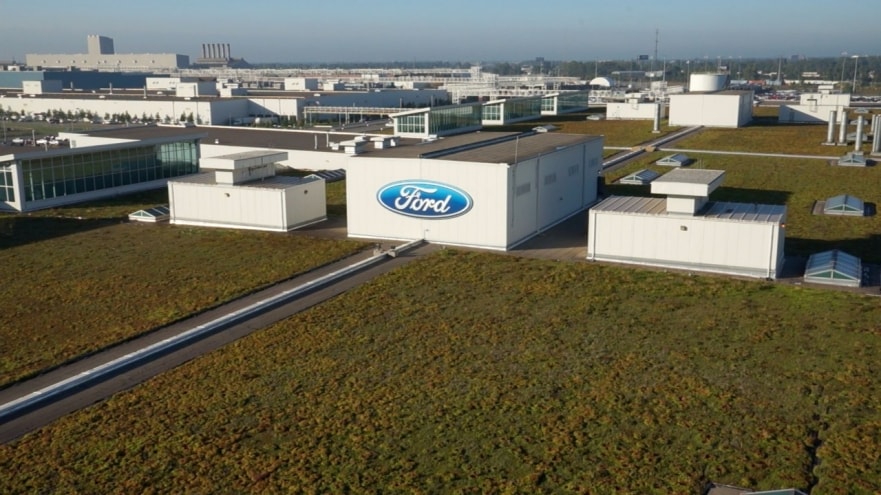 DETROIT, MI — Ford Motor Company wants to build a factory in Michigan that will cost $3.5 billion and employ at least 2,500 people. This factory will make cheaper batteries for electric cars, both new and old.
The plant, which would be built on industrial development land about 100 miles (160 kilometers) west of Detroit, would begin producing batteries in 2026. According to Ford, it would produce 35 gigatonnes of batteries per year, enough to power 400,000 vehicles.
The factory near Marshall would produce lithium-iron-phosphate batteries, which are less expensive than the current nickel-cobalt-manganese chemistry used in many EV batteries.
Customers could then choose between a battery with a lower range and a lower cost and a battery with a higher range and power. Prices have yet to be determined by the company.
"The goal here is to make EVs more affordable and accessible to customers," said Marin Gjaja, Ford's electric vehicle chief marketing officer.

Ford Will Contact Out Some Of The Work And Machinery To Chinese companies.
According to Ford, the factory would be owned and operated by a wholly owned subsidiary. However, Contemporary Amperex Technology Co. Limited, or CATL, a Chinese company known for its lithium-iron-phosphate expertise, would provide technology, some equipment, and workers.
The announcement comes at a time when relations between the United States and China are strained, and the Biden administration is offering tax breaks to businesses that establish a U.S. supply chain for electric vehicle batteries. To qualify for the full $7,500 per vehicle tax credit, EV batteries cannot contain metals or components from China.
Ford hopes that the structure of the plant will keep people from saying bad things about spending state tax incentives on a joint-venture factory that a Chinese company will partly own. Virginia dropped out of the race for the same Ford plant last month after Gov. Glenn Youngkin described it as a "front" for the Chinese Communist Party that would raise national security concerns. At the time, Virginia had not offered Ford any incentives.
Because the vehicles are manufactured in North America, the company expects to take advantage of U.S. factory tax credits, with buyers initially receiving at least $3,750 in tax credits. Gjaja stated that depending on the source of battery minerals, they could receive the full $7,500 credit over time.
Lithium-iron-phosphate batteries would be used in standard-range Ford EVs. For example, the cheapest Mustang Mach-E electric SUV would have an LFP battery and be able to travel 247 miles per charge. The long-range Mach-E will have a nickel-cobalt-manganese chemistry that will allow it to travel 310 miles per charge.

The New Plant Was Unveiled At A Fund Meeting
The plant was unveiled Monday at a Michigan Strategic Fund meeting, which approved a large tax incentive package for the project near Interstates 94 and 69.
Ford's director of economic development, Gabby Bruno, stated that "there is no lack of competition for this project." She said that Michigan "competed against numerous states and countries" to secure the investment.
The Ford plant received approximately $210 million from Michigan's Strategic Outreach and Attraction Reserve Fund, or SOAR, which was established to attract industry and jobs to the state. However, the total value of the incentive package was not disclosed.
Since its inception in December 2021, the SOAR Fund has received nearly $1.8 billion from the state's general fund.
A tax-relief bill passed by the Michigan House last week could send up to $1.5 billion to the SOAR Fund over three fiscal years, in addition to the $800 million one-time deposit outlined by Gov. Gretchen Whitmer in her budget proposal last week.
Republicans have heavily criticized the tax-relief bill, which still needs to be approved by the state Senate, where Democrats hold a two-seat majority, for giving too little to taxpayers and too much to large corporations.
SOURCE – (AP)
Thousands Of People Are Waiting To Watch The GTA 6 Trailer 24 Hours Before Launch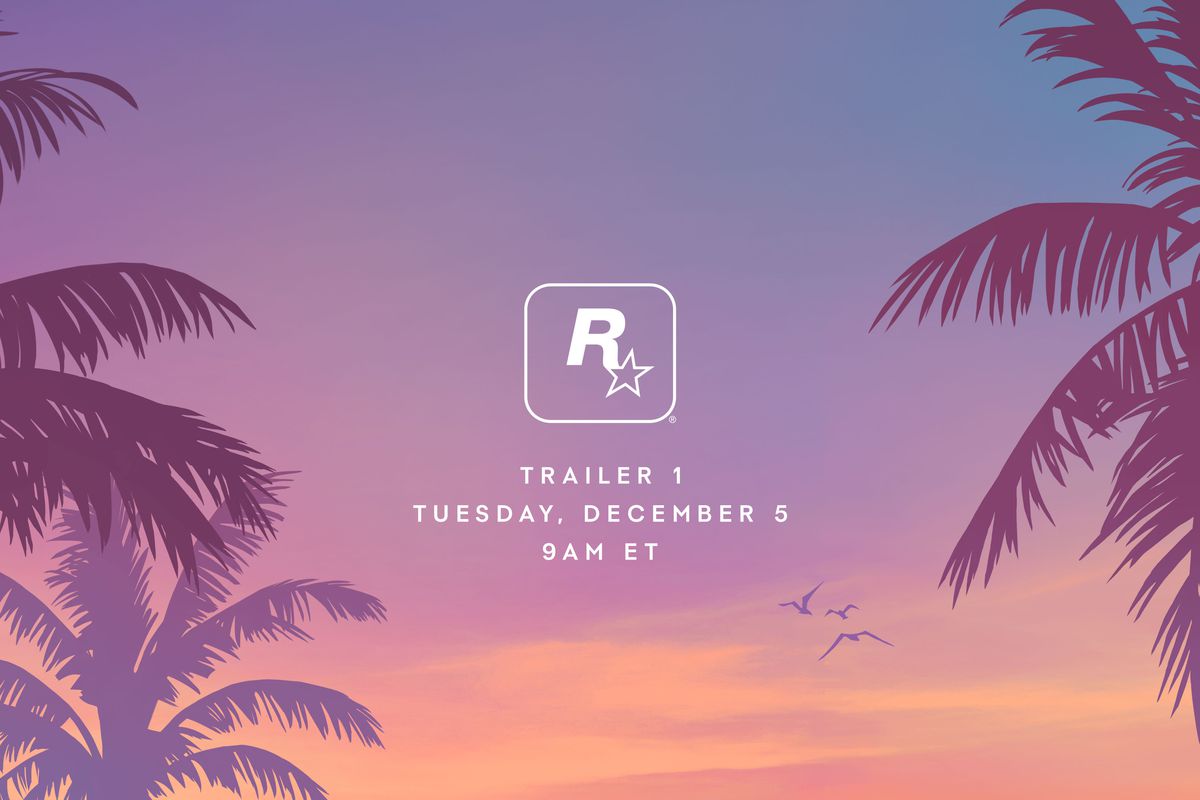 GTA 6 ANNOUNCEMENT: Will the Grand Theft Auto 6 trailer smash viewing records? Given the huge interest even now, 24 hours before it's scheduled to go live, it appears feasible.
Rockstar Games has released a video premiere for "Trailer 1" on YouTube, which includes a countdown to the game's release on December 5 at 6 a.m. Pacific / 9 a.m. Eastern / 2 p.m. UK.
However, astute watchers observed the GTA 6 Trailer 1 length was released to expose a YouTube flaw. View the mobile video preview while unsubscribing from the Rockstar Games channel using the YouTube app's search. Notice the "upcoming" tag on the bottom right; the runtime should appear over it.
There might be some spoilers ahead!

Tens Of Thousands Of People Are Already Waiting To Watch The GTA 6 Trailer
The GTA 6 Trailer 1 lasts one minute and 31 seconds. That should give you plenty of time to look at the game. We'll even get a release date and platform information.
Surprisingly, tens of thousands have already lined up to watch Trailer 1. At the time of writing, about 24 hours before launch, 43,172 individuals were waiting to witness what could be the largest video game trailer of all time.
If you want to join in on the fun, roughly 2,000 people are watching IGN's own GTA 6 trailer countdown and actively chatting right now.
When Rockstar announced a December release date for the GTA 6 trailer in November, it added, "We are very excited to let you know that in early December, we will release the first trailer for the next Grand Theft Auto." We look forward to sharing these experiences with you all for many years.
"We have had the opportunity to create games we are truly passionate about thanks to the incredible support of our players worldwide — none of this would be possible without you, and we are so grateful to all of you for sharing this journey with us."

Tens Of Thousands Of People Are Already Waiting To Watch The GTA 6 Trailer
"In 1998, Rockstar Games was founded on the idea that video games could come to be as essential to culture as any other form of entertainment, and we hope that we have created games you love in our efforts to be part of that evolution."With anticipation at an all-time high, IGN reports that Rockstar appears to have revealed the GTA 6 Trailer 1 release date on a GTA Online T-shirt sold nearly a year ago.
GTA 6 has been rumored since the release of Grand Theft Auto 5 a little more than a decade ago. It was mentioned in passing in a 2020 Kotaku article on Rockstar's efforts to combat crunch culture at the company, and it was confirmed in a press release in 2022, with the studio stating that development was "well underway." Later that year, in-development footage from the game was leaked in a large breach, leading to the arrest of a British teenage hacker in connection with the crime.
Since early in 2023, when publisher Take-Two Interactive expected large financial gains in that fiscal year that would be difficult to achieve without the boost from the enormously profitable series, a release window between April 2024 and March 2025 has been speculated.

Tens Of Thousands Of People Are Already Waiting To Watch The GTA 6 Trailer
"GTA 6" is the next installment in the Grand Theft Auto series. Rockstar Games are developing it, and it is highly anticipated by gamers all around the world. The game is expected to have a large open environment, intense gameplay, and cutting-edge graphics.
While there are few specifics about the game, rumors say it will be set in a fictionalized depiction of a modern-day metropolis. "GTA 6" has garnered great enthusiasm and intrigue among fans and the gaming world as one of the most anticipated releases in the gaming industry.
SOURCE (IGN)
Tesla's Cybertruck Hits The Market With A Higher Price Tag And Plenty Of Challenges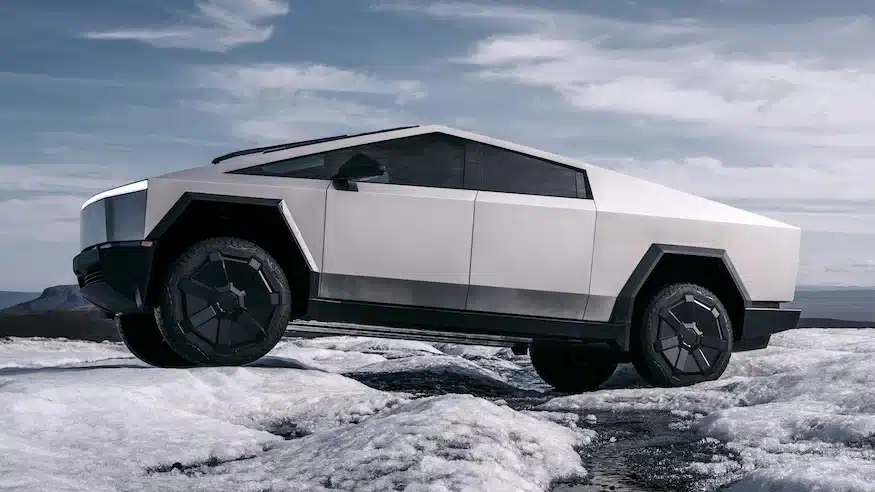 Tesla CEO Elon Musk presided over the company's long-awaited Cybertruck delivery, which was first shown four years ago. While there was little new information since the original presentation, Tesla's website was updated with a new price.
The event had the typical Musk flash, with lofty predictions about "the future" and visuals of Cybertrucks traveling across the ice, but it offered very little new information. Even the price on Tesla's website, which required a $250 deposit to place an order, did not contain standard car-buying experiences, such as selecting options. There was no mention of practicalities like front trunk capacity or anything beyond the company's current estimate of a 250-mile range.
However, the website did mention that the top-of-the-line model would be known as the "Cyberbeast."
The Tesla Cybertruck starts at $60,990 before federal tax credits, over $20,000 more than the base model initially proposed at the vehicle's introduction in 2019. The business originally stated that the Cybertruck would cost less than $40,000, but a pandemic and subsequent severe inflation prompted the corporation to change its mind.
Even then, it would only be "available in 2025," according to the Tesla website.
If you want one in 2024, expect to pay about $80,000.
By itself, the Cybertruck enters an electric vehicle market packed with vehicles in the same price range. It's not only pickups but also SUVs. It's an issue that's already dampening sales of some electric vehicles, particularly in the luxury market, as automakers struggle to establish their electric production processes.
He also bragged about the Cybertruck's "sports-car-like" capability, showing a video of it hauling a Porsche 911 on a trailer while racing a Porsche 911 down a drag strip. Honestly, Porsche 911 sports cars aren't sold on raw acceleration. Of course, neither is a pickup truck, so it's unclear how big of a selling point that will be.

Tesla's Cybertruck Hits The Market With A Higher Price Tag And Plenty Of Challenges
However, Tesla's website only shows that acceleration figure for the Cyberbeast version of the truck, which costs over $100,000. The truck's 11,000-pound towing capacity also noted in the presentation, is shown exclusively in the $80,000 or $100,000 all-wheel-drive variants.
According to Brian Moody, executive editor of Kelley Blue Book, the truck's price range may be fine compared to other high-end trucks on the market. The pricing range that Tesla can provide is limited.
"Because Tesla has basically one version of the truck with some minor modifications, they don't have the advantage of having a very low-price truck as well as a very high and heavy-duty, super-capable truck," Moody wrote in an e-mail.
According to Wedbush Securities analyst Dan Ives, who is bullish on Tesla, the business has around 2 million bookings for the Cybertruck. He predicted that just 30% to 40% of those reservations would be turned into sales. The larger issue may be the production issues that Musk says the firm is experiencing as it attempts to ramp up vehicle manufacturing, especially with competition from electric pickups from Ford, GM, and Rivian.
"It's a Herculean task to ramp production, but Tesla has been here before," he said, referring to prior product launches such as the Model 3 sedan. However, he warned that "it's a much more complex market for them to navigate."
The Cybertruck, which resembled a high-end kitchen appliance when it was initially shown in 2019, looked like nothing else on the road, and it still does. The purpose of its strange, angular all-metal appearance was to stand out: Musk sought to make a statement with something that wasn't just another large truck.
However, the Cybertruck's qualities, such as power and range, do not stand out. The market has transformed during Tesla's development and delays over the last four years. Even before the first one rolls into a customer's driveway, Tesla's flashy new pickup is significantly more ordinary beneath its gleaming veneer.
Electric motors can give a lot of towing and hauling power, and the truck's basic size allows for many batteries and a long range. Tesla is one of many automakers to recognize this opportunity.

Even then, it would only be "available in 2025," according to the Tesla website.
Ford began selling the F-150 Lightning electric pickup truck four years ago, and Rivian R1T pickups have become familiar sights on American roadways. General Motors just began manufacture of the Chevrolet Silverado EV electric truck. Stellantis' Ram 1500 Rev electric vehicle will also be available in late 2024.
This isn't the same setting as it was four years ago, and the Cybertruck's capabilities don't look as impressive as they did. Many of these other trucks have capabilities that rival, and in some cases even outperform, Tesla's.
Musk has also frequently stated how tough it is to construct the Cybertruck due to its unconventional design.
The truck is built of unpainted stainless steel, a material not commonly utilized for cars since the durability of the material that Musk has touted makes it difficult to build with and fix. The massive stamping machines commonly employed in auto manufacturing to quickly bend metal into shape struggle with stainless steel.
It also features a unibody construction rather than a separate body and chassis like most large pickups. Unibody structure is common in crossover SUVs and compact, light pickups such as the Ford Maverick. Body-on-frame designs are commonly used for heavy-duty vehicles due to their strength and flexibility for towing huge loads.
"There will be enormous challenges in reaching volume production with the Cybertuck and making the Cybertruck cash flow positive," Musk remarked recently during an investor call.

Musk has also frequently stated how tough it is to construct the Cybertruck due to its unconventional design.
The Cybertruck's total size could be an advantage. According to Tesla, the Cybertruck is less than 19 feet long, slightly shorter than conventional full-size trucks. However, Tesla boasts that its cargo bed, at over six feet long, is slightly longer than typical.
However, the Cybertruck may forego front storage in exchange for its small body length. It lacks the extended hood of other pickups, notably electric pickups from Ford and GM. This could imply that the Tesla has less "frunk" – or front trunk – space. Ample functional front room, in particular, has been a major selling factor for the Ford truck.
The wedge shape of the vehicle, where the sides of the cargo bed meet the roof, may also make access to the bed from the sides difficult. Pickup drivers frequently reach over the sides to load and unload objects close to the cab.
The payload capacity of the Cybertruck, or the amount of weight it can carry in its cargo bed, is also slightly higher than competitors currently in production. The Ford F-150 Lightning can tow up to 2,200 pounds. However, the Ram 1500 Rev will be able to haul up to 2,700 pounds, which is more than the Cybertruck.
SOURCE – (BBC)
Nissan Will Invest $1.4 Billion To Make EV Versions Of Its Best-Selling Cars At Its UK Factory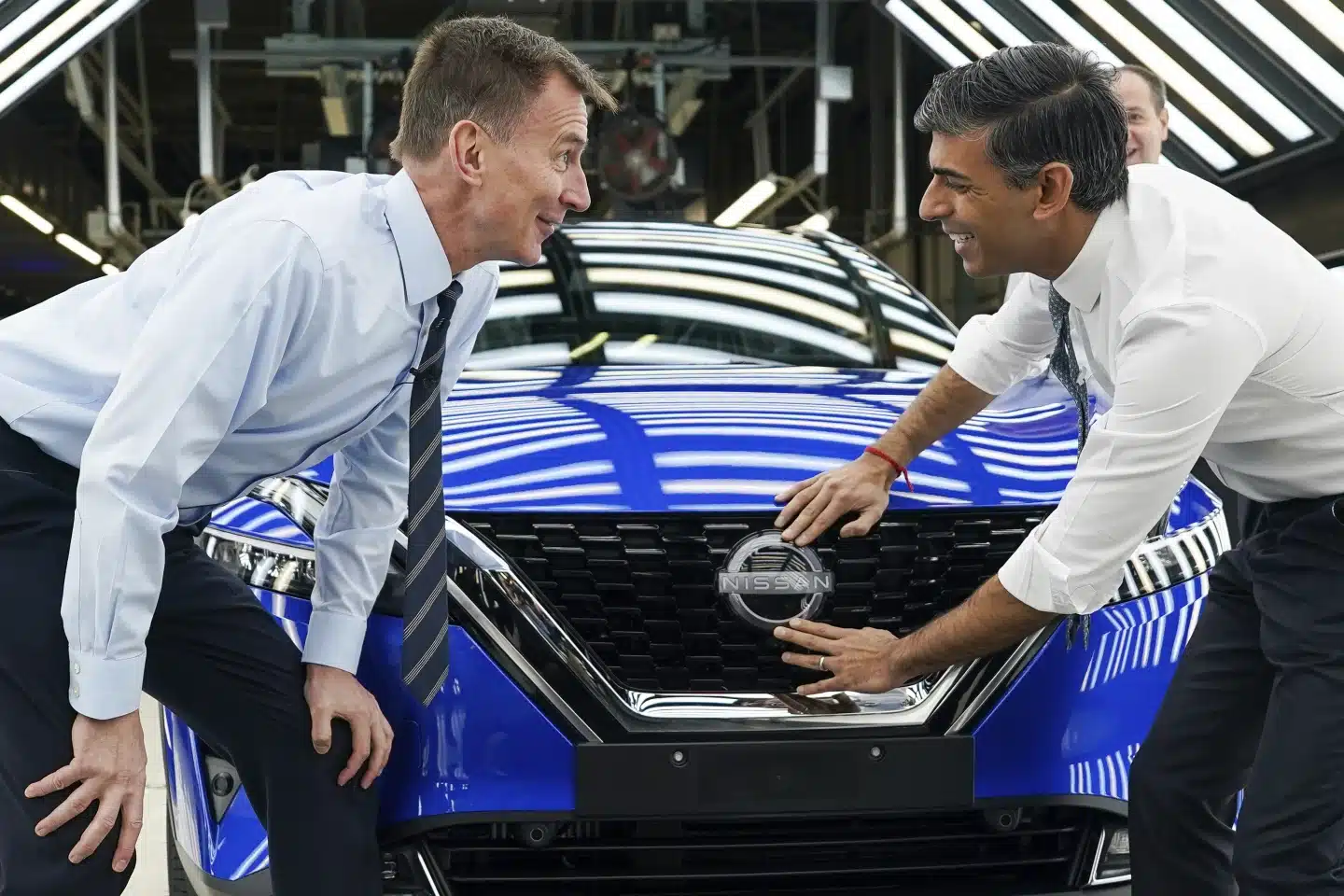 LONDON, England – Nissan will invest $1.4 billion to upgrade its factory in northeast England to produce electric versions of its two best-selling vehicles, boosting the British government's efforts to revitalize the country's faltering economy.
The Sunderland factory, which employs 6,000 people, produces the gasoline or gas-hybrid Qashqai and the smaller Juke crossover vehicles.
Nissan Motor Company announced a direct investment of up to 1.12 billion pounds ($1.4 billion) in the production of electric successors to the two models. The funds will also allow for "wider investment in infrastructure projects and the supply chain, including a new gigafactory" manufacturing EV batteries at the site, according to a second press statement from the government.
"Nissan's investment is a massive vote of confidence in the U.K.'s automotive industry," Prime Minister Rishi Sunak said, adding that the industry contributes 71 billion pounds to the economy each year.
Sunak paid a visit to the factory for the announcement, posing for photos with Treasury Secretary Jeremy Hunt in front of a blue Qashqai on the assembly line, greeting workers, and taking a tour of the facility.

Nissan Will Invest $1.4 Billion To Make EV Versions Of Its Best-Selling Cars At Its UK Factory
The day before, Hunt outlined tax cuts and other budget goals ahead of a national election next year, when economic growth in the United Kingdom is slowing and inflation remains high, putting pressure on consumers.
The Qashqai is the second most popular vehicle in the United Kingdom this year, while the Juke is seventh. Nissan also announced that the next version of its long-running Leaf electric car will be manufactured at the plant.
In 2021, the business announced plans to develop an electric vehicle at the factory alongside batteries manufactured next door by supplier AESC, owned by China's Envision. AESC already has two gigafactories in Sunderland, and the announcement on Friday adds a third.
EVs are "at the heart of our plans to achieve carbon neutrality," according to Nissan President and CEO Makoto Uchida. "With electric versions of our core European models on the way, we are accelerating towards a new era for Nissan, for industry and for our customers."

Nissan aims to electrify its entire European passenger car lineup by 2030.
"With today's announcement, we are putting that vision into action," Uchida said at the plant temporarily shut down for the ceremony.
The future of Nissan's Sunderland plant was in doubt before and after Britain voted to leave the European Union in 2016. Brexit opponents said that leaving the EU without a trade deal would harm the British economy because companies like Nissan would face taxes on EU exports.
The auto industry is ready for post-Brexit trade duties of 10%, which will go into force in January. They threaten to hike the price of new EVs by penalizing manufacturers in their separate markets for not getting enough components from the EU or Britain.
Because Europe lags behind Asia in battery production, many EV manufacturers will need help to satisfy the need. On the other hand, Nissan is the only carmaker in the United Kingdom with a specialized battery plant nearby.
Nissan has joined other automakers in transitioning to EV production in the United Kingdom, even as Sunak has pushed out a date for the end of new gas and diesel car sales by five years to 2035.

Nissan Will Invest $1.4 Billion To Make EV Versions Of Its Best-Selling Cars At Its UK Factory
BMW announced earlier this year that it will invest 600 million pounds in its Mini production in Oxford, England, to begin producing electric vehicles by 2026.
Tata Sons, which owns Jaguar Land Rover, is constructing a 4 billion-pound EV battery facility in the United Kingdom to create approximately 40 gigawatt hours of battery cells per year, enough to supply half of the country's electric vehicle batteries.
Stellantis, the parent company of British automaker Vauxhall, is investing 100 million pounds in northern England to manufacture electric vans and automobiles.
SOURCE – (AP)