Former Pope Benedict XVI Dead at Age 95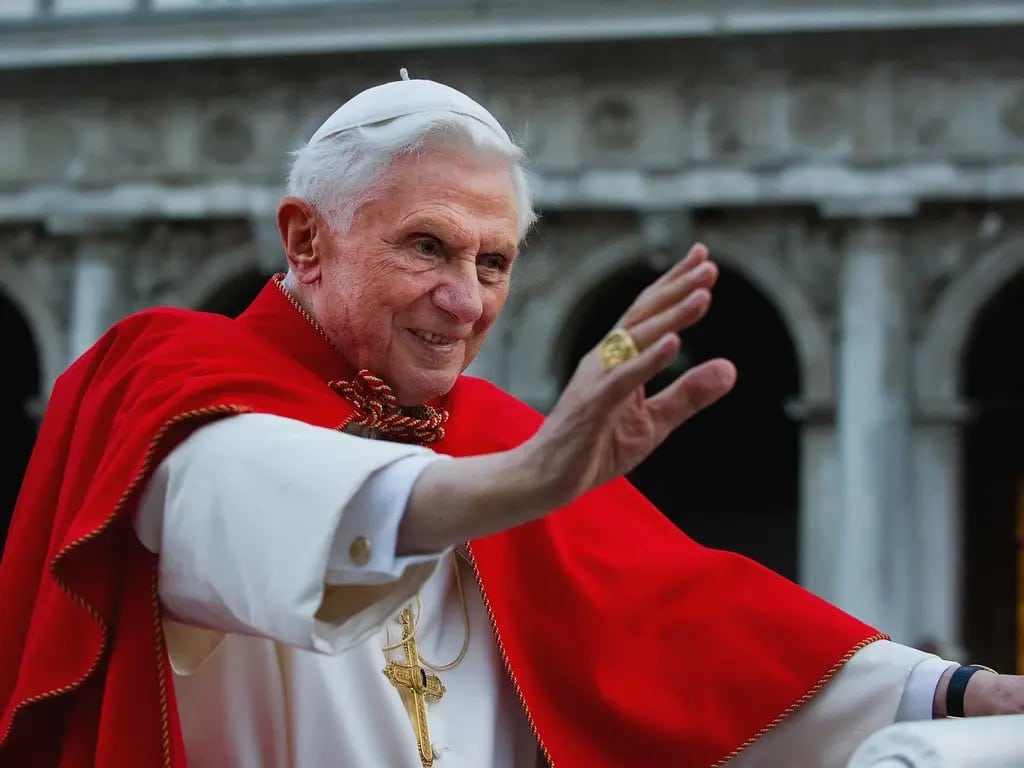 Former Pope Benedict XVI, the first pontiff to resign in 600 years, died on Saturday at the age of 95 in the Vatican, according to a Holy See spokesman. "With sadness, I inform you that Pope Emeritus Benedict XVI died today at 9.34 a.m. in the Mater Ecclesiae Monastery in the Vatican," a spokesman said in a written statement.
According to the Vatican, Pope Francis will preside over his predecessor's funeral on January 5.
Benedict, the first German pope in 1,000 years, stepped down in 2013 due to failing health, leaving behind a Catholic Church beleaguered by sexual abuse scandals, mired in mismanagement, and divided between conservatives and progressives.
He had good relations with his successor, but his continued presence inside the Vatican after he stepped down polarized the Church ideologically even more.
Concerned about Pope Francis's progressive moves, conservatives looked to Benedict as the defender of tradition. Several times, he had to tell nostalgic visitors, "There is only one Pope, and his name is Francis."
Pope Benedict, a pianist and formidable theologian, was a weak leader who struggled to impose himself on the opaque Vatican bureaucracy and stumbled from crisis to crisis during his eight-year reign.
He repeatedly apologized for the Church's failure to root out clergy sexual abuse of children, and despite being the first pope to take serious action against abuse, his efforts failed to halt a rapid decline in church attendance in the West, particularly in Europe.

Pope Benedict XVI Resigns
In 2022, an independent report in his native Germany claimed Benedict failed to act in four abuse cases while serving as Archbishop of Munich between 1977 and 1982. After being shaken by the report, he apologized in an emotional personal letter and asked for forgiveness.
In a detailed rebuttal, his lawyers argued that he was not directly to blame.
Victims' groups claimed that the evasive response squandered an opportunity arising from a scandal that shook the Church worldwide.
On February 11, 2013, Benedict shocked the world by announcing in Latin that he was resigning, telling cardinals that he was too old and frail to lead an institution with over 1.3 billion members.
It was always going to be difficult following the death of his charismatic predecessor, Pope John Paul II, in 2005, and Benedict admitted to difficulties in an emotional farewell address.
"There were happy and light moments, but there were also difficult moments." "There were moments… when the seas were rough and the wind blew against us, and it seemed as if the Lord was sleeping," Benedict said to a crowd of more than 150,000 people at his last general audience.
On February 28, 2013, Benedict took up residence at the papal summer retreat at Castelgandolfo, south of Rome, while cardinals from around the world gathered in the Vatican to elect his successor.

Pope Francis' election
Prior to formally stepping down, Benedict and his aides chose the title "pope emeritus" and decided he would continue to wear a white cassock, albeit a slightly modified version. Some in the Church objected, claiming that he had tied his successor's hands.
They said he should have dressed like a cardinal or a priest in red or black.
Following Pope Francis' election on March 13, Benedict moved into a converted convent on Vatican grounds to spend his final years praying, reading, playing the piano, and receiving visitors.
He appeared in public only on rare occasions, usually for major Church ceremonies, though he paid an emotional visit to his ailing elder brother Georg, a priest, in Bavaria in June 2020. Georg died soon after, at the age of 96.
Benedict did not keep his promise to remain "hidden from the world," and his writings in retirement occasionally caused controversy and confusion.
In a 2019 essay for a German Church magazine, he blamed the crisis over priest abuse of children on the 1960s sexual revolution, what he called homosexual cliques in seminaries, and a general collapse in morality.
Critics accused him of attempting to shift blame away from the institutional Church's hierarchy. Conservatives, however, rejoiced, and rallied to his defense.

Benedict and the cardinal
The ambiguity surrounding Benedict's role reached a head in January 2020, when it was revealed that he was involved in a book written by a conservative cardinal that some saw as an attempt to influence a document Pope Francis was preparing.
As a result, Francis fired Archbishop Georg Ganswein, Benedict's secretary, from a top Vatican position. Many people believed Ganswein misled Benedict, the cardinal, or both as a middleman between Benedict and the cardinal.
Some Vatican officials have called for clear rules regarding the status of any future pontiff who resigns as a result of the incident.
Francis has stated that if he were to resign, he would prefer the title Emeritus Bishop of Rome, as suggested by some. He has also stated that he will not live in the Vatican but rather in a Rome home for retired priests.
Benedict, an uncompromising conservative on social and theological issues, literally cloaked himself in tradition during his papacy, frequently donning fur-trimmed capes and red shoes in public appearances — a stark contrast to his successor's more humble, down-to-earth style.
He enraged Muslims by implying that Islam is inherently violent, and he enraged Jews by rehabilitating a Holocaust denier. The gaffes and blunders reached a climax in 2012, when leaked documents revealed corruption, intrigue, and feuding within the Vatican.
As a result of the "Vatileaks" case, his butler, Paolo Gabriele, was arrested and convicted of passing secret documents to a journalist. Benedict later forgave him. Gabriele was hired at a Vatican-owned hospital and died there in 2020.

Gay Clergy Lobby
The media speculated that the saga, which exposed allegations of a gay clergy lobby operating against the pope, might have put pressure on him to resign. Benedict insisted on stepping down because he could no longer bear the full weight of the papacy, including the exhausting international travel required by the job.
In a book-length interview published in 2016, he acknowledged his flaws but stated that his papacy was not a failure.
"Perhaps one of my weaknesses is a lack of resolve in governing and making decisions. In reality, I am more of a professor, someone who reflects and meditates on spiritual issues," Benedict stated in the book "Last Testament," written by German journalist Peter Seewald.
"Practical government is not my strong point and that is certainly a weakness. But I don't consider myself a failure." On April 16, 1927, in the southern German village of Marktl, close to Austria, Joseph Aloisius Ratzinger was born.
During World War II, he was forcibly enrolled in the Hitler Youth and briefly held as a prisoner of war by the Allies, but he was never a member of the Nazi party.
"Neither Ratzinger nor any member of his family were National Socialists," wrote John Allen, a leading Church expert, in a biography of Benedict.
Ratzinger was ordained as a priest in 1951 and rose to prominence as a liberal theological adviser at the Second Vatican Council, which convened in 1962 and resulted in profound Church reform.

God's Rottweiler
The Marxism and atheism of the 1968 student protests across Europe, on the other hand, prompted him to become more conservative in order to defend the faith against growing secularism.
After stints as a theology professor and then Archbishop of Munich, Ratzinger was appointed in 1981 to head the Congregation for the Doctrine of the Faith (CDF), the successor office to the Inquisition, where he earned the epithet "God's Rottweiler".
After a period of experimentation, he and Pope John Paul agreed that traditional doctrine needed to be restored in the Church.
Ratzinger first addressed the popular "liberation theology" in Latin America, ordering the one-year silence of Brazilian friar Leonardo Boff in 1985, whose writings were criticized for using Marxist ideas.
Ratzinger applied pressure on theologians, primarily in Asia, who saw non-Christian religions as part of God's plan for humanity in the 1990s.
Ratzinger's office condemned "radical feminism" in a 2004 document as an ideology that undermined the family and obscured the natural differences between men and women.
Benedict sought to show the world the gentler side of his nature as Pope from 2005, but he never achieved the "rock star" status of John Paul or appeared particularly at ease in the job.
Child abuse scandals dogged him for the majority of his pontificate. He called for an official investigation into abuse in Ireland, which resulted in the resignation of several bishops.
During his pontificate, however, the Vatican's relations with once-devoutly Catholic Ireland deteriorated. In 2011, Dublin closed its embassy to the Holy See.

Profound consternation
Victims demanded that the International Criminal Court investigate him. The Vatican ruled that he could not be held accountable for the crimes of others, and the court declined to hear the case.
In September 2013, he denied covering up the scandals. "As for your mentioning moral abuse of minors by priests, as you know, I can only acknowledge it with profound consternation.
"However, I never attempted to conceal these facts," he wrote in a letter to Italian author Piergiorgio Odifreddi.
Benedict visited his homeland three times as Pope, confronting its dark past at the Nazi death camp at Auschwitz in Poland. As a "son of Germany," he prayed and asked why God was silent when 1.5 million people, mostly Jews, died there during World War II.
One of his trips to Germany triggered the first major crisis of his pontificate. In a 2006 university lecture, he quoted a 14th century Byzantine emperor as saying that Islam had only brought evil to the world, which was spread by the sword.
Following protests that included attacks on churches in the Middle East and the killing of a nun in Somalia, the pope apologized for any confusion his speech had caused.
Later that year, in a move widely perceived as conciliatory, he made a historic trip to predominantly Muslim Turkey, praying in Istanbul's Blue Mosque with the city's grand mufti.

Offending the Jews
In 2008, the pope visited the United States, where he apologized for the sexual abuse scandal, promised that pedophile priests would be expelled, and consoled abuse victims. But Benedict made a series of errors in 2009.
After lifting the excommunication of four traditionalist bishops, one of whom was a notorious Holocaust denier, the Jewish world and many Catholics were outraged. Benedict later stated that the Vatican should have done more research on him.
Jews were offended again in December 2009, when he relaunched the process of resurrecting his wartime predecessor Pius XII, who was accused by some Jews of turning a blind eye to the Holocaust, after a two-year pause for reflection.
In March 2009, the Pope shocked the world by telling reporters on a plane flying to Africa that the use of condoms in the fight against AIDS only made matters worse.
Benedict preferred to appoint men he trusted at the Vatican, and some of his early appointments were questioned.
He appointed Cardinal Tarcisio Bertone, who had worked with him in the Vatican's doctrinal office for years, as secretary of state, despite the fact that Bertone had no diplomatic experience. Bertone was later embroiled in a financial scandal involving the renovation of his Vatican apartment.

Pope Benedict wrote three encyclicals
Other religions criticized Benedict in 2007 when he approved a document that reiterated the Vatican's position that non-Catholic Christian denominations were not full churches of Jesus Christ.
Critics saw his papacy as a concerted effort to reverse the reforms of the Second Vatican Council of 1962-1965, which modernized the Church in sometimes turbulent ways.
Some Council decisions were rewritten by Benedict to conform to traditional practices such as the Latin Mass and highly centralized Vatican rule. One of the themes he frequently returned to was the threat of relativism, which rejected the idea that moral values were not absolute but rather relative to those who held them and the times in which they lived.
Pope Benedict wrote three encyclicals, the most important type of papal document, including Spe Salvi (Saved by Hope), an attack on atheism, in 2007. The 2009 Caritas in Veritate (Charity in Truth) declaration called for a rethinking of how the global economy is run.
Despite the difficulties that came with having two men dressed in white in the Vatican, Francis developed a warm relationship with the man who was once dubbed "the Panzer Cardinal" and described it as being like having a grandfather in the house.
"He speaks little… but with the same profundity," Francis once said.
Seychelles Declares An Emergency After Deadly Flooding And A Huge Blast At An Explosives Depot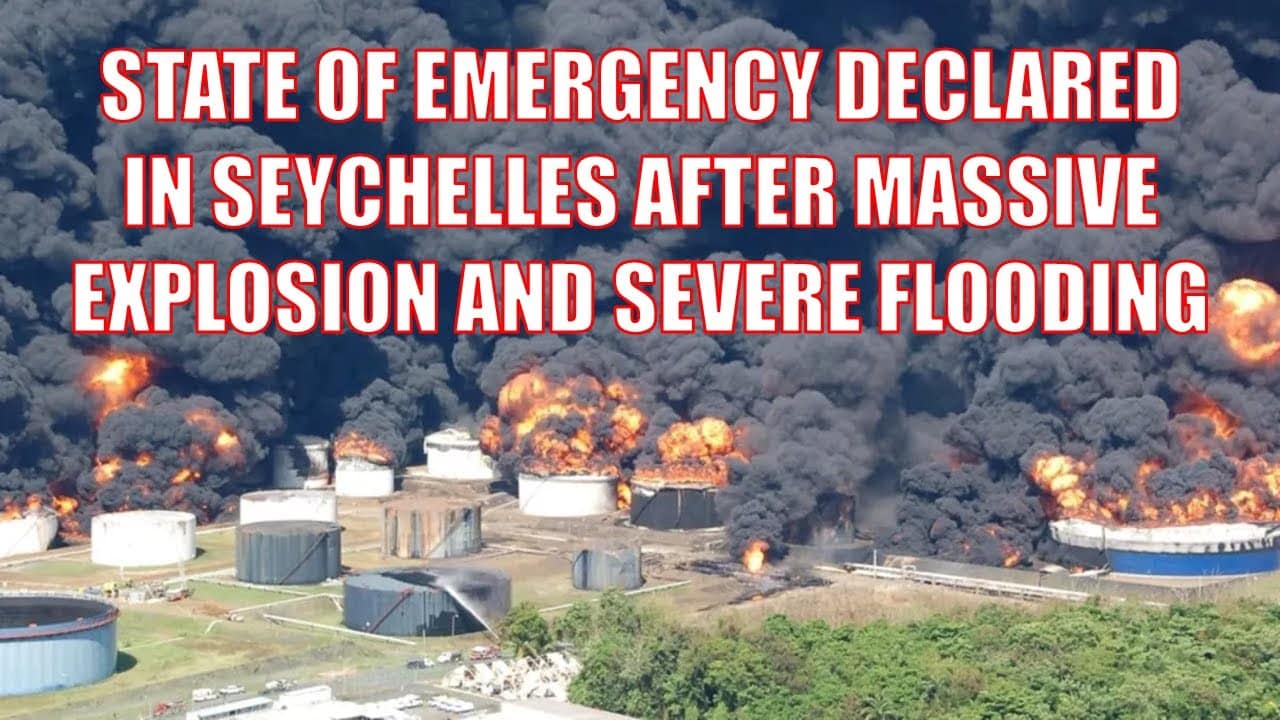 VICTORIA, Seychelles – The tiny Indian Ocean island nation of Seychelles announced a state of emergency on Thursday after flooding killed three people and injured hundreds more in an explosion at an explosives storage near the capital.
According to the health ministry, the explosion injured 178 persons, the majority of whom suffered minor injuries. It happened around 2 a.m. Thursday, following hours of severe rain and floods that began Wednesday evening, especially in the north of the main island of Mahe, however, police made no connection between the blast and the weather.
Rainwater swamped homes, washed out sections of roadways, and created landslides in some regions. Authorities say two of those killed in the floodwaters were trapped in their home.
According to the president, the incident occurred in Providence's industrial district, around 7 kilometers (4.3 miles) southeast of the country's capital, Victoria.

Seychelles Declares An Emergency After Deadly Flooding And A Huge Blast At An Explosives Depot
The explosion leveled buildings, flattened trees, and created a massive crater. People in hospitals and clinics were bleeding and injured after the bomb, according to national television. The explosion did not result in any fatalities.
President Wavel Ramkalawan mentioned the flooding and the explosion when declaring a state of emergency. In the nation of just over 100,000 people, his message ordered schools to close and citizens to stay home to allow emergency services and other important workers to do their jobs.
The blast caused "massive damage," while the flooding inflicted "major destruction," according to the president's statement.
According to the health ministry, those injured in the Providence bomb were taken to hospital facilities for treatment. According to the Seychelles national news agency, a police officer was treated in an acute care unit.
"The damages are huge and many families have moved out of their homes for security reasons," he said. The aftermath of the explosion in Providence and the surrounding towns astounded him. "It was as if we went through a war," he said.

Seychelles Declares An Emergency After Deadly Flooding And A Huge Blast At An Explosives Depot
He said four explosives containers caused the incident and that an investigation would be conducted to determine whether the construction company that housed the explosives had taken sufficient care with their storage.
"At the moment, we don't really know what happened," said Jean-Francois Ferrari, a government minister who visited the bomb site. "There was this huge explosion in the commercial zone."
"The explosion was so big, so loud," he said. "There have been no fatalities as a result of this explosion." Overall, the situation is a disaster, but everything is under control."
According to authorities, the international airport and ferry services connecting islands were still operational to let residents travel if necessary amid the state of emergency.

Seychelles Declares An Emergency After Deadly Flooding And A Huge Blast At An Explosives Depot
Seychelles is an archipelago off Africa's east coast and a popular tourist destination. It is the smallest country in terms of area and population on the continent, with the most populous island of Mahe measuring only around 26 kilometers (16 miles) long and 17 kilometers (10 miles) wide.
Much of East Africa has recently experienced tremendous rainfall and devastating flooding. Since the rains began in late October, hundreds of people have died, and millions have been displaced across the region.
Ethiopia, Kenya, Somalia, and South Sudan have all seen flash floods exacerbated by the El Nio weather phenomena. In Ethiopia, Kenya, and Somalia, more than 130 people have died.
According to an international team of scientists, the disastrous rains in East Africa were amplified by human-caused climate change, making them more intense.
SOURCE – (AP)
'The Dead Can't Hear Your Apologies:' Boris Johnson Heckled As He Attempts To Say Sorry For Covid Deaths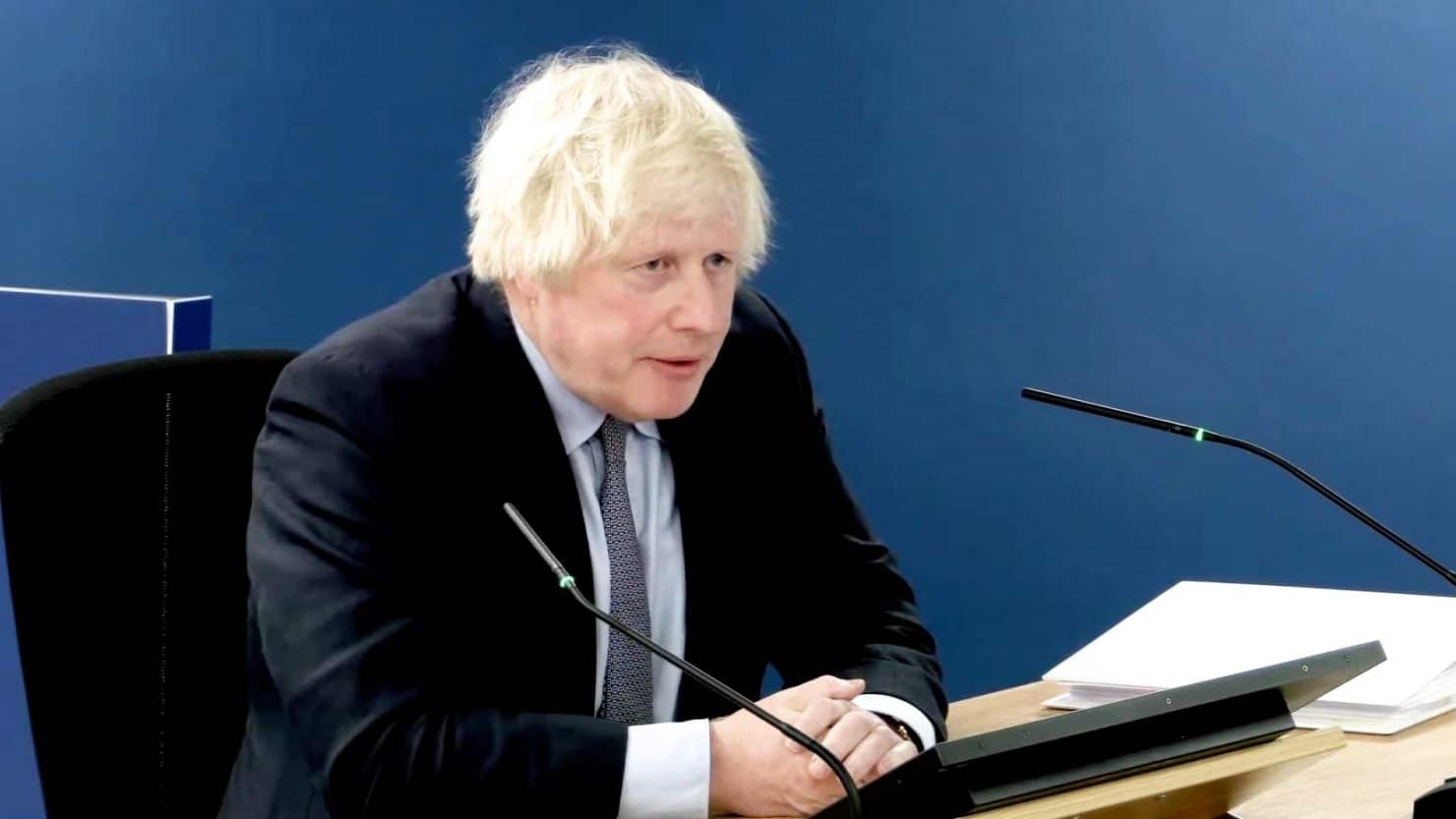 Former British Prime Minister Boris Johnson sought to apologize for the thousands of lives lost to Covid-19 while he was in office but was cut off by demonstrators.
Johnson testified on Wednesday morning before the United Kingdom's public Covid probe, which he established in May 2021.
Johnson was bullied during his opening statement by activists believed to be from a group of families who lost loved ones during the pandemic.
When Johnson began apologizing, four individuals stood up, holding banners that read, "The dead can't hear your apologies," according to the UK's PA Media news agency. Heather Hallet, the investigation chair, immediately expelled the demonstrators from the hearing.
"We didn't want his apology," 59-year-old Kathryn Butcher later told the agency. We stood up when he tried to apologize. We did not block anyone. We were advised to take a seat."

'The Dead Can't Hear Your Apologies:' Boris Johnson Heckled As He Attempts To Say Sorry For Covid Deaths
Butcher, who is from London, told PA Media that her 56-year-old sister-in-law, Myrna Saunders, died from Covid-19 in March 2020 and that Johnson noticed the protesters' banners.
During the epidemic, the coronavirus killed over 200,000 individuals in the United Kingdom, one of the greatest death tolls in Europe, and Johnson's government was heavily chastised for its reaction.
"I understand the feelings of these victims and their families, and I am deeply sorry for the pain and the loss and suffering of those victims and their families," Johnson said in a statement.
"I do hope that this inquiry will help to get answers to the very difficult questions that those victims and families are rightly asking," the former prime minister said in his opening remarks.
Despite beginning with an apology, Johnson would not be drawn on particular errors he or his government believed they had committed.
He defended his conduct during the pandemic, saying, "I think we were doing our best at the time, given what we knew, given the information I had available to me at the time." "Were there things we should have done differently?" he continued. Unquestionably."

'The Dead Can't Hear Your Apologies:' Boris Johnson Heckled As He Attempts To Say Sorry For Covid Deaths
Johnson's behavior during this period has come under significant examination due to evidence provided to the investigation by others, implying that his government tolerated a culture that prevented the appropriate judgments from being taken.
The investigation examines how Johnson and his senior staff made decisions like establishing lockdowns and why specific judgments were made at specific times. Johnson's testimony at the panel has already made news because WhatsApp texts requested from his phone could not be provided to the inquiry owing to what he claims is a technical issue.
Some of Johnson's most senior former aides have stated that the science presented to him "bamboozled" him, while his former chief adviser, Dominic Cummings, has been loudly critical of Johnson's management style, comparing him to an out-of-control shopping trolley.

'The Dead Can't Hear Your Apologies:' Boris Johnson Heckled As He Attempts To Say Sorry For Covid Deaths
When asked if it was unusual for advisers and officials to be as critical of a leader as they were of Johnson during the pandemic, including questions about his competency, the former prime minister said, "No, I think this is entirely to be expected."
Johnson became the first sitting prime minister to be fined by the police for violating his Covid lockdown restrictions while still in office. The "Partygate" controversy, in which members of his team – and the then-prime minister – attended gatherings that violated national Covid laws, played a significant role in Johnson losing the support of his governing Conservative Party and leaving government.
SOURCE – (CNN)
Indonesia's Marapi Volcano Erupts For The Second Day As 12 Climbers Remain Missing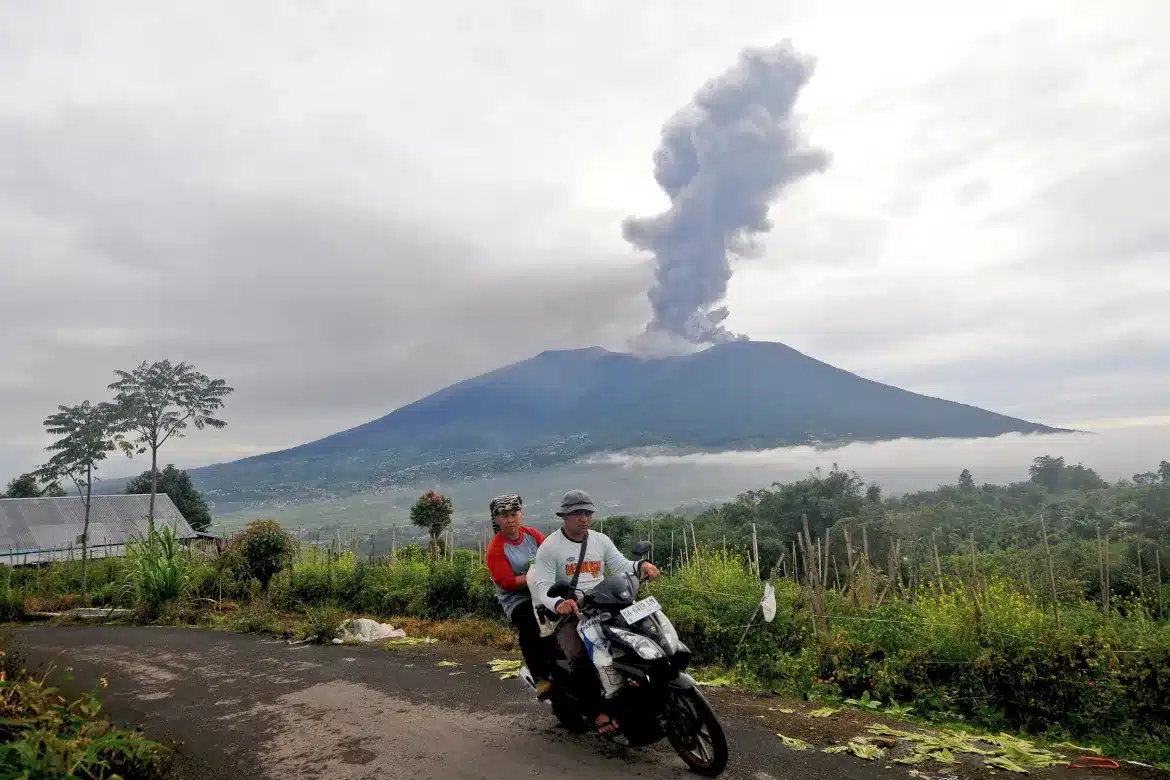 PADANG, Indonesia – Officials in Indonesia paused the search for 12 climbers on Monday when Mount Merapi volcano erupted again, sending a huge burst of scorching ash as high as 800 meters (2,620 feet) into the air.
The deaths of 11 climbers were discovered earlier in the day while searching for the missing, but efforts to locate them were hampered by the resumed activity, according to West Sumatra's Search and Rescue Agency head Abdul Malik. He stated that the search would restart whenever conditions improved.
The agency shared a video of rescuers escorting an injured climber on a stretcher off the mountain and into a waiting ambulance to be brought to the hospital.

On Sunday, Marapi erupted, unleashing clouds of burning ash.
Since 2011, the volcano has remained at the third highest of four alert levels, indicating above-normal volcanic activity, prohibiting climbers and villagers from approaching the peak within 3 kilometers (1.8 miles), according to Hendra Gunawan, the head of the Center for Volcanology and Geological Disaster Mitigation.
"This means there should be no climbing to the peak," Gunawan explained, adding that climbers were only permitted below the danger zone, "but sometimes many of them broke the rules to fulfill their satisfaction to climb further."
On Saturday, over 75 climbers began their ascent of the nearly 2,900-meter (9,480-foot) mountain and became stranded. Rescuers saved 52 people, including three on Monday. According to Hari Agustian, an official with the local Search and Rescue Agency in Padang, the West Sumatra provincial capital, eight of those rescued Sunday were transported to hospital with burns, and one suffered a fractured leg.
Before beginning their ascent, all climbers registered at two command stations or online with West Sumatra's conservation office, according to Agustian. When asked how many individuals may be stranded, he claimed it couldn't be confirmed because some may have taken unauthorized routes up the mountain, and residents may have also been present.
During Sunday's eruption, Marapi erupted thick ash columns as high as 3,000 meters (9,800 feet), and heated ash clouds extended for miles. Tons of volcanic debris buried nearby villages and cities. According to a social media video, volcanic dust and rain covered the faces and hair of evacuated climbers.
Authorities provided masks and urged inhabitants to wear eyeglasses to protect themselves from volcanic ash as falling ash blanketed several communities and obstructed sunlight.

Rubai and Gobah Cumantiang, the nearest villages about 5 to 6 kilometers (3.1 to 3.7 miles) from the peak, are home to approximately 1,400 people.
According to Gunawan, the Sunday eruption was not preceded by a large rise in volcanic earthquakes. Deep volcanic earthquakes were only detected three times between November 16 and Sunday, while the peak's deformation equipment or tiltmeter revealed a horizontal pattern on the radial axis and a small inflation on the tangential axis.
"This shows that the eruption process is taking place quickly and the center of pressure is very shallow, around the peak," the scientist stated.

According to Gunawan, Marapi has erupted on average every 2 to 4 years since 2004.
Gunawan added that this eruption was not the result of magma movement and that marapi eruptions are typically sudden and challenging to detect using equipment because the source is close to the surface.
Marapi has been active since a January eruption that left no one dead. It is among more than 120 active volcanoes in Indonesia, which is vulnerable to seismic activity due to its placement on the Pacific "Ring of Fire," an arc of volcanoes and fault lines encircles the Pacific Basin.
SOURCE – (AP)