Thousands Of US Health Care Workers Go On Strike In Multiple States Over Wages And Staff Shortages
LOS ANGELES Approximately 75,000 Kaiser Permanente employees left their jobs in multiple states on Wednesday, launching a significant healthcare strike amid an extraordinary year for labor organizing and work stoppages in the United States.
With 39 hospitals nationwide, Kaiser Permanente is one of the country's largest insurers and health care system administrators. Nearly 13 million people are covered by the Oakland, California-based nonprofit, which sends them to clinics and hospitals it operates or contracts with to provide care.
The Coalition of Kaiser Permanente Unions, which represents approximately 85,000 health system employees nationwide, asserts that understaffing is detrimental to patient care. Members approved a three-day strike in California, Colorado, Oregon, and Washington and a one-day strike in Virginia and the District of Columbia.
Workers applauded as the strike deadline approached in the predawn hours outside the Kaiser Permanente Los Angeles Medical Centre. Licensed vocational nurses, home health assistants, ultrasound sonographers, and radiology, X-ray, surgical, pharmacy, and emergency department technicians are among the striking workers.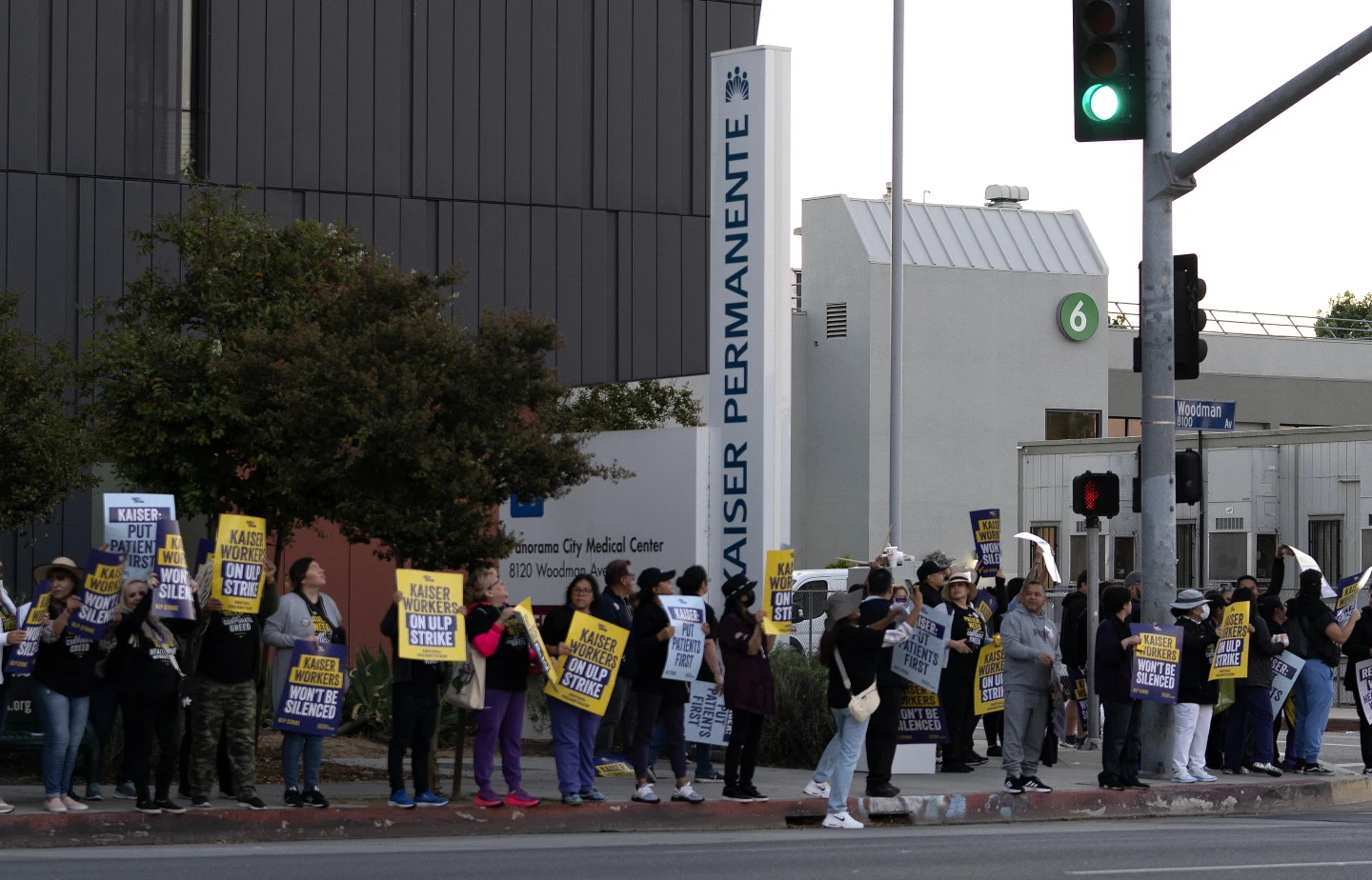 Thousands Of US Health Care Workers Go On Strike In Multiple States Over Wages And Staff Shortages
Culinary Union members, including Veronica Flores Serrano, who works at The Linq, vote in a strike vote on the UNLV campus Thomas & Mack Centre on Tuesday, September 26, 2023. Tens of thousands of hospitality employees who maintain Las Vegas's iconic casinos and hotels were scheduled to vote Tuesday on whether or not to authorize a strike amid ongoing contract negotiations.
The strike of autoworkers expanded to 38 locations in 20 states. Biden planned a visit to demonstrate support.
Brittany Everidge, a ward clerk transcriber in the medical center's maternal child health department, said short-staffing in her position means pregnant people in active labor may be trapped in a waiting room for hours before they can get checked in. Occasionally, more transcribers can be needed to create and update records for newborns.
During a phone interview from the picket line, she stated, "We never want to be in a position where the nurses must perform our duties."
Kaiser says its hospitals, including emergency rooms, will remain open during the picketing, which does not involve doctors. The company announced it would hire thousands of temporary workers to cover vacancies caused by the strike. However, the strike may cause delays in scheduling appointments and rescheduling non-urgent procedures.
It occurs in a year when multiple industries, including transportation, entertainment, and hospitality, have experienced work stoppages.

Thousands Of US Health Care Workers Go On Strike In Multiple States Over Wages And Staff Shortages
The COVID-19 pandemic has significantly exacerbated the problems caused by burnout and excessive workloads in the healthcare industry, which have been the source of multiple strikes this year.
In August, unions representing Kaiser employees requested an hourly minimum wage of $25 and annual increases of 7% for the first two years and 6.25% for the following two years.
They claim that understaffing boosts the hospital system's profits but harms patients and that executives have negotiated poorly.
Mikki Fletchall, a licensed vocational nurse at a Kaiser medical office in Camarillo, California, stated, "They're not listening to the frontline healthcare workers." "We are on strike due to our patients. We wish we didn't have to do it, but we will."
Next year, Kaiser has proposed hourly minimum compensation between $21 and $23, depending on location.
The hospital system has hired 51,000 employees since 2022 and plans to add 10,000 more by the end of the month.
Kaiser Permanente reported a second-quarter net income of $2.1 billion on more than $25 billion in operating revenue. However, the company reported that it was still facing cost headwinds, inflationary pressures, and labor shortages.
Michelle Gaskill-Hames, a senior executive at Kaiser, defended the company by asserting that its practices, compensation and retention are superior to those of its competitors, even though the entire industry confronts the same challenges.
President of Kaiser Foundation Health Plan and Hospitals of Southern California and Hawaii, Gaskill-Hames, stated, "Our focus for the dollars that we bring in is to keep them invested in value-based care."

Thousands Of US Health Care Workers Go On Strike In Multiple States Over Wages And Staff Shortages
Despite the pandemic, she added that Kaiser only confronts a 7% turnover rate compared to the industry average of 21%.
"I believe that as a result of the pandemic, healthcare workers are completely exhausted," she said. It was challenging to experience the trauma of caring for many COVID patients and dying patients.
The last labor agreement was negotiated in 2019, before the pandemic.
Hospitals generally have struggled in recent years with high labor costs, staffing shortages and rising levels of uncompensated care, according to Rick Gundling, a senior vice president with the Healthcare Financial Management Association, a nonprofit that works with healthcare finance executives.
Gundling noted that most of their revenue comes from government-funded programs such as Medicare and Medicaid. He says revenue growth is "only possible by increasing volumes, which is difficult under the best of circumstances."
Since the end of the pandemic, workers requesting higher wages, improved working conditions, and job security have been increasingly inclined to walk off the job in response to employers' increased need for labor.
The California legislature has sent Democratic Governor Gavin Newsom a bill that, over the next decade, would raise the minimum wage for the state's 455,000 healthcare workers to $25 per hour. The governor has until October 14 to sign or veto the bill.
SOURCE – (AP)
2023 China: WHO Seeks Data On 'Pneumonia Clusters' In Children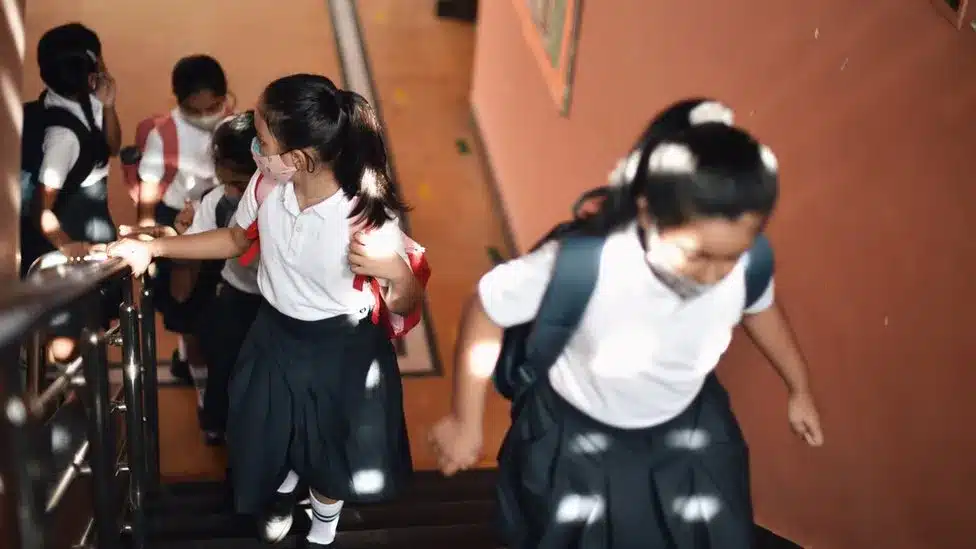 The World Health Organization (WHO) has requested more information from China regarding "clusters of undiagnosed pneumonia" that are reportedly increasing among children in the country's north.
According to non-state media reports, pediatric hospitals in several parts of China are overcrowded with unwell children.
Chinese officials blamed the lifting of Covid restrictions for an increase in flu-like symptoms this winter.

The WHO is advising Chinese citizens to take preventative steps.
The UN health agency said in a statement that it requested further information on allegations of "clusters of undiagnosed pneumonia in children in northern China" in the media and from ProMed, a worldwide outbreak tracking system.
Pneumonia is a broad medical word for an infection and inflammation of the lungs. Various viruses, bacteria, or fungi can cause it.
Following the release of the WHO statement, the state-run Xinhua news agency published an item on Thursday in which officials from China's National Health Commission (NHC) stated that they were paying particular attention to diagnosing and treating children with respiratory infections.
While talks of China and a wave of infection can make people nervous, recalling the Covid-19 pandemic, it's an excellent procedure for the WHO to seek clarification. But the only way of understanding why this outbreak of illnesses has occurred is if Beijing responds.
It is also uncommon for the WHO to request further information from countries regarding a cluster of illnesses. They do it nearly every day.
Daily, a WHO professional staff sifts through hundreds of media reports and internal surveillance data on circulating diseases from countries. Experts then assess whether more information is required if it becomes a public health emergency of international concern.
However, it is unusual to request additional information public. Previously, this was done through private channels between the WHO and national health officials.

China: WHO Seeks Data On 'Pneumonia Clusters' In Children
The UN agency is undoubtedly concerned that people may be more wary of viruses reported in China after COVID-19. In the aftermath of the pandemic, the WHO is likewise attempting to be more transparent.
The UK's Health Security Agency (UKHSA) stated it was carefully monitoring the situation.
According to the WHO, Northern China has recorded an "increase in influenza-like illness" since October, compared to the same period in the previous three years.
The Chinese NHC reported last week that various respiratory infections were rising nationwide, including influenza, COVID-19, mycoplasma pneumonia (a frequent bacterial infection affecting younger children), and respiratory syncytial virus (RSV).
Officials attributed the increase to the removal of COVID-19 limitations.
Other nations, like the United Kingdom and the United States, had similar increases in flu-like symptoms when pandemic restrictions were relaxed.
"China is likely experiencing a major wave of childhood respiratory infections now because this is the first winter after their lengthy lockdown," said Prof Francois Balloux of the University College London Genetics Institute.

China: WHO Seeks Data On 'Pneumonia Clusters' In Children
Prof Paul Hunter of the University of East Anglia (UEA) stated that there is now insufficient data to establish a definitive diagnosis of what is causing the diseases.
"Overall, this does not sound like an epidemic caused by a novel [new] virus," he continued. If that's the case, I'd expect many more adult infections. The rare illnesses documented in adults point to pre-existing immunity from previous exposure."
The WHO says it is unclear whether the reported pneumonia outbreak and the overall increase in respiratory diseases reported by Beijing are linked and has issued a formal request for more information.
It has encouraged Chinese citizens to take basic precautions such as getting vaccinated, wearing masks, and washing their hands.
SOURCE – (AP)
Dogs Are Coming Down With An Unusual Respiratory Illness In Several US States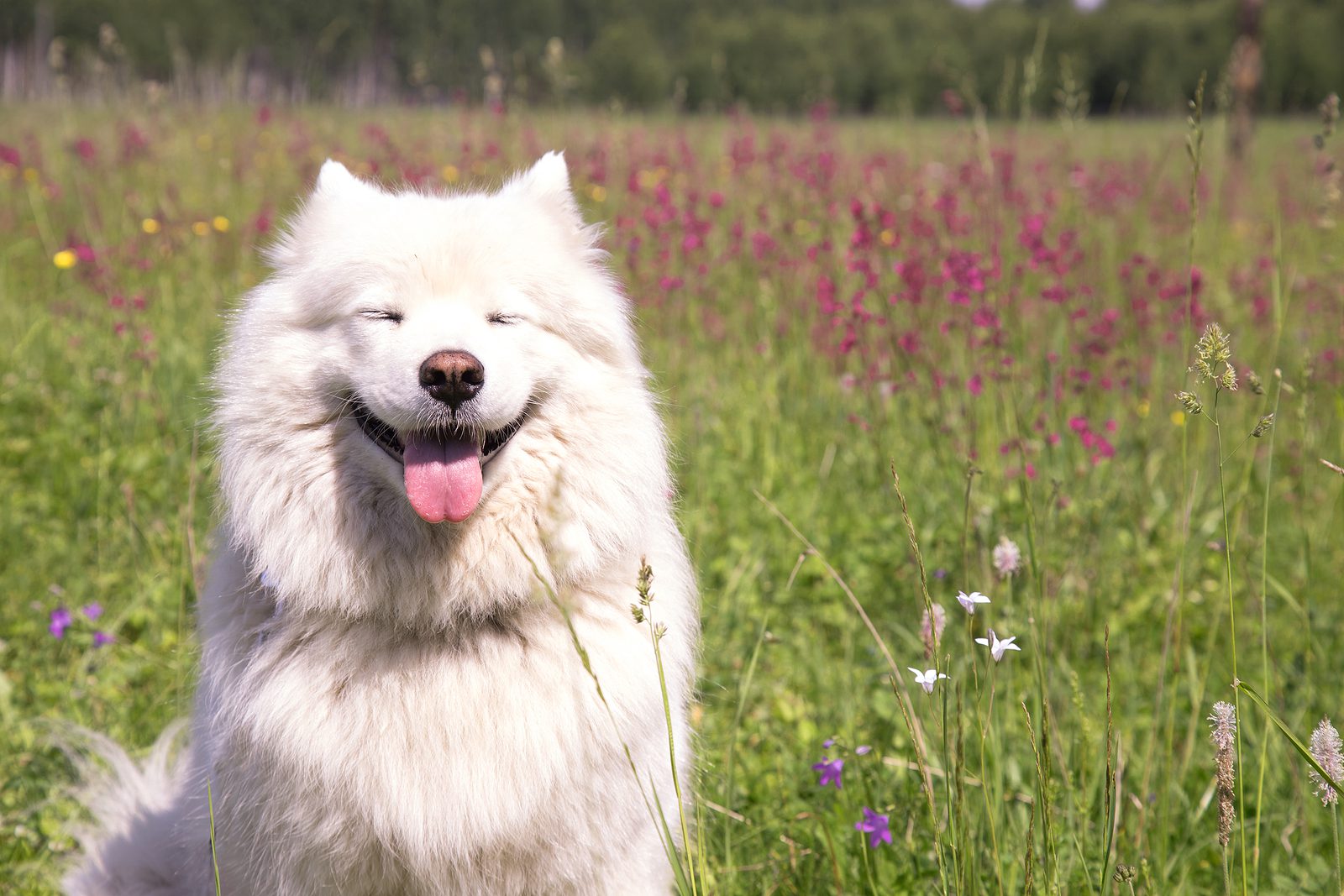 Veterinary laboratories in multiple states are looking into an odd respiratory ailment in dogs and urging consumers to take simple precautions to keep their pets healthy while vets strive to figure out what's wrong.
Oregon, Colorado, and New Hampshire have all experienced the infection, which has caused long-term respiratory problems and pneumonia and is resistant to medications. Coughing, sneezing, nasal or ocular discharge, and lethargy are all respiratory infection symptoms in dogs. Some cases of pneumonia advance quickly, causing dogs to become quite ill within 24 to 36 hours.

Dogs Are Coming Down With An Unusual Respiratory Illness In Several US States
Since mid-August, the Oregon Department of Agriculture has reported more than 200 disease cases. It has urged pet owners to contact their veterinarian if their dog becomes ill and directed state vets to report cases as quickly as possible.
The agency is collaborating with state researchers and the United States Department of Agriculture's National Veterinary Services Laboratory to determine the source of the infections.
According to Kurt Williams, director of Oregon State University's Oregon Veterinary Diagnostic Laboratory, dogs have died. However, without a precise definition of the sickness or a test for it, he said it's difficult to estimate how many people died from a severe form of the virus.
Williams' message to dog owners was simple: "Don't panic." He also advised dog owners to keep their pets' immunizations up to date, including those that protect against certain respiratory infections.
As they try to identify the culprit, labs around the country have been sharing their findings.

Dogs Are Coming Down With An Unusual Respiratory Illness In Several US States
David Needle, senior veterinary pathologist at the University of New Hampshire's New Hampshire Veterinary Diagnostic Laboratory, has been researching the unusual ailment for nearly a year.
His group and colleagues at the university's Hubbard Center for Genome Research have examined samples from canines in Rhode Island, New Hampshire, and Massachusetts, and more will be arriving from Oregon, Colorado, and probably other states shortly.
He stated that his team has not witnessed a significant increase in the number of dogs dying from the sickness, but he nonetheless advised pet owners to "reduce contact with other dogs."
SOURCE – (AP)
A New RSV Shot For Infants Is In Short Supply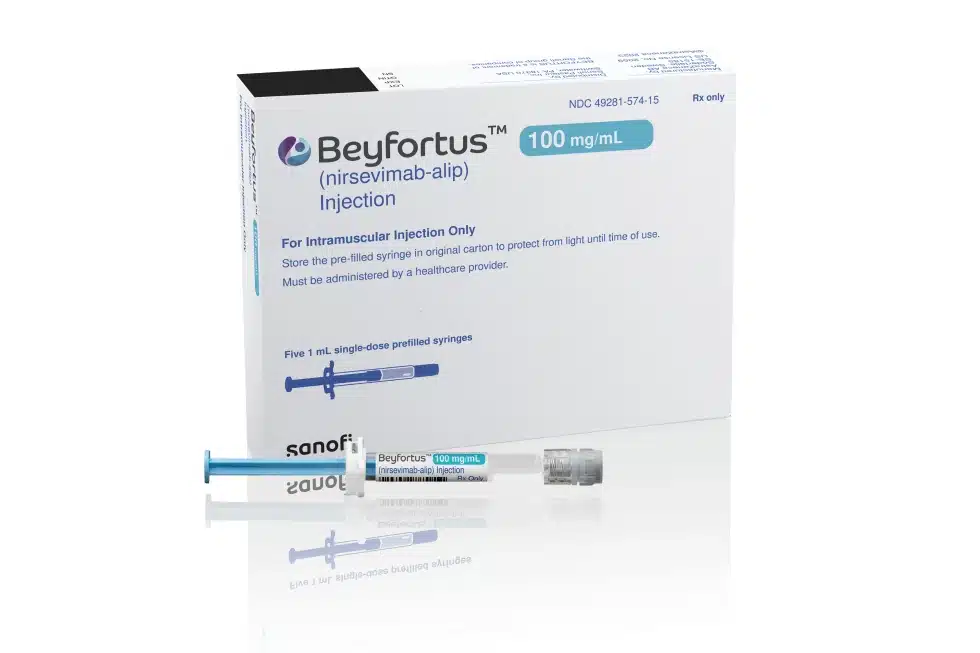 NEW YORK – A new RSV vaccine for infants is in low supply, and US health officials have advised doctors to give the medicine first to babies most at risk of serious sickness.
According to a Monday evening recommendation from the Centers for Illness Control and Prevention, infants under 6 months old with chronic lung illness or other underlying disorders should be prioritized.
RSV, or respiratory syncytial virus, is a common cause of cold-like symptoms in young children that can be fatal. It is a seasonal virus widely reported in the southern United States and is predicted to spread further over the next month or two.
The new one-time shot contains a lab-created antibody that aids the immune system in fighting the virus. The medicine, known as Beyfortus, was developed by AstraZeneca and Sanofi.

A New RSV Shot For Infants Is In Short Supply
The FDA authorized it in July, and the CDC recommended it for newborns born immediately before or during the RSV season and those less than 8 months old when the season begins. They also suggested a dose for those 8- to 19-month-olds at higher risk of serious illness.
It is available in 50-milligram and 100-milligram prefilled syringes. The higher doses are intended for larger, heavier newborns.
In a recent letter to state immunization administrators, the CDC stated that orders for shots placed through a programme that pays for vaccines for impoverished and uninsured children would be halted. The CDC issued a more general warning to clinicians in the United States on Monday.

Sanofi said that demand, particularly for greater doses, "has been higher than anticipated."
According to health experts, there needs to be more to safeguard all children eligible for the larger shots. According to CDC officials, smaller doses may also be in short supply during the current RSV season. According to the CDC, doctors should not use two smaller doses on larger infants to protect the supply of such vaccines.
According to agency authorities, certain youngsters may be eligible for palivizumab, an earlier RSV treatment. This medication necessitates monthly injections.
Doctors are also being asked to try to persuade pregnant women to receive a new RSV vaccine aimed at protecting babies. When this occurs, the baby does not require the antibody medication.
SOURCE – (AP)