Jury Finds Ed Sheeran Didn't Copy Marvin Gaye Classic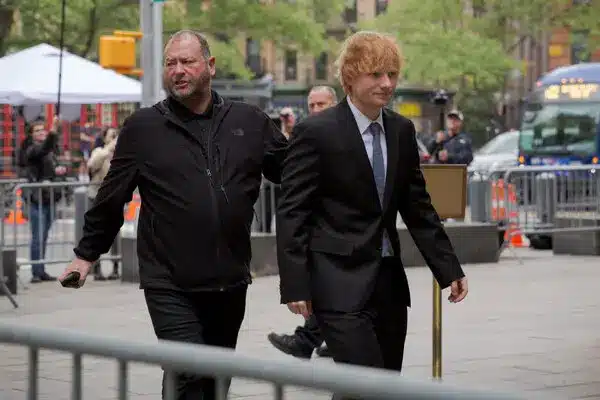 NEW YORK – A federal jury in New York determined Thursday that British singer Ed Sheeran did not steal key elements of Marvin Gaye's classic 1970s song "Let's Get It On" when he created his hit song "Thinking Out Loud," prompting Sheeran to joke later that he won't have to follow through on his threat to quit music.
The emotions of an epic copyright battle that spanned most of the last decade erupted as soon as the seven-person jury announced its verdict after more than two hours of discussion.
Sheeran sighed and buried his face in his hands before embracing his attorney, Ilene Farkas. Sheeran smiled as the jurors filed out of the courtroom and mouthed, "Thank you."
He then spent nearly ten minutes speaking with plaintiff Kathryn Townsend Gryphon, the daughter of Ed Townsend, who co-wrote the 1973 soul song with Gaye. They exchanged kisses and smiles.
Sheeran later spoke to media outside the courthouse, repeating his comment during the trial that if he lost the case, he would contemplate stopping songwriting.
"I am very pleased with the outcome of this case, and it appears that I will not have to retire from my day job after all." But, at the same time, I am extremely frustrated that such baseless claims are even allowed to go to court," the singer said, reading from a prepared statement.
He also stated that the trial caused him to miss his grandmother's funeral in Ireland and that he "won't get that time back."
Gryphon waited in a hallway with her lawyers before leaving the courthouse, saying she was relieved the trial was over.
"I'm just glad it's over," she admitted. "We can become friends."

She expressed delight that Sheeran approached her shortly after the judgment and had a lengthy conversation.
"It showed me who he was," Gryphon explained.
She claimed that her copyright complaint was not personal.
"I did everything I could to protect my father's intellectual property." "I'm very proud of my father and his work, as well as of myself for doing what I must," Gryphon concluded.
The verdict came after a two-week trial that included a courtroom performance by Sheeran, who claimed, sometimes furiously, that the trial posed a threat to all musicians who make their music.
Sheeran sat with his legal team throughout the trial, defending himself against Townsend's heirs' case. They claimed that "Thinking Out Loud" was too similar to "Let's Get It On" and thus breached the song's copyright protection.
At the start of the trial, attorney Ben Crump informed jurors on behalf of the Townsend heirs that Sheeran occasionally performed the two songs together. The jury witnessed a video of Sheeran performing in Switzerland, where he can be heard on stage transitioning between "Let's Get It On" and "Thinking Out Loud." Crump claimed it was "smoking gun" evidence he borrowed from the renowned song.
In her closing statement on Wednesday, Farkas stated that Crump's "smoking gun was shooting blanks."
She only claimed "basic to the tool kit of all songwriters" and "the scaffolding on which all songwriting is built."
"They did not imitate it. Not on purpose. Not unintentionally. "Not at all," Farkas replied.
During his two-day defense testimony, Sheeran repeatedly picked up a guitar resting behind him on the witness stand to demonstrate how he seamlessly creates "mashups" of songs during concerts to "spice it up a bit" for his large crowds.
Under cross-examination, the English pop star's upbeat demeanor on display during his attorney's questioning vanished.
"When you write songs, somebody comes after you," Sheeran said, explaining that others closely followed the case in the industry.
He said he borrowed nothing from "Let's Get It On" when composing his song.
In their lawsuit, Townsend's heirs claimed that "Thinking Out Loud" had "striking similarities" and "overt common elements" that made it obvious that it was a knockoff of "Let's Get It On," a song that has been featured in numerous films and commercials and received hundreds of millions of streams, spins, and radio plays over the past half-century.

Sheeran's song, released in 2014, was a smash, earning him a Grammy for Song of the Year.
The defendants in the "Thinking Out Loud" lawsuit included Sheeran's label, Atlantic Records, and Sony/ATV Music Publishing, but the trial focused on Sheeran.
Amy Wadge, his song's co-writer who was not a defendant, testified on his behalf and hugged Sheeran after the verdict.
Gaye was 44 when he was assassinated by his father while attempting to interfere in a disagreement between his parents. He had been a Motown celebrity since the 1960s, but his songs published in the 1970s elevated him to the status of a generational musical giant.
Townsend, a singer, composer, and lawyer who wrote the 1958 R&B doo-wop classic "For Your Love," died in 2003. Gryphon, his daughter, said at court that Sheeran was "a great artist with a great future."
SOURCE – (AP)
Beyoncé's Renaissance World Tour Is Over. But It's Coming To Movie Theaters Soon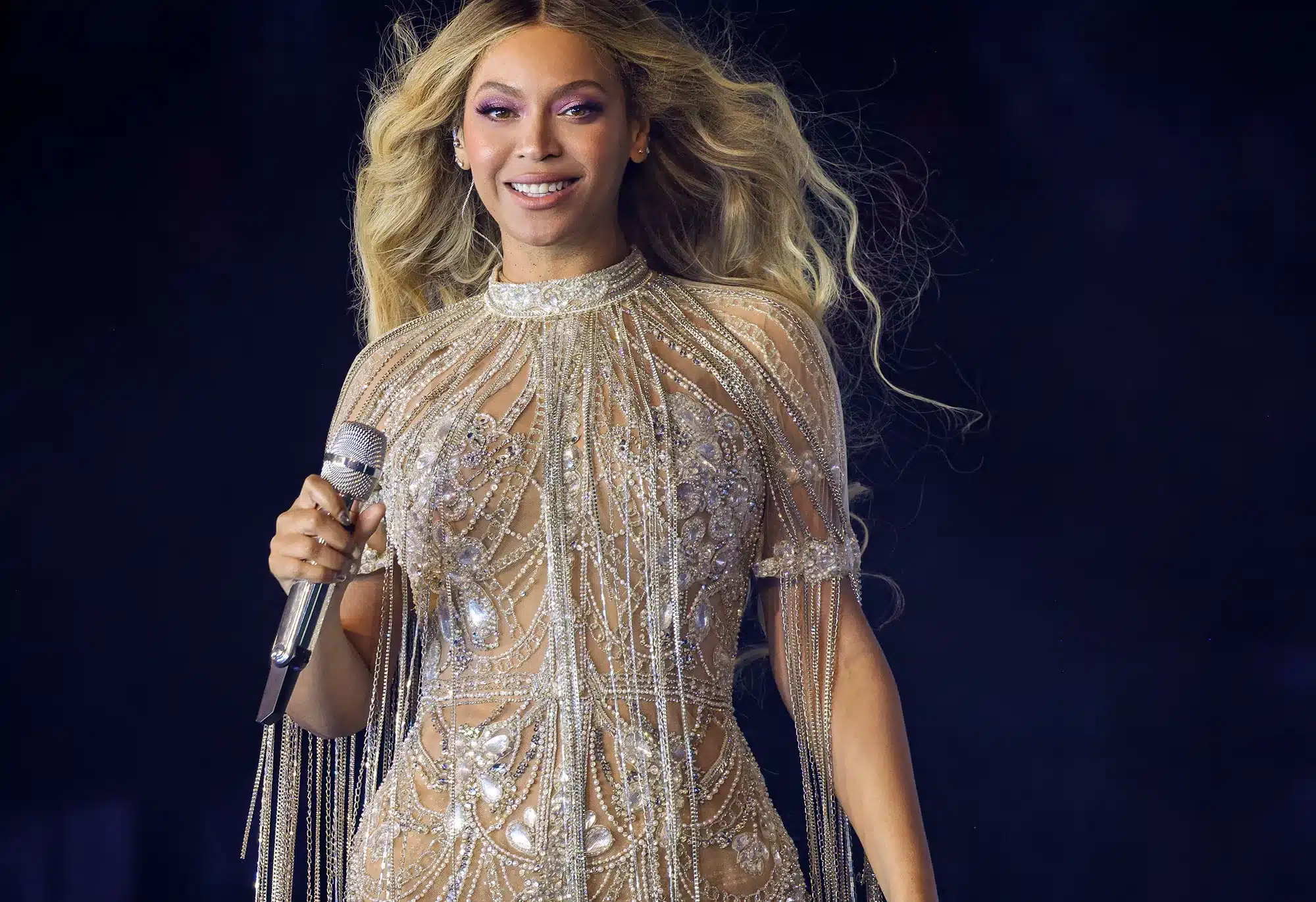 NEW YORK — Monday, AMC Theatres announced that a documentary chronicling Beyoncé's recently concluded 39-city Renaissance World Tour will premiere in North American theatres on December 1.
The film adds a second blockbuster from a music superstar to a fall film lineup that the ongoing screen actors' strike has marginally diminished. As with "Taylor Swift: The Eras Tour," which premieres on October 13, "Renaissance: A Film By Beyoncé" is released directly by AMC, without studio involvement.
Tickets cost a minimum of $22 plus tax. AMC stated that the film will broadcast for a minimum of four weeks.
Beyoncé's previous films include "Homecoming," a 2019 Netflix film that captures her 2018 Coachella performance. Beyoncé and Swift are rumored to receive at least 50 percent of ticket sales in their agreements with AMC.

Beyoncé and Swift are rumored to receive at least 50 percent of ticket sales in their agreements with AMC.
The film chronicles her tour supporting her Grammy-winning album "Renaissance" from 2022. It mixes concert footage and elements of a visual album while trailing the tour from its beginning in Stockholm, Sweden, in May to the finale Sunday night in Kansas City, Missouri.
Approximately 2,7 million concert-goers attended over five months. According to Billboard, the tour has garnered close to 500 million dollars.
The film's description states, "It is about Beyoncé's intention, hard work, involvement in every aspect of the production, her creative mind and purpose to create her legacy and master her craft."
The singer posted a trailer to her Instagram account with the message, "Be careful what you ask for, because I just might give it to you."
SOURCE – (AP)
Taylor Swift Watches Travis Kelce's Chiefs Take On The Jets At MetLife Stadium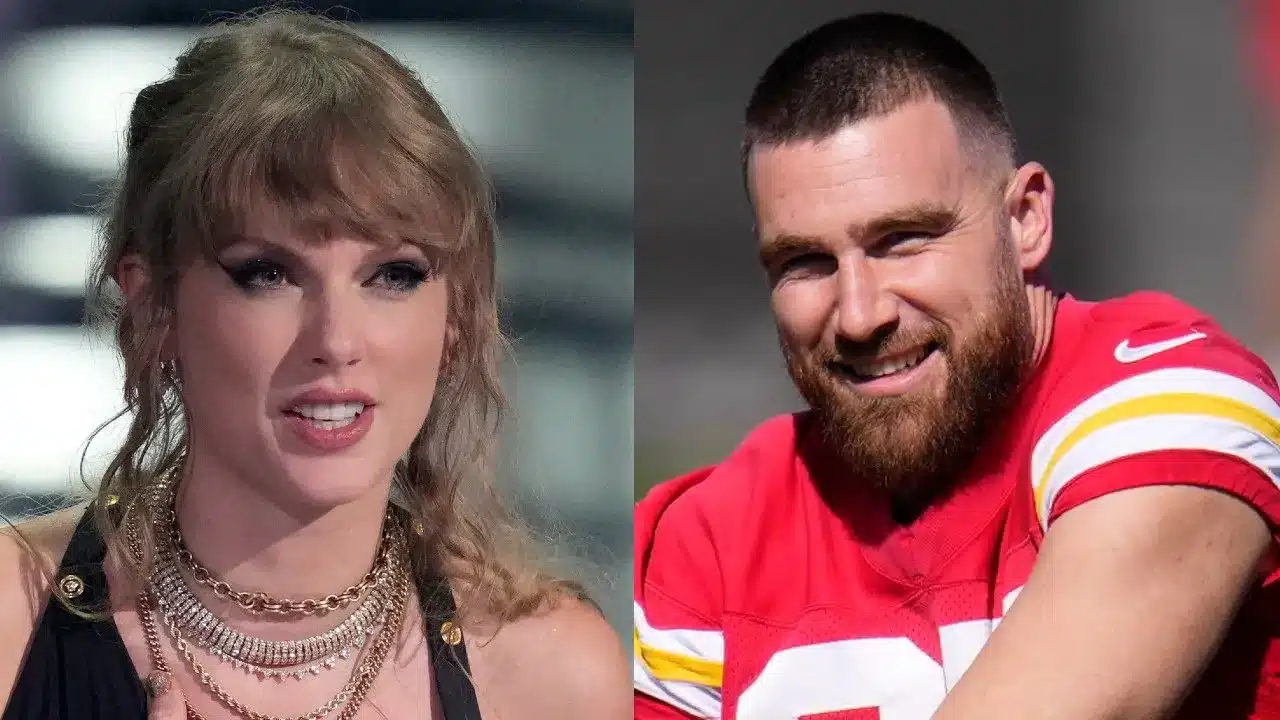 EAST RUTHERFORD, New Jersey — Taylor Swift could not pass up another opportunity to observe Travis Kelce play football.
The 12-time Grammy Award winner arrived at MetLife Stadium approximately forty minutes before Sunday night's kickoff to witness Travis and his Kansas City Chiefs defeat the New York Jets 23-20.
Swift, wearing blue jean shorts, a black long-sleeved top, and a leather jacket, entered the stadium's security area with actors Ryan Reynolds, Blake Lively, and Hugh Jackman, as captured by SNY. NBC's broadcast cut to Swift multiple times during the game, including a shot of the pop star with her arm around Donna Kelce, who was donning her son's No. 87 jersey.
Swift's appearance comes a week after she attended Arrowhead Stadium, dressed in red and white, to witness the Chiefs' 41-10 home victory over the Chicago Bears with Donna Kelce. Swift accepted the All-Pro tight end's invitation to observe the game and had to see more of Travis and the Chiefs in action.
Taylor Swift is on a break from her Eras Tour, which resumes on November 9 in Buenos Aires, Argentina. Travis acknowledges Swift's daring appearance at the Chiefs game but remains tight-lipped about their relationship. Twenty minutes before commencement, NBC aired a tour advertisement.

Taylor Swift could not pass up another opportunity to observe Travis Kelce play football.
Swift is familiar with MetLife Stadium, having performed three sold-out concerts there in May. Two of those performances were attended by Jets quarterback Aaron Rodgers, who returned to the team this past weekend after tearing his left Achilles tendon on the fourth play of his September 11 debut.
Rodgers attended a squad meeting on Saturday evening and was at the stadium to observe player warmups on Sunday evening.
Swift and Kelce have not disclosed details about their relationship. Kelce stated on his podcast "New Heights with Jason and Travis Kelce" earlier this week that Swift "looked amazing" at the contest.
Regarding her time spent in the suite, Kelce stated, "Everyone was speaking positively about her." "Moreover, the day proceeded flawlessly for Chiefs fans. Naturally, we plan everything, ladies and gentlemen."
Kelce invited Swift to that game after failing to present her a friendship bracelet during the Kansas City stop of her Eras Tour.
SOURCE – (AP)
Andretti Global Clears First Hurdle To Join Formula One As An 11th Team With FIA Expansion Approval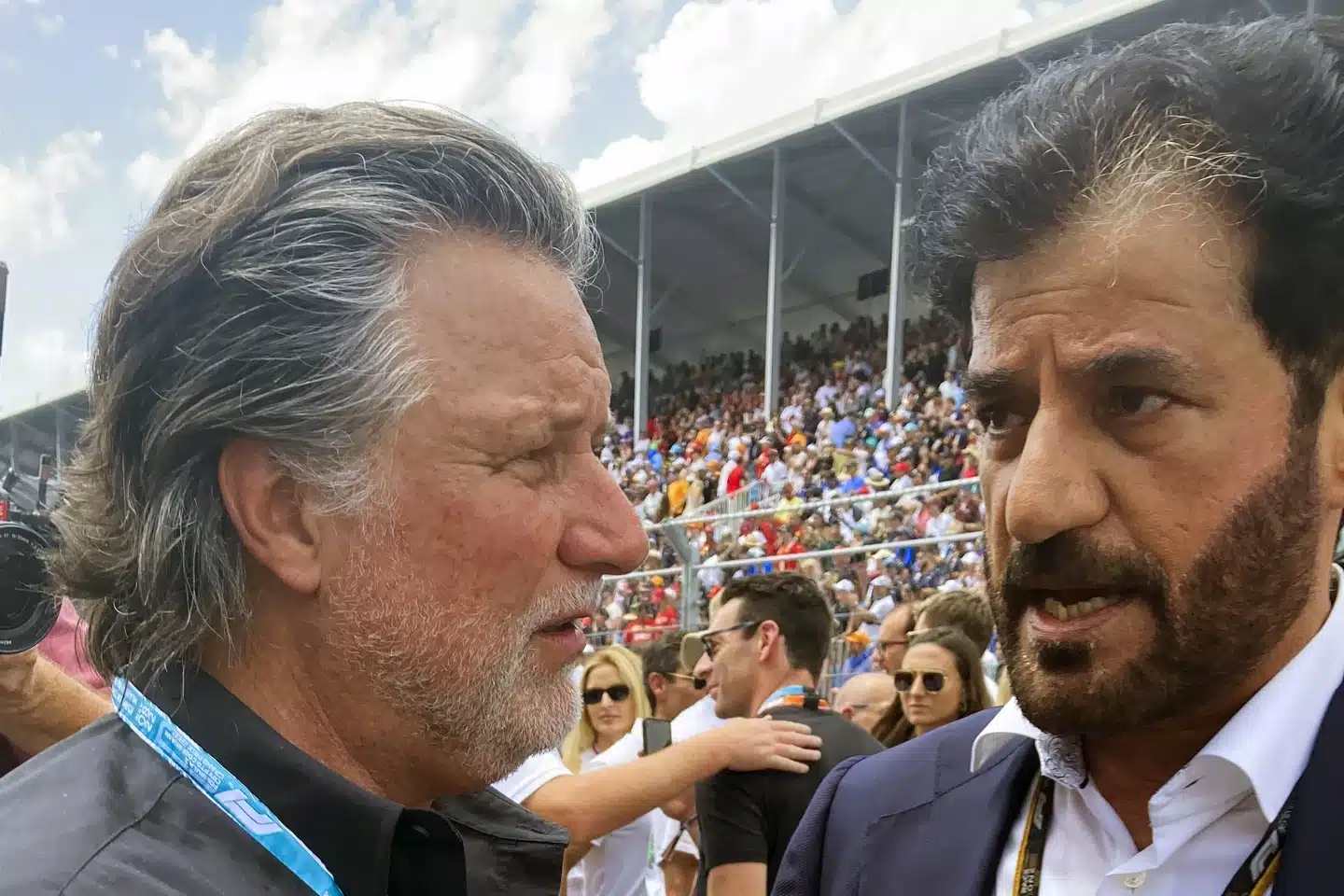 Monday, the FIA announced that American Michael Andretti satisfies all requirements to expand the world's premier motorsports series to 11 teams, removing a significant obstacle in his bid to launch a Formula One team.
The FIA decision does not guarantee Andretti will get the two-car team he desires. Andretti Global and its associate Cadillac must still demonstrate their commercial value to F1 rights holder Liberty Media and the existing teams, who adamantly oppose expanding the grid to twenty cars. However, the teams have no say in the expansion of the grid.
F1 said in a statement, "We note the FIA's conclusions regarding the first and second phases of their process and will now conduct our own evaluation of the remaining application's merits."
The FIA's approval was a crucial first step in Andretti's three-year mission to restore one of auto racing's most storied names to the pinnacle of the sport. His son Michael competed in 13 races during the 1993 season. Mario Andretti earned the F1 championship in 1978.
Father and son are among the most successful open-wheel racers in American history and rank third and fourth on IndyCar's all-time tally of winners. They have been attempting to reintroduce the Andretti name to F1 for years and have cleared an impediment by securing Mohammed Ben Sulayem's support for the effort.

Monday, the FIA announced that American Michael Andretti satisfies all requirements to expand the world's premier motorsports series to 11 teams.
Ben Sulayem stated, "The FIA is obligated to approve applications that meet the Expression of Interests application requirements, and we followed this procedure in deciding that Andretti Formula Racing LLC's application would advance to the next stage of the application process."
"Andretti Formula Racing LLC was the only entity that met the established selection criteria in all material respects. I commend Michael Andretti and his team for their comprehensive submission."
After Andretti petitioned for the grid to be expanded to enable new entrants, Ben Sulayem, who assumed leadership of the FIA in late 2021, oversaw the opening of an "expression of interest" process for potential new teams this year. Andretti's action followed an abortive 2021 attempt to acquire an existing team.
In the initial phase, seven applicants were received by the FIA. Five made it to the second round, which required a $300,000 fee and a thorough investigation by the F1 governing body. Andretti, whose engines would be General Motors-branded under the Cadillac banner, was considered the only worthy applicant out of four who completed the process.
The applicant had to satisfy FIA's sporting, technical and financial requirements to be recommended as a future team. Ben Sulayem stated on Monday that "our goal, after rigorous due diligence during the application phase, was to only approve prospective entries that met the established criteria and demonstrated they would enhance the sport."

Monday, the FIA announced that American Michael Andretti satisfies all requirements to expand the world's premier motorsports series to 11 teams.
Most existing teams have publicly opposed expanding the grid for anyone, including a General Motors-sponsored American. This year, there will be three F1 races in the United States and five in North America. The series has targeted a new sponsorship market by capitalising on the popularity of the European racing series in the United States.
But the existing teams, namely Red Bull and Mercedes, argue that they need to invest more heavily in F1 for anyone to buy their way in. Any new entrant must pay a $200 million anti-dilution fee, but the teams have argued that expansion reduces their financial share.
And if Andretti desires a team so badly, they say, he should buy one.
In 2016, Gene Haas founded the only American-owned team. Andretti has stated that his team will be the true American squad with an American driver, GM's support, and an American sponsor.
Ben Sulayem has backed the Andretti effort and stated that the Andretti name and General Motors contribute too much to the series to be rejected outright for future teams. Furthermore, Andretti does not have a financial stake in F1's profits like Liberty and the existing teams do.
Ben Sulayem said opening the procedure for new teams to join "also attracted further commitment from Audi, Honda and Ford and interest from Porsche and General Motors."
This was the third time the FIA had solicited expressions of interest from prospective teams. The first, in 2009, resulted in four teams joining the series, but they all subsequently declared bankruptcy and left the sport. As a result, the requirements to join F1 and the application procedure have become extremely stringent.
Haas obtained his team in a 2014 expression of interest and continues to compete in Formula One.
SOURCE – (AP)