Idaho mom Lori Vallow Daybell Sentenced In Deaths Of 2 Children And Her Romantic Rival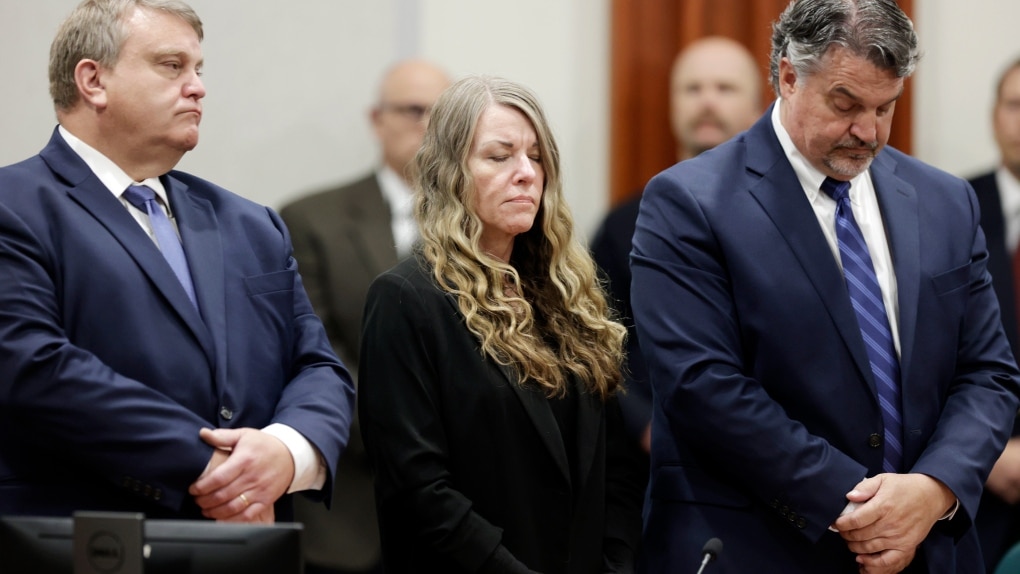 BOISE, Idaho – Lori Vallow Daybell, an Idaho mother, was sentenced to life in prison without the possibility of parole on Monday for the murders of her two youngest children and a romantic rival in a case that included bizarre claims that her son and daughter were zombies and that she was a goddess sent to bring about the Biblical apocalypse.
In May, Vallow Daybell was found guilty of murdering her two youngest children, Joshua "JJ" Vallow, 7, and Tylee Ryan, 16, and conspired to murder Tammy Daybell, her fifth husband's prior wife. According to the judge, Vallow Daybell will serve three consecutive life sentences.
Chad Daybell, the wife's husband, is facing the same murder accusations. Vallow Daybell is also facing two more charges in Arizona: one for planning with her brother to murder her fourth husband, Charles Vallow, and another for conspiring to murder her niece's ex-husband. Charles Vallow was slain in a shooting in 2019, although her niece's ex escaped another attempt later that year.
Judge Steven W. Boyce said at the Fremont County Courthouse in St. Anthony, Idaho, that the search for the missing children, the discovery of their bodies, and the evidence photos shown in court traumatized law enforcement and jurors and that he would never be able to get images of the slain children out of his head.
Boyce described a parent killing their children as "the most shocking thing that I can imagine."
Vallow Daybell defended the killings by "going down a bizarre religious rabbit hole, and clearly you are still down there," according to the judge.
"I don't think you have any remorse to this day for the effort and heartache you caused," he remarked.
Boyce heard from numerous victims' representatives, including Vallow Daybell's only surviving son, Colby Ryan.

Lori Vallow Daybell, an Idaho mother, was sentenced to life in prison without the possibility of parole on Monday.
"Tylee will never be able to become a mother, wife, or pursue the career she was born with." "JJ will never be able to grow and spread his light with the world as he did," Ryan wrote in a statement read aloud by prosecution attorney Rob Wood. "My siblings and father deserve so much better." I want them to be remembered as people, not as a spectacle."
Ryan also wrote about his loss.
"I've lost the chance to share my life with the people I care about the most." He wrote, "I have lost my sister, father, brother, and mother." "I pray for healing for all involved, including those who took the lives of everyone we loved."
Tammy Daybell's death and the murder scheme caused a schism in her family, Tammy's sister Samantha Gwilliam testified in court.
"Why? Why would you plot anything so heinous? "You are not exalted beings, and your actions disqualify you from being one," Gwilliam remarked, referring to the strange theological beliefs. "Because of your choices, my family lost a beloved mother, sister, and daughter."
Tammy Daybell's mother was dying of cancer and spent the last months of her life watching the murder trial, according to Gwilliam. The family has also been pursued by the media and others drawn by "all of the salacious scandal you stirred up," Gwilliam told Vallow Daybell, who sat between her defense counsel and looked down.
"I think about my sister every day. "I will mourn her and my mother's death daily," Gwilliam stated. "As for you, I choose to forget you, and as I leave the courtroom here today, I choose never to think of you again."
Before passing the sentence, Boyce heard from Vallow Daybell. She quoted Bible texts about people not judging one another. She, too, lamented the loss of her children and Tammy Daybell, but she knew they would be reunited in the afterlife.

She stated that she is visited regularly by the souls of her deceased children and the ghost of her "eternal friend," Tammy Daybell and that the three were not killed.
"Jesus Christ knows that no one was murdered in this case," she declared. "Accidental fatalities occur. Suicides occur. Medication can have fatal adverse effects."
Wood cited the two Arizona cases and three murders in Idaho in six weeks.
"A defendant who is willing to murder her own children is willing to murder anyone," said Wood. "Only a life sentence in prison without the possibility of parole can protect society from this defendant."
Vallow Daybell was committed several times to therapy to be mentally competent for court hearings. However, according to court reports, Wood stated that there is no indication that her offenses were influenced by her "alleged mental illness," which includes delusional disorder with exquisite elements.
"The evidence is overwhelming that she did know right from wrong," Wood said, citing testimony from many witnesses who claimed she lied about the deaths.
Alex Cox, Vallow Daybell's brother, shot and killed her estranged husband, Charles Vallow, at a suburban Phoenix house in July 2019. Cox claimed he acted in self-defense. He was never charged and died of natural causes, according to authorities.
Vallow Daybell was already dating Chad Daybell, a self-published author of apocalypse fiction partly based on Mormon teachings. She relocated to Idaho with her children and brother to be closer to him.
The kids were last seen alive in September of this year. After an extended family member became concerned, police confirmed they were missing a month later. Their bodies were buried in Chad Daybell's garden the following summer.

During the trial, specialists testified that Tylee was stabbed and her body was burned before being interred in a pet cemetery, according to Wood.
Wood speculated that JJ's head was wrapped in tape and plastic, asphyxiating him and that his last thoughts must have "been filled with fear and betrayal."
Tammy Daybell's body was damaged, implying she fought back while asphyxiating on her bed, according to Wood.
Chad Daybell married Lori Vallow in November 2019, just two weeks after Daybell's last wife, Tammy, was murdered. According to authorities, Tammy Daybell was initially said to have died of natural causes, but an examination later revealed she had been asphyxiated.
During the trial, defense attorney Jim Archibald contended that there was no evidence linking Vallow Daybell to the murders but plenty demonstrating that she was a loving, protective mother whose life took a drastic turn when she met Chad Daybell and fell for his "weird" apocalyptic religious views. He suggested that the fatalities were caused by Daybell and Vallow Daybell's brother, Alex Cox.
Daybell informed her they had been married in prior lifetimes, and she was a "sexual goddess" tasked with saving the world by gathering 144,000 followers so Jesus could return, according to Archibald.
During the trial, Vallow Daybell's former acquaintance Melanie Gibb testified that Vallow Daybell believed individuals in her life had been taken over by demonic spirits and turned into "zombies," including JJ and Tylee.
SOURCE – (AP)
Taylor Swift Watches Travis Kelce's Chiefs Take On The Jets At MetLife Stadium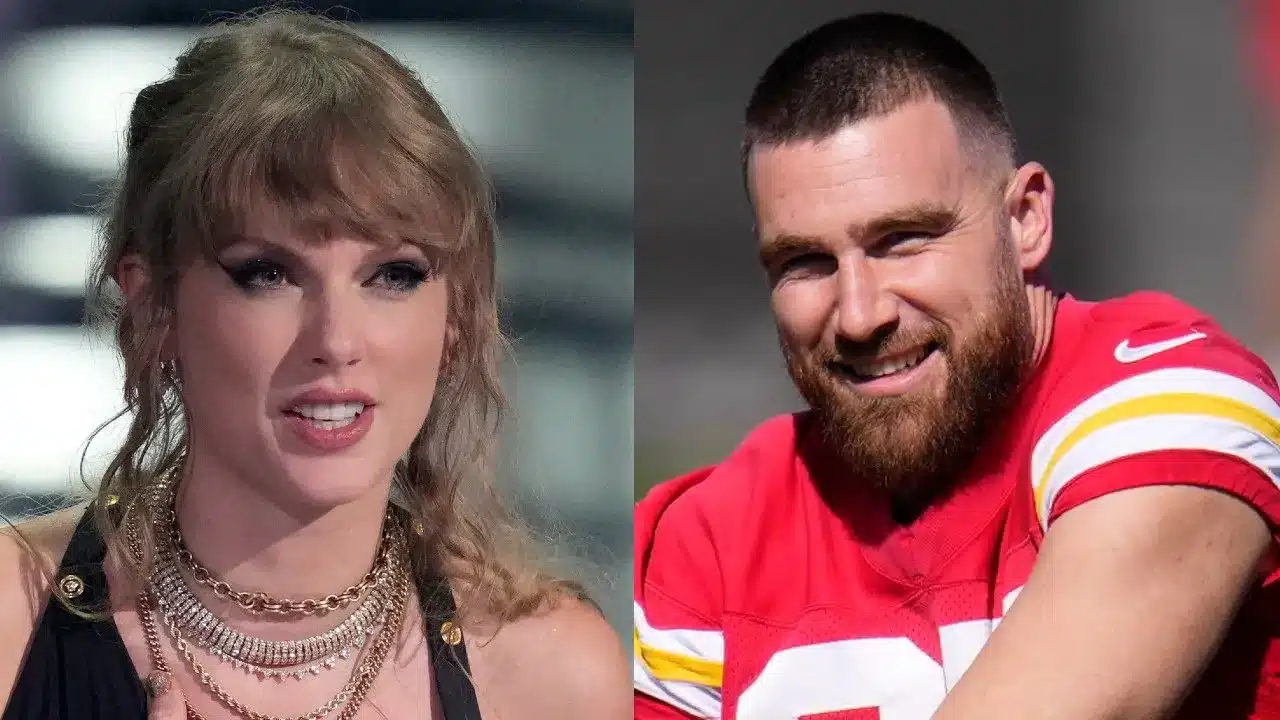 EAST RUTHERFORD, New Jersey — Taylor Swift could not pass up another opportunity to observe Travis Kelce play football.
The 12-time Grammy Award winner arrived at MetLife Stadium approximately forty minutes before Sunday night's kickoff to witness Travis and his Kansas City Chiefs defeat the New York Jets 23-20.
Swift, wearing blue jean shorts, a black long-sleeved top, and a leather jacket, entered the stadium's security area with actors Ryan Reynolds, Blake Lively, and Hugh Jackman, as captured by SNY. NBC's broadcast cut to Swift multiple times during the game, including a shot of the pop star with her arm around Donna Kelce, who was donning her son's No. 87 jersey.
Swift's appearance comes a week after she attended Arrowhead Stadium, dressed in red and white, to witness the Chiefs' 41-10 home victory over the Chicago Bears with Donna Kelce. Swift accepted the All-Pro tight end's invitation to observe the game and had to see more of Travis and the Chiefs in action.
Taylor Swift is on a break from her Eras Tour, which resumes on November 9 in Buenos Aires, Argentina. Travis acknowledges Swift's daring appearance at the Chiefs game but remains tight-lipped about their relationship. Twenty minutes before commencement, NBC aired a tour advertisement.

Taylor Swift could not pass up another opportunity to observe Travis Kelce play football.
Swift is familiar with MetLife Stadium, having performed three sold-out concerts there in May. Two of those performances were attended by Jets quarterback Aaron Rodgers, who returned to the team this past weekend after tearing his left Achilles tendon on the fourth play of his September 11 debut.
Rodgers attended a squad meeting on Saturday evening and was at the stadium to observe player warmups on Sunday evening.
Swift and Kelce have not disclosed details about their relationship. Kelce stated on his podcast "New Heights with Jason and Travis Kelce" earlier this week that Swift "looked amazing" at the contest.
Regarding her time spent in the suite, Kelce stated, "Everyone was speaking positively about her." "Moreover, the day proceeded flawlessly for Chiefs fans. Naturally, we plan everything, ladies and gentlemen."
Kelce invited Swift to that game after failing to present her a friendship bracelet during the Kansas City stop of her Eras Tour.
SOURCE – (AP)
2023: A Second UK Police Force Is Looking Into Allegations Of Sexual Offenses Committed By Russell Brand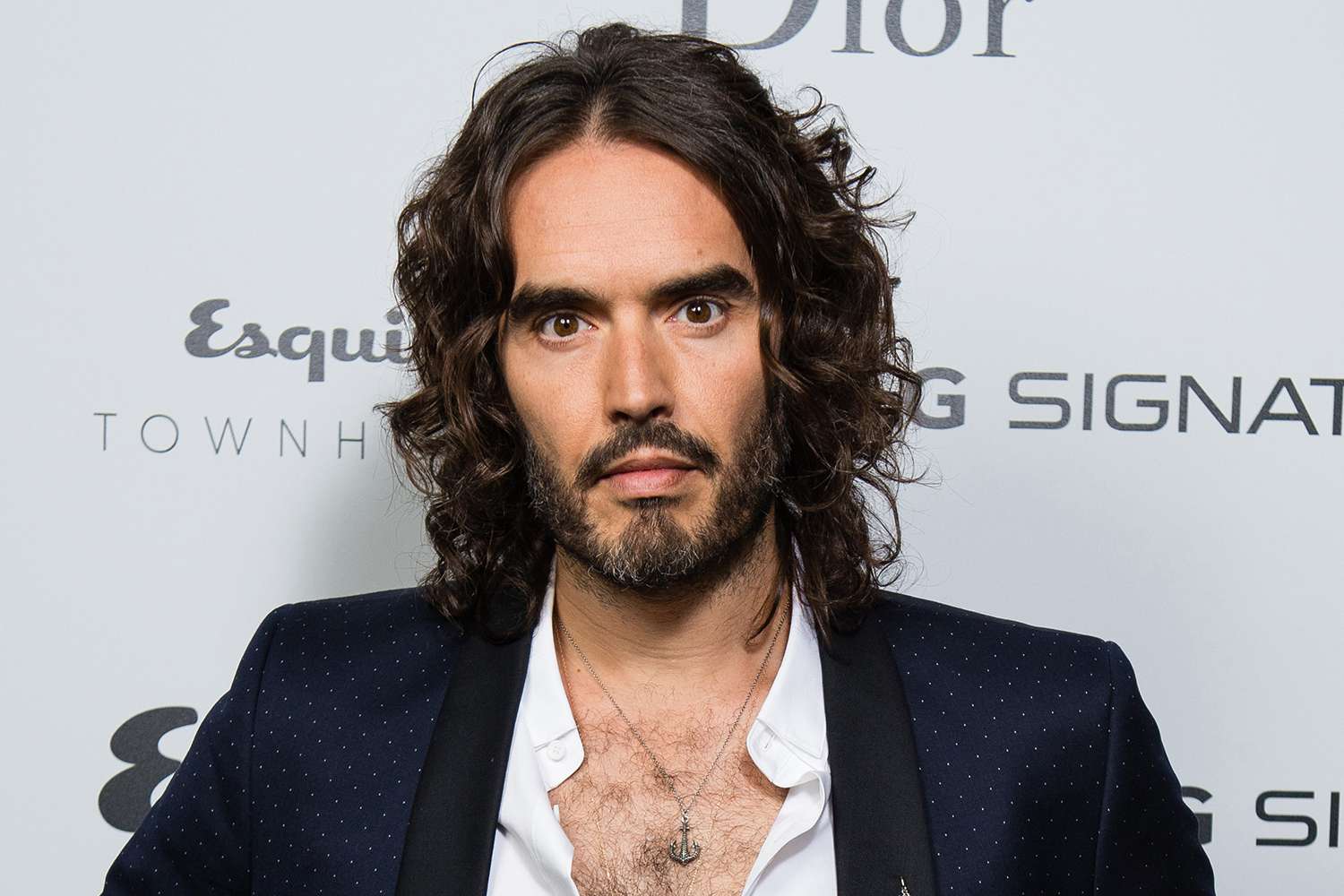 LONDON brand,  British media reported on Monday that a second British police force is investigating sexual offenses purportedly committed by the actor and comedian Russell Brand.
According to the BBC and PA news agency, Thames Valley Police is reexamining harassment and surveillance allegations made by a woman against Russell between 2018 and 2022.
As is customary in the United Kingdom for individuals who have not been charged, the police refused to identify Russell but stated in response to news reports.
"In the past two weeks, Thames Valley Police have received new information regarding harassment and stalking allegations dating back to 2018," it stated. As such, it would be inappropriate to comment on an ongoing investigation involving this information.
As a result of a television documentary and newspaper investigations, London's Metropolitan Police stated last week that it was investigating "a number of allegations of sexual offences" involving Russell.

A Second UK Police Force Is Looking Into Allegations Of Sexual Offenses Committed By Russell Brand
Russell, 48, denies sexual assault allegations brought by four women in a Channel 4 documentary and The Times and Sunday Times newspapers. One of the unnamed accusers claims she was sexually assaulted during a 16-year-old relationship with the defendant. In 2012, a second victim claimed Brand raped her in Los Angeles.
The brand was a prominent U.K. celebrity in the early 2000s, hosting radio and television programs and starring in several Hollywood films. Between 2010 and 2012, he briefly married the pop singer Brandy Perry.
They have largely vanished from mainstream media but has amassed a substantial online following through videos that combine wellness and conspiracy theories. YouTube has stated that due to the "serious allegations" against Brand, he will no longer be able to monetize his 6,6 million subscribers on the video streaming platform.
Source – Ap
U2 Concert Uses Stunning Visuals To Open Massive Sphere Venue In Las Vegas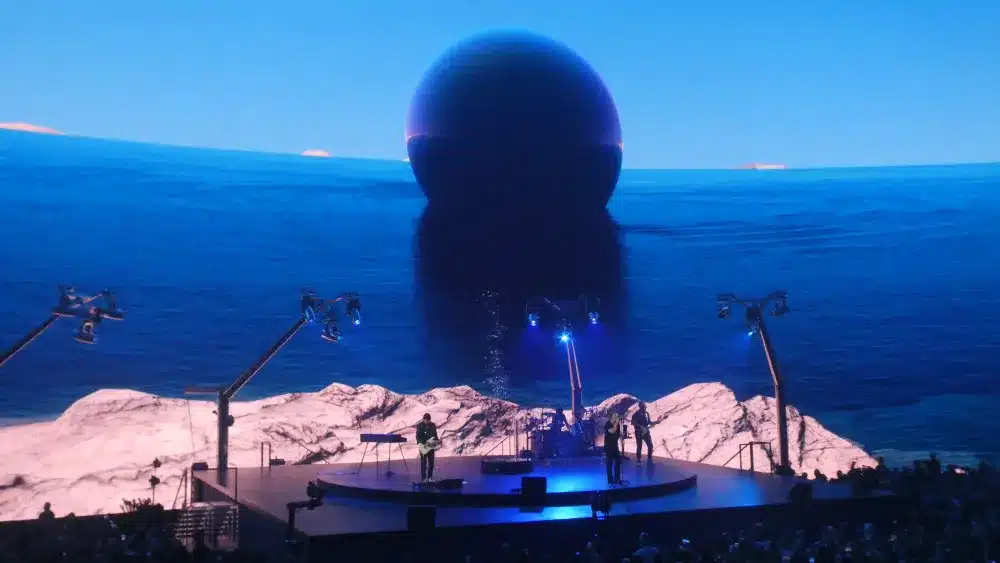 LAS VEGAS – It appeared to be a typical U2 outdoor concert: two helicopters flew through a starry sky before producing spotlights over the Las Vegas desert and Bono, who kneeled on the ground while singing the band's 2004 hit "Vertigo."
This scene may appear normal, but the visuals were created using floor-to-ceiling graphics within the immersive Sphere. It was one of several impressive instances during U2's "UV Achtung Baby" residency launch show at the globe-shaped, high-tech venue, which debuted Friday night.

It appeared to be a typical U2 outdoor concert: two helicopters flew through a starry sky before producing spotlights over the Las Vegas desert
The legendary rock band, which has won 22 Grammys, performed for two hours inside the enormous, state-of-the-art, spherical venue with crystal-clear audio. Throughout the evening, various captivating visuals, including kaleidoscopic images, a burning flag, and the Las Vegas skyline, transported more than 18,000 concertgoers on U2's epic musical voyage.
Bono, joined onstage by guitarists The Edge and Adam Clayton and percussionist Bram van den Berg, exclaimed, "What a swanky flat!" Then, he gazed at the high-resolution LED display that projected a larger image of himself, along with a few praying hands and bells.
SOURCE – ap