Tony-Winning Lyricist Sheldon Harnick 'Fiddler On The Roof' Creator, Dies At 99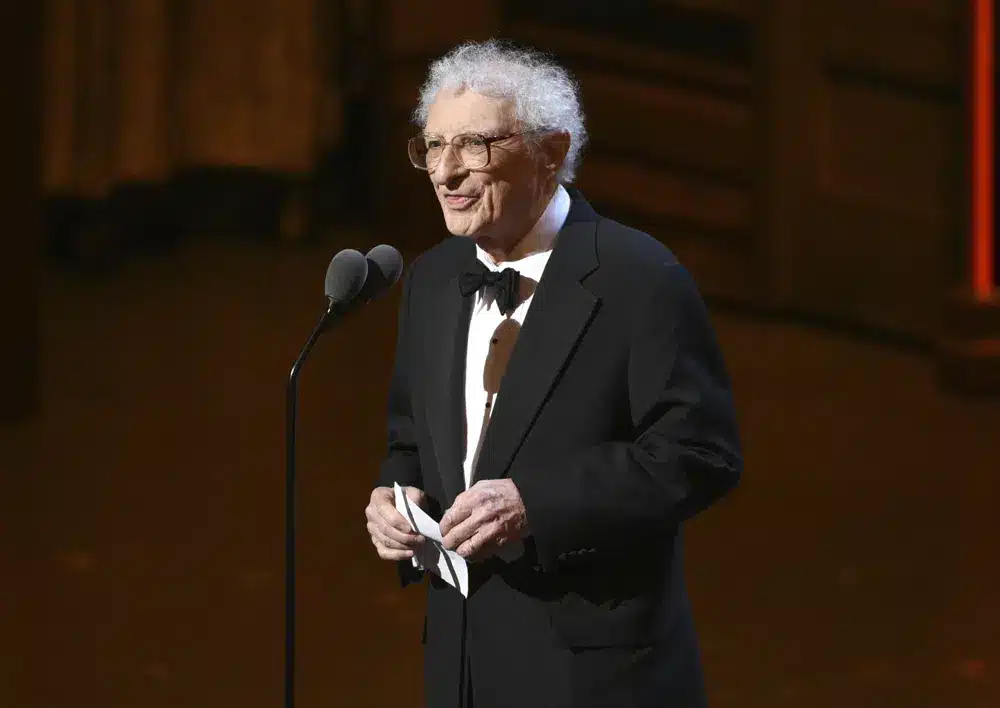 NEW YORK – Sheldon Harnick, who with composer Jerry Bock formed the premier musical-theater songwriting duos of the 1950s and 1960s with productions including "Fiddler on the Roof," "Fiorello!" and "The Apple Tree," has died. He was 99.
Harnick, known for his sharp, nuanced humor and precise wordplay, died in his sleep Friday in New York City of natural causes, according to Harnick's publicist, Sean Katz.
Broadway stars paid tribute to him on social media, with 'Schmigadoon!' writer Cinco Paul calling him 'one of the all-time great musical theatre lyricists' and actress Jackie Hoffman fondly commenting, 'Like all brilliant persnickety lyricists he was a pain in the tuchus'.
Bock and Harnick's first great breakthrough came with the music and lyrics to "Fiorello!," which earned them Tony Awards and a rare Pulitzer Prize in 1960. In addition, Harnick received Tony nominations for "The Apple Tree" in 1967, "The Rothschilds" in 1971, and "Cyrano — The Musical" in 1994. Their masterwork, though, was "Fiddler on the Roof."
Bock and Harnick met for the first time at a restaurant by actor Jack Cassidy during the opening-night performance of "Shangri-La," a musical in which Harnick contributed lyrics. In 1958, "The Body Beautiful" was the first Harnick-Bock musical.
"I think in all of the years that we worked together, I only remember one or two arguments — and those were at the beginning of the collaboration when we were still feeling each other out," Harnick said in a 2010 interview with The Associated Press. "Once we got past that, he was wonderful to work with."
They would go on to forge one of the most powerful collaborations in Broadway history. Producers Robert E. Griffith and Hal Prince enjoyed the songs from "The Body Beautiful," so they hired Bock and Harnick to write the score for their next show, "Fiorello!," a musical about New York City's reformist mayor.

Harnick, known for his sharp, nuanced humor and precise wordplay, died in his sleep Friday in New York City of natural causes.
Bock and Harnick then worked together on "Tenderloin" in 1960, followed by "She Loves Me" three years later. Neither was a smash, though "She Loves Me" won a Grammy for best score from a cast CD, but their next hit was a monster still played across the world: "Fiddler on the Roof." In 1965, it won two Tony Awards.
"Fiddler on the Roof," based on stories by Sholom Aleichem and translated into a libretto by Stein, dealt with the experience of Eastern European Orthodox Jews in the Russian hamlet of Anatevka in 1905. It starred Zero Mostel as Tevye, ran for over eight years and gave the world songs like "Sunrise, Sunset," "If I Were a Rich Man," and "Matchmaker, Matchmaker." The most recent Broadway production starred Danny Burstein as Tevye and received a Tony nomination for outstanding revival.
Harnick's lyrics were heartbreaking and honest in a masterwork of hilarity and tenderness, like when the hero Tevye sings, "Lord who made the lion and the lamb/You decreed I should be what I am/Would it spoil some vast eternal plan/If I were a wealthy man?"
In 1966, Bock and Harnick wrote the book and the score for "The Apple Tree," in 1970, they wrote the score for "The Rothschilds," with a book by Sherman Yellen. It was their final collaboration: Bock thought it was time for him to be his lyricist, and he released two experimental albums in the early 1970s.
Harnick later worked with Michel Legrand on "The Umbrellas of Cherbourg" in 1979 and a musical version of "A Christmas Carol" in 1981; Mary Rodgers on a version of "Pinocchio" in 1973; Arnold Black on a musical version of "The Phantom Tollbooth;" and Richard Rodgers on the score to "Rex" in 1976, a Broadway musical about Henry VIII.
He also composed lyrics for Marlo Thomas' TV special "Free to Be… You and Me" song "William Wants a Doll" and several original opera librettos, including "Captain Jinks of the Horse Marines" and "Love in Two Countries." He earned a Grammy for his libretto for "The Merry Widow," which starred Beverly Sills.

Harnick, known for his sharp, nuanced humor and precise wordplay, died in his sleep Friday in New York City of natural causes.
From songs for the HBO animated film "The Tale of Peter Rabbit" with music by Stephen Lawrence in 1991 to lyrics for the opening number of the 1988 Academy Awards show, his work for television and film spanned from songs for the HBO animated film "The Tale of Peter Rabbit" with music by Stephen Lawrence. He wrote the theme songs for two films, "The Heartbreak Kid" in 1972 and "Blame it on Rio" in 1984, both with music by Cy Coleman.
The York Theatre Company recreated some of Harnick's early works, including "Malpractice Makes Perfect," "Dragons," and "Tenderloin," off-Broadway in 2014. "She Loves Me" was last seen on Broadway in a Tony-nominated revival 2016 starring Zachary Levi.
Harnick was born and raised in Chicago, and after serving in the army during WWII, he got a bachelor's degree in music from Northwestern University School of Music. After studying the violin, he chose to try his luck as a songwriter in New York.
"The Ballad of the Shape of Things," later recorded by the Kingston Trio, was one of his early compositions, as was the Cole Porter spoof "Boston Beguine," from the revue "New Faces of 1952."
His wife, artist Margery Grey Harnick, and he had two children, Beth and Matthew, and four grandkids. Harnick previously married actress Elaine May. He had been a member of the Dramatists Guild and the Songwriters Guild for many years.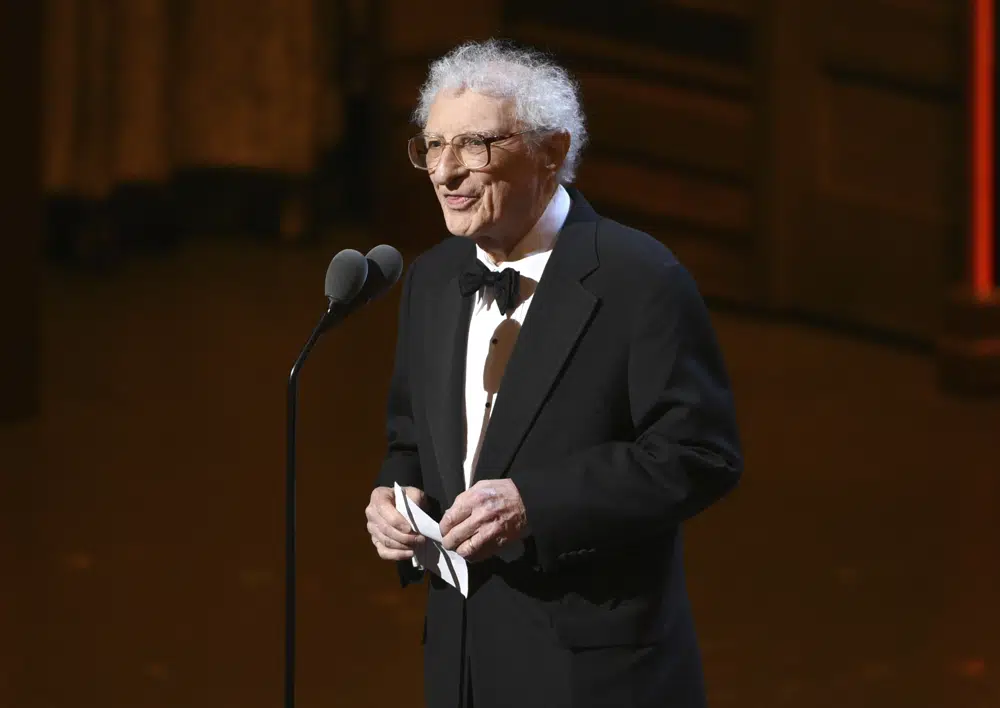 SOURCE – (AP)
Russell Brand Speaks Out for the First Time Since Sex Allegations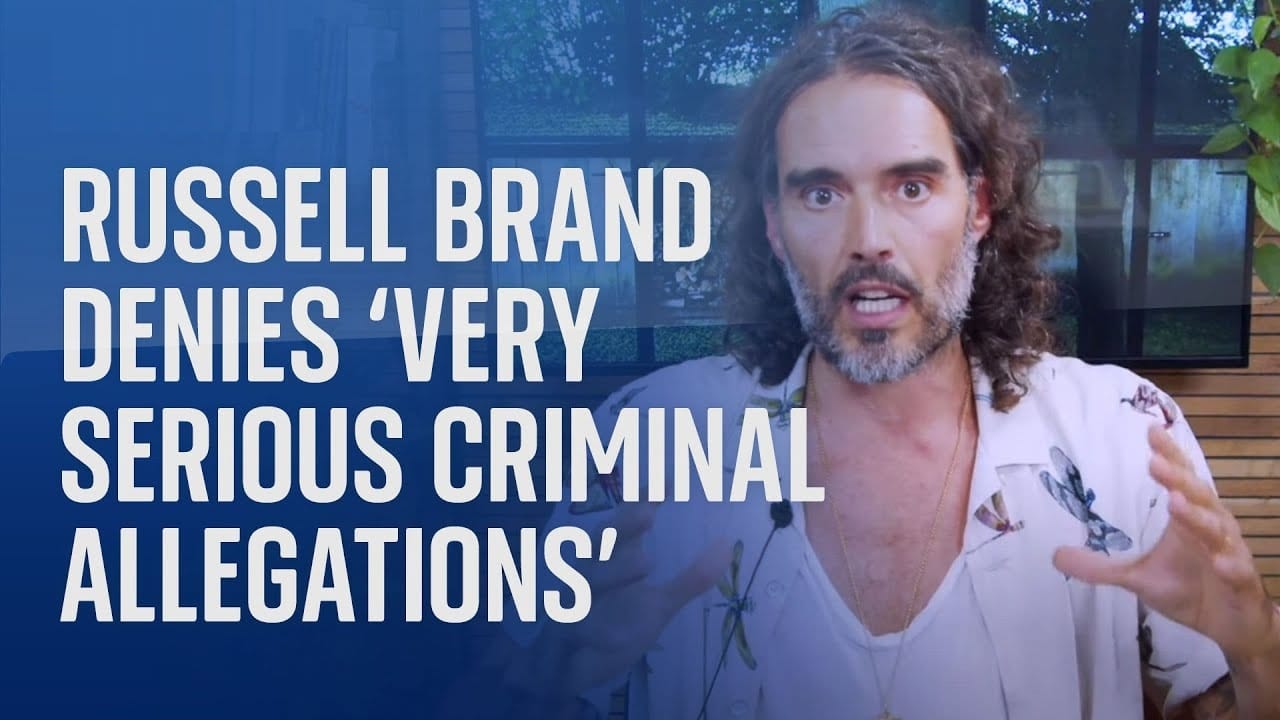 Russell Brand says it's been a "extraordinary and distressing" week following allegations of rape and sexual abuse against him.
He thanked fans for their support and for "questioning the information that you've been presented with" in a video posted on social media.
They are his first public comments since the Sunday Times and Channel 4's Dispatches reported charges about him last weekend.
Russell Brand has refuted the allegations.
Four women accused Brand of sexual assaults and rape between 2006 and 2013, according to a collaborative investigation by the Sunday Times, the Times, and Channel 4's Dispatches.
Brand disputed the charges prior to their publication, claiming that his encounters were "always consensual."
The actor and comedian did not explicitly address the allegations in his three-minute video on Friday, but he did make statements about "media corruption and censorship" and "deep state and corporate collusion."
He claimed he would post a longer film on the video streaming site Rumble on Monday, citing the platform's "clear commitment to free speech."
Rumble said earlier this week that it would not "join a cancel culture mob" in response to a question from a UK Parliament inquiry on whether it would slash Brand's salary in the wake of the claims.
Four women filed claims against Russell Brand in the Sunday Times, Times, and Channel 4 investigation:
One woman claims Brand raped her against a wall in his Los Angeles home without using a condom. She claims Brand tried to stop her leaving until she told him she needed to use the loo. She was treated at a rape crisis centre on the same day, according to medical records obtained by the BBC.
A second woman in the United Kingdom claims Russell Brand assaulted her when he was in his early 30s and she was still in school. She claims he referred to her as "the child" during a controlling and emotionally abusive relationship. In retrospect, she claims he "engaged in grooming behaviours."
A third woman claims that while working with Brand in Los Angeles, he sexually attacked her. She claims she constantly ordered Brand to get off her, and when he finally did, he "flipped" and became "super angry." He allegedly threatened her with legal action if she notified anybody else about her claim.
The fourth woman claims Brand sexually assaulted her in the UK and was physically and emotionally hostile to her.
Another woman accused Brand this week of exposing himself to her and then laughing about it on his BBC radio show in 2008.
YouTube has barred Brand's channels from receiving money from advertisements for "violating" the platform's "creator responsibility policy." It stated that it was acting "to protect" its users.
In recent years, he has repositioned himself, regularly sending videos to his online fans on spirituality, anti-establishment politics, and, most lately, UFOs.
Keywords: stay free with russell brand, brand x with russell brand, how old is russell brand, the russell brand show
BTS Member Suga Begins Alternative 18 Month Military Service In South Korea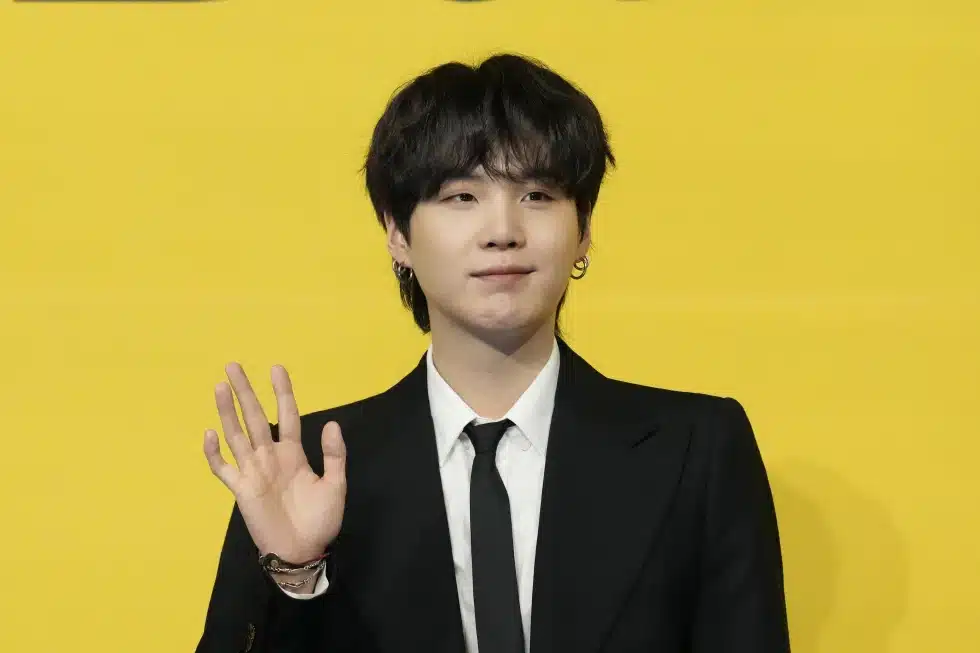 SEOUL, South Korea – Suga, a member of the K-pop supergroup BTS, began his mandatory military service as a social service representative on Friday, an alternative form of military service in South Korea.
Suga, age 30, became the third member of the group to begin performing military duties. The remaining two, Jin and J-Hope, are already serving in active duty at army bases.
"I will faithfully serve and return… Please remain healthy and we'll see you all in 2025!" Suga wrote in a message posted to the Weverse online fan community.
Big Hit Music, the management agency for BTS, reported that Suga began commuting to a workplace designated under the alternative military service system.
Due to threats from North Korea, all able-bodied males in South Korea must serve in the army, navy, or air force for 18 to 21 months under a conscription system. For 21 months, individuals with physical and mental impairments can perform their duties at non-military facilities such as welfare centers, community service organizations, and post offices.
Local media reported that Suga's alternative service in 2020 was presumably related to shoulder surgery.

Suga, a member of the K-pop supergroup BTS, began his mandatory military service as a social service representative on Friday.
Active duty soldiers must complete five weeks of fundamental military training at boot camps before beginning service. According to the Military Manpower Administration, those performing alternative service must complete three weeks of basic military training and have the option to choose when to do so.
Unknown was the facility where Suga began serving. In a statement released earlier this week, BTS's management agency, Bit Hit Music, asked Suga's admirers not to visit him at work during his military service.
Big Hit Music requested that warm regards and encouragement be conveyed only in their souls. "We ask for your continued love and support for (Suga) until he completes his service and returns."
Last year, a heated public debate erupted over whether BTS members should be exempt from their mandatory military obligations. However, the group's administration agency ultimately reported that all seven members would meet their obligations.
South Korean law exempts athletes, classical and traditional musicians, ballet dancers, and other dancers if they have contributed to the nation's prestige. K-pop performers do not qualify for the special exemption.
SOURCE – (AP)
Sophie Turner Sues To Force Estranged Husband Joe Jonas To Turn Over Children's Passports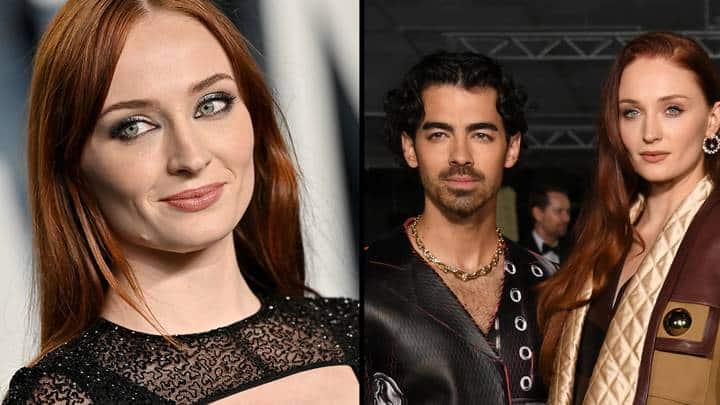 NEW YORK — On Thursday, actress Sophie Turner filed a lawsuit against her estranged spouse, pop star Joe Jonas, to compel him to turn over the passports of their two young daughters so she can take them to England.
Turner, who was served with divorce papers this month after four years of marriage to Jonas, stated in her petition that the couple intended to nurture their daughters in her home country of England. It was also stated that the girls, aged 3 and 1, "are both fully involved and integrated in all aspects of daily and cultural life in England."
Sofie, best known for her role as Sansa Stark on HBO's "Game of Thrones," filed her petition in New York federal court under the child abduction clauses of the Hague Convention, an international treaty designed to compel the return of a child stolen from their "habitual residence."
Sofie, 27, and Jonas, 34, reportedly agreed to raise their daughters in England and relocated there in April of this year.
During part of August and September, while Jonas began a tour with his band, the Jonas Brothers, in the United States, Turner would be working long hours filming a television series in England. Therefore, Turner stated that she and Jonas had consented for the children to travel with Jonas and a nanny.
The plan was for Turner to travel to New York to collect the children after filming concluded on September 14, but "the breakdown of the parties' marriage happened very suddenly," Turner said.

On Thursday, actress Sophie Turner filed a lawsuit against her estranged spouse, pop star Joe Jonas.
According to Turner, Jonas filed for divorce in Florida on September 1, and she found out about it on September 5 through the media. The couple announced on their Instagram accounts on September 6 that they had mutually decided to terminate their marriage amicably.
Turner claims that she and Jonas met on September 17 and asked him for the children's passports so she could transport them back to England. However, Jonas refused to hand over the passports of the girls, who were born in the United States and hold dual U.S. and British citizenship.
According to the court filing, Turner temporarily houses the girls in a Manhattan hotel. The Jonas Brothers were scheduled to perform in Philadelphia and Baltimore on Thursday and Friday, respectively.
Jonas stated that he is "seeking shared parenting so that the children are raised by both their mother and father" and that he is "fine with the children being raised in both the United States and the United Kingdom."
"This is a regrettable legal dispute over a marriage that is sadly ending," he continued. "When language like 'abduction' is used, it is at best deceptive and at worst a grave abuse of the legal system."
Jonas stated that he did not startle Sophie Turner with divorce papers but instead filed for divorce after "multiple conversations with Sophie."
Since 2005, when he and his siblings Nick and Kevin formed the Jonas siblings, Jonas has been a pop idol. He met Turner in 2016, and they wed in 2019.
SOURCE – (AP)