Trump Says 37 Felony Counts "Ridiculous" and "Baseless"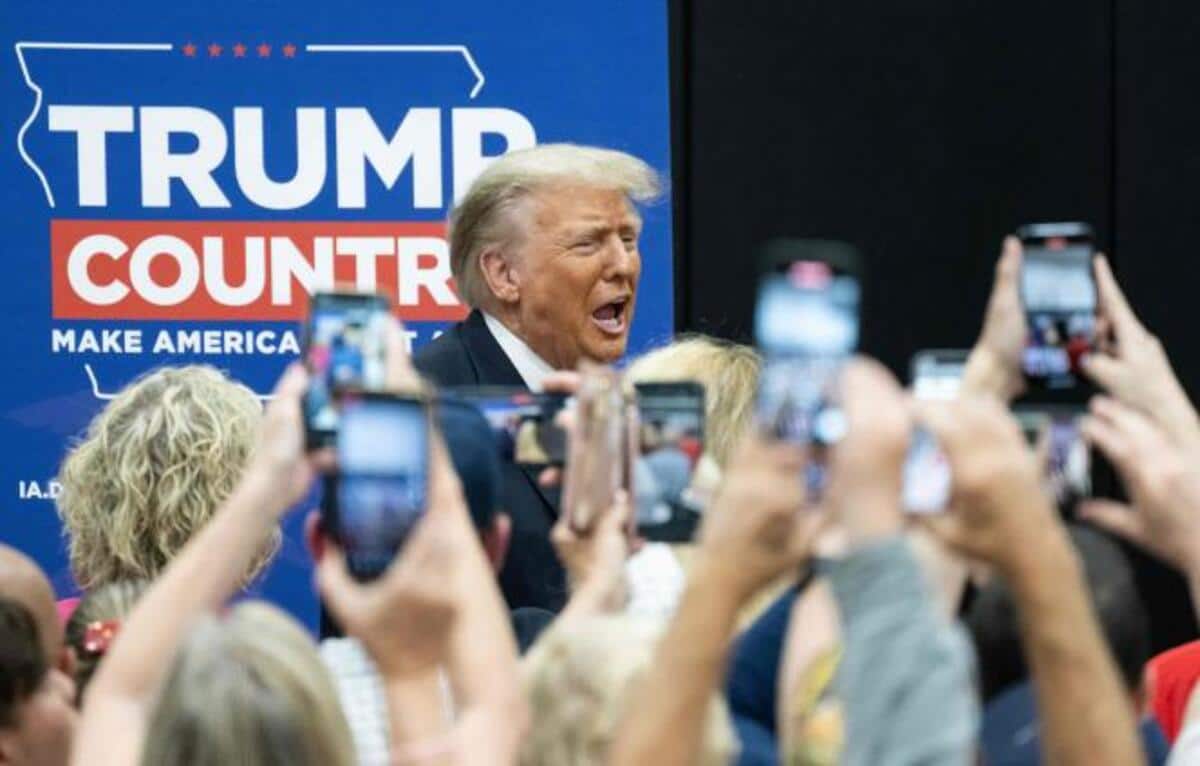 Former President Donald Trump slammed his historic federal indictment as "ridiculous" and "baseless" in his first public appearances since the charges were unsealed on Saturday, portraying the 37 felony counts as an attack on his supporters as he attempted to turn dire legal peril into political advantage.
Speaking at Republican state conventions in Georgia and North Carolina, Trump portrayed the Department of Justice's indictment as an attempt to undermine his chances of re-election to the presidency in a second term.
"They've launched one witch hunt after another to try and stop our movement, to thwart the will of the American people," Trump said in Georgia, before promising the crowd, "In the end, they're not coming after me." They're pursuing you."
The technique is well-worn for Trump, who remains the front-runner for the GOP nomination in 2024 despite escalating legal difficulties, including criminal charges filed against him in New York in March. In the face of an investigation, Trump has repeatedly attempted to delegitimize law enforcement officers and depict himself — and his supporters — as victims, even when he is charged with serious crimes.
Trump also promised on Saturday that he would remain in the race even if convicted in the case.
"I'll never leave," he said in an interview with Politico aboard his jet following his address in Georgia. He also anticipated that he would not be convicted and avoided questions about whether he would pardon himself if re-elected.
"I don't think I'll ever have to," Trump declared. "I didn't do anything wrong."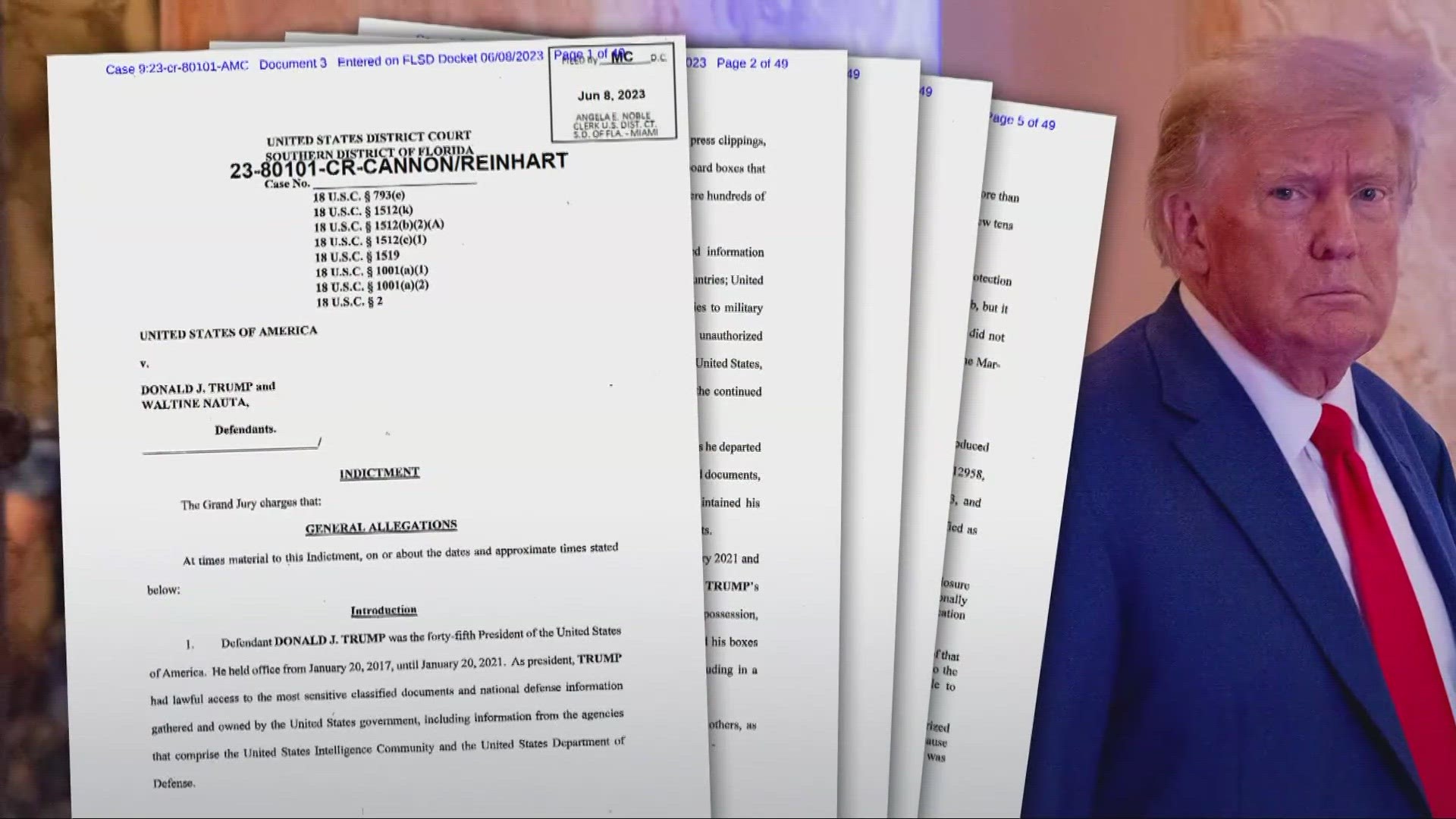 The indictment, which was unsealed on Friday, alleges Trump with deliberately ignoring Justice Department orders that he surrender secret documents, involving advisers in his efforts to conceal the data, and even instructing his lawyers that he planned to disobey a subpoena for materials housed at his property.
The indictment alleges that he kept documents in a ballroom and a restroom at his Mar-a-Lago property, among other locations.
Trump is scheduled to appear in federal court in Miami on Tuesday. He was accused with personal aide Walt Nauta, who prosecutors claim transferred items from a storage area to Trump's home for him to see and then lied to investigators about the move. Nauta accompanied Trump to Georgia, where he joined him at a Waffle House stop where he signed autographs, posed for selfies, and told fans, "We did absolutely nothing wrong."
Earlier Saturday, Trump was greeted like a hero at the Republican National Convention in Georgia, where he slammed the investigation as "a political hit job" and accused his political opponents of launching "one hoax and witch hunt after another" to prevent his reelection.
"The ridiculous and baseless indictment by the Biden administration's weaponized Department of Injustice will go down as among the most horrific abuses of power in the history of our country," he stated.
He also used his speech to attack President Joe Biden and his Democratic opponent in 2016, Hillary Clinton, accusing them of mishandling secret material and claiming he was treated unfairly because he is a Republican. But Trump forgot an important distinction: only he has been accused of purposefully obstructing investigators by refusing to return the relevant records.
In the Clinton investigation, for example, FBI agents decided that, while she was exceedingly careless in handling sensitive emails on a private server, there was no indication that she intended to breach the law. And, while the Biden inquiry is still ongoing, no evidence has surfaced to show that he purposefully withheld the data or even knew they existed, with his representatives turning over records after they were discovered and freely submitting to FBI searches.
Trump also harped on Georgia's involvement in his 2020 failure, reiterating his lies about winning the state and justifying his efforts to reverse Biden's victory, which is the subject of another current investigation, this time by Fulton County District Attorney Fani Willis. Willis has stated that any indictments will most likely be issued in August.
The probe revolves around a phone call in which Trump instructs Secretary of State Brad Raffensperger to "find 11,780 votes" – just enough to overcome Biden and overturn Trump's narrow loss in the state. Trump has praised the phone call as "perfect," and he lashed out on Saturday at both Willis and the special counsel in the Mar-a-Lago case.
Despite the new criminal allegations, supporters applauded him on in Georgia and North Carolina, where he appeared at a state GOP convention banquet on Saturday night.
About 100 supporters greeted Trump when he landed at the Columbus, Georgia, airport, some brandishing "Witch Hunt" banners. Jan Plemmons, 66, wearing a large foam "Make America Great Again" hat, termed the government allegations "absolutely ridiculous" and declared her readiness to campaign alongside Trump. To Michael Sellers, 67, it was "criminal what they're doing to him."
The indictment comes as Trump maintains his lead in the Republican primary contest. Among the several investigations Trump has faced, the papers case has long been regarded as the most serious legal risk and the most likely to result in prosecution. However, Trump's continued appeal among Republican voters is obvious in how his primary opponents have handled the federal indictment.
Mike Pence, whose appearance in North Carolina was the first joint appearance with his former boss since the ex-vice president announced his own campaign this week, condemned the "politicisation" of the Justice Department and urged Attorney General Merrick Garland "to stop hiding behind the special counsel and stand before the American people" to explain the basis for the federal investigation into Trump.
In an interview with The Associated Press following his speech, Pence said he had read the indictment but refused to share his personal reaction to its contents, which included photographs of boxes containing classified information stacked in a Mar-a-Lago bathroom and on a ballroom stage, or to criticise Trump.
"The very nature of a grand jury is that there is no defence presented," Pence explained. "That's why I said today that I'm going to urge patience, that I'm going to encourage people to pray for the former president, but also for all those in authority and for the country going forward."
Florida Gov. Ron DeSantis, Trump's primary GOP competitor, did not mention Trump by name but linked his predicament to that of Clinton at a GOP conference in North Carolina on Friday night.
"Is there a different standard for a Democratic secretary of state versus a former Republican president?" DeSantis inquired. "I believe that there should be a single standard of justice in this country." At the end of the day, my administration will put an end to the weaponization of government."
Only Arkansas Gov. Asa Hutchinson has specifically advocated for Trump's candidature to be terminated among the declared Republican candidates. Hutchinson told reporters in Georgia that the Republican Party "should not lose its soul" in protecting Trump, and that the evidence thus far indicated that the former president treated national secrets "like entertainment tools."
9-Year-Old Charlotte Sena Who Vanished From New York State Park Found Safe And Man Linked To Ransom Note Arrested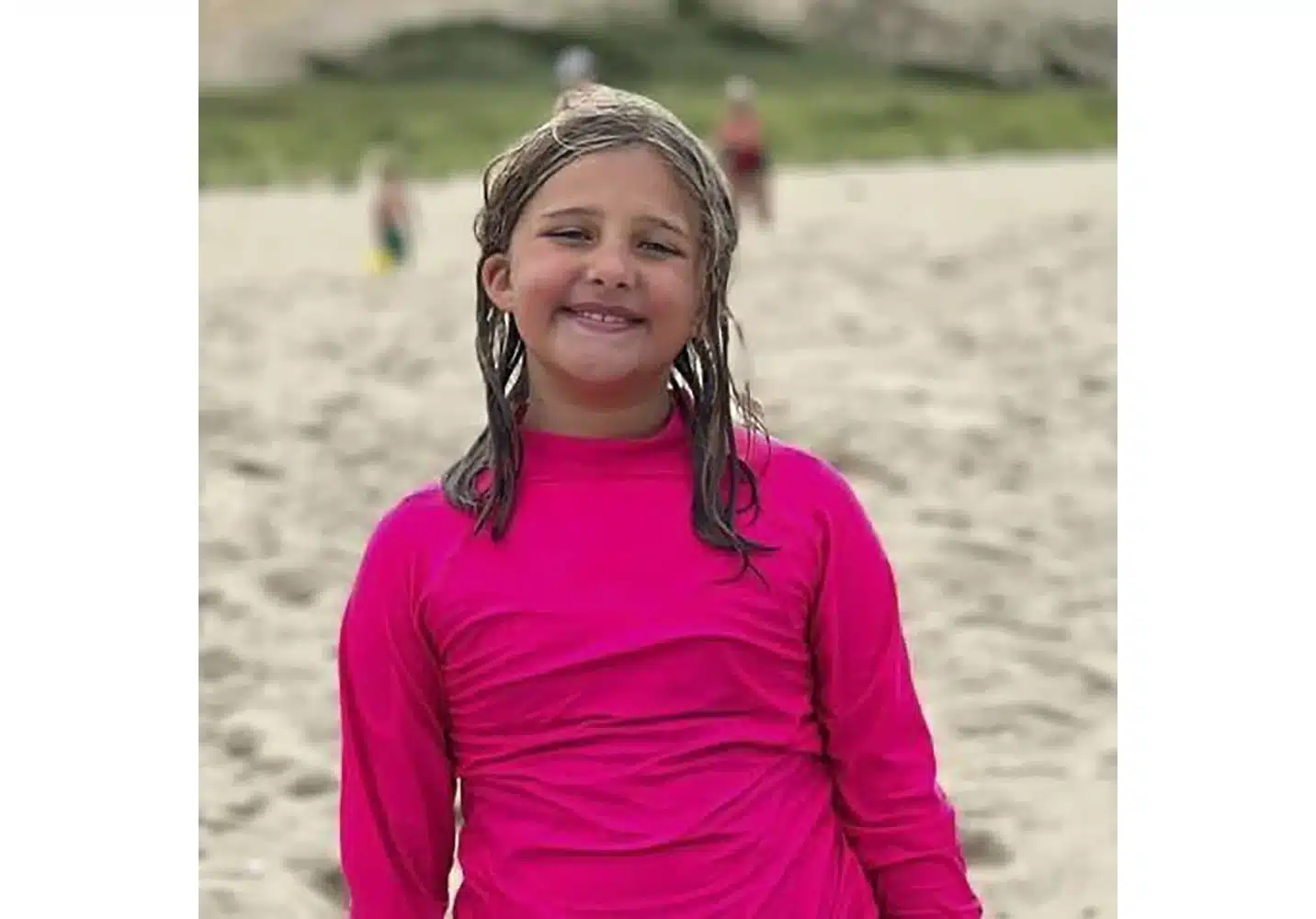 MOREAU, N.Y. — Police announced on Monday that a 9-year-old girl, Charlotte Sena, who went missing during a family camping trip in upstate New York was found "safe and in good health" after a massive two-day search and the arrest of a suspect in her abduction.
Charlotte Sena vanished early Saturday evening while pedaling her bicycle in Moreau Lake State Park, a heavily forested area approximately 35 miles (60 kilometers) north of Albany.
At a press conference on Monday evening, Governor Kathy Hochul stated that investigators could identify a fingerprint from a ransom note allegedly left by Craig Nelson Ross Jr., 47.
Monday at 4:20 a.m., while Charlotte's family remained at the campground where she was last seen, someone placed a note in their mailbox, according to the officer. Hochul stated that the second fingerprint taken from the note matched Ross, who was in a database from a 1999 DWI case.
She stated that law enforcement agents tracked Ross to a property owned by his mother, gained entry, and located him in a camper at approximately 6:30 p.m.
"After some resistance, the suspect was apprehended, and the child was immediately discovered in a cabinet," Hochul said. "She was aware of her rescue. She was confident that she was in good care."

Police announced on Monday that a 9-year-old girl, Charlotte Sena, who went missing during a family camping trip in upstate New York, was found "safe and in good health".
As customary, Hochul said, Charlotte was taken to a local hospital, adding that she appeared physically unharmed and that she and her family have been reunited.
Hochul stated that accusations have not yet been filed against Ross but are anticipated. Hochul stated that Ross was still being questioned as of Monday night.
The governor identified Ross as the suspect late Monday night, and it was not immediately clear whether he had an attorney who could speak on his behalf.
Authorities stated that the investigation was ongoing.
The rescue signaled the conclusion of a frantic search. Monday, approximately 400 individuals, including forest rangers, police officers, and firefighters, participated in the search for the missing girl. The search scope spanned 46 linear miles (74 linear kilometers).
Charlotte, a fourth-grader from nearby Greenfield, was riding her cycle with other children around a campsite loop in the park when she decided to ride the loop again by herself. Hochul stated in a Sunday briefing that her parents became concerned when she did not return after 15 minutes.
Saturday at 6:45 p.m., the girl's mother dialed 911 after discovering her bicycle.
Officials issued an Amber Alert on Sunday morning following an exhaustive search because "an abduction was a distinct possibility," according to state police lieutenant colonel Richard Mazzone. The alert characterized her as a white girl with blonde hair and green eyes who stands approximately 1 meter and 4 feet 6 inches tall.

The girl's family appealed to the public for assistance locating Charlotte, including providing the state police with any information.
"Like any parent, we simply want her returned safely," the family said in a statement released Monday morning. Please call if you have any information, regardless of its size.
Troopers had established multiple checkpoints along the winding rural roadways surrounding the park. They asked drivers if they knew the family, had seen the girl's photo, or had any other information that could aid the investigation. They also required certain drivers to open their trunks.
The park remained closed due to the search, and officials asked those who showed up hoping to assist to stay away and leave the search to the experts. For the safety of law enforcement air operations, federal authorities also issued a provisional flight restriction above the park.
The Corinth Central School District stated that additional counselors are available at Charlotte's elementary school for pupils or faculty members who require assistance.
"Our hearts go out to the Sena family," the district stated.
SOURCE – (AP)
Dianne Feinstein: 'Pioneering' Senator Dies Aged 90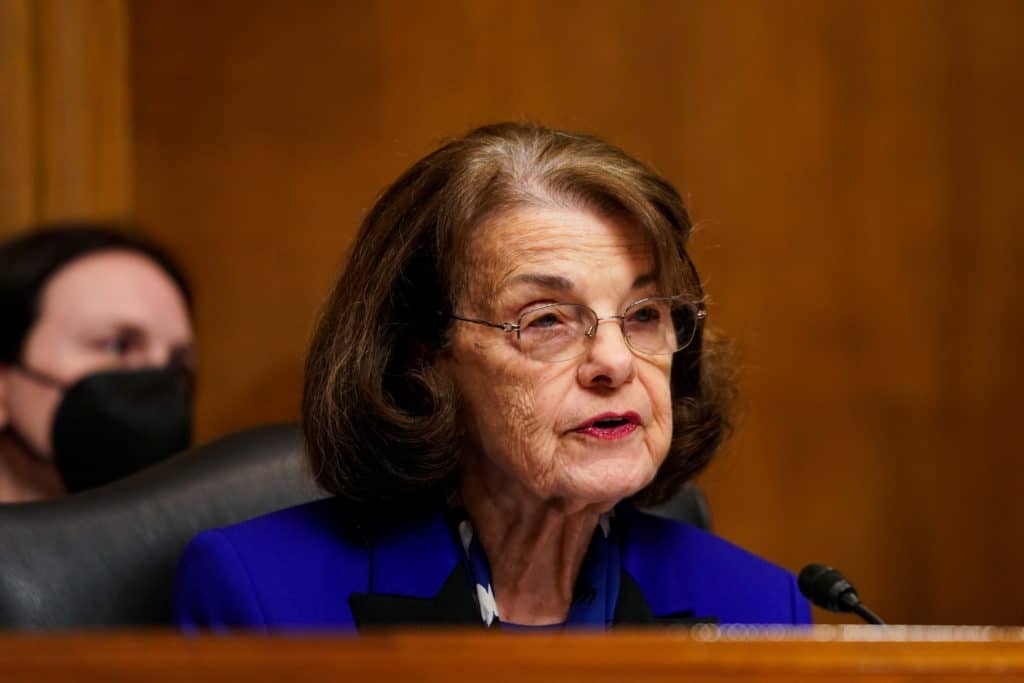 Senator Dianne Feinstein of California, who served for more than three decades and was a pioneer for women in American politics, passed away at 90.
Feinstein was the eldest senator in the United States, and she voted on Thursday.
The veteran Democrat was questioned about alleged memory and cognitive issues for months.
After a "minor fall" at home in April, she was admitted to the hospital, the latest in a series of health concerns.
The office of Ms. Feinstein stated in a statement that she died overnight at her residence in Washington, DC.
The statement continued, "Senator Feinstein was a force of nature who had an enormous impact on our country and her home state." She left an incontestable and extraordinary legacy.
Governor Gavin Newsom of California must now appoint her replacement. He had previously promised to nominate a black woman to serve the remainder of her term, which ends in 2025.
Ms. Feinstein, born in 1933 and grew up in San Francisco, attended Stanford University and was elected to the San Francisco County Board of Supervisors in 1969.
This election marked the beginning of a long career in public service that led her to become the first female mayor of San Francisco and, in 1992, a senator.
She had previously proclaimed her intention to retire at the end of the following year, but she resisted mounting pressure. Several prominent Democrats, including Representatives Adam Schiff and Katie Porter, have previously declared their intentions to run for her Senate seat.

Senator Dianne Feinstein of California, who served for more than three decades and was a pioneer for women in American politics, passed away at 90.
In a statement issued after her passing, US President Joe Biden said that Ms. Feinstein "made history in so many ways, and generations to come will benefit from her legacy."
Due to a case of shingles, she was absent from Capitol Hill for nearly three months earlier this year. Upon her return, she assumed fewer responsibilities and used a wheelchair to navigate the US Capitol. She occasionally appeared perplexed in interviews, committee hearings, and floor votes.
Ms. Feinstein was well-known for her ardent support of gun control measures and the 1994 assault weapons prohibition signed into law by President Bill Clinton.
After the murders of her predecessor, George Moscone, and city councilman Harvey Milk, she became mayor of San Francisco in 1978.
She stated that the experience of racing to Mayor Moscone's office and discovering a bullet wound while searching for his pulse had left an indelible mark on her.
As a senator, Ms. Feinstein was the first woman to chair the influential Senate Intelligence Committee, overseeing a multi-year evaluation of the CIA's controversial interrogation program of foreign terrorists following the September 11, 2001, terrorist attacks.
The evaluation ultimately resulted in legislation prohibiting "enhanced interrogation techniques" on terrorism suspects, such as waterboarding.

Senator Dianne Feinstein of California, who served for more than three decades and was a pioneer for women in American politics, passed away at 90.
Ms. Feinstein was the first woman to serve on the Senate Judiciary Committee and the first woman to lead the Senate Rules Committee.
Nancy Pelosi, a Democrat from California, described Dianne Feinstein as a "pioneering woman leader" in a statement.
"Dianne's extraordinary career will inspire countless women and girls to pursue careers in public service for generations to come," she said.
On the Senate floor, Republican minority leader Mitch McConnell praised "her dogged advocacy and diligent service".
In recent years, concerns about her deteriorating health and cognitive abilities have prompted calls for her retirement and brought attention to the aging of America's legislators.
During a committee vote, individuals around her could be heard in a widely circulated video telling her to "just say yes."
Despite mounting family tensions, she is succeeded by a daughter, Katherine, who reportedly held power of attorney over her mother's legal affairs. Richard Blum, her investment banker spouse, passed away last year.
SOURCE – (BBC)
New York City: State Of Emergency Declared Over Flash Flooding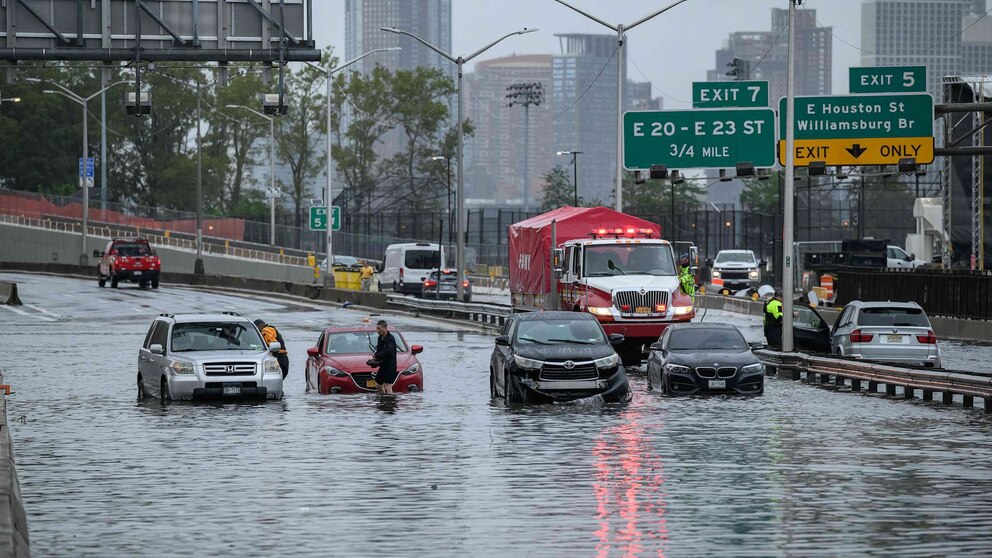 In New York City, a state of emergency has been declared as violent storms deliver flash flooding.
Many of the city's subways, streets, and highways have been inundated, and LaGuardia Airport closed at least one terminal on Friday.
According to New York Governor Kathy Hochul, some areas received up to five inches (12.7cm) of rain overnight, and up to seven more inches (17.8cm) are expected.
"This is a dangerous, life-threatening storm," she continued.
She announced on X, formerly known as Twitter, that she was proclaiming a state of emergency in New York City, Long Island, and the Hudson Valley due to the region's extreme rainfall.
She urged individuals to take precautions and to "never attempt to travel on flooded roads."
As a result of the declaration of a state of emergency, New York City Mayor Eric Adams issued a call for "heightened alertness and extreme caution."

In New York City, a state of emergency has been declared as violent storms deliver flash flooding.
"Some of our subways are flooded, and it is extremely difficult to move around the city," he said at a press conference.
Due to intense rainfall, people were pictured and captured on video wading through knee-deep water in the streets and subways.
The Metropolitan Transportation Authority (MTA) advised individuals who did not need to travel to remain at home.
Terminal A at La Guardia Airport is presently closed due to flooding, according to airport authorities.
Before traveling, passengers were instructed to verify with their airline.

The New York City Police Department also announced multiple road closures and the deployment of the National Guard.
Elsewhere, traffic stopped along a section of the FDR Drive, a significant thoroughfare on the east side of Manhattan, as the water rose above the tires of automobiles.
In addition, employees attempted to unclog a drain in South Williamsburg, Brooklyn, while cardboard and other debris floated by.
According to municipal officials, there were no storm-related fatalities or serious injuries as of midday (1600 GMT).
The weather service has issued flood warnings and advisories for approximately 18 million people in the New York metropolitan area and other major East Coast cities.
SOURCE – (BBC)