Trudeau Has HISSY FIT Over Twitter Labeling the CBC "Government-Funded Media"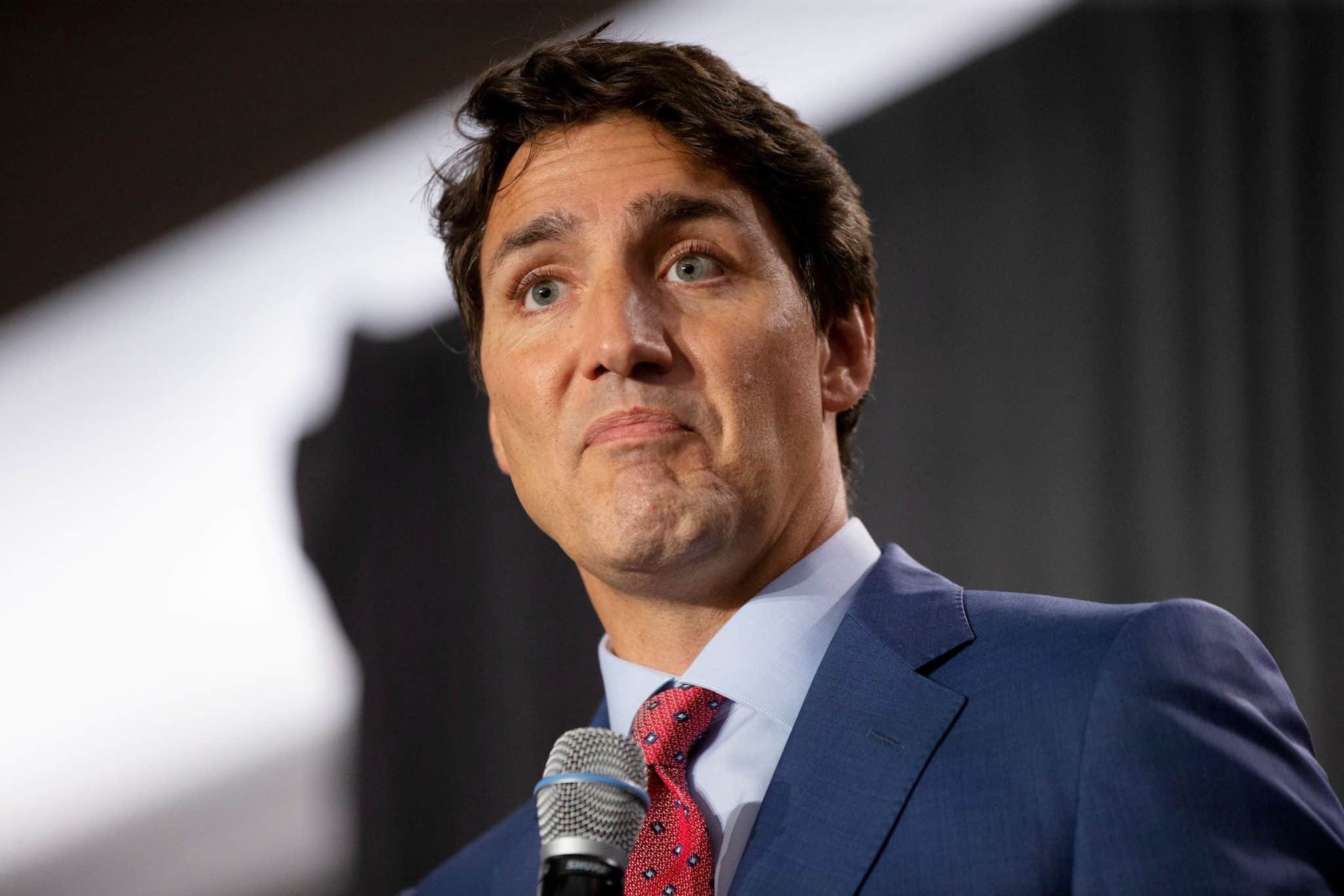 The CBC, Canada's public broadcaster, said on Monday that it would suspend operations on Twitter after it was labeled "government-funded Media." The CBC stated that it is not "government-funded" but rather "publicly funded" through a parliamentary appropriation voted on by all Members of Parliament.
"Our journalism is objective and unbiased." To claim otherwise is false. "As a result, we are suspending our activities on @Twitter," the CBC announced Monday.
Earlier in the day, Justin Trudeau accused Pierre Poilievre of soliciting the assistance of US billionaire Elon Musk to undermine Canada's public broadcaster, after Poilievre urged Musk to term the CBC "government-funded."
Last Monday, Poilievre tweeted that he had written to Musk to request that the Canadian Broadcasting Corporation be labelled "accurately."
Poilievre, who took over the Conservative Party last year and is seeking to defund the CBC, applauded the decision on Twitter, writing that "now people know that it is Trudeau propaganda, not news."
"Attacking this Canadian institution, attacking the culture and local content that is so important to so many Canadians, really indicates the values and approach that Mr. Poilievre is putting forward," Trudeau told reporters.
"To attack this institution that is important to many, many Canadians, he turns to American billionaires, the tech behemoths that they continue to defend."
Trudeau has a Hissy Fit Over CBC Classification
Meanwhile, Canada's National Post reported that Prime Minister Justin Trudeau is so concerned with teaching Canadians how to tell the difference between fact and fiction on the internet that his government has spent millions encouraging digital media literacy.
However, when Twitter labelled the Canadian Broadcasting Corporation as "Government-funded Media" — a statement that is undeniably true — the prime minister was enraged and immediately attempted to blame the Conservatives for attempting to "attack" and delegitimize "independent media organisations."
Of all, there is nothing "independent" about a media outlet that receives more than $1.2 billion in government funding each year. Suggesting differently is, at best, deceptive.
Looking for CBC beyond the realms of Twitter? 🔎

Find us at:
🍁 Instagram: https://t.co/cdbK7zSebo
🍁 TikTok: https://t.co/Iq0Cbu0LaE
🍁 Facebook: https://t.co/g78id7kz6E
🍁 Snapchat: https://t.co/GUsVkjMs5Y

— CBC (@CBC) November 23, 2022
The dispute arose as a result of Twitter's push to flag state-affiliated accounts, including government-funded media sources, in an apparent attempt to provide people with the information they need to determine whether they are being fed government propaganda.
In recent years, Western governments and media have taken the issue of state actors propagating disinformation through social media very seriously. However, when pressed to be truthful about their own funding models, public broadcasters pitched a collective hissy fit.
In the United States, both NPR and PBS declared last week that they would no longer use the social networking site owing to the new categorization.
In the United Kingdom, the BBC made a huge deal about being labelled as "government-funded," and successfully urged Twitter to change its title to "publicly funded," because it is paid by a TV tax rather than direct subsidies.
Many people wondered why our own public broadcaster had escaped being called out for what it is, thus Conservative Leader Pierre Poilievre rightfully called on Twitter CEO Elon Musk to hold Canadian media to the same standard.
Attacking Canada's foundational Canadian institution
On Sunday, Trudeau accused the Conservatives of "trying to attack a foundational Canadian institution." The CBC also declared that it is "pausing" its usage of the social network, which it accuses of undermining its editorial independence.
According to the Canadian Press, the CBC "has drawn a distinction between 'government' and 'public' funding because the money it receives is granted through a vote in Parliament."
Twitter distinguishes between "government-funded media," where "the government provides some or all of the outlet's funding," and "publicly-funded media," which "receive funding from licence fees, individual contributions, public financing, and commercial financing."
Canadian Broadcasting Corp said they're "less than 70% government-funded", so we corrected the label pic.twitter.com/lU1EWf76Zu

— Elon Musk (@elonmusk) April 18, 2023
The CBC clearly falls into the first group, considering that roughly a third of its budget is taken straight from taxpayers' purses. The fact that the money was approved by Parliament is a moot point, because all government spending must eventually be affirmed by a vote in the legislature.
Although Poilievre claimed that the public broadcaster had been exposed as "Trudeau propaganda, not news" — which is no more true than accusing the CBC a decade ago of being "Harper propaganda" — few, if any, are suggesting that the CBC is comparable to state media in authoritarian countries such as China and Iran.
These organisations are classified as "state-affiliated media" by Twitter, which describes them as "outlets where the state exercises editorial control over editorial content."
CBC Quotes journalistic standards
Mother Corp is particularly irritated by Twitter's assertion that government-funded media "may have varying degrees of government involvement over editorial content." According to the CBC, this cannot be the case because its "editorial independence is protected in law in the Broadcasting Act," it is subject to journalistic standards, and it has a "independent" complaints mechanism.
This line of reasoning is rather deceptive, because the Broadcasting Act ensures "independence enjoyed by the corporation in the pursuit of its objects." Those goals are established in legislation, and while they are very wide, it is undeniably true that the government defines its mandate and can amend it at any time.
The main issue with a state broadcaster like the CBC is that its reliance on government funds ensures that its objectivity is always called into question.
A few weeks before the 2000 election, the CBC aired an oddly timed attack piece portraying Canadian Alliance Leader Stockwell Day as a terrifying religious zealot who thought humans coexisted with dinosaurs, without ever seeking comment from the man at the centre of the charges.
There was never any evidence that the Prime Minister's Office or the Liberal war room had any control over the CBC, but everyone knew who was feeding it.
CBC Sues Conservative Party
Just days before the 2019 election, the Crown corporation filed a baseless lawsuit seeking an injunction against the Conservative Party for allegedly infringing on the CBC's copyright in campaign materials.
The suit, which initially named two CBC journalists as applicants, was never going to have much of an impact on the outcome of the vote, but it is also not the type of thing an impartial news outlet would do during an election on which it is expected to report objectively.
Again, no one is claiming that the ruling Liberals were involved in the decision. But we also have a prime minister who has no qualms about requesting that his attorney general intervene in the prosecution of a politically favoured firm or forcing the RCMP commissioner to suppress information concerning a mass massacre in order to advance Liberal gun-control initiatives.
Few would be astonished if the Prime Minister's Office (PMO) ever pulled some strings at the CBC at a politically advantageous time.
Even if the Canadian public is assured that such a thing will never happen, and that the half of the country who believes the CBC has a partisan Liberal bias is completely delusory, there is no way to free the broadcaster from the inherent incentives that come with being reliant on the public treasury for its very existence.
The CBC will have a vested interest in preserving support for big government policies and the parties that support them as long as its financing comes from the government. As a result, we have a system in which the government takes our money and spends it to convince us of the virtues of socialism.
If we want to empower an informed and involved public to judge the truth of the multiplicity of information sources available in today's online environment, we must be willing to call a spade a spade.
The CBC definitely receives the majority of its financing from the government. If it believes this is a terrible thing, it should support Poilievre's vow to defund it rather than hiding behind its own spin.
Trudeau's minority government is backed by the left-wing New Democrats, and the next election is not scheduled until 2025.
9-Year-Old Charlotte Sena Who Vanished From New York State Park Found Safe And Man Linked To Ransom Note Arrested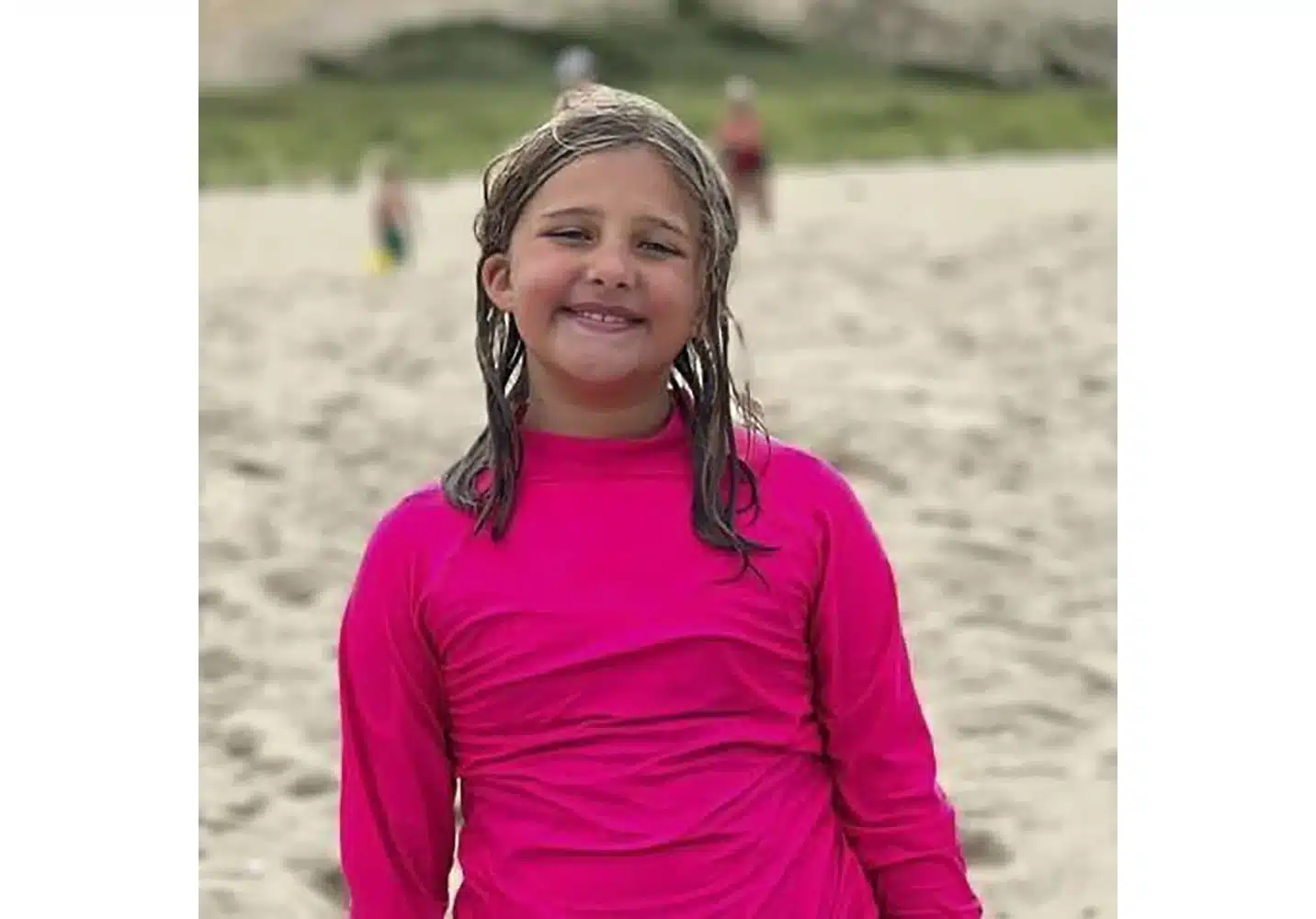 MOREAU, N.Y. — Police announced on Monday that a 9-year-old girl, Charlotte Sena, who went missing during a family camping trip in upstate New York was found "safe and in good health" after a massive two-day search and the arrest of a suspect in her abduction.
Charlotte Sena vanished early Saturday evening while pedaling her bicycle in Moreau Lake State Park, a heavily forested area approximately 35 miles (60 kilometers) north of Albany.
At a press conference on Monday evening, Governor Kathy Hochul stated that investigators could identify a fingerprint from a ransom note allegedly left by Craig Nelson Ross Jr., 47.
Monday at 4:20 a.m., while Charlotte's family remained at the campground where she was last seen, someone placed a note in their mailbox, according to the officer. Hochul stated that the second fingerprint taken from the note matched Ross, who was in a database from a 1999 DWI case.
She stated that law enforcement agents tracked Ross to a property owned by his mother, gained entry, and located him in a camper at approximately 6:30 p.m.
"After some resistance, the suspect was apprehended, and the child was immediately discovered in a cabinet," Hochul said. "She was aware of her rescue. She was confident that she was in good care."

Police announced on Monday that a 9-year-old girl, Charlotte Sena, who went missing during a family camping trip in upstate New York, was found "safe and in good health".
As customary, Hochul said, Charlotte was taken to a local hospital, adding that she appeared physically unharmed and that she and her family have been reunited.
Hochul stated that accusations have not yet been filed against Ross but are anticipated. Hochul stated that Ross was still being questioned as of Monday night.
The governor identified Ross as the suspect late Monday night, and it was not immediately clear whether he had an attorney who could speak on his behalf.
Authorities stated that the investigation was ongoing.
The rescue signaled the conclusion of a frantic search. Monday, approximately 400 individuals, including forest rangers, police officers, and firefighters, participated in the search for the missing girl. The search scope spanned 46 linear miles (74 linear kilometers).
Charlotte, a fourth-grader from nearby Greenfield, was riding her cycle with other children around a campsite loop in the park when she decided to ride the loop again by herself. Hochul stated in a Sunday briefing that her parents became concerned when she did not return after 15 minutes.
Saturday at 6:45 p.m., the girl's mother dialed 911 after discovering her bicycle.
Officials issued an Amber Alert on Sunday morning following an exhaustive search because "an abduction was a distinct possibility," according to state police lieutenant colonel Richard Mazzone. The alert characterized her as a white girl with blonde hair and green eyes who stands approximately 1 meter and 4 feet 6 inches tall.

The girl's family appealed to the public for assistance locating Charlotte, including providing the state police with any information.
"Like any parent, we simply want her returned safely," the family said in a statement released Monday morning. Please call if you have any information, regardless of its size.
Troopers had established multiple checkpoints along the winding rural roadways surrounding the park. They asked drivers if they knew the family, had seen the girl's photo, or had any other information that could aid the investigation. They also required certain drivers to open their trunks.
The park remained closed due to the search, and officials asked those who showed up hoping to assist to stay away and leave the search to the experts. For the safety of law enforcement air operations, federal authorities also issued a provisional flight restriction above the park.
The Corinth Central School District stated that additional counselors are available at Charlotte's elementary school for pupils or faculty members who require assistance.
"Our hearts go out to the Sena family," the district stated.
SOURCE – (AP)
Dianne Feinstein: 'Pioneering' Senator Dies Aged 90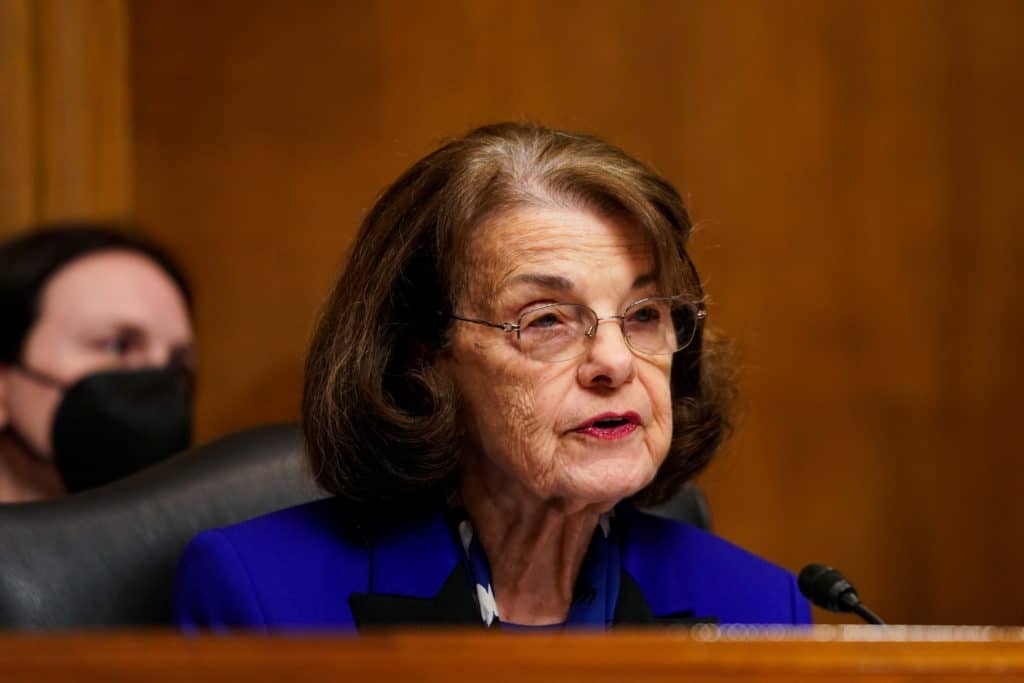 Senator Dianne Feinstein of California, who served for more than three decades and was a pioneer for women in American politics, passed away at 90.
Feinstein was the eldest senator in the United States, and she voted on Thursday.
The veteran Democrat was questioned about alleged memory and cognitive issues for months.
After a "minor fall" at home in April, she was admitted to the hospital, the latest in a series of health concerns.
The office of Ms. Feinstein stated in a statement that she died overnight at her residence in Washington, DC.
The statement continued, "Senator Feinstein was a force of nature who had an enormous impact on our country and her home state." She left an incontestable and extraordinary legacy.
Governor Gavin Newsom of California must now appoint her replacement. He had previously promised to nominate a black woman to serve the remainder of her term, which ends in 2025.
Ms. Feinstein, born in 1933 and grew up in San Francisco, attended Stanford University and was elected to the San Francisco County Board of Supervisors in 1969.
This election marked the beginning of a long career in public service that led her to become the first female mayor of San Francisco and, in 1992, a senator.
She had previously proclaimed her intention to retire at the end of the following year, but she resisted mounting pressure. Several prominent Democrats, including Representatives Adam Schiff and Katie Porter, have previously declared their intentions to run for her Senate seat.

Senator Dianne Feinstein of California, who served for more than three decades and was a pioneer for women in American politics, passed away at 90.
In a statement issued after her passing, US President Joe Biden said that Ms. Feinstein "made history in so many ways, and generations to come will benefit from her legacy."
Due to a case of shingles, she was absent from Capitol Hill for nearly three months earlier this year. Upon her return, she assumed fewer responsibilities and used a wheelchair to navigate the US Capitol. She occasionally appeared perplexed in interviews, committee hearings, and floor votes.
Ms. Feinstein was well-known for her ardent support of gun control measures and the 1994 assault weapons prohibition signed into law by President Bill Clinton.
After the murders of her predecessor, George Moscone, and city councilman Harvey Milk, she became mayor of San Francisco in 1978.
She stated that the experience of racing to Mayor Moscone's office and discovering a bullet wound while searching for his pulse had left an indelible mark on her.
As a senator, Ms. Feinstein was the first woman to chair the influential Senate Intelligence Committee, overseeing a multi-year evaluation of the CIA's controversial interrogation program of foreign terrorists following the September 11, 2001, terrorist attacks.
The evaluation ultimately resulted in legislation prohibiting "enhanced interrogation techniques" on terrorism suspects, such as waterboarding.

Senator Dianne Feinstein of California, who served for more than three decades and was a pioneer for women in American politics, passed away at 90.
Ms. Feinstein was the first woman to serve on the Senate Judiciary Committee and the first woman to lead the Senate Rules Committee.
Nancy Pelosi, a Democrat from California, described Dianne Feinstein as a "pioneering woman leader" in a statement.
"Dianne's extraordinary career will inspire countless women and girls to pursue careers in public service for generations to come," she said.
On the Senate floor, Republican minority leader Mitch McConnell praised "her dogged advocacy and diligent service".
In recent years, concerns about her deteriorating health and cognitive abilities have prompted calls for her retirement and brought attention to the aging of America's legislators.
During a committee vote, individuals around her could be heard in a widely circulated video telling her to "just say yes."
Despite mounting family tensions, she is succeeded by a daughter, Katherine, who reportedly held power of attorney over her mother's legal affairs. Richard Blum, her investment banker spouse, passed away last year.
SOURCE – (BBC)
New York City: State Of Emergency Declared Over Flash Flooding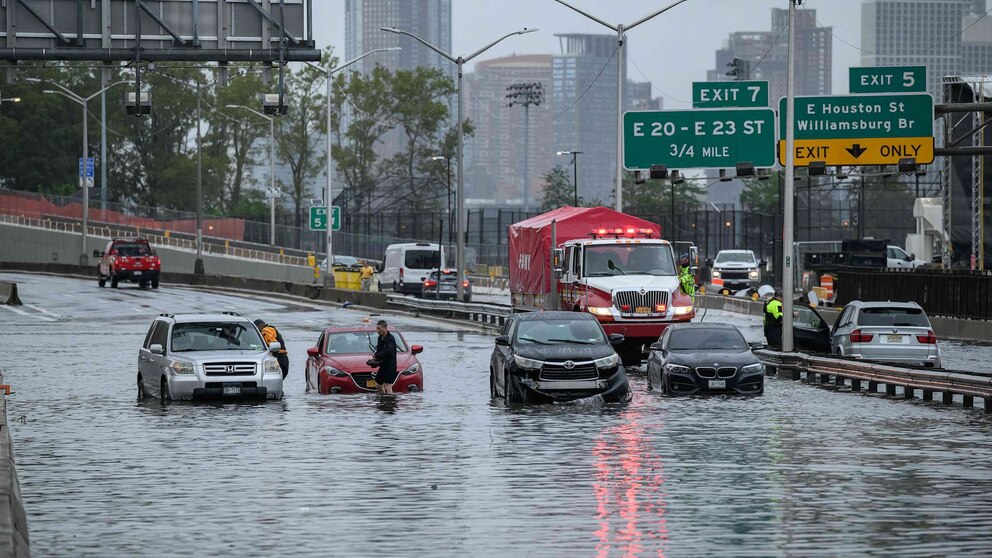 In New York City, a state of emergency has been declared as violent storms deliver flash flooding.
Many of the city's subways, streets, and highways have been inundated, and LaGuardia Airport closed at least one terminal on Friday.
According to New York Governor Kathy Hochul, some areas received up to five inches (12.7cm) of rain overnight, and up to seven more inches (17.8cm) are expected.
"This is a dangerous, life-threatening storm," she continued.
She announced on X, formerly known as Twitter, that she was proclaiming a state of emergency in New York City, Long Island, and the Hudson Valley due to the region's extreme rainfall.
She urged individuals to take precautions and to "never attempt to travel on flooded roads."
As a result of the declaration of a state of emergency, New York City Mayor Eric Adams issued a call for "heightened alertness and extreme caution."

In New York City, a state of emergency has been declared as violent storms deliver flash flooding.
"Some of our subways are flooded, and it is extremely difficult to move around the city," he said at a press conference.
Due to intense rainfall, people were pictured and captured on video wading through knee-deep water in the streets and subways.
The Metropolitan Transportation Authority (MTA) advised individuals who did not need to travel to remain at home.
Terminal A at La Guardia Airport is presently closed due to flooding, according to airport authorities.
Before traveling, passengers were instructed to verify with their airline.

The New York City Police Department also announced multiple road closures and the deployment of the National Guard.
Elsewhere, traffic stopped along a section of the FDR Drive, a significant thoroughfare on the east side of Manhattan, as the water rose above the tires of automobiles.
In addition, employees attempted to unclog a drain in South Williamsburg, Brooklyn, while cardboard and other debris floated by.
According to municipal officials, there were no storm-related fatalities or serious injuries as of midday (1600 GMT).
The weather service has issued flood warnings and advisories for approximately 18 million people in the New York metropolitan area and other major East Coast cities.
SOURCE – (BBC)