Music World Bid Adieu to "Rock and Roll" Legend Jerry Lee Lewis
Jerry Lee Lewis' family, friends, and admirers gathered Saturday in his north Louisiana hometown to say farewell to the rock 'n' roll pioneer.
Lewis, best known for singles including "Great Balls of Fire" and "Whole Lotta Shakin' Going On," died on October 28 at his home south of Memphis, Tennessee. He was 87.
Lewis' cousin, TV evangelist Jimmy Swaggart, told the crowd of more than 100 people inside Young's Funeral Home in Ferriday, where Lewis was born, that when Lewis died, he "lost the brother I never had."
Swaggart recalled, "We learned to play the piano together." "I had to force myself to accept that he was no longer present."
Swaggart and Lewis released "The Boys From Ferriday," a gospel CD, earlier this year, and Swaggart expressed concern that Lewis might be unable to complete the recording session.
Swaggart described him as "extremely feeble." "I recall saying to the Lord, 'Lord, I'm not sure if he can do it or not.'" But when Jerry Lee sat at the piano, you know he was limited to what he could play due to the stroke, but when the engineer said the red light was on and he opened his mouth, he exclaimed.
The session resulted in the CD and two of its tracks, "In the Garden" and "The Old Rugged Cross," performed throughout the ceremony. As the tapes aired, audience members were spotted wiping away tears and singing along with Lewis.
Swaggart described him as "one of the finest entertainers ever lived."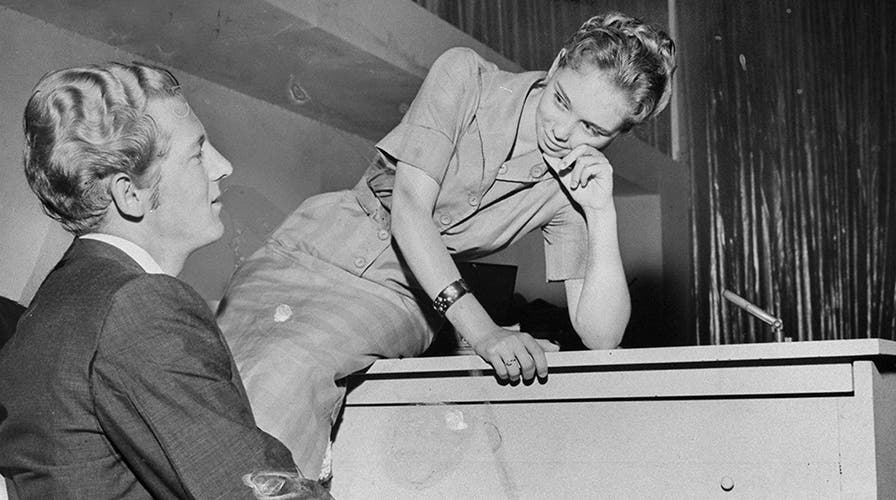 Jerry Lee Lewis, dubbed "The Killer," was the last surviving musician of a generation of musicians who rewrote music history, including Elvis Presley, Chuck Berry, and Little Richard.
Lewis's body was in the funeral home's main room, inside a closed crimson casket with a spray of red roses. Several funeral wreaths, including one in the shape of a musical note, adorned the walls behind and surrounding the casket, as did images of the singer, one of which depicted him stooping over and singing into a microphone while dressed in a red suit.
Donnie Swaggart, Lewis' son, recounted a meeting between Lewis and members of the Nitty Gritty Dirt Band, a country rock band, in Memphis that showcased Lewis' comedic side.
Jerry Lee Lewis was laid to rest by his family and fans.
Family, friends, and fans are gearing up to bid farewell to rock and roll pioneer Jerry Lee Lewis at memorial services in his hometown of North Louisiana (November 5)
He stated that his father and Lewis were headed toward the exit of an arena when the band members entered.
"As they got closer to Lewis, one of them questioned, 'Is that who I believe it is?' 'Does that look like Jerry Lee Lewis?' One of the men said, 'Are you Jerry Lee Lewis?' as Jerry Lee passed.
Jerry Lee came to a halt, looked each of them in the eyes, and said, 'Boys, Killer's my name, and music's my thing.' Then he walked away."
According to Donnie Swaggart, the lads stood there with their jaws dropped in awe. "What a sense of humour he had," he exclaimed as the audience laughed.
After news of his marriage to his cousin, 13-year-old — possibly even 12-year-old — Myra Gale Brown, while still married to his former wife, blew up in the late 1950s, the piano pianist and rock rebel was blacklisted from radio, and his earnings sank to nearly nothing.
Lewis struggled with drug and alcohol addiction, legal issues, and physical disease during the next several decades.
"Even in his darkest hours, he had a heart for God," Jimmy Swaggart stated. "I will miss him greatly."
Lewis's story inspires Xavier Ellis, 28, a Ferriday native now teaching in Opelousas, Louisiana.
"He was a poor lad from Ferriday who rose to great heights." His life tale has left an impression on me. "I'm sorry to see him go, but his legacy will go on," Ellis added.
Lewis rebuilt himself as a country musician in the 60s, and the music industry eventually forgave him.
From 1967 to 1970, he had a string of top-ten country successes.
Jerry Lee Lewis was inaugurated into the Rock "N" Roll Hall of Fame in 1986, along with Elvis Presley, Chuck Berry, and others, and he was inducted into the Country Hall of Fame this year.
Younger admirers were introduced to his life and music through the movie "Great Balls of Fire" and the documentary "Trouble in Mind."
"Million Dollar Quartet," a 2010 Broadway musical, was inspired by a recording session including Lewis, Elvis, Carl Perkins, and Johnny Cash.
Lewis earned a Grammy for best-spoken word recording in 1987 as part of an interview CD and a lifetime achievement Grammy in 2005.
"Whole Lotta Shakin'" was picked for the Library of Congress's National Recording Registry the following year, with the board praising the "propulsive boogie piano that was wonderfully balanced by the thrust of J.M. Van Eaton's aggressive drumming.
" Listeners to the recording, like Jerry Lee Lewis, struggled to stay seated during the performance."
Tom Tomschin and Sandra Tomschin of Cicero, Illinois, flew to Ferriday to honour Lewis for his contributions to the music industry.
"We were compelled to pay our respects to the pioneer of rock 'n' roll who played a significant role in the birth and shaping of the music," Tomschin explained. "I've been a fan all my life."
Tomschin, 45, a government administrator, said "Crazy Arms" and "You Win Again" are two of Lewis' favourite songs.
Lewis, according to Tomschin, "never lived a life behind a curtain." "In his ups and downs, good and terrible, Lewis did what he said he would do." Jerry Lee Lewis laid everything on the table. Nobody will ever be able to replace Jerry Lee Lewis."
Sandra Tomschin, 44, a library director, said Lewis' music influenced her growing up and has left an unforgettable mark on her life.
"We enjoy it," she stated of his music. "We attended several of his concerts, and even though Jerry Lee is no longer with us, he will live on in our hearts."
Amazon: US Accuses Online Giant Of Illegal Monopoly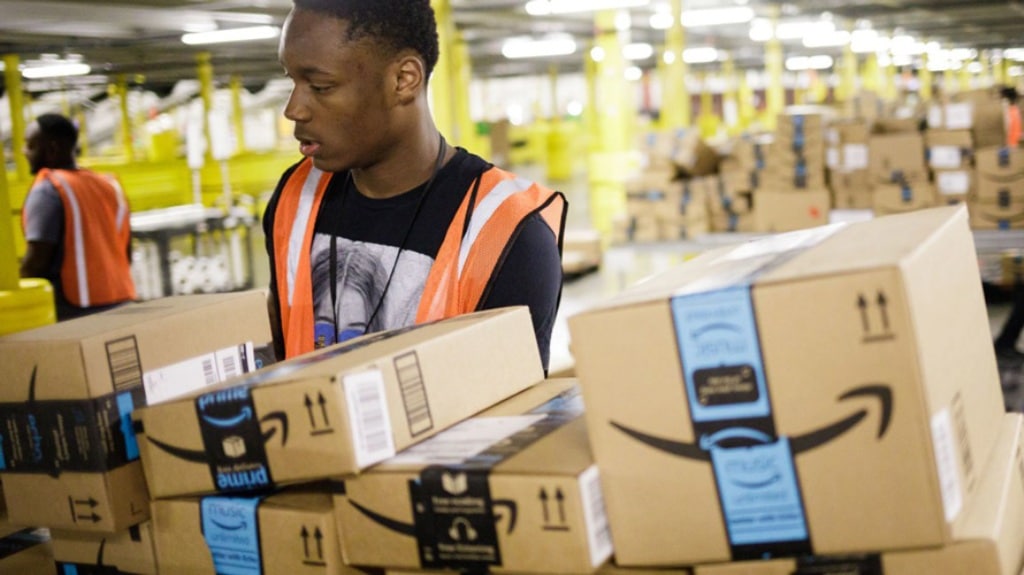 The U.S. government has filed a lawsuit against Amazon, alleging that the internet giant unlawfully maintains monopoly power.
According to the Federal Trade Commission (FTC), Amazon engages in "a set of interlocking anticompetitive and unfair strategies" to increase prices and stifle competition.
Amazon stated that the lawsuit was "incorrect based on the facts and the law, and we look forward to defending ourselves in court."
It is the most recent technology titan to be sued by U.S. authorities.
Lina Khan, the head of the FTC, has had Amazon in her sights for years.
In 2017, Ms. Khan, who was only 29 then, published a significant academic article arguing that the online retailer had evaded antitrust scrutiny.
"With its missionary zeal for consumers, Amazon has marched towards monopoly," she stated then.

The U.S. government has filed a lawsuit against Amazon, alleging that the internet giant unlawfully maintains monopoly power.
Since her unexpected appointment as FTC Chair in 2021, this case has been widely anticipated and regarded as a crucial leadership test.
Some U.S. legislators have called for action to increase competition in online search, retail, and social media in response to the dominance of a handful of large tech companies.
However, under Ms. Khan, the FTC's robust rhetoric against Big Tech has yielded few results.
It failed in its endeavor to prevent Meta from acquiring V.R. company Within in February.
And in July, it failed to prevent Microsoft from acquiring the Call of Duty developer.
Ms. Khan is pressured to make at least one prominent complaint stick, and the FTC has high aspirations for this case.

The U.S. government has filed a lawsuit against Amazon, alleging that the internet giant unlawfully maintains monopoly power.
Along with 17 state attorneys, the agency asserts that the company is a "monopolist" that prevents competitors and sellers from lowering pricing.
In addition, the regulator claimed Amazon's actions "degrade quality for consumers, overcharge sellers, stifle innovation, and prevent rivals from competing fairly with Amazon."
However, the company claims that if the "misguided" FTC lawsuit is successful, consumers will have fewer options, pay higher prices, and experience delayed delivery times.
Due to the alleged monopoly, consumers lose money and receive worse bargains, which is the central argument of the case.
U.S. anti-competition law is complex, but prosecutors must demonstrate that a company's actions have caused financial harm to consumers.
Many of Big Tech's services, such as Google's search engine and Meta's Instagram, are free, proving this is only sometimes straightforward.
Google and the United States government began a court battle earlier this month, with the government accusing Google of monopolizing advertising technology.
SOURCE – (BBC)
Joe Biden Makes History By Joining UAW Picket Line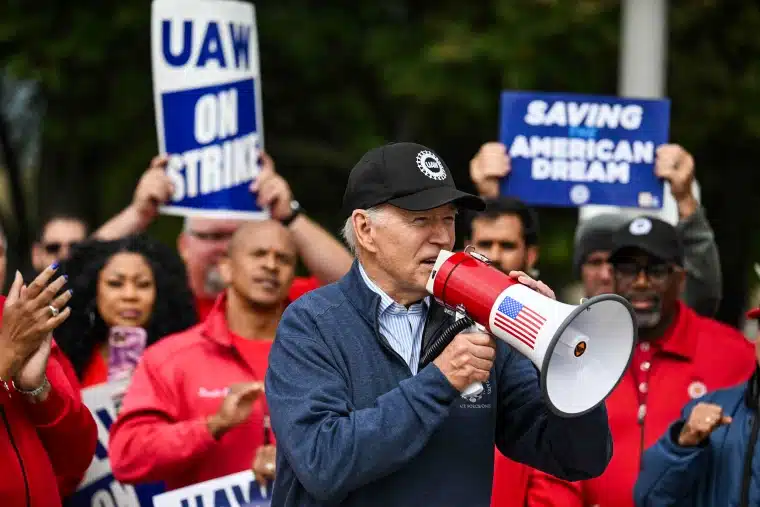 President Joe Biden's visit to the picket line of striking autoworkers in Michigan was a first for a sitting US president.
Mr. Biden stated that the employees "deserve" the wage increases and other concessions they request.
This visit occurs a day before his potential opponent, Donald Trump, arrives.
Workers informed the BBC that they feared rivals would politicize the strike and implored them to "stay away."
Tuesday, in brief remarks to the picketing employees, the Democratic president stated that they "deserve the substantial raise you require and other benefits."
He added that employees should be performing as "incredibly well" as their employers.
While legislators and presidential candidates frequently attend strikes to express solidarity with American employees, it is unheard of for the president to do so.
Some workers expressed optimism that Mr. Biden and his opponent's visits would aid their cause, while others dismissed the visits as political stunts designed to garner votes and having little practical impact on the negotiations.
"We would prefer that neither of them showed up," Ford employee Billy Rowe told the BBC. "We don't want to divide people, and bringing politics into it will cause a disagreement."
President Joe Biden's visit to the picket line of striking autoworkers in Michigan was a first for a sitting US president.
The UAW declared a strike against Ford, General Motors, and Stellantis earlier in September, pressuring the three main automakers for improved wages and working conditions.
On Tuesday, White House Press Secretary Karine Jean-Pierre told reporters that the White House, which was significantly involved in resolving a labor dispute with rail workers in 2022, was "not part of the negotiations."
Ms. Jean-Pierre insisted that the administration would "leave it to the UAW and the big three" when asked whether Mr. Biden supports the current UAW proposal.
Ms. Jean-Pierre stated that Mr. Biden's presence in Michigan is intended to show support for the autoworkers.
She added that the president believes "the men and women of the UAW deserve a fair share of the record profits they've helped create."
Mr. Biden's visit to the UAW workers was announced by the White House last week, shortly after Mr. Trump announced he would miss the 27 September Republican presidential debate in California to visit Detroit, the center of US automobile manufacturing.
Mr. Trump stated on his social media platform, Truth Social, that he was responsible for the presidential visit.

President Joe Biden's visit to the picket line of striking autoworkers in Michigan was a first for a sitting US president.
He wrote, "Crooked Joe Biden had no intention of visiting the United Autoworkers until I announced that I would be travelling to Michigan to be with them and assist them."
Mr. Biden was invited to visit the UAW members by the organization's president, Shawn Fain, who has occasionally criticized Mr. Trump.
Mr. Trump, whom the UAW has not invited, stated in his Truth Social post that autoworkers will be "burnt" if they do not endorse him or win the election.
Billy Rowe, 61, one of a half-dozen workers huddled in the rain holding picket signs outside a Ford factory near Detroit, said the news of the dueling visits was met with groans and 'a lot of eye rolls' on the picket line in Michigan, where passing cars and trucks regularly honked in support.
Mr. Rowe, a 27-year Ford employee, stated that he viewed the dispute as between the employees and the companies.
Frankie Worley, another Ford employee, stated that "politics shouldn't be involved" in the matter.
"They come down here, take a picture, and say they support us, but do they?" asked Mr. Worley, who has worked for the company for 28 years, including 20 on the assembly line. This involvement is merely a ploy to give the impression that they are assisting us. Stay away."
He added that this was his first strike. He stated that he was partially motivated by the fact that his hourly wage has only increased by $4 (£3.2) over the past 25 years, from $28 to $32.
"It's hard to make a living now," he said.
The visits of Mr. Biden and Mr. Trump – the current frontrunner for the Republican nomination – coincide with Republicans and Democrats focusing on the electorally significant Midwestern "Rust Belt," where blue-collar workers such as UAW members form a significant voting cohort.

President Joe Biden's visit to the picket line of striking autoworkers in Michigan was a first for a sitting US president.
The competition for these ballots in Michigan is anticipated to be intense. After losing there in 2016, Democrats narrowly carried the state in the 2020 presidential election.
In the meantime, the UAW endorsed Mr. Biden in 2020 but has yet to identify a preferred candidate for the 2024 election, stating that the union's support must be "earned."
Although the UAW has long been allied with the Democratic party, Mr. Worley reported that many of its members are dissatisfied with inflation and illegal border crossings, weakening Mr. Biden's base support.
"I've witnessed a significant change," he said.
Mr. Biden's visit to the picket line also coincides with his administration's push for increased production of electric vehicles (EVs) in the United States – a source of concern for union members who fear that EVs require fewer workers to construct and could be produced in non-union factories at much lower wages.
In a statement released Tuesday afternoon, Mr. Trump referred to Mr. Biden's visit as a "PR stunt" intended to "distract and mislead" the American public from other issues, such as immigration and public safety.
Surveys indicate that most Americans favor the UAW, and a recent Gallup poll found that 67% of Americans support unions in general.
SOURCE – (BBC)
India, At UN, Is Mum About Dispute With Canada Over Sikh Separatist Leader's Killing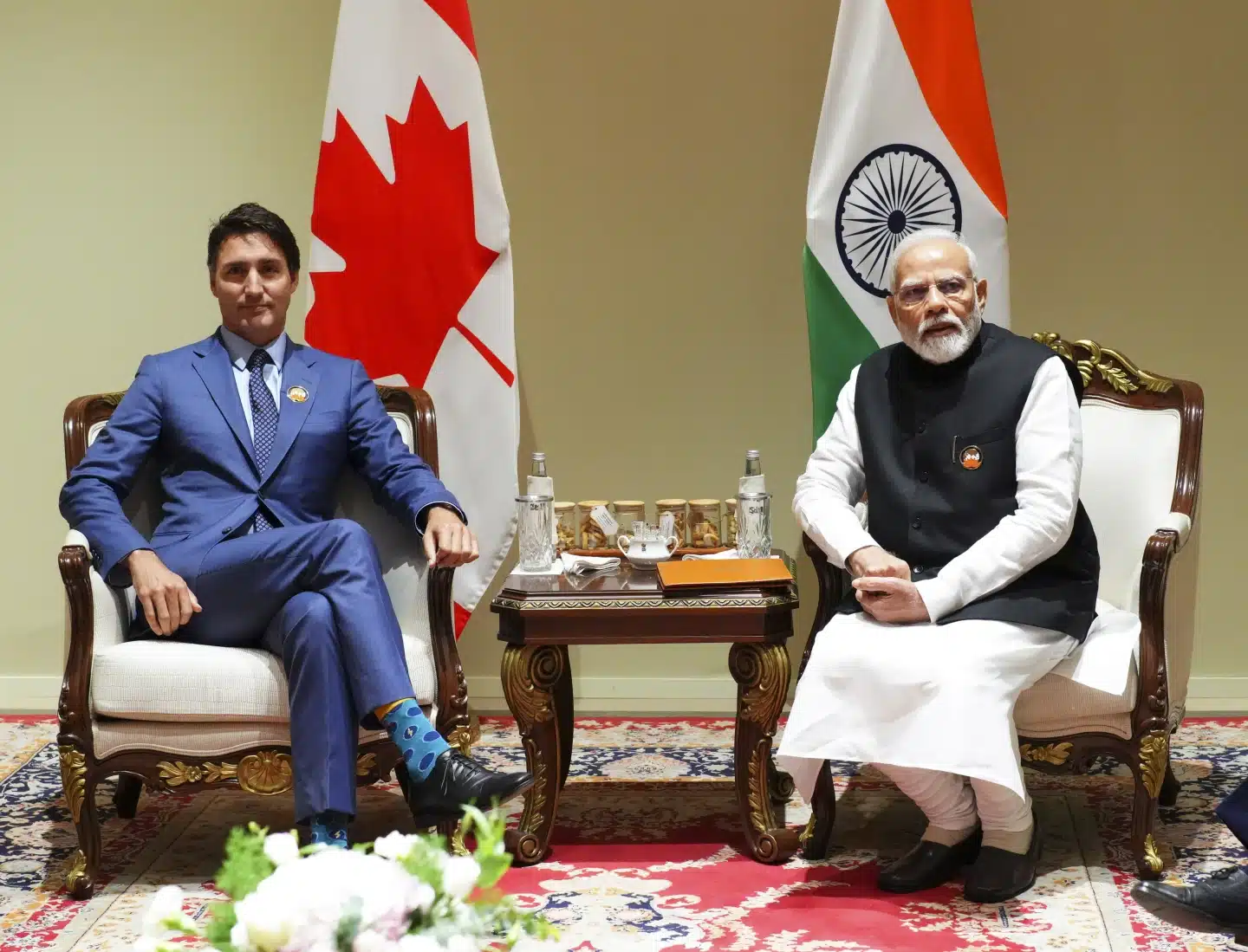 UNITED NATIONS — As he addressed world leaders at the United Nations General Assembly on Tuesday, India's top diplomat avoided addressing his country's dispute with Canada over the assassination of a Sikh separatist leader. However, he indirectly criticized how other nations respond to "terrorism."
Foreign Minister Subrahmanyam Jaishankar devoted most of his speech to praising India's rising global stature and aspirations for leadership, highlighting its recent tenure as chair of the Group of 20 industrialized nations and presiding over a substantial summit meeting last month.
However, he also stated that the international community must not "allow political expediency to determine responses to terrorism, extremism, and violence."
India has frequently attacked Pakistan at the United Nations over what New Delhi perceives as Pakistan's sponsorship of terrorism. This time, however, the remark could be interpreted as an attack on Canada, whose representative is scheduled to speak at the United Nations later on Tuesday.
As a result of Canadian Prime Minister Justin Trudeau's statement last week that India may have been involved in the June murder of a Canadian citizen in a Vancouver suburb, relations between the two countries have reached their lowest point in years.
Hardeep Singh Nijjar, 45, was murdered by masked assailants, but Canada has not yet provided any public evidence of Indian involvement in the murder. India had designated him as a terrorist because he led the remnants of a once-powerful movement to establish an independent Sikh homeland, Khalistan.

India's top diplomat avoided addressing his country's dispute with Canada over the assassination of a Sikh separatist leader.
The Indian Ministry of Foreign Affairs dismissed the allegation as "absurd" and accused Canada of harboring "terrorists and extremists." It also asserted that the allegations were politically motivated, indicating that Trudeau sought domestic support from the Sikh diaspora.
"Such unsubstantiated allegations seek to divert attention away from Khalistani terrorists and extremists, who have found refuge in Canada and continue to threaten India's sovereignty and territorial integrity," the ministry said in a statement released last week.
However, they have long accused Canada of allowing Sikh separatists, including Nijjar, unfettered reign.
Even though the active insurgency ended decades ago, the Modi administration has warned that Sikh separatists are attempting a comeback. New Delhi has urged nations such as Canada, where Sikhs account for more than 2% of the population, to do more to prevent a separatist revival.
After the G20 summit, Canada's allegation obscured India's diplomatic moment. Jaishankar sought to refocus attention on his country's ambitions in the international arena, noting that India is the world's most populous nation and a growing economic superpower.
"When we aspire to be a leading power, it is not for self-promotion, but to assume more responsibility and make more contributions," he explained. "The goals we have set for ourselves will distinguish us from those who rose before us."
SOURCE – (AP)