WWE Leaning In To Social Media Ahead Of Possible Sale
WWE, already the social media king of the ring will try to expand its online presence this year, with the $6.5 billion sports entertainment company hinting that it may sell itself.
WWE's flagship TikTok account surpassed 20 million followers during the most recent quarter, making it the first sports league to do so, and the company is launching three international TikTok accounts after the WWE Espaol TikTok handle reached nearly 2 million followers in its first year.
WWE's online presence is already extensive and does not appear to be slowing down.
According to Paul Levesque, the company's chief content officer and director, who wrestled as Triple H, its YouTube channel surpassed 92 million subscribers in the fourth quarter, making it one of only ten channels on the platform to surpass the 90 million subscriber mark.
The National Basketball Association has 19.8 million subscribers, the National Football League has 10.6 million, and Major League Baseball has 4.05 million.
One reason is that, unlike the NFL, NBA, and MLB, the WWE does not have an off-season. It produces new content from television shows, and premium live events all year, and its fans devour it.

WWE Is Trying To Make More Of A Presence For Itself
The company's online presence is so pervasive that it seeps into the social media posts of some of the world's most famous athletes.
Following the Kansas City Chiefs Super Bowl LVII victory over the Philadelphia Eagles, Kansas City Chiefs quarterback and MVP Patrick Mahomes posted a photo of himself on Twitter holding the Vince Lombardi trophy in one hand and a WWE belt in the other.
That photo has been viewed over 23 million times and is still growing.
According to Christopher Zook, chairman and chief investment officer of CAZ Investments, constant innovation combined with entertainment distinguishes WWE on social media platforms.
"It has consistently found ways to generate interest and keep up with changing consumer behavior," Zook said. "Their success has been built on their content's viral, fan-service nature."
Increased sports viewership has increased the value of organizations with a large following, pushing WWE to the front of the line for companies looking to expand into new areas, according to Zook, especially when reaching key demographics willing to spend.
And the platforms on which the WWE is focused are increasingly attracting a crowd with disposable income.
According to a Pew Research Center survey on social media use by U.S. adults in 2021, 95% of those between 18 and 29 use YouTube.

WWE Has Been Quick To Partner With Companys
According to Insider Intelligence, TikTok will overtake Facebook as the most-consumed social network among U.S. adults over 18 next year. According to the research firm, 18-to-24-year-old TikTok users in the United States will spend an average of one hour daily on the platform this year.
And WWE has been quick to partner with people with a large social media following, most recently with the personality of Logan Paul.
Three months after signing with WWE last year, Paul took out his phone and filmed himself leaping from the ropes onto Roman Reigns. Levesque said that video received over 40 million views across Paul's and WWE's social platforms in less than 24 hours, topping all social media posts for the Stamford, Connecticut-based company last year.
Last month's midair ring collision between Paul and wrestler Ricochet racked up another 26.5 million views across all platforms.
The company also promotes digital programming, such as "The Bump," a weekly show that can be viewed live on all of WWE's digital and social media platforms every Wednesday.
"Look for us to launch more digital original programming in 2023," Levesque said in a post-earnings conference call this month.
The test will be how potential buyers value WWE's social media presence and future potential.

However, Wall Street is very bullish on the entertainment company.
World Wrestling Entertainment Inc. shares have increased by 50% in the last year, even though all major U.S. stock markets have slumped.
Rumors of a sale intensified late last year when WWE founder Vince McMahon returned to the company and joined the board of directors after a brief retirement.
"Given the rapidly evolving media landscape in which more and more companies are seeking to own the intellectual property offered on their streaming platforms – I firmly believe that the best thing to do for WWE's shareholders and other stakeholders is to undertake a comprehensive review of strategic alternatives," McMahon wrote in a letter dated Dec. 20 but published in January.
CAZ Investments' Zook believes that potential buyers know social media has altered the equation.
"When you combine the staying power of live sporting events with the rapid growth of subscription-based content and an expansive social media presence, it's easy to see why sports franchises like the WWE are becoming a more appealing asset to own," Zook said.
SOURCE – (AP)
Frances Sternhagen, Actress Who Appeared In 'Misery' And 'Sex And The City,' Dead At 93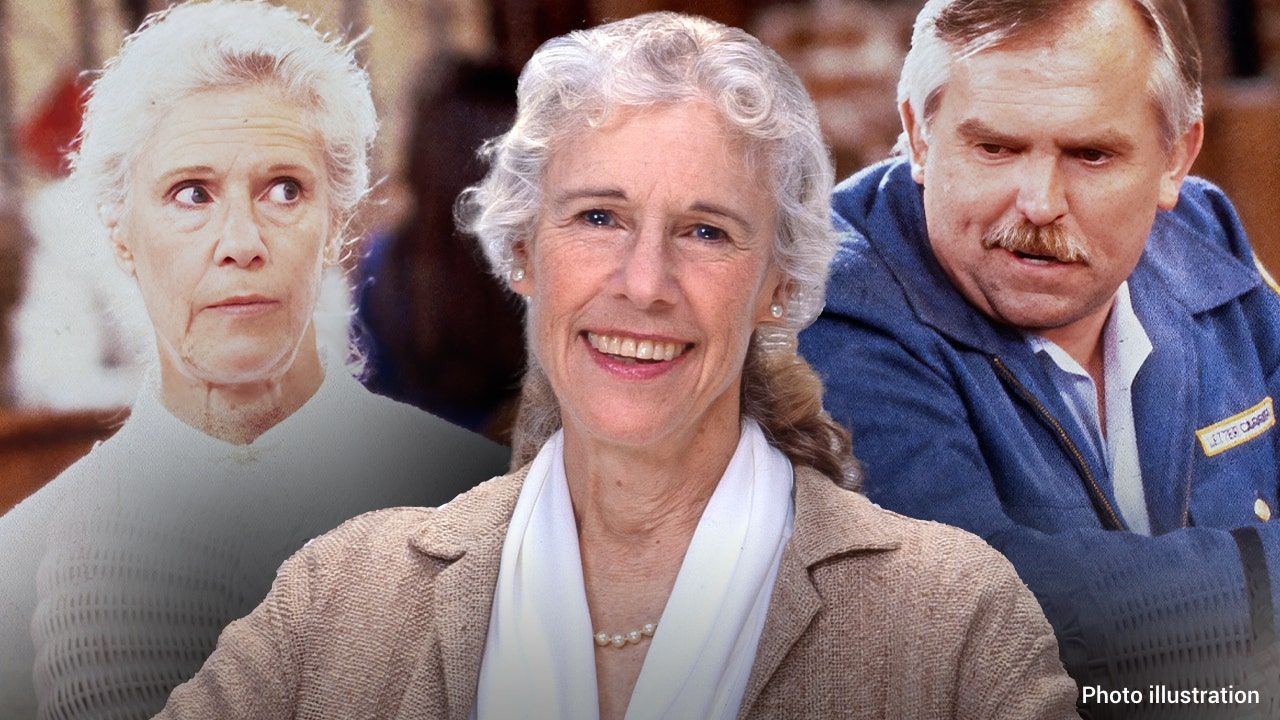 Frances Sternhagen, a seasoned stage and screen performer known for roles in films such as "Misery" and as Bunny in the HBO series "Sex and the City," has died, according to a spokesman for Sternhagen.
She was 93 years old. Sternhagen's representative, Sarah Fargo, issued the following statement on behalf of the late actor's family:
"It is with great sadness that we share the news that our dear mother, actress Frances Sternhagen, died peacefully of natural causes on November 27th, 2023, at the age of 93, in New Rochelle, NY." Her six children, nine grandchildren, and two great-grandchildren survive her. A celebration of her outstanding career and life is planned for mid-January when she turns 94. Her love and life continue to inspire us."
Sternhagen's son, John Carlin, paid tribute to his mother on his Instagram page on Wednesday, adding she "was beloved by many." I consider myself extremely fortunate to name her my mother, friend, and song and dance partner."

Frances Sternhagen, Actress Who Appeared In 'Misery' And 'Sex And The City,' Dead At 93
Sternhagen's career as a stage and movie actress spans nearly seven decades. In addition to "Misery," Sternhagen participated in several Stephen King adaptations, including the tense 2007 film "The Mist," co-starring Thomas Jane.
Other significant film appearances by Sternhagen include "Outland," "Raising Cain," and "Julie & Julia."
Her most lasting impact came from her television career, notably on "Sex and the City," where she played Bunny MacDougal, Trey's first husband's entitled and overbearing mother. ("Sex and the City") is an HBO original. Warner Bros. Discovery owns HBO and CNN.)
Frances received her third Primetime Emmy nomination for the role; she was previously nominated twice in the early 1990s for her portrayal as Cliff Clavin's mother Esther on "Cheers."
Frances was a well-known stage performer in addition to her work on screen.
According to a Broadway World profile, she began her performing career by teaching acting, singing, and dancing at the Milton Academy in Massachusetts.
In 1955, she made her Broadway debut as Miss T. Muse in the theatrical play "The Skin of Our Teeth."
Throughout the 1970s, Sternhagen appeared in numerous award-winning plays, including Neil Simon's "The Good Doctor," "Equus," "On Golden Pond," and "Angel," among others.

Other significant film appearances by Sternhagen include "Outland," "Raising Cain," and "Julie & Julia."
She had seven Tony Award nominations, three wins, and a Drama Desk nomination for her performance in Eugene O'Neill's "Long Day's Journey Into Night," in which she co-starred with her son Carlin.
"We were together last week, and we spoke Monday afternoon, saying how much we loved and missed one another," Carlin stated on Instagram on Wednesday. "She always encouraged my writing, and enjoyed my singing."

"Take off, Frannie. "The curtain falls on a life that has been richly, passionately, humbly, and generously lived," he added.
Frances is an American actress known for her work in film, television, and stage productions. She has been nominated for multiple Tony Awards for her performances in various Broadway plays.
Frances has also appeared in popular television shows such as "Cheers" and "The Closer," and has had notable roles in films like "The Mist" and "Outland."
With a career spanning several decades, Sternhagen is recognized for her versatile acting abilities and her significant contributions to the entertainment industry.
SOURCE – (CNN)
Shane MacGowan, Lead Singer Of The Pogues And A Laureate Of Booze And Beauty, Dies At Age 65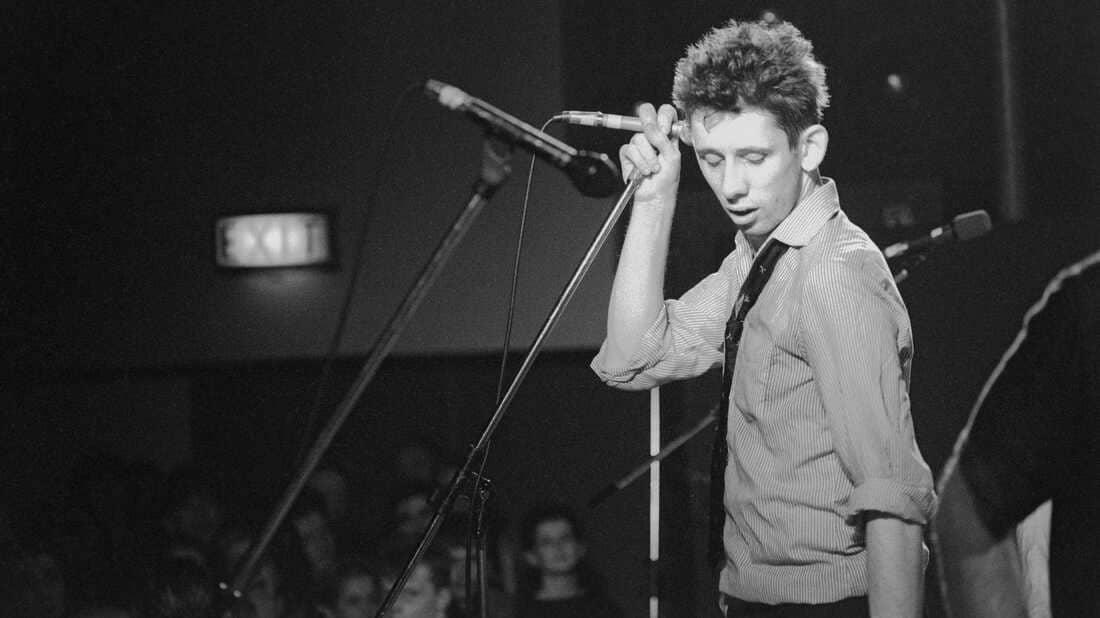 LONDON, England – Shane MacGowan, The Pogues' boisterous, rabble-rousing singer and lead composer who combined traditional Irish music with the intensity and spirit of punk, died Thursday, according to his family. He was 65.
MacGowan's songwriting and persona established him as an iconic figure in contemporary Irish culture, and some of his compositions have become classics, most notably the bittersweet Christmas ballad "Fairytale of New York," of which Irish President Michael D. Higgins stated that it "will be listened to every Christmas for the next century or more."
"It is with deepest sorrow and heaviest of hearts that we announce the passing of our most beautiful, darling, and dearly beloved Shane MacGowan," his wife Victoria Clarke, sister Siobhan, and father Maurice said in a statement.
According to the statement, the musician died peacefully with his family by his side.
After being diagnosed with viral encephalitis in late 2022, the musician was hospitalized in Dublin for several months. He was released last week, just in time for his forthcoming birthday on Christmas Day.
The Pogues fused Irish folk and rock 'n' roll into a unique, irresistible blend, though MacGowan became known for his slurred performances as much as his passionate compositions.

Shane MacGowan, Lead Singer Of The Pogues And A Laureate Of Booze And Beauty, Dies At Age 65
His lyrics mixed scabrous and romantic elements, ranging from carousing anthems to pictures of life in the gutter to sweet love songs. "Fairytale of New York," The Pogues' most famous song, is a tale about down-on-their-luck immigrant lovers that begins with the rather unfestive words: "It was Christmas Eve, babe, in the drunk tank." The duet between MacGowan's scratchy voice and the silky tones of the late Kirsty MacColl is by far the most popular Pogues song in Ireland and the United Kingdom.
Nick Cave, a singer-songwriter, described Shane MacGowan as "a true friend and the greatest songwriter of his generation."
The Irish president, Michael D. Higgins, stated that "his songs capture within them, as Shane would put it, the measure of our dreams."
"His words have connected Irish people all over the globe to their culture and history, encompassing so many human emotions in the most poetic of ways," added Higgins.
According to Irish Prime Minister Leo Varadkar, MacGowan's compositions "beautifully captured the Irish experience, especially the experience of being Irish abroad."
According to Sinn Fein President Mary Lou McDonald, "nobody told the Irish story like Shane — stories of emigration, heartache, dislocation, redemption, love, and joy."
MacGowan was born on Christmas Day 1957 in England to Irish parents and spent his childhood in rural Ireland before returning to London. Ireland remained the everlasting focus of his imagination and longing. He grew up listening to Irish music from family and neighbors and rock, Motown, reggae, and jazz.
He was expelled from London's renowned Westminster School and spent time in a psychiatric facility following a breakdown in his teens.
MacGowan welcomed the punk scene that erupted in the United Kingdom in the mid-1970s. He played in a band called the Nipple Erectors as Shane O'Hooligan before forming The Pogues with musicians including Jem Finer and Spider Stacey.

Shane MacGowan, Lead Singer Of The Pogues And A Laureate Of Booze And Beauty, Dies At Age 65
The Pogues blended punk's ferocious energy with traditional Irish tunes and instruments such as banjo, tin whistle, and accordion.
"It never occurred to me that you could play Irish music to a rock audience," MacGowan said in his 2001 biography "A Drink with Shane MacGowan," co-written with Clarke. "And then it clicked. Start an Irish band in London that plays Irish music with a rock and roll beat. The original plan was to simply blast out classic songs, but then I started writing."
"Red Roses for Me," the band's first album, was released in 1984 and contained boisterous interpretations of Irish folk tunes among originals such as "Boys from County Hell," "Dark Streets of London," and "Streams of Whisky."
The band gained a loyal following and accolades from music journalists and fellow performers ranging from Bono to Bob Dylan while performing in pubs and clubs throughout London and beyond.
The songs on the following two albums, "Rum, Sodomy and the Lash" (1985) and "If I Should Fall from Grace with God" (1988), by MacGowan, ranged from raucous rousers like the latter album's title track to ballads like "A Pair of Brown Eyes" and "The Broad Majestic Shannon."
The band also published an EP in 1986 called "Poguetry in Motion," which included two of MacGowan's best tunes, "A Rainy Night in Soho" and "The Body of an American." The latter was featured frequently in the early-2000s TV show "The Wire," when it was performed at the funerals of Baltimore police officers.
"I wanted to make pure music that could be from any time, to make time irrelevant, to make generations and decades irrelevant," he wrote in his autobiographical book.
The Pogues momentarily ruled the world, with sold-out tours and appearances on American television, but the band's output and appearances became more unpredictable, owing in part to MacGowan's troubles with drink and narcotics. He was fired by the other band members in 1991 after a spate of no-shows, notably while The Pogues were opening for Dylan. Before disbanding, the band momentarily replaced MacGowan with Clash frontman Joe Strummer.

Shane MacGowan, Lead Singer Of The Pogues And A Laureate Of Booze And Beauty, Dies At Age 65
MacGowan joined a new band, Shane MacGowan and the Popes, and released two albums: "The Snake" in 1995 and "The Crock Of Gold" in 1997. Despite his well-documented drinking problems and performances that frequently included slurred lyrics and at least one stage collapse, he reconnected with The Pogues in 2001 for a series of concerts and tours.
MacGowan struggled with health issues for years and relied on a wheelchair after breaking his pelvis a decade ago. He was well-known for his damaged, decaying teeth until he received a full set of implants in 2015 from a dental specialist who referred to the treatment as "the Everest of dentistry."
On his 60th birthday, MacGowan got a lifetime achievement award from Ireland's president. A celebratory concert featuring Bono, Nick Cave, Sinead O'Connor, and Johnny Depp took place at Dublin's National Concert Hall to mark the occasion.
In an Instagram post, Clarke said, "There's no way to describe the loss that I am feeling and the longing for just one more of his smiles that lit up my world."
"I am blessed beyond words to have met him and to have loved him and to have been so endlessly and unconditionally loved by him and to have had so many years of life and love and joy and fun and laughter and so many adventures," she wrote in an email.
SOURCE – (AP)
Mark Cuban Working On $3.5B Sale Of Dallas Mavericks To Sands Casino Family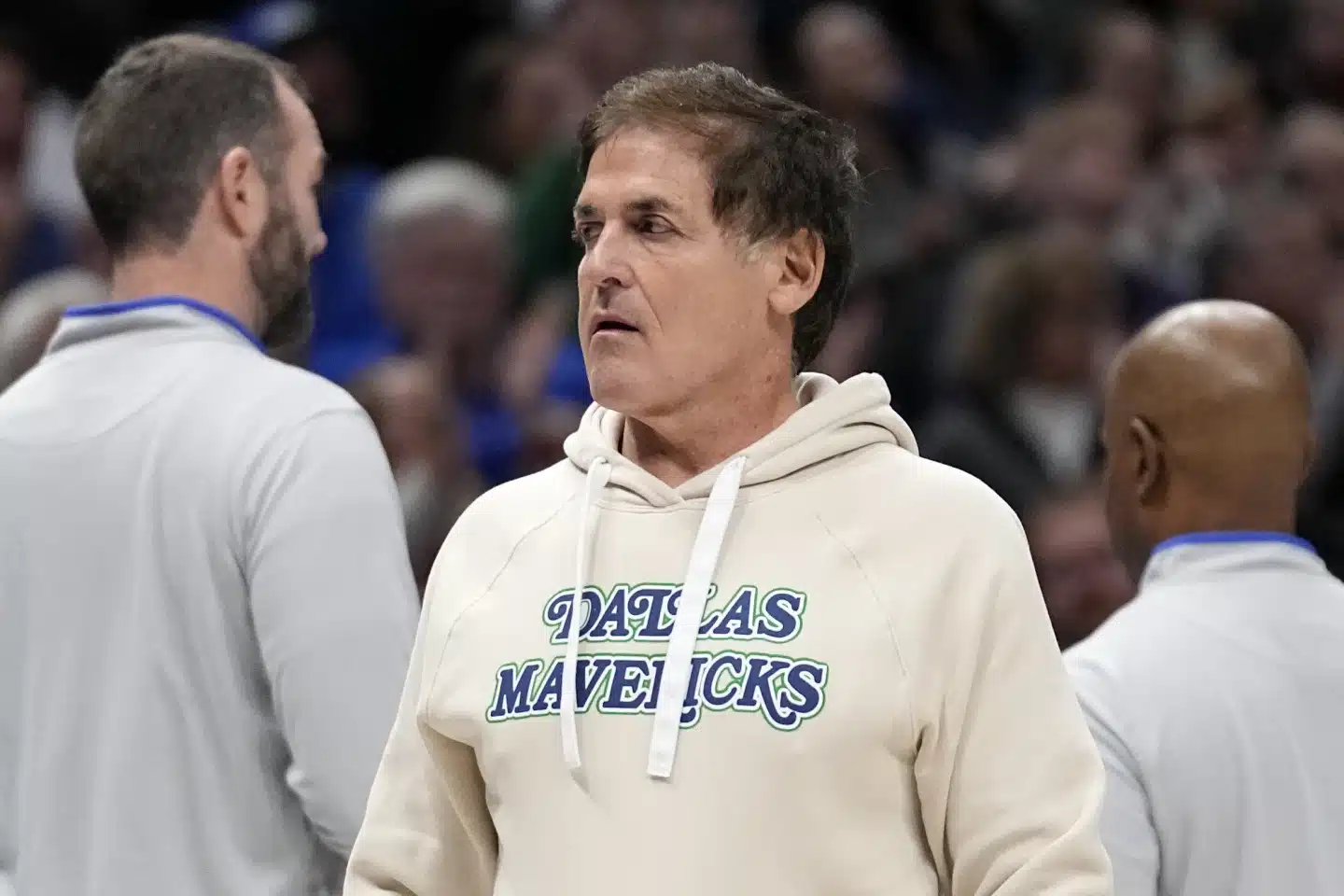 A person familiar with the talks said Tuesday night that Dallas Mavericks owner Mark Cuban is working on a deal to sell a majority ownership in the NBA franchise to the family that owns the Las Vegas Sands casino empire.
According to the individual, who spoke on the condition of anonymity because the specifics were not made public, the agreement would be in the $3.5 billion range and would take the league weeks to process.
In the deal, Cuba would retain control of basketball operations. NBA reporter Marc Stein initially reported the probable transaction.
Miriam Adelson, the widow of casino magnate Sheldon Adelson, said earlier Tuesday that she was selling $2 billion of her shares to purchase an undisclosed professional sports team.
Mark Cuban expressed interest in cooperating with Sands about a year ago. He has been a supporter of legalizing gambling in Texas, a topic that failed to pass the state Legislature during its biennial session earlier this year.
The 65-year-old Mark Cuban, who just announced his departure from the popular business TV show "Shark Tank" after the 16th season next year, climbed to prominence swiftly after purchasing the Mavericks in 2000.

Mark Cuban Working On $3.5B Sale Of Dallas Mavericks To Sands Casino Family
Dallas had one of the worst franchises in pro sports in the 1990s before becoming one of the best under Mark Cuban, thanks largely to star player Dirk Nowitzki.
Miriam Adelson is the majority owner of Las Vegas Sands Corp., a publicly traded Las Vegas firm that constructed the Venetian and Palazzo resorts but now solely operates casinos in Macau and Singapore. Sheldon Adelson, founder and owner of Las Vegas Sands, died in 2021 at 87.
In a filing with the Securities and Exchange Commission, the business disclosed the sale of $2 billion in stock. Adelson and the Miriam Adelson Trust were named sellers in the filing, but no club, league, or location were mentioned.
If Adelson spends the entire $2 billion on the purchase, he will own at least 57% of the NBA franchise, based on the $3.5 billion valuation.
According to the document, Adelson, a 78-year-old medical doctor, will keep 51.3% of the company's shares after the transaction. The family also controls the Las Vegas Review-Journal, Nevada's largest newspaper.

Mark Cuban Working On $3.5B Sale Of Dallas Mavericks To Sands Casino Family
"We have been advised by the selling stockholders that they currently intend to use the net proceeds from this offering, along with additional cash on hand, to fund the purchase of a majority interest in a professional sports franchise … subject to customary league approvals," according to the filing with the Securities and Exchange Commission.
The NBA's verification procedure for prospective owners normally takes several weeks, after which the league's Board of Governors must approve.
Mark Cuban also stated late last year that if Texas legalizes gambling, he plans to build a new stadium in downtown Dallas that will also serve as a casino resort.
Supporters of legalized gambling in Texas planned to get a constitutional amendment before voters during the most recent legislative session, but the idea did not advance. The Republican-controlled Legislature will not reconvene in regular session until 2025.

Mark Cuban Working On $3.5B Sale Of Dallas Mavericks To Sands Casino Family
Mark Cuban willikelyly fstay inview since he will retain control of basketball operations. Indeed, moves to legalize gambling in Texas could raise the reputation of a millionaire who has been prominent in sports, business, and finance for nearly 25 years.
Mark Cuban, a self-described basketball enthusiast who attended Indiana University, is virtually always courtside for Mavericks games. He has always been outspoken, and as owner, he has amassed millions in fines. Many of his rants were directed at government officials.
SOURCE – (AP)