Alan Arkin, Oscar-Winning 'Little Miss Sunshine' Actor, Dies At 89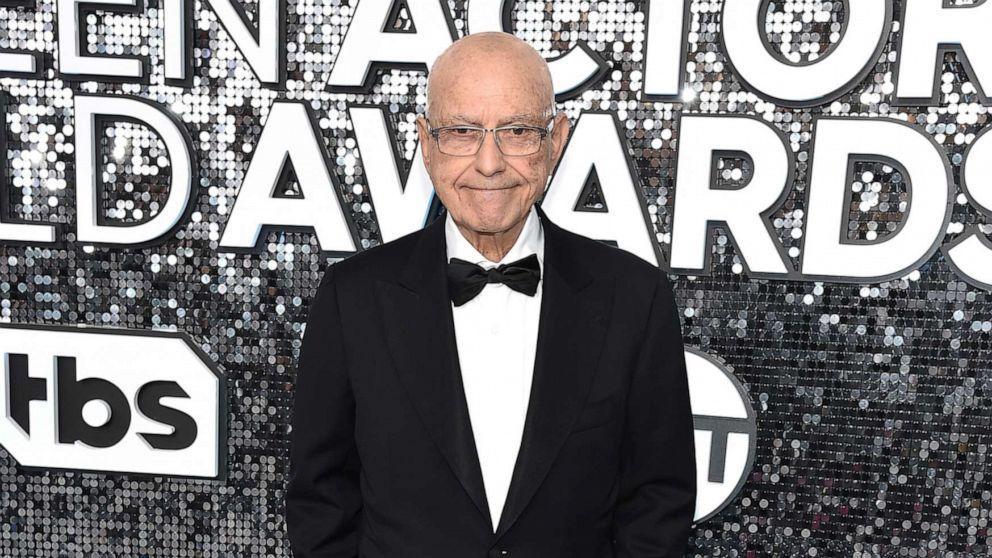 (LOS ANGELES) – Alan Arkin, the witty character actor who displayed his versatility in everything from hilarious comedy to chilling drama while receiving four Academy Award nominations and winning an Oscar for "Little Miss Sunshine," has died. He was 89.
On Friday, his sons Adam, Matthew, and Anthony acknowledged their father's death through the actor's publicist. "Our father was a uniquely talented force of nature, both as an artist and as a man," the family said in a statement.
Paul Reiser, Michael Rapaport, and Patton Oswalt were among those who paid tribute to Arkin. "What a wonderful, unique voice for comedy." And, on the few occasions I was in his company, he was a kind and generous soul. I learned a lot from watching him. "And the laughs I got from his glorious work seem endless," Jason Alexander tweeted.
Arkin, a member of Chicago's legendary Second City comedy group, was an initial success in films with the Cold War parody "The Russians Are Coming, The Russians Are Coming" and peaked late in life with his award for best-supporting actor in the surprise 2006 smash "Little Miss Sunshine." His first Oscar nomination, for "The Russians Are Coming," came more than 40 years after his nomination for playing a devious Hollywood executive in the Oscar-winning "Argo."
In recent years, he co-starred with Michael Douglas in Netflix's comedy series "The Kominsky Method," for which he received two Emmy nods.
"When I was a young actor, people wanted to know if I wanted to be a serious actor or a funny one," Michael McKean said on Twitter on Friday. 'I'd respond, 'Which type is Alan Arkin?' and that would silence them."
Arkin reportedly told The Associated Press that the best part about being a character actor was not having to strip naked for a role. He wasn't a sex symbol or a superstar, but he was always busy, appearing in over 100 TV and feature films. His trademarks were likability, relatability, and complete immersion in his roles, no matter how unusual, whether he was playing a Russian submarine officer in "The Russians Are Coming" who struggles to communicate with the equally jittery Americans or he was the foul-mouthed drug-addicted grandfather in "Little Miss Sunshine."
"Alan's never had an identifiable screen personality because he just disappears into his characters," "The Russians Are Coming" director Norman Jewison famously noted. "His accents are flawless, and he can even change his appearance." He's always been underrated, partly because he's never worked for his success."
While still with Second City, Carl Reiner cast Arkin as the young protagonist in the 1963 Broadway comedy "Enter Laughing," based on Reiner's semi-autobiographical novel.
He drew rave reviews and the attention of Jewison, who was planning to helm a 1966 comedy about a Russian submarine that causes panic when it gets too close to a small New England town. Arkin's next major film proved, albeit unwillingly, that he could also play a villain. In 'Wait Until Dark', Arkin is featured as a ruthless drug dealer who takes a blind woman (Audrey Hepburn) hostage in her flat, convinced that a narcotics shipment is stashed there.

Alan Arkin, the witty character actor who displayed his versatility in everything from hilarious comedy to chilling drama, has died.
In a 1998 interview, he recalled how tough it was to terrorize Hepburn's persona.
"Just awful," he exclaimed. "Being mean to her was difficult because she was an exquisite lady."
Arkin's career took off again in 1968 with "The Heart Is a Lonely Hunter," in which he portrayed a sensitive man who couldn't hear or talk. He played the bumbling French investigator in "Inspector Clouseau" the same year, although the picture was overshadowed by Peter Sellers' Clouseau in the "Pink Panther" films.
Arkin's reputation as a character actor flourished further when fellow Second City graduate Mike Nichols cast him as Yossarian, the victim of wartime red tape, in 1970's "Catch-22," based on Joseph Heller's million-selling novel. Arkin appeared in films such as "Edward Scissorhands," in which he played Johnny Depp's neighbor, and in David Mamet's "Glengarry Glen Ross," he played a tenacious real estate salesman. In the 1998 film "The Slums of Beverly Hills," he and Reiner played siblings, one successful (Reiner) and the other struggling (Arkin).
"I used to believe that my work was diverse. "However, I realized that for the first twenty years or so, most of the characters I played were outsiders, strangers to their surroundings, foreigners in some way," he told The Associated Press in 2007.
"That began to shift as I became more and more at ease with myself." A few days ago, I received one of the finest compliments I've ever received. They stated that they believed my characters were frequently the heart, or moral center, of a picture. I didn't understand it, but I enjoyed it, and it made me happy."
Other recent projects include "Going in Style," a 2017 remake starring fellow Oscar winners Michael Caine and Morgan Freeman and "The Kominsky Method." He portrayed a Hollywood talent agency and Douglas' character's pal, a once-promising actor who now runs an acting school after his career faltered.
He also played Wild Knuckles in the 2022 animated feature "Minions: The Rise of Gru."
Arkin also directed the film adaptations of Jules Feiffer's 1971 dark comedy "Little Murders" and Neil Simon's 1972 play about feuding old vaudeville partners, "The Sunshine Boys." Arkin was featured on television in the short-lived programs "Fay" and "Harry" and played a night court judge in Sidney Lumet's drama series "100 Centre Street" on A&E. He also wrote several children's novels.

Alan Arkin, the witty character actor who displayed his versatility in everything from hilarious comedy to chilling drama, has died.
He was born in the New York City borough of Brooklyn and relocated to Los Angeles with his family, including two younger brothers, when he was 11. His parents got positions as teachers but were sacked because they were Communists during the post-World War II Red Scare.
"We were dirt poor, so I couldn't afford to go to the movies very often," he explained to the Associated Press in 1998. "But I went whenever I could and focused on films, as they were more important than anything else in my life."
He studied acting at Los Angeles City College, California State University, Los Angeles, and Bennington College in Vermont, where he received a scholarship.
He married Jeremy Yaffe, a fellow student, and they had two boys, Adam and Matthew.
After his divorce from Yaffe in 1961, Arkin married actress-writer Barbara Dana, with whom he had a son, Anthony. All three sons became actors, with Adam appearing on the TV show "Chicago Hope."
"It was certainly nothing that I pushed them into," Arkin claimed in 1998. "It didn't matter to me what they did as long as it allowed them to grow."
Arkin began his entertainment career as an organizer and vocalist with The Tarriers, a group that briefly rode the late 1950s folk musical revival wave. Later, he moved on to theatre acting, mostly off-Broadway and in tragic parts.
He collaborated with Nichols, Elaine May, Jerry Stiller, Anne Meara, and others at Second City to create intelligent, high-speed impromptu parodies on current fads and follies.
"I had no idea I could be funny until I joined Second City," he explained.
SOURCE – (AP)
Taylor Swift Watches Travis Kelce's Chiefs Take On The Jets At MetLife Stadium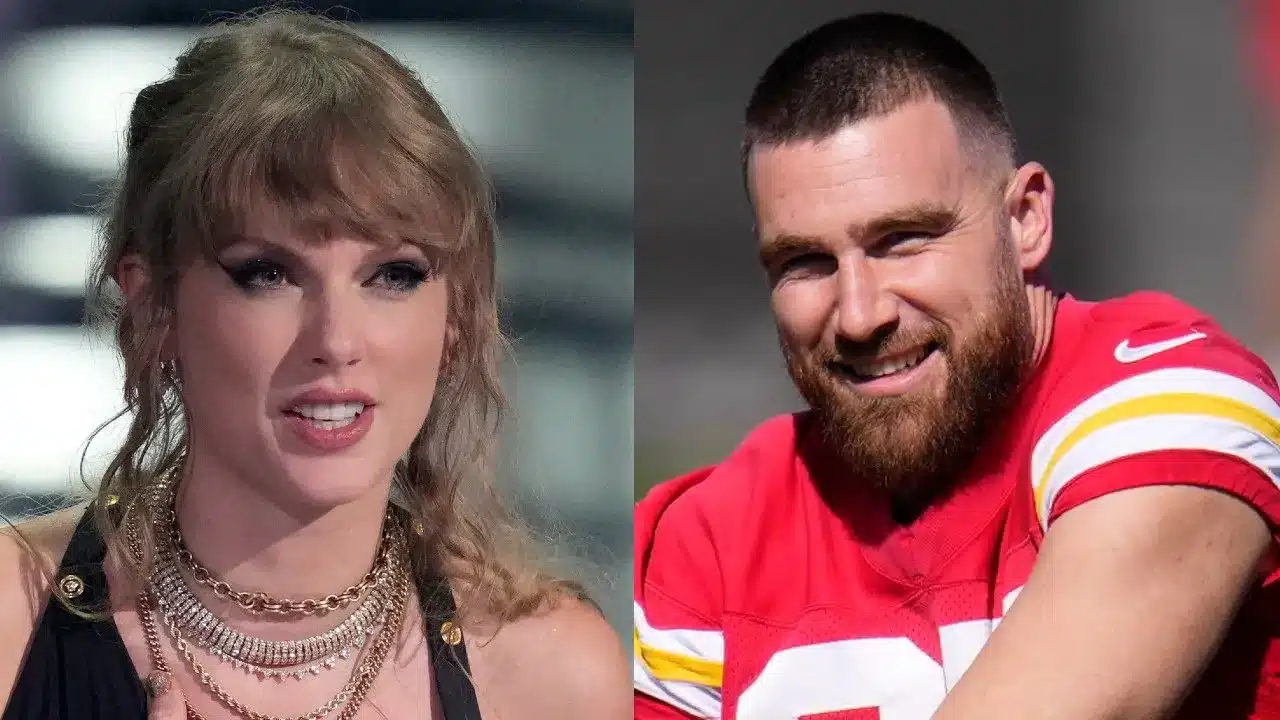 EAST RUTHERFORD, New Jersey — Taylor Swift could not pass up another opportunity to observe Travis Kelce play football.
The 12-time Grammy Award winner arrived at MetLife Stadium approximately forty minutes before Sunday night's kickoff to witness Travis and his Kansas City Chiefs defeat the New York Jets 23-20.
Swift, wearing blue jean shorts, a black long-sleeved top, and a leather jacket, entered the stadium's security area with actors Ryan Reynolds, Blake Lively, and Hugh Jackman, as captured by SNY. NBC's broadcast cut to Swift multiple times during the game, including a shot of the pop star with her arm around Donna Kelce, who was donning her son's No. 87 jersey.
Swift's appearance comes a week after she attended Arrowhead Stadium, dressed in red and white, to witness the Chiefs' 41-10 home victory over the Chicago Bears with Donna Kelce. Swift accepted the All-Pro tight end's invitation to observe the game and had to see more of Travis and the Chiefs in action.
Taylor Swift is on a break from her Eras Tour, which resumes on November 9 in Buenos Aires, Argentina. Travis acknowledges Swift's daring appearance at the Chiefs game but remains tight-lipped about their relationship. Twenty minutes before commencement, NBC aired a tour advertisement.

Taylor Swift could not pass up another opportunity to observe Travis Kelce play football.
Swift is familiar with MetLife Stadium, having performed three sold-out concerts there in May. Two of those performances were attended by Jets quarterback Aaron Rodgers, who returned to the team this past weekend after tearing his left Achilles tendon on the fourth play of his September 11 debut.
Rodgers attended a squad meeting on Saturday evening and was at the stadium to observe player warmups on Sunday evening.
Swift and Kelce have not disclosed details about their relationship. Kelce stated on his podcast "New Heights with Jason and Travis Kelce" earlier this week that Swift "looked amazing" at the contest.
Regarding her time spent in the suite, Kelce stated, "Everyone was speaking positively about her." "Moreover, the day proceeded flawlessly for Chiefs fans. Naturally, we plan everything, ladies and gentlemen."
Kelce invited Swift to that game after failing to present her a friendship bracelet during the Kansas City stop of her Eras Tour.
SOURCE – (AP)
2023: A Second UK Police Force Is Looking Into Allegations Of Sexual Offenses Committed By Russell Brand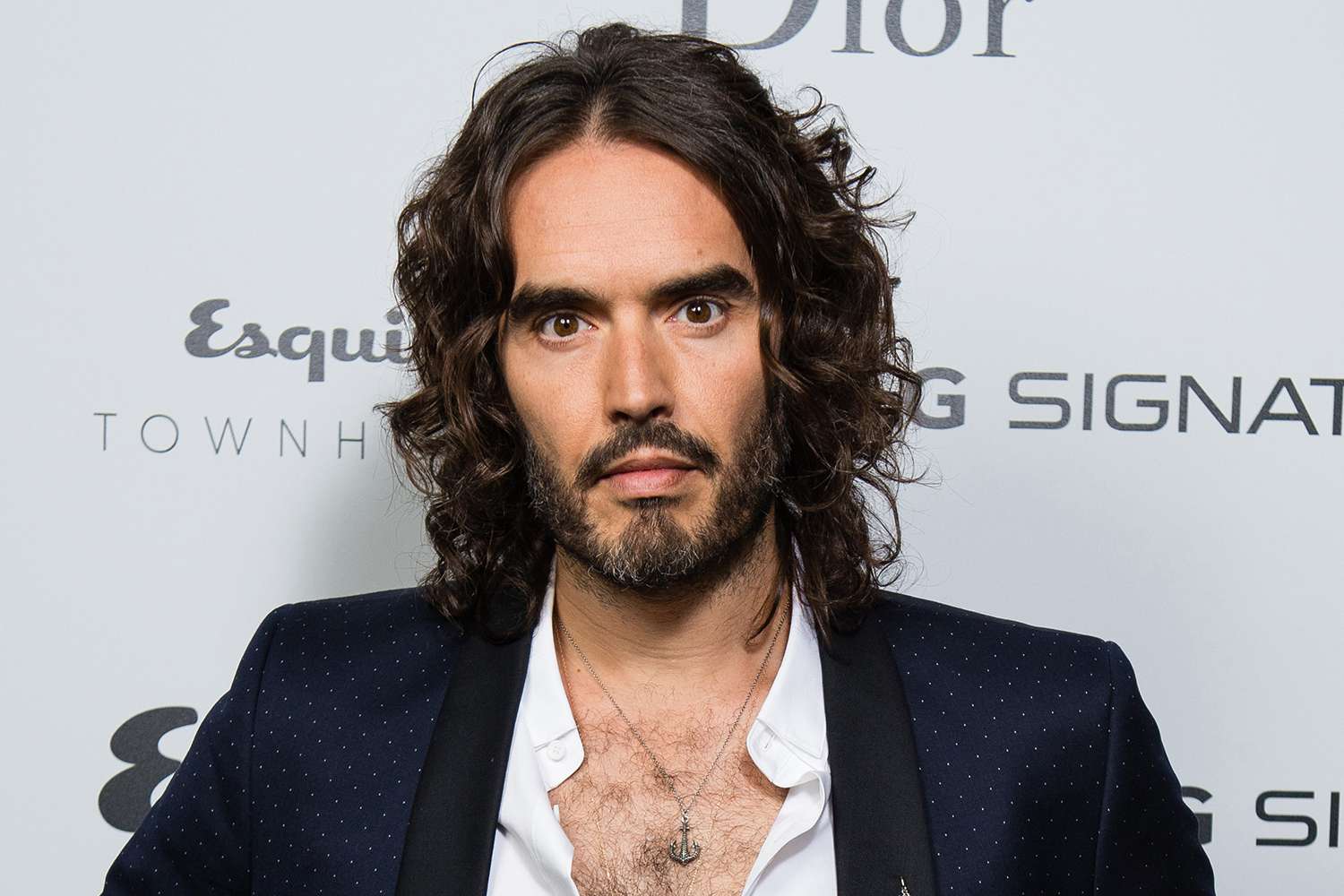 LONDON brand,  British media reported on Monday that a second British police force is investigating sexual offenses purportedly committed by the actor and comedian Russell Brand.
According to the BBC and PA news agency, Thames Valley Police is reexamining harassment and surveillance allegations made by a woman against Russell between 2018 and 2022.
As is customary in the United Kingdom for individuals who have not been charged, the police refused to identify Russell but stated in response to news reports.
"In the past two weeks, Thames Valley Police have received new information regarding harassment and stalking allegations dating back to 2018," it stated. As such, it would be inappropriate to comment on an ongoing investigation involving this information.
As a result of a television documentary and newspaper investigations, London's Metropolitan Police stated last week that it was investigating "a number of allegations of sexual offences" involving Russell.

A Second UK Police Force Is Looking Into Allegations Of Sexual Offenses Committed By Russell Brand
Russell, 48, denies sexual assault allegations brought by four women in a Channel 4 documentary and The Times and Sunday Times newspapers. One of the unnamed accusers claims she was sexually assaulted during a 16-year-old relationship with the defendant. In 2012, a second victim claimed Brand raped her in Los Angeles.
The brand was a prominent U.K. celebrity in the early 2000s, hosting radio and television programs and starring in several Hollywood films. Between 2010 and 2012, he briefly married the pop singer Brandy Perry.
They have largely vanished from mainstream media but has amassed a substantial online following through videos that combine wellness and conspiracy theories. YouTube has stated that due to the "serious allegations" against Brand, he will no longer be able to monetize his 6,6 million subscribers on the video streaming platform.
Source – Ap
U2 Concert Uses Stunning Visuals To Open Massive Sphere Venue In Las Vegas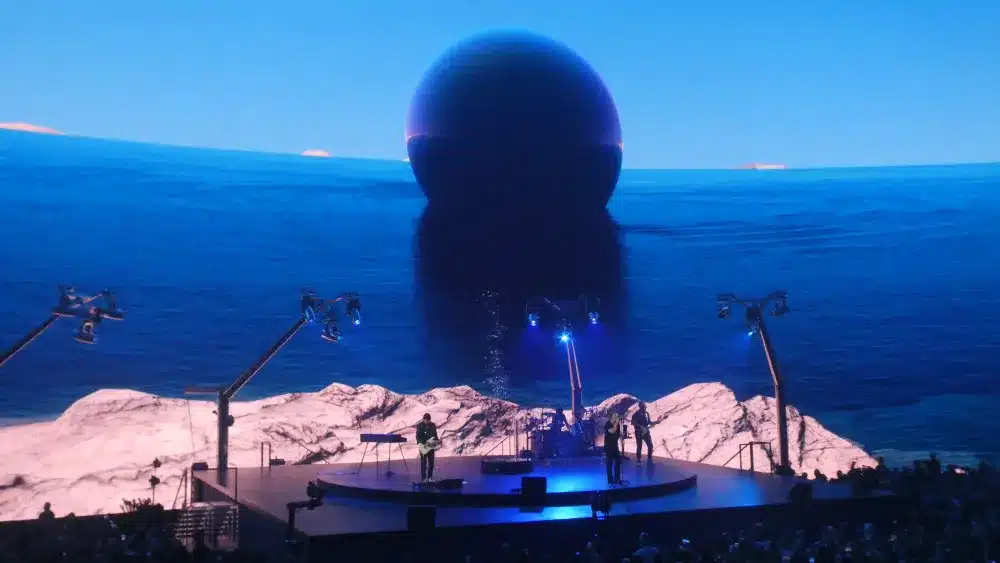 LAS VEGAS – It appeared to be a typical U2 outdoor concert: two helicopters flew through a starry sky before producing spotlights over the Las Vegas desert and Bono, who kneeled on the ground while singing the band's 2004 hit "Vertigo."
This scene may appear normal, but the visuals were created using floor-to-ceiling graphics within the immersive Sphere. It was one of several impressive instances during U2's "UV Achtung Baby" residency launch show at the globe-shaped, high-tech venue, which debuted Friday night.

It appeared to be a typical U2 outdoor concert: two helicopters flew through a starry sky before producing spotlights over the Las Vegas desert
The legendary rock band, which has won 22 Grammys, performed for two hours inside the enormous, state-of-the-art, spherical venue with crystal-clear audio. Throughout the evening, various captivating visuals, including kaleidoscopic images, a burning flag, and the Las Vegas skyline, transported more than 18,000 concertgoers on U2's epic musical voyage.
Bono, joined onstage by guitarists The Edge and Adam Clayton and percussionist Bram van den Berg, exclaimed, "What a swanky flat!" Then, he gazed at the high-resolution LED display that projected a larger image of himself, along with a few praying hands and bells.
SOURCE – ap