Argentina Erupts in Joy After Epic 2022 World Cup Win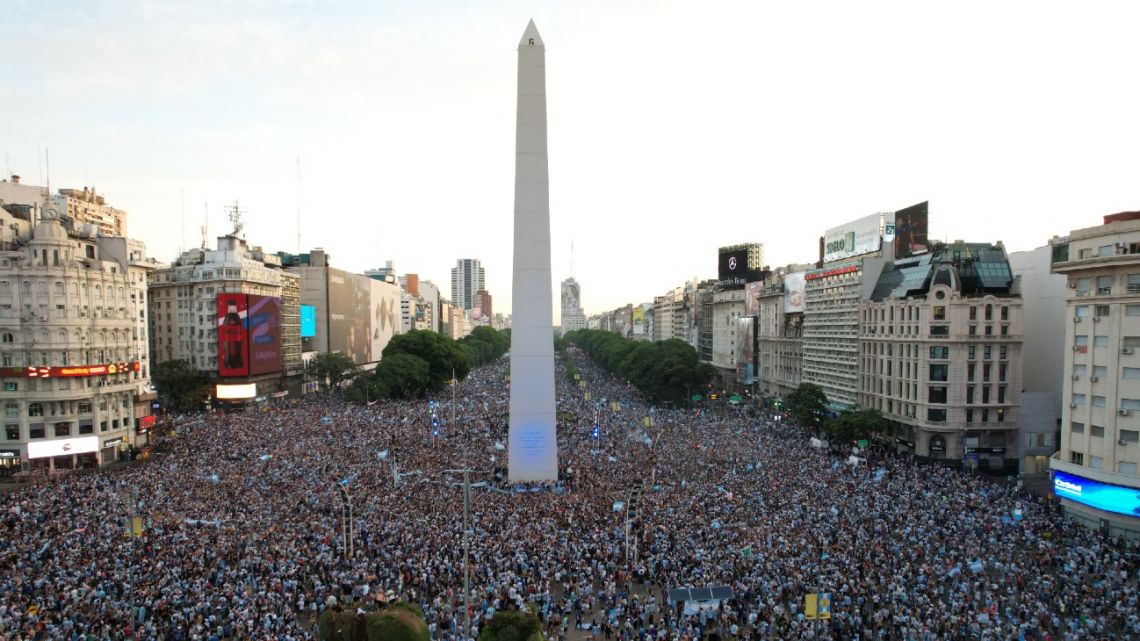 After an epic 2022 World Cup final in which Argentina beat France on penalties, Argentines let loose on Sunday, and streets across the country became places of celebration. It was the country's third World Cup championship and the first since 1986.
"I'm overjoyed; we truly deserved it. "The team suffered a lot, but it recovered over time," Josefina Villalba, a 55-year-old nanny, said as she joined hundreds of fans at one of the many public plazas where giant screens were set up to watch the long-awaited match.
Millions of Argentines cried, yelled, and hugged as they watched the game, which was an emotional rollercoaster.
Throughout the game, many spectators in Buenos Aires' public square chanted the name of captain Lionel Messi, widely regarded as the world's greatest soccer player who has long expressed his desire for a World Cup victory.
"I feel immense happiness in my heart because this is the first World Cup I truly enjoy," Hector Quinteros, 34, a security guard, said, his eyes welling up with tears. "This happens all the time. They are always making us suffer."
Thirty-Six-Year Wait for World Cup
Argentina finally won a World Cup after 36 years, erasing years of doubts and questions about whether a country known for producing some of the world's best soccer players could truly perform on an international stage. The country won its first championship in 1978 but fell short in the finals in 1930, 1990, and 2014.
Many were preparing to celebrate at the end of the first half, as Argentina led 2-0 and dominated the game.
However, as France caught up, the score was tied 3-3 before Argentina won on penalties 4-2.
The agony of the match made the victory all sweeter for many.
"When you suffer so much for something, the satisfaction is greater," Fabio Villani, a 45-year-old video editor, said, adding that he still couldn't believe Argentina had won the World Cup.
It also felt like Argentina, a country known for seemingly never-ending economic crises.
"Suffering is very Argentine," Maria Isabel Ayala, a 53-year-old hairdresser, said. "If we suffer, it is because our hearts truly feel it."
Gonzalo Nogueria, a 34-year-old photographer, said, "It's a bit of a bummer that we had to spend so much time suffering, but it's also our way of life a little," adding, "in some ways, we're used to it too."
Many fans recalled Argentina legend Diego Maradona, who died two years ago, and claimed he had something to do with today's victory.
"Diego sees everything from heaven; he wouldn't have wanted Argentina to lose. We won the first cup without him! "Diego is always here. He's eternal," said 18-year-old Javier López, whose voice broke as he spoke of Maradona, who led Argentina to its last World Cup title in 1986.
"Diego is certainly smiling now," Brazilian soccer legend Pelé said on social media, congratulating Argentina on their victory.

Messi United Argentines
The national team led by Messi has managed to unite Argentines with a sense of joy that is uncommon in a country that has been mired in economic stagnation for years, has one of the world's highest inflation rates, and nearly four out of ten people live in poverty.
"We're very happy that they gave us this triumph that the people needed beyond the socioeconomic problems that we're having," Gabriel Fernández, 42, said as he celebrated his victory in a Buenos Aires park with his family.
"We needed this for all the things that we're going through economically, politically, and socially," Alberto Czornenki, a 45-year-old retail worker, said as he joined the celebrations in Argentina's capital's public square.
"Our lives are full of suffering due to all that, that karma that we have, and this at least gives us some happiness. We'll then wake up to reality and find ourselves in the same place, but with a different kind of enthusiasm."
This squad, led by Lionel Scaloni, was also lauded by fans.

National Celebrations in Argentia
This team "transmits something very different from previous squads that did not feel pride for the national jersey, while these players give everything of themselves in each match," according to Facundo Alonso, a 26-year-old retail worker.
President Alberto Fernández joined the celebrations and congratulated the national team on their win.
"I'd like to thank the players and the technical staff. They serve as a reminder to never give up. That we have wonderful people and a bright future," Fernández said on social media.
Brazil's president-elect, Luiz Inácio Lula da Silva, said on social media that he was "pleased with our Argentine neighbors' victory."
Chilean President Gabriel Boric, who was rooting for the neighboring country during the game, also sent a "giant hug to our Argentine brothers."
On a hot summer day, the Obelisk in downtown Buenos Aires quickly filled with people as thousands descended to celebrate.
Shortly after the game, the subway became a party as fans packed the cars, singing, chanting, and jumping for joy as they made their way to the Obelisk to join the celebrations.
"Holding Leo Messi's hand, we're going all the way," the crowd chanted as euphoria set in.
Read:
Brisbane Mayor Quits 2032 Olympic Organizing Committee, Condemns Stadium Costs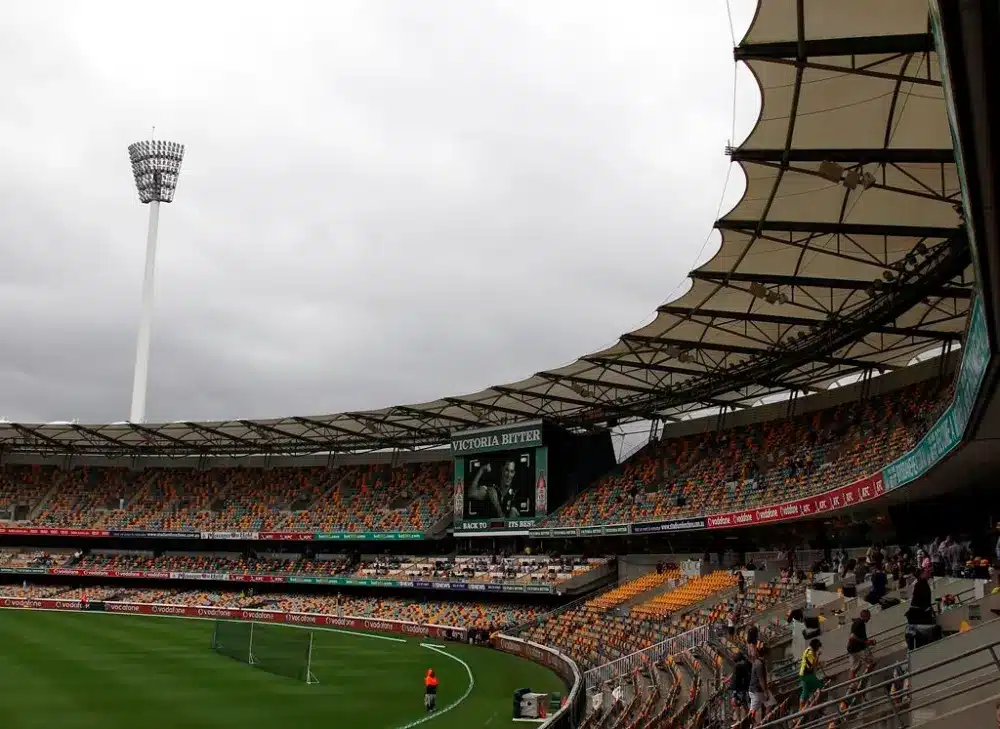 Brisbane Lord Mayor Adrian Schrinner has resigned from the inter-governmental group planning the 2032 Brisbane Olympic Games, describing it as a "pointless talkfest" and a "dysfunctional farce."
It is the first substantial divide for the organizers, whom the International Olympic Committee chose to host the 2032 Summer Olympics in 2021.
The so-called Leaders' Forum, which includes officials from all three levels of government and various organizations, is intended to deliver the Olympics while leaving a legacy for Queensland. Its mandate is to collaborate with Premier Annastacia Palaszczuk's Queensland state government to "progress the significant venues, villages, and transportation infrastructure" for the Games.
However, Schrinner claimed that the committee was meant to "place key stakeholders while the state government made all the real decisions behind closed doors."

Brisbane Mayor Quits 2032 Olympic Organizing Committee, Condemns Stadium Costs
"The truth is that we've always wanted to be team players. On Sunday, Schrinner stated, "The state government wanted to play politics."
He advocated for creating an independent authority, similar to the one that oversaw preparations for the Sydney Olympics in 2000 and the London Olympics in 2012, to bring planning "back on track."
"We don't need overpriced stadiums, we need better transport," Schrinner said. "This week it became very apparent that the Intergovernmental Leaders' Forum is a dysfunctional farce."
According to Schrinner, sports have become "more about overpriced stadiums."
A $2.7 billion US makeover of the existing Gabba stadium in inner-city Brisbane, which would be dismantled and rebuilt, is intended to be the centerpiece of an Olympics with sites around southeast Queensland. However, Schrinner suggested that alternative options be investigated.
He was particularly critical of the state government's proposals for Brisbane City Council to contribute $91 million to upgrade another local stadium, the RNA Showgrounds, to host cricket and Australian Rules football while the Gabba is redeveloped.

Brisbane Mayor Quits 2032 Olympic Organizing Committee, Condemns Stadium Costs
A 20,000-person stadium will be built within the showgrounds for the next five years to house the Brisbane Lions AFL teams and the Brisbane Heat cricket club. Schrinner resigned in response to the state government's request for a financial commitment from the city for a temporary cricket and AFL site.
"The state government's game playing is jeopardizing the games and they are quickly losing the support of the people of Queensland," Schrinner said in a statement. "It's clear that the games have become more about overpriced stadiums rather than the promise of vital transport solutions."
Queensland Sports Minister Stirling Hinchliffe expressed surprise at Schrinner's decision to resign. If he chooses to return, a place will be reserved for him.
Queensland will have council elections in March of next year. Schrinner's conservative Liberal National Party alliance and the opposition Australian Labor Party had previously backed the Gabba renovation.

Brisbane Mayor Quits 2032 Olympic Organizing Committee, Condemns Stadium Costs
The Greens' candidate for mayor of Brisbane, Jonathan Sriranganathan, has stated that if elected, his party would oppose the demolition and rebuilding of the Gabba. He called it a "deplorable waste of money" and a "bad deal for our city."
SOURCE – (CBC)
Buffalo Bills Linebacker Von Miller Turns Himself In After He Was Accused Of Assaulting A Pregnant Woman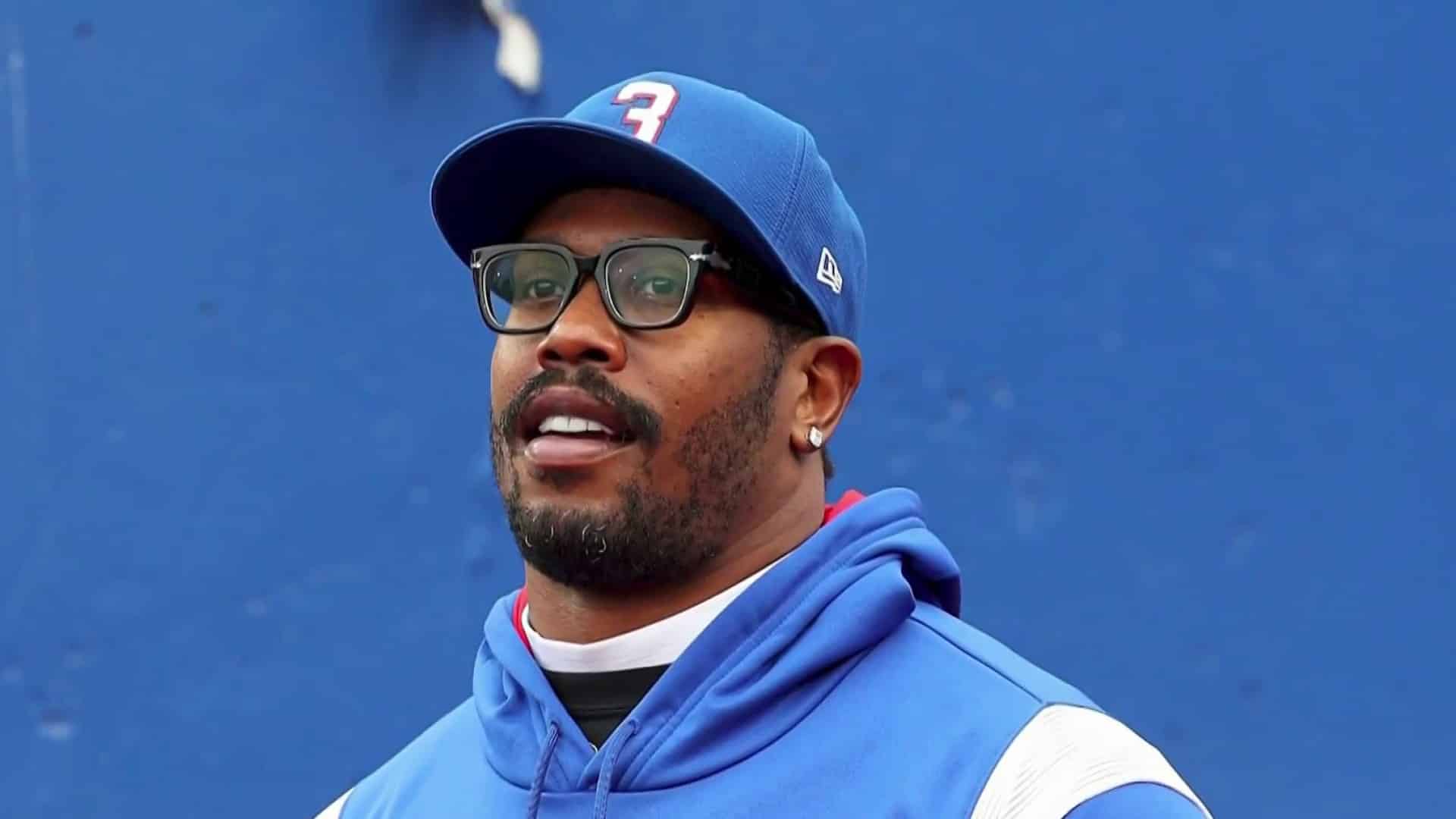 Von Miller, a Buffalo Bills linebacker accused of abusing a pregnant lady, handed himself in Thursday after an arrest warrant was issued for him, according to Dallas police.
Miller, 34, surrendered to the Glenn Heights Police Department Thursday afternoon, hours after the warrant was issued, according to Dallas police.
Von was escorted to the DeSoto Police Department jail and quickly posted $5,000 bond before being released, according to Glenn Heights Police Chief Nick Bristow, according to CNN affiliate WFAA.
Dallas police responded to a "major disturbance call" around 11 a.m. on Wednesday, according to the police department. According to police, a preliminary investigation showed that Miller and the victim had a verbal altercation and that Miller reportedly assaulted her.

Buffalo Bills Linebacker Von Miller Turns Himself In After He Was Accused Of Assaulting A Pregnant Woman
According to authorities, Von fled the scene before officers arrived, and the woman was treated for minor injuries but not hospitalized.
"This morning, we were made aware of an incident involving Von Miller," the Bills stated in a statement. "We are in the process of gathering more information and will have no further comment at this point."
CNN has reached out to Miller for comment.
When reached by CNN, an NFL spokeswoman stated that the league is aware of the situation and has communicated with the Bills, but declined to comment further.

Buffalo Bills Linebacker Von Miller Turns Himself In After He Was Accused Of Assaulting A Pregnant Woman
Von was born in DeSoto, Texas. He has two Super Bowl rings, one with the Denver Broncos and one with the Los Angeles Rams, and he was awarded the Super Bowl 50 MVP.
Von is the host of the Bleacher Report podcast "The Voncast." Warner Bros. Discovery (WBD) is the parent company of both Bleacher Report and CNN. When asked about the arrest warrant, WBD remained silent.
Von is a prominent figure in football, known for his exceptional skills as a linebacker. He played a significant role in the Denver Broncos' defense for many seasons, contributing to their success.
With his agility and strength, Miller has garnered recognition as one of the top players in the NFL. His impact on the field has earned him numerous accolades, making him a key player to watch during football season.
SOURCE – (CNN)
Stanley Cup Champion Corey Perry Waived By Chicago Blackhawks For 'Unacceptable' Conduct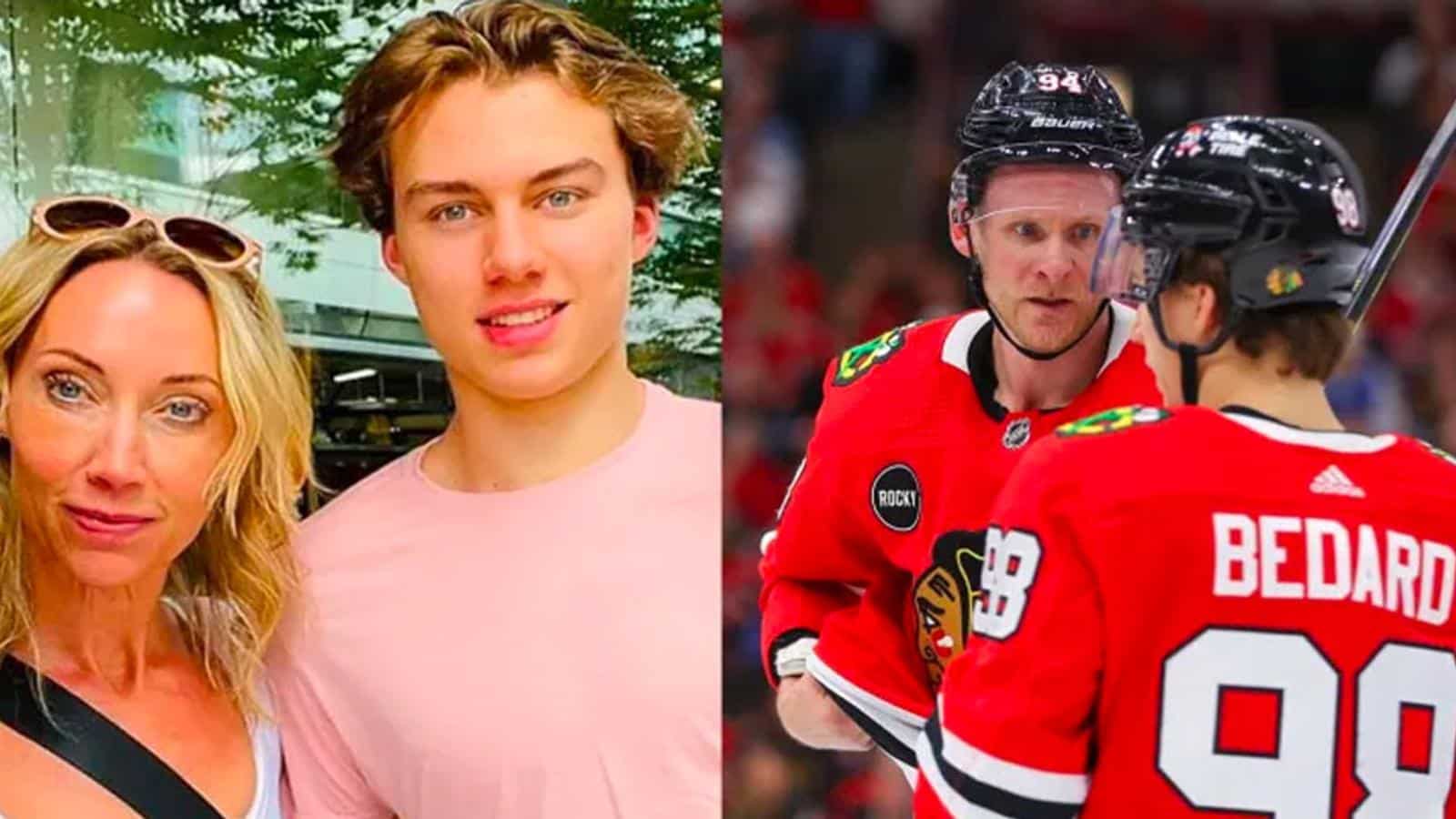 Following an internal inquiry, the Chicago Blackhawks waived veteran forward Corey Perry on Tuesday.
The National Hockey League (NHL) organization said that Perry "engaged in conduct that is unacceptable" and that he was "in violation both of the terms of his Standard Player's Contract and the Blackhawks' internal policies intended to promote professional and safe work environments."
The Blackhawks did not provide any information on the alleged behavior.
CNN has contacted Perry for comment.

The NHLPA, according to a representative, is "reviewing the matter."
In the summer, Chicago signed the 38-year-old to a one-year contract to help guide an inexperienced, young roster. He appeared in 16 games and scored four goals while assisting on five others.
Perry hasn't played since an unexpected healthy scratch against the Columbus Blue Jackets on November 22. After the game in Columbus, head coach Luke Richardson told reporters that it was an "organizational decision" not to play Perry, the team's third-leading scorer with nine points.
'Hawks general manager Kyle Davidson said on Saturday that the right winger was "away from the team" and would be for the "foreseeable future."
The Blackhawks announced: "In the event Mr. Perry clears waivers, we intend to terminate his contract effective immediately."

Perry has appeared in 1,273 NHL games and scored 421 goals. In 2007, he won the Stanley Cup with the Anaheim Ducks.
Corey is a professional ice hockey right winger known for his scoring ability and physical play. He has played for several teams in the NHL, including the Anaheim Ducks, Dallas Stars, and Montreal Canadiens.
Corey is recognized for his skill in front of the net and has a reputation for being a tenacious competitor. He has achieved significant success in his career, including winning the Stanley Cup with the Anaheim Ducks in 2007 and earning numerous accolades for his on-ice performance.
SOURCE – (CNN)