Owners of Manchester United Ponder Sale as Ronaldo Exits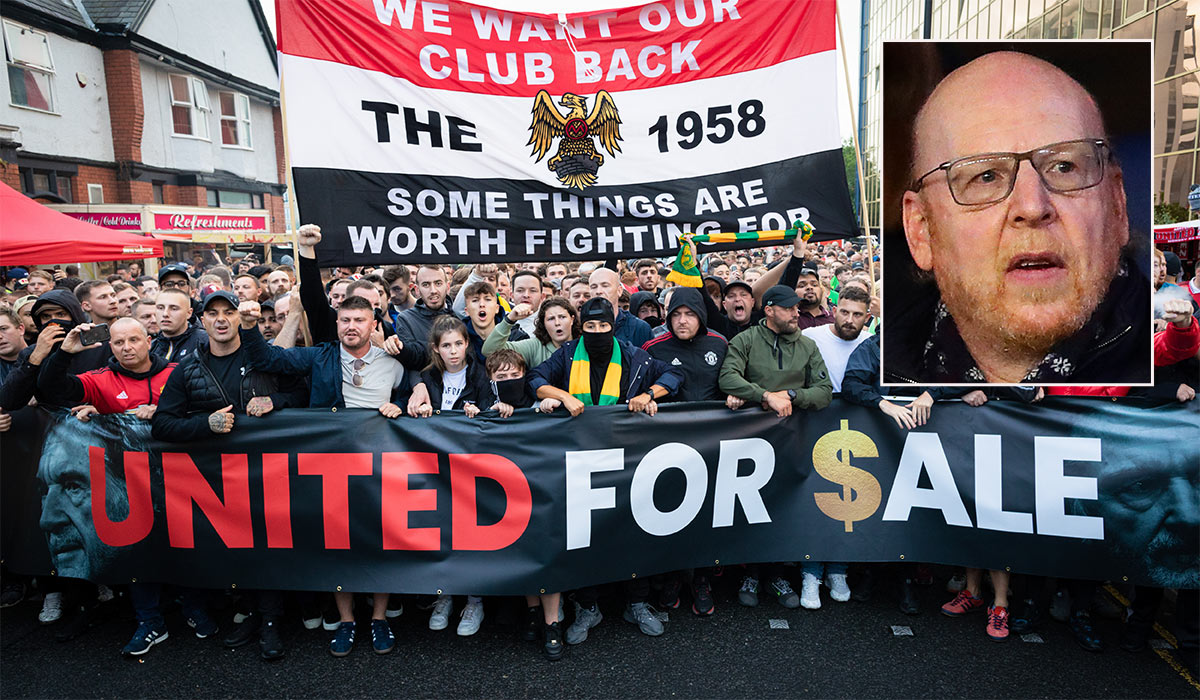 Manchester United announced Tuesday that it would begin an investigation into strategic alternatives, such as a new investment or a potential sale, 17 years after the American Glazer family purchased the English Premier League soccer club.
According to the club, the Glazer family is working with financial advisers on the process, which could result in a partial sale of the Old Trafford club or investments such as stadium and infrastructure redevelopment.
Manchester United fans have been calling for a change in ownership, and the Glazers have come under fire for failing to win a trophy in the last five years. Their most recent trophies were the Europa League and League Cup in 2017.
"As we seek to build on the club's history of success, the board has authorized a thorough evaluation of strategic alternatives," United's executive co-chairmen and directors, Avram Glazer and Joel Glazer, said in a statement.
"We will evaluate all options to ensure that we best serve our fans and that Manchester United capitalizes on the significant growth opportunities available to the club today and in the future," according to the statement.
According to Reuters, British billionaire Jim Ratcliffe expressed interest in purchasing United in August. Elon Musk had also joked about buying the club at the time.
In recent years, wealthy Asian tycoons, particularly those from China, have purchased European clubs such as Wolverhampton Wanderers of the Premier League and Inter Milan of Italy.
Football clubs, on the other hand, have since been deemed unfavourable assets by China, and any major overseas purchase appears unlikely at the moment, according to Mark Dreyer, the Beijing-based author of "Sporting Superpower," a book about China's sports ambitions.
"It's difficult to see how any Chinese-related entity could justify such a large purchase in the current environment," he said. "… with China only now confronting the realities of COVID-19, which makes the entire economic environment even more uncertain, no state body would approve this kind of deal."

Manchester United Stock Rises
The owners are under pressure because United is currently fifth in the Premier League, which has been suspended due to the ongoing Qatar World Cup.
Manchester United's stock increased by up to 20% after Sky News first reported on the sale process, valuing the club at $2.6 billion.
At the end of Tuesday's trading in the United States, the company was valued at $2.5 billion. In 2018, it had a market capitalisation of $4.3 billion at its peak as a public company.
Cristiano Ronaldo will leave Manchester United "with immediate effect," the Premier League club announced on Tuesday, just days after criticizing manager Erik ten Hag and the club's owners in an explosive interview.
It was unclear where Ronaldo, 37, would go next after failing to secure a move to a Champions League club in the summer.
"Following discussions with Manchester United, we have mutually agreed to terminate our contract early," said Ronaldo. "I adore Manchester United and its supporters, and that will never change." However, it appears that the time has come for me to seek a new challenge.
"I wish the team the best of luck for the rest of the season and in the future."
Ronaldo, who is currently in Qatar with Portugal attempting to win his country's first World Cup title, has been frustrated after being reduced to a fringe member of United's team this season.
Ronaldo Says He Was Betrayed
During a 90-minute interview with Piers Morgan on Thursday, the Portugal captain said he felt "betrayed," and he was also critical of younger players.
United announced last week that it had taken appropriate action in response to his comments, with the termination of his contract widely anticipated.
"Cristiano Ronaldo has agreed to leave Manchester United with immediate effect," the club announced on Tuesday. "The club thanks him for his enormous contribution over two spells at Old Trafford, scoring 145 goals in 346 appearances, and wishes him and his family the best of luck in the future."
That statement failed to convey the club's outrage following the unauthorized interview.
Ronaldo's unexpected departure may also hasten United's plans to sign a new centre forward.
Ten Hag had intended to address his offensive issues at the end of the season, but he may now have to look for a replacement during the January window.
Joe Burrow Starts For Bengals Vs. Rams After Being Questionable With Calf Injury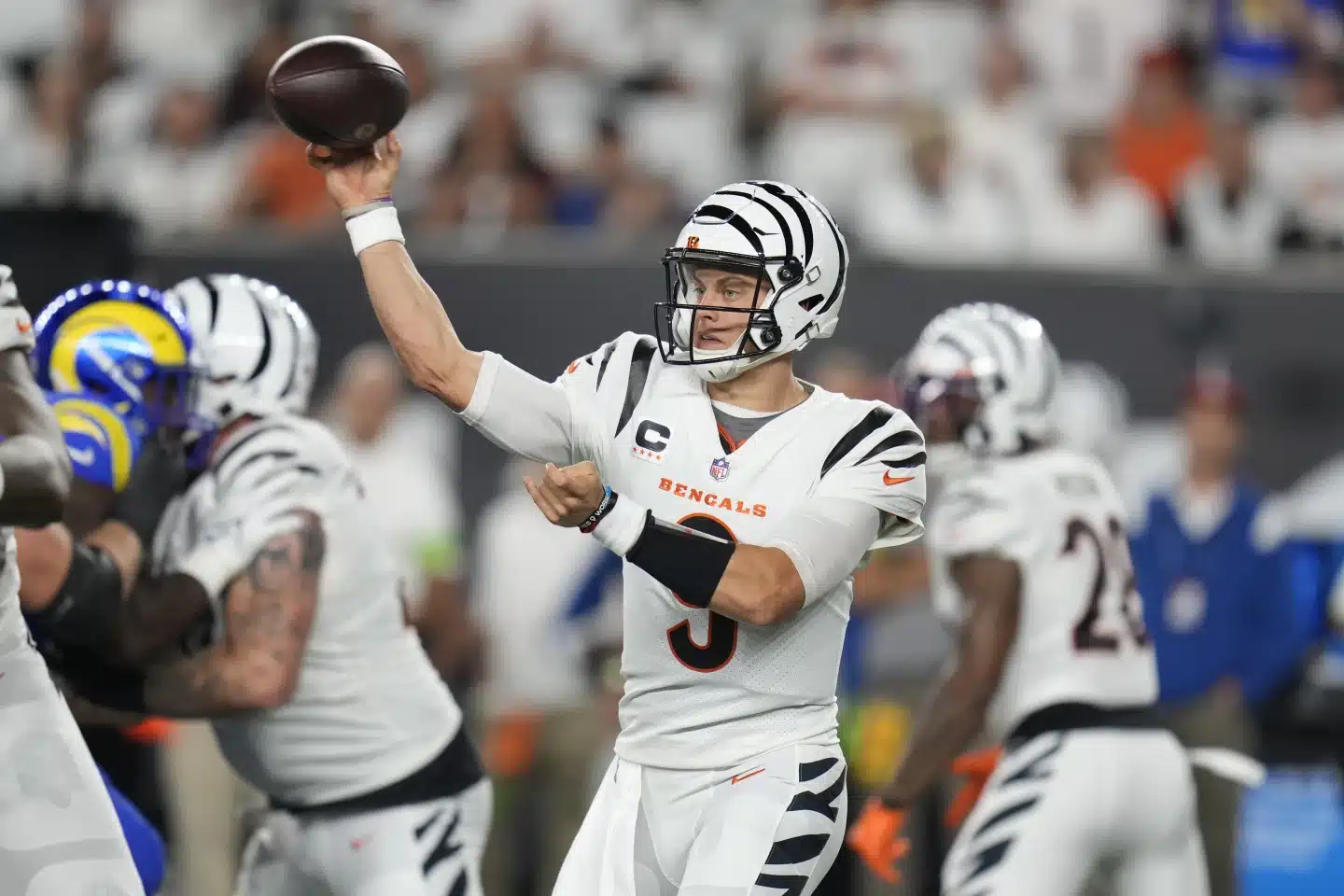 CINCINNATI — Joe Burrow started for the Cincinnati Bengals against the Los Angeles Rams on Monday night.
The Bengals' starting quarterback has been coping with a calf injury, but he was a full participant in warmups and played in the first offensive series.
Burrow's participation was still being determined shortly before the game. The injury occurred early in training camp and was aggravated late in last week's Bengals loss to Baltimore.

Burrow returned to limited practice on Thursday, and the team listed him as questionable on Saturday.
Irv Smith Jr., Trenton Irwin, Chris Evans, Jay Tufele, Jackson Carman, Trey Hill, and DJ Ivey were inactive for the Bengals.
For the Rams, Zach Evans, Kevin Dotson, Warren McClendon, and Earnest Brown IV were inactive.
The Rams activated running back Royce Freeman and wide receiver Austin Trammell.
In a victory over Tampa Bay, Jalen Hurts threw a touchdown pass, rushed for another, and led an unblemished Philadelphia drive that lasted more than nine minutes.
Hurts has gone 20-1 in his last 21 regular-season contests. He tossed a 34-yard TD pass to Olamide Zaccheaus that helped Philly establish a 13-3 halftime lead, and his 1-yard scoring run gave the Eagles a 17-point advantage early in the second half.

On Monday night, Joe Burrow started for the Cincinnati Bengals against the Los Angeles Rams.
The Eagles, one of three unbeaten teams in the NFL, led 25-3 when the Bucs scored on a 1-yard touchdown pass from Baker Mayfield to Mike Evans. With 9:22 remaining, a 2-point conversion cut Philadelphia's lead to 14 but Hurts and the Eagles never gave Tampa Bay the ball back.
The Buccaneers (2-1) suffered their first loss with Mayfield at quarterback, and Tampa Bay's typically dependable defense allowed 201 rushing yards.
D'Andre Swift gained 130 yards on 16 carries for Philadelphia, which is 3-0 for the first time in consecutive seasons since 1992-93. Hurts completed 23 of 37 passes for 277 yards while throwing two interceptions.
Mayfield completed 15 passes out of 25 attempts for 146 yards, one touchdown, and one interception. Five receptions by Evans gave him 700 for his career.
SOURCE – (AP)
Usher To Headline The 2024 Super Bowl Halftime Show In Las Vegas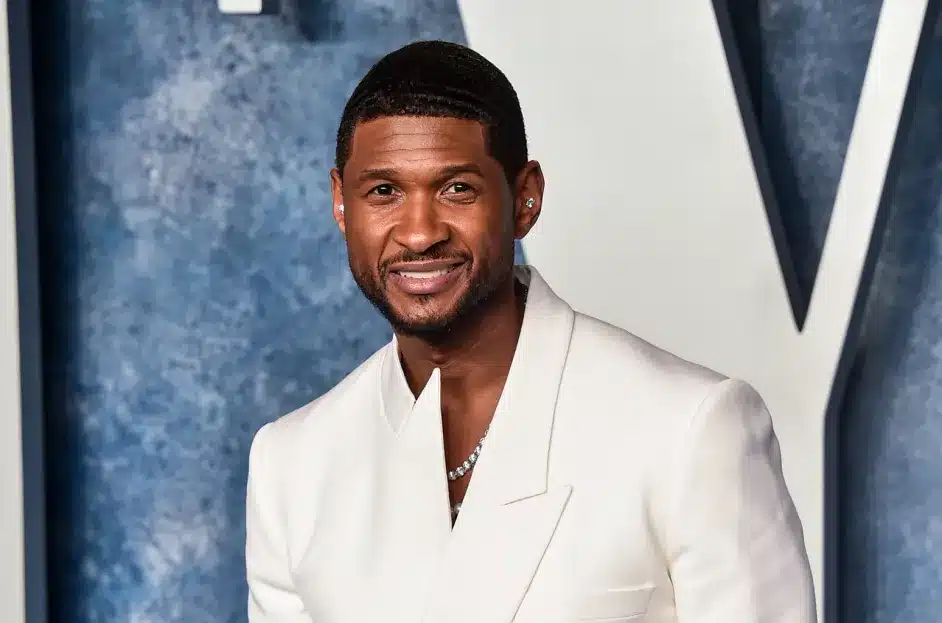 LOS ANGELES — Usher recently revealed that he will anchor the Apple Music Super Bowl Halftime Show in Las Vegas.
On February 11, the NFL, Apple Music, and Roc Nation announced that Usher will headline the halftime festivities at Allegiant Stadium. The music superstar, who has won eight Grammys, expressed his eagerness to perform on the NFL's grandest stage.
"It's an honour of a lifetime to finally check a Super Bowl performance off my bucket list," Usher said in a statement. "I cannot wait to give the world a performance unlike anything they've ever witnessed from me before."
The album "Confessions," which sold over 10 million copies in the United States and garnered him eight nominations and three Grammy Awards in 2005, served as the catalyst for Usher's ascent to superstardom. Ray Charles' final album, "Genius Loves Company," published two months after the legend's death, won Album of the Year.
"Confessions" is one of the best-selling music albums of all time and spawned multiple No. 1 singles, including "Yeah!" with Ludacris and Lil Jon, "Burn," and "Confessions Part II." His special edition album featured a duet with Alicia Keys entitled "My Boo," a smooth success. The epic album will celebrate its 20th anniversary next year.
Usher, 44, is headlining his "Usher: My Way" residency in Las Vegas, earning rave reviews and sold-out performances. Sunday also marks the commencement of an eight-night run of performances in Paris. Usher is anticipated to conclude his Las Vegas residency in early December before performing at the Super Bowl halftime show a few months later.

Usher recently revealed that he will anchor the Apple Music Super Bowl Halftime Show in Las Vegas.
The performer has served as a coach on NBC's "The Voice" and has appeared in several films, such as "Hustlers" and "Light It Up."
Jay-Z, the founder of Roc Nation, described Usher as the consummate "artist and showman."
"Ever since his debut at the age of 15, he's been charting his own unique course," he said of Usher, whose self-titled debut album was released in 1994. He has released eight studio albums, including songs such as "U Got It Bad," "U Remind Me," "You Make Me Wanna," "Nice & Slow," and "Love In This Club" featuring Jeezy.
"Beyond his flawless singing and exceptional choreography, Usher bares his soul," Jay-Z continued. "His extraordinary voyage has propelled him to one of the world's grandest stages. I can't wait to witness the wonder."
The halftime performance will be co-executive produced by Emmy-winning producer Jesse Collins and Roc Nation. Director Hamish Hamilton returns. It's the second time the NFL, Apple Music, and Roc Nation have worked together.

Usher recently revealed that he will anchor the Apple Music Super Bowl Halftime Show in Las Vegas.
Last year, a pregnant Rihanna performed a spectacular halftime display while suspended from a platform above the field – her first solo performance in seven years.
Apple's Vice President of Apple Music, Apple TV+, Sports, and Beats, Oliver Schusser, said, "We are so proud of what we were able to accomplish with the NFL and Roc Nation last year, and with Usher set to take the stage, we're looking forward to another incredible Halftime Show from one of the world's all-time greatest performers."
He will join the likes of Beyoncé, Madonna, Dr. Dre, Snoop Dogg, Coldplay, Kendrick Lamar, Eminem, U2, Lady Gaga, Michael Jackson, and Katy Perry, who have performed at Super Bowl halftime performances.
"Usher is an icon whose music has left an indelible mark on the cultural landscape throughout his career," said NFL Head of Music Seth Dudowsky.
SOURCE – (AP)
Former NHL Player Nicolas Kerdiles Dies After A Motorcycle Crash In Nashville. He Was 29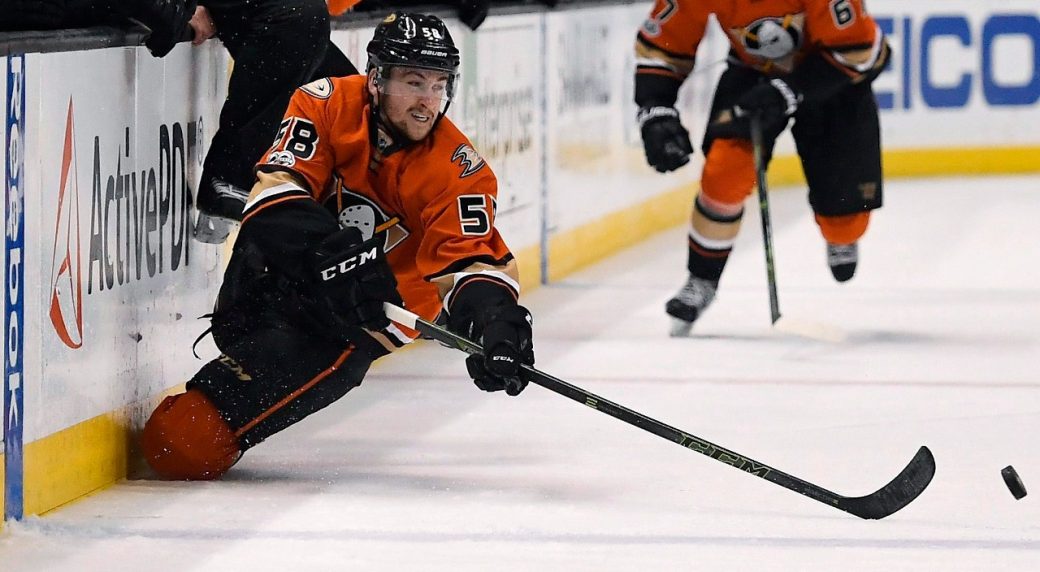 NASHVILLE, Tennessee — According to police, former NHL player Nicolas Kerdiles perished in a motorbike accident in Nashville on Saturday. He was 29 years old.
According to the Metro Nashville Police Department, the former Anaheim Ducks player drove his motorbike through a stop sign early Saturday morning and collided with the driver's side of an SUV. The SUV's driver promptly stopped, and there were no signs of impairment in either driver, police added.
At the Vanderbilt University Medical Centre, Kerdiles passed away. Police do not anticipate any prosecution about the collision.
He was drafted by the Ducks in 2012, and he spent two seasons with the club, appearing in three games during the 2016-17 and 2017-18 seasons. He was transferred to the Winnipeg Jets in 2018 after playing for the Manitoba Moose of the American Hockey League. Recently, he had worked in Nashville's real estate industry.

According to police, former NHL player Nicolas Kerdiles perished in a motorbike accident in Nashville on Saturday. He was 29 years old.
Saturday, the Ducks posted on social media, "We're devastated to hear the news about Nic." In 2017, Nic, a native of Irvine, became the first player from Orange County to compete for the Ducks. Our sincere thoughts and condolences go out to his family and loved ones."
USA Hockey, the sport's national governing authority, posted on social media that it was "heartbroken" to learn of Kerdiles' passing. Kerdiles helped Team USA's under-18 squad capture two gold medals at the International Ice Hockey Federation U18 World Championship.
He played college hockey for the University of Wisconsin, which posted on social media about his "great spirit as part of our Badger family."
Savannah Chrisley, known for her role on "Chrisley Knows Best," was formerly engaged to Kerdiles. In 2020, the couple parted up. On Saturday, Chrisley posted about Kerdiles' death on social media, stating, "I miss you and I love you."
Chrisley posted, "We loved fiercely… and I can't wait to ride bikes along the beaches of heaven with you one day."
SOURCE – (AP)