Biden Visits US-Mexico Border, First Time in Since 2008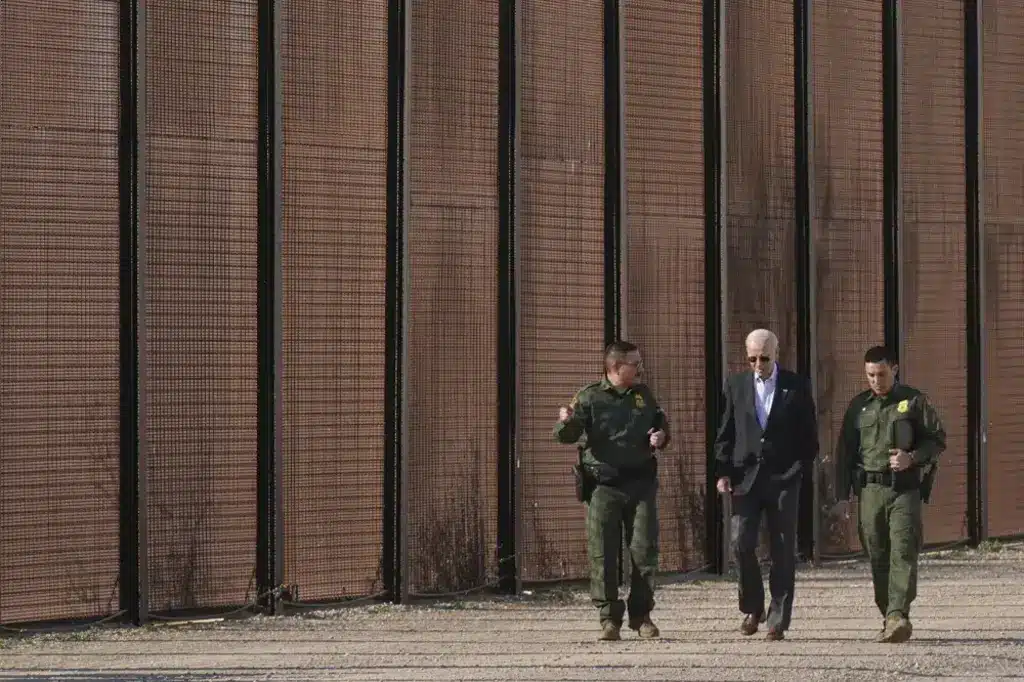 On his first trip to the region after two years in office, President Joe Biden walked a muddy stretch of the US-Mexico border and inspected a busy port of entry on Sunday, a visit overshadowed by the fraught politics of immigration, as Republicans blame him for record numbers of migrants crossing into the country.
The president observed border officers in El Paso demonstrate how they search vehicles for drugs, money, and other contraband during his first stop. He then went to a dusty street with abandoned buildings and walked along a metal border fence that separated the United States city from Ciudad Juarez.
His final stop was the El Paso County Migrant Services Center, but no migrants were in sight. As he learned more about the services available, he asked a volunteer, "If I could wave the wand, what should I do?"
Biden's nearly four-hour trip to El Paso was tightly orchestrated. Except for when his motorcade drove alongside the border and about a dozen migrants lined up on the Ciudad Juárez side, he encountered no migrants. His visit did not include any time spent at a Border Patrol station, where illegal immigrants are apprehended and held before being released.
The visit appeared to be intended to demonstrate a smooth operation for processing legal migrants, weeding out smuggled contraband, and treating those who had entered illegally in a humane manner, creating a counter-narrative to Republicans' claims of a crisis situation equivalent to an open border.
However, his visit is unlikely to appease critics on both sides, including immigrant advocates who accuse him of instituting cruel policies similar to those of his hardline predecessor, Donald Trump.
Biden given letter from Texas governor
Texas Gov. Greg Abbott, a Republican, handed Biden a letter as soon as he touched down in the state, saying the "chaos" at the border was a "direct result" of the president's failure to enforce federal laws. During his tour, Biden took the letter from his jacket pocket and told reporters, "I haven't read it yet."
House Speaker Kevin McCarthy called Biden's visit a "photo op," tweeting that the Republican majority would hold the administration "accountable for creating the most dangerous border crisis in American history."
El Paso County Judge Ricardo Samaniego welcomed Biden's visit, but said the president was unable to see how large the group of newcomers was due to a recent lull in arrivals.
"He didn't get to see the real difficulties," Samaniego, a member of the local delegation that welcomed Biden, said. "It was fortunate that he was present. It's just the beginning. However, we still need to do more and spend more time with him."
Hundreds of migrants gathered Sunday outside the Sacred Heart Catholic Church in El Paso, where they have been sleeping outside and receiving three meals a day from faith groups and other humanitarian organizations.
Venezuelans abandoned by Biden
Among the migrants were several pregnant women, including Karla Sainz, 26, who was eight months pregnant. She was traveling with her 2-year-old son, Joshua, in a small group. Sainz left her three other children with her mother in Venezuela.
"I'd like to ask President Biden for permission or something so we can work and continue," she said. Juan Tovar, 32, one of several people in her group, suggested he was leaving for political reasons as well. "The worst is socialism," he said. "In Venezuela, they kill us, torture us, and we can't criticize the government. We are in worse shape than Cuba."
Noengris Garcia, who was also eight months pregnant, was traveling with her husband, teen son, and small family dog from the Venezuelan state of Portuguesa, where she ran a food stall.
"We don't want money or a house," Garcia, 39, explained. "All we want to do is work."
Asked what he's learned by seeing the border firsthand and speaking with the officers who work along it, Biden said: "They need a lot of resources. We'll go get it for them."
El Paso is currently the busiest crossing point for illegal immigrants, owing in large part to Nicaraguans fleeing repression, crime, and poverty in their home country. They are among four countries' migrants who are now subject to immediate deportation under new rules enacted by the Biden administration last week, which drew harsh criticism from immigration advocates.
Biden's recent border security policy announcements and border visit were intended to mitigate the impact of upcoming immigration investigations promised by House Republicans. However, any long-term solution will necessitate action by a deeply divided Congress, where multiple attempts to enact major changes have failed in recent years.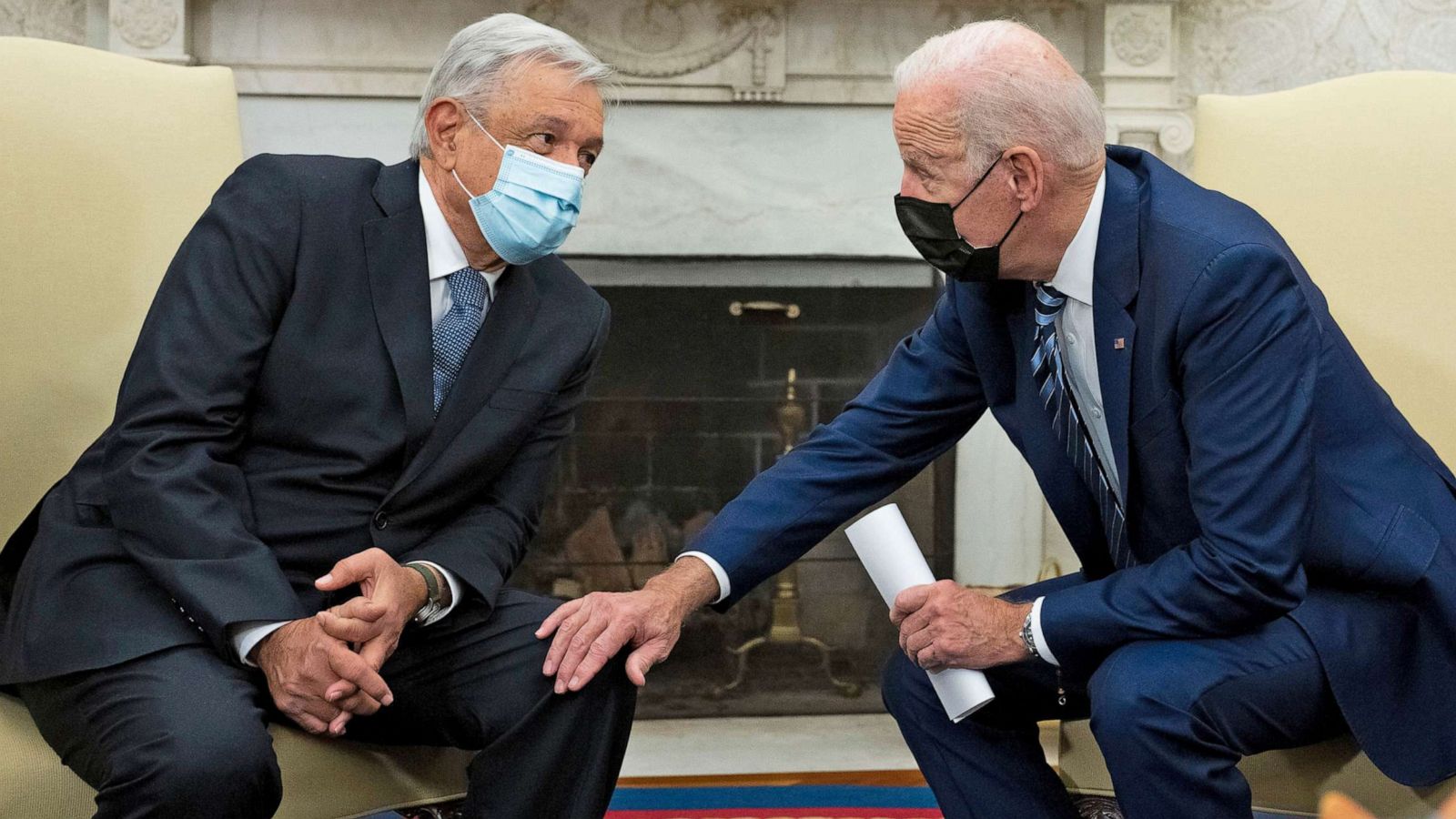 Texas to Mexico City
Biden traveled south from Texas to Mexico City, where he will meet with the leaders of Mexico and Canada on Monday and Tuesday for a North American leaders summit. Immigration is one of the topics on the agenda.
During Biden's first two years in office, the number of migrants crossing the US-Mexico border has increased dramatically. During the fiscal year that ended Sept. 30, there were more than 2.38 million stops, the first time the figure surpassed 2 million. The administration has struggled to crack down on border crossings, hesitant to take measures similar to those implemented by Trump's administration.
The policy changes announced this week are Biden's most significant move yet to limit illegal border crossings, and they will turn away tens of thousands of migrants. At the same time, 30,000 migrants per month from Cuba, Nicaragua, Haiti, and Venezuela will be allowed to enter the United States legally if they travel by plane, find a sponsor, and pass background checks.
The United States will also turn away migrants who do not first seek asylum in a country they passed through on their way to the United States. Migrants are being asked to fill out a form on a phone app in order to visit a port of entry on a pre-determined date and time.
Homeland Security Secretary Alejandro Mayorkas told reporters on Air Force One that the administration is attempting to "incentivize a safe and orderly way and cut out the smuggling organizations," adding that the policies are "not at all a ban," but rather an attempt to protect migrants from the trauma that smuggling can cause.
Some welcomed the changes, particularly leaders in cities where migrants had gathered. However, immigrant advocacy groups chastised Biden for adopting policies similar to those of the former president. Officials from the administration disputed that assessment.
In his 50 years in public service, Biden has spent very little time at the US-Mexico border.
The White House could only point to Biden's drive by the border during his presidential campaign in 2008. He dispatched Vice President Kamala Harris to El Paso in 2021, but she was chastised for largely avoiding the action because El Paso was not the crossroads hub that it is now.
Trump, who has made hardening immigration a signature issue, has made several trips to the border.
Wikipedia, Wrapped. Here Are 2023'S Most-Viewed Articles On The Internet's Encyclopedia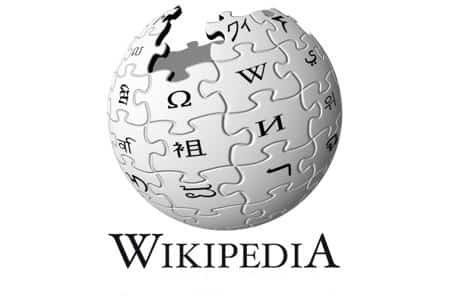 NEW YORK – Remember what you were looking for in 2023? Wikipedia, on the other hand, has the receipts.
According to data provided Tuesday by the Wikimedia Foundation, the non-profit behind the free, openly edited online encyclopedia, English Wikipedia received more than 84 billion views this year. The most popular piece was on ChatGPT (the AI chatbot that appears to be everywhere these days).
OpenAI's ChatGPT has flown into the public eye since its inception just over a year ago, as the technology makes its way into schools, health care, legislation, and even religious preaching. The chatbot has also contributed to developing arguments regarding the possible benefits and risks of generative AI, most of which are detailed on its Wikipedia page.

Here Are 2023'S Most-Viewed Articles On The Internet's Encyclopedia
The annual list of fatalities was the second most-read article on Wikipedia in 2023, after taking the #4 and #1 rankings in 2022 and 2021, respectively. Individual entries for important figures who died this year drew much attention, notably those for Matthew Perry and Lisa Marie Presley.
Meanwhile, the highly anticipated 2023 Cricket World Cup came in third place — along with three other cricket-related entries in Wikipedia's top 25 this year, including the Indian Premier League at #4, marking the first time cricket content has made the list since the Wikimedia Foundation began tracking in 2015.
"Barbenheimer," Taylor Swift and others also appeared to influence our internet-reading habits in 2023. Here are this year's top 25 English Wikipedia articles.
According to the Wikimedia Foundation, this top 25 ranking was constructed using English Wikipedia statistics as of November 28. The charity plans to update full-year figures on January 3, 2024.
The United States (33.2 billion) and the United Kingdom (9 billion), along with India (8.48 billion), Canada (3.95 billion), and Australia (2.56 billion), are the top countries that accessed English Wikipedia globally in 2023, according to Wikimedia Foundation data shared with The Associated Press.

Here Are 2023'S Most-Viewed Articles On The Internet's Encyclopedia
1. ChatGPT: 49,490,406 pageviews
2. Deaths in 2023: 42,666,860 pageviews
3. 2023 Cricket World Cup: 38,171,653 pageviews
4. Indian Premier League: 32,012,810 pageviews
5. Oppenheimer (film): 28,348,248 pageviews
6. Cricket World Cup: 25,961,417 pageviews
7. J. Robert Oppenheimer: 25,672,469 pageviews
8. Jawan (film): 21,791,126 pageviews
9. 2023 Indian Premier League: 20,694,974 pageviews
10. Pathaan (film): 19,932,509 pageviews
11. The Last of Us (TV series): 19,791,789 pageviews
12. Taylor Swift, 19,418,385: pageviews
13. Barbie (film): 18,051,077 pageviews
14. Cristiano Ronaldo: 17,492,537 pageviews
15. Lionel Messi: 16,623,630 pageviews
16. Premier League: 16,604,669 pageviews
17. Matthew Perry: 16,454,666 pageviews
18. United States: 16,240,461 pageviews
19. Elon Musk: 14,370,395 pageviews
20. Avatar: The Way of Water: 14,303,116 pageviews
21. India: 13,850,178 pageviews
22. Lisa Marie Presley: 13,764,007 pageviews
23. Guardians of the Galaxy Vol. 3: 13,392,917 pageviews
24. Russian invasion of Ukraine: 12,798,866 pageviews
25. Andrew Tate: 12,728,616 pageviews
According to the Wikimedia Foundation, this top 25 ranking was constructed using English Wikipedia statistics as of November 28. The charity plans to update full-year figures on January 3, 2024.
The United States (33.2 billion) and the United Kingdom (9 billion), along with India (8.48 billion), Canada (3.95 billion), and Australia (2.56 billion), are the top countries that accessed English Wikipedia globally in 2023, according to Wikimedia Foundation data shared with The Associated Press.
SOURCE – (AP)
Rizz Named Word Of The Year 2023 By Oxford University Press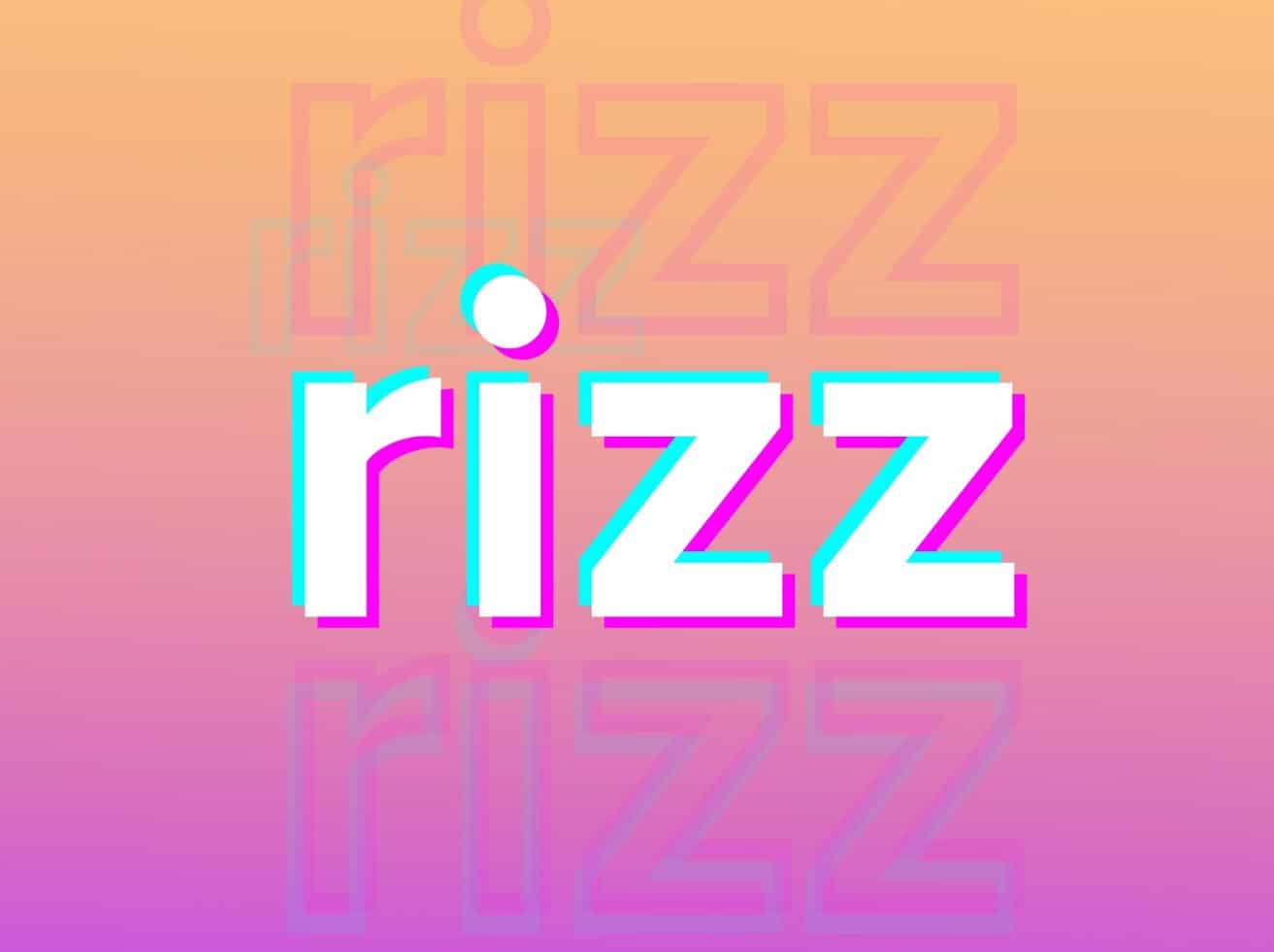 Are you adept at flirting or chatting up possible partners? If this is the case, you may already have rizz and be unaware of it.
Young folks utilize the Oxford word of the year, internet slang for romantic appeal or charm.
It was one of eight words chosen from a shortlist to define the mood, ethos, or preoccupations of 2023.
A public poll was used to narrow down the list before Oxford lexicographers made the ultimate selection.
Swiftie, Beige Flag, and Situationship were among the other contenders.
If you are not a member of Generation Z, the term may be meaningless to you.
However, it is widely utilized online, with billions of views of the hashtag "rizz" on TikTok.

Rizz Named Word Of The Year 2023 By Oxford University Press
It is described as style, charm, or attractiveness, as well as the ability to attract a romantic or sexual partner, by Oxford University Press [OUP], which publishes the Oxford English Dictionary [OED].
The word "charisma" is assumed to be a shorter variant of "charisma."
It can also be used as a verb, as in "to frizz up," which means "to attract, seduce, or chat up someone."
It's essentially a modern version of the "game," described as skill, proficiency, and the capacity to sexually entice people through one's charm.

What do the shorlisted words mean?
Beige flag (n.): a character feature that indicates that a partner or possible partner is boring or lacks creativity; (also) a quality or habit, especially of a partner or potential mate, that is very distinctive but not good or bad. [proposed definition]
A situationship (n.) is a romantic or sexual relationship that is not formal or established.
Swiftie (n.): a devoted follower of Taylor Swift. [proposed definition]
Prompt (n.): a command issued to an artificial intelligence program, algorithm, or the like that affects or influences the content it generates [draft definition]
De-influencing (n.): the activity of deterring individuals from purchasing specific things or pushing people to consume less material goods, particularly through social media [draft definition]
The Oxford University Press emphasized that lexicographers are writing a draft definition "for the Word of the Year campaign" and that terms without draft definitions are already in the OED.

Rizz Named Word Of The Year 2023 By Oxford University Press
The rest of the words will be included in dictionaries "after assessment of their longevity, frequency, and breadth of usage," according to the statement.
Kai Cenat, a Twitch streamer and YouTuber is widely credited with popularizing the term rizz, which he used with his buddies.
The word's popularity has grown this year, and in June, actor Tom Holland was asked by Buzzfeed about the secret to his frizz.
Holland responded, "I have no rizz at all." "I have limited rizz," he says before detailing how he won his fiancée Zendaya over by playing the "long game."

Another slang term characterizing "unapologetically self-indulgent, lazy, slovenly, or greedy" behavior that was last year's Oxford word of the year was "goblin mode."
Casper Grathwohl, president of Oxford Languages, stated that while "goblin mode" was popular following the epidemic, "it's interesting to see a contrasting word like rizz come to the forefront."
He speculated that the word referred to "a prevailing mood of 2023, where more of us are opening up after a challenging few years and finding confidence in who we are."
Mr. Grathwohl said that the increased use of the word frizz demonstrated that words and phrases derived from online culture "are increasingly becoming part of the day-to-day vernacular."
The language specialists at Oxford University Press chose the selection of eight words.
This list was then subjected to a public vote in late November, narrowing the field to four finalists before the experts decided.
Collins Dictionary revealed "artificial intelligence" as the word of 2023 in November.
SOURCE – BBC
BMW Recalls 2014 Model SUVs After Takata Air Bag Inflator Blows Apart, Hurling Shrapnel And Injuring Driver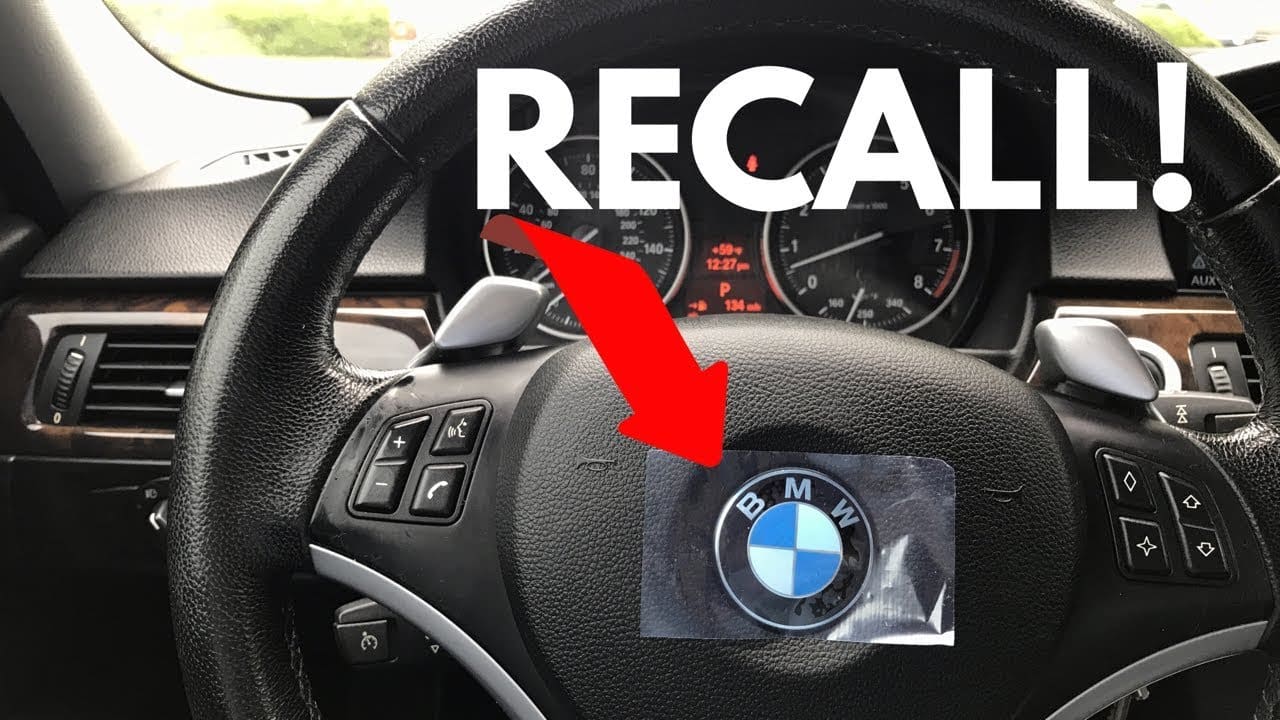 DETROIT, MI — BMW is recalling a small number of SUVs in the United States because the driver's air bag inflators can rupture in a crash, throwing metal shards and potentially harming or killing passengers.
According to documents issued Saturday by US auto safety regulators, the recall involves 486 X3, X4, and X5 SUVs from the 2014 model year that are fitted with Takata Corp. of Japan airbags.
The recall calls into doubt the safety of around 30 million Takata inflators, which the National Highway Traffic Safety Administration is investigating. The vast majority have yet to be recalled.
Takata created a minor explosion using explosive ammonium nitrate to inflate airbags in a crash. However, the chemical might deteriorate over time when exposed to high temperatures and humidity. It can potentially detonate violently, destroying a metal canister and spilling shrapnel.
Takata inflators have killed at least 26 individuals in the United States since May 2009, and at least 30 people have perished globally, including those in Malaysia and Australia. A further 400 persons have been injured.
The risk of a dangerous malfunction prompted the greatest auto recalls in US history, involving at least 67 million Takata inflators. According to the US government, many still need to be restored. Globally, over 100 million inflators have been recalled. Takata declared bankruptcy as a result of the bursting airbags.

BMW Recalls SUVs After Takata Air Bag Inflator Blows Apart, Hurling Shrapnel And Injuring Driver
According to documents, the inflators in the BMWs contain a moisture-absorbing substance known as a desiccant that was not included in earlier recalls.
According to papers, BMW was informed in November of an NHTSA complaint that the driver's airbag in a 2014 X3 had ruptured. The automaker launched an investigation, but no specific cause has been identified. However, according to the records, preliminary information indicates a production fault from February 22, 2014, to March 7, 2014.
According to records, the German automaker is still investigating but has not yet been able to inspect the X3 with the malfunctioning airbag.
According to NHTSA data, on October 23, the inflator on a 2014 X3 exploded in Chicago, blasting a big piece of metal into the driver's lung.

BMW Recalls SUVs After Takata Air Bag Inflator Blows Apart, Hurling Shrapnel And Injuring Driver
According to the complaint, the driver also suffered chest and shoulder injuries that seemed to be caused by shrapnel. According to the lawsuit, which did not identify the driver, a surgeon extracted a gold-colored disc from the driver's lung.
According to the NHTSA, Takata airbags with desiccant are being investigated because they have the potential to detonate and release shrapnel. The investigation, which began in 2021, involves more than 30 million inflators from 20 car and truck manufacturers, including Honda, Stellantis, General Motors, Ford, Nissan, Tesla, BMW, Toyota, Jaguar Land Rover, Daimler Vans, Mitsubishi, Subaru, Mercedes-Benz, Ferrari, McLaren, Porsche, Mazda, Karma, Fisker, and Spartan Fire vehicles.
In May 2020, the agency decided not to recall the desiccant-containing inflators but to monitor them.

BMW Recalls SUVs After Takata Air Bag Inflator Blows Apart, Hurling Shrapnel And Injuring Driver
"While no current safety risk has been identified, additional work is required to evaluate the future risk of non-recalled dessicated inflators," the government stated in a paper that launched the investigation.
A NHTSA representative stated Saturday that she would look into the status of the inquiry. BMW was contacted and asked for comment.
Dealers will replace the airbags at no cost to owners, who will be notified via letter beginning January 16.
The BMW recall comes after General Motors recalled approximately 900 vehicles in July due to desiccant-containing Takata inflators. GM also blamed the incident on a Takata manufacturing flaw.
In a statement about the GM recall last summer, the NHTSA stated that it had no data indicating that other desiccated Takata inflators would burst.
source – AP