Canada's Dr. Jordan Peterson Stands Vigilant Against The Haters
Dr. Jordan Peterson, a popular author and psychologist from Canada, is well-known for his outspoken internet presence. Dr. Peterson's views have polarized public opinion, with millions of followers on YouTube and Twitter. Peterson's lawyers, according to Toronto Star, characterize him as a colourful and provocative "online provocateur."
Detractors of Dr. Peterson, on the other hand, claim that he is essentially a grand stander who profits from controversy. They accuse him of holding anti-feminist and anti-trans attitudes and promoting disinformation on a variety of issues. In fact, scientists called his comments on climate change during a podcast last year "stunningly ignorant."
Despite the leftist rhetoric, Dr. Jordan Peterson has developed a commanding following and acquired recognition for his uncensored and centrist views. He has risen to prominence in the realms of political and cultural discourse.
Dr. Jordan Peterson's YouTube videos and tweets provide a forum for both admirers and detractors to participate in intense disputes. Peterson's advocacy for free speech and opposition to political correctness has resonated with many people who believe their voices are being muffled in today's culture.
His detractors "The Woke," claim that Peterson's views foster bigotry and hurt marginalized communities. They feel he should be censored and face consequences for the alleged damage his words may have on vulnerable people. However, his followers believe Peterson is definitely a rational voice among all of the wokeness in our society today
Regardless of the divisive nature of his public persona, Dr. Peterson's effect is undeniable. Many people praise him with motivating them to take personal responsibility, face harsh facts, and live meaningful lives.
While Dr. Jordan frequently causes controversy, his thoughts and beliefs have generated discussions about issues that are critical in today's political and social atmosphere.
Dr. Jordan Peterson is a Canadian clinical psychologist, professor, and author. He was born on June 12, 1962, in Edmonton, Alberta, Canada. Peterson gained significant public attention in the late 2010s for his outspoken views on various topics, including politics, psychology, religion, and free speech.
Academic Career:
Peterson earned his Bachelor of Arts degree in Political Science from the University of Alberta and a Bachelor of Arts degree in Psychology from the same university. He continued his studies at McGill University, where he received a Ph.D. in Clinical Psychology in 1991. He later became a professor of psychology at the University of Toronto.
Controversies and Public Recognition:
Peterson rose to fame after he publicly criticized Bill C-16, a Canadian bill that added gender identity and expression as prohibited grounds of discrimination under the Canadian Human Rights Act. Peterson argued that the bill would compel speech by potentially criminalizing the failure to use preferred gender pronouns. His stance on compelled speech and political correctness garnered both support and criticism.
Book and Media Success:
Jordan Peterson gained international recognition with the release of his book "12 Rules for Life: An Antidote to Chaos" in January 2018. The book combines psychology, philosophy, and personal anecdotes, offering practical advice for individuals seeking to navigate life's challenges. The book became a bestseller and further catapulted Peterson into the public spotlight.
Jordan Peterson's YouTube and Online Presence:
Peterson also gained a massive following on YouTube, where he uploaded lectures and interviews on various topics, often discussing psychology, mythology, religion, and his critiques of ideological movements. He attracted both praise and controversy for his views on gender roles, political correctness, and his opposition to compelled speech legislation.
Health Issues and Hiatus:
In 2019, Dr. Jordan Peterson faced health challenges related to his use of prescription medication, which led him to seek treatment in Russia. He took a hiatus from public appearances to focus on his recovery.
Overall, Jordan Peterson is known for his controversial views on certain social and political issues, as well as his emphasis on personal responsibility, individualism, and the importance of free speech. He has a large and dedicated following, but his ideas have also faced significant criticism and debate.
9-Year-Old Charlotte Sena Who Vanished From New York State Park Found Safe And Man Linked To Ransom Note Arrested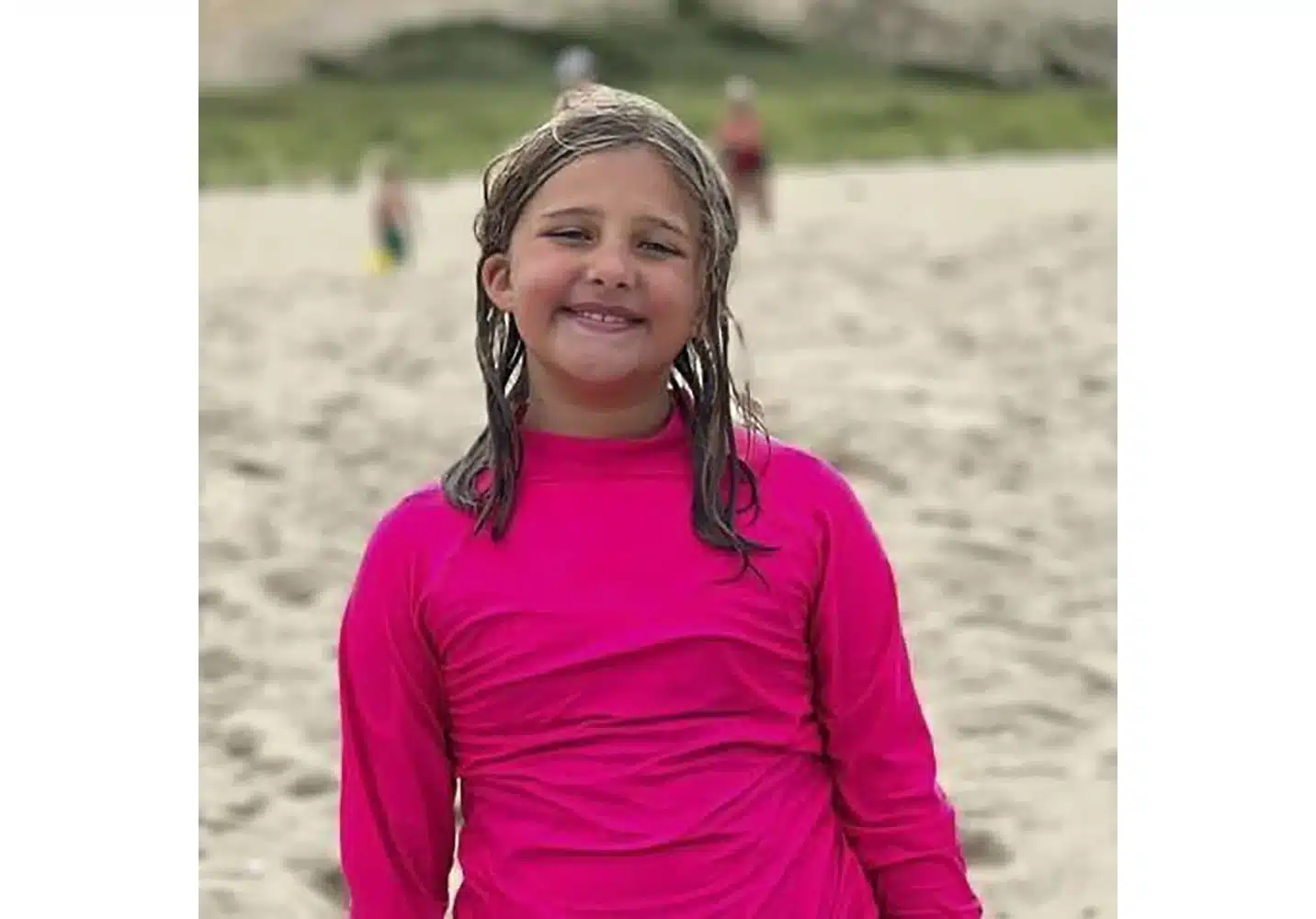 MOREAU, N.Y. — Police announced on Monday that a 9-year-old girl, Charlotte Sena, who went missing during a family camping trip in upstate New York was found "safe and in good health" after a massive two-day search and the arrest of a suspect in her abduction.
Charlotte Sena vanished early Saturday evening while pedaling her bicycle in Moreau Lake State Park, a heavily forested area approximately 35 miles (60 kilometers) north of Albany.
At a press conference on Monday evening, Governor Kathy Hochul stated that investigators could identify a fingerprint from a ransom note allegedly left by Craig Nelson Ross Jr., 47.
Monday at 4:20 a.m., while Charlotte's family remained at the campground where she was last seen, someone placed a note in their mailbox, according to the officer. Hochul stated that the second fingerprint taken from the note matched Ross, who was in a database from a 1999 DWI case.
She stated that law enforcement agents tracked Ross to a property owned by his mother, gained entry, and located him in a camper at approximately 6:30 p.m.
"After some resistance, the suspect was apprehended, and the child was immediately discovered in a cabinet," Hochul said. "She was aware of her rescue. She was confident that she was in good care."

Police announced on Monday that a 9-year-old girl, Charlotte Sena, who went missing during a family camping trip in upstate New York, was found "safe and in good health".
As customary, Hochul said, Charlotte was taken to a local hospital, adding that she appeared physically unharmed and that she and her family have been reunited.
Hochul stated that accusations have not yet been filed against Ross but are anticipated. Hochul stated that Ross was still being questioned as of Monday night.
The governor identified Ross as the suspect late Monday night, and it was not immediately clear whether he had an attorney who could speak on his behalf.
Authorities stated that the investigation was ongoing.
The rescue signaled the conclusion of a frantic search. Monday, approximately 400 individuals, including forest rangers, police officers, and firefighters, participated in the search for the missing girl. The search scope spanned 46 linear miles (74 linear kilometers).
Charlotte, a fourth-grader from nearby Greenfield, was riding her cycle with other children around a campsite loop in the park when she decided to ride the loop again by herself. Hochul stated in a Sunday briefing that her parents became concerned when she did not return after 15 minutes.
Saturday at 6:45 p.m., the girl's mother dialed 911 after discovering her bicycle.
Officials issued an Amber Alert on Sunday morning following an exhaustive search because "an abduction was a distinct possibility," according to state police lieutenant colonel Richard Mazzone. The alert characterized her as a white girl with blonde hair and green eyes who stands approximately 1 meter and 4 feet 6 inches tall.

The girl's family appealed to the public for assistance locating Charlotte, including providing the state police with any information.
"Like any parent, we simply want her returned safely," the family said in a statement released Monday morning. Please call if you have any information, regardless of its size.
Troopers had established multiple checkpoints along the winding rural roadways surrounding the park. They asked drivers if they knew the family, had seen the girl's photo, or had any other information that could aid the investigation. They also required certain drivers to open their trunks.
The park remained closed due to the search, and officials asked those who showed up hoping to assist to stay away and leave the search to the experts. For the safety of law enforcement air operations, federal authorities also issued a provisional flight restriction above the park.
The Corinth Central School District stated that additional counselors are available at Charlotte's elementary school for pupils or faculty members who require assistance.
"Our hearts go out to the Sena family," the district stated.
SOURCE – (AP)
Dianne Feinstein: 'Pioneering' Senator Dies Aged 90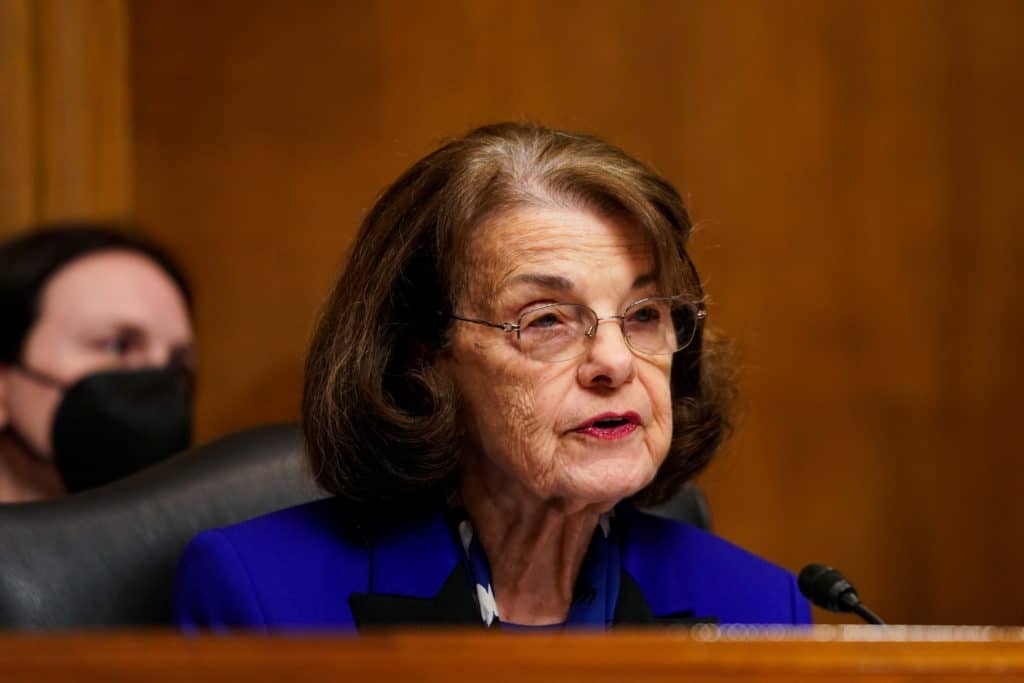 Senator Dianne Feinstein of California, who served for more than three decades and was a pioneer for women in American politics, passed away at 90.
Feinstein was the eldest senator in the United States, and she voted on Thursday.
The veteran Democrat was questioned about alleged memory and cognitive issues for months.
After a "minor fall" at home in April, she was admitted to the hospital, the latest in a series of health concerns.
The office of Ms. Feinstein stated in a statement that she died overnight at her residence in Washington, DC.
The statement continued, "Senator Feinstein was a force of nature who had an enormous impact on our country and her home state." She left an incontestable and extraordinary legacy.
Governor Gavin Newsom of California must now appoint her replacement. He had previously promised to nominate a black woman to serve the remainder of her term, which ends in 2025.
Ms. Feinstein, born in 1933 and grew up in San Francisco, attended Stanford University and was elected to the San Francisco County Board of Supervisors in 1969.
This election marked the beginning of a long career in public service that led her to become the first female mayor of San Francisco and, in 1992, a senator.
She had previously proclaimed her intention to retire at the end of the following year, but she resisted mounting pressure. Several prominent Democrats, including Representatives Adam Schiff and Katie Porter, have previously declared their intentions to run for her Senate seat.

Senator Dianne Feinstein of California, who served for more than three decades and was a pioneer for women in American politics, passed away at 90.
In a statement issued after her passing, US President Joe Biden said that Ms. Feinstein "made history in so many ways, and generations to come will benefit from her legacy."
Due to a case of shingles, she was absent from Capitol Hill for nearly three months earlier this year. Upon her return, she assumed fewer responsibilities and used a wheelchair to navigate the US Capitol. She occasionally appeared perplexed in interviews, committee hearings, and floor votes.
Ms. Feinstein was well-known for her ardent support of gun control measures and the 1994 assault weapons prohibition signed into law by President Bill Clinton.
After the murders of her predecessor, George Moscone, and city councilman Harvey Milk, she became mayor of San Francisco in 1978.
She stated that the experience of racing to Mayor Moscone's office and discovering a bullet wound while searching for his pulse had left an indelible mark on her.
As a senator, Ms. Feinstein was the first woman to chair the influential Senate Intelligence Committee, overseeing a multi-year evaluation of the CIA's controversial interrogation program of foreign terrorists following the September 11, 2001, terrorist attacks.
The evaluation ultimately resulted in legislation prohibiting "enhanced interrogation techniques" on terrorism suspects, such as waterboarding.

Senator Dianne Feinstein of California, who served for more than three decades and was a pioneer for women in American politics, passed away at 90.
Ms. Feinstein was the first woman to serve on the Senate Judiciary Committee and the first woman to lead the Senate Rules Committee.
Nancy Pelosi, a Democrat from California, described Dianne Feinstein as a "pioneering woman leader" in a statement.
"Dianne's extraordinary career will inspire countless women and girls to pursue careers in public service for generations to come," she said.
On the Senate floor, Republican minority leader Mitch McConnell praised "her dogged advocacy and diligent service".
In recent years, concerns about her deteriorating health and cognitive abilities have prompted calls for her retirement and brought attention to the aging of America's legislators.
During a committee vote, individuals around her could be heard in a widely circulated video telling her to "just say yes."
Despite mounting family tensions, she is succeeded by a daughter, Katherine, who reportedly held power of attorney over her mother's legal affairs. Richard Blum, her investment banker spouse, passed away last year.
SOURCE – (BBC)
New York City: State Of Emergency Declared Over Flash Flooding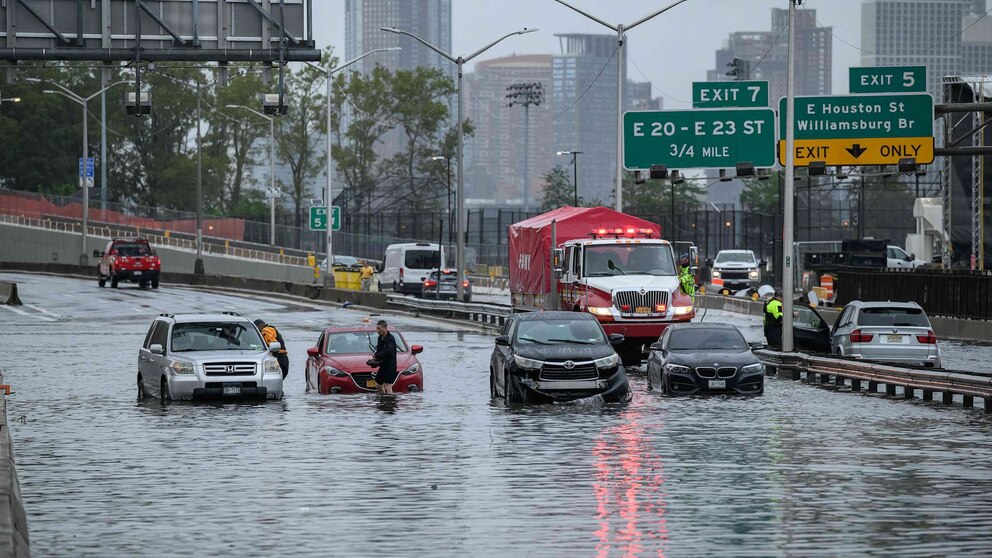 In New York City, a state of emergency has been declared as violent storms deliver flash flooding.
Many of the city's subways, streets, and highways have been inundated, and LaGuardia Airport closed at least one terminal on Friday.
According to New York Governor Kathy Hochul, some areas received up to five inches (12.7cm) of rain overnight, and up to seven more inches (17.8cm) are expected.
"This is a dangerous, life-threatening storm," she continued.
She announced on X, formerly known as Twitter, that she was proclaiming a state of emergency in New York City, Long Island, and the Hudson Valley due to the region's extreme rainfall.
She urged individuals to take precautions and to "never attempt to travel on flooded roads."
As a result of the declaration of a state of emergency, New York City Mayor Eric Adams issued a call for "heightened alertness and extreme caution."

In New York City, a state of emergency has been declared as violent storms deliver flash flooding.
"Some of our subways are flooded, and it is extremely difficult to move around the city," he said at a press conference.
Due to intense rainfall, people were pictured and captured on video wading through knee-deep water in the streets and subways.
The Metropolitan Transportation Authority (MTA) advised individuals who did not need to travel to remain at home.
Terminal A at La Guardia Airport is presently closed due to flooding, according to airport authorities.
Before traveling, passengers were instructed to verify with their airline.

The New York City Police Department also announced multiple road closures and the deployment of the National Guard.
Elsewhere, traffic stopped along a section of the FDR Drive, a significant thoroughfare on the east side of Manhattan, as the water rose above the tires of automobiles.
In addition, employees attempted to unclog a drain in South Williamsburg, Brooklyn, while cardboard and other debris floated by.
According to municipal officials, there were no storm-related fatalities or serious injuries as of midday (1600 GMT).
The weather service has issued flood warnings and advisories for approximately 18 million people in the New York metropolitan area and other major East Coast cities.
SOURCE – (BBC)