Google Flights Now Tells You The Best Time Fly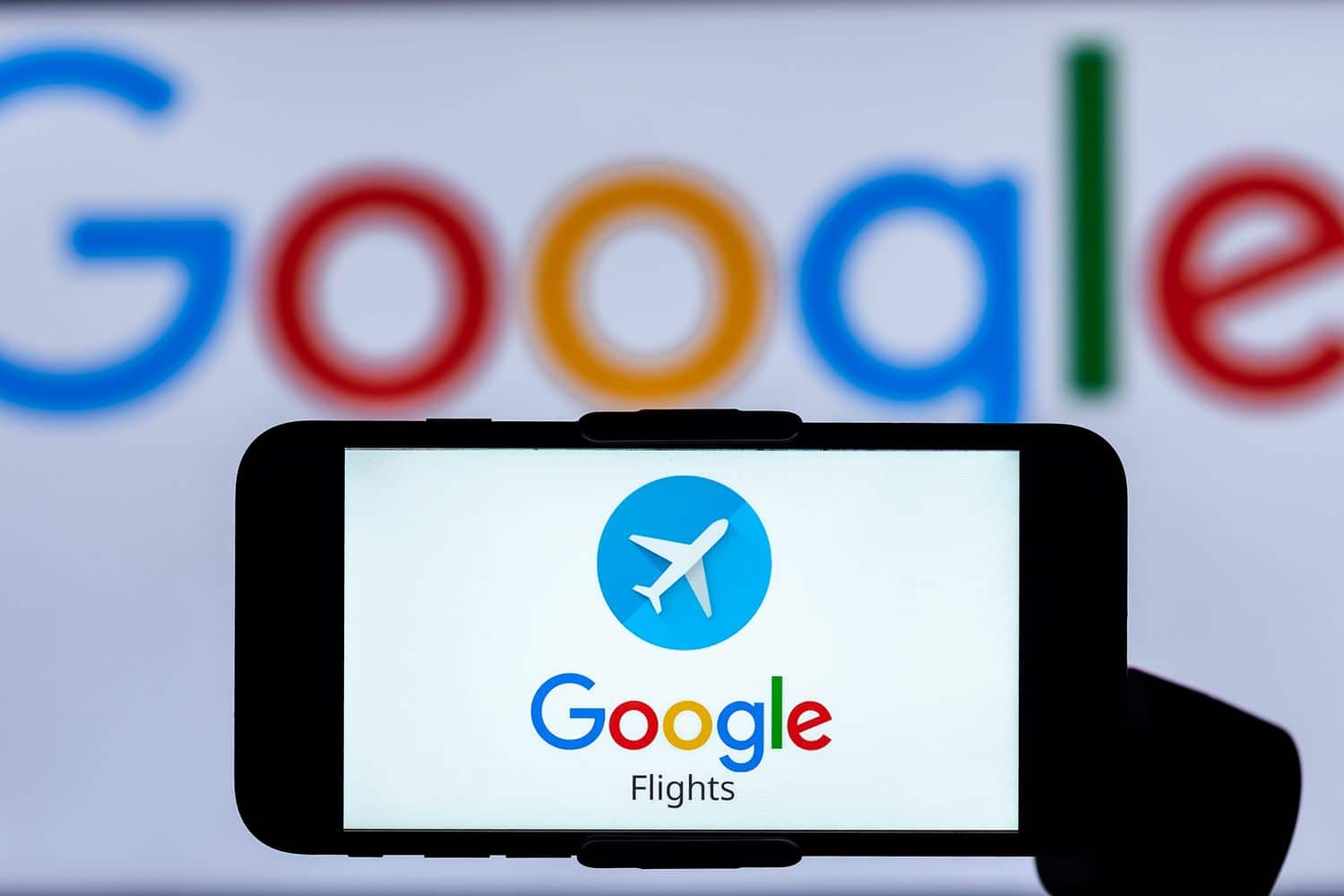 Nothing causes more price anxiety in travellers than deciding when to use Google flights. Should you book now or wait for fares to fall? But what if prices instead rise? What if you wait too long and all flights are full? So much hand-wringing, so much time and mental space consumed.
Travel agencies are constantly forecasting the best time to book the cheapest airfare. They can see patterns and generate forecasts by processing previous data, but there are always changes from year to year. When Google recently updated its crystal ball with data from the first seven months of this year, it discovered that, with two significant exceptions, most patterns from 2022 have carried into 2023.
When it comes to booking flights for the upcoming holiday season, average rates will be lowest 71 days before departure, compared to last year's prediction that fares would be lowest 22 days before departure. So mark it in your calendar: The best time to book a flight for the weekend before Christmas 2023, according to Forbes, is in the first few days of November.
According to James Byers, group product manager for Google Flights, the massive seven-week change is essentially a course correction. Last year's forecast was based on data that encompassed 2020, which was "not the best indicator of what to expect going forward," according to Byers. As a result, his team eliminated 2020 from their dataset for this year.
The most-searched destination on Google Flights for vacations departing from US airports between December 20, 2023 and January 5, 2024 is Cancun, Mexico. Miami and Fort Lauderdale, New York, San Juan, Honolulu, Orlando, and Los Angeles are the top U.S. destinations.
The other significant difference that Google observed for the rest of 2023 over last year is in flights to Europe. The age-old recommendation to book early still holds true, as trans-Atlantic airfares are often at their lowest 72 days or more before departure.
However, Google claims that there is no longer a sweet spot when prices fall before rising again. "We're now seeing that prices no longer tend to drop at any point before departure and will generally rise once you get about 10 weeks from takeoff," Byers adds.
"Intriguingly, this shift appears to be the result of including the most recent data through July 31, 2023 in this year's set of insights."
If you prefer to sit back and wait for an email notice when airfares decrease drastically, Google's price tracking service will send one.
To receive alerts regarding price cuts in the next three to six months, you may either set up tracking for specific dates or turn on "any dates" tracking.
And what about the risk-averse who prefer a guaranteed thing? Some Google Flight search results now include a price-guarantee badge, indicating that Google is so confident that the shown fare will not decline before departure that it will repay the difference if it does.
The most-searched locations on Google Flights this year for travellers planning a vacation to Europe during the holiday season are the perennial favourites, London and Paris.
Google Flights is a flight search engine and travel planning tool developed by Google. It allows users to search for flights, compare prices, and find the best travel options for their needs. Here are some key features and functions of Google Flights:
Flight Search: Users can enter their departure city or airport, destination, travel dates, and other preferences to search for available flights.
Price Comparison: Google Flights provides a user-friendly interface for comparing prices from different airlines and travel agencies. It helps users find the most affordable options for their desired routes.
Flexible Date and Destination Search: You can explore flight options for different dates and destinations to find the best deals or plan a trip with flexible travel dates.
Explore Destinations: Google Flights has a feature that allows users to explore destinations based on their interests, budget, and travel dates. This can help travelers discover new places to visit.
Track Prices: Users can track flight prices for specific routes and receive notifications when prices drop, allowing them to book at the best time.
Filter and Sorting Options: Google Flights offers various filters and sorting options to help users narrow down their search results by factors such as airlines, layovers, departure times, and more.
Multi-City and Multi-Airline Bookings: Users can book multi-city trips and even mix and match airlines to create custom itineraries.
Information and Tips: Google Flights provides information about baggage fees, in-flight amenities, and other travel details to help users make informed decisions.
Integration with Google Services: It seamlessly integrates with other Google services like Google Calendar, allowing users to easily add their travel plans to their calendar.
Mobile App: Google Flights has a mobile app available for both Android and iOS devices, making it convenient for travelers to search for and book flights on the go.
It's important to note that while Google Flights is a powerful tool for researching and planning flights, the actual booking process may redirect you to the airline's website or a third-party booking platform to complete your reservation. Always double-check the details and terms before making a booking.
Hurricane Lee Swirls Through Open Waters On A Path Toward Atlantic Canada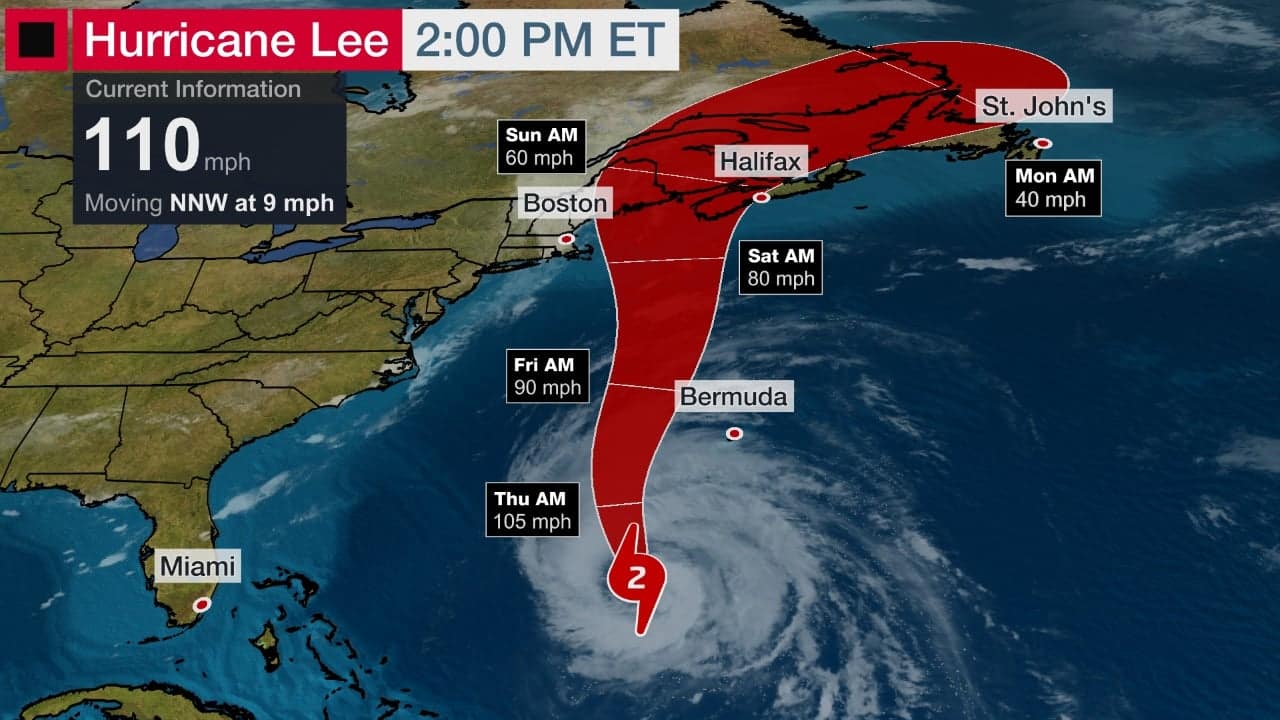 SAN JUAN, Puerto Rico – Hurricane Lee made landfall north of Puerto Rico on Tuesday as a Category 3 storm, with forecasts predicting it will continue in open waters through this week as it makes its way into Atlantic Canada.
The hurricane Leewas 535 miles (860 km) south of Bermuda. It had gusts of up to 115 miles per hour (185 kilometers per hour) and was heading west-northwest at 7 miles per hour (11 kilometers per hour).
The National Hurricane Centre has issued a tropical storm warning for Bermuda, with Lee expected to pass just west of the island late Thursday. Lee was described as "a very large hurricane," with hurricane-force winds extending up to 125 miles (205 kilometers) from the center and tropical-storm-force winds extending up to 240 miles (390 km).
According to AccuWeather, hurricane Lee was expected to weaken into a tropical storm by Sunday and land in Nova Scotia, Canada.
"A significant storm surge will occur, along with the strongest winds and the risk of property damage," AccuWeather stated.
According to forecasters, wind and flooding are also likely across Rhode Island, eastern Massachusetts, southeastern New Hampshire, and central and coastal Maine.
Hurricane Lee is forecast to weaken as it moves into colder waters in the coming days.

Hurricane Lee made landfall north of Puerto Rico on Tuesday as a Category 3 storm.
"Regardless of the forecast weakening, keep in mind that hurricane Lee's expanding wind field will produce impacts well away from the storm centre," the hurricane center stated.
Lee was causing dangerous surf and rip currents for the Lesser Antilles, the British and United States Virgin Islands, Puerto Rico, Hispaniola, the Turks and Caicos Islands, the Bahamas, Bermuda, and most of the United States East Coast.
"It is too early to predict what level of additional impacts hurricane Lee may have along the northeastern United States coast and Atlantic Canada late this week and this weekend," the National Hurricane Centre warned.

Hurricane Lee is the 12th named storm of the Atlantic hurricane season, which begins on June 1 and ends on November 30.
Meanwhile, Margot became the season's fifth named hurricane on Monday. It was approximately 835 miles (1,345 km) west of the Azores. It had maximum sustained winds of 80 miles per hour (130 kilometers per hour) and was traveling north at 14 miles per hour (22 kilometers per hour). Margot is expected to remain in open waters.
The National Oceanic and Atmospheric Administration predicts 14 to 21 named storms this season. Six to eleven of these are likely to strengthen into hurricanes, with two to five of those developing into Category 3 or higher storms.
SOURCE – (AP)
Bells Toll As The US Marks 22 Years Since 9/11, From Ground Zero To Alaska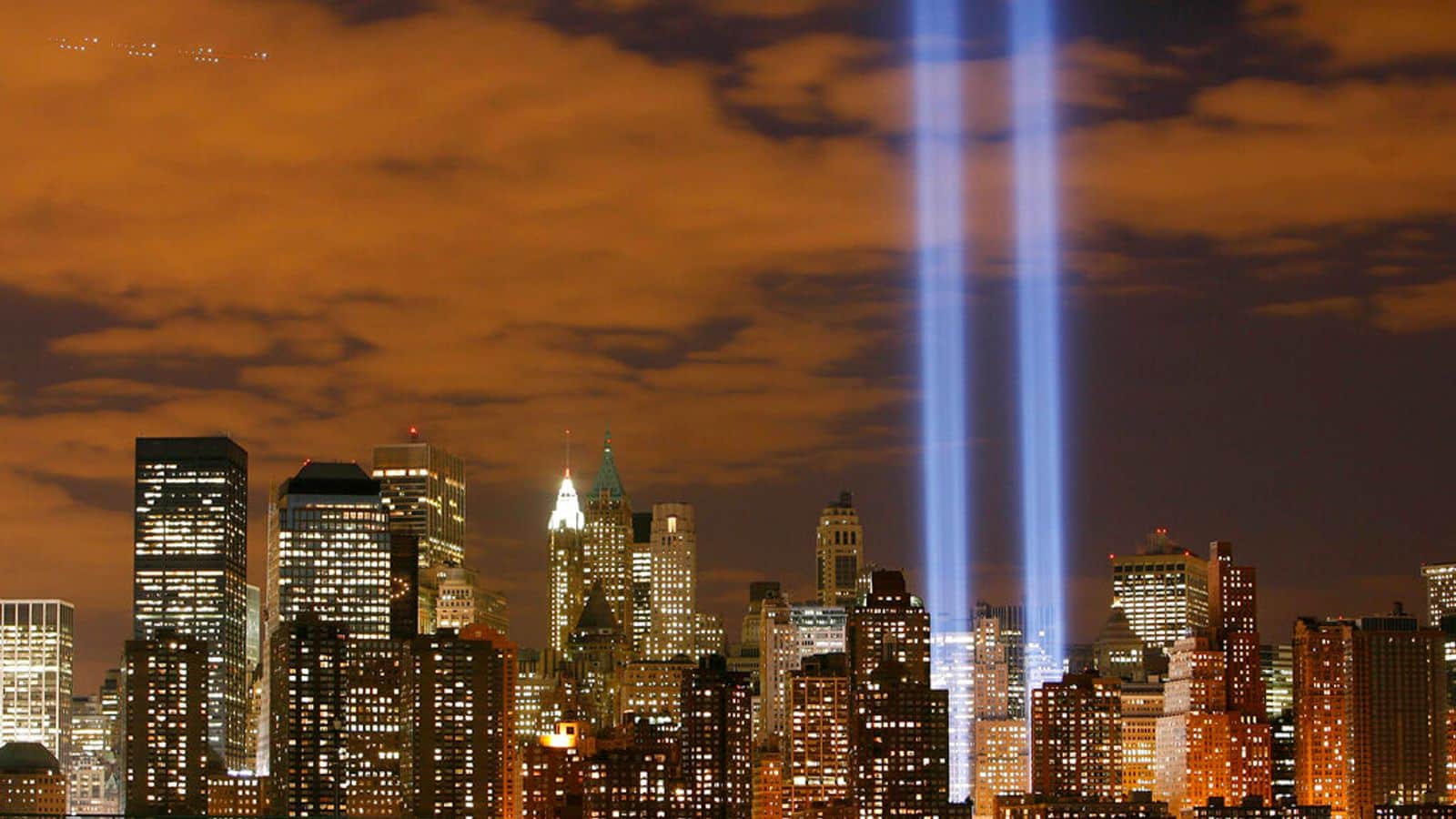 NEW YORK – Americans remembered 9/11 with tolling bells, personal tributes, and tears on Monday, with commemorations stretching from ground zero to small communities.
People gathered at memorials, fire stations, city halls, campuses, and other locations to mark the 22nd anniversary of the deadliest terror assault on American soil.
"That day is still happening for those of us who lost loved ones on that day." Everyone else has moved on. And you find a way to move ahead, but that day always comes for you," Edward Edelman said as he arrived at Ground Zero to pay tribute to his dead brother-in-law, Daniel McGinley.
President Joe Biden was scheduled to speak at a military base in Anchorage, Alaska. His visit, on his way back to Washington from India and Vietnam, serves as a reminder that the impact of 9/11 was felt in every corner of the country, no matter how remote. In an attack that altered American foreign policy and home worries, hijacked planes flew into New York's World Trade Centre, the Pentagon, and a Pennsylvania field, killing almost 3,000 people.
"We were one country, one nation, one people on that day, just as it should be." "That was the feeling — that everyone came together and did what we could, where we were, to try to help," said Eddie Ferguson, the fire chief in Goochland County, Virginia.
It's almost 100 miles (160 kilometers) from the Pentagon and more than three times the distance from New York. However, a local memorial containing steel from the World Trade Center's collapsed twin towers instilled a sense of connection.

Americans remembered 9/11 with tolling bells, personal tributes, and tears on Monday, with commemorations stretching from ground zero to small communities.
The mostly rural county of 25,000 people holds two annual ceremonies: one in the morning honoring first responders, and one in the evening honoring all victims.
Other communities across the country observe minutes of silence, toll bells, candlelight vigils, and other activities in remembrance. In Iowa, a 21-mile (34-kilometer) march from Waukee, a Des Moines suburb, to the state Capitol was scheduled to begin at 9:11 a.m. Monday. 911 dispatchers in Columbus, Indiana, broadcast a commemoration message to police, fire, and EMS radios throughout the 50,000-person city, which simultaneously holds a public memorial ceremony.
Boy and Girl Scouts raise and lower the flag at a 9/11 commemoration in Fenton, Missouri, where a 'Heroes Memorial' has a piece of World Trade Centre steel and a plaque honoring 9/11 victim Jessica Leigh Sachs. Some of her relatives live in the 4,000-person St. Louis suburb.
"We're just a little bitty community," Mayor Joe Maurath said, "but we need to remember these events." Not just 9/11, but all the events that led to our liberation."
Monmouth County, New Jersey, home to some 9/11 fatalities, declared September 11 a holiday this year so that county employees may attend commemorations.
Many Americans also volunteer on Patriot Day, which Congress has designated as both a Patriot Day and a National Day of Service and Remembrance.
Vice President Kamala Harris joined other dignitaries at Ground Zero for a ceremony on the National September 11 Memorial Plaza. The event does not include any political speeches, instead giving the podium to victims' families for an hour-long reading of the names of the deceased.
Reading the names of those who have died "is the biggest honour of my life," said Gabrielle Gabrielli, who lost her uncle and godfather, Richard Gabrielle.
"We must preserve the memory of everyone who died." "This will be their legacy," she explained. "This is where he will be laid to rest." It's holy."
There are around 1,100 fatalities whose remains have yet to be recognized.

Americans remembered 9/11 with tolling bells, personal tributes, and tears on Monday, with commemorations stretching from ground zero to small communities.
Biden, a Democrat, will be the first president to observe September 11 in Alaska or elsewhere in the western United States. He and his predecessors have visited one or more attack sites in most years. However, Republican George W. Bush and Democrat Barack Obama have both honored the occasion on the White House lawn. Following one of those commemorations, Obama visited Fort Meade in Maryland to honor the military.
Jill Biden, the first lady, is scheduled to lay a wreath at the Pentagon's 9/11 memorial, where workmen stretched a massive American flag over the side of the structure Monday morning.
Doug Emhoff, Harris' husband, is due to attend a ceremony at the Flight 93 National Memorial at Shanksville, Pennsylvania, where one of the hijacked planes crashed after passengers attempted to assault the cockpit.
The National Park Service will manage the memorial site, including a new educational video, virtual tour, and other items for teachers to utilize in the classroom. Educators with more than 10,000 pupils have registered for the free "National Day of Learning" program, which organizers claim will be available through the autumn.
"We need to get the word out to the next generation," said National Park Service ranger and monument spokesperson Katherine Hostetler.
SOURCE – (AP)
Powerful Quake In Morocco Kills More Than 1,000 People And Damages Historic Buildings In Marrakech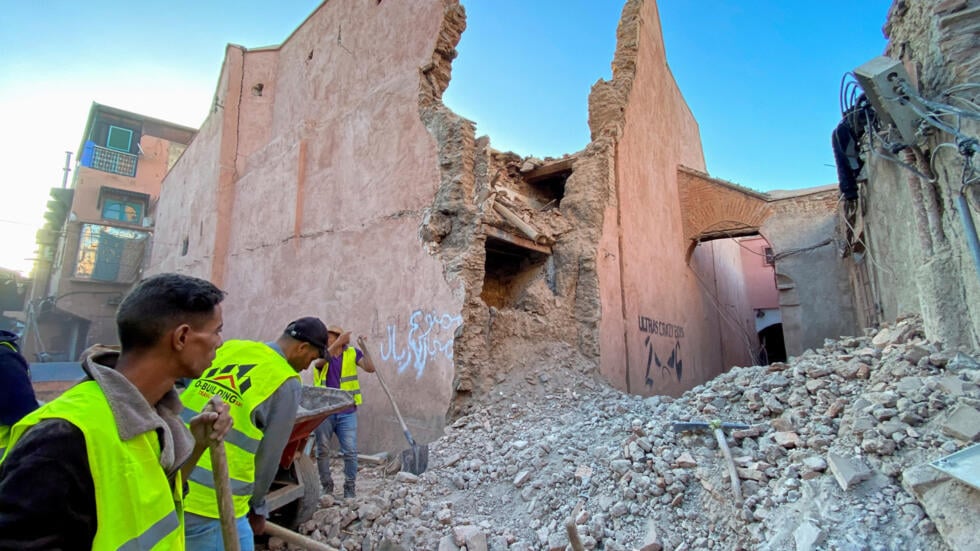 Morocco's MARRAKECH — A rare, severe earth quake rocked Morocco, causing people to rush from their beds into the streets and causing structures in mountainous communities and historic cities not meant to withstand such intensity to collapse. More than 1,000 people died, and the death toll was sure to grow as rescuers struggled Saturday to reach the hardest-hit isolated places where the dead were laid to rest, even as desperate efforts to save those stranded were continuing.
People fled their homes in panic and bewilderment late Friday after the magnitude-6.8 quake struck the North African country for the first time in 120 years. According to one witness, dishes and wall hangings began to pour down, knocking people off their feet. The scale of the devastation became clear in the daylight.
The quake destroyed stone and masonry barriers not built to withstand earthquakes, burying entire neighborhoods in debris and forcing inhabitants to precariously through the remnants. Rescuers searched all night to locate survivors buried in the sandy ruins.
In the center of the impoverished mountain town of Moulay Brahim, where dwellings made of clay and brick were largely left uninhabitable, a tent often used for festivals was erected for refuge. Fathers wailed into their phones, informing loved ones they had lost their children. Doctors took shards from people's feet and treated surface wounds while bodies covered in blankets lay in the health center next to a mosque.
"There's nothing to do but pray," Hamza Lamghani, who had five of his closest friends killed, said.
On official television, people were seen swarming on the streets of ancient Marrakech, scared to return inside structures that may be unstable. Many people attempted to sleep outside by wrapping themselves in blankets.
The iconic Koutoubia Mosque in Marrakech, erected in the 12th century, was damaged, but the amount of damage was not immediately evident. The 69-meter (226-foot) minaret is called the "roof of Marrakech." Moroccans also shared videos of damage to the famed red walls surrounding the ancient city, a UNESCO World Heritage site.

A rare, severe earth quake rocked Morocco, causing people to rush from their beds into the streets and causing structures in mountainous communities and historic cities not meant to withstand such intensity to collapse.
At least 1,037 people were killed, largely in Marrakech and five regions surrounding the epicenter, while another 1,204 were injured, according to Morocco's Interior Ministry on Saturday morning. According to the government, 721 of the injured were in critical condition.
"The problem is that in areas where destructive earthquakes are rare, buildings are simply not built robustly enough to withstand strong ground shaking," said Bill McGuire, emeritus professor of geophysical and climate hazards at University College London. "I expect the final death toll to rise into the thousands once more information becomes available." As with every major earthquake, aftershocks are inevitable, increasing casualties and complicating search and rescue efforts."
According to a military statement, Morocco's King Mohammed VI ordered specialized search and rescue teams and a surgical field hospital as a sign of the magnitude of the calamity.
The monarch said he would visit the worst-affected areas on Saturday, but despite an outpouring of promises of assistance from around the world, the Moroccan government has yet to publicly request help, which is required before outside rescue workers can deploy.
Ayoub Toudite claimed he was working out with friends at a gym in Moulay Brahim, a hillside town south of Marrakech, when "we felt a huge shake like it was doomsday." He claimed that everything was gone in 10 seconds.

"We are all terrified that this will happen again," Toudite said, pleading on social media for more ambulances to be dispatched to the area.
Rescuers used hammers and axes to liberate a man trapped beneath a two-story structure. People who could fit into the cramped space were handing him water.
Hundreds of men gathered in town as bodies wrapped in blankets were taken down the hill from the health center to the square. In a burial ceremony, they knelt on rugs and prayed for the dead before carrying them to be buried.
The tremor's epicenter was near the village of Ighil in Al Haouz Province, around 70 kilometers (44 miles) south of Marrakech. Al Haouz is famous for its picturesque villages and valleys in the High Atlas Mountains.
The mayor of Talat N'Yaaqoub, Abderrahim Ait Daoud, told Moroccan news site 2M that authorities were attempting to clear roads in Al Haouz Province to allow relief to get through, but that because to the enormous distances between mountain towns, it would take time to determine the extent of the damage.
The Moroccan military dispatched aircraft, helicopters, and drones, and emergency services mobilized relief operations to the most vulnerable locations. However, roads leading to the mountain region surrounding the epicenter were congested with vehicles and blocked by fallen rocks, impeding rescue efforts. According to the government news agency MAP, trucks carrying blankets, camp cots, and lighting equipment were attempting to reach the hard-hit area.

Ambulances with sirens blasting and honking cars steered past masses of Mars-like red rock that had crashed from the mountainside and blocked the road on the high.
Ambulances with sirens blasting and honking cars steered past masses of Mars-like red rock that had crashed from the mountainside and blocked the road on the high, winding switchbacks from Marrakech to Al Haouz. Workers from the Red Cross attempted to move a boulder that was blocking the two-lane highway.
As condolences poured in from Europe, the Middle East, and a Group of 20 summit in India, world leaders volunteered to send supplies or rescue workers. Among those proposing assistance was Turkey's president, who lost tens of thousands of people in a major earthquake earlier this year. France and Germany, which have big populations of Moroccan ancestry, have also assisted, while the governments of Ukraine and Russia have expressed sympathy for Moroccans.
Earthquakes are uncommon in North Africa. The earthquake was the strongest ever recorded in the region, according to Lahcen Mhanni, Head of the Seismic Monitoring and Warning Department at the National Institute of Geophysics.
A magnitude 5.8 earthquake struck near the Moroccan city of Agadir in 1960, killing hundreds. Although the quake triggered improvements in Moroccan construction regulations, many buildings, particularly rural dwellings, are not designed to survive such tremors.
A 6.4 magnitude earthquake in the Mediterranean coastal city of Al Hoceima 2004 killed around 600 people.
SOURCE – (AP)