North Korea's Kim Calls For Unity To Boost Grain Production
South Korea's SEOUL — North Korean ruler Kim Jong Un has called for greater public support for his leadership to significantly increase the country's grain production, state media reported Tuesday, amid outside concerns about the country's worsening food insecurity.
Foreign experts say that COVID-19 border restrictions and a rumored push for the government to have more control over grain supply have made it very hard for North Korea to get food. Experts say that there is no proof that the shortage has caused mass deaths or famine.
According to the official Korean Central News Agency, Kim told a meeting of the ruling Workers' Party on Monday that his government was determined "to bring about a revolutionary turn in agricultural production no matter what."
"Nothing is impossible as long as there is a strong leadership system in the entire party and the united might of all the people," Kim said.
KCNA did not say whether Kim presented any specific steps to increase grain production. Many people think that North Korea needs to buy more fertilizer, pesticides, and farm equipment in order to increase grain production. This is because North Korea spends most of its limited resources on its nuclear weapons program.
North Korea's chronic food shortage has most likely worsened due to COVID-19 restrictions that have stifled its external trade, ongoing US-led sanctions, and its mismanagement.

North Korea's chronic food shortage has most likely worsened due to COVID-19.
According to South Korean estimates, North Korea produced 4.5 million tons of grain last year. Its annual production was estimated to be 4.4 million to 4.8 million tons in the previous decade. According to South Korea's spy agency, North Korea requires 5.5 million tons of grain annually to feed its 25 million people.
Unofficial grain purchases from China used to cover about half of the gap, but pandemic-related border closures have likely reduced those transactions. According to Kwon Tae-jin, a senior economist at the private GS&J Institute in South Korea, the situation was exacerbated by a decline in people's earnings and the government's unsuccessful efforts to supply grain through state-run facilities while restricting private dealing at markets.
According to most analysts, North Korea's current food shortage is nowhere near the extremes of the 1990s, when famine killed hundreds of thousands of people. They believe the party's Central Committee meeting was partly held to promote Kim's image as a leader concerned about his people at a time when he is at odds with the US over his nuclear program.
The plenary session began on Sunday and was scheduled to last at least one more day.
According to Kim, the conference's main purpose was to find immediate ways to meet this year's grain production goal and scientifically feasible long-term objectives to radically increase agricultural production within a few years, according to KCNA. According to KCNA, other senior officials examined unspecified flaws in previous rural development projects and proposed solutions.
Increasing grain production is one of the 12 economic goals adopted by North Korea's ruling party at a previous party meeting in December. Grain production must be increased at all costs, according to state media.
SOURCE – (AP)
Dianne Feinstein: 'Pioneering' Senator Dies Aged 90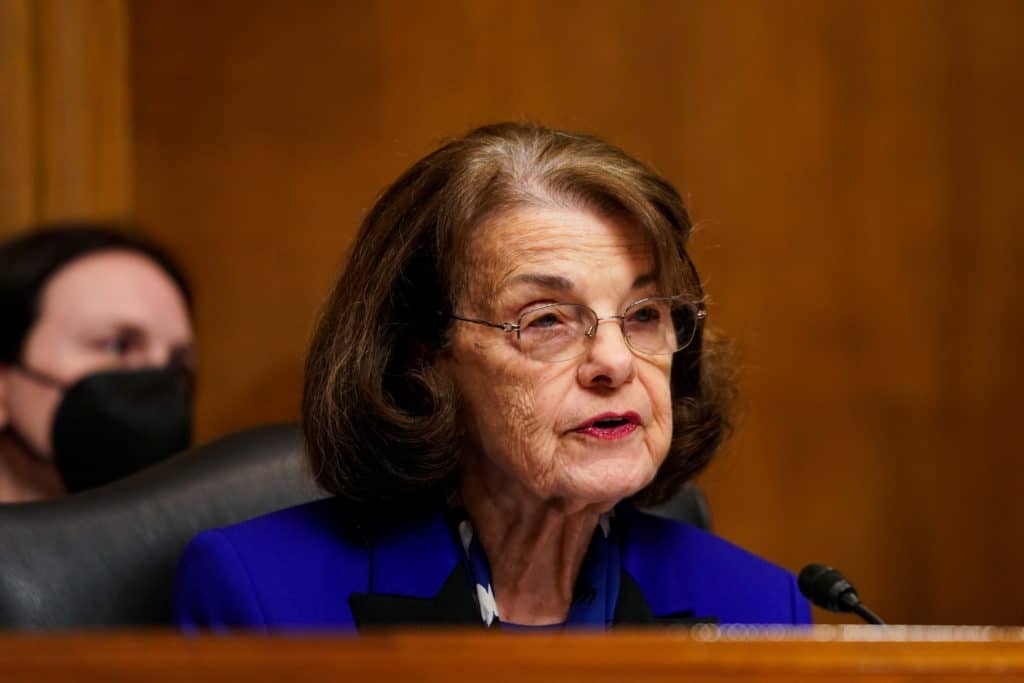 Senator Dianne Feinstein of California, who served for more than three decades and was a pioneer for women in American politics, passed away at 90.
Feinstein was the eldest senator in the United States, and she voted on Thursday.
The veteran Democrat was questioned about alleged memory and cognitive issues for months.
After a "minor fall" at home in April, she was admitted to the hospital, the latest in a series of health concerns.
The office of Ms. Feinstein stated in a statement that she died overnight at her residence in Washington, DC.
The statement continued, "Senator Feinstein was a force of nature who had an enormous impact on our country and her home state." She left an incontestable and extraordinary legacy.
Governor Gavin Newsom of California must now appoint her replacement. He had previously promised to nominate a black woman to serve the remainder of her term, which ends in 2025.
Ms. Feinstein, born in 1933 and grew up in San Francisco, attended Stanford University and was elected to the San Francisco County Board of Supervisors in 1969.
This election marked the beginning of a long career in public service that led her to become the first female mayor of San Francisco and, in 1992, a senator.
She had previously proclaimed her intention to retire at the end of the following year, but she resisted mounting pressure. Several prominent Democrats, including Representatives Adam Schiff and Katie Porter, have previously declared their intentions to run for her Senate seat.

Senator Dianne Feinstein of California, who served for more than three decades and was a pioneer for women in American politics, passed away at 90.
In a statement issued after her passing, US President Joe Biden said that Ms. Feinstein "made history in so many ways, and generations to come will benefit from her legacy."
Due to a case of shingles, she was absent from Capitol Hill for nearly three months earlier this year. Upon her return, she assumed fewer responsibilities and used a wheelchair to navigate the US Capitol. She occasionally appeared perplexed in interviews, committee hearings, and floor votes.
Ms. Feinstein was well-known for her ardent support of gun control measures and the 1994 assault weapons prohibition signed into law by President Bill Clinton.
After the murders of her predecessor, George Moscone, and city councilman Harvey Milk, she became mayor of San Francisco in 1978.
She stated that the experience of racing to Mayor Moscone's office and discovering a bullet wound while searching for his pulse had left an indelible mark on her.
As a senator, Ms. Feinstein was the first woman to chair the influential Senate Intelligence Committee, overseeing a multi-year evaluation of the CIA's controversial interrogation program of foreign terrorists following the September 11, 2001, terrorist attacks.
The evaluation ultimately resulted in legislation prohibiting "enhanced interrogation techniques" on terrorism suspects, such as waterboarding.

Senator Dianne Feinstein of California, who served for more than three decades and was a pioneer for women in American politics, passed away at 90.
Ms. Feinstein was the first woman to serve on the Senate Judiciary Committee and the first woman to lead the Senate Rules Committee.
Nancy Pelosi, a Democrat from California, described Dianne Feinstein as a "pioneering woman leader" in a statement.
"Dianne's extraordinary career will inspire countless women and girls to pursue careers in public service for generations to come," she said.
On the Senate floor, Republican minority leader Mitch McConnell praised "her dogged advocacy and diligent service".
In recent years, concerns about her deteriorating health and cognitive abilities have prompted calls for her retirement and brought attention to the aging of America's legislators.
During a committee vote, individuals around her could be heard in a widely circulated video telling her to "just say yes."
Despite mounting family tensions, she is succeeded by a daughter, Katherine, who reportedly held power of attorney over her mother's legal affairs. Richard Blum, her investment banker spouse, passed away last year.
SOURCE – (BBC)
New York City: State Of Emergency Declared Over Flash Flooding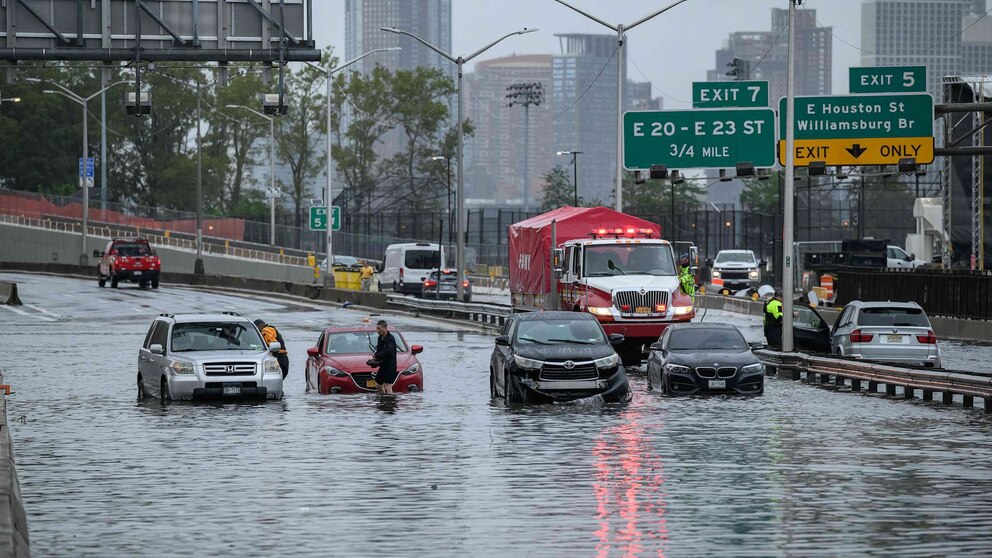 In New York City, a state of emergency has been declared as violent storms deliver flash flooding.
Many of the city's subways, streets, and highways have been inundated, and LaGuardia Airport closed at least one terminal on Friday.
According to New York Governor Kathy Hochul, some areas received up to five inches (12.7cm) of rain overnight, and up to seven more inches (17.8cm) are expected.
"This is a dangerous, life-threatening storm," she continued.
She announced on X, formerly known as Twitter, that she was proclaiming a state of emergency in New York City, Long Island, and the Hudson Valley due to the region's extreme rainfall.
She urged individuals to take precautions and to "never attempt to travel on flooded roads."
As a result of the declaration of a state of emergency, New York City Mayor Eric Adams issued a call for "heightened alertness and extreme caution."

In New York City, a state of emergency has been declared as violent storms deliver flash flooding.
"Some of our subways are flooded, and it is extremely difficult to move around the city," he said at a press conference.
Due to intense rainfall, people were pictured and captured on video wading through knee-deep water in the streets and subways.
The Metropolitan Transportation Authority (MTA) advised individuals who did not need to travel to remain at home.
Terminal A at La Guardia Airport is presently closed due to flooding, according to airport authorities.
Before traveling, passengers were instructed to verify with their airline.

The New York City Police Department also announced multiple road closures and the deployment of the National Guard.
Elsewhere, traffic stopped along a section of the FDR Drive, a significant thoroughfare on the east side of Manhattan, as the water rose above the tires of automobiles.
In addition, employees attempted to unclog a drain in South Williamsburg, Brooklyn, while cardboard and other debris floated by.
According to municipal officials, there were no storm-related fatalities or serious injuries as of midday (1600 GMT).
The weather service has issued flood warnings and advisories for approximately 18 million people in the New York metropolitan area and other major East Coast cities.
SOURCE – (BBC)
Man Wanted In Killing Of Baltimore Tech Entrepreneur Pava LaPere Is Arrested, Police Say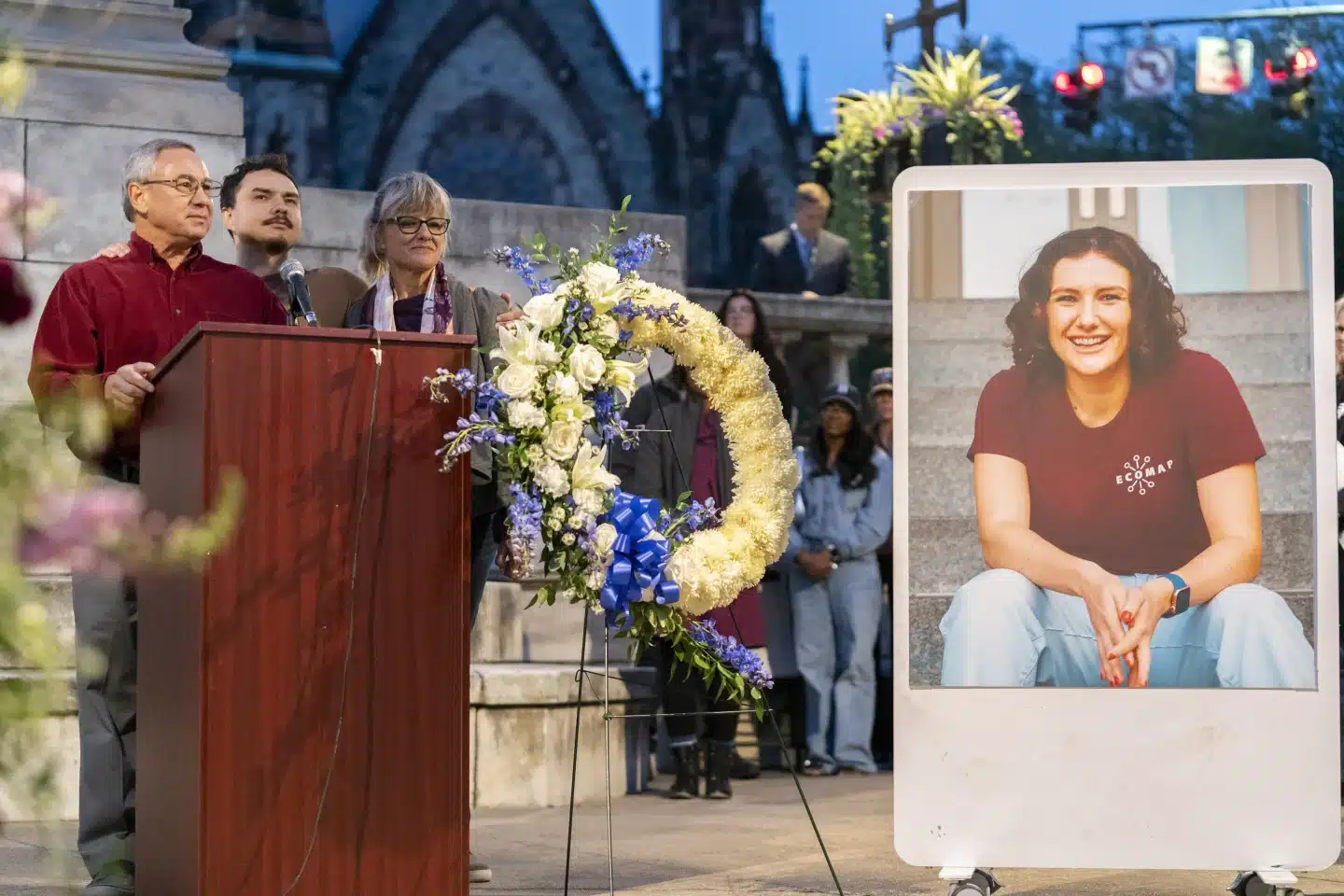 BALTIMORE — Officials said Thursday that police had been searching for the man arrested in a Baltimore tech entrepreneur slaying since last week as a suspect in a separate rape and arson.
Jason Billingsley, charged with first-degree murder in the death of Pava LaPere, 26, was released from prison in October 2016 after accumulating good behavior credits to reduce his sentence for a 2013 sexual assault.
Commissioner of the Baltimore Police Department Richard Worley stated at a news conference on Thursday that detectives believe LaPere was murdered on Friday evening, even though her body was not discovered until after she was reported missing on Monday. The Johns Hopkins University graduate, who founded the tech startup EcoMap Technologies while still a student, was discovered deceased in her flat complex with signs of blunt force trauma.
Brandon Scott, the mayor of Baltimore, questioned why Billingsley was released from prison so soon after his sexual assault conviction, but he noted that police are only one component of a larger system that includes prosecutors, courts, and prisons.\
"We are aware that we are discussing a system with which we must also contend," he said.
Worley stated that investigators are evaluating all open cases since Billingsley's release in October 2022 to determine whether any connections exist.
This violent criminal offender and repeat offender will be returned to prison, where he belongs, Worley stated. Now, let's all collaborate to ensure that he stays there.
The family of LaPere thanked the city police and their law enforcement colleagues for their "tireless efforts" during the investigation and capture of the suspect.

Man Wanted In Killing Of Baltimore Tech Entrepreneur Pava LaPere Is Arrested, Police Say.
"We're relieved to know he can no longer hurt other innocent victims," the family said. While this does not alter the fact that Baltimore lost one of its most devoted and influential admirers, we will continue to honor Pava Marie's life, achievements, and legacy.
According to an application for an arrest warrant, the victim in the 2013 case told police that during the assault, he displayed a knife and strangled her. Ivan Bates, the state's attorney for Baltimore City, stated that Billingsley pleaded guilty in 2015 to first-degree sex assault, for which state guidelines prescribe a sentence of 15 to 25 years, but Billingsley received a sentence of 30 years with all but 14 years suspended as part of a plea agreement.
Bates stated that the judge who sentenced Billingsley hesitated before approving the plea agreement reached between prosecutors and Billingsley's counsel. However, the judge ultimately approved the terms of the agreement.
According to court documents, Billingsley was convicted of second-degree assault in 2011 and first-degree assault in 2009.
Police say Billingsley is also a suspect in a rape, attempted murder, and arson that occurred in Baltimore on September 19. Within hours of the crime, a warrant was issued for Billingsley, and detectives have been actively searching for him ever since, including through his mobile and social media use, interviewing witnesses and monitoring his known addresses, according to Worley.
"When we held a press conference about the death of LaPere, we were approximately 88 metres away from capturing the suspect, but he was able to evade capture," Worley said.
According to Worley, Billingsley knew the victims of the September 19 incident, which was not a random act, but the department did not warn the public about Billingsley at the time. According to him, the police have no reason to suspect LaPere knew Billingsley.

Man Wanted In Killing Of Baltimore Tech Entrepreneur Pava LaPere Is Arrested, Police Say.
"I hope this sends a message to anyone else who enjoys committing these kinds of cowardly, heinous acts that we will not tolerate it and will remove you from the streets of Baltimore," said the mayor of Baltimore, Brandon Scott.
The public defender's office, which has previously represented Billingsley, told The Associated Press on Tuesday that it was too soon to comment on this case. Thursday morning, the office waited to respond to an email seeking comment on behalf of Billingsley.
Bates stated that if a grand jury returns an indictment, his office will pursue a life sentence without parole.
"If this person is found guilty in a court of law, he or she will never again be able to harm any of the citizens of our fine city," Bates said.
LaPere, named to Forbes' 30 under 30 list for social impact earlier this year, was remembered at a vigil on Wednesday evening as someone who remained committed to building community and using entrepreneurship to create meaningful social change even as her national profile increased.
LaPere remained committed to the philanthropic endeavors that initially inspired her as she developed EcoMap, a platform that uses technology to curate data and make it more accessible throughout social ecosystems.
Frank LaPere, her father, told the crowd of more than 100 people assembled for the vigil, "She knew exactly what she wanted to accomplish, and nothing could stand in her way."
according to Taboola
SOURCE – (AP)