Smokey Robinson Turns Seductive With New Album 'Gasms'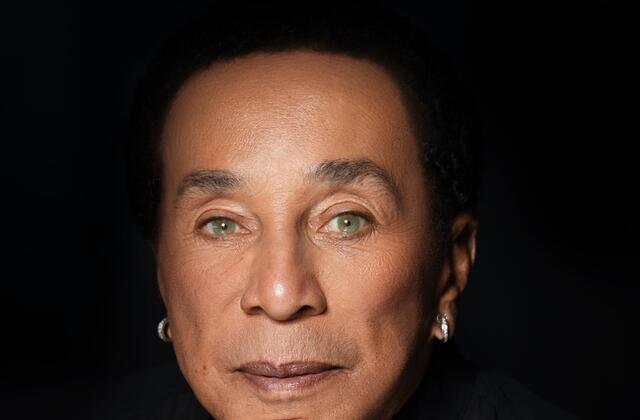 NEW YORK – When Smokey Robinson began dating his now-wife more than 20 years ago, she didn't want anyone to know.
Robinson and Frances Glandney, who married in 2002, were lifelong friends, and she was worried they'd start gossiping about her and the famed singer-songwriter.
"When we first started seeing each other, she wanted to keep it quiet." Because we were friends, she didn't want anyone to know. "And then all our friends would be talking about us," Robinson explained.
Naturally, this became the basis for a song, "I Keep Calling." Robinson had been holding onto it for years — complete with the words "Simple things like touching in public/Private touches goin' unseen" — until this month, when it appears on his "Gasms" album, his first in nearly a decade.
"Gasms" finds the 83-year-old in a playful mood, with the Motown legend creating a compilation for the bedroom with nine tunes of desire. "Beside You," "I Wanna Know Your Body," and "How You Make Me Feel" are just a few names that hint at this.

Robinson, whose songs include "My Girl," "The Tracks of My Tears," and "I Second That Emotion," says he doesn't write with the goal of chart success in mind.
"In my opinion, you can put it on and be with whoever you want to be with and just kick back and enjoy each other," he says. "It's more about the idea of love."
The CD blends old and new songs, with "I Keep Calling You" and "Roll Around" penned years ago blending with contemporary pieces. "They were all songs that fit that particular mood that I wanted to set," he explains.
He acknowledges it's his most obviously sensual compilation, and the title tune, in which he tells his partner, "You give me gasms" – eyegasms and eargasms — proves it. Another song, "I Fit in There," begins, "If you've got an inner vacancy/Baby, make it a place for me."
"I regard all of the songs as food for thought." "You can bring them wherever you want," he says. "Whatever your thought pattern is for any of those titles, that's exactly what I'm looking for. I want them to provoke thought."
J.J. Blair, a producer, engineer, and mixer who has worked with June Carter Cash, Rod Stewart, and P. Diddy, mixed half of Robinson's new album and claims she has a perfectionist streak.
"I'd make a mix for him, and he'd drive around listening to it for two weeks, and then he'd call me up and say he wanted to come to change two words," Blair says. "It's just so encouraging to see someone of that stature standing in that pantheon of greats still care."
Blair claims that the new stuff is similar to what Robinson is renowned for, just a little more R-rated. "I think we're just not used to octogenarians throwing that at us, but Nicki Minaj can come out and say whatever she wants — we don't question it?" "I'm not sure."

"I Keep Calling." Robinson had been holding onto it for years — complete with the words.
Robinson, whose songs include "My Girl," "The Tracks of My Tears," and "I Second That Emotion," says he doesn't write with the goal of chart success in mind.
"There isn't a formula. There is no procedure, guy. It's just you writing what you're feeling. "You gave it your all," he says. "You do it until you feel you've given it your all."
The former Motown Records vice president's latest collaborative album, "Smokey & Friends," was published nine years ago and featured performers such as Elton John, John Legend, Steven Tyler, and Mary J. Blige.
Robinson appears to be always writing. He has a handful of song fragments ready to record and jokes that he may be the only person on the planet who maintains a tape recorder by his bed in case he dreams a song lyric or tune.
"If I'm out and about and an idea, a melody, some words, or something comes to me, I call my voicemail." "That's a good thought," he says. "Please check your voicemail. Place them down. You don't want to be without them."
SOURCE – (AP)
Trudeau Liberals Hold Late-Night Meeting On Fighting Back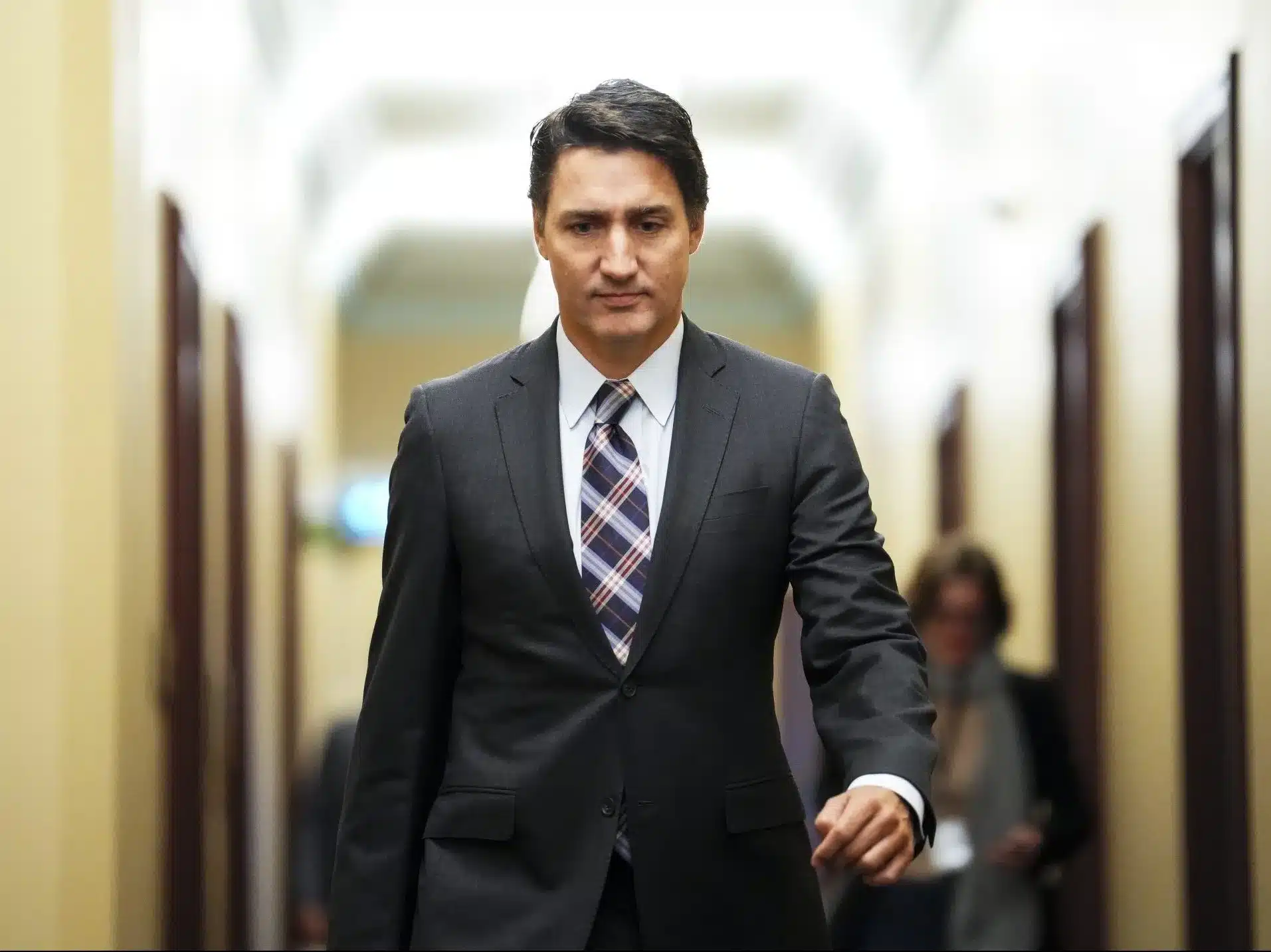 When Trudeau calls a late-night caucus meeting, things could be better.
According to an invitation obtained by the Toronto Sun, on Tuesday, the Trudeau Liberals gathered their caucus for an "information session."
Brad Redekopp, a member of the Conservative Party, posted a photo of government vehicles waiting outside West Block to transport ministers home after the event.
To comprehend how peculiar this is, one must comprehend the tempo of Official Ottawa. This late-night meeting is uncommon, particularly the night before the routinely scheduled weekly caucus meetings.
House Speaker Anthony Rota resigned due to the invitation and recognition of 98-year-old Yaroslav Hunka during Ukrainian President Volodymyr Zelenskyy's address to the Ukrainian Parliament. As is now common knowledge, Hunka served in a Nazi SS division during World War II.
His presence in the audience has caused Canada and Ukraine interminable humiliation. Vladimir Putin's Russia has justified its invasion of Ukraine by claiming that there are Nazis who must be eradicated. Zelenskyy's support for an SS division member has provided Putin with the propaganda tools he desires.
The Russian government is already circulating false rumors that the Ukrainians have issued a commemorative stamp for Hunka.
Lineup of government limos? Looks like an emergency cabinet meeting.

The Liberals are in full damage control.#cdnpoli pic.twitter.com/AfM2ho0NUh

— Brad Redekopp (@BradRedekopp) September 27, 2023
When Trudeau calls a late-night caucus meeting, things could be better.
As of Tuesday evening, the PMO verified that he and Zelenskyy had not spoken since the Parliament incident. While it is understandable that Trudeau would not want to apologize to Canadians in front of the cameras, it is shocking that he has not contacted his "good friend" Zelenskyy since the story broke.
Ukraine is not the only issue currently plaguing the leader and his team.
India's foreign minister, Subrahmanyam Jaishankar, indirectly accused Canada of harboring militants during a speech at the United Nations. In a subsequent interview, he reiterated that the Trudeau administration has provided no proof or evidence to substantiate its claim that India was involved in the June execution of Hardeep Singh Nijjar in Surrey, British Columbia.
The Modi administration has utilized Indian media as a weapon against Trudeau domestically and internationally. In a conflict of public relations, Trudeau and, by extension, Canada are losing.
The Hindu Forum of Canada's attorney sent a letter to the government on Tuesday, expressing safety concerns and requesting that Nijjar ally Gurpatwant Singh Pannu be denied entry into the country. At approximately the same time, the Muslim Association of Canada criticized Trudeau for his remarks regarding parental demonstrations over gender issues in schools last week. MAC condemned Trudeau's stance.
SOURCE – (SUN)
2023: Travis King In US Custody After North Korea Expulsion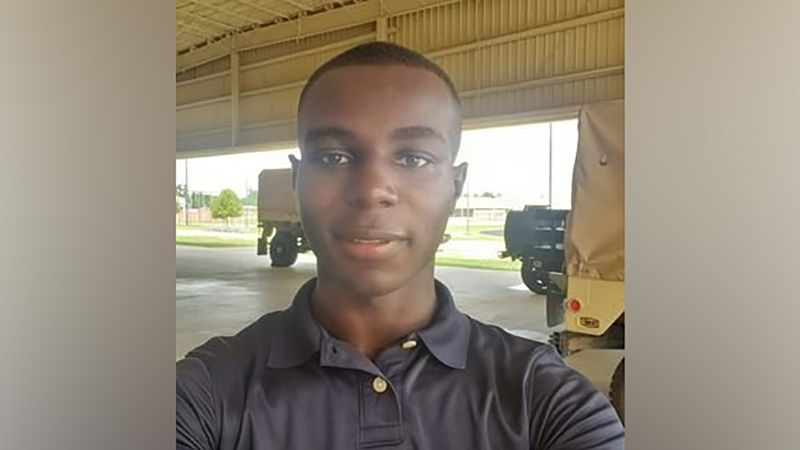 King is in custody. In a statement, Pentagon spokesperson Brig. Gen. Patrick Ryder thanked the Swedish and Chinese governments for their assistance in securing the release of Pte. King.
As there are no diplomatic ties between the United States and North Korea, the Swedish embassy in Pyongyang has traditionally negotiated on behalf of the United States.
During the King case, a Swedish embassy spokesman confirmed that Sweden acted "within its role as a protective power" for the United States in North Korea.
The US Department of State and the White House did not comment on the matter immediately.
According to Reuters, a spokesman for the King family stated that "no substantive comment" was expected at this time.
His relatives have previously informed US media that he faced discrimination while serving in the United States military.
According to reports, his mental health deteriorated during his time in South Korean custody.

Travis King In US Custody After North Korea Expulsion.
Claudine Gates, the mother of Pte. told the Associated Press last month that her son had "so many reasons to come home."
She stated, "I cannot imagine him ever wanting to stay in Korea when he has family in the United States."
Pte King's release by North Korea after 71 days is rapid compared to other Americans the country has previously detained.
Analysts hypothesized that Pyongyang may have used the American soldier as a diplomatic bargaining tool.
Mick Mulroy, a former deputy assistant secretary of defense and CIA paramilitary officer, told the BBC that Pte King's return to US custody is "a good thing," even though he "is a young man who made mistakes."
Mr. Mulroy continued, "He is an American soldier, so it was imperative that we did everything possible to bring him home."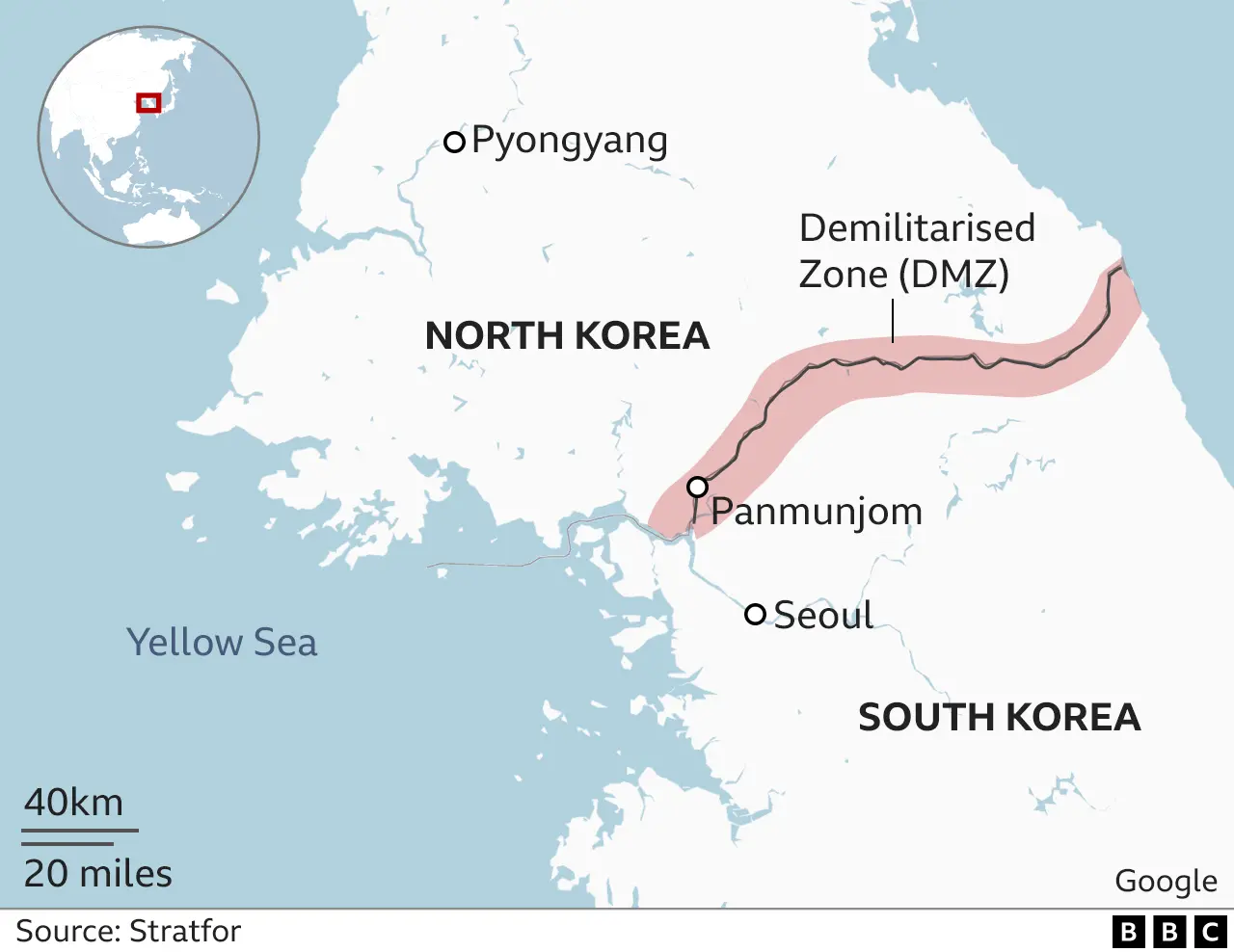 SOURCE – (BBC)
Joe Biden Makes History By Joining UAW Picket Line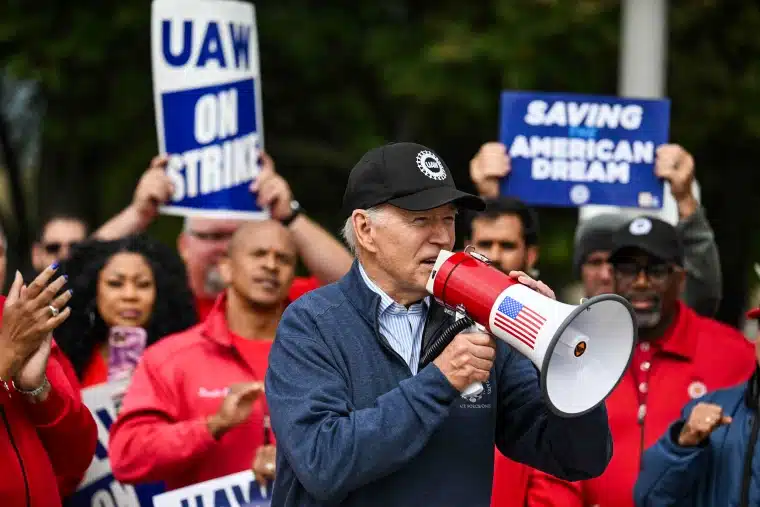 President Joe Biden's visit to the picket line of striking autoworkers in Michigan was a first for a sitting US president.
Mr. Biden stated that the employees "deserve" the wage increases and other concessions they request.
This visit occurs a day before his potential opponent, Donald Trump, arrives.
Workers informed the BBC that they feared rivals would politicize the strike and implored them to "stay away."
Tuesday, in brief remarks to the picketing employees, the Democratic president stated that they "deserve the substantial raise you require and other benefits."
He added that employees should be performing as "incredibly well" as their employers.
While legislators and presidential candidates frequently attend strikes to express solidarity with American employees, it is unheard of for the president to do so.
Some workers expressed optimism that Mr. Biden and his opponent's visits would aid their cause, while others dismissed the visits as political stunts designed to garner votes and having little practical impact on the negotiations.
"We would prefer that neither of them showed up," Ford employee Billy Rowe told the BBC. "We don't want to divide people, and bringing politics into it will cause a disagreement."
President Joe Biden's visit to the picket line of striking autoworkers in Michigan was a first for a sitting US president.
The UAW declared a strike against Ford, General Motors, and Stellantis earlier in September, pressuring the three main automakers for improved wages and working conditions.
On Tuesday, White House Press Secretary Karine Jean-Pierre told reporters that the White House, which was significantly involved in resolving a labor dispute with rail workers in 2022, was "not part of the negotiations."
Ms. Jean-Pierre insisted that the administration would "leave it to the UAW and the big three" when asked whether Mr. Biden supports the current UAW proposal.
Ms. Jean-Pierre stated that Mr. Biden's presence in Michigan is intended to show support for the autoworkers.
She added that the president believes "the men and women of the UAW deserve a fair share of the record profits they've helped create."
Mr. Biden's visit to the UAW workers was announced by the White House last week, shortly after Mr. Trump announced he would miss the 27 September Republican presidential debate in California to visit Detroit, the center of US automobile manufacturing.
Mr. Trump stated on his social media platform, Truth Social, that he was responsible for the presidential visit.

President Joe Biden's visit to the picket line of striking autoworkers in Michigan was a first for a sitting US president.
He wrote, "Crooked Joe Biden had no intention of visiting the United Autoworkers until I announced that I would be travelling to Michigan to be with them and assist them."
Mr. Biden was invited to visit the UAW members by the organization's president, Shawn Fain, who has occasionally criticized Mr. Trump.
Mr. Trump, whom the UAW has not invited, stated in his Truth Social post that autoworkers will be "burnt" if they do not endorse him or win the election.
Billy Rowe, 61, one of a half-dozen workers huddled in the rain holding picket signs outside a Ford factory near Detroit, said the news of the dueling visits was met with groans and 'a lot of eye rolls' on the picket line in Michigan, where passing cars and trucks regularly honked in support.
Mr. Rowe, a 27-year Ford employee, stated that he viewed the dispute as between the employees and the companies.
Frankie Worley, another Ford employee, stated that "politics shouldn't be involved" in the matter.
"They come down here, take a picture, and say they support us, but do they?" asked Mr. Worley, who has worked for the company for 28 years, including 20 on the assembly line. This involvement is merely a ploy to give the impression that they are assisting us. Stay away."
He added that this was his first strike. He stated that he was partially motivated by the fact that his hourly wage has only increased by $4 (£3.2) over the past 25 years, from $28 to $32.
"It's hard to make a living now," he said.
The visits of Mr. Biden and Mr. Trump – the current frontrunner for the Republican nomination – coincide with Republicans and Democrats focusing on the electorally significant Midwestern "Rust Belt," where blue-collar workers such as UAW members form a significant voting cohort.

President Joe Biden's visit to the picket line of striking autoworkers in Michigan was a first for a sitting US president.
The competition for these ballots in Michigan is anticipated to be intense. After losing there in 2016, Democrats narrowly carried the state in the 2020 presidential election.
In the meantime, the UAW endorsed Mr. Biden in 2020 but has yet to identify a preferred candidate for the 2024 election, stating that the union's support must be "earned."
Although the UAW has long been allied with the Democratic party, Mr. Worley reported that many of its members are dissatisfied with inflation and illegal border crossings, weakening Mr. Biden's base support.
"I've witnessed a significant change," he said.
Mr. Biden's visit to the picket line also coincides with his administration's push for increased production of electric vehicles (EVs) in the United States – a source of concern for union members who fear that EVs require fewer workers to construct and could be produced in non-union factories at much lower wages.
In a statement released Tuesday afternoon, Mr. Trump referred to Mr. Biden's visit as a "PR stunt" intended to "distract and mislead" the American public from other issues, such as immigration and public safety.
Surveys indicate that most Americans favor the UAW, and a recent Gallup poll found that 67% of Americans support unions in general.
SOURCE – (BBC)