China Accuses US Of Indiscriminate Use Of Force Over Balloon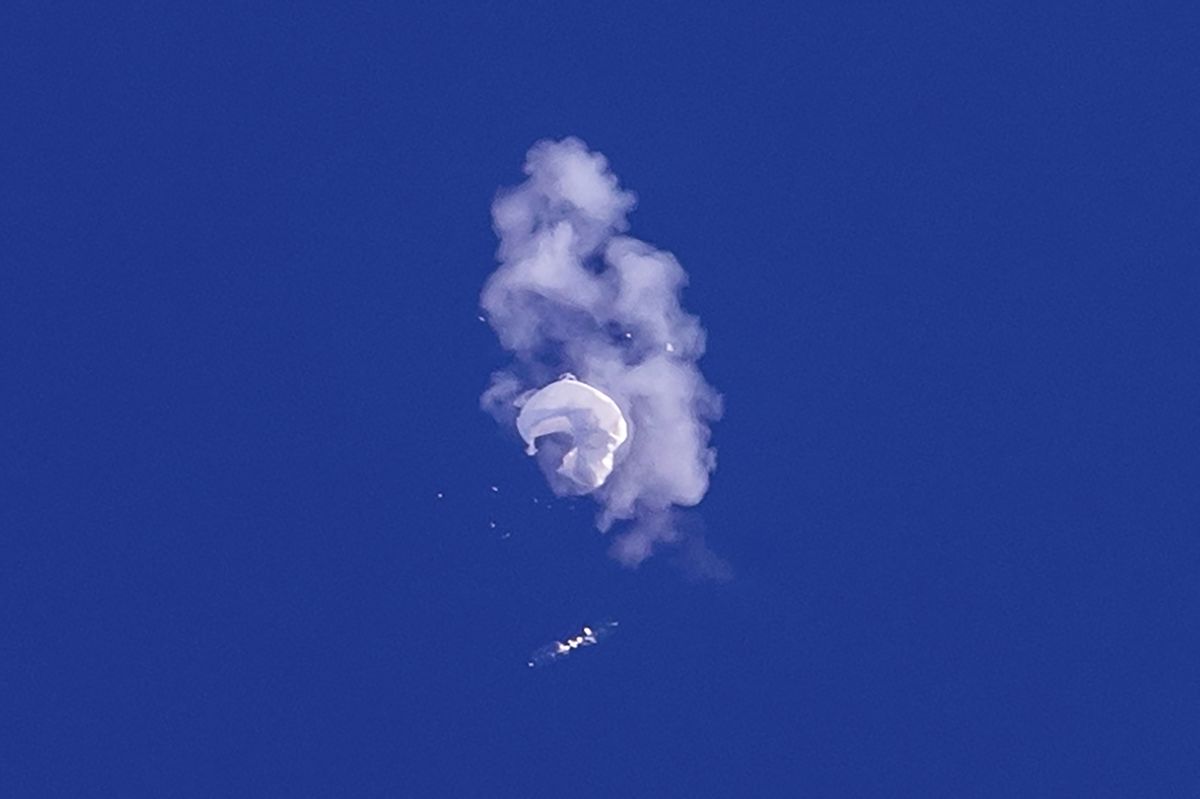 BEIJING, China — China said on Monday that the U.S. used indiscriminate force when it shot down a suspected Chinese spy balloon. It said that the incident "seriously affected and hurt both sides' efforts and progress in stabilizing Sino-US relations."
The balloon was shot down off the coast of Carolina after passing over sensitive military sites across North America. China maintained that the flyover was an accident involving a civilian plane.
On Sunday, Vice Foreign Minister Xie Feng said that he filed a formal complaint with the U.S. Embassy regarding the "U.S. military attack on a Chinese civilian unmanned airship."
"However, the U.S. turned a deaf ear and insisted on indiscriminate use of force against the civilian airship about to leave U.S. airspace, clearly overreacted, and seriously violated the spirit of international law and international practice," Xie said.
The presence of the balloon in the skies above the United States dealt a severe blow to already strained US-Chinese relations, which have been declining for years. It prompted Secretary of State Antony Blinken to cancel an important trip to Beijing aimed at defusing tensions.
Xie reiterated China's claim that the balloon was a Chinese civil unmanned airship that erroneously entered U.S. airspace, calling it an "accidental incident caused by force majeure."

U.S. Officials Shoot DownThe Balloon Over The Ocean
China will "resolutely safeguard Chinese companies' legitimate rights and interests, resolutely safeguard China's interests and dignity and reserve the right to make further necessary responses," he said.
According to U.S. officials, U.S. President Joe Biden issued the shootdown order after being advised that the best time for the operation would be over water. Military officials determined that bringing the balloon down over land from a height of 60,000 feet (18,000 meters) would endanger people on the ground.
"What the United States has done has seriously impacted and harmed both sides' efforts and progress in stabilizing Sino-US relations since the Bali meeting," Xie said, referring to a recent meeting in Indonesia between Biden and his Chinese counterpart, Xi Jinping, that many hoped would create positive momentum for improving ties that have fallen to their lowest level in years.
On Monday, Foreign Ministry spokesman Mao Ning provided no new information, reiterating China's insistence that the object was a civilian balloon intended for meteorological research, needed more ability to steer and entered U.S. airspace, accidentally diverging from its course. She also didn't say what other steps China planned to take in response to Washington's handling of the issue and the cancellation of Blinken's trip, which would have made him the highest-ranking U.S. official to visit since the COVID-19 pandemic began.
"We have stated that this is a completely isolated and accidental incident caused by force majeure, but the U.S. deliberately hyped up the incident and even used force to attack," Mao said during a daily briefing. "This is a reckless and unacceptable action."

Balloons Spotted Over Latin America And Japan
From Latin America to Japan, balloons thought to be Chinese have been spotted. Yoshihiko Isozaki, Japan's Deputy Chief Cabinet Secretary, told reporters on Monday that a flying object similar to the one shot down by the U.S. had been spotted twice over northern Japan since 2020.
"We're still looking into them about the latest case in the United States," he said.
Mao confirmed the identity of a Chinese balloon recently spotted over Latin America, describing it as a civilian airship used for flight tests.
"Due to weather and its limited self-control ability, the airship deviated significantly from its planned route and accidentally entered the space of Latin America and the Caribbean," Mao explained.
Washington and Beijing disagree on things like trade and human rights, but China is especially upset about what it says are violations of its sovereignty and territorial integrity by the US and others.
Beijing is very against the U.S. selling weapons to Taiwan and against foreign politicians visiting the island, which it claims as Chinese territory and plans to take back by force if it has to.

Bejing Halted Talks With The U.S. Over The Balloon
It reacted to then-U.S. House Speaker Nancy Pelosi's visit to the island in 2022 by firing missiles over it and staging threatening military drills seen as a practice for an invasion or blockade. Beijing also halted talks with the U.S. on issues unrelated to military tensions, such as climate change.
Last week, Mao warned Pelosi's successor, House Speaker Kevin McCarthy, not to visit Taiwan, implying that China would respond in kind.
"China will tenaciously defend its sovereignty, security, and development interests," Mao declared. McCarthy claimed that China had no right to tell him where and when he could travel.
China also doesn't like it when foreign military surveillance planes fly in international airspace near its coast or when U.S. and other foreign warships pass through the Taiwan Strait, which it says is a deliberate act of provocation.
A US Navy plane conducting routine surveillance near the Chinese coast collided with a Chinese fighter plane in 2001, killing the Chinese fighter pilot and damaging the American plane, forcing it to make an emergency landing at a Chinese naval airbase on the southern Chinese island province of Hainan. China detained the 24-member U.S. Navy aircrew for ten days until the U.S. expressed regret for the death of the Chinese pilot and for landing without permission at the base.

South China Sea Continues To Hold Tension
Another major source of contention is the South China Sea. China claims virtually the entire strategically important sea and protests when U.S. Navy ships sail past Chinese military installations there.
"The presence of this surveillance balloon over the United States in our skies is a clear violation of our sovereignty, a clear violation of international law, and unacceptable," Blinken said at a news conference with his South Korean counterpart on Friday. And we've made that clear to China."
"I believe that any country that has its airspace violated in this manner would respond similarly, and I can only imagine what the reaction would be in China if they were on the other end," Blinken said.
According to Oriana Skylar Mastro, a Stanford University expert on Chinese military affairs and foreign policy, China's weather balloon explanation should be rejected outright.

China May Have Lost Control Over The Balloon
"This is something that countries frequently say about surveillance assets," Mastro said.
China may have made a mistake and lost control of the balloon, but Mastro believes it was unlikely to be a deliberate attempt to disrupt Blinken's visit.
The decision by the U.S. administration to go public and then shoot down the balloon represents a departure from its usual approach of dealing with Beijing on such matters privately, possibly in the hope of changing China's future behavior.
However, Mastro believes that Beijing will respond negatively.
"They're probably going to dismiss that and continue as things have been. So I don't see a clear path to improved relations shortly."
SOURCE – (AP)
Joe Burrow Starts For Bengals Vs. Rams After Being Questionable With Calf Injury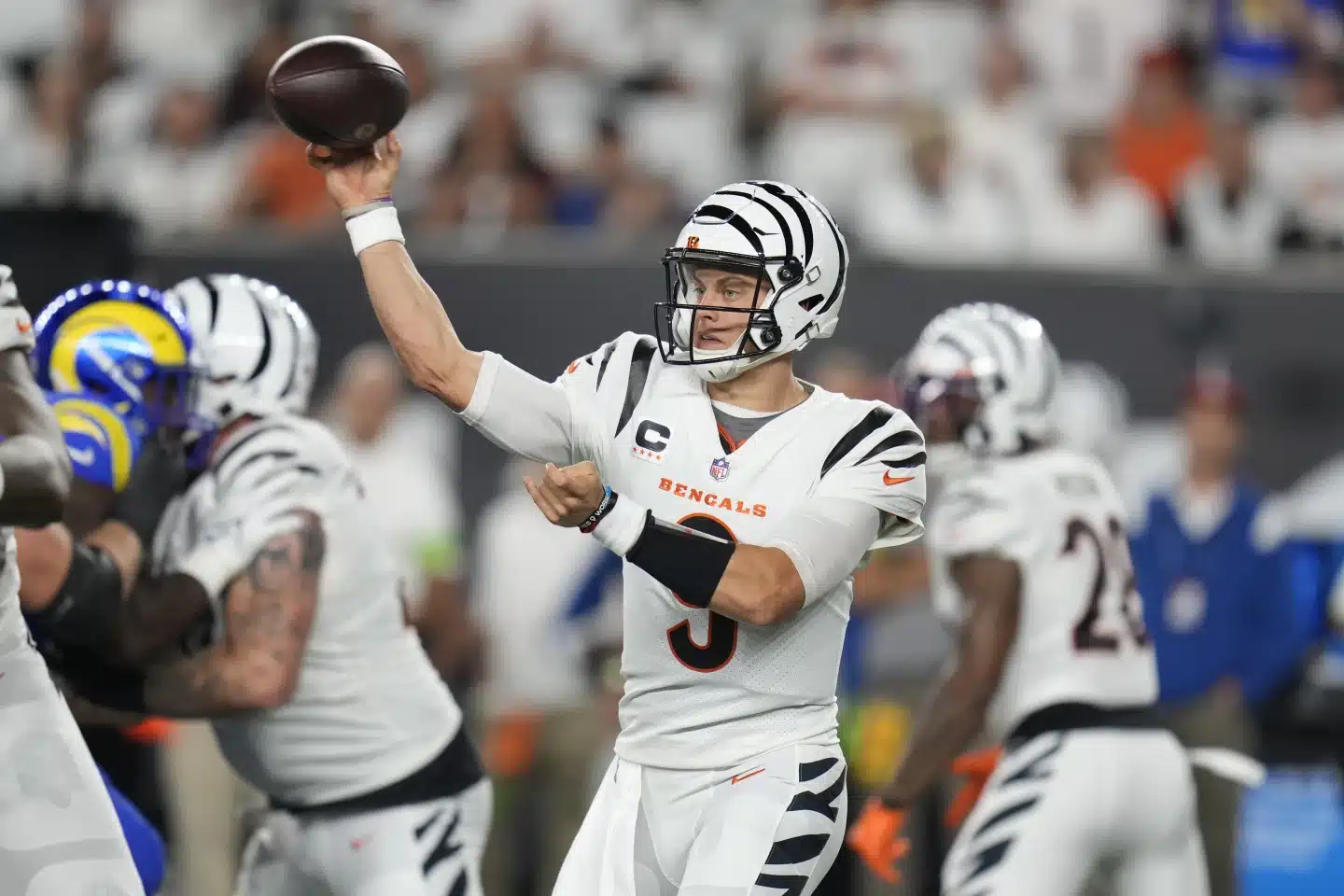 CINCINNATI — Joe Burrow started for the Cincinnati Bengals against the Los Angeles Rams on Monday night.
The Bengals' starting quarterback has been coping with a calf injury, but he was a full participant in warmups and played in the first offensive series.
Burrow's participation was still being determined shortly before the game. The injury occurred early in training camp and was aggravated late in last week's Bengals loss to Baltimore.

Burrow returned to limited practice on Thursday, and the team listed him as questionable on Saturday.
Irv Smith Jr., Trenton Irwin, Chris Evans, Jay Tufele, Jackson Carman, Trey Hill, and DJ Ivey were inactive for the Bengals.
For the Rams, Zach Evans, Kevin Dotson, Warren McClendon, and Earnest Brown IV were inactive.
The Rams activated running back Royce Freeman and wide receiver Austin Trammell.
In a victory over Tampa Bay, Jalen Hurts threw a touchdown pass, rushed for another, and led an unblemished Philadelphia drive that lasted more than nine minutes.
Hurts has gone 20-1 in his last 21 regular-season contests. He tossed a 34-yard TD pass to Olamide Zaccheaus that helped Philly establish a 13-3 halftime lead, and his 1-yard scoring run gave the Eagles a 17-point advantage early in the second half.

On Monday night, Joe Burrow started for the Cincinnati Bengals against the Los Angeles Rams.
The Eagles, one of three unbeaten teams in the NFL, led 25-3 when the Bucs scored on a 1-yard touchdown pass from Baker Mayfield to Mike Evans. With 9:22 remaining, a 2-point conversion cut Philadelphia's lead to 14 but Hurts and the Eagles never gave Tampa Bay the ball back.
The Buccaneers (2-1) suffered their first loss with Mayfield at quarterback, and Tampa Bay's typically dependable defense allowed 201 rushing yards.
D'Andre Swift gained 130 yards on 16 carries for Philadelphia, which is 3-0 for the first time in consecutive seasons since 1992-93. Hurts completed 23 of 37 passes for 277 yards while throwing two interceptions.
Mayfield completed 15 passes out of 25 attempts for 146 yards, one touchdown, and one interception. Five receptions by Evans gave him 700 for his career.
SOURCE – (AP)
India, At UN, Is Mum About Dispute With Canada Over Sikh Separatist Leader's Killing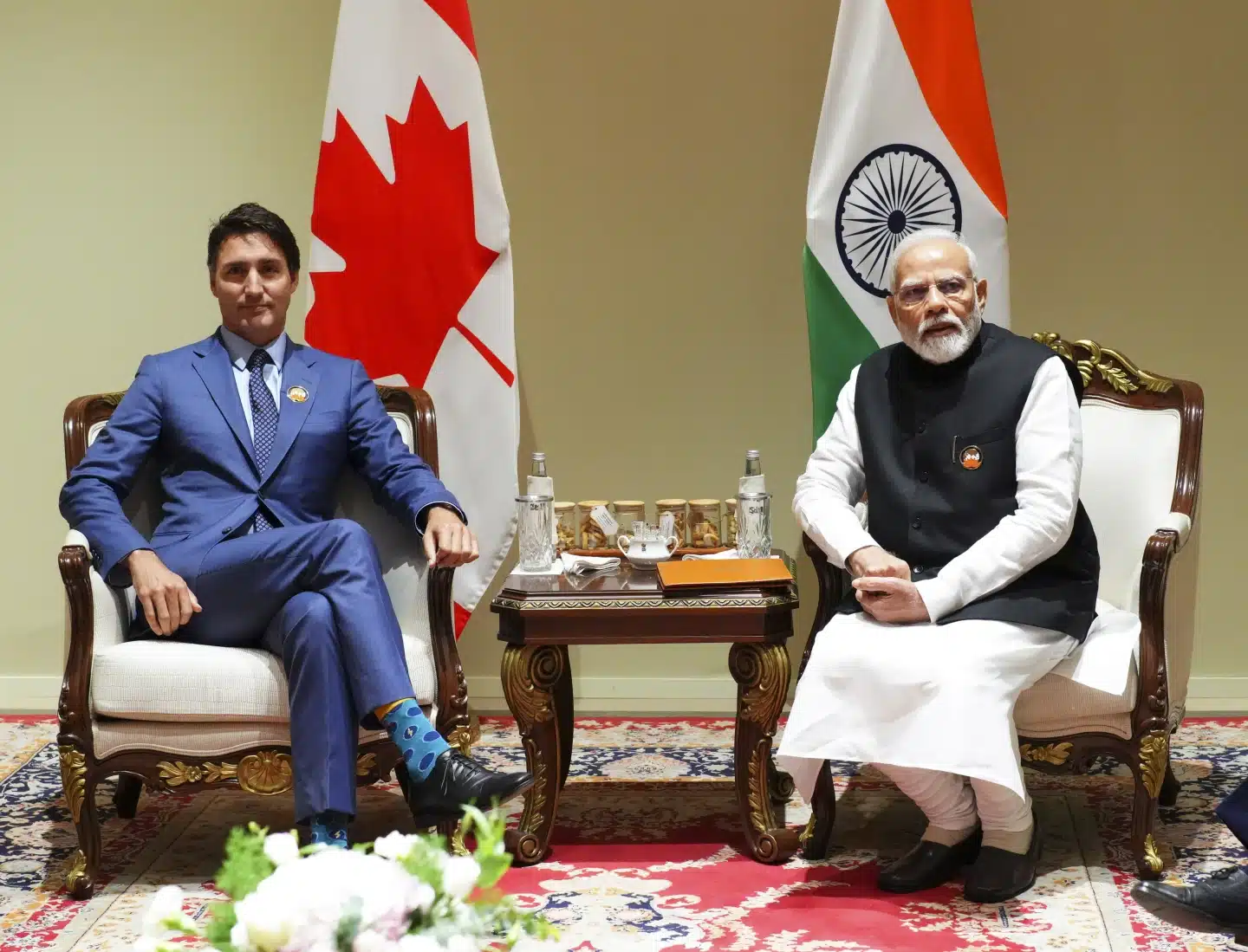 UNITED NATIONS — As he addressed world leaders at the United Nations General Assembly on Tuesday, India's top diplomat avoided addressing his country's dispute with Canada over the assassination of a Sikh separatist leader. However, he indirectly criticized how other nations respond to "terrorism."
Foreign Minister Subrahmanyam Jaishankar devoted most of his speech to praising India's rising global stature and aspirations for leadership, highlighting its recent tenure as chair of the Group of 20 industrialized nations and presiding over a substantial summit meeting last month.
However, he also stated that the international community must not "allow political expediency to determine responses to terrorism, extremism, and violence."
India has frequently attacked Pakistan at the United Nations over what New Delhi perceives as Pakistan's sponsorship of terrorism. This time, however, the remark could be interpreted as an attack on Canada, whose representative is scheduled to speak at the United Nations later on Tuesday.
As a result of Canadian Prime Minister Justin Trudeau's statement last week that India may have been involved in the June murder of a Canadian citizen in a Vancouver suburb, relations between the two countries have reached their lowest point in years.
Hardeep Singh Nijjar, 45, was murdered by masked assailants, but Canada has not yet provided any public evidence of Indian involvement in the murder. India had designated him as a terrorist because he led the remnants of a once-powerful movement to establish an independent Sikh homeland, Khalistan.

India's top diplomat avoided addressing his country's dispute with Canada over the assassination of a Sikh separatist leader.
The Indian Ministry of Foreign Affairs dismissed the allegation as "absurd" and accused Canada of harboring "terrorists and extremists." It also asserted that the allegations were politically motivated, indicating that Trudeau sought domestic support from the Sikh diaspora.
"Such unsubstantiated allegations seek to divert attention away from Khalistani terrorists and extremists, who have found refuge in Canada and continue to threaten India's sovereignty and territorial integrity," the ministry said in a statement released last week.
However, they have long accused Canada of allowing Sikh separatists, including Nijjar, unfettered reign.
Even though the active insurgency ended decades ago, the Modi administration has warned that Sikh separatists are attempting a comeback. New Delhi has urged nations such as Canada, where Sikhs account for more than 2% of the population, to do more to prevent a separatist revival.
After the G20 summit, Canada's allegation obscured India's diplomatic moment. Jaishankar sought to refocus attention on his country's ambitions in the international arena, noting that India is the world's most populous nation and a growing economic superpower.
"When we aspire to be a leading power, it is not for self-promotion, but to assume more responsibility and make more contributions," he explained. "The goals we have set for ourselves will distinguish us from those who rose before us."
SOURCE – (AP)
Messina Denaro: Notorious Italian Mafia Boss Dies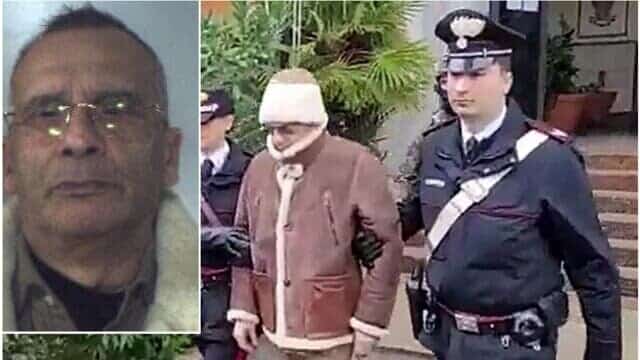 Matteo Messina Denaro, one of Italy's most wanted persons until his capture earlier this year, has passed away.
The 61-year-old man was believed to be a leader of the infamous Cosa Nostra Mafia for 30 years before his capture in January.
At his arrest, he was being treated for cancer and transferred from prison to a hospital last month.
Denaro was believed to be guilty of multiple murders.
In 2002, he was tried and sentenced to life in absentia for offenses, including his role in the 1992 murders of anti-Mafia prosecutors Giovanni Falcone and Paolo Borsellino. He once boasted that he could "fill a cemetery" with his victims.
In addition, he supervised racketeering, illegal waste disposal, money laundering, and drug trafficking on behalf of the Cosa Nostra organized crime syndicate.
Even though he had been on the run since 1993, it was believed that Messina Denaro was still issuing orders to his subordinates from various covert locations.
According to local media, he lapsed into an irreversible coma on Friday at a hospital in L'Aquila, central Italy, after requesting no aggressive medical treatment.

Matteo Messina Denaro, one of Italy's most wanted persons until his capture earlier this year, has passed away.
In recent months, he had undergone surgery for cancer-related concerns but reportedly had not recovered from the most recent operation.
L'Aquila Mayor Pierluigi Biondi confirmed Denaro's demise by writing on X (previously Twitter) that it was "the epilogue of an existence lived without remorse or regret, a painful chapter of recent history that we cannot erase."
In addition to his crimes, Denaro was believed to be Cosa Nostra's final "secret keeper." Numerous informants and prosecutors believe he possessed all the information and names of those involved in several of the Mafia's most notorious crimes.
More than one hundred members of the armed forces participated in his January detention, which occurred at a private clinic in Palermo, the capital of Sicily, where he was receiving chemotherapy.

Matteo Messina Denaro, one of Italy's most wanted persons until his capture earlier this year, has passed away.
He had been a symbol of the state's impotence to reach the highest levels of organized crime syndicates for many years.
Italian investigators frequently came near to apprehending Denaro by observing his closest associates. This led to the 2013 detention of his sister, Patrizia, and a number of his associates.
Police also seized valuable businesses associated with him, isolating him further.
Police had to rely on digital composites to reconstruct his appearance in the decades following his escape from justice. His voice recording was not published until 2021.
A Formula 1 fan from Liverpool was detained at gunpoint in a restaurant in the Netherlands in September 2021 after being misidentified as Denaro.
SOURCE – (BBC)