David Crosby of Crosby Stills Nash and Young Dead at Age 81
David Crosby, the brash rock musician who evolved from a baby-faced harmony singer with the Byrds to a mustachioed hippie superstar and an ongoing troubadour in Crosby, Stills, Nash & (sometimes) Young, died Thursday at the age of 81, according to several media outlets.
According to the New York Times, the musician died Wednesday night, citing a text message from Crosby's sister-in-law. Several media outlets, citing anonymous sources, reported Crosby's death; The Associated Press could not reach Crosby's representatives or his widow.
Crosby received a liver transplant in 1994 after decades of drug use, and he lived through diabetes, hepatitis C, and heart surgery in his 70s.
While he only wrote a few well-known songs, Crosby was at the forefront of the cultural revolution of the 1960s and 1970s, whether triumphing on stage with Stephen Stills, Graham Nash and Neil Young at Woodstock, testifying on behalf of a hirsute generation in his anthem "Almost Cut My Hair," or mourning the assassination of Robert F. Kennedy in "Long Time Gone."
He was a founding member and focal point of the Los Angeles rock music community, which produced artists such as the Eagles and Jackson Browne. He inspired Dennis Hopper's long-haired stoner in "Easy Rider," a twinkly-eyed hippie patriarch. He was an unrepentant loudmouth who engaged in personal warfare and admitted that many musicians he worked with no longer spoke to him.
"Crosby was a colorful and unpredictable character who wore a Mandrake the Magician cape, didn't get along with too many people, and had a beautiful voice — and architect of harmony," Bob Dylan wrote in his memoir, "Chronicles: Volume One," published in 2004.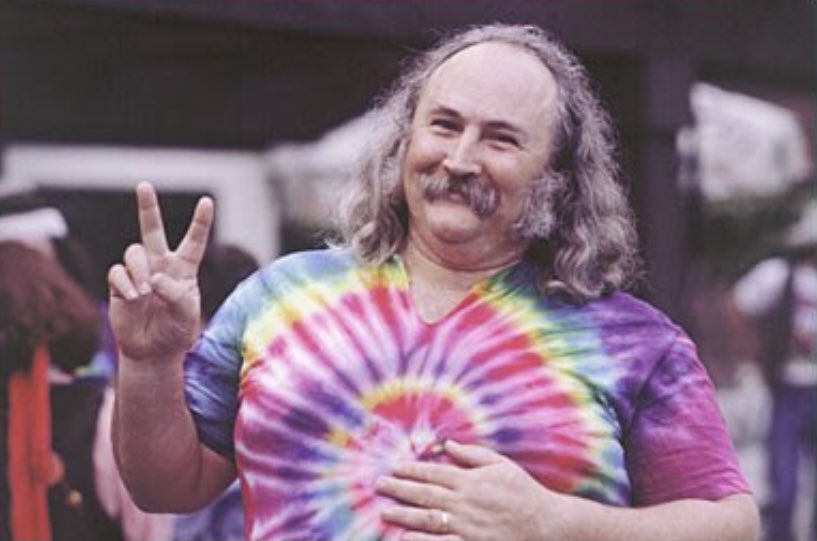 David Crosby's drug use
Crosby's drug use left him bloated, bankrupt, and estranged. He overcame his addiction during a year in prison in Texas on drug and weapons charges in 1985 and 1986. The conviction was eventually reversed.
"I've always said that I picked up the guitar as a shortcut to sex, and after my first joint, I was convinced that if everyone smoked dope, the war would end," Crosby said in his 1988 autobiography, "Long Time Gone," co-written with Carl Gottlieb. "I was correct on the sex. When it came to drugs, I was completely wrong."
He lived years longer than expected and experienced a creative renaissance in his 70s, releasing several solo albums while collaborating with others, including his son James Raymond, who became a favorite songwriting partner.
"Most guys my age would have done a covers record or duets on old material," he told Rolling Stone shortly before the release of "Croz" in 2013. "This isn't going to be a big hit. It'll most likely sell nineteen copies. I don't think kids will like it, but I'm not going to make it for them. I'm doing it for myself. "I have some things I need to get off my chest."
Crosby was featured in Cameron Crowe's documentary "David Crosby: Remember My Name" in 2019.
While his solo career flourished, his seemingly lifelong bond with Nash frayed, Crosby was enraged by Nash's 2013 memoir "Wild Tales" (which he called "whiny and dishonest"), and their relationship devolved into an ugly public feud, with Nash and Crosby agreeing on one thing: Crosby, Stills, and Nash were done.
Crosby's rise in the music world
Crosby did express interest in a Crosby, Stills, Nash, and Young protest tour following Donald Trump's election as President of the United States, but his former bandmates did not respond.
Crosby rose to prominence in the mid-1960s as a member of the seminal folk-rock band The Byrds, whose hits included "Turn! Turn! Turn!" and "Mr. Tambourine Man." At the time, he was clean-cut and baby-faced, and he contributed harmonies that were an important part of the band's innovative blend of The Beatles and Dylan. Crosby was one of the first American celebrities to become close to The Beatles and was instrumental in introducing George Harrison to Eastern music.
Crosby left The Byrds and formed a new band due to strained relationships with his bandmates. Crosby, Stills, and Nash's first meeting is legendary: Stills and Crosby were working on the ballad "You Don't Have to Cry" at Joni Mitchell's house in 1968 (Stills would argue they were at Mama Cass') when Nash suggested they start over. Nash's high harmony added a magical layer to Stills' rough bottom and Crosby's mellow middle, forming a supergroup.
Their self-titled debut album was an instant success, helping to redefine commercial music. The songs were longer and more personal than their previous releases, but they were easily relatable to an audience embracing a more open lifestyle.
Their vibrant harmonies and themes of peace and love became synonymous with the late 1960s and early 1970s. Their cover of Joni Mitchell's "Woodstock" served as the theme for a documentary about the 1969 rock concert at which the group made only its second live appearance. Crosby had produced Mitchell's first album, "Song to a Seagull," in 1968 and had been her boyfriend at the time (as was Nash).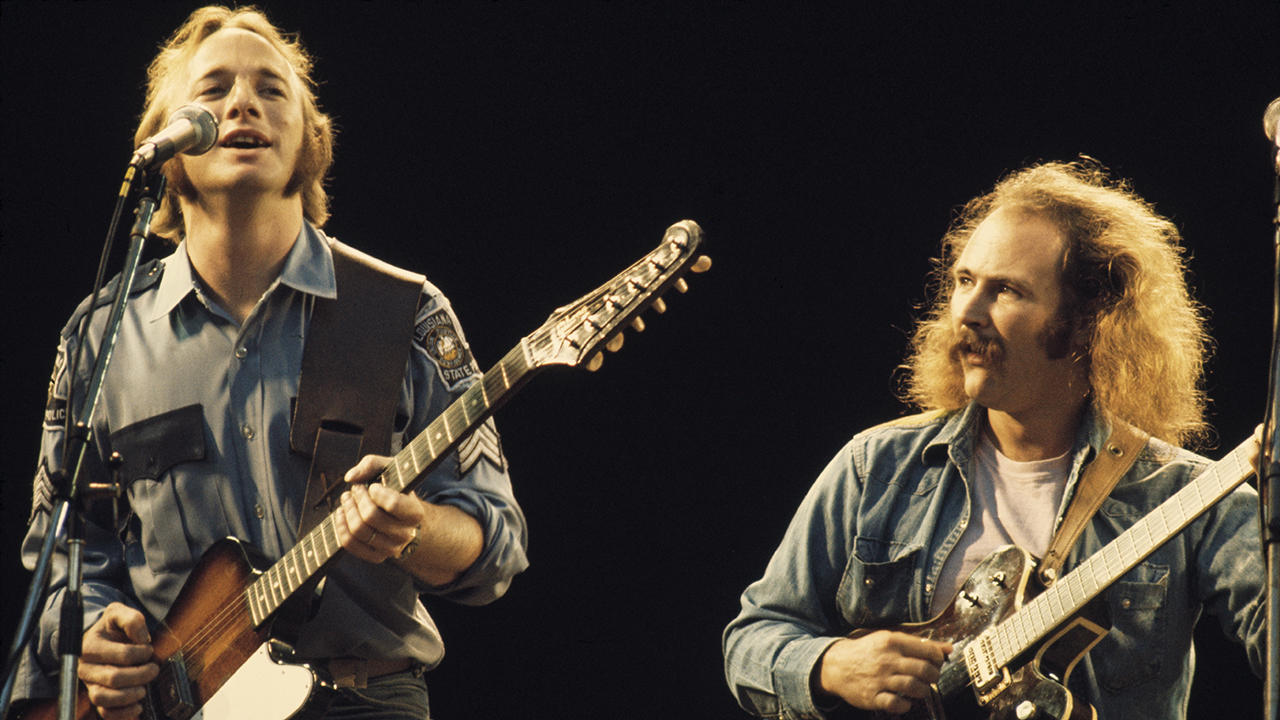 Harmony and rhythm guitar
Crosby, now sporting the drooping, bushy mustache that would define him for the rest of his life, provided harmony and rhythm guitar, and his songs reflected his volatile personality. They ranged from "Guinevere's" misty-eyed romanticism to "Deja Vu's" spirituality to "Almost Cut My Hair's" operatic paranoia.
Some criticized the group for being soft-headed and self-indulgent.
"If you're into living-room rock, fireplace harmonies, and a hint of good old social consciousness, this is your band," said Rolling Stone, who never missed an opportunity to write about the band.
But CSN, as they were soon known, won a Grammy for best new artist and became a global touring act and brand name decades later.
The first album was a lighthearted, upbeat recording, but the mood darkened during the second, "Deja Vu." Neil Young joined the band, having feuded with Stills while both were in Buffalo Springfield and continuing to do so.
Everyone in the band was in turmoil: Nash and Mitchell had split up, as had Stills and singer Judy Collins. Meanwhile, Crosby was so devastated by the death of his girlfriend, Christine Hinton, in a car accident that he would sob on the studio floor.
Solo artists, duos, trios
The album featured a rougher, less unified sound, was released in 1970 and was another commercial success. Within two years, the quartet had disbanded, destined to reunite and splinter for the rest of their lives.
They worked as solo artists, duos, trios, and, on rare occasions, all four simultaneously. They performed in stadiums and clubs. They were present at the Berlin Wall as the Cold War ended in 1989 and in New York for the Occupy Wall Street protests in 2011.
Crosby has toured frequently in recent years and has answered questions on Twitter with affection and exasperation, whether commenting on rock star peers or assessing the quality of a fan's marijuana joint. He loved sailing, and aside from hard drugs, his greatest regret was selling his 74-foot boat due to financial difficulties. Among the songs completed on the boat was the classic "Wooden Ships," co-written with Stills and Paul Kantner of Jefferson Airplane.
Crosby was born David Van Cortlandt Crosby in Los Angeles on August 14, 1941. Floyd Crosby, the Oscar-winning cinematographer behind "High Noon," was his father. His mother, Aliph, and brother, Floyd Jr., later relocated to Santa Barbara.
Crosby grew up listening to classical, folk, and jazz music. Crosby stated in his autobiography that as a child, he used to harmonize while his mother sang, his father played mandolin, and his brother played guitar.
"I wasn't into it when rock 'n' roll came in during that era, and the Age of Elvis possessed America," he recalled.
The Beatles inspired Crosby.
His brother taught him to play the guitar, and he began performing in Santa Barbara clubs while still in his teens. In 1960, he moved to Los Angeles to study acting but dropped out and became a folk singer, touring the country before joining The Byrds. Like many other folk performers, Crosby was inspired by the Beatles' 1964 film "A Hard Day's Night" and decided to pursue a career as a rock star.
In 1987, Crosby married his longtime girlfriend, Jan Dance. Django, the couple's son, was born in 1995. Crosby and Debbie Donovan had a daughter, Donovan. Crosby was reunited with Raymond, who had been placed for adoption in 1961, shortly after undergoing the liver transplant. Raymond, Crosby, and Jeff Pevar later formed a band called CPR.
"I regretted losing him many times," Crosby said of Raymond in 1998 to the Associated Press. "I was too immature and irresponsible to parent anyone."
Melissa Etheridge revealed in 2000 that Crosby was the father of her two children with then-partner Julie Cypher. Etheridge told Rolling Stone that Cypher carried the children Crosby fathered through artificial insemination. Beckett, one of the sons, died in 2020.
David Crosby did not assist in raising the children but stated, "If, you know, in time, at a distance, they're proud of who their genetic father is, that's great."
Source: AP
Kiss Say Farewell To Live Touring, Become First US Band To Go Virtual And Become Digital Avatars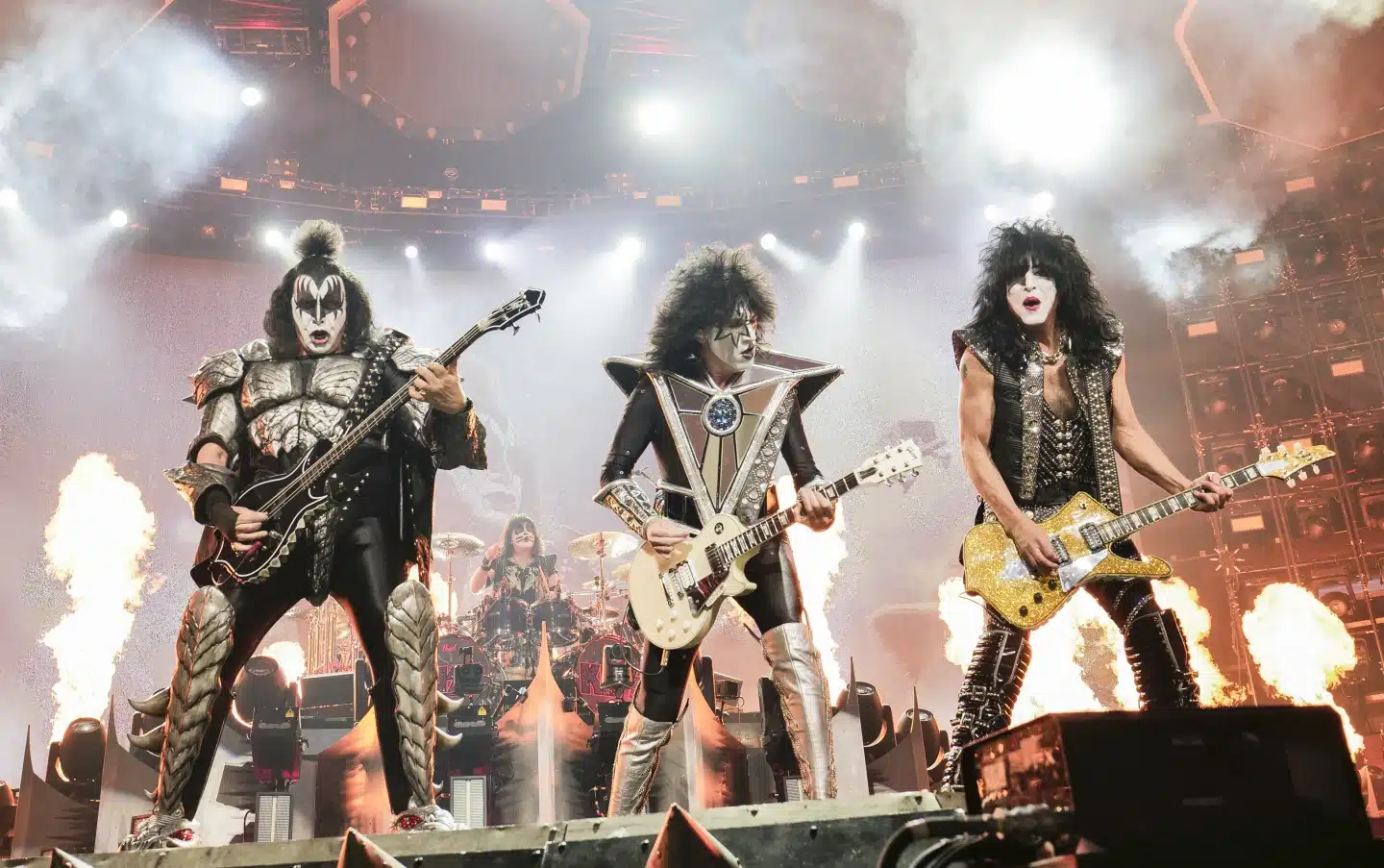 Kiss concluded their "The End of the Road" farewell tour at New York City's legendary Madison Square Garden on Saturday night.
But, as die-hard fans know, they would never call it quits. Not at all.
The band's current lineup — founders Paul Stanley and Gene Simmons, guitarist Tommy Thayer, and drummer Eric Singer — departed the stage during their encore to unveil computerized avatars of themselves. Following the change, the virtual Kiss performed "God Gave Rock and Roll to You."
The cutting-edge technology was used to tease a new chapter in the rock band's history: after 50 years, Kiss is now interested in a type of digital immortality.
Kiss performed "God Gave Rock And Roll To You" on Saturday night to premiere the band's virtual version.

Kiss Say Farewell To Live Touring, Become First US Band To Go Virtual And Become Digital Avatars
They have retired from the stage after 50 years to pursue a type of digital immortality.
The shows will be directed by Paul Stanley, Gene Simmons, Tommy Thayer, and Eric Singer's avatars.
In collaboration with Pophouse Entertainment Group, George Lucas' special-effects studio created the avatars.
These firms have already established "ABBA Voyage" in London, where fans may attend a full performance by the Swedish band's digital avatars.

Kiss Say Farewell To Live Touring, Become First US Band To Go Virtual And Become Digital Avatars
George Lucas' special-effects studio, Industrial Light & Magic, collaborated with Pophouse Entertainment Group, which ABBA's Björn Ulvaeus co-founded to create the avatars. The two firms recently collaborated on the "ABBA Voyage" show in London, where fans could watch the Swedish band perform a full concert – as performed by their digital avatars.
According to Pophouse Entertainment CEO Per Sundin, this new technology allows Kiss to perpetuate their legacy for "eternity." He claims that the band was not on stage for the virtual concert since "that's the key thing" with the futuristic technology.
"Kiss could perform in three cities on three continents on the same night." That's exactly what you could do with it."
They performed in motion capture suits to create their computer avatars, depicted as a type of superhero version of the band.
source – AP
Shane MacGowan, Lead Singer Of The Pogues And A Laureate Of Booze And Beauty, Dies At Age 65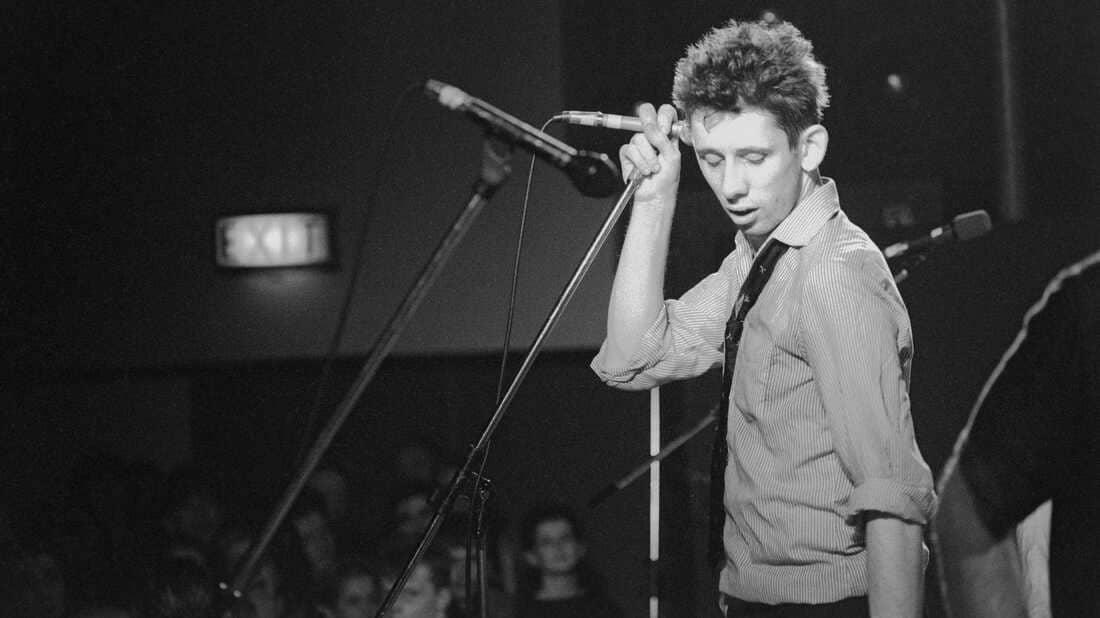 LONDON, England – Shane MacGowan, The Pogues' boisterous, rabble-rousing singer and lead composer who combined traditional Irish music with the intensity and spirit of punk, died Thursday, according to his family. He was 65.
MacGowan's songwriting and persona established him as an iconic figure in contemporary Irish culture, and some of his compositions have become classics, most notably the bittersweet Christmas ballad "Fairytale of New York," of which Irish President Michael D. Higgins stated that it "will be listened to every Christmas for the next century or more."
"It is with deepest sorrow and heaviest of hearts that we announce the passing of our most beautiful, darling, and dearly beloved Shane MacGowan," his wife Victoria Clarke, sister Siobhan, and father Maurice said in a statement.
According to the statement, the musician died peacefully with his family by his side.
After being diagnosed with viral encephalitis in late 2022, the musician was hospitalized in Dublin for several months. He was released last week, just in time for his forthcoming birthday on Christmas Day.
The Pogues fused Irish folk and rock 'n' roll into a unique, irresistible blend, though MacGowan became known for his slurred performances as much as his passionate compositions.

Shane MacGowan, Lead Singer Of The Pogues And A Laureate Of Booze And Beauty, Dies At Age 65
His lyrics mixed scabrous and romantic elements, ranging from carousing anthems to pictures of life in the gutter to sweet love songs. "Fairytale of New York," The Pogues' most famous song, is a tale about down-on-their-luck immigrant lovers that begins with the rather unfestive words: "It was Christmas Eve, babe, in the drunk tank." The duet between MacGowan's scratchy voice and the silky tones of the late Kirsty MacColl is by far the most popular Pogues song in Ireland and the United Kingdom.
Nick Cave, a singer-songwriter, described Shane MacGowan as "a true friend and the greatest songwriter of his generation."
The Irish president, Michael D. Higgins, stated that "his songs capture within them, as Shane would put it, the measure of our dreams."
"His words have connected Irish people all over the globe to their culture and history, encompassing so many human emotions in the most poetic of ways," added Higgins.
According to Irish Prime Minister Leo Varadkar, MacGowan's compositions "beautifully captured the Irish experience, especially the experience of being Irish abroad."
According to Sinn Fein President Mary Lou McDonald, "nobody told the Irish story like Shane — stories of emigration, heartache, dislocation, redemption, love, and joy."
MacGowan was born on Christmas Day 1957 in England to Irish parents and spent his childhood in rural Ireland before returning to London. Ireland remained the everlasting focus of his imagination and longing. He grew up listening to Irish music from family and neighbors and rock, Motown, reggae, and jazz.
He was expelled from London's renowned Westminster School and spent time in a psychiatric facility following a breakdown in his teens.
MacGowan welcomed the punk scene that erupted in the United Kingdom in the mid-1970s. He played in a band called the Nipple Erectors as Shane O'Hooligan before forming The Pogues with musicians including Jem Finer and Spider Stacey.

Shane MacGowan, Lead Singer Of The Pogues And A Laureate Of Booze And Beauty, Dies At Age 65
The Pogues blended punk's ferocious energy with traditional Irish tunes and instruments such as banjo, tin whistle, and accordion.
"It never occurred to me that you could play Irish music to a rock audience," MacGowan said in his 2001 biography "A Drink with Shane MacGowan," co-written with Clarke. "And then it clicked. Start an Irish band in London that plays Irish music with a rock and roll beat. The original plan was to simply blast out classic songs, but then I started writing."
"Red Roses for Me," the band's first album, was released in 1984 and contained boisterous interpretations of Irish folk tunes among originals such as "Boys from County Hell," "Dark Streets of London," and "Streams of Whisky."
The band gained a loyal following and accolades from music journalists and fellow performers ranging from Bono to Bob Dylan while performing in pubs and clubs throughout London and beyond.
The songs on the following two albums, "Rum, Sodomy and the Lash" (1985) and "If I Should Fall from Grace with God" (1988), by MacGowan, ranged from raucous rousers like the latter album's title track to ballads like "A Pair of Brown Eyes" and "The Broad Majestic Shannon."
The band also published an EP in 1986 called "Poguetry in Motion," which included two of MacGowan's best tunes, "A Rainy Night in Soho" and "The Body of an American." The latter was featured frequently in the early-2000s TV show "The Wire," when it was performed at the funerals of Baltimore police officers.
"I wanted to make pure music that could be from any time, to make time irrelevant, to make generations and decades irrelevant," he wrote in his autobiographical book.
The Pogues momentarily ruled the world, with sold-out tours and appearances on American television, but the band's output and appearances became more unpredictable, owing in part to MacGowan's troubles with drink and narcotics. He was fired by the other band members in 1991 after a spate of no-shows, notably while The Pogues were opening for Dylan. Before disbanding, the band momentarily replaced MacGowan with Clash frontman Joe Strummer.

Shane MacGowan, Lead Singer Of The Pogues And A Laureate Of Booze And Beauty, Dies At Age 65
MacGowan joined a new band, Shane MacGowan and the Popes, and released two albums: "The Snake" in 1995 and "The Crock Of Gold" in 1997. Despite his well-documented drinking problems and performances that frequently included slurred lyrics and at least one stage collapse, he reconnected with The Pogues in 2001 for a series of concerts and tours.
MacGowan struggled with health issues for years and relied on a wheelchair after breaking his pelvis a decade ago. He was well-known for his damaged, decaying teeth until he received a full set of implants in 2015 from a dental specialist who referred to the treatment as "the Everest of dentistry."
On his 60th birthday, MacGowan got a lifetime achievement award from Ireland's president. A celebratory concert featuring Bono, Nick Cave, Sinead O'Connor, and Johnny Depp took place at Dublin's National Concert Hall to mark the occasion.
In an Instagram post, Clarke said, "There's no way to describe the loss that I am feeling and the longing for just one more of his smiles that lit up my world."
"I am blessed beyond words to have met him and to have loved him and to have been so endlessly and unconditionally loved by him and to have had so many years of life and love and joy and fun and laughter and so many adventures," she wrote in an email.
SOURCE – (AP)
'Mr. Big Stuff' Singer Jean Knight Dies At 80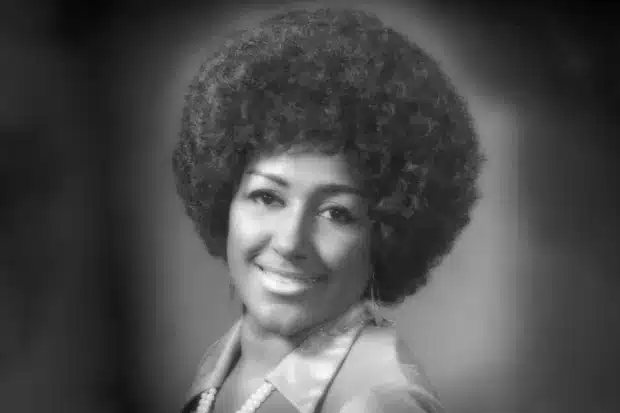 BATON ROUGE, Louisiana – Jean Knight, a soul singer from New Orleans best known for her 1971 single "Mr. Big Stuff," has died at 80.
Family, friends, fans, and music industry insiders lamented the death of the Grammy-nominated vocalist, regarded as a musical powerhouse and a vital part of New Orleans' cultural fabric.
Jean died of natural causes on Wednesday in Tampa, Florida, where she was living, according to family spokesman Mona Giamanco. On Monday afternoon, she verified the death to The Associated Press.
"Jean Knight's legacy is not just a musical one; it is a testament to the enduring love that exists between an artist, her hometown, and the fans who adored her," the singer's family said.

'Mr. Big Stuff' Singer Jean Knight Dies At 80
Soon after graduating from high school, Jean started singing in her cousin's New Orleans club. She sang "Mr. Big Stuff" in the early 1970s, a sassy and soulful chart-topping ballad famed for the addictive chorus "Who do you think you are?"
The song peaked at No. 1 on the Billboard R&B chart and No. 2 on the Billboard 200 pop chart, earning Knight a Grammy nomination in 1972 for best female R&B vocal performance. According to the Stax Museum of American Soul Music, Jean was Stax Records' best-selling female artist.
Following the success of "Mr. Big Stuff," She went on to release numerous additional albums, including "(Don't Mess With) My Toot Toot" and "Bill," as well as establish her label, Comstar.

'Mr. Big Stuff' Singer Jean Knight Dies At 80
Reginald Toussaint worked as an engineer on one of Knight's albums and even assisted in mixing a song written for it by his father, musical great Allen Toussaint. Reginald Toussaint later befriended Knight, whom he characterized as a "wonderful woman."
"She was genuinely a nice person with a gentle spirit… whenever I saw her, she was always smiling," Toussaint, executive director of production for the New Orleans Jazz Fest and Essence Music Festival, said.
Knight spent years touring and performing in New Orleans on major festival stages and smaller French Quarter locations.

'Mr. Big Stuff' Singer Jean Knight Dies At 80
Aside from her soulful, sassy, and happy performances, she was known among family and friends as a mother and grandmother who enjoyed cooking Creole foods and celebrating Mardi Gras.
The details of her funeral plans were not immediately available.
Jean is an American soul and R&B singer, best known for her 1971 hit song "Mr. Big Stuff." The song reached number two on the Billboard Hot 100 chart and was a significant success for Knight.
She continued to release music throughout the 1970s and 1980s, solidifying her status as a prominent figure in the soul music genre.
Knight's impact on the music industry and her enduring legacy make her a notable figure in the history of soul and R&B music.
SOURCE – (AP)