Hope Fading As Deaths In Turkey, Syria Quake Pass 11,000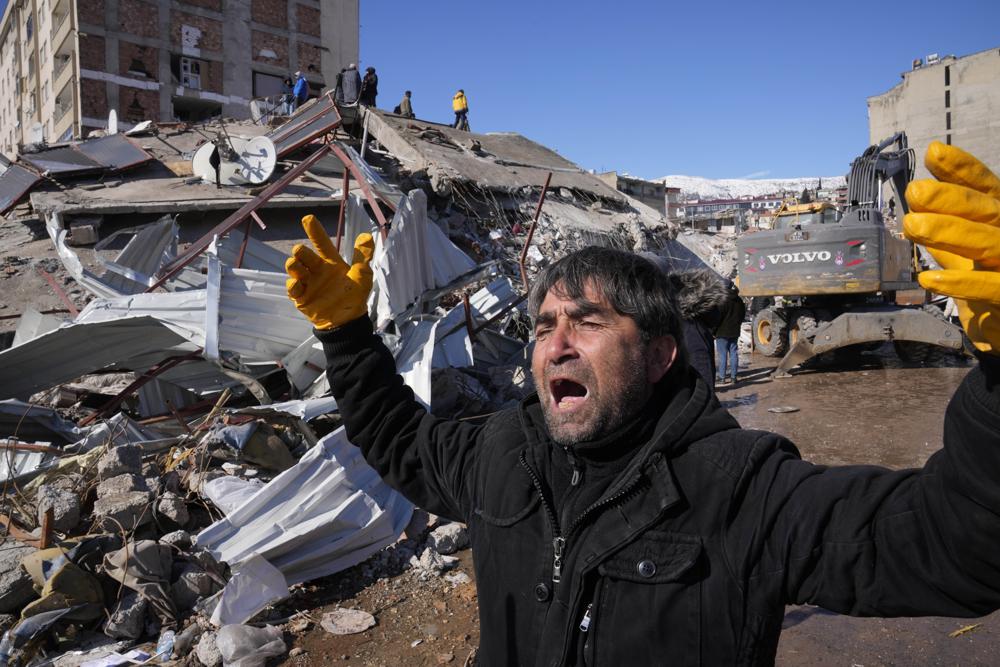 GAZIANTEP, Turkey — Rescue teams in Turkey and Syria looked for signs of life in the rubble of thousands of buildings destroyed by the world's deadliest earthquake in more than a decade on Wednesday, when the chances of finding survivors were getting slimmer. The confirmed death toll has surpassed 11,000 people.
Turkish President Recep Tayyip Erdogan paid a visit to the particularly hard-hit Hatay province, where over 3,300 people were killed, and entire neighborhoods were destroyed. Residents have criticized the government's response, claiming that rescuers arrived too slowly.
Erdogan, who faces a tough reelection battle in May, acknowledged "shortcomings" in responding to Monday's 7.8 magnitude earthquake but blamed it on winter weather. The earthquake damaged the runway at Hatay Airport, further complicating the response.
"Preparing for such a disaster is impossible," Erdogan said. "We will not abandon any of our citizens." He also slammed critics, calling them "dishonorable people" who spread "lies and slander" about the government's response.
Turkish authorities claim to be combating disinformation, and an internet monitoring group reported that access to Twitter was restricted, despite survivors using it to alert rescuers.
In Syria and Turkey, search teams from more than a dozen countries have joined thousands of local first responders. However, the scale of destruction caused by the earthquake and its powerful aftershocks was so massive and spread over such a large area — including a region isolated by Syria's ongoing civil war — that many people were still waiting for help.

People Rush To Save The Turkey People
Experts said that people who were stuck under the rubble or couldn't get what they needed were running out of time to stay alive. At the same time, they stated that it was too soon to give up hope.
"The first 72 hours are critical," according to Steven Godby, a natural hazards expert at Nottingham Trent University in England. "The average survival ratio within 24 hours is 74%, 22% after 72 hours, and 6% by the fifth day."
Rescuers occasionally used excavators or picked carefully through debris. With thousands of buildings destroyed, it was unclear how many people were still trapped beneath the rubble.
According to Ozel Pikal, who saw eight bodies pulled from the ruins of a building in the Turkish city of Malatya, bodies were placed side by side on the ground and covered in blankets while rescuers waited for vehicles to pick them up.
Pikal, who assisted in the rescue efforts, believes at least some of the victims died as temperatures dropped to minus 6 degrees Celsius (21 Fahrenheit).
"There is no hope left in Malatya as of today," Pikal said over the phone. "No one is emerging from the rubble alive."

A Horrible Hit For The ALready Impacted Syrian People
Road closures and damage in the area made it difficult to reach all areas needing assistance, he said, and there needed to be more rescuers where he was. Meanwhile, the cold weather hampered those who were present, including volunteers.
"Because of the cold, our hands can't pick up anything," Pikal explained. "Working machines are required."
Syria's civil war had already lasted more than a decade in the region. Millions of Syrians have been displaced, and millions have sought refuge in Turkey.
Turkey's president announced that the country's death toll had surpassed 9,000. According to the Syrian Health Ministry, the death toll in government-held areas has surpassed 1,200. According to the volunteer first responders known as the White Helmets, at least 1,400 people have died in the rebel-held northwest.
This brought the total to 11,600. Thousands more have been injured.
Rescue stories continued to give hope that some of those still trapped might be found alive. A crying newborn still connected to her deceased mother by the umbilical cord was rescued in Syria on Monday. Rescuers pulled a 3-year-old boy from the rubble in Turkey's Kahramanmaras.

The Actual Death Toll In Turkey Could Take Weeks
However, David Alexander, a professor of emergency planning and management at University College London, said that data from previous earthquakes indicated that the chances of survival were now slim, particularly for those who suffered serious injuries.
"Statistically, today is when we'll stop finding people," he predicted. "That doesn't mean we should give up looking."
Because of the sheer volume of rubble, Alexander warned that the final death toll could take weeks to determine.
The last earthquake that killed so many people was in 2015 when a magnitude 7.8 quake struck Nepal. A tsunami was triggered by an earthquake in Japan in 2011, killing nearly 20,000 people.
Many who survived the earthquake lost their homes and were forced to sleep in cars, in government shelters, or outside in some areas due to rain and snowfall.
"We don't have a tent, a heating stove, or anything else. "Our children are in bad shape," said Aysan Kurt, 27. "We did not die of hunger or the earthquake, but we will die of cold."

People Arrested For Looting
The disaster comes at a critical juncture for Erdogan, who is dealing with an economic downturn and high inflation. Perceptions that his administration mishandled the crisis could harm his standing. He stated that the government would give affected families 10,000 Turkish lire ($532) each.
The leader of Turkey's main opposition party, Kemal Kilicdaroglu, blamed the devastation on Erdogan's two-decade rule, saying he had not prepared the country for a disaster and accusing him of misusing funds.
Police said they had detained 18 people and identified more than 200 social media accounts suspected of "spreading fear and panic" in their efforts to combat disinformation related to the earthquake response.
According to NetBlocks, access to Twitter is restricted to multiple internet providers in Turkey. Trapped survivors used Twitter to alert rescuers and loved ones, while others used it to criticize the government's response.
There has been no official response to the restrictions. The government has periodically restricted access to social media during national emergencies and terror attacks, citing national security.

UN Has Sent Help To Turkey
Aid efforts in Syria have been hampered by the ongoing conflict and the isolation of the rebel-held border region, surrounded by Russia-backed government forces. Syria is an international pariah due to Western sanctions related to the war.
The European Union announced on Wednesday that Syria had requested humanitarian assistance to assist earthquake victims. An E.U. representative insisted that the bloc's sanctions against the Syrian government had no bearing on its ability to assist.
Muhannad Hadi, the United Nations humanitarian coordinator for Syria, said Wednesday that due to damaged roads, there still needs to be access to the Bab al-Hawa border crossing into rebel-held Syria, the only terminal where U.N. aid can be delivered.
Using other crossings or sending aid across conflict lines from Damascus necessitates "multiple levels of coordination between different parties, security, humanitarian, and non-governmental organizations," he said. "This is not a simple operation."
Critics have accused the Syrian government of deliberately slowing the process to cut off support to rebel-held areas.
Turkey is situated on major fault lines and is frequently jolted by earthquakes. In 1999, similar powerful earthquakes struck northwest Turkey, killing 18,000 people.
SOURCE – (AP)
Azerbaijan And Armenia Agree To Prisoner Swap And To Work Towards Peace Deal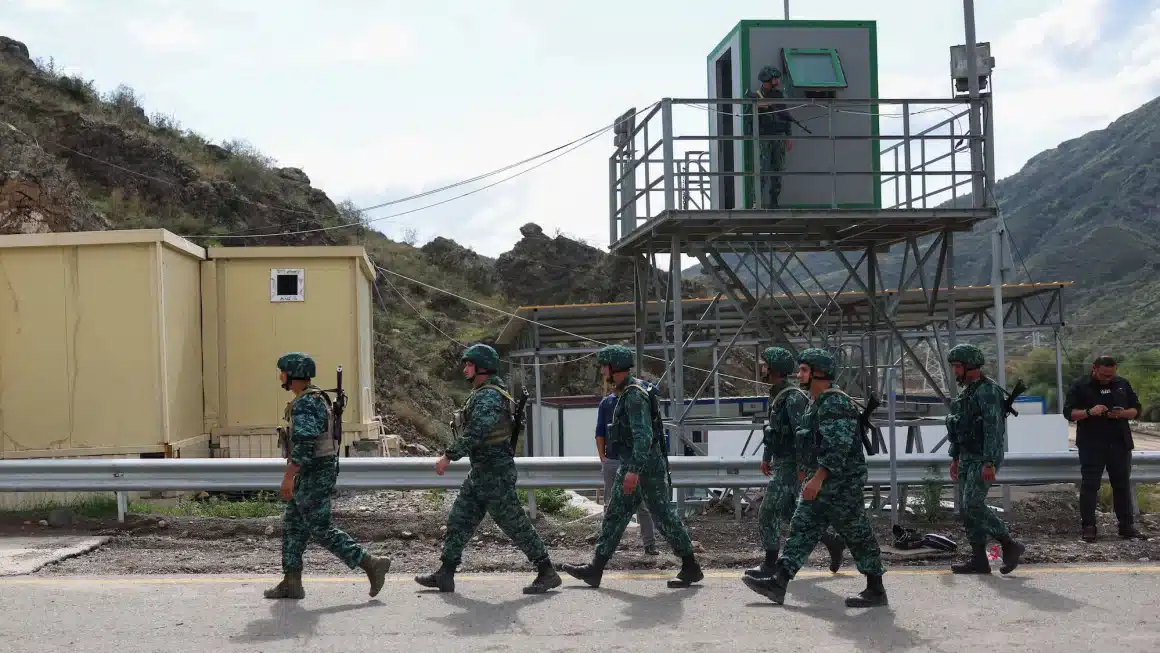 Azerbaijan and Armenia have agreed to exchange prisoners and work toward restoring relations and a peace agreement to end a decades-long conflict, which the US and EU have applauded.
According to a joint statement issued by Azerbaijan's state news agency, AZERTAC, Azerbaijan will swap 32 prisoners of war for two military personnel.
"The Republic of Armenia and the Republic of Azerbaijan both believe that there is a historical chance for the region to achieve long-awaited peace." The two countries "reaffirm their intention to normalize relations and reach a peace treaty based on the principles of sovereignty and territorial integrity," according to the statement. The breakthrough resulted from conversations between the offices of Azerbaijan's president and Armenia's prime minister.
"An agreement has been reached on taking tangible steps towards building confidence between two countries," the statement says.

Azerbaijan And Armenia Agree To Prisoner Swap And To Work Towards Peace Deal
According to Matthew Miller, a spokesperson for the US State Department, the prisoner swap was "an important confidence-building measure" as the two countries worked toward a peace agreement.
"We commend Azerbaijani President (Ilham) Aliyev and Armenian Prime Minister (Nikol) Pashinyan for their joint efforts to lay the groundwork for a more peaceful and prosperous future for the people of the South Caucasus," the statement read. "The United States will continue to strongly support efforts to reach a durable and dignified peace."
"Establishing and deepening the bilateral dialogue between sides has been a key objective of the EU-led Brussels process: today's progress is a significant step," said EU Council President Charles Michel on X. "I now encourage the leaders to finalize the … peace deal ASAP."
The neighboring countries have been at odds for decades over Nagorno-Karabakh, an area in the Caucasus Mountains.
After mounting a quick 24-hour attack, Azerbaijan reclaimed control of Nagorno-Karabakh, an ethnic-Armenian enclave within its boundaries, in September.

Azerbaijan And Armenia Agree To Prisoner Swap And To Work Towards Peace Deal
Nagorno-Karabakh is internationally recognized as part of Azerbaijan but has been controlled by Armenian rebels for decades. Since the fall of the Soviet Union, Armenia and Azerbaijan have fought two wars over Nagorno-Karabakh, and cease-fire agreements have proven unstable.
Armenia admitted earlier this year that the province was part of Azerbaijan, but there are still disagreements about the future of its administration.
The latest progress on prisoner swaps and repairing relations came as delegates from both countries gathered in Dubai for the COP28 climate conference.
The statement also stated that Armenia would withdraw from consideration to host the annual UN-backed climate meeting next year and that Azerbaijan hoped other nations would support its bid.

Azerbaijan And Armenia Agree To Prisoner Swap And To Work Towards Peace Deal
There is a vacancy for the summit host for COP29 in 2024, which, according to UN standards, should be hosted in Eastern Europe. Before Thursday, the two countries had been obstructing each other's candidacy in the voting process.
A vote among the region's nations determines the year's host country. Russia voted against numerous countries that are members of or allies of the European Union.
Azerbaijan is a big oil and gas producer that has been strengthening ties with Russia. Oil and gas account for about half of the country's GDP and over 90% of its exports.
SOURCE – (CNN)
Ukraine Makes New Push To Defeat Russia's Electronic Warfare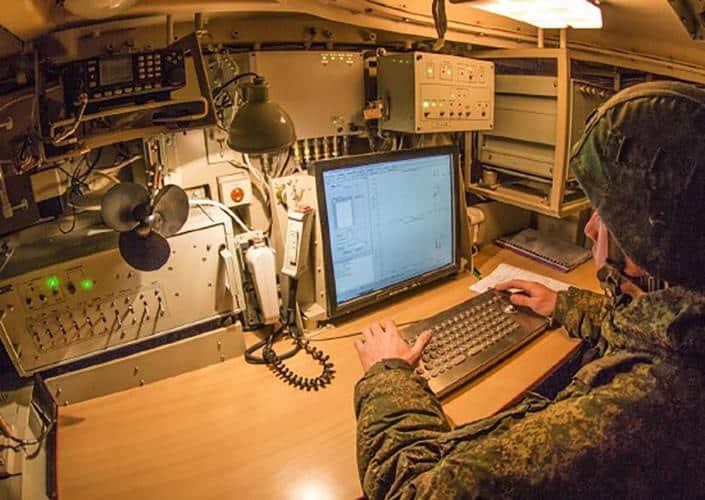 A drone video that appeared to show a targeted strike blowing up three antennas on the roof of an apartment building surfaced online in early November. The Ukrainian drone commander who shared it claimed to have destroyed a Russian Pole-21 electronic warfare equipment near Donetsk on the eastern front.
Regarding electronic warfare, Ukraine is already catching up to Russia.
This attack also demonstrates Kyiv's urgency to destroy Moscow's technology on the battlefield, indicating how critical it may be for the war's future.
Electronic warfare, or EW, uses electromagnetic weapons or techniques. Both forces deploy it in this battle, primarily through electronic jammers that disrupt GPS-guided targeting systems, leading rockets to miss their objectives.
After nearly six months of Ukraine's sluggish and grinding counteroffensive, it is evident that Russia has created not only great physical barriers but also formidable electronic defenses, and Ukrainian forces on the front lines must react rapidly.

Ukraine Makes New Push To Defeat Russia's Electronic Warfare
The drone commander with Ukraine's 59th Motorized Brigade, which carried out the early November strike, Pavlo Petrychenko, believes that successfully destroying these systems is crucial if Ukraine is to take more land. Since the summer, there has been an increase in the frequency of Ukrainian military and media claims of successful strikes against Pole-21 systems.
"At the beginning of the conflict, they used electronic warfare to interfere with our communication, our walkie-talkies, radiocommunications, telephones, and drones," he told CNN via video chat from near Avdiivka on the war's eastern front, which is currently the scene of some of the bloodiest fighting.
"However, as we began to receive foreign equipment, they began to use these systems to suppress our weapons."
"Since (the both US-provided) HIMARS (High Mobility Artillery Rocket System) and Excalibur 155 (an extended range artillery projectile) are guided by satellites, electronic warfare is actively used by (Russia) as one element of the defense against us," Petrychenko said in a statement.
A flaw in Ukraine's NATO-supplied armor
And this is the issue for Ukraine. Russian jammers have exploited the technological advantage of Ukraine's Western-supplied arsenal of "smart" – guided – weapons.
Precision-guided missiles and guided multiple-launch rocket systems, such as HIMARS, are more vulnerable to electronic warfare than unguided weapons due to their reliance on GPS to hit their targets. Unguided weapons, which were common in both Russia and Ukraine's Soviet-era stocks before 2022, do not.

Ukraine Makes New Push To Defeat Russia's Electronic Warfare
The Pole-21 device, designed to jam GPS signals to defend Russian assets from approaching drones or missiles, is only one component of Moscow's expanding electronic arsenal.
The Kremlin's playbook includes jamming, as well as "spoofing" GPS – a method that effectively fools an adversary drone or missile into thinking it is somewhere else – which also impairs radar, radio, and even cell connections.
According to state news agency TASS, Russian Prime Minister Mikhail Mishustin told a government meeting in September that production of major types of military equipment, including EW, had more than doubled in the first eight months of the year.
According to experts and Ukrainian officials, Russia has now fully incorporated electronic warfare into its forces.
In a recent essay, Ukraine's commander-in-chief, Valery Zaluzhny, stated that Russia is now mass producing what he refers to as "trench electronic warfare."
"The tactical level of Russian troops is saturated with (this equipment)," Zaluzhny said, adding that despite equipment losses, Moscow maintains "significant electronic warfare superiority."
Zaluzhny also singled out American-made Excalibur shells, adding that their "capability has been significantly reduced, because the targeting system (using GPS) is very sensitive to the influence of enemy electronic warfare."
Maj. Charlie Dietz, a Pentagon spokesperson, stated that "while the impact of Russian jamming has been observed" in certain US-supplied systems, including HIMARS rocket launchers, "it has not rendered these systems ineffective."

Ukraine Makes New Push To Defeat Russia's Electronic Warfare
According to Dietz, the agency has mitigated those vulnerabilities, including "substantial efforts to re-engineer and update these systems." Updates are "being implemented as quickly as possible to counteract the effects of EW jamming," he added.
Right now, the best hope they have is that videos of his early November drone strike go viral, according to Petrychenko. With so many Ukrainian troops on social media, any viral clip like this would serve as a manual, assisting them in identifying Russian antennas on the battlefield.
This is shifting the game outside of Ukraine.
"I think what you're seeing play out in Ukraine is very much a glimpse into what modern warfare looks like today," said Kari Bingen, director of the Aerospace Security Project at the think tank Center for Strategic and International Studies and a former Pentagon principal deputy undersecretary for defense. She envisions a future where "electronic warfare capabilities and tactics are integrated into conventional force operations."

Ukraine Makes New Push To Defeat Russia's Electronic Warfare
According to Dietz, a Pentagon spokesperson, the United States is "actively evaluating and adapting its strategies" in electronic warfare, which he sees as a "fundamental aspect of contemporary and future military engagements."
Fedorov stated that Ukraine is actively investing in electronic warfare while also following in the footsteps of his drone program by promoting indigenous production.
And he is open about the fact that Ukraine requires assistance from its Western partners in terms of both equipment and knowledge.
"We have all the technology we need in the West." The question may be how to use it, which is important. We must consider the next technological level of the conflict."
SOURCE – (CNN)
Italy Quits Belt And Road Plan As Europe Rethinks China Relations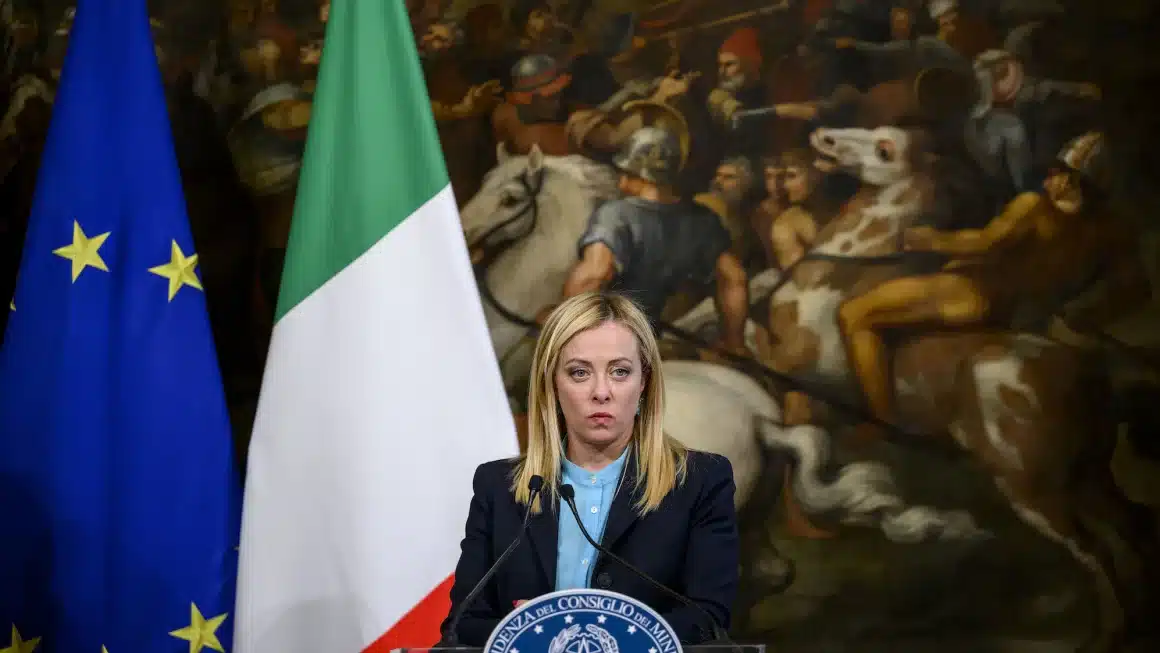 Italy, the only G7 country to join China's flagship Belt and Road Initiative, will abandon the global infrastructure program when its contract expires next year, marking the latest symptom of Europe's growing hostility against Beijing and its worldwide ambitions.
Giorgia Meloni, the prime minister, acknowledged the much-anticipated action on Thursday. She made the promise during her election campaign last year in response to complaints that the agreement with China that a previous administration had negotiated in 2019 had not been particularly beneficial to Italy's economy.
On the other hand, Meloni emphasized that Rome could maintain excellent relations with Beijing outside of the program, which has increased China's worldwide power while raising concerns that it has burdened some nations with unmanageable debt.

Italy Quits Belt And Road Plan As Europe Rethinks China Relations
"I believe we should… improve our cooperation with China on trade and the economy," Meloni told reporters, according to Reuters, in her first public comments on the matter following rumors that Italy had informed China of its decision not to renew the treaty when it ends in March 2024.
"The tool of the (BRI) … has not produced the results that were expected," she said in a statement.
Italy's decision coincides with the European Union's campaign to "de-risk" its supply chains from China and secure critical technologies after the bloc's designation of Beijing as a "systemic rival" in 2019.
These tensions were on display Thursday during a conference in Beijing between EU leaders and Chinese leader Xi Jinping, as the two sides grappled with issues ranging from trade to Russia's war in Ukraine – with little progress made.
When asked about the Italian pullout during a normal news briefing on Thursday, China's Foreign Ministry maintained a cautious tone, citing the "enormous appeal and global influence of Belt and Road cooperation."
"China vehemently opposes attempts to smear and sabotage Belt and Road cooperation, or to incite bloc confrontation and division," said spokesperson Wang Wenbin, without mentioning Italy specifically.

Italy Quits Belt And Road Plan As Europe Rethinks China Relations
China has signed collaboration agreements with what it claims are more than 140 countries for the initiative, which has invested hundreds of billions of dollars in roads, ports, airports, and bridges, mostly in the Global South over the last decade.
Italy's decision to join the scheme in 2019 was generally interpreted as a diplomatic victory for Beijing, prompting criticism from Washington and Brussels.
This summer, Italian Defense Minister Guido Crosetto called the 2019 decision "wicked," citing growing trade disparities between the two countries in an interview with Corriere della Sera newspaper.
Last year, China imported $26.9 billion in Italian goods, up from $21.4 billion in 2019. According to China's customs data, Chinese exports to Italy increased from $33.5 billion to $50.5 billion during the same time.
Former China-friendly Prime Minister Giuseppe Conte, who joined the scheme, blasted the withdrawal in an interview on his Facebook page, saying it was made for "ideological reasons" and risked "scuppering" future Italian export growth.

Italy Quits Belt And Road Plan As Europe Rethinks China Relations
In an interview with the Italian news outlet Fanpage earlier this year, the Chinese Ambassador to Italy, Jia Guide, stated that a "reckless" choice to withdraw from the accord would have a "negative" influence on cooperation.
Italian politicians were eager to tread gently in their withdrawal, with Meloni frequently implying that good relations with China could be maintained outside of the Belt and Road initiative. She has also refuted allegations that the US persuaded her to abandon the scheme.
Rome withdrew as a delegation of top European Union officials arrived in Beijing for the first EU-China meeting in four years.
Chinese leaders saw the summit as a critical opportunity to calm tense relations with Europe, which Beijing sees as a major potential counterweight in its competition with the United States.
"We should not regard each other as rivals simply because our systems are different," Xi told the visiting leaders, according to China's official readout. "We should not reduce cooperation because competition exists, or engage in confrontation because there are disagreements."

Italy Quits Belt And Road Plan As Europe Rethinks China Relations
European Commission President Ursula von der Leyen and European Council President Charles Michel challenged Xi and Chinese Premier Li Qiang on their countries' massive trade deficits and "unfair competition," while Li urged the EU to be "prudent" in its use of "restrictive" economic policies.
Even though the summit looked to achieve nothing regarding fundamental problems, Von der Leyen stated that both parties agreed "that it is in our mutual interest to have balanced trade relations."
The EU will seek "concrete progress following these discussions," according to a statement issued after the meeting.
Source – CNN