Greta Thunberg carried away by police at German mine protest, 2023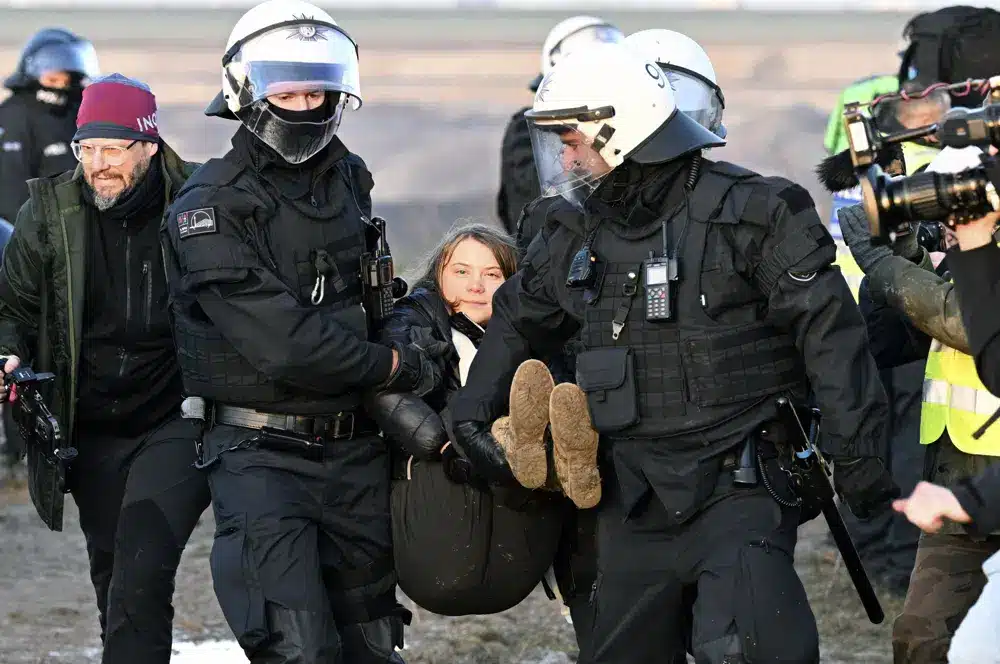 The German news agency DPA says that on Tuesday, police in western Germany carried Swedish climate activist Greta Thunberg and other protesters away from the edge of an open coal pit mine, protesting the destruction of a village, to make room for the mine's expansion.
Hundreds of people went back to anti-mining protests in the western German state of North Rhine-Westphalia.
Hundreds of climate activists also glued themselves to a main street in Germany's western city of Cologne and a state government building in Duesseldorf. Police and RWE say that about 120 activists took over the train tracks near Rommerskirchen that lead to the Neurath power plant. Greta.

Greta Clashes With Police
According to DPA, those who refused to leave the tracks were dragged away.
Several protesters also took over a big digger at the Inden coal mine, and hundreds of others joined a protest march near Luetzerath. The village has been evacuated and sealed off by police in recent days.
There were clashes with the police once more.
According to DPA, several activists ran over to the Garzweiler open pit mine. They were standing on the edge of the open pit, which had a sharp break-off edge. The police said it was dangerous, and people were not allowed to stay there.

Protestors Arrested Near Mines Edge
Greta Thunberg went to western Germany to join protests over the weekend and on Tuesday near Luetzerath against the expanded mine. According to police in nearby Aachen, a group of 50 protesters got dangerously close to the mine's rim and refused to leave despite being asked to do so.
According to police, all the people arrested at the mine's edge were then temporarily detained to determine their identities. Thunberg was one of those arrested, according to photos from the scene. Greta.
RWE says that one protester could go into the mine, which DPA calls "very reckless."

Luetzerath Is A Symbol
Due to privacy laws, a police spokesman who spoke on the condition of anonymity, as is common in Germany, said he couldn't say anything about Thunberg or anyone else who participated in the protest.
On January 11, police and RWE started getting protesters out of Luetzerath by taking down roadblocks, cutting down treehouses, and bulldozing buildings.
For years, activists have talked about how important Luetzerath is as a symbol, and on Saturday, thousands of people protested against RWE's plan to destroy the village so that the Garzweiler coal mine could grow.
SOURCE – (AP)
Priscilla Presley Contests Who Will Oversee Lisa Marie's $100 Million Trust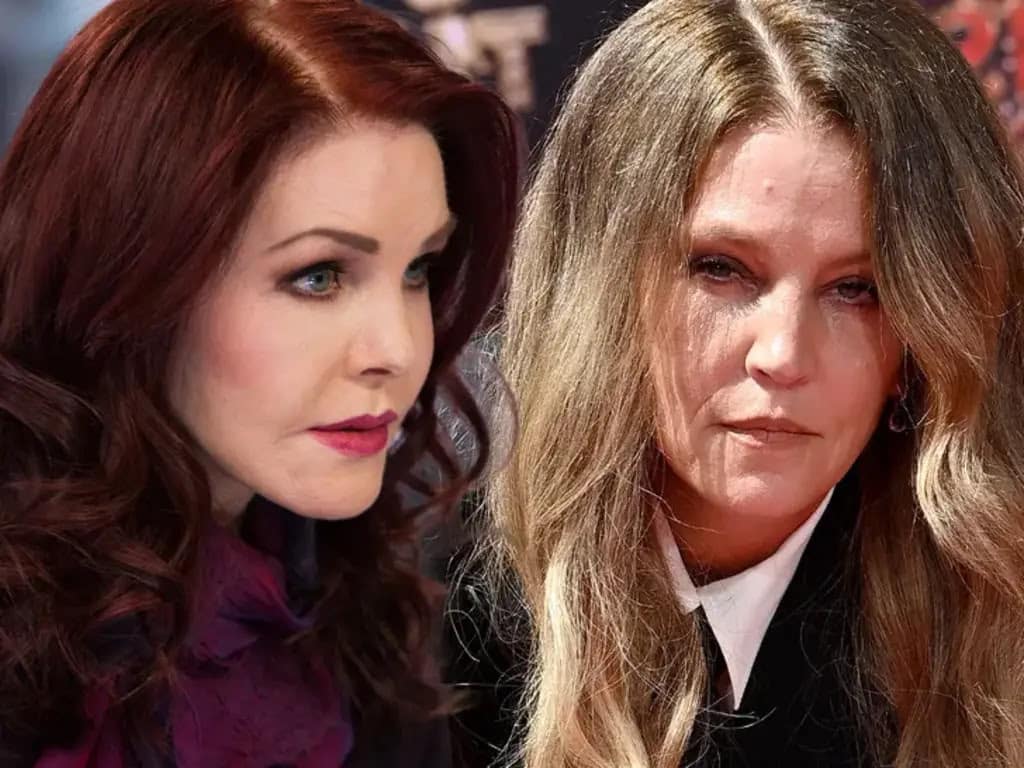 Priscilla Presley has contested who manages the estate of her late daughter Lisa Marie Presley, who died suddenly from cardiac arrest at home in Calabasas, California, on January 12, 2023.
The lawsuit, which was filed last week in Los Angeles Superior Court, challenges the legality of a 2016 modification to Lisa Marie Presley's living trust that, in the event of her death or incapacitation, would name Riley Keough and Benjamin Keough as trustees in place of Priscilla Presley and a former business manager. In 2020, Benjamin Keough perished.
A living trust is a type of estate planning that enables a person to manage their assets while they are still alive while arranging for their distribution after death. If a separate will is not filed, as it seems to be with Lisa Marie Presley, it serves the purpose of a will.
After paramedics responded to a 911 call reporting a woman in cardiac arrest, they discovered Lisa Marie Presley, a singer and the only child of Elvis Presley, had passed away at age 54 in a California hospital.
While investigating, the Los Angeles County coroner has not yet determined the cause of death. On January 22, she was buried at Graceland, her family's home.
According to Priscilla Presley's court document, several problems cast doubt on the validity of the living trust amendment.
A misspelling of Priscilla Presley's name on a document purportedly signed by her daughter, an unusual signature from Lisa Marie Presley, and a lack of a witness or notarization are among the violations listed in the filing, according to the lawsuit. It requests that the amendment be ruled invalid by a judge.
According to the previous terms of the trust, Priscilla Presley, 77, and Riley Keough, 33, would be left as co-trustees if the business manager, Barry Siegel, had intended to resign.
Representatives of Riley Keough did not immediately respond to a message requesting comment.
Three of Lisa Marie Presley's children are still alive. She had 14-year-old twin daughters with her fourth husband, Michael Lockwood, and Riley Keough, who she had with her first husband, Danny Keough.
Although Presley and Lockwood were officially divorced in 2021, their financial disagreements in family court persisted at the time of her passing.
The filing made by Priscilla Presley is one of many that will probably be made about Lisa Marie Presley's estate, who is the sole heir to Elvis Presley.
However, it is unclear how much that estate is worth. According to a lawsuit Lisa Marie Presley filed in 2018, Siegel mismanaged the trust, which had a value of over $100 million but had mostly been depleted.
Actress Cindy Williams of "Laverne & Shirley" Passes Away at Age 75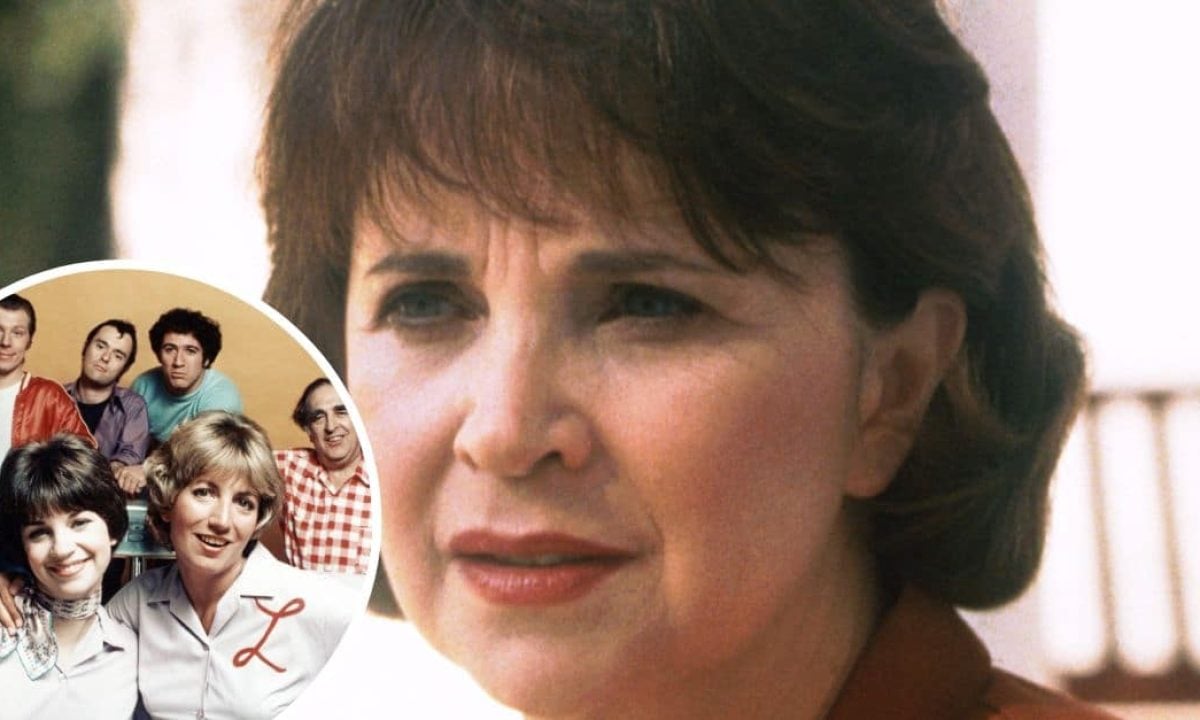 Cindy Williams, one of America's most recognizable stars in the 1970s and 1980s for her role as Shirley opposite Penny Marshall's Laverne on the hit sitcom "Laverne & Shirley," has died, according to her family.
Williams died on Wednesday at 75 in Los Angeles after a brief illness, according to her children, Zak and Emily Hudson, in a statement released through family spokeswoman Liza Cranis.
"The death of our kind, hilarious mother, Cindy Williams, has left us with insurmountable sadness that can never truly be expressed," the statement said. "Knowing and loving her has been both a joy and a privilege for us. She was one of a kind, beautiful, and generous, with a brilliant sense of humor and a sparkling spirit that everyone adored."
Williams appeared in George Cukor's 1972 "Travels With My Aunt," George Lucas' 1973 "American Graffiti," and Francis Ford Coppola's 1974 "The Conversation" in a film career that preceded her full-time move to television.
But she was best known for "Laverne & Shirley," a "Happy Days" spinoff that aired on ABC from 1976 to 1983 and was one of the most popular shows on television at the time.
On the show about a pair of blue-collar roommates who worked on the assembly line of a Milwaukee brewery in the 1950s and 1960s, Williams played the stern Shirley Feeney to Marshall's more libertine Laverne DeFazio.
"They were well-liked characters," Williams said to The Associated Press in 2002.
Feeney was naive and trusting, while DeFazio was quick-tempered and defensive. For plot inspiration, the actors looked to their own lives.
"At the start of each season, we'd make a list of what talents we had," Marshall told the Associated Press in 2002. "We used Cindy's ability to touch her tongue to her nose in the show. "I did some tap dancing."
Williams told The Associated Press in 2013 that she and Marshall had "very different personalities" but that stories about the two clashing on set were "a bit overblown."
With its self-empowering opening song, "Give us any chance, we'll take it, read us any rule, we'll break it," the series was a rare network hit about working-class characters.
That scene would become as well-known as the show itself. Williams' and Marshall's chant of "schlemiel, schlimazel" as they skipped along became a cultural phenomenon and a source of nostalgia for many.
Penny Marshall died in 2018, along with his brother, Garry Marshall, who co-created the series.
Singing this song with so much gratitude for both of you ladies. Absolute gems. United again… Rest in Paradise Cindy Williams https://t.co/G9LVZfym0s

— Rosario Dawson (@rosariodawson) January 31, 2023
On Tuesday, actress Rosario Dawson tweeted a video of the opening theme.
"Singing this song with so much love for both of you ladies," Dawson wrote on Twitter. "These are absolute gems. Reunited once more… Cindy Williams, rest in peace."
Lenny and Squiggy, Laverne and Shirley's oddball hangers-on, were also played by Michael McKean and David Lander. Lander died in the year 2020.
McKean paid tribute to Cindy Williams on Twitter with a production memory.
"Season 1 Backstage: I'm offstage waiting for a cue. "The script was challenging, so we're giving it our all, and the audience is having a great time," McKean tweeted. "Cindy scoots past me to make her entrance and exclaims, 'Show's cookin'!' Amen. Cindy, thank you."
As the show's ratings fell in the sixth season, the characters relocated from Milwaukee to Burbank, California, trading their brewery jobs for jobs at a department store.
Cindy Williams became pregnant in 1982 and requested that her working hours be reduced. She walked off the set when her demands were unmet and sued the production company. During the final season, she made only a few appearances.
Williams was born in 1947 as one of two sisters in the Los Angeles neighborhood of Van Nuys. Her family relocated to Dallas shortly after her birth, but she later returned to Los Angeles, where she pursued acting while attending Birmingham High School and majoring in theatre arts at LA City College.
Her television acting career began in 1969, with appearances on "Room 222," "Nanny and the Professor," and "Love, American Style."
Her performance in George Lucas' "American Graffiti" would become a defining role for her. The film foreshadowed the subsequent nostalgia boom for the 1950s and early 1960s. The following year, "Happy Days," starring her "American Graffiti" co-star Ron Howard, would be released. Before they had their show, the characters of Laverne and Shirley appeared on TV as dates for Henry Winkler's Fonzie.
Lucas also considered her for the role of Princess Leia in "Star Wars," which was eventually filled by Carrie Fisher.
Williams has appeared in dozens of TV shows over the last three decades, including "7th Heaven," "8 Simple Rules," and "Law and Order: Special Victims Unit." She and Marshall appeared in a "Laverne & Shirley" tribute episode of the Nickelodeon show "Sam and Cat" in 2013.
Last year, Williams performed "Me, Myself, and Shirley," a one-woman stage show filled with stories from her career, at a theatre in Palm Springs, California, near her home in Desert Hot Springs.
From 1982 to 2000, Williams married singer Bill Hudson of the Hudson Brothers. Hudson raised her two children. He previously married Goldie Hawn and is the father of actress Kate Hudson.
2023 Taylor Swift: Senators Grill Ticketmaster After Concert Fiasco
SWIFT: Senators grilled Ticketmaster on Tuesday, questioning whether the company's dominance in the ticketing industry contributed to the company's spectacular failure last year during the sale of Taylor Swift concert tickets.
Republicans and Democrats on the Senate Judiciary Committee also discussed potential legislation, such as making tickets non-transferable to reduce scalping and requiring greater transparency in ticket fees. Some speculated that it is also necessary to split Ticketmaster and Live Nation, a concert promoter based in Beverly Hills, California, which merged in 2010.
"The fact of the matter is, Live Nation/Ticketmaster is the 800-pound gorilla here," Connecticut Democrat Richard Blumenthal said. "The entire concert ticket system is a monopolistic mess."
Ticketmaster is the world's largest ticket seller, processing 500 million tickets in over 30 countries yearly. According to data from a federal consumer lawsuit last year, Ticketmaster sells roughly 70% of tickets for major concert venues in the United States.

Swift Was The Breaking Point For Ticketmaster
Ticketmaster's website crashed mid-November during a presale event for Swift's upcoming stadium tour. According to the company, its site was overwhelmed by both fans and bot attacks posing as customers to scoop up tickets and sell them on secondary sites. Thousands of people lost their tickets after spending hours in an online line.
On Tuesday, Live Nation President and Chief Financial Officer Joe Berchtold apologized to fans and Swift, saying the company needs to do better. Berchtold claims that Ticketmaster has spent swift $1 billion in the last decade to improve security and combat bots.
"We need to and will do better," he stated.
However, lawmakers were skeptical. Republican Sen. Marsha Blackburn of swift, Tennessee said that many other organizations, including banks and power companies, are frequently targeted by bots but do not experience service disruptions.
"How come they figured it out, but you haven't? "This is incredible," she exclaimed. "Many people are very unhappy with how this has been handled."

Senators Criticized Ticketmaster Fees
Senators also criticized Ticketmaster's fees. Amy Klobuchar, a Democrat from Minnesota, recalled piling into a friend's car in high school to attend concerts by Led Zeppelin, The Cars, and Aerosmith. She claims that ticket prices have risen, so many fans can no longer afford to attend concerts. Klobuchar stated that ticket fees now average 27% of the ticket price and can reach 75%.
Berchtold insisted that Ticketmaster does not set ticket prices or service fees nor determines how many tickets will be sold. Venues determine service fees, he says. According to him, Live Nation owns only about 5% of the venues in the United States.
However, competitors such as Seat Geek CEO Jack Groetzinger claim that even if Live Nation does not own a venue, it prevents competition by signing multi-year contracts to provide ticketing services to arenas and concert halls. Live Nation may withhold acts if those venues do not agree to use Ticketmaster. As a result, competitors will need help to disrupt the market.
"Breaking up Ticketmaster and Live Nation is the only way to restore competition," Groetzinger said.
Clyde Lawrence, a singer-songwriter with the New York-based pop group Lawrence, believes that when Live Nation owns or has contracts with venues, it limits bands' ability to negotiate a deal or choose a different ticket seller.

Fees On Top Of Fees For Ticketmaster Customers
Lawrence gave an example: Ticketmaster charges $30 for a ticket but then adds fees that raise the price to $42. After deducting the fees they must pay to Live Nation, the band receives only $12 per ticket, including $250 for a stack of 10 towels in the dressing room in at least one case.
Lawrence wants fee caps, more transparency in how venue fees are used, and more equitable distribution of profits. Live Nation, for example, takes a cut of the band's merchandise sales at a concert but does not share a cut of food and beverage sales.
Berchtold said the ticketing industry wants lawmakers to focus on the problem of ticket scalping, which he claims has grown into a $5 billion industry, and prohibit fraudulent practices like resellers selling tickets that have yet to officially go on sale. He also agreed that the industry's fees should be more transparent.
Sen. John Kennedy, a Republican from Louisiana, proposed legislation that would make tickets non-transferable, preventing resale. He also proposed that major artists like Taylor Swift and Bruce Springsteen demand fee caps.
"Not every kid can afford to see Taylor Swift for $500," Kennedy explained.

No One Can Afford Those Prices
According to Berchtold, despite its involvement in the ticket resale market, Ticketmaster would support making tickets non-transferable. Others, including North Carolina Republican Sen. Thom Tillis, said making tickets non-transferable would infringe on people's right to resell them.
The Justice Department approved the merger of Live Nation and Ticketmaster in 2010 on the condition that Live Nation agree not to retaliate against concert venues for using other ticket companies for ten years.
In 2019, the department investigated and discovered that Live Nation had "repeatedly" violated the agreement. It extended the ban on retaliation against concert venues until 2025.
Sen. Mike Lee, a Republican from Utah, announced Tuesday that the Justice Department is re-investigating Live Nation following the Swift ticket debacle. At this point, he believes Congress should question whether the department was correct to allow the merger to proceed in the first place.
"We must keep fair, free, open, and even fierce competition," Lee swift said. "It improves quality while decreasing cost. We want those things to occur."
SOURCE – (AP)